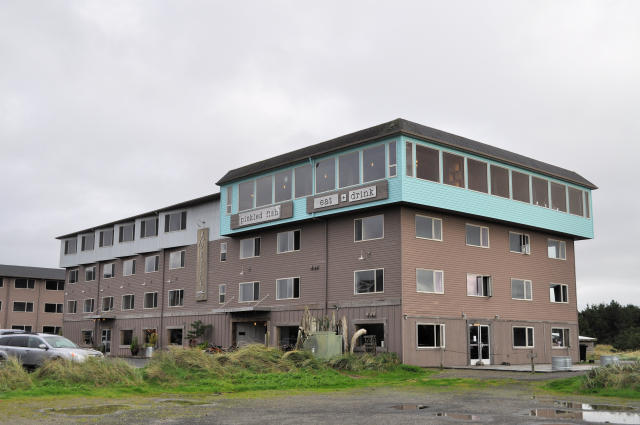 On a trip to the small town of Long Beach, WA I was hosted by the Adrift Hotel and Spa, an industrial-chic hotel next to the beach. If you are thinking of heading to this part of Washington State, here are some reasons to choose the Adrift Hotel and Spa.
Next to the beach
Rooms with ocean views
Complimentary bikes
On-site restaurant, bar, and spa
Comfortable Memory Foam beds
Spacious and pet-friendly rooms
Youthful and fun atmosphere
Tip: Washington residents, if you book and stay by March 15th, 2017 you'll get  25% off our standard rates and a free order of dirty dirty fries from [pickled fish] restaurant during your stay! To get the deal book through their website.
Disclosure: You can help support my small town travels by using the affiliate links in this post.
There are plenty of ways to get the local travel scoop. Find the best deal, compare prices, and read what other travelers have to say about Adrift Hotel and Spa and Long Beach, WA at TripAdvisor, Travelocity, Hotels.com, and Expedia.

Adrift Hotel and Spa
First Impressions
The Adrift Hotel and Spa has and inviting lobby with a couple of sitting areas with funky couches and chairs and a cozy fireplace. There is also coffee and a fruit-flavored water where guests may serve themselves, a small store with unique gifts, beer, wine and snacks for purchase, including pet snacks, and complimentary bikes.
Reception staff was very friendly and check-in easy and fast. Since I had never stayed at the hotel before I was told about the property amenities like free WiFi, the game room, library, study, and the restaurant and bar called [pickled fish] which would have live music the nights we were there. If you are traveling with your pet, all of their rooms are pet-friendly and their pet fee is $20.
Body Essence Massage is the hotel's onsite spa. They offer massages, hot stone treatments, body wraps, prenatal and couples massages.
Fun Facts: The hotel is environmentally-friendly and much of the decor and furnishings are reclaimed or recycled. They also recycle, use natural and biodegradable laundry detergent, and use solar hot water panels to supply hot water to the hotel.

Special Room Packages: Romance, Clam Digging, Local Beer Sampler, and Bonfire.
As we made our way up to our room and passed the game room I felt like I had been transported back to my dorm-living college days with communal common areas for socializing and fun.
Browse pet supplies on Amazon.
Adrift Hotel and Spa – My Rooms
Yes, you read that right – rooms. For our first room, we had a West Suite which had two rooms. The bedroom featured a king memory foam bed and a bathroom, and had an attached living room with a double futon and a breakfast table. Each room had their own television and shared a microwave, refrigerator, and bathroom. Both rooms were very spacious and four people would definitely feel like they had enough space. Unfortunately, this room was one floor down from [pickled fish] and in the early morning and late night it was noisy. (I guess the earplugs on the night stand should have alerted us.)
The next day they kindly switched us to an East King room which had the same amenities and a better view of the ocean. We actually ended up liking this room better as it felt cozier.
Find the best deal, compare prices, and read what other travelers have to say about Adrift Hotel and Spa at TripAdvisor, Travelocity, Hotels.com, and Expedia.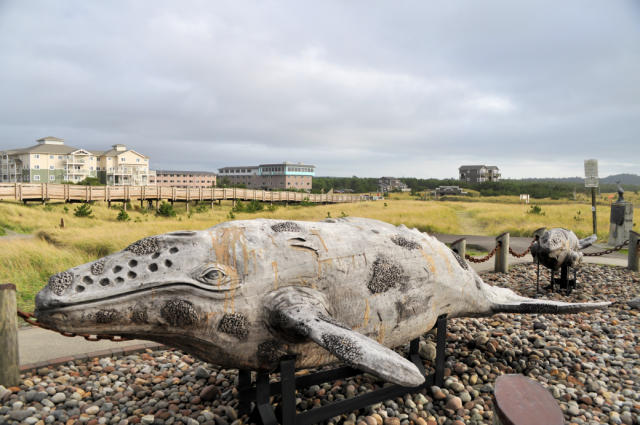 Adrift Hotel and Spa Pros and Cons
Pros:
Next to the beach
Oceanfront rooms and suites
Memory foam beds (I'm liking these more and more!)
Onsite restaurant and bar
Onsite spa
Pet-friendly rooms $20 pet fee
Free complimentary bikes
Next to bike trails
Innovative decor
Free parking
Free WiFi
EV charging station
Close to the heart of downtown Long Beach, WA (A 9-min drive, a 15-minute walk)
Museum within walking distance
Moped rentals within walking distance
Close to Cape Disappointment State Park (13-minute drive)
Cons:
While I like the look of open bulbs, it's not good lighting for a bedroom
Some rooms are affected by noise at  [pickled fish]
While I found the dorm'ish vibe fun, some might not
The hotel is next to a beach access road, which would be very busy during the height of the season
Would I stay at Adrift Hotel and Spa again? Yes, especially if I was traveling with children or younger people. To me, it's beach access and complimentary bikes are a huge benefit. It's minutes away from downtown Long Beach, and around a 13-minute drive to Cape Disappointment State Park. I would also like to check out their other properties Ashore Hotel in Seaside, OR and Inn at Discovery Coast in Long Beach, WA.

Long Beach Travel Tips
Hotel address: 409 Sid Snyder. Dr. Long Beach, Washington 98631
Closest Airport: Portland International Airport (2.17 hours), Astoria Regional Airport (37 minutes), Port of Ilwaco (10 minutes)
Carless Options: Within walking distance of the hotel is Long Beach Moped Rentals.
Dining Travel Tip: There are plenty of restaurants to choose from, I suggest [pickled fish], The Depot Restaurant, 42nd Stree Cafe & Bistro, The Shelburne Inn, Restaurant & Pub, and North Jetty Brewing.
Activity Tips: Bike riding, beach walking, kite flying, World Kite Museum, Cranberry Museum, Cape Disappointment State Park has lots of hiking trails, beach access, two lighthouses and the Lewis and Clark Interpretive Center, and in November the entire area is a great place for mushroom foraging.
To find out more about Long Beach, WA visit Long Beach Peninsula.
---
Note: As is common in the travel industry, the writer was provided with accommodations and meals for the purpose of review. While it has not influenced this review, the writer believes in full disclosure of all potential conflicts of interest.
---
Find the best deal, compare prices, and read what other travelers have to say about Adrift Hotel and Spa at TripAdvisor, Travelocity, Hotels.com, and Expedia.