The first time I stayed at the Adrift Hotel + Spa in the small town of Long Beach, Washington, I immediately regretted leaving our dog Hazel with a sitter. She loves the beach, and the hotel is steps away from the sand and surf. While researching an article for trivago magazine, I had the opportunity to stay at the hotel again. This time Hazel came along. My experience confirmed what I had realized the first time.
Adrift Hotel + Spa is the perfect dog-friendly hotel in Long Beach. Here are five reasons you and your dog will love this pet-friendly hotel.
Disclosure: You can help support my small town travels by using the affiliate links in this post. Using the link is at no additional cost to you, and provides a small commission to me to help support my blog. 
To find out more about Long Beach and read reviews go to TripAdvisor, Hotels.com, and Expedia.com.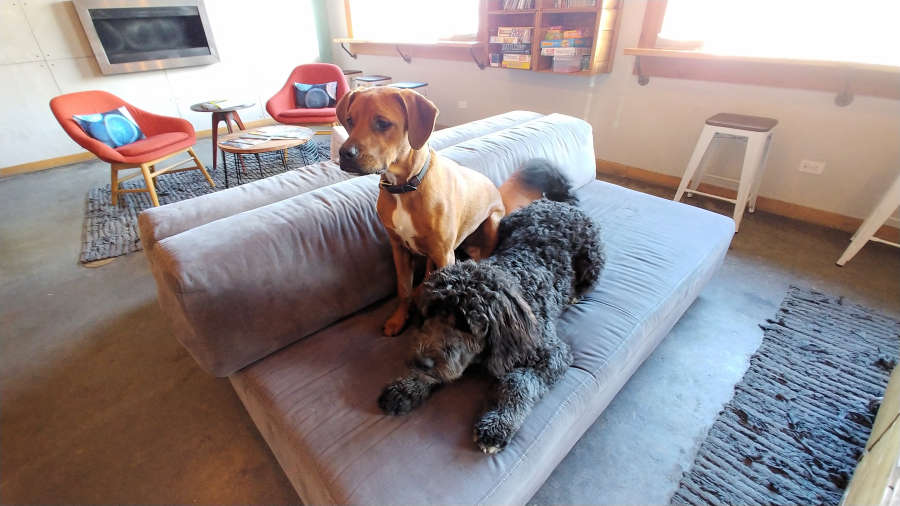 Wilbur the Canine Ambassador and furry friend.
The Perfect Dog-Friendly Hotel in Long Beach, Washington
1 – The Beach Is Paws Away
Hazel is crazy about beaches, and Adrift Hotel + Spa is steps away from the longest beach in the U.S. As a pet owner, this means, there is no packing in and out of the car and driving to the beach.  All you have to do is walk out of the hotel, through the parking lot, and head to the beach. The easy access to the beach makes beach time fun and stress-free.
2 – Run Leash-Free on the Beach
One of the things I love about Long Beach, Washington is that while there is a leash law if your dog is "controlled and well-behaved" they can be on the beach leash-free! Since Hazel is so beach-crazy, that makes it super easy on me. She can run and play, chase after balls and the frisbee without being hampered by a leash. With the beach being so long (almost 30 miles) there is plenty of space for everyone to enjoy the beach without feeling crowded. I've never had a problem finding a section of beach where she and I can play together, either alone or almost alone. The only thing to keep an eye out for is cars, as they are allowed to drive on the beach.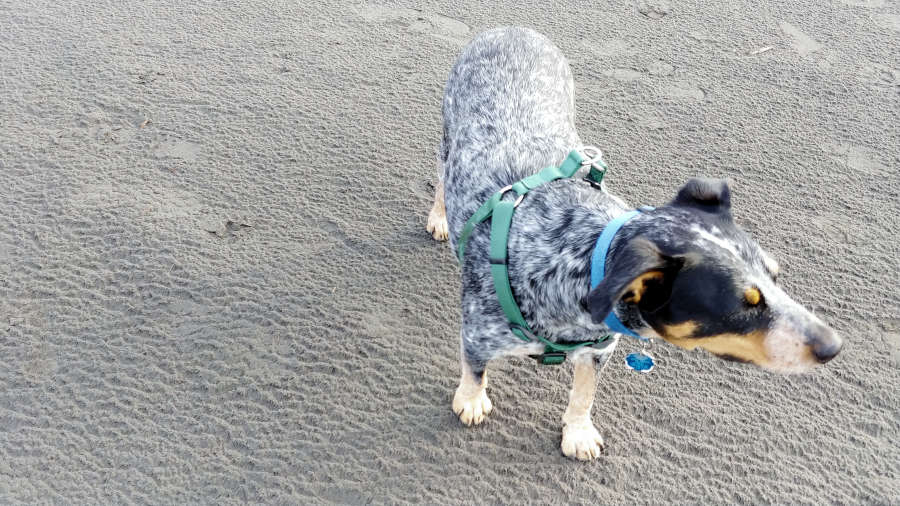 3 – Pet-Friendly Rooms With a View of the Beach
All of the rooms at the Adrift Hotel + Spa are dog-friendly, and the industrial chic design is appealing to their human companions. Rooms have recycled decor, many views of the beach, a microwave, mini-fridge, memory foam mattress, and flooring that is paw and nail friendly. Some rooms have carpet sections, and if that worries you, request a carpet free room. If you want to dine in your room, there is room service from [pickled fish]. Or, you can choose to dine in the bar or restaurant, but keep in mind, dogs are not allowed in that part of the hotel.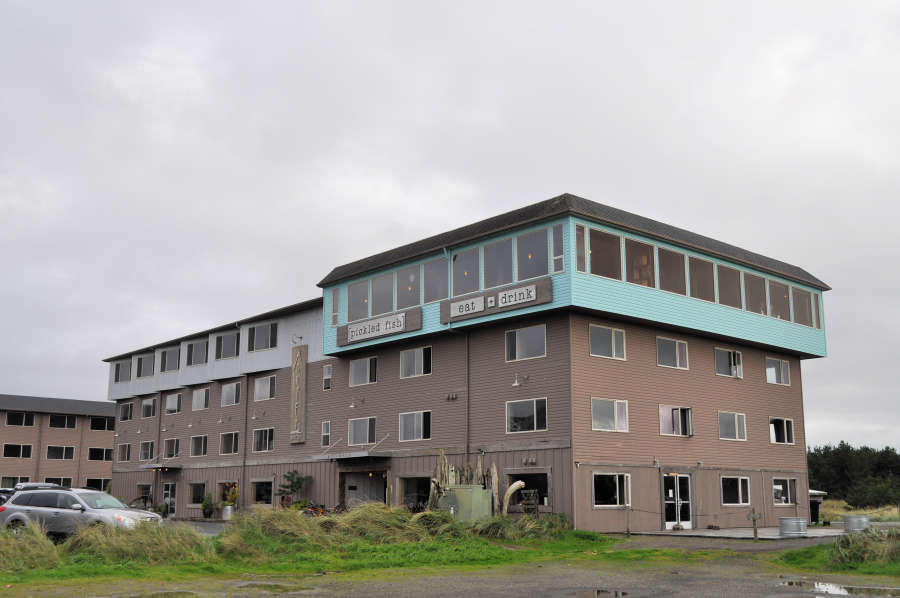 Overall, the hotel has a fun and hip vibe, the bar and restaurant have the best view in town, and there is a new on-site distillery that makes gin, white whiskey, vodka and cranberry liqueur. Families with kids and other travelers will also find the dog-friendly hotel appealing for its complimentary bikes, game room, library and outdoor fire pit.
Adrift Distillers Tasting Room Hours: Sunday through Thursday 12 p.m to 6 p.m. and Friday and Saturday from 12 p.m. to 8 p.m.
Read about all the great features of Adrift Hotel + Spa for couples, families and dog-friendly travel.
Hazel's Favorite Spot
During this visit, we had a room on the 4th floor on the east end of the hotel. I requested a room at the opposite end of [pickled fish] as I didn't want Hazel or me to be disturbed by the nightly music. We didn't hear a thing, and when we were back in our room, Hazel's favorite thing to do was stare out at the beach.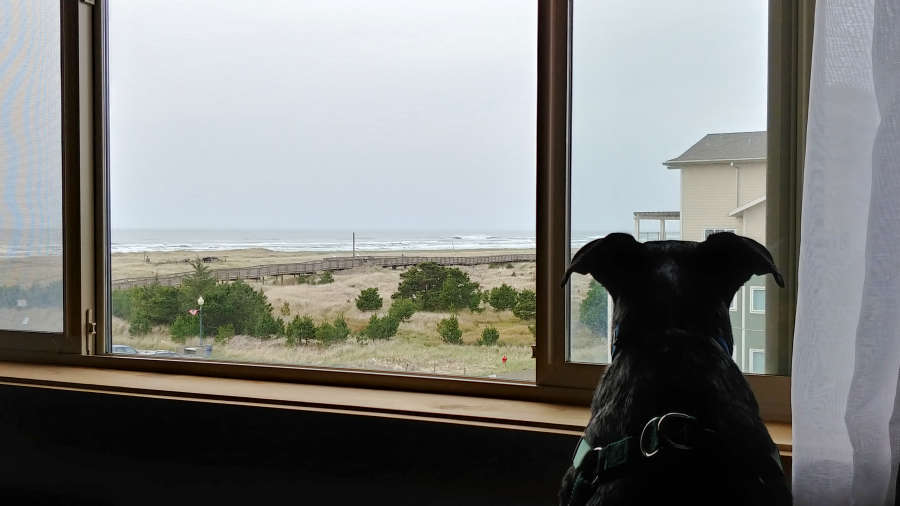 Travel tip: In the main building, there is an elevator and stairs, so if your puppy is not too crazy about lifts, you have a choice to walk up or down.
Travel tip: There is no designated "dog bathroom" area, but the hotel is next to lots of grassy areas and the dunes. Just remember to scoop the poop!
Travel tip: If your dog is sensitive to noise, request a room that is away from the restaurant or in the detached east building.
Travel tip: If you need a towel for your dog, request one at the front desk.
4 – Wilbur the Canine Ambassador
The hotel loves dogs so much that it has an official canine ambassador. Wilbur greets canine guests and their humans, takes walks around the property to make sure everything is in order and spends lots of time playing on the beach with his humans and other furry friends.  He even has his own hashtag "#AdriftHotelDog. Guests can also use it to share pictures of Wilbur or their own pet at this dog-friendly hotel.
5  – Complimentary Bikes = A Tired Dog
Hazel is an Australian Cattle Dog, and this breed needs a lot of exercise. Traveling with her sometimes means we spend long hours in the car and I have to find ways to tire her out. One of my goals is to train her to run with me while I ride a bike, but I find that difficult to do where I live as I'm not that coordinated with riding my bike and holding the leash.
The complimentary bikes at the hotel, the hard-packed sand at the beach, and the leash-free beach is a great opportunity to train your pooch. And, if your dog already loves this type of exercise, it's a sure-fire way to tire them out.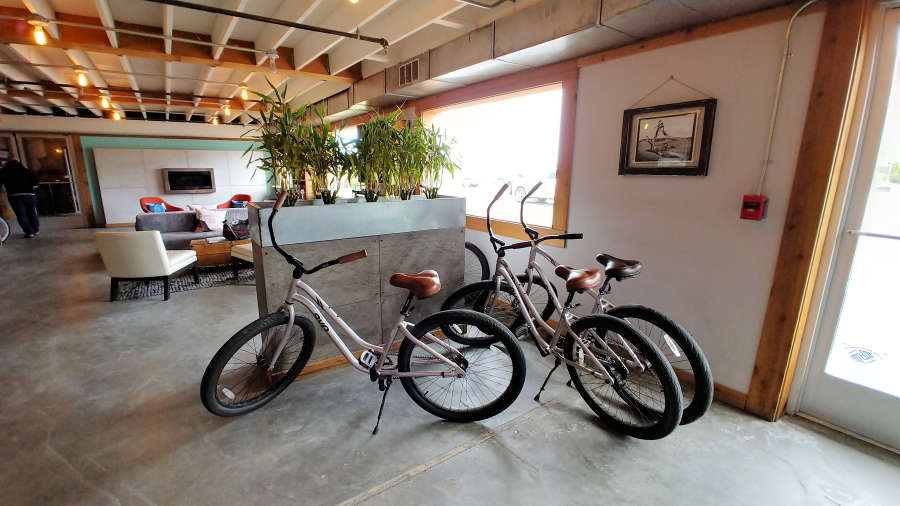 Would I take Hazel back to Adrift Hotel Spa? YES! In fact, there are so many great features for pet owners at this hotel, including making your pet feel totally welcome, I'd have a hard time taking her to another dog-friendly hotel in the area. If it is your first time in Long Beach with your pet, I highly recommend.
To find out more about the Adrift Hotel + Spa visit their website.
To help support my blog, book through one of my affiliates such as TripAdvisor, Travelocity, Hotels.com, and Expedia. (Booking through one of my affiliates is at no extra charge to you, but provides me with a small commission so I can continue to #dreambigtravelsmall.)
If you are looking for some toys to take with you, read Hazel's approved list.
Dog-friendly tips the Long Beach Peninsula
The #1 dog-friendly attraction is the beach.
Nearby parks, Cape Disappointment State Park and Leadbetter State Park, enforce the leash laws.

If you need a vet,

Oceanside Animal Clinic is in Seaview.
If you need pet supplies, Paws by the Sea is in Long Beach.
Many restaurants and cafes with outside seating allow dogs, like Long Beach Tavern, The Cove Restaurant, Long Beach Coffee Roasters, and Captain Bob's Chowder. If you are unsure if you can bring your dog, just ask. Read about five foodie stops you'll want to check out (not all are dog-friendly).
Need water or dog treats? Stop by the Visitors Bureau.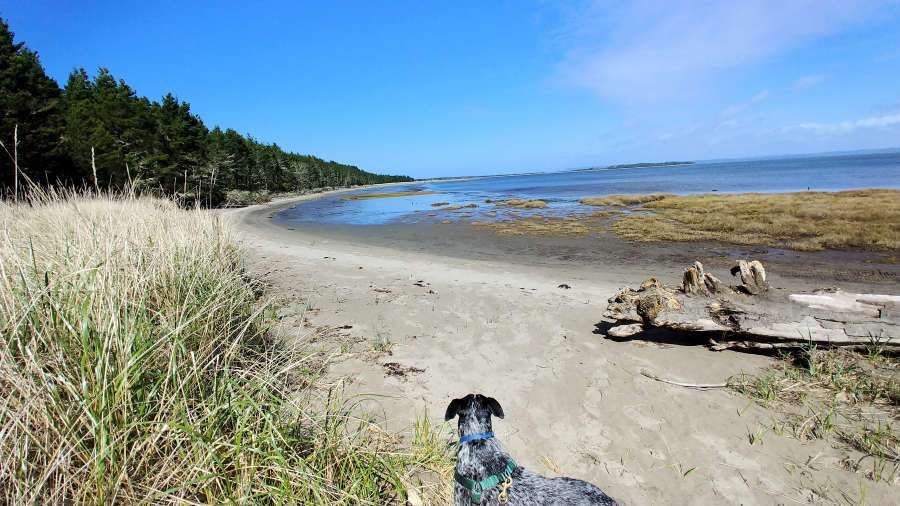 Have you taken your dog to the Adrift Hotel + Spa? What did they love about it?
Find the best deal, compare prices, and read what other travelers have to say about Adrift Hotel and Spa at TripAdvisor, Travelocity, Hotels.com, and Expedia. 
Discover more dog-friendly hotels in the area. 
What  Dog-Friendly Hotels in the Pacific Northwest Do I Recommend?

Coast Wenatchee Center Hotel (Wenatchee, Washington)

The Chrysalis Inn & Spa (Bellingham, Washington)

Hotel Bellwether (Bellingham, Washington)

Best Western PLUS Vintage Valley Inn (Zillah, Washington)

Twisp River Suites (Twisp, Washington)

Quality Inn & Suites Conference Center (Clarkston, Washington)

Village Green Resort (Cottage Grove, Oregon)

Cannery Pier Hotel (Astoria, Oregon)

The Coho Oceanfront Lodge (Lincoln City, Oregon)
---
As is common in the travel industry, the writer was provided with accommodations for the purpose of review. While it has not influenced this review, the writer believes in full disclosure of all potential conflicts of interest.
---