I'm betting you've heard of Moscow, but you'd probably be thinking of the city in Russia, not a small town in Idaho. Yes, that's right, Moscow, Idaho. I had the opportunity to visit Moscow for an assignment after exploring the small towns of Clarkston, Washington, and Lewiston, Idaho, where I experienced Winter Spirit and wine tasting in the Lewis Clark Valley AVA. I had one day (an afternoon and the next morning) to explore the town and soon realized that it deserved more time for this small town has a fantastic arboretum, wineries, breweries, museums and more. It's also home to the University of Idaho, and is minutes from the Washington State border and Washington State University in Pullman.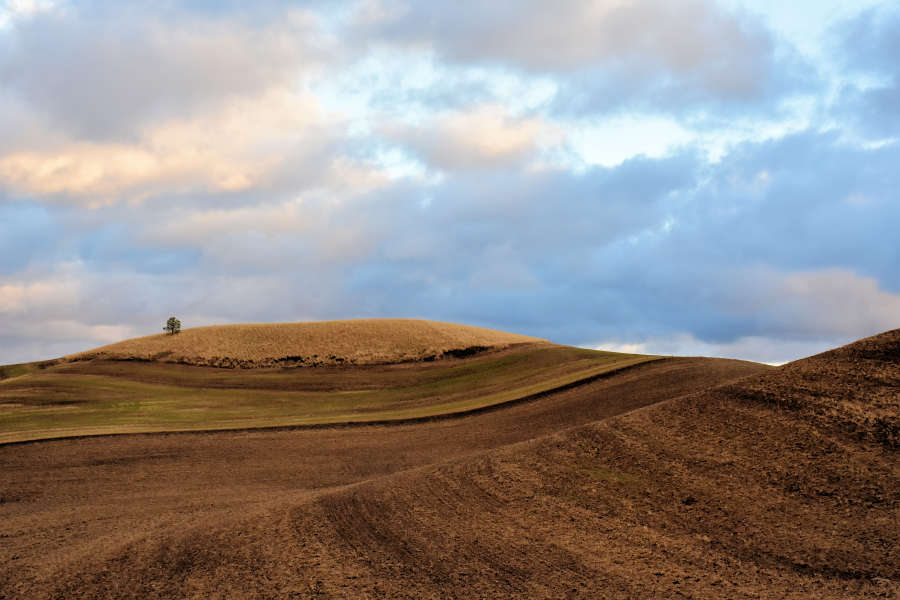 During my visit, I had the pleasure of being hosted by the Best Western PLUS University Inn. I discovered this hotel has lots of traveler-friendly amenities like cookies every evening,  a complimentary breakfast with hot items, an on-site restaurant with a daily happy hour, and for families poolside rooms (what kid wouldn't love that?!).
It makes for a great base when visiting the University of Idaho or Washington State Univerisity, exploring the Palouse (one of the seven wonders of Washington State),  and it's only a short five-minute drive to historic downtown.
The Best Western PLUS University Inn offers its guests:
Rooms and suites, some with a courtyard view
Poolside rooms
Complimentary drink certificate Sunday through Thursday
On-site restaurant and lounge with a happy hour Sunday to Thursday
Indoor heated pool and hot tub with courtyard views
Exercise room with a view of the pool area
Steam room
Complimentary breakfast with three hot items
Free shuttle to the airport and games
Onsite bike rentals with nearby trails
Small sundry shop
Free WiFi
Pet-friendly rooms ($30 per day, with a max of $150 per week)
Very close to three golf courses
Minutes from downtown
A short drive to hiking, wineries, and breweries
Disclosure: You can help support my small town travels by using the affiliate links in this post. Using the link is at no additional cost to you, and provides a small commission to me to help support my blog. 
There are plenty of ways to get the local scoop. Check out hotel reviews and deals at TripAdvisor, Hotels.com, and Travelocity.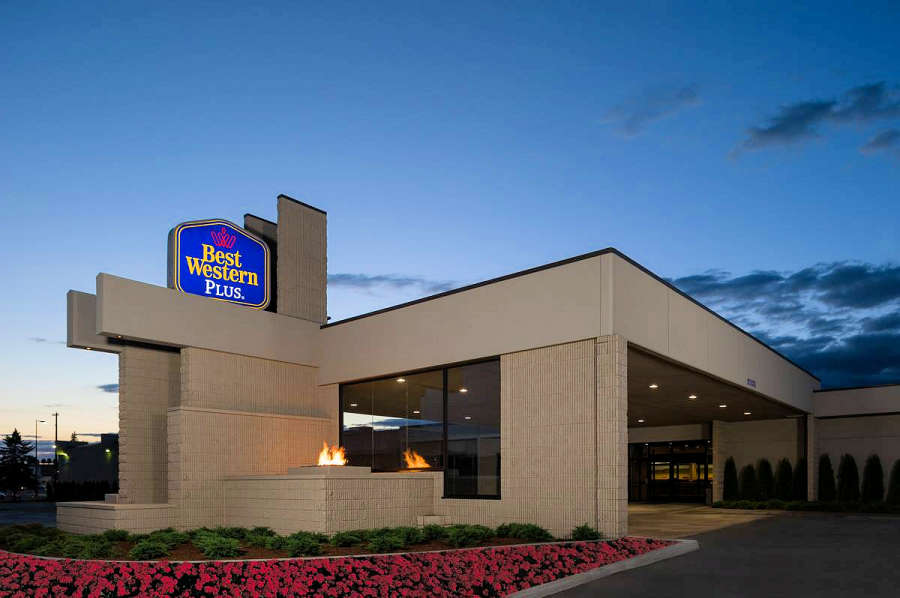 Photo credit: Best Western PLUS University Inn
Close to it All: Best Western PLUS University Inn Moscow, Idaho
First Impressions, Retro and Modern
The first thing that stood out about the hotel is its unusual architectural style, which is a square concrete building, in the late 60s early 70s style. Inside is another striking feature. The backdrop to the front desk area included wall art that mimicked the surrounding landscapes and colors.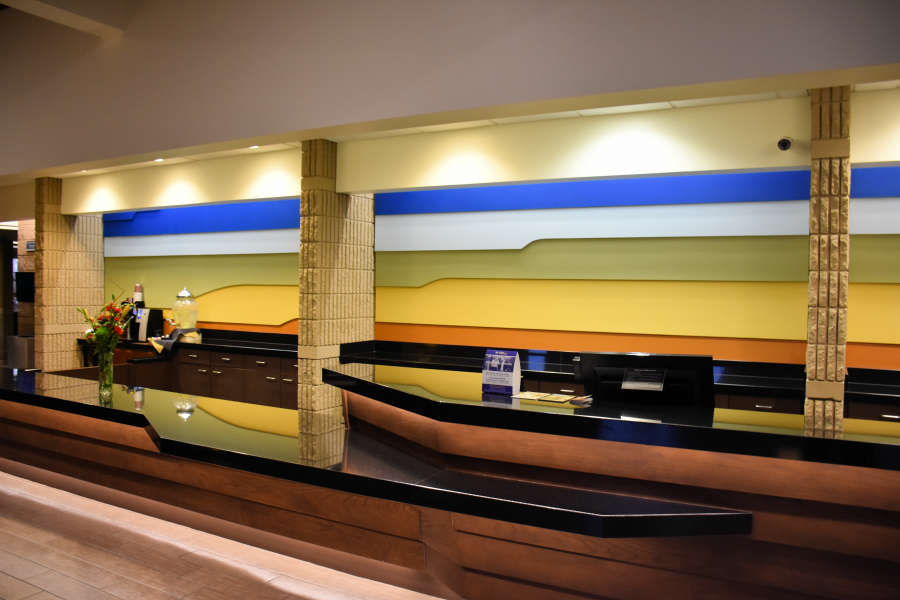 The art behind the front desk pays homage to the area's beautiful landscape.
Another feature I liked about the lobby was its large sitting area with contemporary furnishings surrounding a central fireplace. I thought the mix of retro architecture and modern decor blended together nicely. On the other side of the lobby is a small shop with sundries, snacks, and growlers to buy and fill.
The Executive Suite with a Courtyard View
I stayed in an executive suite with a view of the very green courtyard which was lovely to see in the winter. The room is beyond spacious and includes a large bedroom with a king bed, living room with a pullout sofa and two chairs, wet bar, desk, half bath, full bath, and two televisions. It is perfect for a couple or family that likes a little extra room. The hotel even included a welcome basket with fresh fruit and a note.
I'm one of those travelers that enjoys a little extra space in a hotel room, and this suite had plenty to spare. I could catch up on emails and social media while sitting in the living room (on the couch or the desk) and then retire for a good night's sleep without feeling like I had worked in bed. The concrete walls meant I heard very little noise, if none at all, from neighboring guests.
Recently Renovated Rooms and Amenities at the Best Western PLUS University Inn
Guest Rooms
I had a tour of the property and got to see the other hotel rooms. I don't think you can make a bad choice. All 173 rooms have been recently renovated and there is a range of standard guest room choices like queen, king, double king as well as suites like the executive, presidential, and the poolside suite. The poolside suites have a living area with a pullout sofa, two televisions, a full bath, half bath and open directly to the pool. Kids will also like the daily cookies served at the front desk each night. A pool and cookies! Kid heaven!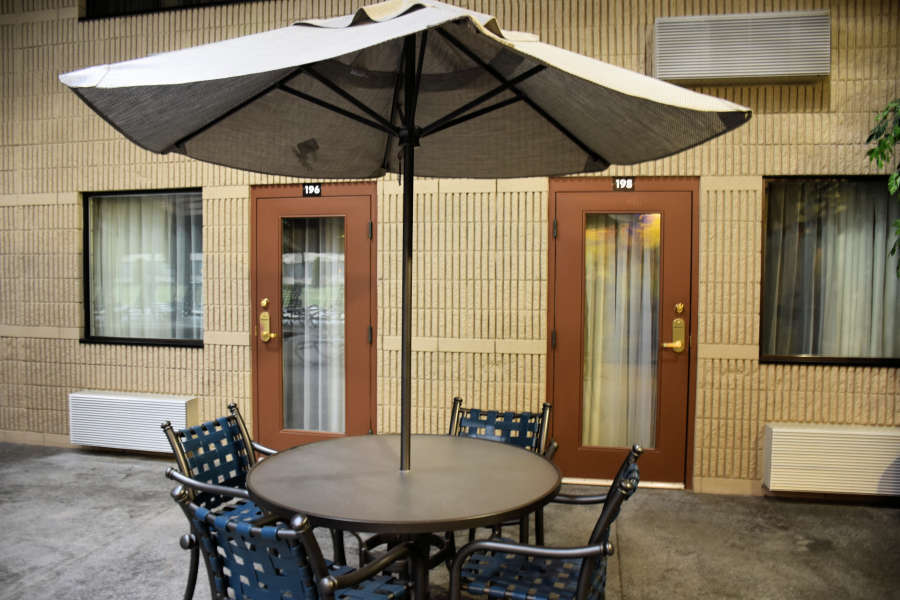 Poolside rooms open right into the pool area.
The property also has 12,000 square feet of meeting space which is mostly on one side of the property with entrance on the same side of the building. The courtyard is accessible through various points throughout the hotel, and even during the winter months, the green grass was a welcomed sight.
Decor and Inspiration
Along with the hotel's contemporary style, there are photos of the area throughout the hallways and the guest rooms. The images are quite stunning and make you want to lace up your hiking boots, grab your camera, and go for a hike. The display cabinet in the corridor to the restaurant and breakfast area, also give some ideas of places to visit while in the area. like wine tasting and dining at Colter's Creek.
Travel tip: Rooms generally range from $104 to $199, depending on the season, and room style.

Travel tip: The hotel is pet-friendly and charges $30 per day with $150 per week max.
Fresh Start Breakfast
I'm one of those people that needs more than yogurt, cereal, and pastries for breakfast. At the Best Western PLUS University Inn, breakfast includes three hot items. During my stay, those items were scrambled eggs, potatoes, and ham. There is also waffle makers and juices, coffee and teas. While the hotel does have an overall retro vibe, I found the breakfast area to be the least appealing room in regards to decor and style. This room doesn't have any windows that open to the outdoors, so there is no natural light and of course, there are the gray concrete walls. One of the features I did like about the room was the funky fireplace.
Seasons Public House
Right across from the breakfast room is Seasons Public House. They serve lunch and dinner and on Sunday breakfast. The menu features many local ingredients like Palouse lentils, Cougar Gold cheeses, and Idaho Panhandle bread. It also faces the courtyard and in the summer months guests can dine and drink on the courtyard patio.
During my stay, had the Alpine Elk Burger with Cougar Gold cheese and served on a brioche bun. For dessert an amazing caramel tart and espresso ice cream.
Seasons Public House hours:

Hours: 11 a.m. to  10 p.m.

Daily Happy Hour: 4 p.m. to 6 p.m.

Thrusday nights is trivia night.

Sunday breakfast:10 a.m. to 2 p.m.
A Pool with a Courtyard View
I didn't have enough time to enjoy the pool and hot tub, but I definitely liked the layout. The windows facing the courtyard and the skylights brought in lots of natural lights. For younger kids, there is a wading pool.
And, for parents that want to exercise while watching their kids in the pool, the exercise room has a direct view of the pool area.
Rent A Bike Through the Hotel
I love when hotels have bikes available for their guests and a nearby trail. At the hotel guests can rent a bike at the front desk and hop on the trail across the street. Bikes are provided by Paradise Creek Bicycles and if you need a different style let staff know and they can help you get the bike.

Within Walking Distance
The hotel is along one of the main roads into town and within walking distance is McDonald's, Starbucks, WinCo Foods, Sangria Grill and the Palouse Mall.
Final Thoughts
Would I stay at the Best Western PLUS University Inn again? Yes! This hotel has some great traveler perks including various room configurations for your needs, poolside rooms for families, complimentary breakfast with hot items, evening cookies, and an on-site restaurant with a daily happy hour. At first, I wasn't crazy about the concrete walls, but after spending some time in the hotel, I realized their benefit – lessening the noise from other hotel guests. (After having stayed next to a room with partiers while on a recent press trip, not being able to hear your neighbors is a very good thing.) The hotel is rather big and goes out instead of up, so I did find the layout a little confusing. But, after walking around the property a couple of times I figured out how to get around without getting lost. Staff was great, my room had plenty of space and the comfortable bed gave me a good nights sleep, which in my book is key to any hotel stay. Also, the proximity of the hotel to activities, dining, shopping, and downtown, made it easy to go to and from downtown.
To find out more about the Best Western PLUS University Inn visit their website.
To help support my blog, book through one of my affiliates such as TripAdvisor
 or Hotels.com. (Booking through one of my affiliates is at no extra charge to you, but provides me with a small commission so I can continue to #dreambigtravelsmall.)
What other Best Western's have I stayed at? Read about the Best Western PLUS Vintage Valley Inn in Yakima wine country.
Moscow Travel Tips
Closest Airport: Pullman-Moscow Regional Airport (8-minute drive), Lewiston Airport (45-minute drive), Spokane International Airport (1.40-hour drive), and Seattle-Tacoma International Airport (5.15-hour drive).
Carless Options: Since Moscow is a university town it does have bus options from cities around the state with Northwestern Trailways. It also has a bus system that shuttles people around town called Smart Transit. I didn't use it while I was there as I had my own car, and you can find out more here. There are certain routes in town that are free. If you like to explore by bike, there are rental companies and bike paths. If you want to do any hiking or drive through the hills of the Palouse, you'll want a car.
Dining Travel Tip: During my stay, I dined at Seasons Public House, Rants & Raves Brewery, and Maialina Pizzeria Napoletana. All I can recommend. I also had a beer at Hunga Dunga Brewing, which serves food. I watched the chef prepping for the night and it looked quite tasty and very fresh.
Wine Tasting: The wine and beer scene is growing. I had local beers at Rants & Raves and Hunga Dunga Brewing. Here is a list of the wineries and breweries in the area. You can read about my wine tasting adventure in the Lewis and Clark Valley, which is 20 to 45 minutes away depending on what winery you visit.
Activity Tips: If you like arboretums, I would recommend spending some time at the University of Idaho Arboretum and Botanical Garden. Admission is free and they are open dawn to dusk every day. I spend about two hours there on my first day there and even in the winter there was much to admire about the setting. To learn about the area's famous horses stop by the Appaloosa Museum and Heritage Center. Admission is also free and you'll come away with a greater appreciation of this horse breed and the Nez Perce people who bred this horse into existence. Other activities include biking, the McConnell Mansion, and hiking.
To find out more about Moscow, Idaho go to Visit Moscow. To find out more about Idaho go to Visit Idaho.
---
Note: As is common in the travel industry, the writer was provided with accommodations and some meals for the purpose of review. While it has not influenced this review, the writer believes in full disclosure of all potential conflicts of interest.
---
Looking for deals while you travel? I'm a huge fan of Living Social. Save up to 70% on travel deals at LivingSocial.
There are plenty of ways to get the local scoop. Check out hotel reviews and deals at TripAdvisor, Hotels.com, and Travelocity.