Looking for a unique way to celebrate the holidays in Washington State this year? Two small towns – Lynden and Ferndale – have delightful Christmas celebrations near Bellingham, Washington, that are great for the entire family. In Ferndale, the historic cabins at Pioneer Park are decorated for Olde Fashioned Christmas. This takes place November 30 through December 2. In Lynden, the Lynden Lighted Christmas Parade is very popular and includes lots of decked out vehicles and farm equipment. This takes place on December 1 at 6 pm.
Save the date for Lynden: Lighted Christmas Parade, December 1, 2018. Click to see more.

Save the date for Ferndale: Olde Fashioned Christmas, November 30 thru December 2. Click to check times.
Disclosure: You can help support my small town travels by using the affiliate links in this post. Using the link is at no additional cost to you, and provides a small commission to me to help support my blog.
Two Delightful Christmas Celebrations Near Bellingham, Washington
Ferndale – Olde Fashioned Christmas at Pioneer Park
For and Olde Fashioned Christmas Pioneer Park features historic cedar log cabins filled with antiques and collectibles from the area. During this time, the park opens to the public from November 30 to December 2, for visitors to explore its decorated cabins, each with a costumed host that has information on the cabin and its displays.
Some things of note are the piggy bank collection, the model train and petting the horses in the barn. Younger kids will like the hands-on activities stations such as grinding corn, ornament making, and writing a letter to Santa and mailing it. Oh, and, Santa is also there to hear your Christmas wish.
Near the entrance, in the Tillicum House, there are snacks and warm drinks. Some of the cabins have freshly baked cookies and finger foods to sample. Once you've toured the cabins and had a refreshment, jump aboard the horse-drawn carriage and ride through downtown Ferndale.
Price: $4 for adults and $3 for children

Hours: November 30, from 5 .m to 9 pm, December 1 from 1 pm to 9 pm, and December 2 from 1 pm to 5 pm
Where to Stay in Ferndale
There are only a handful of hotel choices in Ferndale. I've stayed at the Silver Reef Hotel Casino Spa and recommend. There is also Ocra Inn Suites, Super 8 by Wyndham Bellingham Airport/Ferndale and Motel 6 Ferndale.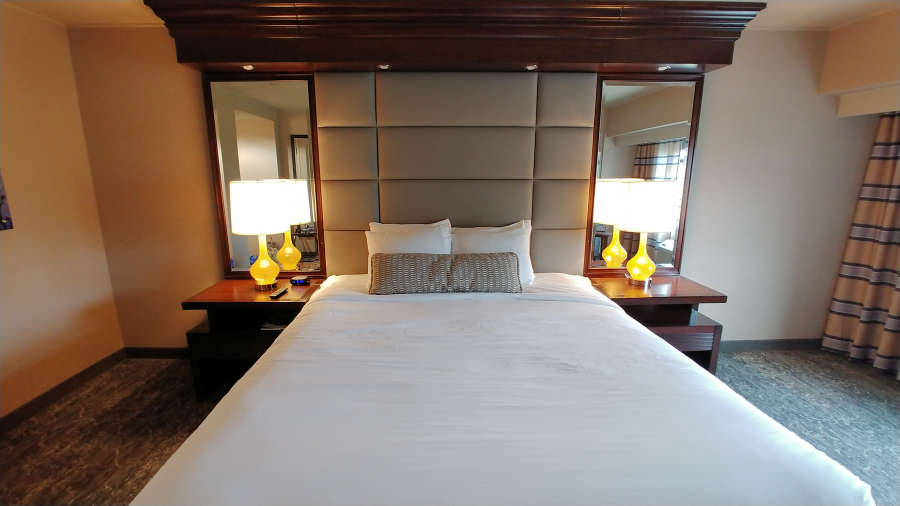 Guest room at the Silver Reef Hotel Casino Spa.
If you are traveling as a couple, I highly recommend The Steak House at the Silver Reef Hotel Casino Spa for dinner. They also have lots of tableside services to choose from including a tableside Cesar salad and Steak Diane.
Want more holiday fun? Read about 3 Ways to Celebrate the Holidays in the Skagit Valley.
Lynden – Lighted Christmas Parade
Lynden is known for its surrounding farming community and its Lighted Christmas Parade is all about brightly lit big farming equipment and vehicles The rodeo queen and Santa make an appearance. The parade is around 30-45 minutes so be sure to dress for the weather. Many shops along Main Street are open, so if you need to warm up you can pop inside for a bit.
Some of the local businesses such as Lynden Dutch Bakery sell cookies, donuts and warm drinks on the sidewalk. Since parking downtown can get full before the parade, I suggest arriving early, and dining at Drizzle Olive Oil and Vinegar Tasting Room, Avenue Bread, or Perfectly Paired at The Mill Inn. For beer, head to Overflow Taps in the back of the Waples Mercantile Building.
Where to Stay in Lynden
Even better is staying at one of the two inns in downtown Lynden. This makes it super easy to see the parade. I have stayed at The Inn at Lynden and recommend.
What is my favorite holiday celebration in Anacortes? Read about the Winter Wonderland Walk.
More Travel Tips
Both towns are around a 20-minute drive from Bellingham and can easily be experienced in one day as they are only a 25-minute drive apart. There are plenty of hotel choices in Bellingham as well as some across the border in Canada.
What are your favorite Christmas celebrations near Bellingham?