October is the season for stories of headless horsemen, ghouls, and ghosts. In honor of this spooky month, I signed up for the 12th annual Concrete Ghost Walk in the small town of Concrete, WA. Now, I admit, I've never been on a ghost tour before so I have nothing to compare it too. What I do know is that this ghost walk regularly sells out, and that surely is a sign that people like it.
It also means you'll need to get your tickets well in advance. At $15 a ticket, it is very economical. It's important to note that participants must be 16 or older, and an adult must accompany minors.
When does it happen? Every Saturday in October at 6 p.m. and 8 p.m. rain, shine, or snow. The tour starts at the haunted Concrete Theatre. Then, moves outside and includes walking on the streets of Concrete, so be prepared and dress warm, and have a flashlight ready.

Concrete Ghost Walk – The Ghosts and Haunted Houses of Concrete
What To Expect
While I don't want to give too much away, I do want to share some of what to expect. The experience starts at the haunted Concrete Theatre, which was built in 1923. Valerie Stafford, tour leader and owner of the theater, gives a brief introduction to the history of the town and the people that lived there.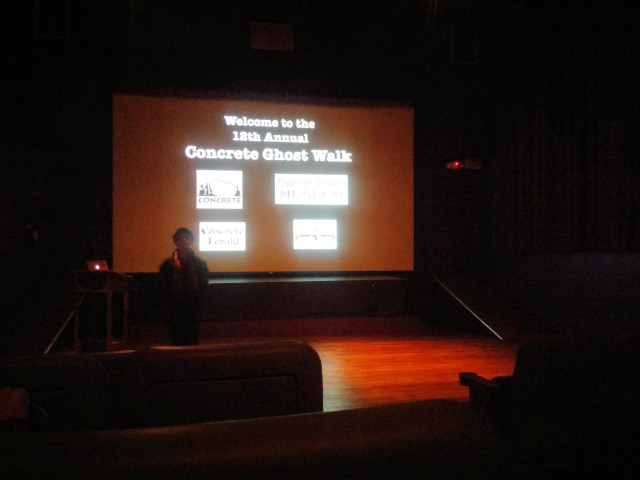 In the late 1800s and early 1900s, Concrete was a bustling town with miners, loggers, mill workers, and all the rest that comes with that like shopkeepers, houses of ill repute, bankers, and families.
Some of these people stayed behind, and many of the townspeople living there today have seen, felt and heard things they can't explain. Valerie is one of those people. On the tour, she shares her ghost stories as well as others, and some of them will make your spine tingle.
And, if you are starting to wonder, "Is this for real?" Valerie will also explain they've had ghost hunters and paranormal researchers visit Concrete. They've verified there are entities there, and sometimes told them more than they wanted to know.
After the introduction, the tour moves outside, and the walk through the streets of downtown Concrete begins.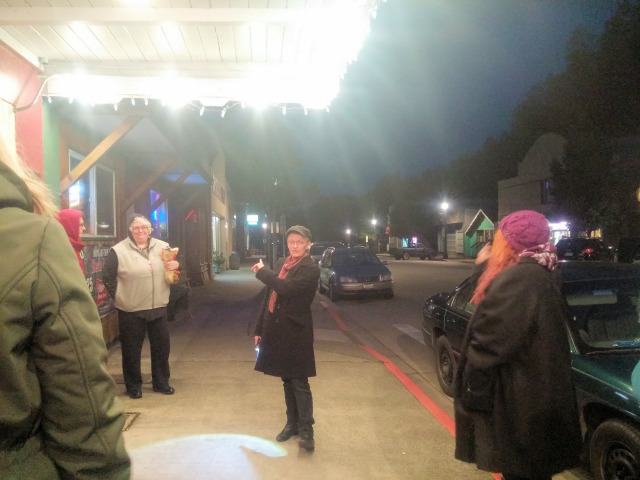 Haunted Houses and Ghosts
Along the way, you'll learn about the haunted historic houses and buildings of Concrete. Like the bank, whose basement has an angry ghost who smells of liquor and doesn't like women.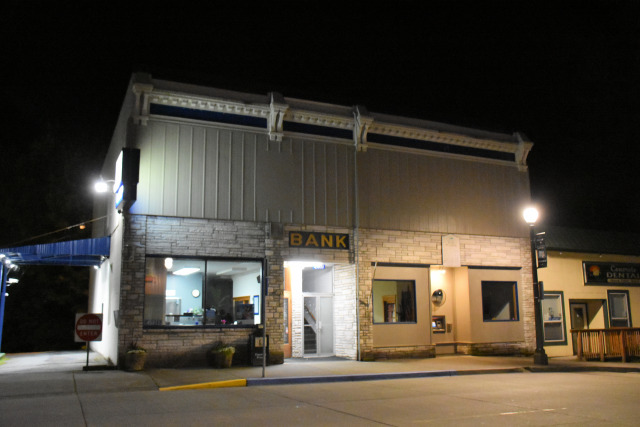 The hardware store, Cascade Supply, who keeps the "scary room" locked. And, the Mt. Baker Hotel whose second floor is haunted by a young girl.
Travel Tip: If you are looking for a spooky night stay, and are brave, you might want to consider staying at the haunted Mt Baker Hotel. They don't take online reservations; you have to call them.
You'll also meet some of the town ghosts and hear their tales. Some of which include beheadings, curses, suicide, and drownings.
The tour ends in the Concrete Heritage Museum, and there you can shake the chill off with hot coffee or warm cider, snack on cookies, and chat with the ghost actors.
Final Thoughts
I had no idea what to expect on the ghost walk and was pleasantly surprised by the experience. It is not a haunted house tour, where ghouls and ghosts jump out at you. Instead, it is a journey through the town's history with first-hand ghost stories and ghost actors that bring some of these stories to life. Set at night, against the backdrop of ghost stories created a kind of unsettling eeriness as we wandered through the streets past haunted buildings.

Concrete Ghost Walk Tips
The tour starts at 6 p.m. and 8 p.m. It all depends on how big the group is and how fast people walk.
Don't wait to get your ticket. Tickets are sold at Brown Paper Tickets, $15 ($16.74 with service fee).
Dress warmly as the tour takes place in any weather.
Wear comfortable shoes/boots as you'll be walking for most of the tour. (I wore my Bogs as they are weatherproof.)
Bring an umbrella (you can leave it in your car if you don't need it, but it is better to have one handy).
You can bring a camera, but the use of a flash and video are not allowed.
Plan to eat before the tour as many places will be closed after. One of my favorite places to eat is Birdsview Brewery along HWY 20. If you'd rather eat someplace spooky, dine at the haunted HUB Grill and Bar next door to the Concrete Theater. But, you might want to use another ladies restroom as that one is haunted.
If you want to stay in town, and at a haunted hotel I would suggest Mt. Baker Hotel. Here is a list of other nearby accommodations.
To learn more about Concrete visit the Concrete Chamber of Commerce.
Jesse Crater has written three stories that include the Concrete Ghost Walk. You can see them below. A movie was also set in Concrete from the memoir This Boy's Life by Tobias Wolfe.