Whenever I see a packed tourist attraction, I can't help but ask "Is it worth it?" After all, who wants to stand in line and be in a cue along with hundreds of other people? As we drove down the coast on our "no plan" summer adventure to Fort Bragg, California, this is exactly the question I proposed as we passed the very packed Sea Lion Caves. Located a short 15-minute drive north of the small town of Florence, Oregon, the cave is the largest sea cave in America and home to wild Steller sea lions. Makes you want to visit, doesn't it?
The following spring, my travels took me to Lane County, where I explored Oregon's covered bridge capital in Cottage Grove and the university town of Eugene. We also headed west to spend the day in Florence and tour the sites along the coast. What I discovered is that the Sea Lion Caves are worth stopping for as well as other popular stops, like Heceta Head Lighthouse, and Cape Perpetua Headland.
Exploring the Oregon Coast Near Florence
In this post, I'll share my tips for exploring these tourist attractions, and for dining and drinking in Florence. I'll also include extra stops, like the Oregon Coast Military Museum, which has a wonderful military collection (including trench art artillery shells from WWI) and the Siuslaw Pioneer Museum. Weather along the Oregon coast can vary, and a good rule of thumb is to pack layers and be ready for sunshine and rain. You can read about my favorite rain shoes. here.
One tourist attraction I won't cover is the nearby dunes, as I have yet to experience them myself. A fellow traveler did, and you can read about her Oregon Dunes experience.
I would like to thank Travel Lane County for hosting me in April 2017. #EugeneCascadesCoast #RealOregon
Disclosure: You can help support my small town travels by using the affiliate links in this post. Using the link is at no additional cost to you, and provides a small commission to me to help support my blog.
There are plenty of ways to get the local scoop. Check out hotel reviews and deals at TripAdvisor, Expedia, or Hotels.com.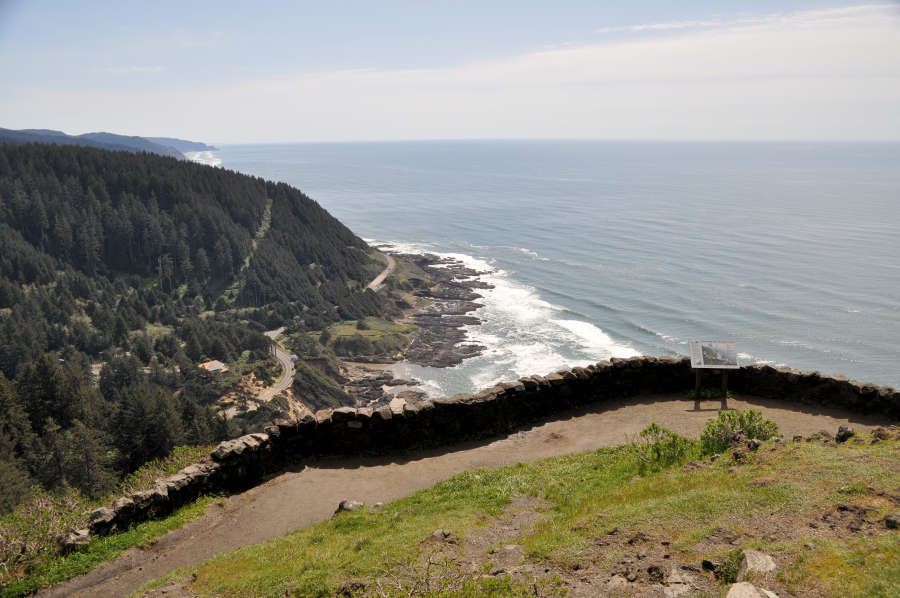 Must Do Tourist Attractions Near Florence, Oregon
1 – See Miles out to Sea at an Amazing Viewpoint
Even if you are pressed for time, Cape Perpetua Headland is a stop you'll not want to miss. The overlook is 800 feet above sea level, and on a clear day, you can see 70 miles up the coast and 37 miles out to sea. It is the highest drivable point along the Oregon Coast, and the views are stunning.
If you aren't into making the 1.2-mile trek to the viewpoint, take the 2-mile drive to the top. If driving, you'll want to park in the Day Use Area (see roads noted on the map). After you've parked, the .2 mile loop called Whispering Spruce Trail will guide you to the overlook. There is another viewpoint at a Civilian Conservation Corps shelter built in the 1930s. Bring a picnic lunch or snack and chill.
Travel tip: Cape Perpetua Overlook is a 36-minute drive from Florence.

Travel tip: Have cash handy for the parking fee. If you plan to visit more Oregon State Park during your trip, the 12-month day-use parking permit might be more economical.

Travel tip: If you have time, take the trail Trail of Restless Waters to Devil's Churn, but don't get to close to the edge as you might get soaked by waves.
2 – Sweet Instagram Moment at One of the Most Photographed Lighthouses in Oregon
I love lighthouses, and Heceta Lighthouse State Scenic Park is one of the most photographed lighthouses in Oregon. The 1894 lighthouse has a 56-foot tower and is 205-feet above sea level. I suggest coinciding your visit with a tour, which happens from 11 am to 3 pm in summer, and from 11 am to 2 pm in the winter. (Note that weather and staffing might affect the programs.)
Another thing you need to know about the lighthouse is that the light keepers home is The Heceta Lighthouse B&B. I haven't stayed here yet, but I've heard nothing but good things. Some of the highlights besides the fantastic view is an afternoon wine and cheese social, a seven-course breakfast, and midnight strolls to the lighthouse.
Lighthouse visitors will need to park in the parking lot near the beach. From there, take the trail up to the lighthouse (approx. 10-15 minutes).
Travel tip: Heceta Head Lighthouse is a 17-minute drive from Florence.

Travel tip: In spring and winter, migrating gray whales can be seen as they make their annual migration to and from Alaska.
3 – Up Close with Stellar Sea Lions at America's Largest Sea Cave
At Sea Lion Caves the Stellar sea lions are free and come and go as they please. This is very intentional as it has been a wildlife preserve and bird sanctuary since 1932. If you are a traveler that is all about ethical interaction with animals, this tourist attraction fits the bill. As I mentioned, I was a bit skeptical about Sea Lion Caves but ended up enjoying this attraction as you get to see seals in their natural habitat and a spot hidden from view.
To get to the caves, you follow a walkway along the bluff to an elevator, which goes down 200 feet down. Once you leave the elevator, there are more steps to the viewing area, an exhibit area, and an additional viewing area. One viewing area overlooks the seals and is screened so no one can disturb the seals. Because of this, you might find seals lounging reasonably close. Another overlooks a rocky bluff with Heceta Head Lighthouse in the distance.
It's important to note that the cave is wet, so watch your step and wear sturdy shoes. Also, it has a powerful odor, so be prepared for a little smell-o-vision along with your wildlife experience. To be honest, I'm not sure I would not have enjoyed the caves as much if it had been a super busy day. The viewing quarters are small, as the majority of the room goes to the seals, and rightly so. If you are like me and not a fan of crowds, plan for midweek or offseason.
Travel tip: Sea Lion Caves is a 15-minute drive from Florence.

Travel tip: Open daily, except Thanksgiving and Christmas Day, and may be closed during inclement weather. Hours: 9 am to 5 pm. Price: adults, $14; child ages 5 to 12, $8; senior, $13; children 4 and under free.
4 – Nature's Real Life Little Shop of Horrors
Darlingtonia State Natural Site made it on the must-see list because the site is so unusual. Dedicated to protecting the carnivorous cobra lily (Darlingtonia californica), the site has a boardwalk that leads visitors safely through the bog where the plant thrives. The walk is easy and doesn't take very long. If you want to see them in bloom, plan for stopping by late spring through early summer.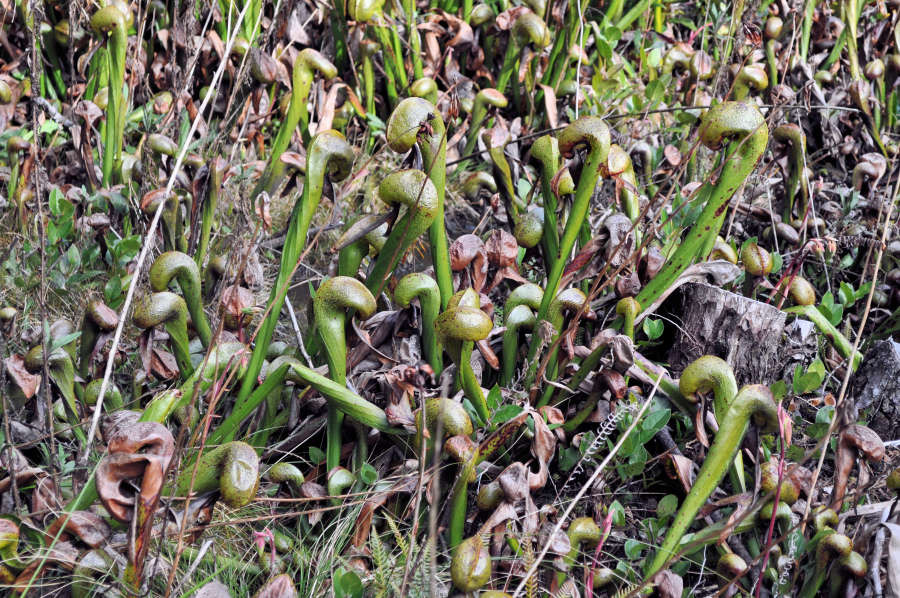 Exploring Florence, Oregon
Where to Dine and Drink
Tucked along the Siuslaw River, Florence is a quaint riverside town with a very walkable downtown (Old Town Florence is on the east side of Highway 101). During our Oregon day trip dined at Homegrown Public House, which focuses on locally sourced foods and offers gluten-free and vegan options, and the Waterfront Depot Restaurant, which serves elevated coastal cuisine.
Both I would recommend, but if you have time for only one meal, I suggest the Waterfront Depot. Reserve a table near the window. Across the street is another option, Bridgewater Ocean Fresh Fish House and Zebra Bar, which you can read about here.
Where to Stay in Florence
For hotels in Florence, Oregon, I would suggest Driftwood Resort & Conference Center along the ocean, River House Inn in downtown next to the river, or discover more hotels here. For hotels in Eugene, I would also suggest, the Inn at 5th or review more hotels here. (Read why wine lovers will want to stay at the Inn at 5th.) I stayed at the at the Oval Door Bed & Breakfast (which unfortunately is no longer in operation). Eugene is around a 1.15-hour drive from Florence, Oregon.
Other Activities in Florence
Ever since I saw a trench art shell on an episode of Antiques Roadshow, I've wanted to see one in real life. You can at the Oregon Coast Military Museum! If you are unfamiliar with artillery shell trench art, soldiers took the shell casings and etched them with their own designs. They are unique and not only a symbol of wartime, but of the emotional state of the men and their stories. The museum also has several large diorama exhibits and historical items on display.
Hours: Wednesday through Sunday, from 12 pm to 4 pm. Admission is $5; children 12 and under are free.
The Siuslaw Pioneer Museum is the place to go to learn more about the history of the area. Some of the historical items I found interesting included e a flute brought over by an Irish born homesteader named Patrick Menroe, and a giant forge bellow used in a blacksmith shop.
Hours: Tuesday through Sunday, from 12 pm to 4 pm. Admission is $4; children 16 an dunder are free if accompained by an adult. If you dine at Homegrown Public House, the museum is right across the street.
For more information on Florence go here.
For more information on Lane County, visit Eugene Cascades & Coast.
There are plenty of ways to get the local scoop. Check out hotel reviews and deals at TripAdvisor, Expedia, or Hotels.com.