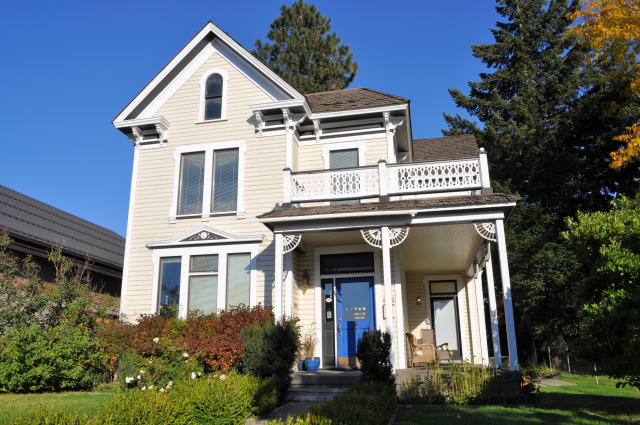 Last fall, I made my first trip to Ellensburg and totally fell in love with this small Eastern Washington town. It has all the things I look for in a small town – very walkable, a unique stay, fantastic food, wine, beer, lots of history, and day trip activities. On this trip, I was kindly hosted by Guesthouse Ellensburg, a historic 1888 home that is a boutique two-suite inn. It is the former residence of twice elected mayor Dr. Pashcal Gray and on the National Register of Historic Places. And, you won't find it on TripAdvisor.
If you plan to visit Ellensburg, also check out Six Free Things to do in Ellensburg and Foodie Stops in Ellensburg.
Disclosure: You can help support my small town travels by using the affiliate links in this post.  
Want to find out more about Ellensburg? Check out  TripAdvisor, Expedia, Downtown Ellensburg, and MyEllensburg.com.
Guesthouse Ellensburg Suites
Guesthouse Ellensburg has two large suites – Merlot and Syrah – on the second floor. I stayed in the Syrah Suite. It had a queen-sized four-poster bed, an adjoining roomy sitting area with a sleeper sofa, and a private bathroom (in the hallway). The bed was incredibly cozy with fluffy down comforters. I  slept very, very well. On either side of the antique armoire were two luggage racks, which is what I used since I was only there for one night. I enjoyed the addition of the separate large sitting room as it allowed me to spread out and gave me a working space, but I wasn't crazy about the floral decor. The bathroom was a good size with a large shower.
Tip: The town's huge event is the Ellensburg Rodeo, which happens on Labor Day weekend. If you plan to travel then, please book far in advance.
Downtown Ellensburg
After checking into my room, I headed out to investigate downtown, which is only two blocks away. Very close to the guesthouse is Ellensburg Pasta Company and The Porch. Before check-in, I had lunch at the pasta company and had an excellent tomato soup and cheese bread.  Downtown has shops, museums, wine tasting rooms, and lots of dining options. I suggest  Iron Horse Brewery, Starlight Lounge, Palace Cafe, and Brix. Read more about what to do in Ellensburg in my article in Northwest Life & Travel Magazine.
Tip: The Ellensburg Visitors' Center is across the street from the guesthouse. They have lots of brochures, maps and are happy to give advice on where to eat, stay and play.
Want to find out more about Ellensburg? Check out  TripAdvisor, Expedia Downtown Ellensburg, and MyEllensburg.com.
And, my Six Free Things to do in Ellensburg and Foodie Stops in Ellensburg.
Merlot Suite and Guesthouse Amenities
No one was in the Merlot Suite, so I got to peek inside. This room faces the front of the house and Main Street. It is one large room with a four-poster queen bed and sitting room with sleeper sofa. Both rooms have modern amenities like free WiFi, a flat-screen TV, coffee maker with coffee and tea, and a refrigerator. The hallway has a small fridge with juice and water, as well as, a sunny sitting area. A new feature since I was there, is that each stay comes with a complimentary wine tasting at Ellensburg Wine Works (Tuesday thru Saturday), which is on the lower level, and a 10% discount on purchases.
Rates ($145-$175) are based on double occupancy, and for additional people, there is a $20 fee. Reservations are guaranteed with 50% deposit, and there is a $35 cancellation charge.
Since there was no one in the Merlot Suite while I was there, I didn't get to experience the guesthouse with other people present. Since both rooms are next to each other and a common stairway and entryway are used, I would expect that you would see each other in passing, and possibly hear your neighbor.

Guesthouse Ellensburg Pros & Cons
Pros:
Historic home with local history
Boutique accommodations with antique furnishings
Comfortable beds and bedding
Large sitting areas
Private bathrooms
Two blocks from downtown Ellensburg
Cons: (I didn't find much not to like about the accommodation)
Could be close quarters for some people
While the guesthouse has a B&B feel, it is not, and therefore does not serve breakfast
Reservations made by request on the website
$35 charge for cancellations
Would I stay here again? YES. I much prefer this type of lodging than a chain hotel. While the price is a little steep, you get to stay in unique accommodations and can walk to and from downtown Ellensburg with ease. Ellensburg is a lively town, which might have to do with Central Washington University giving it a youthful and fun vibe, while still maintaining its historic roots and friendliness.
Ellensburg FREE Activities:
Want to find out more about Ellensburg? Check out  TripAdvisor, Expedia, Downtown Ellensburg, and MyEllensburg.com.
And, my Foodie Stops in Ellensburg.

Note: As is common in the travel industry, the writer was provided with complimentary accommodations for the purpose of review. While it has not influenced this review, the writer believes in full disclosure of all potential conflicts of interest.