While visiting Cottage Grove, Oregon's covered bridge capital, I had the opportunity to check out two nearby small towns – Creswell and Halsey. Creswell is around a 14-minute drive north of Cottage Grove, and Halsey is around 45-minutes. If you are a foodie, both towns have a foodie stop, and if you have a passion for the fiber arts, you'll want to be sure to add an extra stop in Halsey.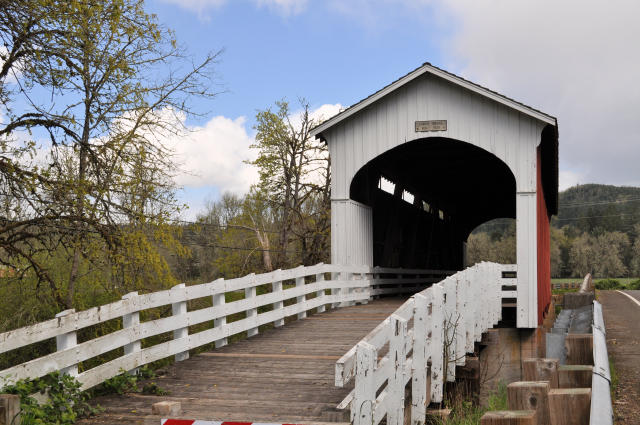 The small town of Cottage Grove, Oregon is known for having the most covered bridges on the West Coast.
Creswell and Halsey: 2 Small Towns Near Cottage Grove, Oregon
Creswell, Oregon
Creswell Bakery
Sometimes you never know how good a restaurant will be, but when you see a line almost to the door that is usually a good sign. Usually, I would not be happy with having to wait in line, but this time I was, as I had a tough time deciding what to order as everything sounded amazing. Creswell Bakery makes everything from scratch like bread, bacon, soup, you name it, they strive to make it from scratch, and they use local ingredients, even their own grass-fed cows for their beef. They also compost all of their food waste. Some of the menu items include grilled sandwiches, gigantic cinnamon rolls, cookies, soups, and salads. And, they also sell local beer and wine.
By the time we'd made it closer to the register, I had decided on the Turkey, House Cured Bacon, and Cheddar Melt with their house-smoked turkey, chipotle mayo, Tillamook cheddar and house-cured bacon on sourdough. Then, seeing all the delicious looking baked goods, we added on an orange coconut cinnamon roll and a sugar cookie. Everything was super tasty, and the portions were big enough to split.
Fun fact: Creswell Bakery is located in a former church.
Travel Tip: Portions are large and big enough to share.
Location and hours: 182 S. 2nd St. Creswell, OR 97426. Bakery: 7 am to 6 pm; Breakfast 7 am to 11 am; Lunch 11 am to 3 pm.
Halsey, Oregon
Country Bakery
I discovered Country Bakery surfing through TripAdvisor. Reviews like "The Best Ever" and "Must Stop Bakery" caught my attention. Since I was going to be in the area, I wanted to check it out, and I'm so glad I did. It's important to note, this is a stop you'll need to plan for as Country Bakery is only open two days, Friday and Saturday, from 7 am to 5 pm.
The baker, a Mennonite woman named Loretta, makes everything from scratch. She makes bread, cookies, cinnamon rolls, donuts, handmade noodles, and more. The setting is a little unusual, a home turned bakery with a small gift shop and outside is a landscaped lawn with chairs and tables and views of the countryside. I ordered a donut and snickerdoodle cookies. The cookies were a little too cakey for me, but the donut was really, really good and worth the stop.
Travel Tip: Be warned, she sells out early, so try to plan for a morning or lunchtime stop.
Location and hours: 26615 Peoria Road. Halsey, Oregon 97348. Open Friday and Saturday from 7 am to 5 pm.
~
Ewethful Fiber Farm & Mill
Downtown Halsey is a short drive from the Country Bakery. The town is very small town with a population of less than a thousand, and it doesn't take long to drive through. Around downtown are homes, a few churches, the school, and along the main streets are some buildings that have seen better days. One of these buildings, a former hardware store, has been revitalized and taken on a new life as the Ewethful Fiber Farm & Mill.
The story of Ewethful is an interesting one. Owners, Kim & Mitch Biegler, moved from Portland to Mitch's family farm in Halsey. It is here that Kim's passion for knitting started to grow and after she received a spinning wheel for a Christmas gift, her love for fiber grew into the business you see today. They raise fiber sheep, Alpacas, and at the store, they create custom-made fiber products, process fiber, sell fiber, and some antiques and collectibles, and have monthly classes such as beginning spinning, learn to dye sock blanks, beginning knitting, and private classes.
I have to admit, I'm not a knitter, but I've always admired people who make their passion part of their life. I enjoyed meeting Kim and learning about her business and how she processes fiber.
If you love the fiber arts, this is a stop you'll want to make.
Travel Tip: Visit the website for their list of classes.
Location and hours: 591 W 1st St. Halsey, Oregon 97348. Thursday to Saturday, from 10 am to 3 pm. Or, by appointment. 
~
For tips on what to do and where to stay in Cottage Grove, read 7 Reasons to Visit Cottage Grove the Covered Bridge Capital of Oregon and Village Green Resort – A Garden Getaway in Oregon's Covered Bridge Capital.
For more information on Creswell visit Eugene, Cascades & Coast. For more information on Halsey visit See Albany Discover Oregon.
---
Note: As is common in the travel industry, the writer was provided with some meals for the purpose of review. While it has not influenced this review, the writer believes in full disclosure of all potential conflicts of interest.
---
~