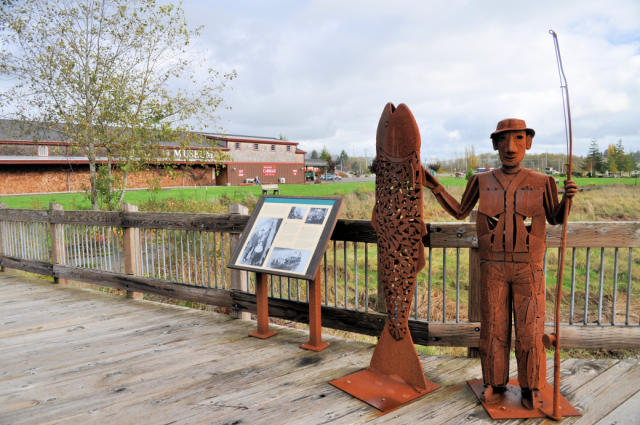 If you drive through Raymond, WA what will catch your eye first are the rusted steel sculptures along Highway 101. If you drive-thru downtown, the vacant buildings downtown might make it look like not much is going on. But, if you stop and do some exploring you'll discover that a day trip to Raymond, WA could turn into a two-day adventure.
Disclosure: This post contains affiliate links.


TripAdvisor is my go-to source for travel advice. Find the best deal, compare prices, and read what other travelers have to say about Raymond, WA at TripAdvisor.
Raymond, WA  —  It's More Than a Drive-Thru Destination
Foodie Stop – Pitchwood Alehouse & Inn
I'm a huge fan of Trip Advisor and it didn't lead me in astray with Pitchwood Alehouse & Inn, which is the #1 restaurant in Raymond, WA. It reminded me of a cozy and eclectic Alaskan Roadhouse with added flairs of woodworking. And the food was fantastic. What did we order?
The Melt –  Roast beef, tomatoes, and bacon all grilled with mayo and lettuce  ($9.99), substituted a Caesar salad ($2.00).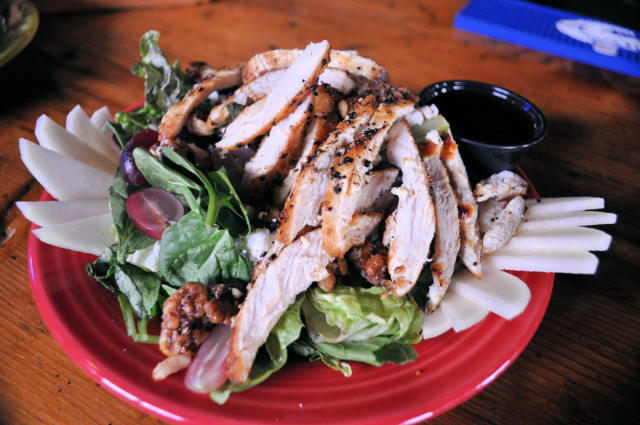 Mixed Greens  – Mixed greens with goat cheese, grapes, sliced pears and candied walnuts with a balsamic dressing. ($9.49)
Raymond, WA  —  A Unique Inn
Spend the Night – Pitchwood Alehouse & Inn
Being the nosy writer that I am, I asked about the Pitchwood Inn, and in the process ended up getting a tour by Joe, one of the owners. When Joe and his brother Kaley bought the property it included both the restaurant/bar and a motel. They've turned a typical roadside motel layout into a really distinctive inn.
One room has hostel style bunks with a communal bathroom. The price is $25 a bunk or $20 if you BYO bedding. The remaining rooms have traditional bed sizes – king, queen, two queens, and there will soon be a room with a small adjoining room with bunk beds. All rooms have bathrooms and a flat screen TV. A couple of the rooms have a kitchenette, and there is one pet-friendly room. Prices range $75 to $90. Each room is unique with clean lines, beautiful reclaimed wood and woodwork. (BYW- the pictures on their website are much better than mine!) I didn't get to stay here on this trip, but it is on my list next time I'm in the area.


TripAdvisor is my go-to source for travel advice. Find the best Raymond, WA deals, compare prices, and read what other travelers have to say about Pitchwood Alehouse & Inn at TripAdvisor.
Raymond, WA  —  Distinctive Museum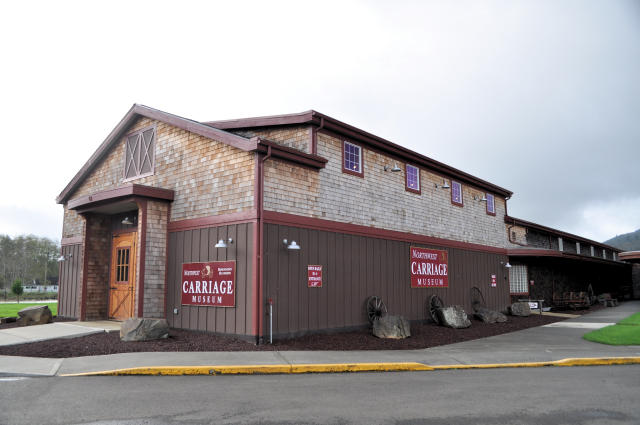 History Dose – Northwest Carriage Museum
I'm a museum goer, but I have to admit I wasn't sure I'd be into my hosted visit at the Northwest Carriage Museum. But, once I got there and saw all the carriages (they have 48!) I quickly changed my mind. When you walk in, the upper-class carriages will be the first carriages you see. The working and middle-class carriages are in the next section. To the right of the counter is a gift shop, an interactive area with a carriage to climb on, a school room, a dress-up area, and a mock carriage with a horse, as well as, two more carriages, and detailed information about the parts of a carriage.
Some of the carriages are from the U.S., others are from Europe, and some have been used in movies. For those they've identified in the movies, they have segments of those movies playing. We had a hosted tour, and I highly suggest calling ahead to arrange a tour, as you'll get the most out of your visit.
Some of the carriage museum highlights:
Learning about where vehicle terminology came about, such as,

A glovebox was a box near the front seat and was for ladies to put their gloves inside.
Dashboard was a wooden board in front of the carriage right behind the horses. It would prevent mud and debris from splashing up onto the drivers.
On a stagecoach, riding shotgun meant you had the seat next to the driver on the outside of the carriage. If you had that seat, you had to carry a gun and be prepared to defend the stagecoach from robberies or raids.

Learning about the different types of carriages and how they were used, such as,

In a Hansom Cab, the driver locked the passenger inside until they paid.
John Deere started out making Deere and Weber Sleighs.
Mail Buggies had the right of way and were manned by six horses. These horses were changed out along the route so they did not get tired.

Having a hands-on section where you could climb on a carriage and man a mock carriage with a mechanical horse. (This area is great for kids!)
What were my favorite carriages?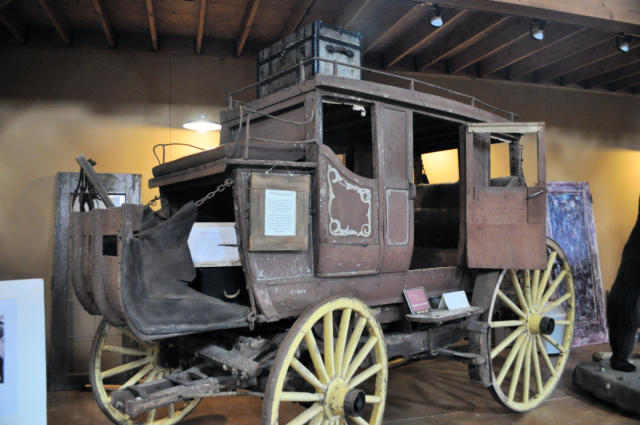 Stagecoach (1888)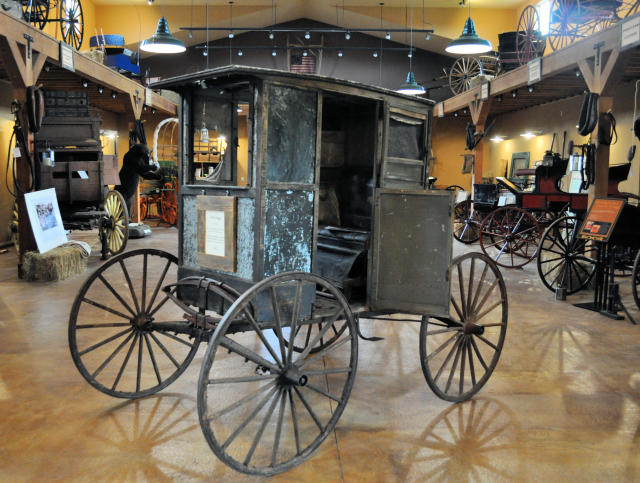 Mail Buggy (1871)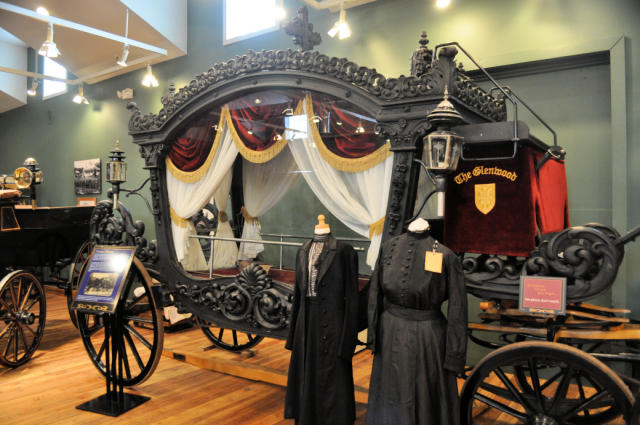 Austrian Hearse (1900)
Two-Days in Raymond, Washington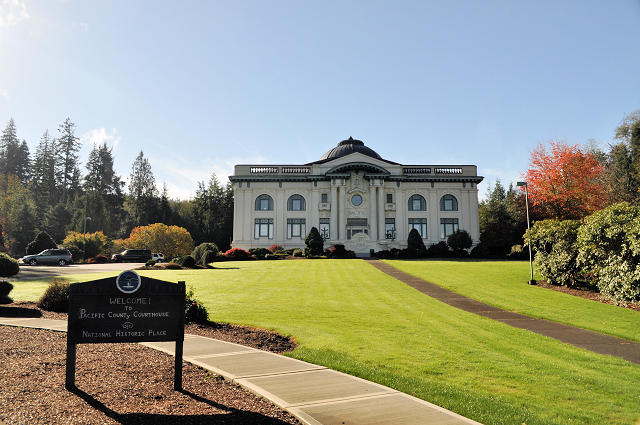 If you want to turn your day trip into a two-day Raymond, WA adventure check out these other activities: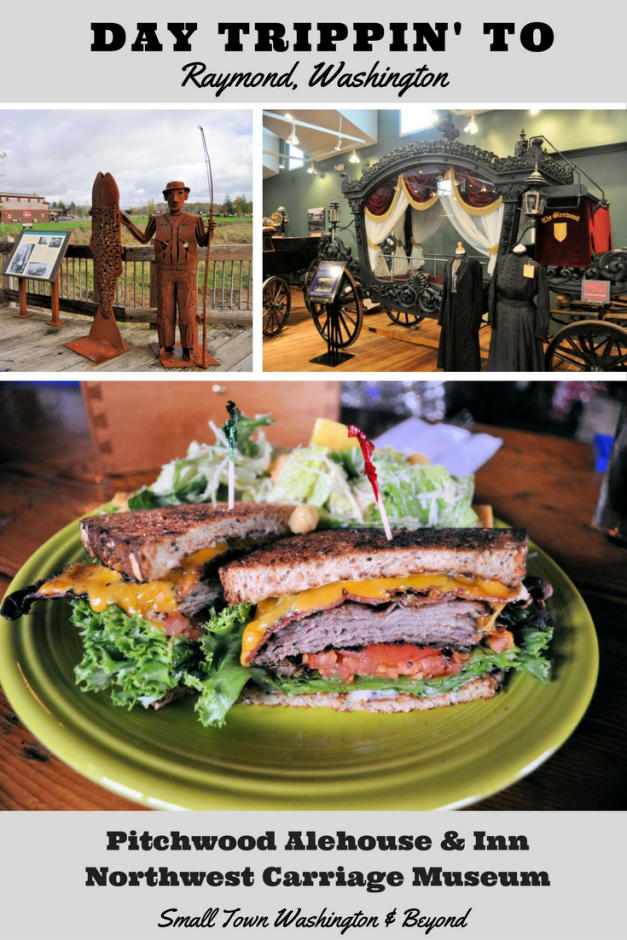 This post is part of: