The small town of Rockford, Washington is tucked along the Palouse Scenic Byway (State Route 27). With two creeks, one to the west and one to the north, its one-block quaint historic downtown has views of green trees. While touring Spokane, a local told me that Rockford (population 470), was one of their favorite small towns, so I had to check it out.
What I discovered when I got there, is a story everyone should know.
Disclosure: You can help support my small town travels by using the affiliate links in this post. Using the link is at no additional cost to you, and provides a small commission to me to help support my blog.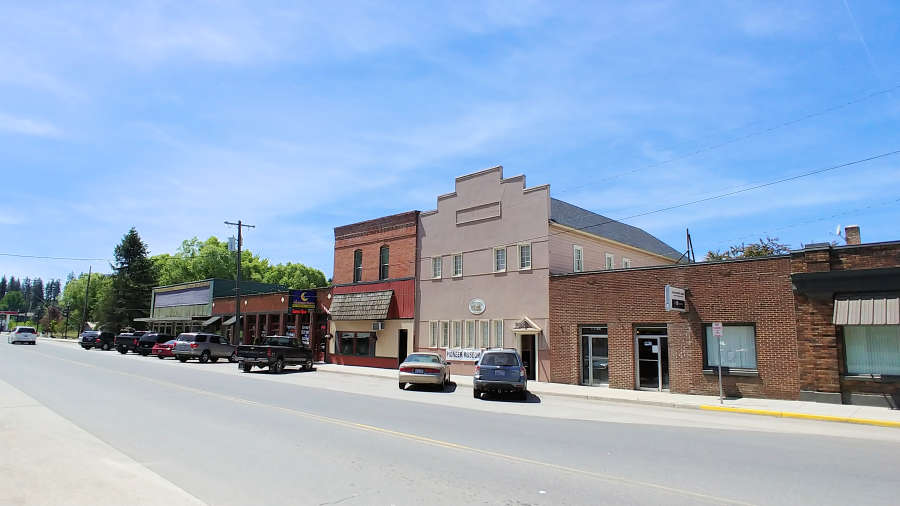 Rockford, Washington and the
Two Victorian Women Who Walked Across America
First, A Little Bit About Rockford and the Palouse
The drive to Rockford from Spokane takes you through Eastern Washington's famous Palouse with its beautiful rolling hills. This area is a destination in itself, will hills dotted with farmhouses, tiny towns, larger towns like Pullman and Moscow, Idaho, and is a 35-minute drive from Spokane. While driving through the Palouse I urge you to take your time and if a side road looks appealing, turn down that road to check out the scenery, for this part of Washington is too beautiful to speed through.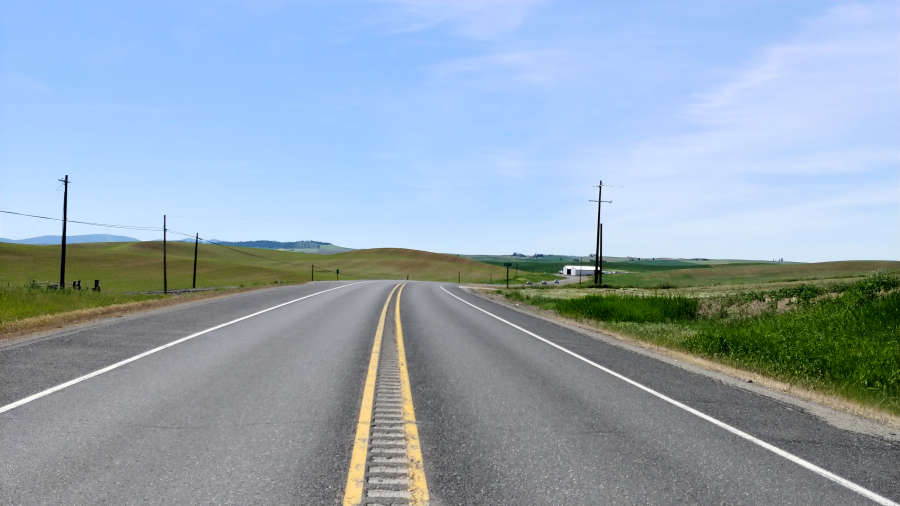 Travel tip: If you want more information on the Palouse Scenic Byway, including what to do, where to stay and eat, and maps, check out their website.
Rockford was first settled in 1878, and its historic downtown is lined with several buildings. As you know, my first stop in a small town is the history museum, and Rockford has three; the Pioneer Museum, the Military Museum, and the Farm Museum. During my visit only the Pioneer Museum was open, and inside it held a story that truly amazed me.
What was the story that captivated my attention?
It was about a mother and daughter, Helga and Clara Estby, who walked across Victorian America in 1896. Why did they do it? With the economic crisis in the late 1800s, the Estby's were going to lose their family farm located outside of Rockford. A wealthy New York woman proposed to pay Helga $10,000 if she walked from Spokane to New York City.
A huge part of the proposal was that she and her daughter wear a new bicycle skirt that debuted at the 1983 World's Fair in Chicago. The short grey skirt fell several inches below the knee and had leggings and a jacket. (For a Victoria-era woman, showing ankles was not part of an appropriate or acceptable dress code.) Another component was to prove to society that women were not delicate or weak creatures but had physical and mental strength.
The Decision
With their home on the line, Helga, a Norwegian immigrant who had spent many years as a pioneer wife, took on the challenge. Her teenage daughter Clara joined her. Helga decided to keep a journal of their travels, and Clara brought a sketchbook, with the hopes to make additional monies from their story.
Some additional rules of the signed contract included:
They could only leave with $5 a piece
Along the way, they had to find ways to support themselves without begging
At state capitals they had to meet with political leaders
Today, a road trip across the United States in a car seems like a big ordeal. Imagine walking the entire way! Add on, societies ideas about women in the Victoria age and their journey seems even more burdened by societal norms.
The Walk Across America
For the most part, they walked along the railroad lines from town to town. Along the way they faced hardships, like getting lost in the desert, being followed by a cougar, having to wade through waist-high rivers and creeks in heavy skirts, and dealing with vagrants and rattlesnakes. There were also happy moments, where the kindness of strangers eased their journey with bottles of water left for them along the tracks, hoteliers who hosted them for the night, and farmers sharing a meal. They crossed fourteen states, and when they didn't stop to make money for food and lodging, they walked around 25 miles every day. They left Washington State in April and arrived in New York City in December.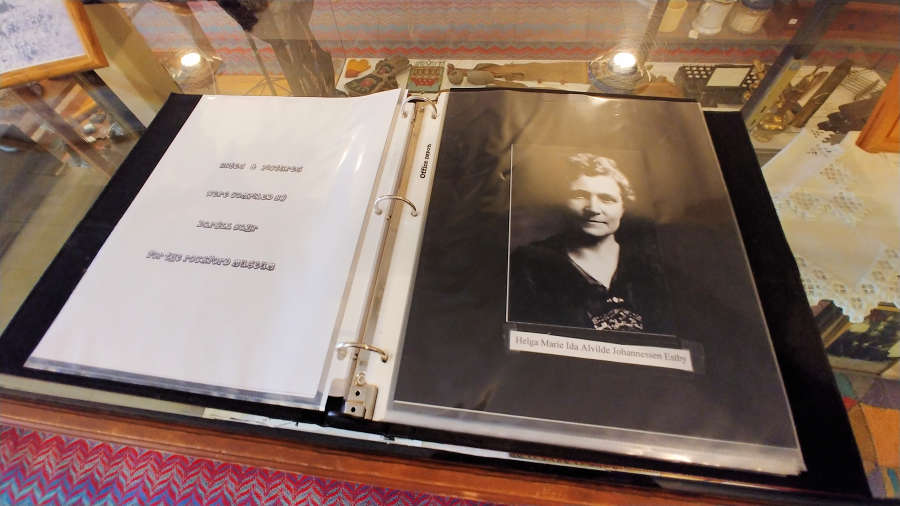 A Story Silenced
I had never heard of Helga and Clara's journey, and most likely, you haven't either. There is a reason why. Helga and Clara completed their journey, but the anonymous wealthy woman didn't keep their end of the contract and pay the $10,000. On top of that, they were stuck in New York City with no means to return home until they made enough money. During this time, two of Helga's children died, and when the mother and daughter finally did return, Helga's absence and the reason for her absence created much bitterness with her husband and the children she left behind. On top of that, the Norwegian community and Victorian society, frowned upon her achievement because it took her away from what she was created to do, which was "take care of her home and her children." The walk across America wasn't talked about in the family, and after her death, her daughters (Ida and Lilian) destroyed her notes and journals.
Helga's Journey Brought to Life
As someone who loves history, traveling and the written word, that so makes my heart ache. While I understand the emotional side, it is really sad that her notes, journals, and drawings are lost for I'm sure they captured a unique view of America and its people.
Thankfully, author Linda Lawrence Hunt took it upon herself to write Bold Spirit: Helga Estby's Forgotten Walk Across Victorian America
. I purchased it at the museum and just finished reading it. The author did an excellent job of recreating their walk across America from newspaper clippings from the stops the pair made en route, visuals of the landscapes and the terrain they walked through, and lots of history about pioneer life, suffragettes, women's rights, and the politics of the time, including women's rights to vote. She even included a chapter dedicated to the silencing of family stories.
If Helga and Clara's story piques your interest, I highly recommend the book.
Click on the image to order on Amazon.
Now that I've read the book and have a better understanding of the story I want to go back to the Pioneer Museum and review the exhibit on the Estby's again.
Visiting the Pioneer Museum
Give yourself an hour at the museum. It has interesting local artifacts,  old photographs, and an upstairs as well, that has a pair of slippers "worn by every initiate into the Rockford Lodge #45." The museum is open Fridays from 10 am to 3 pm, and Sundays from 10 am to 4 pm, Memorial Day to Labor Day. Donations greatly appreciated.
Downtown Rockford, Washington
After my museum visit, I walked through Hurd Mercantile Gift Mall and then stopped at Harvest Moon Cafe. Since I'd eaten a big breakfast at The Historic Davenport Hotel I opted for ice cream. It was only $2! The cafe is diner style. One side had cafe seating; the other side is bar seating.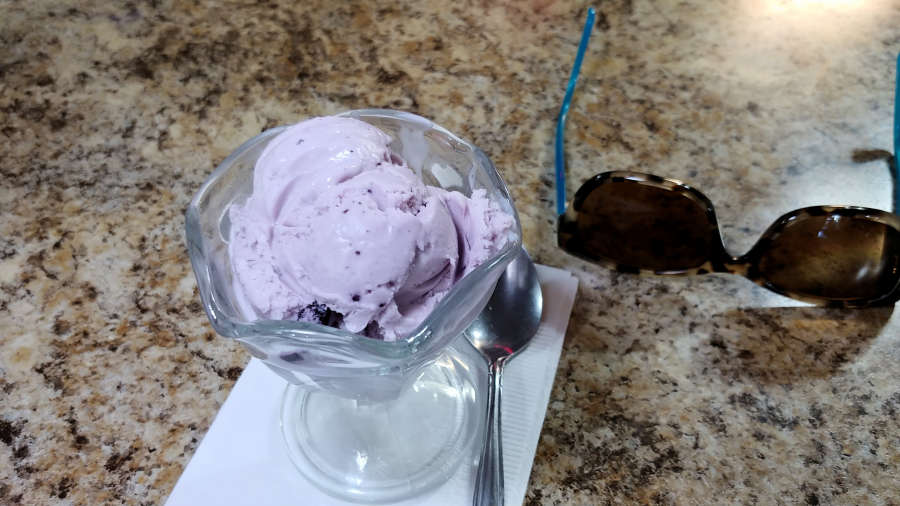 Travel tip: Other amenities of interest to travelers in Rockford is FarmHouse Pizza, Banner Bank with an ATM and a minimart with a gas station.
Side Stop in Valleyford
Another place I stumbled upon while driving around is the Palouse Brew House. This makes for a great stop as cafes can be spread out. They have a drive-thru and a small section with outdoor seating. On the menu is coffee, soda, wine and beer, paninis, flatbread pizza, and salads. It is a 12-minute drive from Rockford.
Stay in Spokane, Washington
If you like to include a mix of the big city and small towns during your travels, Spokane makes for a great home base. It is the second largest city in Washington State and has plenty of accommodations, activities, and eateries. It is also a short drive to the Palouse Scenic Byway and a 35-minute drive to Rockport.
The Historic Davenport Hotel
During my visit, I was hosted by The Historic Davenport in Spokane. Built by Louis Davenport, it opened in 1914 and in 2000 underwent a multi-million dollar restoration. It is stunning and even if you decide to stay at another hotel, be sure to stroll through the lobby and wander around the second floor which has old photographs, Bing Crosby memorabilia (he was born and raised in Spokane), and the Hall of Doges.
Travel tip: If you have time for a spa day, Davenport Spa and Salon received a four-star rating from Forbes Travel Guide. Another excellent spa is La Rive Spa Northern Quest Casino, which has an experiential shower and whirlpool.
Fun fact: Crab Louis was not invented in San Francisco, it was invented by the chef at The Historic Davenport Hotel!
The beds at the hotel are like sleeping on a cloud and there are bars, restaurants, and a spa within the hotel. Another great perk about the hotel is that it is located in heart of downtown Spokane and within walking distance to restaurants, bars, shopping, pharmacies, and the Spokane Riverfront Park with a historic carousel, skate ribbon, and Spokane Falls.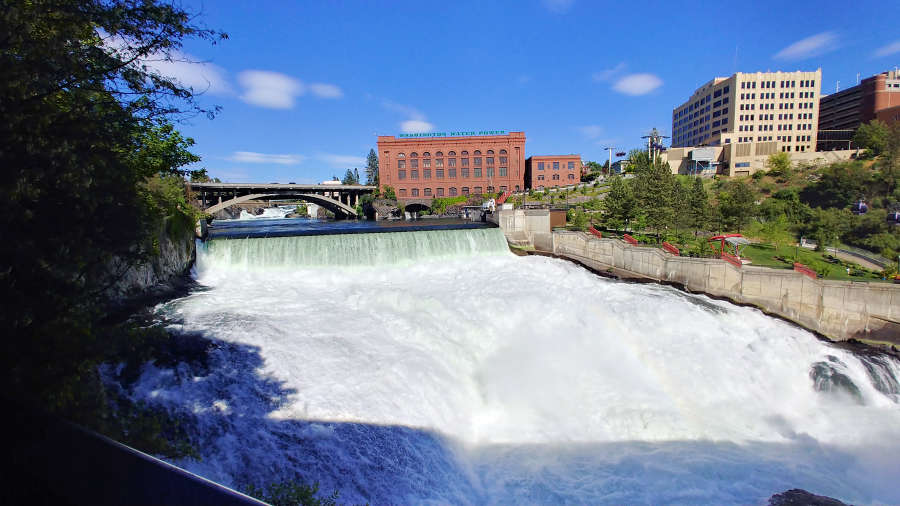 To find out more about The Historic Davenport Hotel visit their website.
To help support my blog, book through one of my affiliates such as TripAdvisor, Travelocity, Hotels.com, and Expedia. (Booking through one of my affiliates is at no extra charge to you, but provides me with a small commission so I can continue to #dreambigtravelsmall.)
To find out more about the area, go to Visit Spokane.
---
As is common in the travel industry, the writer was provided with accommodations for the purpose of review. While it has not influenced this review, the writer believes in full disclosure of all potential conflicts of interest.
---
To find out more about more about Spokane, read reviews on TripAdvisor, Hotels.com, and Expedia.com.
What did you think of Helga's story? As a Victorian woman would you travel across America by foot?