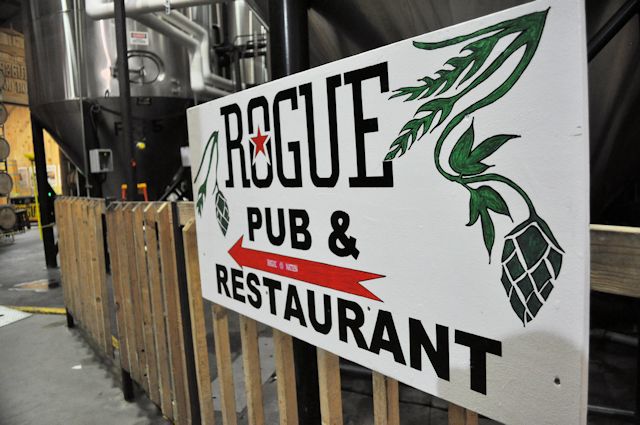 Before we left for our "no plan" vacation, we'd made only one reservation for a Motel 6 in Grants Pass, Oregon. We chose that location because we planned to meet up with a relative that evening, and Motel 6 because the room was $89, and the chain doesn't charge extra for dogs. When were about four hours away, we learned that meeting up wasn't going to work out. So, we had to decide to either stay on our route to Grants Pass, or head to the Oregon Coast. We opted for the beach.
Little did we know this turn of events would cost us almost twice the amount of our original reservation.
Tip: Motel 6 has a great cancellation policy—you have up until 6 p.m. the day of arrival.
Disclosure: This post contains affiliate links. 


Thinking of going to Newport, Oregon? My go to source is TripAdvisor, but there are plenty of ways to get the scoop. Find deals and read reviews at TripAdvisor or Hotels.com.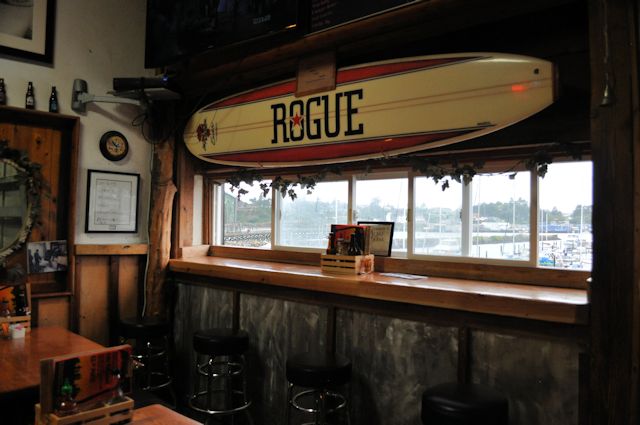 How Rogue Nation Brewery Saved Our "No Plan" Vacation
Staying true to our "no plan" vacation we talked about when and where we'd turn toward the sea. We stopped at a rest stop, and the hubs looked at a map on his phone and did some preliminary hotel and campground research. After some time, we decided to head to Newport and either camp or find a hotel when we got there.
As we drove the Corvallis-Newport Hwy over the mountains, the rain became heavier and didn't look like it was going to let up. After a very long day of driving we didn't want to camp in the rain or pack up camp in the rain, so, we knew it would be a hotel stay. Then it dawned on us, wouldn't everyone else that had planned to camp want to stay in a hotel too? Of course, as luck would have it, our phones didn't get reception in the mountains. So we waited and waited and waited. About 45-minutes later we called the Motel 6 in Newport. They had ONE room left for $150, plus taxes. When I asked why it was so expensive, I was told that was the weekend rate.
Compared to the $85 Motel 6 in Grants Pass, we were more than a little put-off, but we wanted a dry night. The result—it was the worst $175 we spent on our trip, and I'm not even going to bother with a pro and con breakdown.
The best money we spent on our trip was at Clam Beach in California.

Motel 6 in Newport is Not Worth the Price
The Motel 6 is a newer building, not a roadside motel, like most Motel 6's. It was also in an unusual location, next to the Yaquina Bay Bridge. And, the front desk clerk was super friendly. (They've got a star employee with her.) With all those things combined, I thought that maybe, just maybe, our room would be up to snuff for the $150 price.
It wasn't.
Everything inside that room screamed rundown Motel 6. The décor was dated and horrible, the bed too firm, pillows flat, sheets ruff, and the polyester comforter had cigarette burn holes—I'm not joking!! For that price, they could have at least upgraded the bedding. On top of that, the only way to control the room temperature was a window that no wind came through, and their dog bathroom area was extremely hard to find and down a very dark, moss-covered staircase. It made the Motel 6 Walla Walla look like a dream motel, and the cost to stay there is $60.
Needless to say, the price in Newport is totally unjustified.
What's the shining light at the end of this tunnel? We could see Rogue Nation Brewing & Spirits from our window. It was less than a 3-minute walk from our hotel.


Thinking of going to Newport, Oregon? My go to source is TripAdvisor, but there are plenty of ways to get the scoop. Find deals and read reviews at TripAdvisor or Hotels.com.
Rogue Nation Brewery & Spirits
After we'd come to terms with our crummy room and eating $175, a cold beer and some food was definitely in order. So we walked over to Rogue Nation Brewery & Spirits, which has a restaurant, pub and a working brewery.
Tip: Rogue Nation Brewery & Spirits has daily brewery tours at 1, 3 and 5 p.m.
From the start, the vibe says "get over it, have fun and relax." Guests enter through a bright red grain silo, into the brewery, and follow a path up to the restaurant and pub. The atmosphere is lively, and the restaurant and pub have views of the Yaquina Bay and the marina. They serve the full line of Rogue beers and a selection of nano and pub-only beers.
Tip: The restaurant is family-friendly, the bar is not.
What did we order?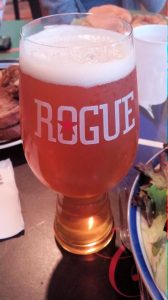 For beer, we had their 4 Hop IPA and the Good Chit Pilsner ($6.50 ea).
Since I'd raved and raved about the fried cheese curds in Faribault, MN we started with their version, which is fresh cheese curds dipped in Mom Hefeweizen beer batter and served with jalapeno jelly. They were good, but not as light and fluffy as the ones in Minnesota.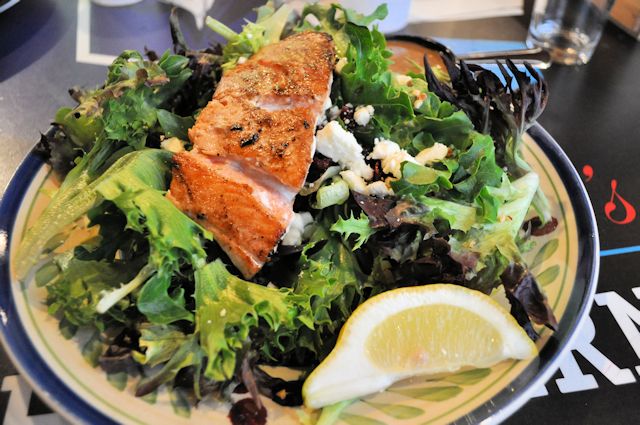 I had the Rogue House Salad with spring greens, dried cranberries, crumbled chevre, and Rogue Farms hazelnuts, with a balsamic vinaigrette ($7). I also added salmon for $6. After a day of snacking in the car, it was the perfect healthy and light meal.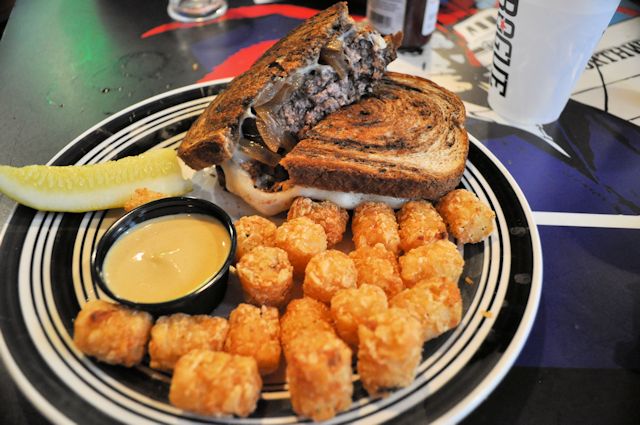 The hubs got the Brutal Reuben with corned beef simmered in Brutal IPA and topped with melted Swiss cheese and Shakespear Stout marinated sauerkraut, 1000 Island dressed, and marble rye bread ($11) with tater tots.
My stepdaughter got the BBQ Chicken Sandwich with house-smoked chicken breast with white BBQ sauce and dill pickles($12). I have to admit it looked rather plain so I didn't take a picture, but she said it was good. Her Maier Lemonade was killer tart ($3).
Overall, Rogue Nation Brewery had good service and food, with the exception that the waitress forgot to bring me my beer for like 15-minutes. But, compared to 150-dollar cigarette burned comforter that seemed like a minor thing.
Newport looks like an interesting small town, and I want to go back and explore. But, next time, I plan to plan ahead.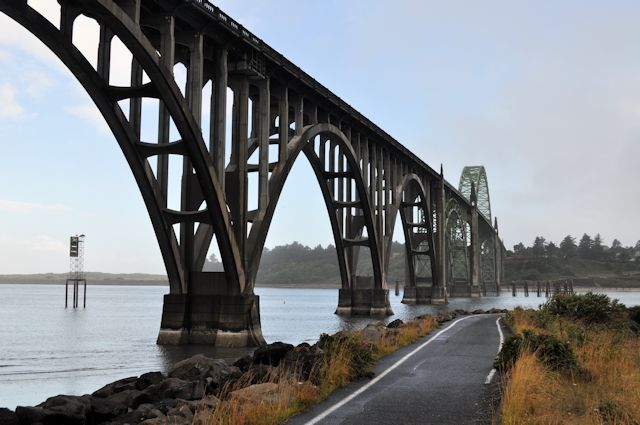 After our meal, we dreaded going back to the hotel so we took Hazel out for a walk near the Yaquina Bridge and waterfront. FYI-she loves to eat sand fleas.
Thinking of going to Newport, Oregon? My go to source is TripAdvisor, but there are plenty of ways to get the scoop. Find deals and read reviews at TripAdvisor or Hotels.com.