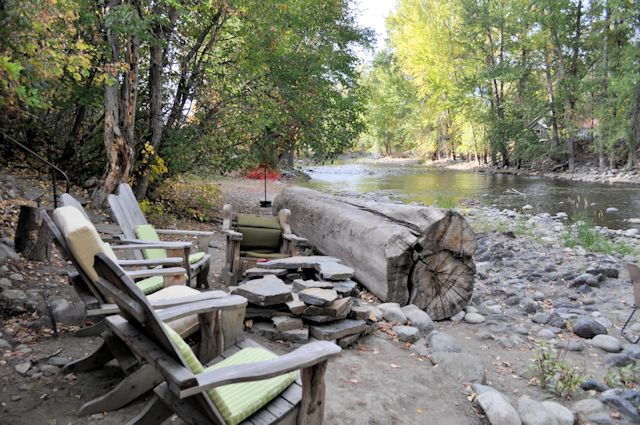 Twisp River Suites is situated next to the Twisp River—an idyllic spot in the small town of Twisp, WA. Many of the guest rooms have screen porches that face the river, and the property takes full advantage of the riverside by offering guests a more intimate river experience with a screened tent, a large hammock, lounging chairs, and a gas fireplace. This Methow Valley getaway is a little over a 4-hour drive from Seattle, a 12-minute drive from the western town of Winthrop, and a couple of blocks from the heart of downtown Twisp.
Disclosure: This post contains affiliate links.
Twisp River Suites
Twisp River Suites has an unusual appearance which is rusty and industrial. The decor in the rooms is a mixture of cabin-cozy and contemporary. Their 16 rooms range from standard king rooms ($139), king one bedroom suites ($199/$229), queen one bedroom suites ($179/$209), two bedroom queen suites ($229/$259), and a king one bedroom ADA suite ($199/$229). All rooms have memory foam mattresses, deep soaker tubs, flat screen TV's, sound machines (I love this!), AC, refrigerators, free WiFi, bathroom products, tea, and  Blue Star Coffee Roasters coffee. The upper-level suites have a private screened deck, and the lower level rooms have a small screened deck which opens to the common deck area. The suites have a living room, full kitchen, gas fireplace, and washer and dryer. The standard rooms do not have river views or a porch, but they do have skylights for star watching. Prices change seasonally, except for the king standard. The suite amenities are geared toward extended stays with family and groups of 4 or more, and all stays come with a complimentary breakfast, which makes for more budget-friendly travel.
On weekends there is live music in the common area and wine, beer, and appetizers are available for purchase.
For my hosted stay I stayed in the second-floor king bedroom suite, which had a large living room area, a full kitchen, a bedroom with a very comfortable bed, and a bathroom off the bedroom. Since I planned to dine out during my stay, my favorite feature quickly became the screened front porch. From there, I enjoyed the sounds and beauty of the river all from the comfort of my suite (aka pajamas).
Twisp River Suites Pet-Friendly Suites
Since the addition of our Blue Heeler Hazel this spring, I was thrilled to discover Twisp River Suites has three pet-friendly rooms. Each room varies in size and amenities, but all have their own BBQ grill, fireplace, mini-fridge, flat screen TV, a dog bed, dog bowls, doggy door, and my favorite feature—a small fenced yard! And, each has access to a shared full kitchen area and an outside dog washing station.
TripAdvisor is my go-to source for travel advice. Find the best deal, compare prices, and read what other travelers have to say about Twisp River Suites at TripAdvisor.
Twisp River Suites Shares Amenities
All guests have access to the lounge, the deck which overlooks the river, and the riverside area which includes a gas fire pit with chairs, a large hammock, and a screened tent.
In the morning, from 7:30  to 10: 30, all guests receive a complimentary breakfast with home-made breakfast casseroles (the two I had were delicious), yogurt, hard-boiled eggs, bagels, cereal, oatmeal, baked goods, including the BEST scones I've ever had. Usually, scones are way too dry for me, but the Twisp River Suites Signature White Chocolate and Cranberry Scones with Almonds is the perfect mixture of dry and moist, and the sprinkling of Turbinado sugar on top gave it a pleasant added sweetness. I liked this scone so much I asked if they would share their recipe, and they did! The recipe is courtesy of Twisp River Suites team member Dawn Reed. View recipe or PDF. (When the next screen appears, click on Printer-friendly recipe and the PDF will pop-up.)
TripAdvisor is my go-to source for travel advice. Find the best deal, compare prices, and read what other travelers have to say about Twisp River Suites at TripAdvisor.
Twisp River Suites Pros & Cons
Pros:
Rooms with a river view.
Suites loaded with great amenities for families or larger groups and extended stays like full kitchens, a living room and screened in porch.
Pet-friendly suites that each have a  small fenced yard, which makes the dog being outside worry-free.
Riverfront access with a fire pit, lawn chairs, hammock and screened tent.
Clean rooms that are a mixture of cabin-cozy and contemporary.
Complimentary breakfast with homemade dishes, pastries-their scones are the BEST-and cereals.
Friendly staff.
Within walking distance of downtown Twisp (a small grocery store, restaurants, bars, shops).
About a 15-minute drive to Winthrop.
Cons:
Standard rooms do not have a view, but they do have access to the common river area.
Rates are on the high end, but for families/groups dining in it is more budget friendly.
In the high season, a two-night weekend stay is required.
Would I stay at Twisp River Suites again? Definitely. As a nature lover, I thoroughly enjoyed being able to see and hear the river from my personal deck. The porch area is so relaxing, and even if you do not need the larger suite, I would still consider staying in that room so you can enjoy the river whenever you wanted. Also, the set up near the river with the fire pit and lounging chairs is a special added touch that brings the camping vibe to a hotel stay.
When to go: The Methow Valley has year-round activities like hiking, horseback riding, and cross-country skiing. I went during the fall, which was perfect for fall color gazing, and for long stretches, I was the only car on HWY 20. If you are budget conscious, rates are reduced in the off-season. The only downside to off-season travel is that some of the businesses and restaurants might have limited hours, or only be open on the weekends. Note: HWY 20 closes from Nov. to April.
TripAdvisor is my go-to source for travel advice. Find the best deal, compare prices, and read what other travelers have to say about Twisp River Suites at TripAdvisor.
Twisp Travel Tips
Hotel Address: 140 Twisp Ave. Twisp, WA 98856
Closest Airport: Sea-Tac International Airport, Vancouver International Airport, and Twisp Municipal Airport.
Drive time: 4.05-hours from both international airports. Please be aware that at certain times of the year HWY 20 is closed.
Carless Options: TranGo has bus service to and from Winthrop. Fares are $1 each way.
Artistic Tips: The word on the street is that half of the population of Twisp are artisans. I would suggest visiting the Confluence Gallery & Art Center and the artisan shops at TwispWorks (open on weekends), and seeing what theater performance is playing at The Merc Playhouse.
Activities Tips: There are lots of hiking trails in the Twisp area, and history buffs should stop by the Methow Valley Interpretive Center.
Farmers Market: Held at the Community Center on Saturdays April through October 9 a.m. to 12 p.m.
Dining Travel Tip: For breakfast and lunch. Glover Street Market and Cinnamon Twisp Bakery, For coffee Blue Star Coffee Roasters, Head to Winthrop for finer dining at Arrowleaf Bistro and Copper Glance, and for burgers the Old Schoolhouse Brewery.
Nearby Activities: Lost River Winery, Methow Valley Ciderhouse, Shafer Museum, or check out Twisp River Suites selection of year-round activities.
Tourism website: Visit Twisp