The holidays are here, and that means the world is filled with light displays! How I love this time of year! While on assignment for Northwest Travel & Life Magazine I got to experience the lighting ceremony for Winter Spirit in Lewiston, Idaho. What is Winter Spirit? It is a festive light display in Locomotive Park in near downtown Lewiston. There are over a million lights (I'm not joking) and Winter Spirit starts the Saturday before Thanksgiving and runs through January 1.
It's free. It's family-friendly. There is a train with a bell kids can ring. And, on weekends vendors that sell goodies like cookies, hot cocoa, and popcorn balls.
Disclosure: You can help support my small town travels by using the affiliate links in this post. 
Get in Mood for the Holidays at Winter Spirit in Lewiston, Idaho
The best way to experience Winter Spirit is to take a leisurely stroll through the park.





When you get chilly, warm up next to the fireplace and watch the musical tree.

If you are visiting with kids, they will love the light-up dance floor and ringing the train bell.
Park Light Hours:
Monday and Tuesday from 5:30 pm to 8 pm
Wednesday to Sunday from 4:30 pm to midnight
And, every morning from 5 am to 7 am
Fireplace Hours:
Sunday to Thursday from 5:30 pm to 8 pm
Friday, Saturday and Holidays from 5:30 pm to 10 pm
Travel Tip: If you want to be there for the lighting ceremony it happens the Saturday before Thanksgiving. Festivities start at 4:15 pm and the park lights up at 6 pm. Be sure to dress for the weather!
Where to Eat
After our Winter Spirit stroll, we ventured over to Jollymore's. (Now that I think about it, that name is rather Christmasy, isn't it?) Jollymore's is a 10-minute walk from Locomotive Park. If you have kids with you, they do have a kids menu with items like peanut butter & jelly, Cougar Gold man n' cheese, and small burgers. Prices range from $5 to $8.
Our table ordered a wide selection of items. I had the roasted duck with Walla Walla sweet onions, fig jam, and a wild rice quinoa mix ($29). My duck was cooked to perfection, and with the fig, I was in heaven.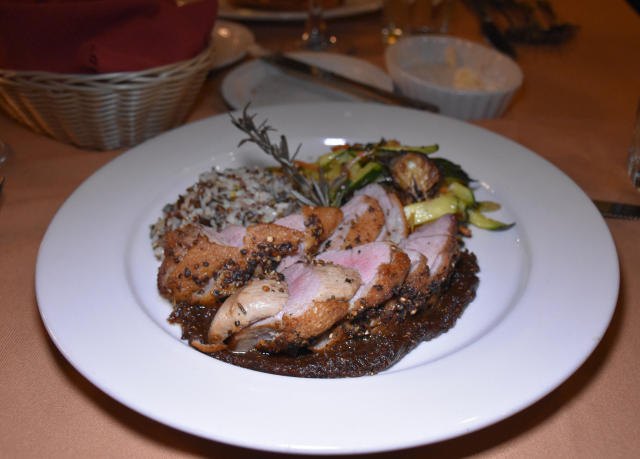 Another had the prosciutto and fig pizza with caramelized onions, brie, and local honey ($9).

And, the steak special with shrimp, fall vegetables and rustic potatoes ($28).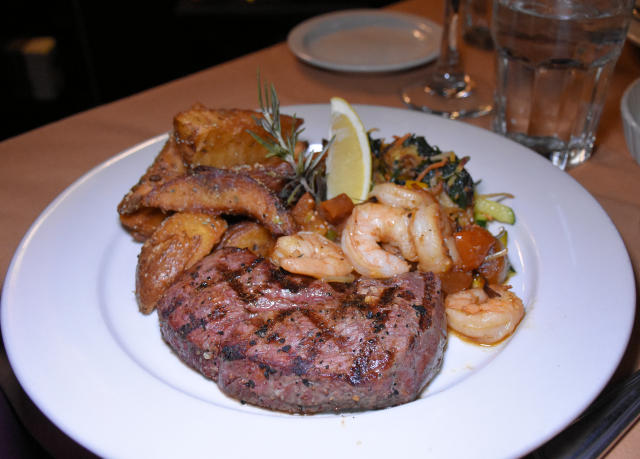 Desserts are chosen off their fresh dessert tray. We ordered the layered chocolate mousse cake and pumpkin spice cookies topped with vanilla ice cream and caramel. I loved the pumpkin cookie dessert, as I'm a huge fan of pumpkin and cloves and cinnamon. I liked the cake too, and appreciated that it wasn't dense, but light with layers of mousse in between layers of cake.
Overall, the service and food were excellent, and I would recommend Jollymore's.
Travel Tip: A very savvy local in the know told me that Monday thru Friday from 11 am to 5 pm Jollymore's has $5 lunch specials.
Where to Stay
If you want to stay within walking distance of Winter Spirit stay at the Red Lion Hotel Lewiston or the Inn America Lewiston. You can see both of these hotels from Locomotive Park where Winter Spirit is held. During my visit, I stayed in Clarkston at the Quality Inn & Suites, which a short drive away (read about my hotel experience). Some of the highlights are a made-to-order breakfast, a seasonal pool, year-round hot tub, a riverfront trail, and rooms with views of the Snake River.
When You Visit Lewiston
Lewiston is part of the Lewis Clark Valley and is known for its milder climate. There are plenty of activities like wine tastings, Hells Canyon tours in the summer, outdoor recreational opportunities and lots of history and culture with the neighboring Nez Perce tribe and historic points from Lewis & Clark Expedition. For more information on Lewiston and Clarkston visit the Lewis Clark Valley website.
For more information on Winter Spirit visit their website.
Have you been to Winter Spirit in Lewiston, Idaho?