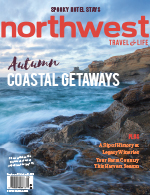 My professional life is a balance of freelance writing for various travel magazines and Small Town Washington, where I share my passion for small town travel. I am a regular contributor to Bainbridge Island Magazine, Experience Anacortes, The Crossing Guide, WaggonerGuide.com, Whidbey Life Magazine, and have written pieces for RealFoodTraveler.com, and Northwest Travel & Life Magazine.
My travel interests include culture, history, recreational activities, happy hours and locavore-inspired food. I meet deadlines, enjoy the editorial process, and am available for FAM tours and working with travel and tourism organizations.
I am the founder and sole contributor to SmallTownWashington.com, a travel blog dedicated to lodging, dining, and activities in small town Washington and beyond.
For the Wabash County Tourism & Visitors Bureau, I rewrote new copy from old press releases, which included fact-checking and historical research, for Wabash County Visitors Guide, Vol. 10.
Since 2011, I have been on the editorial team as a fact-checker, researcher, and proofreader for the annual boating guidebook the Waggoner Cruising Guide.
A full list of my articles can be found here. Read my endorsements here.
---
Professional Freelance Writer
Freelance Services:
Concise, well-written content, and photographs for both print and online media
Sponsored posts
Refreshing old copy
Fact-checking
Social media content
---
Travel Organizations