Idaho hosts a stunning array of weekend-worthy experiences ranging from outdoor adventures to luxury spas and small-town escapes in the Mountain West.
Below, we will go over some of our favorite weekend escapes in Idaho — listed in no particular order.
We've endeavored to cover places that offer many activities for all inclinations and preferences, so you should be sure to find something of interest!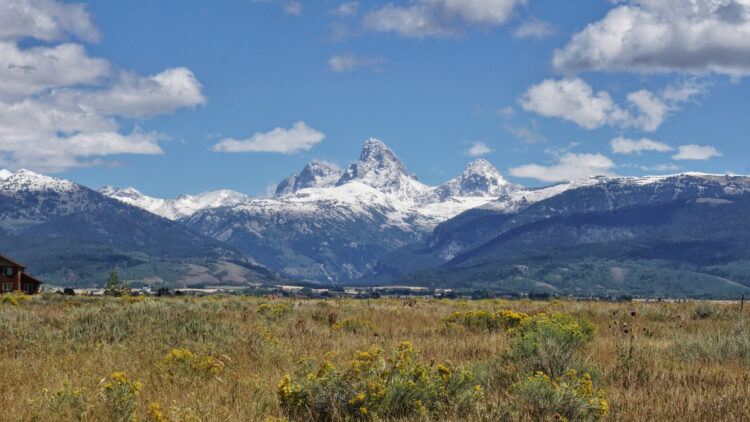 Some links in this post may be affiliate links. If you make a purchase through one of these links, we may earn a small commission at no extra cost to you. Please see our

disclosure policy

for more detail.
Best Weekend Getaways in Idaho
McCall
McCall is a mountain resort town located in the central region of Idaho, nestled on the banks of the Payette Lake and next door to several world-class ski resorts.
Quant boutiques, local brewpubs, and exquisite food (from high end to grab-and-go) line the streets of the main strip through the center of town.
As just mentioned, in the winter, there are a plethora of snow activities and the world-renowned ice sculpture festival to participate in should you decide to visit.
Of course, there are just as many recreation opportunities in the summer. Hiking, mountain biking, camping, and water sports are all readily available!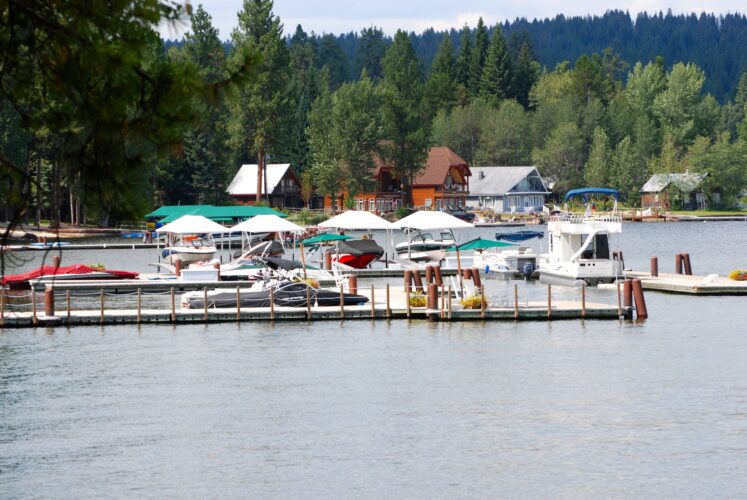 Stanley
Stanley is another well-known mountain town in Idaho.
Stanley is considerably less developed than its counterparts of McCall and Sun Valley when it comes to amenities, restaurants, and lodging opportunities.
What Stanley does offer, however, is unparalleled access to some of the most pristine wilderness areas on the entire continent!
Sitting at the conjunction of four national forests, the Sawtooth mountain range, and the Frank Church Wilderness area, this small and unassuming community provides ample opportunity for every kind of outdoor recreational activity imaginable!
Hiking, camping, backpacking, horseback riding, fly fishing, hot springs, and hunting are just a small number of the types of activities you can find in the area.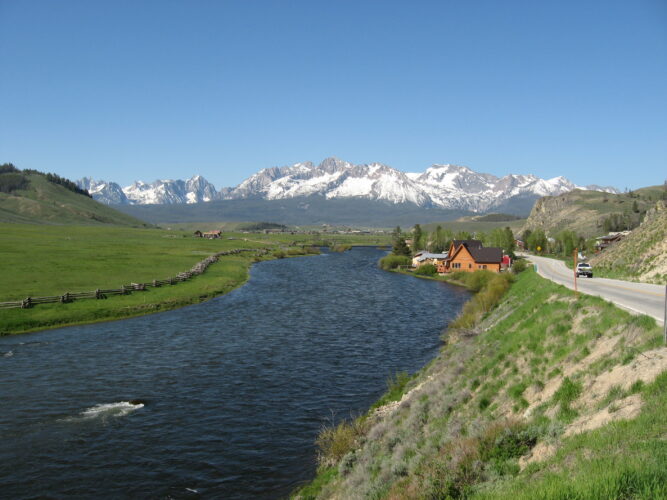 Redfish Lake
This beautiful lake is located not more than 15 miles from our previous Idaho weekend getaway, Stanley, Idaho.
Redfish Lake deserves its spot on this list due to the wealth of recreational opportunities and activities that are available just on the lake itself!
The Redfish Lake Lodge sits on the banks of this pristine mountain lake and offers dining, cabin/room rentals, and is your leading directory in the area for information.
The lake allows for both sailboats and motorized craft if you would like to bring your own or you can rent one through the onsite rentals that the lodge provides.
Whether you are having a picnic on the beach, swimming, water skiing, or kayaking, you will be treated to world-class views of the Sawtooth mountains. Some of the most jagged and dramatic-looking peaks in the world!
If you enjoy hiking, there are several trailheads that all start near the lake and lead to your choice of glacial melt alpine lakes nestled in the adjacent peaks.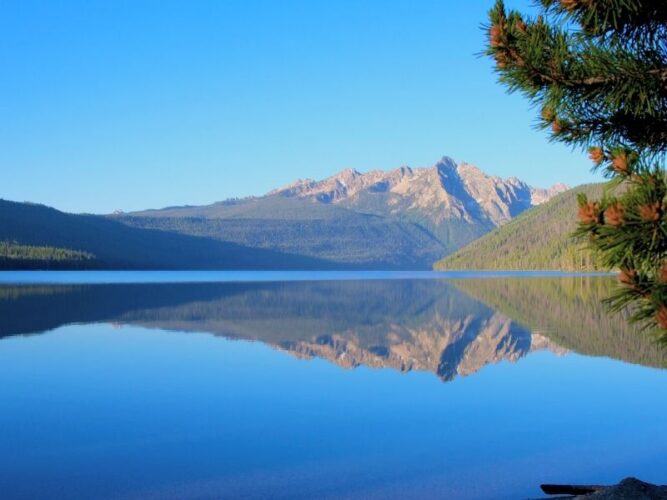 Yellowstone National Park
What more needs to be said about this iconic park that hasn't already been said before?
Yellowstone is an American classic that is known the world over. Wildlife, geothermally powered geysers, waterfalls, and an abundance of hiking opportunities all grace the awe-inspiring park.
While Wyoming is the state most people think of when planning a trip to Yellowstone, a small portion does extend into the borders of Idaho (and Montana), which is why this qualifies as an Idaho weekend getaway!
You can stay in the park itself at one of the many camp or RV sites. Alternately, you can take a trip back to one of the small towns near the park entrance at the end of the day if you'd rather have a hot shower and a bed to sleep in!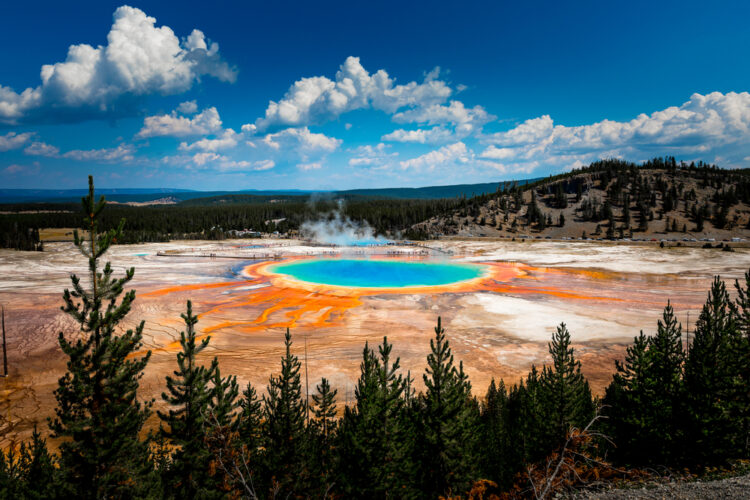 Coeur d'Alene
This Norman Rockwell-esque small city lies in the far north of the great state of Idaho in its panhandle region.
Best known for the lake that shares the same name, you will find plenty of ways to spend your time here, especially in the summer, when Coeur d'Alene really shines.
A modest population of roughly 50,00 people means more than enough shopping opportunities, restaurants, bars, and everything else that comes with a city to keep anyone satisfied!
In addition, boat rentals and any water sports gear you can imagine are available on the large lake for rent. This is perfect you don't feel like towing your equipment on the 7-hour drive from the capital city of Boise!
If you do decide to take a boating excursion, consider checking out the small town of Harrison!
Located in one of the lake's inlets and sporting a mere 203 residents, several quant ice cream shops and trinket stores are available to check out.
And the best part is that you can boat right up to the town and walk around for the day before heading back to Coeur d'Alene.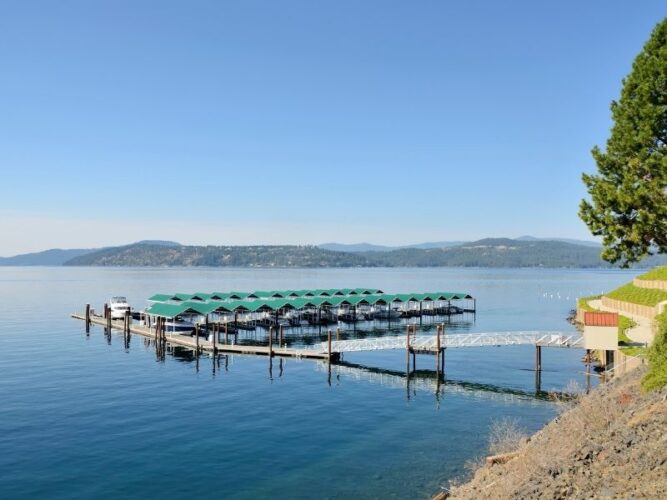 Sun Valley
Yet another mountain resort town (Idaho is full of them if you can't tell by now)!
What sets this town apart is not just its interesting history in the world of skiing (Sun valley hosts the world's first ski lift), but also its penchant for catering to luxury desires and its frequent rich and famous clientele.
A number of celebrities have second and third homes in the area and are known to frequent the ski slopes in the winter! Both Bruce Willis and Arnold Schwarzenegger are frequent and not uncommon sights on (and off) the mountain around these parts!
If you feel like indulging in your Hollywood fantasies but want to remain in Idaho, perhaps consider checking out the Sun Valley Film Festival that is put on every winter.
A consortium of producers, actors, actresses, directors, and movie lovers from across the globe descend upon this beautiful town every year for film viewings other festival activities generally uncommon for Idaho.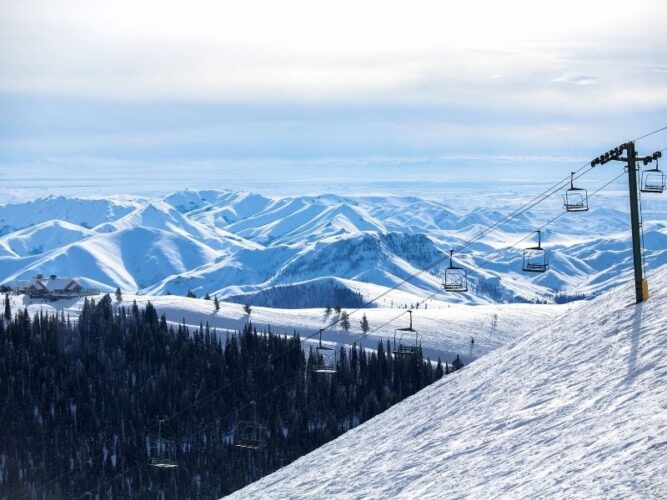 Bruneau Dunes State Park
The Bruneau Dunes are the tallest sand dunes in North America, with its tallest point at 470 feet!
If that fact alone isn't enough to inspire you to load up the car and spend a weekend in eastern Idaho, then consider the fact that there are also ample camping opportunities, fishing, and a large observatory, all on-site and open to the public!
Spend the day walking the dunes and sandboarding before taking a break to recoup in preparation for an evening full of stargazing in one of the best dark zones in the country.
Looking up with the naked eye from atop a dune is impressive enough, but the observatory enables some spectacular sights of the heavens above when the weather corporates.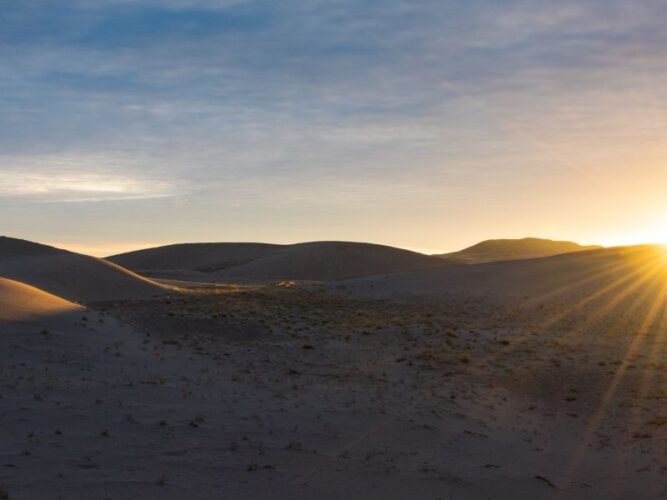 Burgdorf Hot Springs
North of McCall is home to the Burgdorf Hot Springs. These naturally fed hot springs pools are surrounded by cabins available for rent in some of the most gorgeous mountain regions you will find anywhere on earth.
The large log-lined hot pool is fed by geothermal water free-flowing from the depths of the earth's mantle. It is in this large pool that you can spend a relaxing and stress-free weekend in the mineral-rich waters as you watch the local wildlife and take in the sounds of nature.
The onsite cabins are some of the oldest still-standing structures in the entire state!
For this reason, the official websites advise thorough preparation for your "camping inside of a cabin" experience. In other words, the amenities are sparse at best.
Don't let this dissuade you, though! One cannot deny the charm of the cabins, and the beauty of the surrounding mountains is enough to make you never want to go back to the city.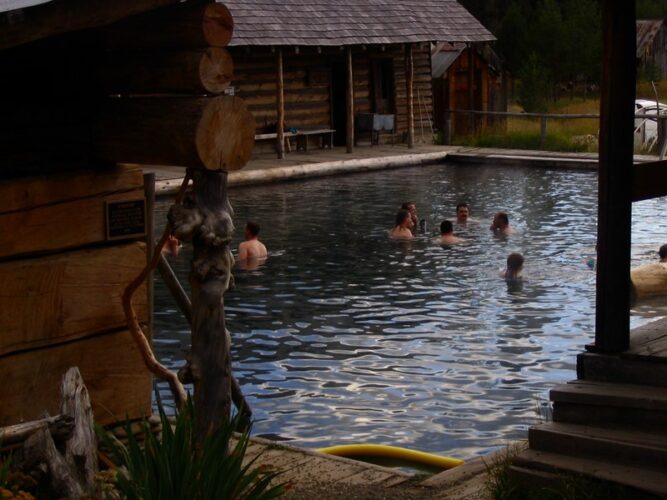 City of Rocks National Reserve
In southeast Idaho, just above the Utah border, you will find the City of Rock National Reserve area.
The name stems from famed emigrant James F. Wilkens, who described the dramatic geological area as a — you guessed it — "city of rocks" upon encountering the site on his way to California.
Tall granite spires and hulking rock formations dot the landscape, creating a genuinely surreal visual spectacle for visitors who spend their time in the area.
Outdoors enthusiasts would be well served to spend a weekend here participating in the plethora of opportunities for rock climbing, bouldering, hiking, and general exploration!
Hundreds of thousands of travelers passed through the area in the mid-1800s on their way westward, and the area is rife with history because of it!
Wagon trails and rock carvings can be found throughout, so be sure to keep a sharp eye as you explore the area!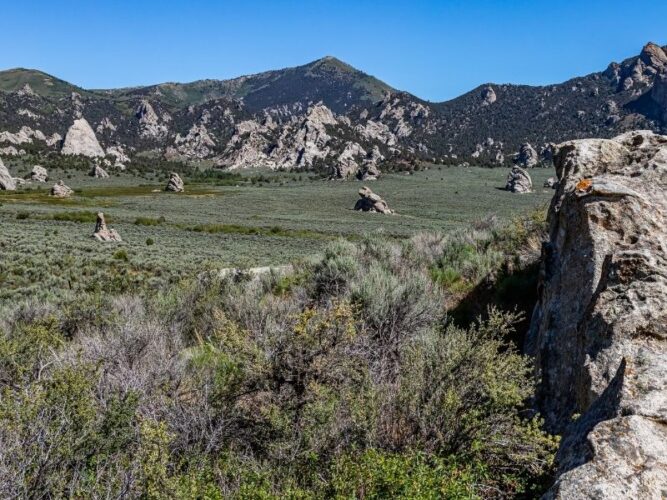 Sulphur Creek Ranch
Right away, I'll clear something up; Visiting the Sulphur Creek Ranch is not the most viable option for most people.
However, it is such a unique and once-in-a-lifetime experience that I felt inclined to include it here!
The Sulphur Creek Ranch is located in the heart of the Frank Church Wilderness area, meaning that access to the ranch is minimal.
Your options are flying in on a single-engine charter plane, hiking the 5-8 miles, or riding in on horseback. Those experiences alone take you through some of the most gorgeous terrains you will find anywhere and would be worth it alone.
But the real magic happens once you arrive at the ranch!
Eat breakfast at the main lodge, rent one of the available cabins, and spend the weekend hiking the pristine wilderness, swimming in the small on-site lake, watching the backcountry planes fly in, and picking wild huckleberries!
While it may take some extra planning to make it happen, this is absolutely a weekend trip that is worth doing and will leave you chomping at the bit to get back and do it again!