The amount of options when it comes to weekend getaways in Washington State is astounding!
Yes, the Evergreen State offers endless outdoor adventures: think rivers, mountains, deserts, canyons, beaches, and thick forests.
But it also has an abundance of options for other kinds of travelers, those who seek the excitement of a city or the charms of small town living.
So while there is no one "perfect weekend getaway" in Washington State, there are hundreds of thoroughly enriching options to explore! The fun part is figuring out which one is the perfect weekend getaway for you.
Read below to discover some of Washington State's best weekend getaways for every kind of traveler.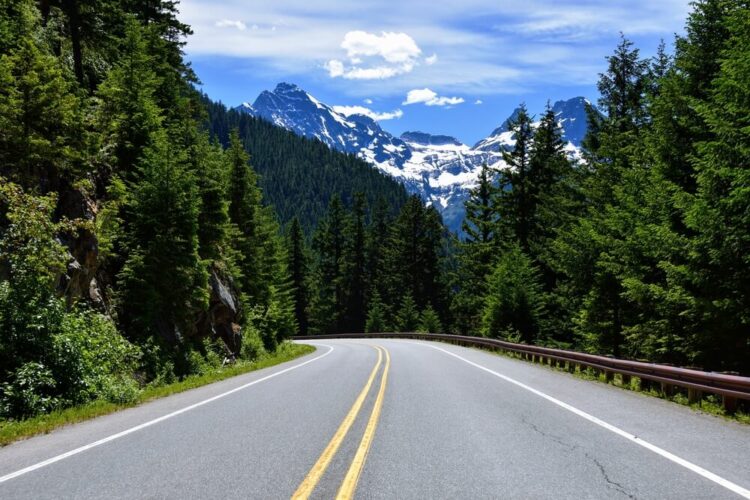 Some links in this post may be affiliate links. If you make a purchase through one of these links, we may earn a small commission at no extra cost to you. Please see our

disclosure policy

for more detail.
Washington Weekend Getaways: City Breaks
Seattle
The most iconic location in Washington State, Seattle has so much more to offer than could fit in just a weekend! Nonetheless, it's the perfect starting point for an introduction to the state.
Grabbing a jar of spicy asparagus and a bouquet of fresh flowers from Pike Place Market is a must while in town, as well as checking out local museums like the SAM and MoPOP.
And of course, there are the tourist attractions like the Space Needle and Chihuly Gardens which both warrant a visit!
And of course, the sheer diversity of the food scene is also worth a weekend trip in and of itself!
Explore the University district for lively bars, delicious food, and world-class vintage shopping.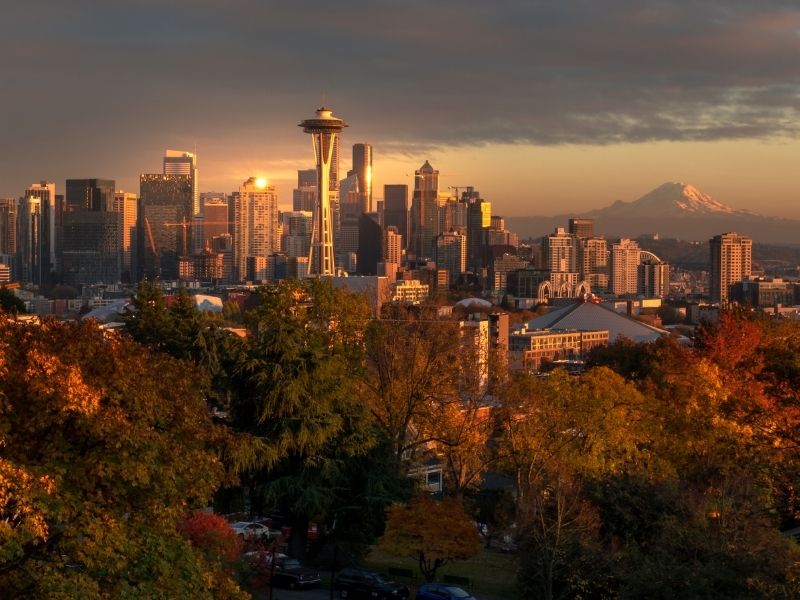 Spokane
Located in the less-frequented eastern Washington, Spokane offers a different kind of city break in Washington.
There are lovely parks (like Riverfront and Manito), exceptional restaurants, and proximity to impressive state parks adds to this city's weekend appeal.
Plus, it's less than two hours to Palouse Falls, one of the most scenic waterfalls in Washington, so that's a good day trip to add on to a trip to Spokane.
Of course, there's also Spokane Falls right in the heart of town!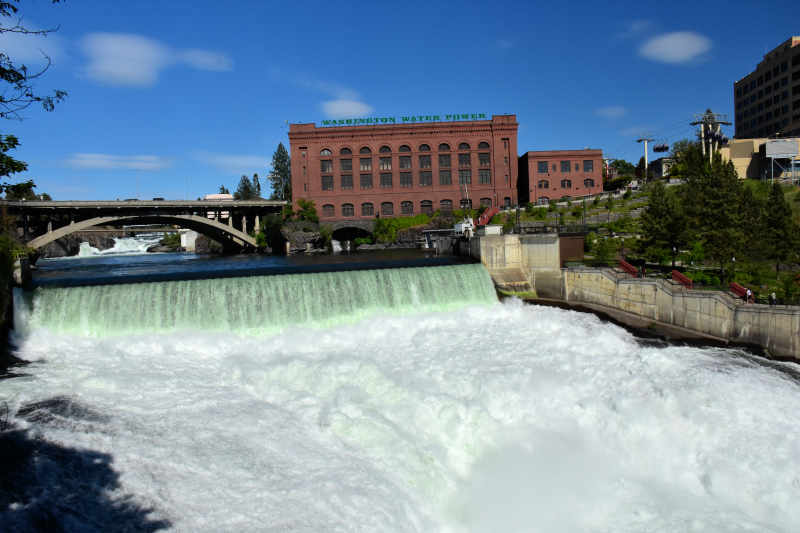 Chelan
Chelan is one of those towns you could accidentally end up staying in for weeks!
It's centered around Lake Chelan, a huge body of water that is the perfect spot for fishing, watersports, and family fun.
The hills surrounding the Lake are home to upscale wineries as well, and local bars (WineGirl Wines is a good one) and recreation opportunities abound.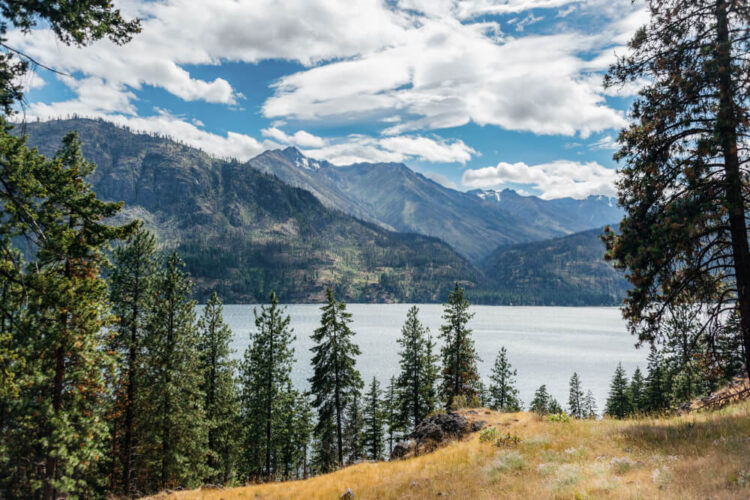 Tacoma
While it's not everyone's first thought for a weekend getaway in Washington, Tacoma is slowly but surely becoming a travel destination in its own right.
Its museums are making a name for themselves (like the Tacoma Art Museum, America's Car Museum, and the Museum of glass), while its waterfront offers scrumptious dining options.
Schedule your weekend visit when the Tacoma Dome, Washington's premier performance center, is hosting a giant musical act to enjoy the biggest and best of Tacoma!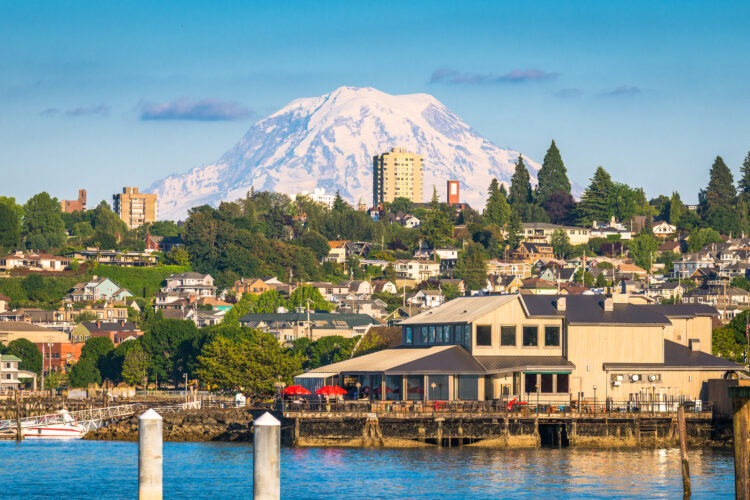 Vancouver (Washington)
A strange mix of Oregonians and Washingtonians, Vancouver sits right at the border between the two states and is Portland's largest suburb.
It is nestled right along the Columbia River, making it perfect for river-driven outdoor excitement, and the city is filled with summer festivals and sumptuous wineries.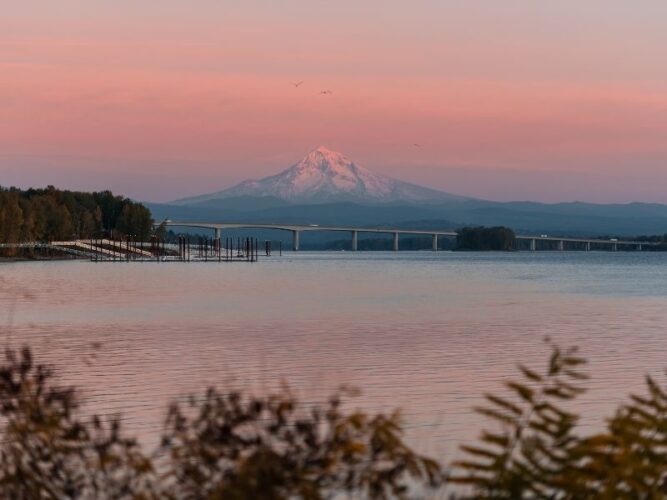 Bellingham
Yearning for a college-town getaway? Look no further than Bellingham!
Its proximity to Western Washington University keeps the streets filled with art and lively nightlife, while the immense natural beauty of the town captivates tourists and residents alike.
Spend your weekend getaway here exploring the Fairhaven historic district, which is bursting at the seams with Victorian-era buildings and great eats.
Find some local live music while in town for the true Bellingham experience!
Bellingham is also one of the closest big cities in Washington to the Canadian border, making it the perfect intermediary between the USA and (the slowly reopening) Canada.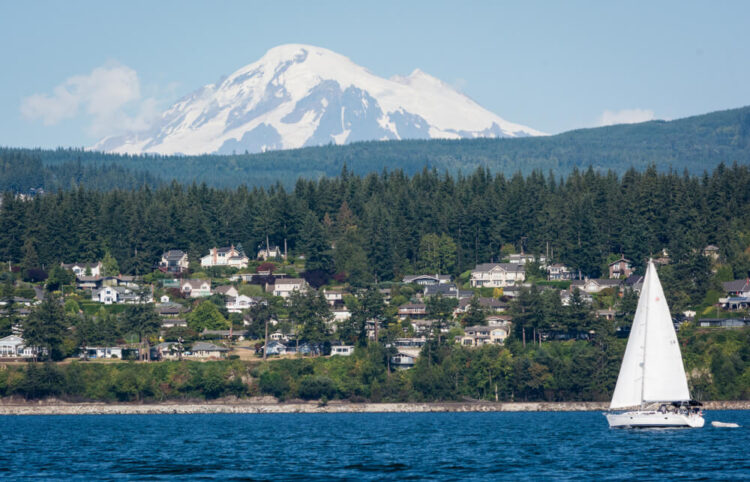 Washington Weekend Trips: Nature Breaks
Ocean Shores
This pint-sized coastal resort town in Washington is a tranquil way to get in touch with Washington's Pacific Ocean coastline!
Miles of sandy beach and crashing waves are supremely walkable, and popular activities here include kiting, fishing, bird watching, beachcombing, and traversing the winding waterways that cut through town.
Its proximity to coastal forests adds yet another reason to visit this charming town!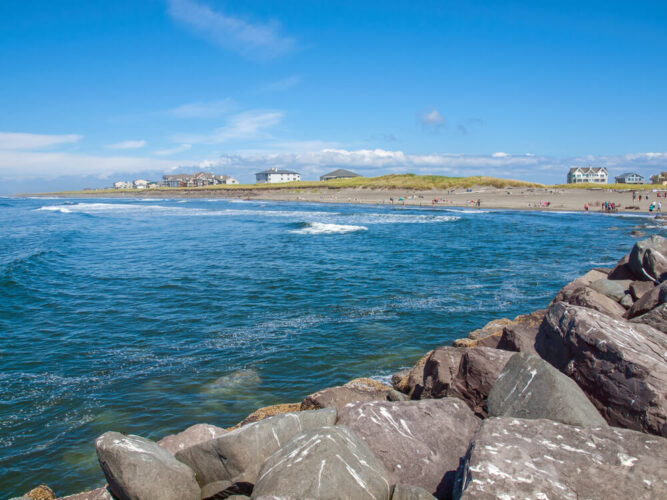 Mt. Rainier National Park
Mt. Rainier's beauty is truly breathtaking up close!
Drive down to what Seattlites refer to as simply "the mountain" for a weekend filled with enchanting natural beauty and scenic hikes — best paired with staying in a cozy cabin!
Exploring the mountain and surrounding area, one can find plunging waterfalls, meadows of vibrant wildflowers, serene hiking trails, and plenty of delicious food options.
Insider Tip: Try a slice of mountain blackberry pie at a nearby diner to fully absorb the Mt. Rainier experience!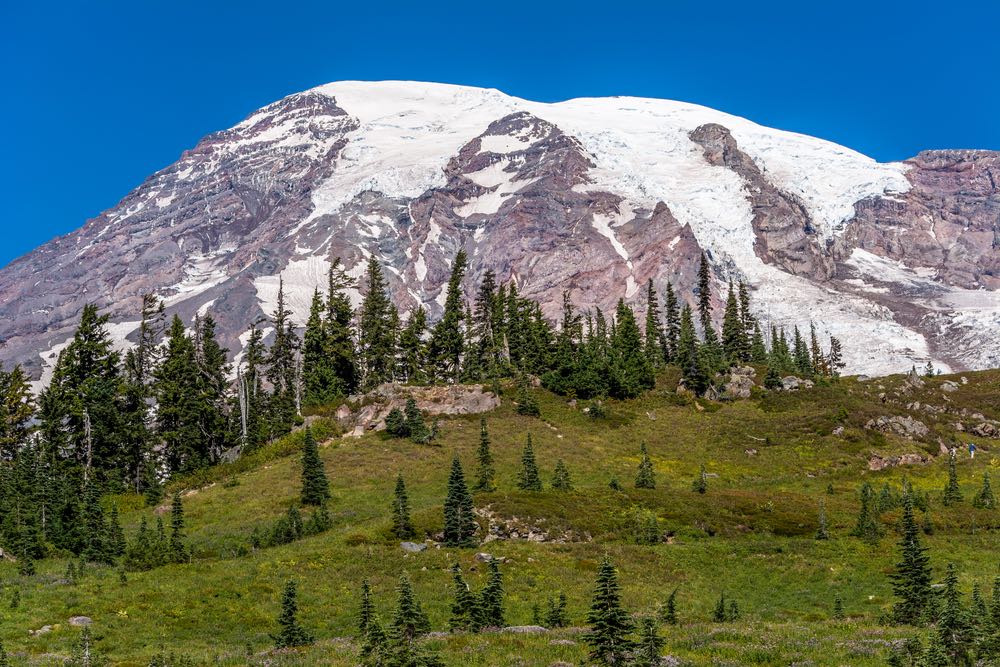 Mt. Baker-Snoqualmie National Forest
Spend a weekend camping near the Canadian border in the lush Mt. Baker-Snoqualmie National Forest.
Glaciers, climbing, rushing rivers, hiking, scenic viewpoints, wildflower hikes, and wildlife watching: whatever it is you most look forward to in the mountains, this place has it!
Looking for a camping option for your Washington weekend getaway? Douglas Fir Campground and Red Bridge Campground come highly recommended for a quick campout among the mountains!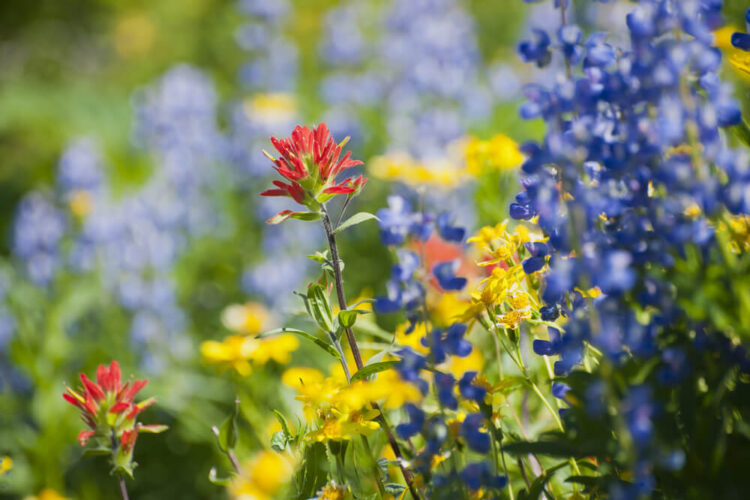 Deception Pass State Park
This two-island state park located in Anacortes has miles and miles of both fresh and saltwater coastline!
The incredible views and marine recreation opportunities have made Deception Pass State Park Washington's most-visited state park, and it's an ideal destination for those who want a weekend full of nature.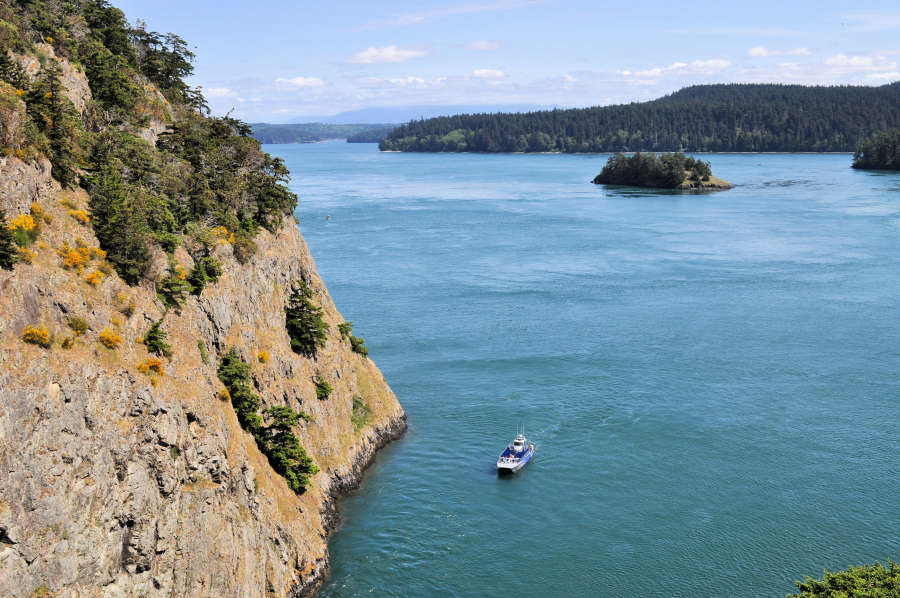 Cle Elum River
Find a spot nestled along the rushing glacial waters of one of Washington's most underrated rivers and camping spots: the Cle Elum River.
If you enjoy thrilling recreation, like whitewater rafting, fishing, and even potential bear sightings, Cle Elum makes a great getaway in Washington.
But the river also slows in spots, creating little swimming pools and jumping rocks, perfect for whole-family river time!
Looking for something to eat? The little town of Cle Elum has all the necessities to make your stay successful.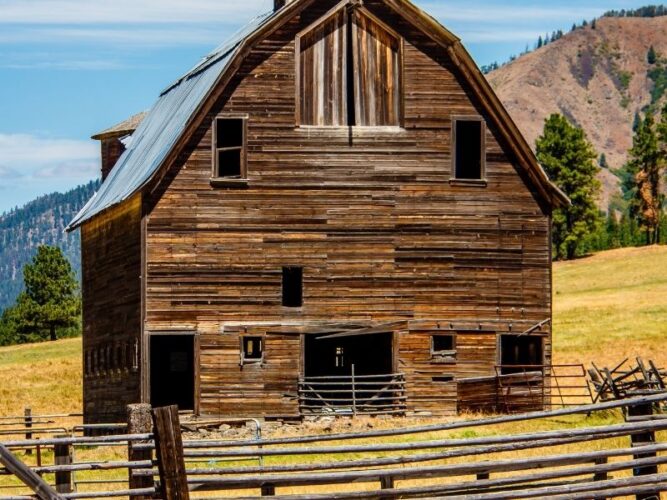 Stevens Pass
Easily one of the most popular places in Washington for winter recreation, Stevens pass is a versatile weekend getaway option!
Family fun abounds on the slopes, good for skiers and snowboarders of many skill levels, as well as the more low-commitment sledders.
But romance is equally in the air on these snowy banks: think cozy ski lodges filled with hot tubs and delicious dining!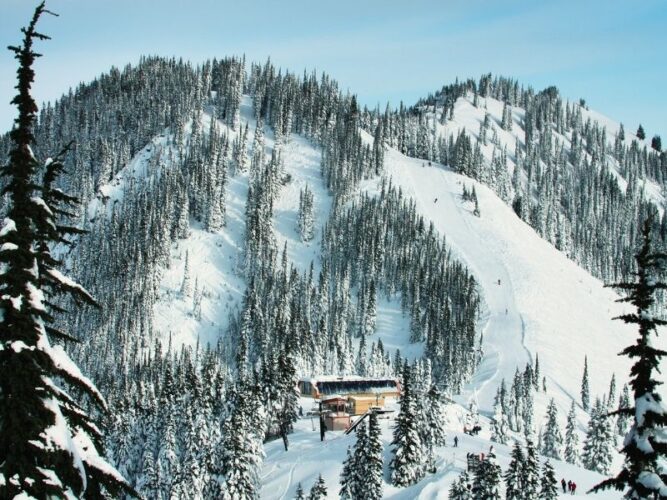 Small Town Weekend Trips in Washington
Leavenworth
Charming and unusual with its European style, Leavenworth is the Washington state town with a Bavarian flair!
Almost all the buildings in this small mountain town have alpine-inspired facades and themes that seem plucked right out of Germany.
Leavenworth is great for a casual weekend of shopping, dining, and relaxing, but it also works well as a gateway to mountain and nature-related activities, such as hiking in the summer or skiing in the winter!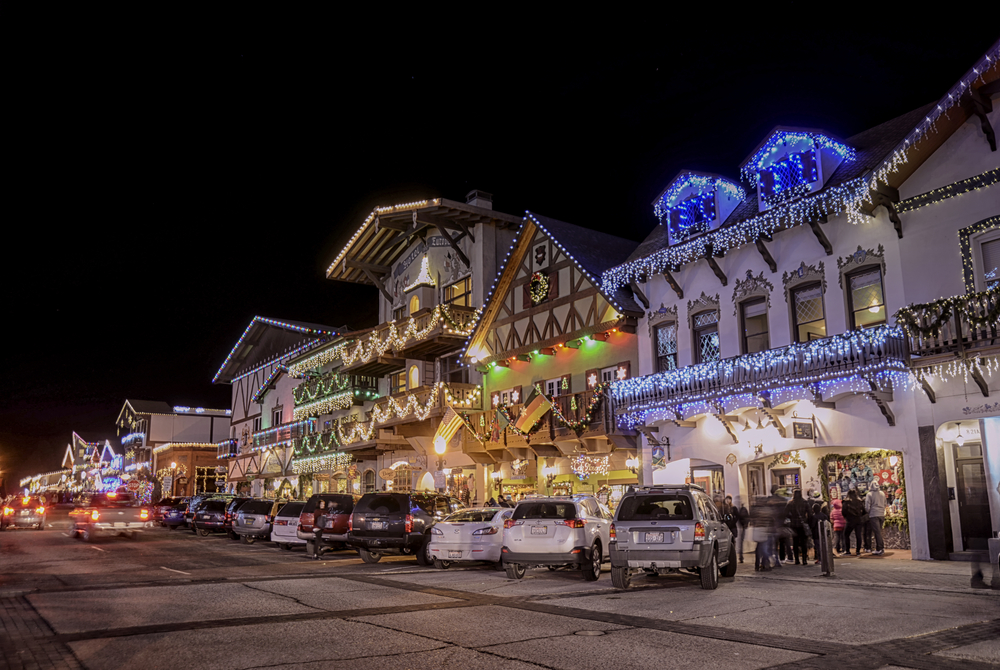 Westport
One of the state's best places to soak up the ocean atmosphere, Westport offers a luxurious way to immerse oneself in Washington's natural beauty!
Biking, fishing, hiking, and even surfing are some of the reasons people make a pilgrimage to this beach community.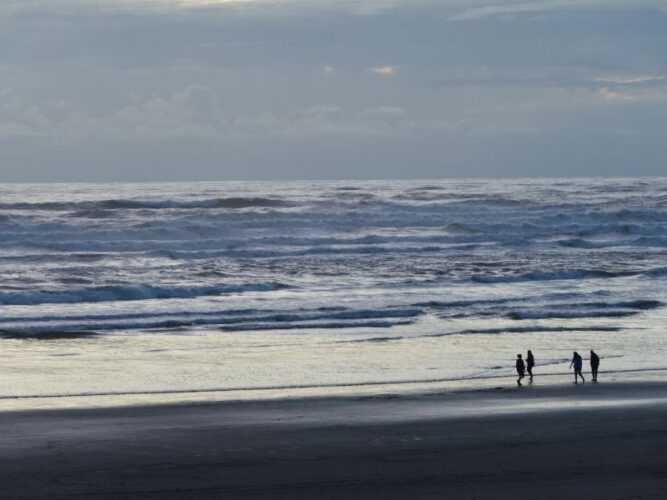 Edmonds
There's a reason why local celebrity and travel aficionado Rick Steves calls Edmonds, a small Seattle suburb on the Puget Sound, home!
The streets of the city center evoke small town, old-world charm, but are jam-packed with top-notch bars, thought-provoking food, and stunning views.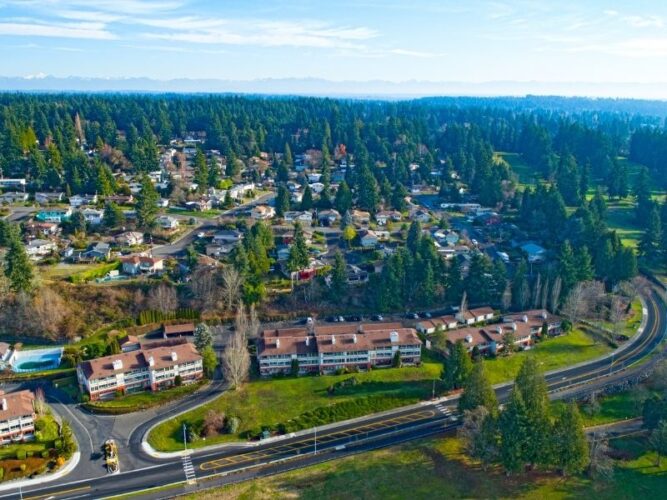 Port Angeles
For a mixture of captivating natural beauty, culture and Native American history, and delicious local fare, look no further than Port Angeles!
The big attraction here is the town's proximity to the Olympic National Park, where you can find Hurricane Ridge (and countless other popular hiking trails), mountain biking, beachfronts, and fishing.
In town, find every food option imaginable, from BBQ to authentic Mexican to fresh sushi.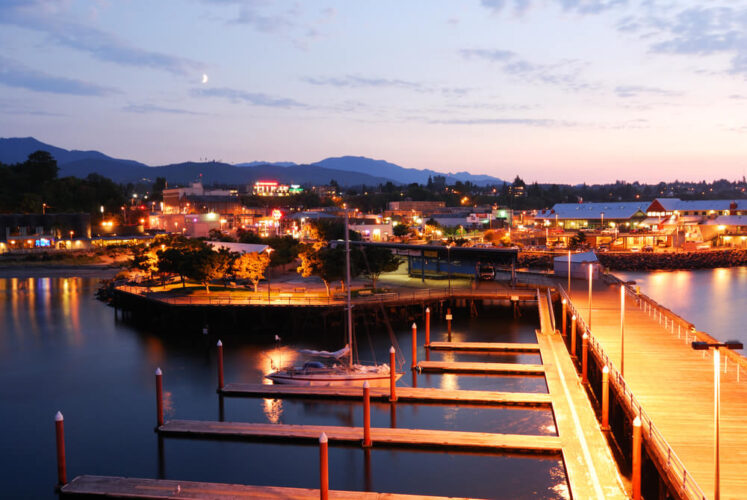 Coastal Washington State Weekend Getaways
Neah Bay
Although it's not a traditional beach getaway, the Native American community of Neah Bay offers some of the most stunning coastal beauty on the West Coast!
Hikers flock to Cape Flattery and Shi Shi Beach to watch the Pacific meet the rocky coast, and in town, you'll find all the necessities for a simple, tranquil visit.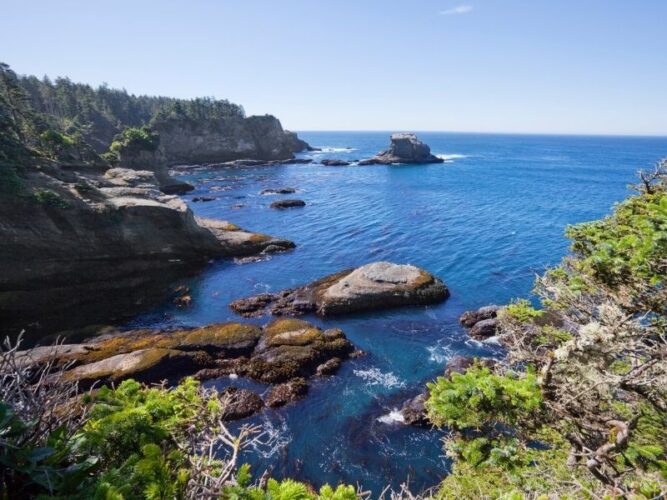 La Push
This itty-bitty Washington beach getaway is a small slice of heaven for lovers of wild Pacific coast beaches.
Find huge crashing waves, tide pools, and peculiar rock formations along the coast in this scenic part of the Olympic Peninsula.
Dozens of thickly forested hiking trails offer an additional layer of allure to this town that is surrounded by the Olympic National Park.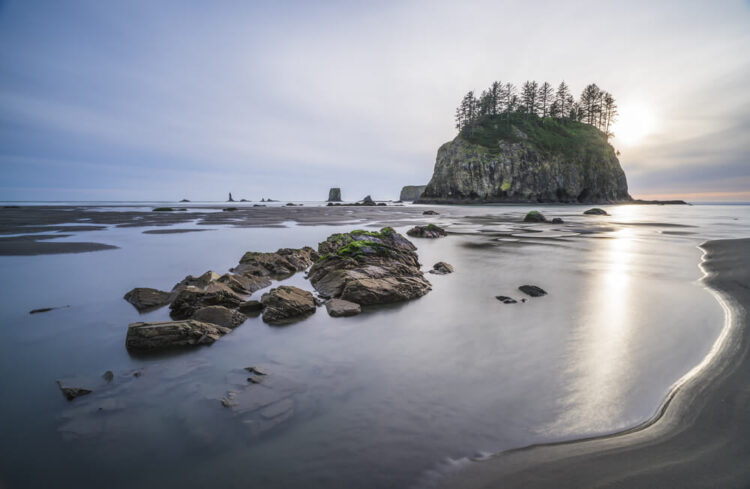 Island Getaways in Washington
There are quite a few islands in Washington situated in the Puget Sound, each with a resumé that will beckon all beach lovers for a weekend getaway!
Vashon Island, Orcas Island, and Whidbey Island are all great places to start: each island boasts miles of coastline, small but refined arts & culinary scenes, and ample outdoor recreation set against a backdrop of arresting Pacific Northwest beauty!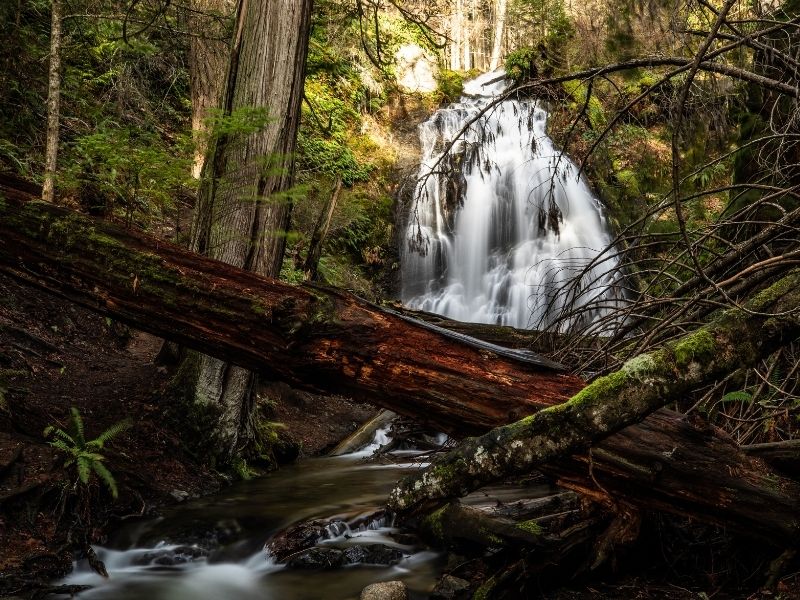 Theme Park Weekend Getaways
Wild Waves
Families big and small will get their fair share of kicks at this close-to-Seattle water park.
Thrilling roller coasters, twisting water slides, wave pools, boardwalk games and plenty of typical theme park fare can and will keep everyone entertained for hours and hours.
Great Wolf Lodge
For the perfect intersection of kid-friendly activities and adult-centric vacationing, the Great Wolf Lodge is a great place to start.
Indoor water slides, pools, hot tubs, and interactive games provide something for everyone!
Meanwhile, dining that ranges from baked goods to a nice sit-down dinner offers the chance for some tranquility over a glass of wine.