You don't need to hop on a plane and head to France to enjoy the sweet smell of lavender. Head to Sequim, Washington, also known as the Lavender Capital of North America! 
Here you will find over 20 lavender family-owned farms, each with its own unique experiences amongst the flowering plants and the sweet lavender fragrance in the air.
There are also other great lavender farms in Washington, such as in the San Juan Islands and Port Angeles.
Whichever Washington lavender farm you pick is sure to be beautiful.Take a deep breath of lavender-scented air, and enjoy strolling through the beautiful Washington lavender fields this summer.
Below you will find everything you need to know about lavender farms and festivals in Washington State!
When Does Lavender Bloom in Washington?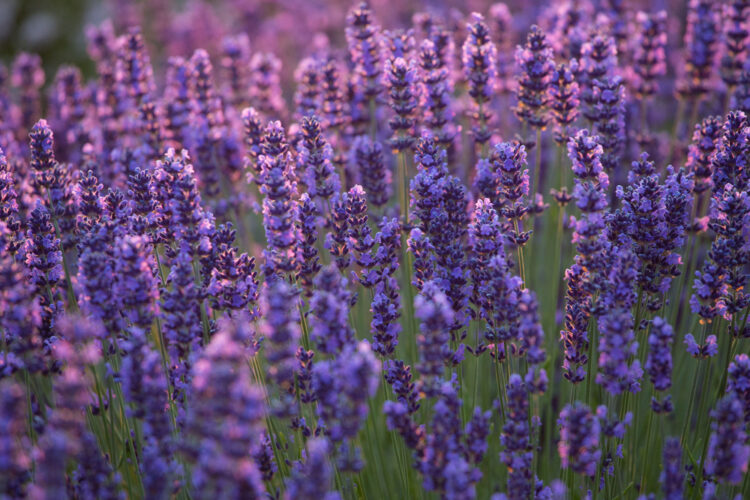 Some links in this post may be affiliate links. If you make a purchase through one of these links, we may earn a small commission at no extra cost to you. Please see our

disclosure policy

for more detail.
The scent of lavender can be inhaled throughout the summer throughout the Sequim-Dungeness Valley as the lavender blooms.
Many of the fields begin to turn purple near the end of June; by mid-July, the areas are in full color, and harvest starts later in August.  However, the Lavandula Stoecha and the Spanish lavender begin the colorful parade in spring.
During this time, you can enjoy purchasing a fresh-cut bouquet of lavender, essential oil, soaps, or a cool, refreshing scoop of lavender ice cream.
Lavender Festivals in Washington
Sequim Lavender Weekend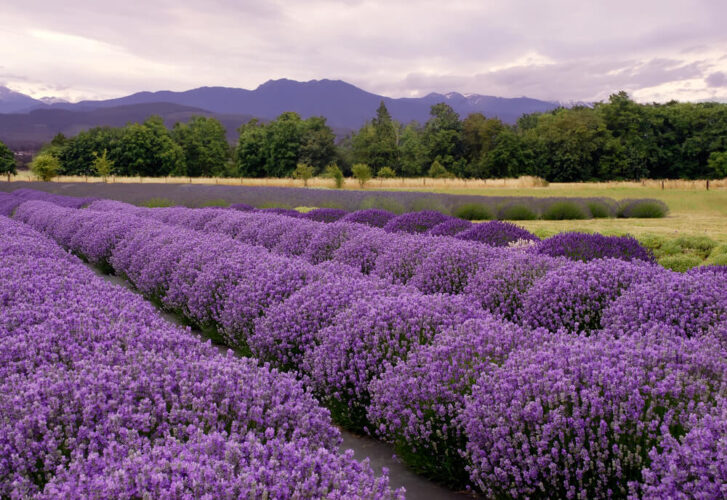 Date: Third weekend of July
Hours: Friday and Saturday – 9:00 AM – 7:00 PM, Sunday – 9:00 AM – 5:00 PM
Location: Carrie Blake Park – 202 N Blake Ave, Sequim, WA 98382
More Information: Website
For everything lavender, head to the street-fair at Carrie Blake Park that features not only the local lavender farm's best but an art show, concerts, and a quilt show.
Treat yourself to a day or weekend of exploring over 150 lavender and craft booths, delicious fair and lavender foods at the food court, and various live music.
This event is free, including parking at Blake Avenue.
Head to the website for more information and a list of all the farms and their address that are participating.
Best Lavender Farms in Washington State
Washington Lavender Farm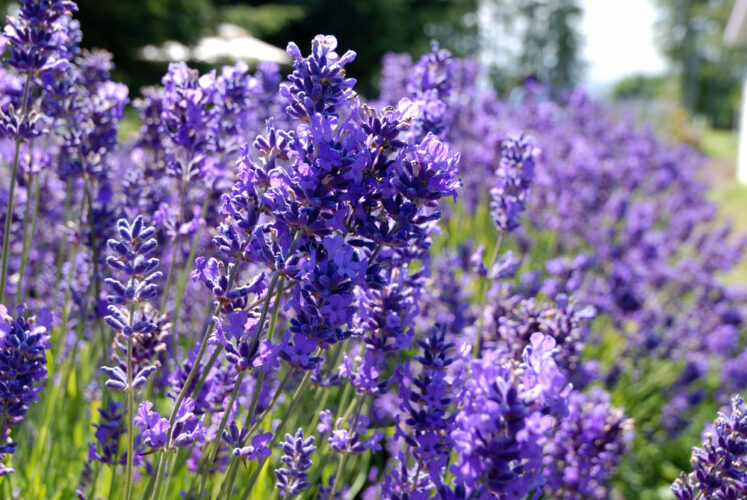 Address: 965 Finn Hall Rd, Port Angeles, WA 98362
Hours: From Memorial Day through Labor Day; Monday-Saturday, 10:00 AM – 6:00 PM; Sunday 1:00 – 5:00 PM
More Information: Website
Accommodation: George Washington Inn
Surrounded by lavender fields, the replica Mount Vernon home sits on the oceanfront bluff above the Strait of Juan de Fuca.
As you approach the farm and George Washington Inn, enjoy the driveway lined with wildflowers.
Around the farm, there are over 5,000 lavender plants to smell and enjoy.
The shop features lavender items, jams, jars of honey, spices, along with other gifts.
Extend your stay by booking a room at the George Washington Inn Bed and Breakfast.
Purple Haze Organic Lavender Farm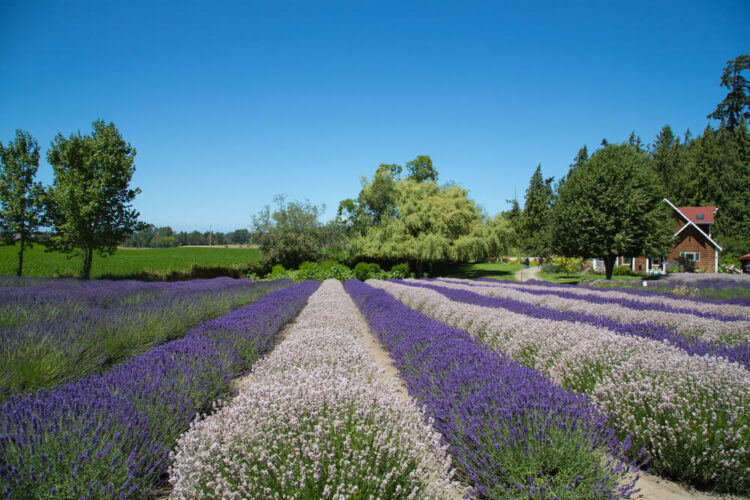 Farm Address: 180 Bell Bottom Rd, Sequim, WA 98382
Farm Hours:  Memorial Day weekend through Labor Day, from 10:00 AM – 5:00 PM daily
Downtown Store: 127 W Washington Street, Sequim, WA 98382
Store Hours: Open Year-round. Monday-Friday 9:00 AM – 5:00 PM, Saturday 10:00 AM – 5:00 PM and Sundays 12:00 – 4:00 PM
More Information: Website Link
This small 12-acre organic farm offers guests thousands of lavender plants to mosey through as you enjoy the sweet smell and pick a fresh bouquet.
While here, take time to enjoy a picnic lunch amongst the lavender or on the lawn. Be sure to get a lavender lemonade or lavender ice cream to complete your picnic.
Both in the gift shop in town and at the farm, their own Purple Haze Lavender products are for sale.
Purple Haze is a pet-friendly farm, so feel free to bring your pet!
Extend your say by renting the three-bedroom Farm House Vacation Rental that sleeps six.
The Lavender Connection
Address: 1141 Cays Rd, Sequim, WA 98382
More Information: Website Link
The Lavender Connection grows 40 varieties of lavender, from light pink to dark purple.
The field makes a terrific photo opportunity as you stroll through the lavender, sit on the benches, and enjoy the colorful sights with the barn in the background.
Take a few moments to sit and relax at the picnic tables and benches throughout the property. You are even welcome to idle away the afternoon with your camera or a book amongst the lavender.
As you wander the fields, choose the perfect mixture for your fresh bouquet. 
In their old-fashioned barn, you will find their store with a variety of handmade lavender products. As you browse, treat yourself to a collection of lavender items like lotions, bath salts, cleaning products, candles, dried lavender bouquets, and lavender treats — even dog treats!
Before you finish your shopping, head to the Copper Still and watch Rick completing the distillation process. Then head to the Essential Oil Bar, where 18 lavender varieties of essential oils are available to sniff and purchase.
Before hopping back in the car, inhale more of that fresh lavender-scented air as you play a game of cornhole, bocce ball, or frisbee on the lawn.
Free admission and leashed pets are welcome to walk the grounds.
Pelindaba Lavender Farm & Gatehouse Farm Store
Address: 45 Hawthorne Ln, Friday Harbor, WA 98250
Hours: 9:30 AM to 5:00 PM daily
More Information: Website
At the Penlindaba Lavender Farm on San Juan Island, you will want to spend an hour or two strolling through the organic lavender fields in July and August during the flowering peak.
Then browse through the Gatehouse Farm Store's 200+ handcrafted lavender products. The farm distills the lavender essential oils then creates a variety of lavender products.
Take time to investigate the Demonstration Garden, where you will find over 50 varieties of lavender. This garden has some types that start blooming near the first of May and others that are still blooming in October.
During the summer harvest, head to the Cutting Field and cut a bouquet after enjoying a picnic lunch that includes lavender ice cream and lemonade.
Entrance to the farm is free, and pets are welcome if on a leash.
Since the farm never closes, stop by for sunrise, sunset, or an afternoon stroll through the lavender.
B&B Family Farm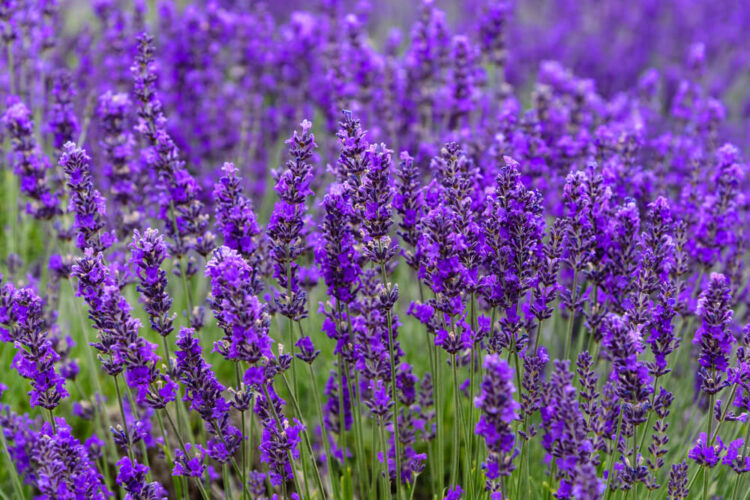 Address: 5883 Old Olympic Highway Sequim, WA 98382
Hours: 9:00 AM to 5:00 PM May through September
More Information: Website
The B&B Family farm covers 12 acres and is home to 14,000 lavender plants of 16 different varieties, a 100-year-old barn, and a lavender bud-cleaning machine.
While visiting the farm, be sure to take their informative farm tour and learn all about the harvest, process, and their process of distilling the lavender.
Visit the barn, where you will see hung lavender drying.
Before heading to the field, check-in at the shop for instructions and tools for cutting your lavender bouquet.
Plan your visit in late June or July to take advantage of seeing all the variety of colors, from the white, light purple, to the deep blueish purple lavender flowers.
Dogs are welcome to wander the fields with you, but they must wait outside as you enjoy the gift shop full of handmade lavender products and local artists' ware.
Victor's Lavender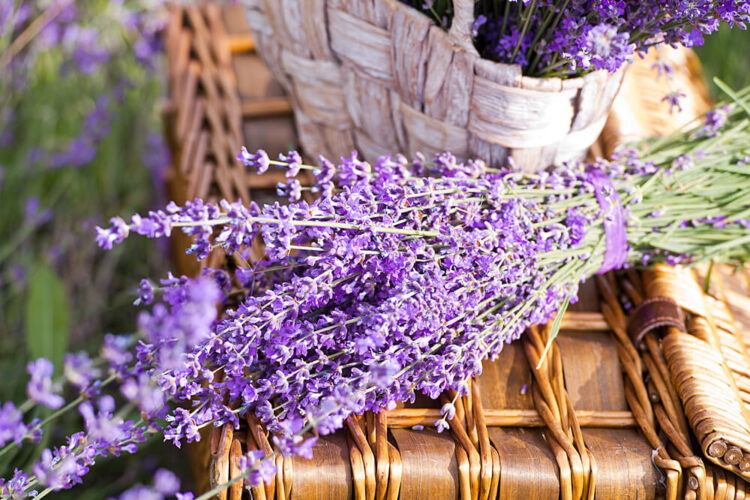 Victor's Lavender Farm Address: 3743 Old Olympic Hwy. Sequim WA
Hours: Wednesday – Sunday 10am – 5pm from Mid-June – August
Victor's Rain Shadow Lavender Address: 1410 Kitchen-Dick Rd, Sequim, WA 98382
Hours: Memorial Day weekend through late September, Wednesday – Sundays 10:00 AM – 5:00 PM
More Information: Website
A visit to Victor's Lavender will most likely be an educational experience. Internationally known lavender expert Victor Gonzalez enjoys sharing his wealth of knowledge about lavender with the visitors and farmers that pass through his farm.
During July, plan on stopping by the farm on a Friday or Saturday to take part in one of Victor's educational workshops. After the workshop, he and his staff will help you choose the best lavender plant for you from the 100 varieties of lavender in his nursery.
While at the farm, meander through the old milking barn that is now a store and marvel over everything lavender.
Venture into the lavender drying barn to see the 6,000+ bundles of lavender hanging to dry.
Just down the road, head to Victor's Rain Shower Lavender, where you will see 5,000 lavender plants of 30 varieties and in various colors. The Olympic Mountains in the background make this the perfect photo opportunity. This field goes unharvested so that you can enjoy the lavender colors into the fall months.
You can also join Victor and the staff for a free barn dance on the Friday night of the Sequim Lavender Festival. 
The dance will be from 7:00 – 10:00 PM amongst the drying lavender.
Jardin Du Soleil Lavender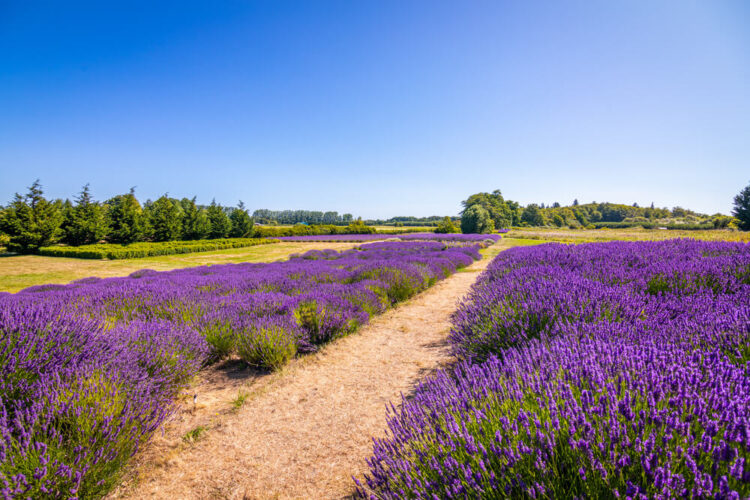 Address: 3932 Sequim-Dungeness Way, Sequim, WA 98382
Hours: April through October: Daily 10:00 AM – 5:00 PM, and 9:00 AM to 6:00 PM during the July bloom season. In November, December, and March, open Friday-Sunday from 10:00 AM – 4:00 PM.
More Information: Website
This 10-acre lavender Dungeness Valley farm hosts more than just gorgeous fields of lavender. Here you can weave your way through the garden maze, visit the farm animals, watch the sunset over the lavender while picking your bouquet of lavender.
During summer weekends, stop by the farm for various events like Brunch in the Blooms, summer concerts, or take part in the Lavender Experience, where you become a lavender farmer for a few hours.
Extend your stay in lavender paradise by pitching a tent and camping on the lavender farm.
Here you can enjoy falling asleep under the stars and the soothing lavender scent. Then wake up to the beautiful views, eagles soaring, and more time to explore the picturesque farm!
Martha Lane Lavender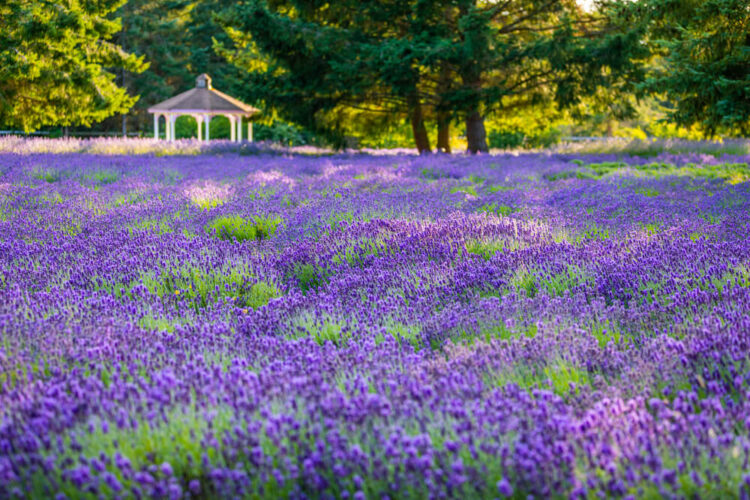 Address: 371 Martha Ln, Sequim, WA 98382
Hours: 10 AM – 5 PM from March through September (9 AM – 6 PM in July).
More Information: Facebook Page & Online Shop
Accommodation: Book the on-property Airbnb!
The lovely Martha Lane lavender farm in Washington's Sequim "Lavender Capital" is a must-visit for its beautiful grounds, particularly with its picturesque gazebo in the middle of Washington lavender fields.
Besides the lavender farm, you'll find beautiful Noble firs and Douglas firs surrounding the property, making it feel like a true escape away from the world.
Between June and August, over 3,000 lavender plants bloom with over two dozen varieties of lavender: Royal Purple, Hidcote Pink, Maillette, Royal Velvet, Super, Grosso, and at least 20 others.
On the farm, you'll also find a gift shop with handmade lavender products for the home and bath, made from lavender essential oil distilled right there on the farm property.
Pin This Guide to Lavender Farms and Fields in Washington!