Idaho is a state with rich natural beauty and has some of the best scenery in the country!
With rugged mountain ranges, six NPS sites, pristine lakes, and high desert, Idaho is a nature lover's paradise!
Most people associate the state with its capital city, Boise. But if you adventure beyond the city, you'll find many small towns in Idaho that are true hidden gems peppered throughout the state!
These charming small Idaho towns have their own unique charms and offer a gateway to some of Idaho's best outdoor activities!
Here are 10 cute small towns that showcase the best Idaho has to offer.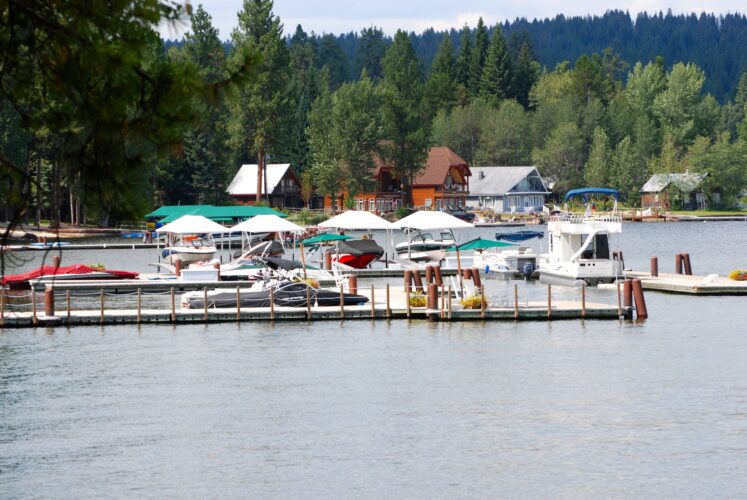 Some links in this post may be affiliate links. If you make a purchase through one of these links, we may earn a small commission at no extra cost to you. Please see our

disclosure policy

for more detail.
Best Small Towns in Idaho
Stanley
If you're looking for a small town in Idaho that serves as a gateway to Idaho's backcountry, then Stanley is the town for you!
Located three hours northeast of Boise and at the base of the Sawtooth Mountains, Stanley is the perfect small town to escape to for anyone seeking outdoor adventure.
There are hundreds of miles of hiking trails just at your fingertips! Some of the trails are meandering and perfect for a family outing, and others are sure to challenge even the most experienced hiker.
If fishing is your passion, you're in luck because Stanley is located on the Salmon River and near Redfish Lake! For the more adventurous, there's also plenty of whitewater rafting and kayaking.
Stanley is a true Idaho small town and has a year-round population hovering around 100 residents!
It's a town reminiscent of the old west, where life is simple and adventure is plentiful.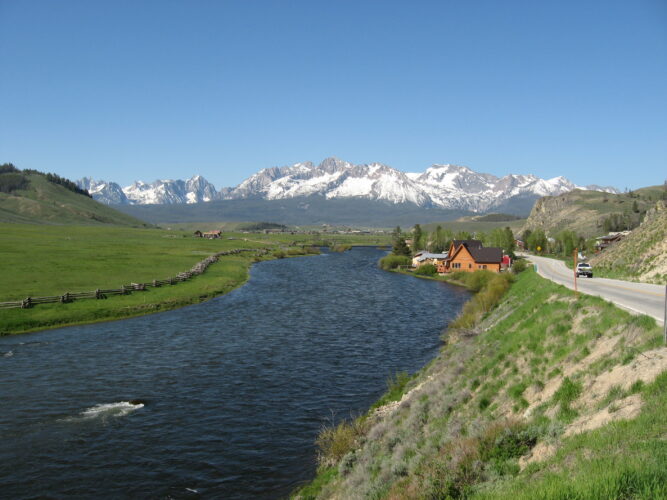 Bonners Ferry
This northern Idaho small town is less than 45 minutes from the US-Canadian border!
Bonners Ferry is located in the Kootenai River Valley with the Kootenai River running right through town.
The town is known as an international gateway to Canada and a starting point to some great outdoor recreation that includes hiking, mountain biking, horseback riding, and more.
For boaters, Bonners Ferry sports a public boat ramp and docks on the river, allowing motorboating for fishing and sightseeing. Rafters and kayakers will also enjoy spending time on the river.
If you're looking for something closer to town, you can hit the links at the Mirror Lake Municipal Golf Course. This 9 hole course is perfect for beginners and advanced players alike!
Further, you can also try your luck at the Kootenai River Inn Casino and Spa. Aside from gambling, you can pamper yourself in the full-service spa and enjoy elegant dining.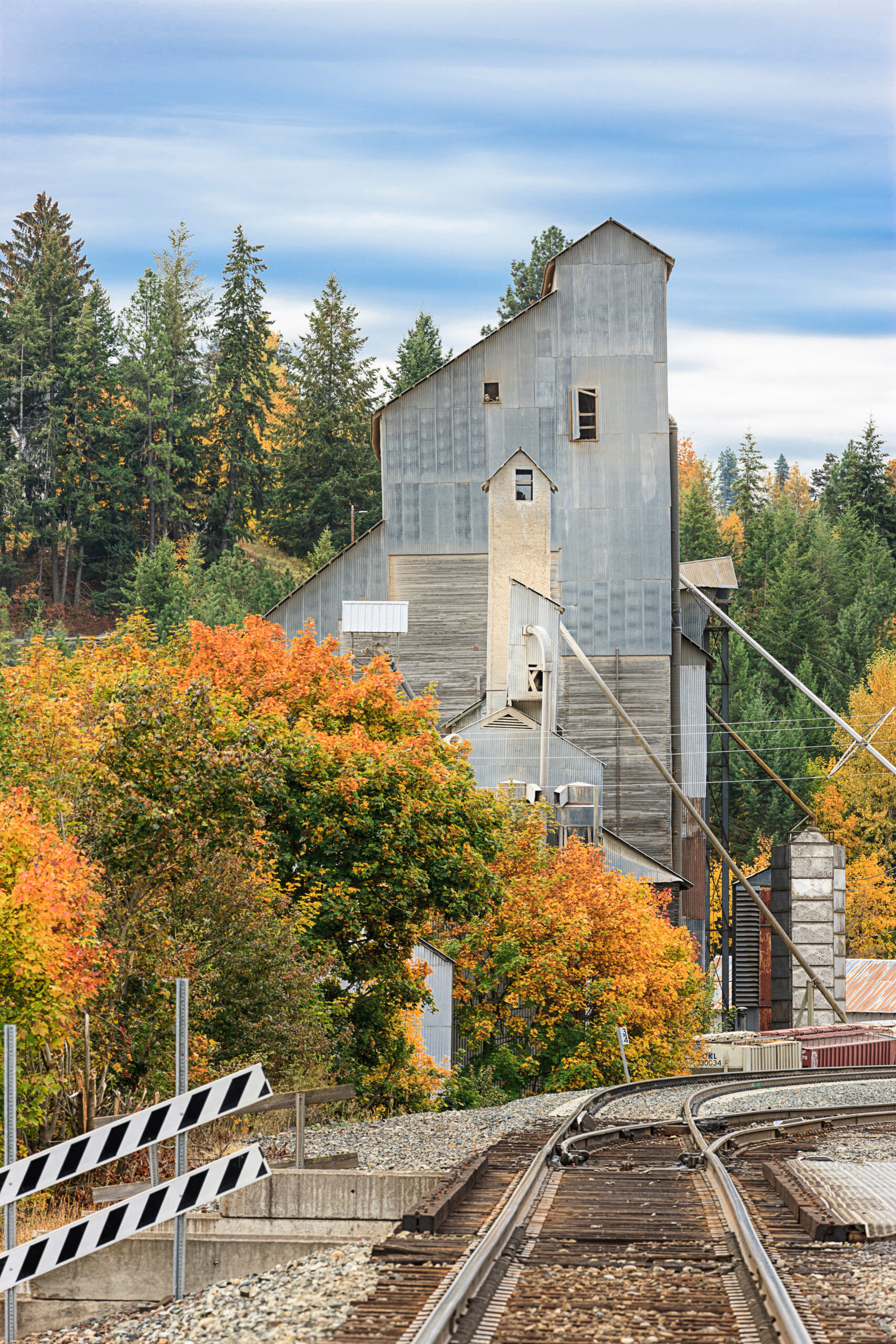 Sun Valley
Perhaps no other small town in Idaho is more famous than Sun Valley! Celebrities like Ernest Hemingway, Marilyn Monroe, Tom Hanks, and many others have owned property here.
Sun Valley is probably best known for winter skiing on Bald Mountain. This resort has a vertical drop of over 3,400 feet!
With 14 ski lifts and a gondola, skiers of every skill level will find runs to suit their needs. If Nordic skiing is more your thing, then you're in luck because Sun Valley features over 25 miles of Nordic trails!
During the summer months, you can enjoy everything from river rafting to fly fishing and horseback riding. The town also features a large number of special events!
You can enjoy the Ketchum and Hailey Days of the Old West. In the fall, Sun Valley even hosts one of the nation's top jazz festivals!
No matter what time of year you visit Sun Valley, there will be plenty to do. And be sure to keep your eyes open because it's very possible to spot a celebrity or two!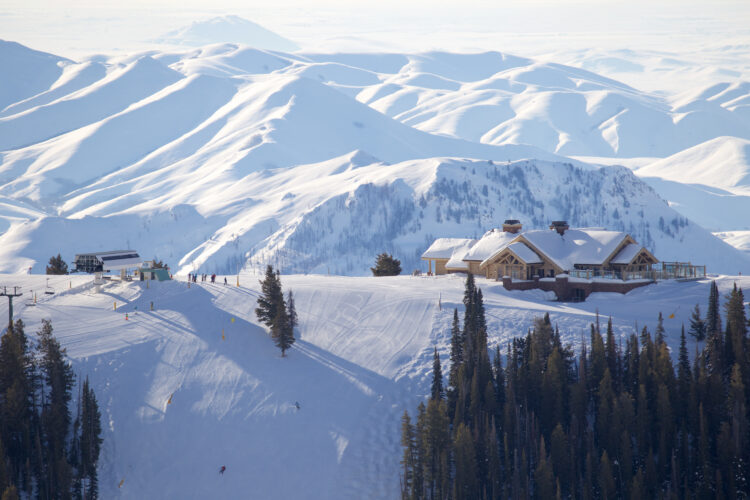 Sandpoint
Sandpoint sits in the northern Idaho panhandle on the shores of Lake Pend Oreille, the largest lake in the state.
This Idaho small town of over 7,000 residents offers both enough winter and summer activities to keep you busy year-round!
During the summer, take a boat out on Lake Pend Oreille or relax on one of its many sandy beaches. The lake offers many opportunities for water skiing, canoeing, fishing, and more.
Finally, Sandpoint is surrounded by mountains that make up the Bitterroot, Selkirk, and Cabinet ranges.
This means that activities like mountain biking, hiking, and horseback riding are all around, right at your backdoor!
In the winter, Schweitzer Mountain Resort has over 90 named runs that are served by 10 chairlifts.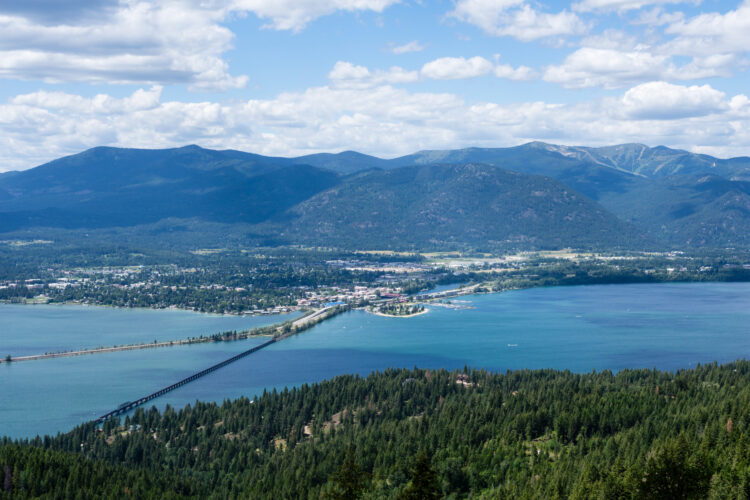 McCall
If you drive about one hundred miles north of Boise, you'll arrive in McCall. This small town sits on Payette Lake and offers year-round adventure!
During the hot summer months, you can enjoy the cool waters of the lake (just a short walk from the downtown area).
There are long stretches of public beaches, a marina with an outdoor barbeque restaurant, and plenty of options for boats and other watercraft. Rentals are also available.
If you just want to relax on the beach, you can take a short walk from the downtown area to Davis Beach.
If you want to trek further away from town, then you should check out North Beach, located at the northern end of Payette Lake.
During the winter months, you'll find an abundance of downhill skiing, nordic skiing, and sledding.
The main ski resort is Brundage Mountain, located only six miles north of McCall. If you go south, you can hit the slopes at Tamarack Resort, which offers dining, lodging, and plenty of skiing.
McCall offers plenty of locally-owned restaurants, from American-style burger pubs to Asian cuisine. Noticeably absent from McCall are chain restaurants (except for one Subway restaurant).
This means that wherever you decide to eat you'll be supporting a local business… which is what small-town travel is all about!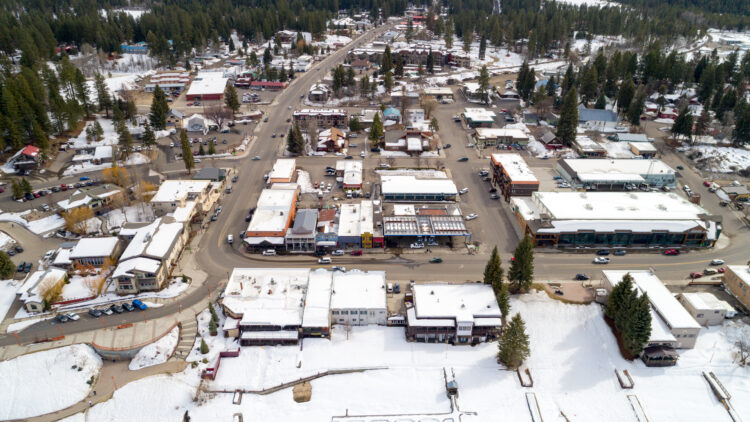 Salmon
This rustic town is located about five hours northeast of Boise, right on the Salmon River!
Salmon is a town of historical importance to Idaho because it's where the Native American Sacajawea was born. She guided the famous explorers Lewis and Clark from the Idaho wilderness to the Pacific Ocean.
Salmon sits right on the edge of the No Return Wilderness area, an area that is 2.367 million acres of pristine natural beauty.
It's also notable for being the largest designated wilderness area in the Lower 48 states!
Needless to say, outdoor activities are the main attraction here. If biking is your sport, you'll find endless mountain biking trails for every experience level.
And with an exceptionally long biking season that stretches from March to November, you can choose from three seasons of spectacular natural beauty to explore and enjoy.
But Salmon offers more than just outdoor adventure. The town features regular farmer's markets, a motor speedway, and the popular Salmon Stampede Rodeo in late August.
This is truly an Idaho small town where you can get away from it all and enjoy a simpler life in some of the country's most beautiful wilderness.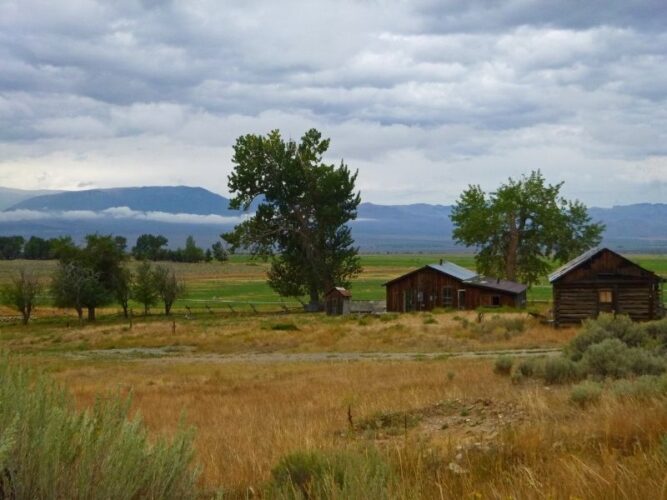 Driggs
One of this town's strengths is its shared natural resources with neighboring states!
Located right on the Idaho-Wyoming border, Driggs sits in the Teton Valley, at the foot of the Grand Teton Mountains.
The area is so vast that you could spend a year in Driggs and only see a small fraction of the surrounding forests and mountain ranges!
For those who enjoy the unspoiled beauty of national parks, then Driggs is the perfect town to set up camp.
A short drive from Driggs, about fifty miles, you can visit the famous Yellowstone National Park!
If you're looking for something even closer, then the Teton National Park is just a short drive over the border into Wyoming.
One of the biggest draws to Driggs is winter skiing. You can find world-class skiing that is a true powder-lovers paradise!
Grand Targhee Ski Resort is only 12 miles away and features over 500 inches of snow each year. If all that deep powder tires you out, then you can head to Jackson Hole Mountain Resort, featuring over 4,000 feet of rugged vertical drop.
Even if skiing isn't your thing, Driggs offers plenty to do without leaving the town. Visitors will enjoy a very rustic, old-town feel. You'll find everything from a blacksmith shop to art galleries featuring the work of local artists.
During the warmer months, you can take in the annual Shakespeare Festival and Hot Air Balloon Festival. Driggs also features weekly farmer's markets, golfing, and the best fly fishing in the west.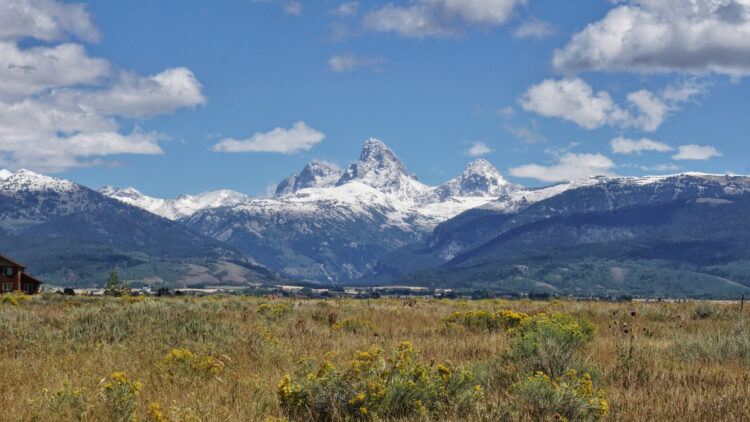 Island Park
With a population of under 300, Island Park might just be one of the smallest towns on this list.
By itself, the small population doesn't make Island Park special. What makes it unique is its physical size!
Island Park sports the longest Main Street in the world, measuring 36.8 miles! At the same time, one side of town to the other measures an average of 500 feet!
Island Park's unique dimensions are a product of its history. Back in 1947, Idaho liquor laws prohibited selling liquor outside of city limits.
The hotels, lodges, and resorts along this long stretch of U.S. Route 20 decided to incorporate as the town of Island Park, thus making it legal for establishments to sell liquor.
But the long main street and unique history aren't all Island Park has to offer. The town serves as a gateway to Yellowstone National Park and Harriman State Park and Wildlife Refuge.
You can also visit the Johnny Sack cabin. Sack was an Island Park resident who was only 4 feet 11 inches tall.
He began building his cabin in the early 1930s and is known for his high-quality craftsmanship. He even built a water wheel next to his cabin to provide electricity.
The cabin is now on the National Register of Historic Places and administered by the National Park Service.
Idaho City
Don't let the name fool you, Idaho City is anything but a city!
This town has a population of around 500 residents, a surprising number considering 150 years ago the town had a population of over 7,000, making it the largest city in the northwest.
People from all over the country were first drawn to Idaho City during the gold rush. The town even had a Chinese population of over 4,000! The Chinese immigrants worked as cooks, gold miners, and laundrymen.
Idaho City's biggest draw for tourists is its history. While not technically a ghost town, it certainly gives off that vibe.
Downtown Idaho City features relics of the old west. Many of the original storefronts and structures remain, having only been touched up over the years. Other structures have been completely rebuilt.
If you head to the visitor's center, you can take the Bricks and Boardwalks self-guided walking tour. Round out your trip with a visit to the Boise Basin Museum, where you'll find plentiful information, artifacts, and photos from the gold rush era.
For those who want a little exercise, there's the Charcoal Gulch Hike, a four mile circuit that lets you see the area's natural beauty.
Idaho City is not a resort town; rather, it's a perfect place for a day trip because it's located only 36 miles from Boise!
Wallace
Tucked away in the Idaho panhandle is the small town of Wallace. This town of fewer than 1,000 residents has a big reputation!
It was one of the world's largest silver mining communities that stretches back over 100 years. As a result, Wallace is listed on the National Register of Historic Places.
Visitors to Wallace will find plenty to do! For outdoor enthusiasts, there are over 1,000 miles of trails for hiking, biking, and even ATVs. These trails used to serve as mining, logging, and service roads.
If you have a penchant for history, you can take tours of old silver mines and visit the Oasis Bordello Museum. Wallace is also a town filled with unique shops, theaters, and motels, making it a perfect place to explore and enjoy.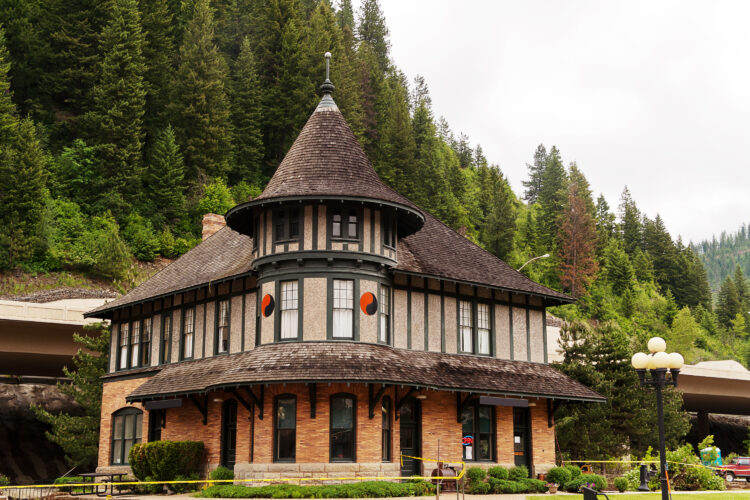 ***
Idaho offers endless possibilities for enjoying the outdoors, and using an Idaho small town as a gateway for your next trip ensures you'll see a special side to the state.
Whether you're a seasoned downhill skier or just like to relax on the beach of a lake, these varied small towns in Idaho offer something for everyone!