Oregon is one of the best places to enjoy the fall, and you will find that there are almost unlimited autumn activities to do in Oregon if you are visiting during this time of the year!
Oregon is beautiful year-round and full of gorgeous hiking trails, places to kayak, and delightful breweries and wineries.
But it's also a great place for seasonal fun like lavender fields and sunflower fields!
Oregon is one of the best places to enjoy the age-old tradition of visiting a pumpkin patch in the fall!
If you love going to a pumpkin patch to pick out the perfect pumpkin for carving or baking, you are going to find that there are almost unlimited opportunities to do this when you visit Oregon.
Whether you are visiting or you live in Oregon, a pumpkin patch visit is well worth your time and energy.
Here are our favorite Oregon pumpkin patches, with options for pumpkin picking in Portland, near Portland, and all throughout the state!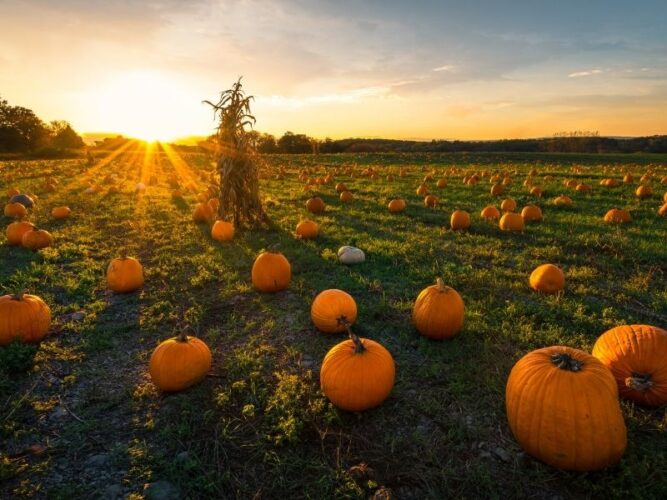 Some links in this post may be affiliate links. If you make a purchase through one of these links, we may earn a small commission at no extra cost to you. Please see our

disclosure policy

for more detail.
Pumpkin Patches in Portland
The Pumpkin Patch
Located in Portland, this delightful patch is actually on Sauvie Island. This location is perfect if you want to spend an afternoon visiting your pumpkin patch of choice.
There is so much to do here, and the owners have used their 45 years of experience to their advantage to create the ultimate Oregon pumpkin patch experience!
Climb on a hayride and ride out to the pumpkin patch itself to pick out your pumpkin or pumpkins. You can also make your way through a corn maze or pet the animals in the big red barn. There is also an onsite café which has great food.
If you want to take home some produce, you are in luck! You can shop for gifts and fresh veggies at the produce stand on your way out and enjoy some delightful homegrown Oregon produce when you get home to carve your pumpkins.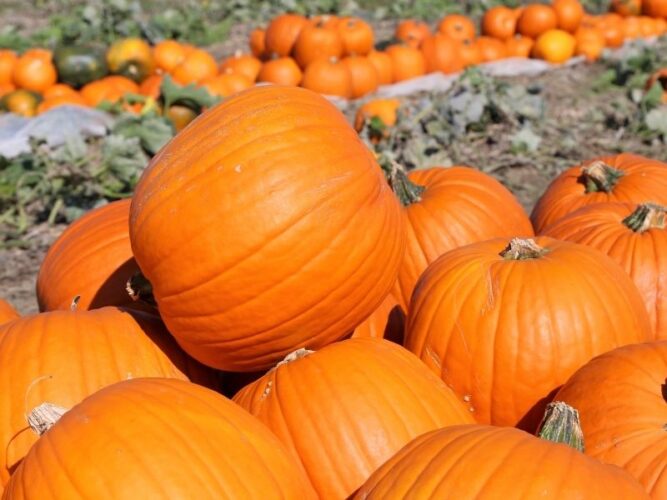 Fazio Farms
This is another Sauvie Island pumpkin patch in Portland proper, and it is well worth the visit!
This farm is well-known for its huge corn maze. The maze is 6.5 acres in size — this makes for at least an hour of fun unless you get lost!
There is a child's hay maze here as well and hayrides. If you love goats, you should visit the goat farm!
There is also a pumpkin ring toss and last, but not least, pumpkin picking!
If you are planning to stay in Portland itself, this pumpkin patch is quite close and can make a fun day's getaway for you and your loved ones.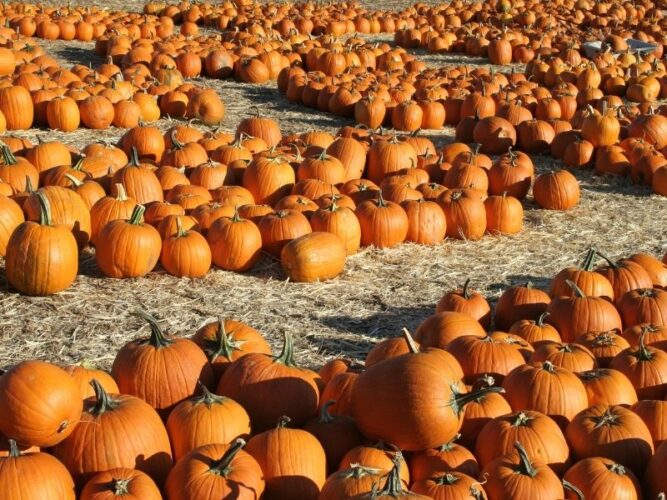 Plumper Pumpkin Patch & Tree Farm
This is another Portland location that you can visit, and it's open from the opening of pumpkin season through the end of Christmas tree season!
This patch is named for their famous Plumper Pumpkins. You can pick one of these delightful gourds to display at your home for the Halloween season!
There is a play area for the little kids as well as fun tube slides and a grain jump. On weekends, they offer a pumpkin cannon as well as train rides and little kids can get their faces painted.
This is not a huge pumpkin patch, but that does not mean that there is a lack of fun activities to partake of here!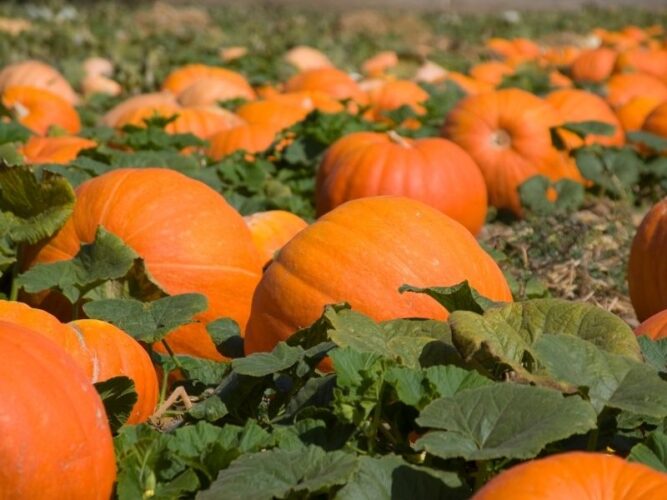 Pumpkin Patches Near Portland
Kirchem Farm
This historic farm has been around since 1890 and has belonged to the Kirchem family for the entirety of its existence.
This is a huge farm with 110 acres along the Clackamas River and part of the Oregon Trail. It's located about 35 minutes from Portland.
The farm is steeped in history and the family makes it clear that the pumpkin patch and the tree farm create annual memories that they cherish.
They offer 35 varieties of pumpkin, many of them heirloom varieties that you will not find anywhere else!
Their onsite cider works make handcrafted hard ciders and you can enjoy homemade tamales here as well! The Grizzly Food Truck also spends a large part of the fall here.
The owner's son-in-law is a talented blacksmith who sells custom items on-site, and you can visit the horses in the historic barn.
This is a family-focused experience in a gorgeous location that will provide hours of fun for everyone in your family!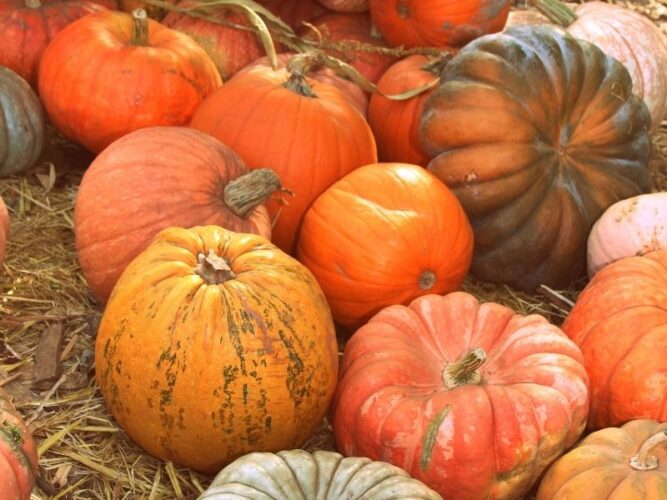 The Melon Patch
Located in Corvallis, about an hour and a half from Portland, this delightful family-owned business is open year-round and offers produce, hazelnuts and squash at their delightful fruit stand.
Seasonal melons are available here and sometimes food trucks stop by for a few days at a time. But of course, it's also known for its pumpkins in the fall!
There is a fun slide for the kids and when the pumpkin patch is open, there is a huge corn maze to enjoy.
There are always fun events going on here and they sell also Christmas trees in the winter when they are not growing produce.
This is a friendly, fun, and laid-back location to pick delightful pumpkins from many varieties and to hang out and stock up on yummy produce.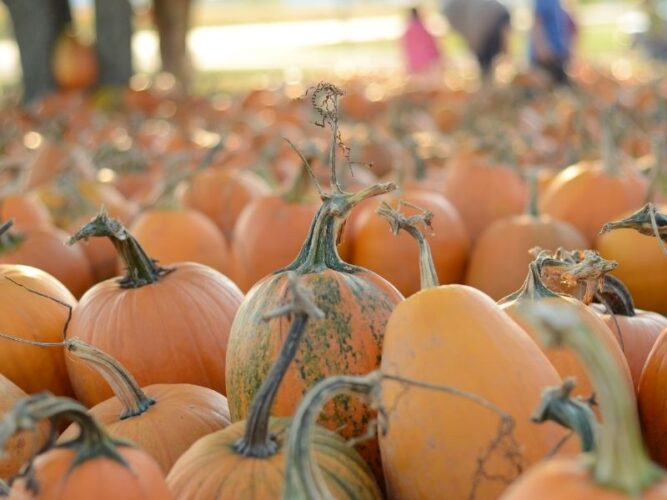 Davis Family Farm
Also located in Corvallis, OR (near Albany), this family farm offers a little bit of everything that you could ever want to do at a pumpkin patch in Oregon!
They sell scrumptious donuts and the cider is just as good. You can take a hayride or pick from a large variety of pumpkins at the U-Pick pumpkin patch. There is also a big slide for the kids to have fun on!
They have a corn maze during pumpkin season and you can get berries late into the season as well.
Depending on the year, fall can also be a prime season for hanging flower baskets. You can go home with a huge and beautiful hanging basket of flowers along with your pumpkins!
This is a delightful location that offers up the full farm experience as well as the classic pumpkin patch vibe.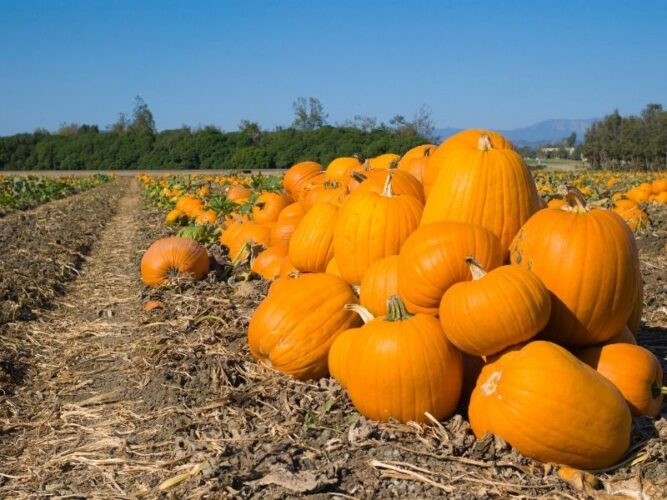 Bose Family Farm
This is a nice smaller pumpkin patch located near Albany. Many of their activities are targeted at smaller kids. Many parents bring their kids here to enjoy the corn maze or the fall events that happen on the weekends.
Pumpkins are very affordable here and you will love wandering the farm to pick your favorite pumpkin.
Kids will be delighted to collect punches on their punch cards from the scarecrows hiding in the maze!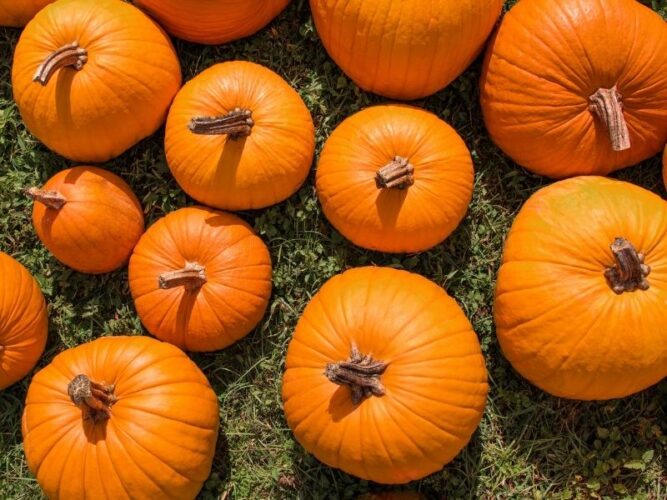 Renken Orchards
This patch is located in The Dalles (1.5 hours from Portland) and their annual pumpkin patch benefits the Child Development Center at the local hospital!
No matter what activities you do while you visit this pumpkin patch, your dollars will go to help kids in need.
They offer U-Pick pumpkins but there is far more to do during your visit! You can visit the petting zoo, taste some delicious apple cider, or even learn to make your own scarecrow!
This is a great pumpkin patch to visit if you want to help out kids in need while also having a great day of fun with your friends and family.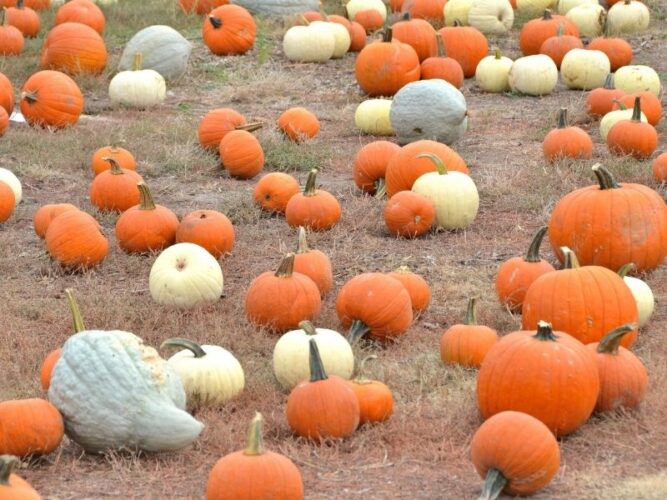 Bauman's Farm
Located near Salem, this delightful pumpkin patch has its own unique offerings beyond simple U-Pick pumpkins!
This location offers laser tag as well as a dark hay maze that is spooky and fun. They even have a large obstacle course that will challenge your athletic skill!
Apple slingshots here are super fun and you can also enjoy some really yummy apple cider tasting. If you want to try your aim out, you can also try out the apple cannons.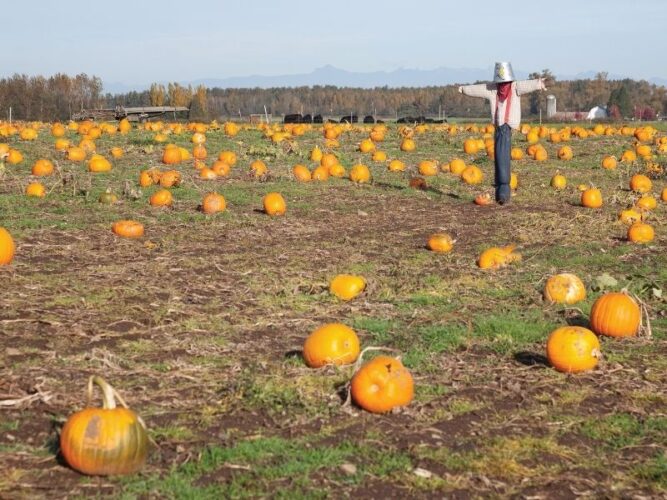 Bushue's Family Farm
This fun pumpkin patch is located in the little town of Boring, about 45 minutes from Portland. While the town name is not inspiring, this is a lovely area of the state and there are so many fun things to do when you visit this pumpkin patch!
You can enjoy donuts and other snacks while you pick out your perfect pumpkin.
Play a fun round of Pumpkin Bowling or take a hayride around the farm. Enjoy the views of Mt. Hood as you walk around the farm and explore the adventure park.
This is a really fun location that offers far more than just pumpkin picking and you will love the delightful scenery that is all around you while you enjoy all that Bushue's has to offer.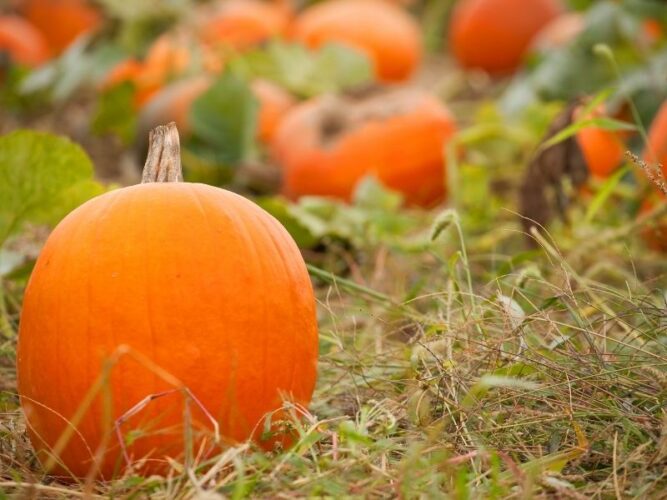 Oregon Coast Pumpkin Patches
Mahaffy Ranch
If you are going to be visiting the gorgeous Oregon Coast, you should make the time to drop by Coos Bay to see this pumpkin patch!
This is a great location for hayrides as well as a visit to the corn maze. They offer many varieties of pumpkins to choose from and you can also get yummy barbeque here!
You can get fresh produce here as well as pie pumpkins, squash, and gourds. They also offer a fun corn cannon and you can pet the farm animals that are located near the pumpkin patch!
This is a great place to spend your afternoon and you will not regret taking the time to visit the Mahaffy Ranch pumpkin patch.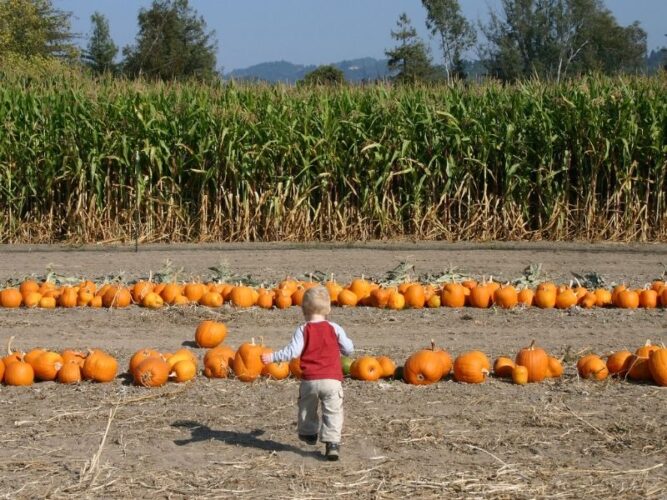 Pumpkin Patches Near Bend
Smith Rock Ranch
This pumpkin patch is in Terrebonne and is a bit remote (unless you are coming from Bend or Central Oregon), but it is well worth the trip!
You will be able to enjoy pumpkin picking as well as being able to choose from pre-picked gourds. There is so much more to do here than just pick pumpkins, however!
This is a dog-friendly ranch so your dog is just as welcome as the rest of the family. Kids can take pony rides or hop on the Zoo Train for a fun experience.
There is a petting zoo in the Animal House as well for kids (or adults!) who love farm animals.
Try your hand at archery while you are here and you can also shoot a pumpkin out of the Pumpkin Cannon!
If all of this is too rustic for you, enjoy some barnyard putt golf before you head out with the pumpkins that you selected!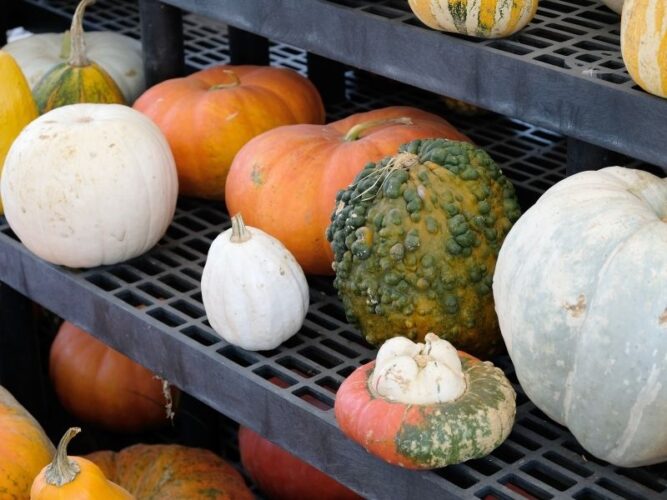 Southern Oregon Pumpkin Patches
Pheasant Fields Farm
Located in Medford near Ashland, OR, this is a great pumpkin patch for the whole family!
You will enjoy their Harvest Festival Weekends the most, but you can come during the rest of the week as well to visit this 20-acre farm located near the California border.
The espresso bar is always open and there are limited concessions midweek as well!
This farm has a charming old-world feel that you will love and the restored main barn is home to many events like weddings each year.
Take a hayride or enjoy the unique pear shooting gallery. There is a playground for the kids and they can ride the cow train for fun or pet the farm animals.
 This large pumpkin patch offers 50 varieties of pumpkins as well as winter squash and gourds. There is something here for everyone and this is a location that is well worth planning most of a day to visit.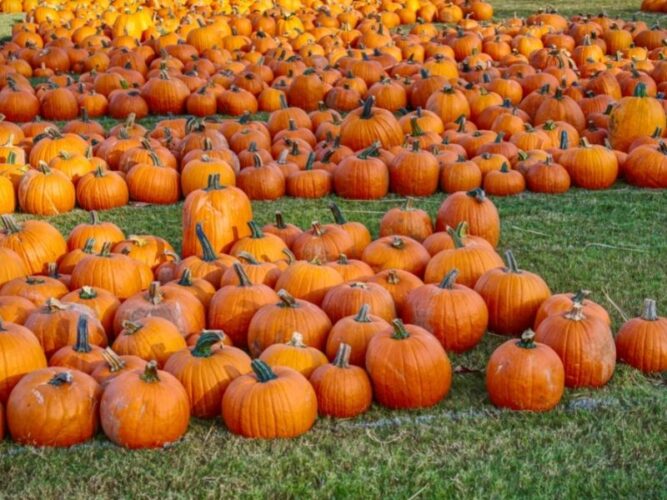 ***
Oregon pumpkin patches are always well worth taking the time for a visit. Many of them offer so much more than just pumpkins to visitors. You will enjoy so much of what makes Oregon special when you stop by these farms and pumpkin patches.
Oregon is one of the most beautiful places in the Pacific Northwest, and there is no state that you can visit that enjoys the spirit of the fall season more.
It seems like everyone in Oregon loves autumn, and you will be swept up in the fun of the season when you take the time to visit a pumpkin patch in Oregon!