When you wake up to a sunny morning in Portland, Oregon, your feet will nearly itch to go hiking.
The same might happen on a wet morning — Portlanders hike in all weather!
We'll go into our favorite hikes in Portland as well hikes near Portland — but first, just a few tips before you strap on your shoes and hit the road.
What to Know Before Hiking Near Portland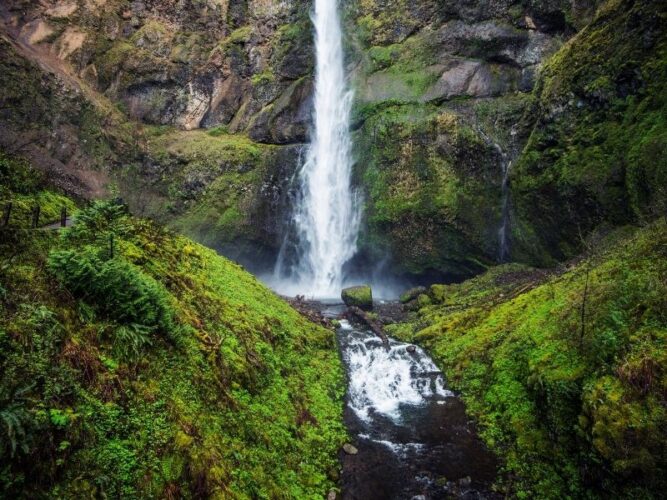 Some links in this post may be affiliate links. If you make a purchase through one of these links, we may earn a small commission at no extra cost to you. Please see our

disclosure policy

for more detail.
Don't sweat the gear. While hiking boots and water-resistant layers are nice to have, it really doesn't take specific clothing to hike. A good sturdy pair of shoes with traction and enough layers will do you well outside of a downpour… in which case you might want to rethink the hike, anyway.
Don't rely on your phone. Cell phone coverage is not always reliable, especially on the more rural hikes near Portland, so it's wise to carry a guidebook or a printed copy of your route as trail signage might be unclear. Those on longer hikes often will want to carry trail snacks and water, too.
Get an early (or late) start. Because the sun is up early in the summer, trailheads for popular hikes can fill up very early (before 9 AM). If you're not into an early hike, another option is to take advantage of the sun being up late and hike after 6 PM (it will be light past 9 PM in the peak summer months).
Check before you leave. Always check trail conditions and regulations in advance; areas often close due to storm cleanup and/or repairs. Some trails in the Columbia River Gorge and Oregon's State Forests require the advance purchase and display of the Northwest Forest Pass during the summer season.
Best Hikes In Portland, Oregon
Urban Hikes in Portland
Within the city of Portland proper, there are over 12,000 acres of parks including 5,200 acres within one of the country's largest urban parks, Forest Park, which dominates the Northwest quadrant of Portland.
Portland is a leader in urban forest canopy, with over 25% tree cover and strict rules that govern the removal, replacement, and planting of trees within new developments.
Along the West Hills, a string of parks are connected by the 30-mile Wildwood Trail while the region's east side contains large parcels of natural state parkland.
There are plenty of hikes in Portland you can embark on without even needing to leave the city! We'll cover these first, and then we'll tackle the best hikes near Portland.
Lower Macleay Park To The Pittock Mansion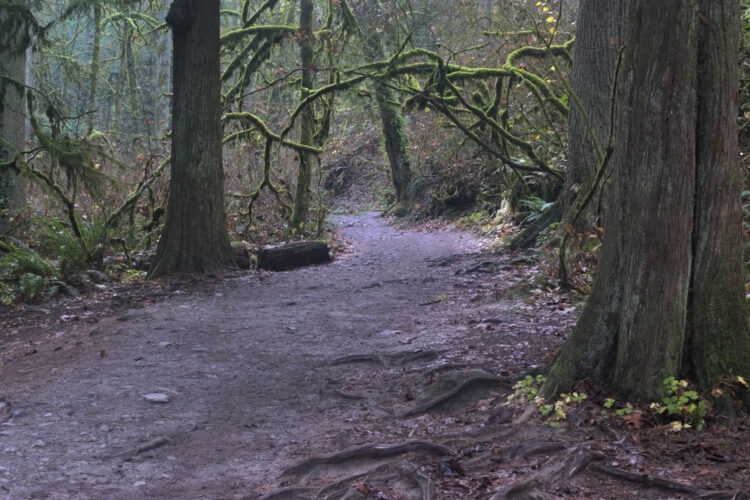 Difficulty: Moderate
Length: 5.7 miles
Elevation Gain: 950 feet
Trailhead: 2960 NW Upshur St, Portland, OR 97210
This Portland trail begins under a 1905 Pratt Truss bridge and follows Balch Creek — named after the first Portlander hanged for murder, for a bit of macabre history.
It then winds its way through a canyon populated by old-growth Douglas Firs, including Portland's tallest tree, standing 243 feet tall!
Make a stop at the Witches' House, an eerie former 1930s restroom, and continue on the former century-old residence of 'self-made man', newspaper publisher Henry Pittock.
More info: oregonhikers.org
Marquam Trail to Council Crest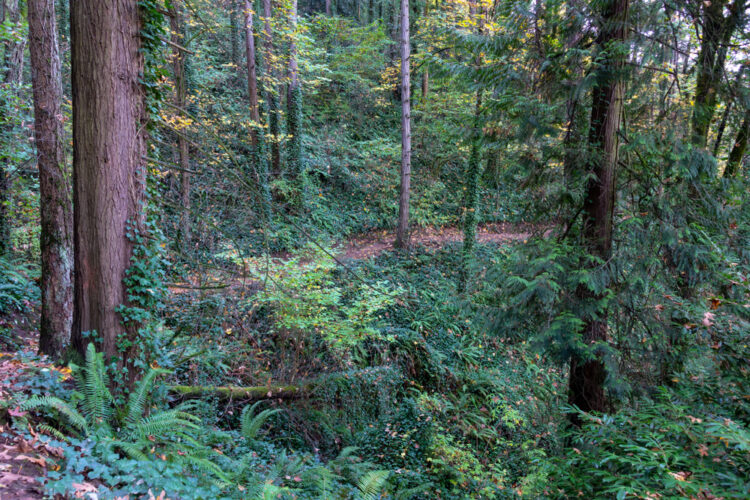 Difficulty: Moderate
Length: 5.8 miles
Elevation Gain: 1,100 feet
Trailhead: 5482-5074 SW Terwilliger Blvd, Portland, OR 97239
A section of Portland's 40-mile trail loop takes you from tranquil Marquam Nature Park into the stunning landscapes of outer Portland.
This hike continues near the campus of Oregon Health Science University across creeks and goes up nearly a dozen switchbacks to a renowned five-mountain view at the summit of 1,070 feet tall Council Crest.
More info: oregonhikers.org
Mt Talbert Perimeter Loop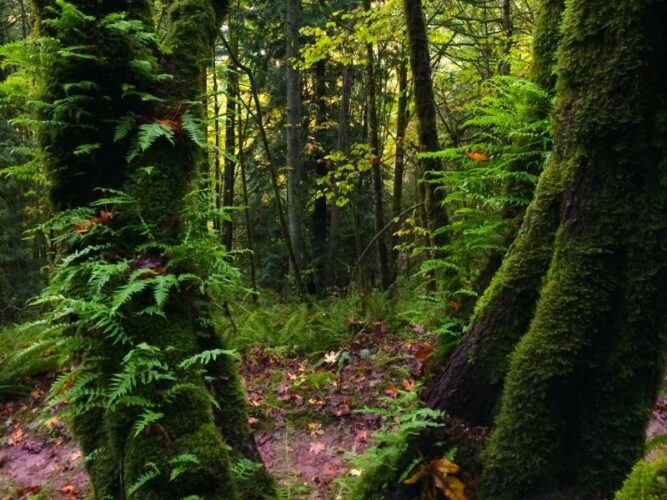 Difficulty: Moderate
Length: 2.3 miles
Elevation Gain: 595 feet
Trailhead: SE Sunnyside at 117th, Clackamas, OR, 97015
This hike circles the lower slopes on the Boring Volcano, which is part of a larger 50,000 year old lava field that covers much of the eastern metropolitan area out to the town that bears the name Boring.
The park's land was acquired by local bond in 2007 and named for Francis Talbert, a Donation Land Claimant in 1852.
The trail crosses Mt Scott Creek and traverses stands of Douglas Fir, Western Red Cedar, and oak trees that have matured since logging in the 1920s and 1930s.
More info: oregonhikers.org
Oaks Bottom Loop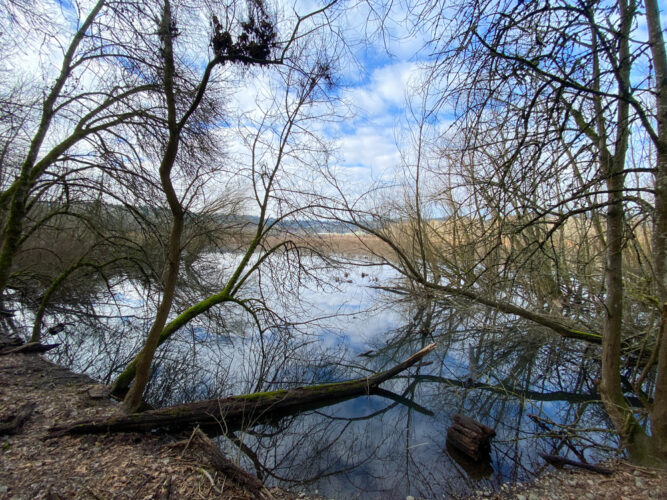 Difficulty: Easy
Length: 3.8 miles
Elevation Gain: 125 feet
Trailhead: SE 7th at SE Malden St, Portland, OR 97202
An urban wetland saved from landfill status and planned industrial development in 1969, Oaks Bottom centers around a spring fed pond, the Wapato Marsh.
The marsh sits at the base of a bluff along the Willamette River that flows through the center of the city.
As you hike through maples and grand firs, the buildings of Portland's downtown and the nearby Oaks Park amusement park peek through the forest.
A railroad line and popular multi-use trail, the Springwater Corridor, also passes through the park.
Bring your binoculars — birdlife ranging from blue herons to bald eagles to ospreys are readily sighted.
More info: oregonhikers.org
Hikes in Mt Hood National Forest and Columbia Gorge National Scenic Area
An hour east of Portland, the western slopes of the Cascade Range mountains provide a multitude of true Oregon hiking options for those of all abilities.
Elevations can be steep, trailheads busy, views expansive, and experiences surely memorable.
Always check trail conditions in advance as this area is prone to mudslides and closures.
Tamanawas Falls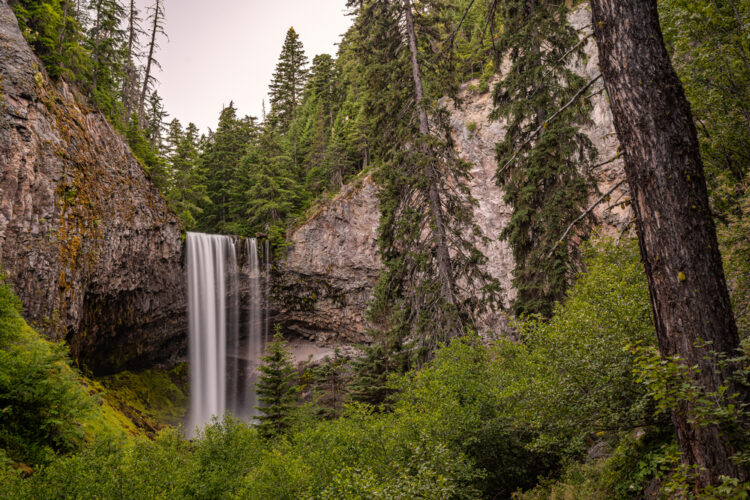 Difficulty: Easy
Length: 3.4 miles
Elevation Gain: 560 feet
Passes/Fees: Northwest Forest Pass required or $5 day fee, May 15-Oct 1
Trailhead: Highway 35, near Milepost 72
This trail on the eastern side of Mt Hood follows the rushing East Fork of the Hood River and cascading Cold Spring Creek to the falls.
The name Tamanawas Falls comes from a Chinook word, which means 'friendly guardian spirit', and it's one of the most spectacular Oregon waterfalls.
Tamanawas Falls tumbles over a 110-foot high lava cliff except in the late summer when it becomes a thin veil.
Nimble hikers can climb to the right and behind the falls to enter a small grotto — be careful, though!
More info: oregonhikers.org
Latourell Falls
Difficulty: Easy
Length: 2.4 miles
Elevation Gain: 625 feet
Passes/Fees: None
Trailhead: 5 miles east of Corbett on historic Highway 30
Named for an early homesteader and postmaster, Latourell Falls is the first serious hiking opportunity one encounters when traveling east through the Gorge from Portland.
The single 249 feet tall plunge of the lower falls is available from the parking lot, while the loop trail follows Latourell Creek to the two-tired upper falls.
A spur on the return trip leads to a view of Rooster Rock, Cape Horn, and Table Mountain.
More info: oregonhikers.org
Tom, Dick, and Harry Mountain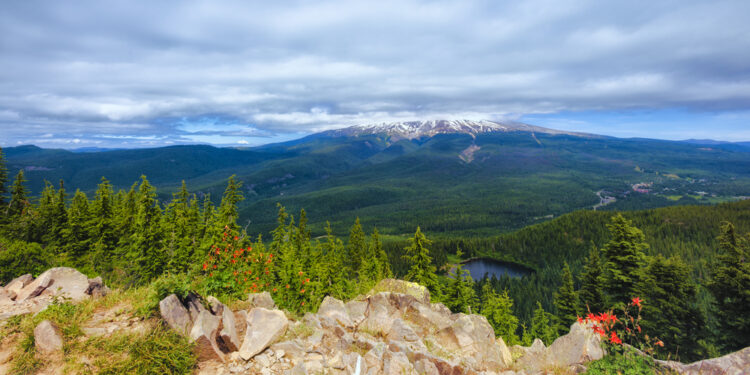 Difficulty: Moderate
Length: 7.7 miles
Elevation Gain: 1,460 feet
Passes/Fees: Northwest Forest Pass required or $5 day fee, May 15-Oct 1
Trailhead: Highway 26, just west of Mt Hood Skibowl
A two mile long formation that dominates Mt Hood's Skibowl Resort seven miles from the mountain proper, the ridge known as Tom, Dick, and Harry Mountain is a stunning hike near Portland.
This hike affords stunning views that extend north to Mt Rainier, Mt St Helens, and Mt Adams, east to Timberline Lodge and the village of Government Camp, and south to Mt Jefferson.
The hike traverses assorted creeks and ubiquitous switchbacks while a stop at Mirror Lake provides a postcard-worthy view of Mt Hood; the lake is then visible from above at the final perch on the ridge.
More info: oregonhikers.org
Coast Range and Oregon Coast
Thanks to the groundbreaking 1967 Oregon Beach Bill, all 363 miles of Oregon's coastline belongs to the public!
Along the north coast, craggy headlands jut into the Pacific Ocean, creating the opportunity for hardy hikes to lofty viewpoints.
The gentle-sloped coast range that fills in between the ocean and the Willamette Valley has a rich timber industry history but provides lesser-known hikes that feel far from civilization despite being within in a 60-90 minutes' drive from Portland.
Neahkahnie Mountain Loop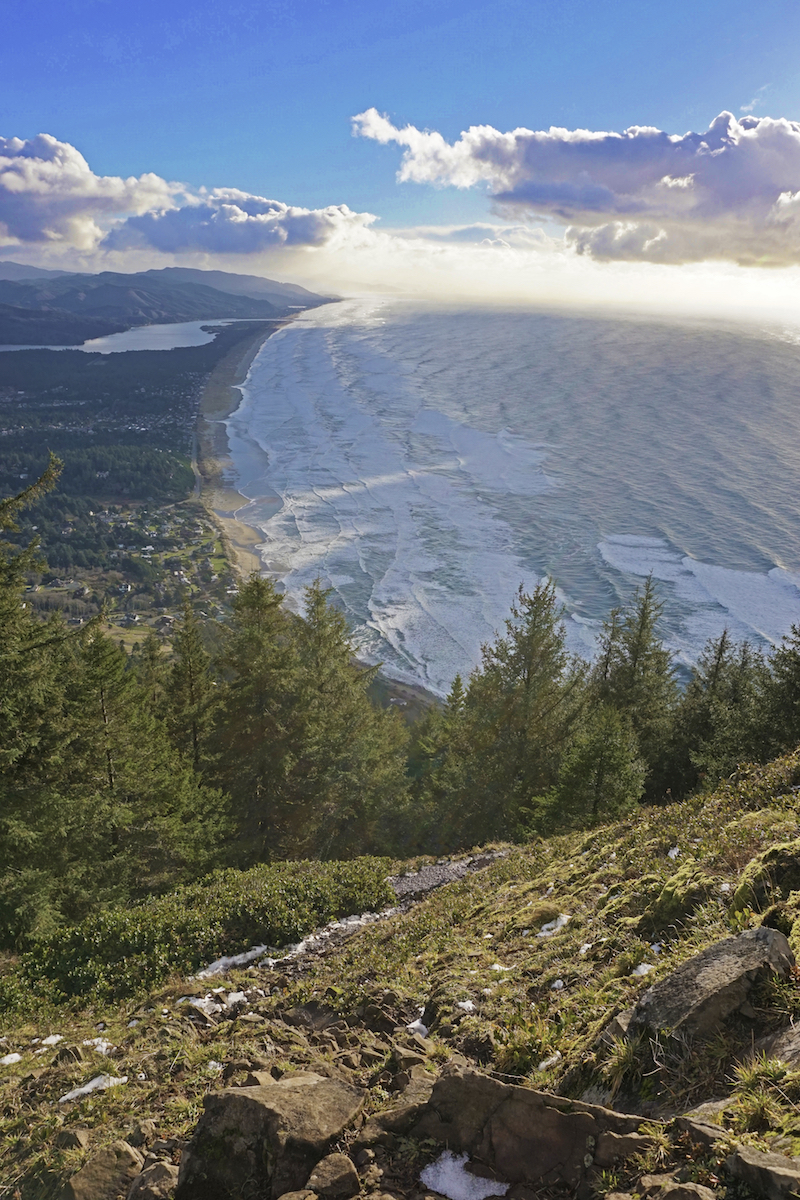 Difficulty: Hard
Length: 8.0 miles
Elevation Gain: 2,300 feet
Passes/Fees: Oregon State Park Annual Pass required or $5 day fee
Trailhead: Oswald West State Park
A steep trek winds through old growth forests of Sitka spruce and hemlock and crosses meadows that frequently see elk visitors to a high perched viewpoint atop the headland of Neahkahnie Mountain.
Below lies Devils Cauldron, a deep walled nook where ocean waters crash and spin, a stunning reward at the end of this tough hike near Portland.
To the north, views extend to the sandy inlet at Smugglers Cove and sea arch of Cape Falcon while to the south lie the town of Manzanita and the mouth of Nehalem Bay.
More info: oregonhikers.org
Northern Gales Creek Trail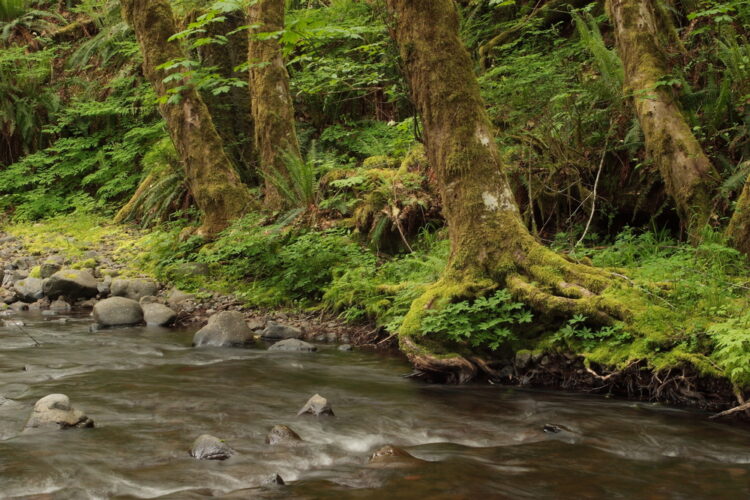 Difficulty: Moderate
Length: 6.8 miles
Elevation Gain: 1,465 feet
Trailhead: 2.5 miles past Timber off Cochran road (gravel), near Reehers Campground
While other parts of the Gales Creek Trail follow the creek of that name, the northern portion inhabits the Nehalem River drainage within the second-growth forest of the 1933 Tillamook Burn.
The trail circles clear-cuts and crosses logging roads as well as the now-defunct Tillamook Bay Railroad tracks that sport decades-old trees dead in the middle.
Deer, elk, and coyote are common sights along this hike as are the peaks of Mt Rainier, Mt Adams, and Mt St Helens.
More info: oregonhikers.org
Soapstone Lake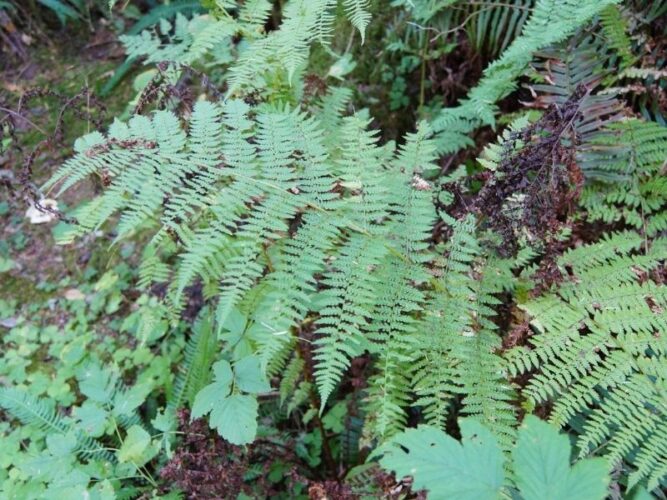 Difficulty: Easy
Length: 3.2 miles
Elevation Gain: 305 feet
Trailhead: Off Highway 53, 5.1 miles south of Necanicum Junction
Encompassing a serene meadow that was once the homestead of Erin and Johanna Lindgren, the lesser-known Soapstone Lake Trail is a beauty.
This hike traverses a varied second-growth fir forest teeming with ferns and follows Soapstone Creek, where its greenish-black namesake rock can be found.
Plentiful evidence remains of busy beaver damming in times past and the placid lake today teems with native newts.
More info: oregonhikers.org