Walla Walla boasts over 100 wineries, farmers markets, working farms, amazing restaurants, and festivals like the Sweet Onion Festival, and historic sites like the Whitman Mission National Historic Site.
It's a town I would like to explore more — and luckily, there are many incredible places to stay in Walla Walla so that you can return time and again and always experience something new!
Wondering where to stay in Walla Walla? Here are our recommendations.
Walla Walla Travel Tips
Dining Travel Tip: I suggest Bacon and Eggs, Olive Marketplace and Cafe and Saffron Mediterranean Kitchen. A new restaurant will open soon called The Ox & Cart.
Winery Travel Tip: Walla Walla has over 140 wineries — it can be hard to choose, so ask your Walla Walla accommodations for their insider recommendations!
Limo Travel Tip: There is a new company in Walla Walla called Main Street Drivers. It isn't a typical limo service. Their drivers drive your car at a rate of $35 an hour with no additional passenger fees, which is more affordable, and which allows you to imbibe at all the wonderful Walla Walla wineries without worrying about a designated driver. They also offer custom wine tours.
Historic Travel Tip: I strongly suggest a trip out to the Whitman Mission National Historic Site, which is about a 10-minute drive away. Be sure to watch the short movie which offers well-rounded viewpoints from Native Americans and historians, and then tour the facility and grounds afterward. Other interesting nearby historic sites are Frenchtown Historic Site and Fort Walla Walla Museum. There are several wineries on the road to the mission and Frenchtown so you could make it into a history and wine tasting trip.
Where to Stay in Walla Walla
Luxury: Eritage Resort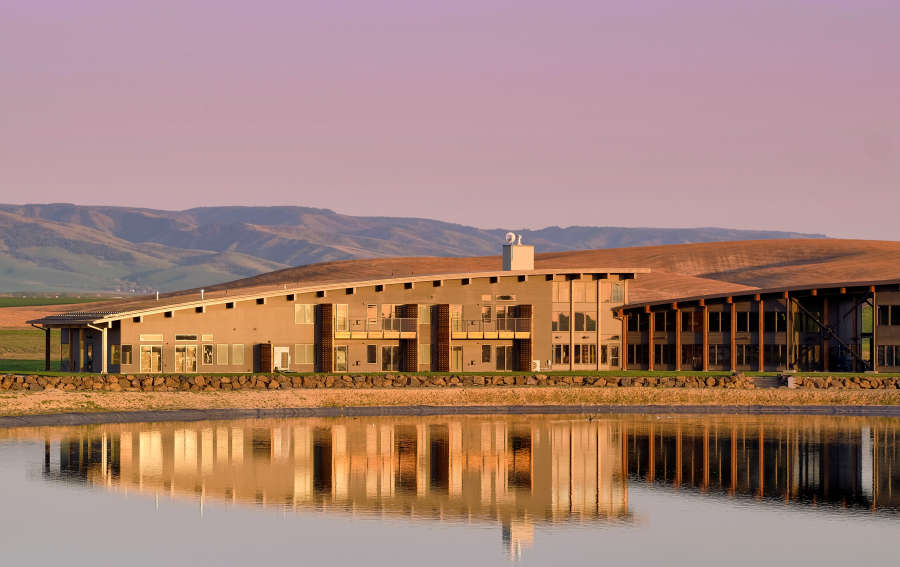 Some links in this post may be affiliate links. If you make a purchase through one of these links, we may earn a small commission at no extra cost to you. Please see our

disclosure policy

for more detail.
Walla Walla, Washington is known for its wine country and set within 300 acres of rolling wheat fields and vineyards is Eritage Resort.
This new luxury resort offers a private setting with luxury suites and villas, a manmade lake, an outdoor pool, and a restaurant.
Room amenities you'll love include large soaking tubs, gas fireplaces, and a private deck or patio to take in the view. Plus, each morning, guests receive a continental breakfast with house-baked goods. In-room massage services may also be arranged.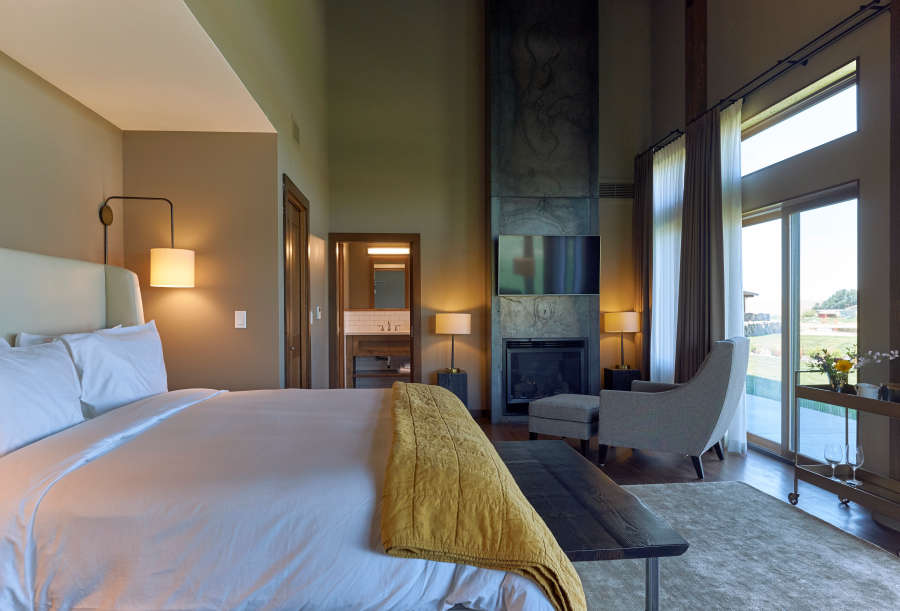 Insider Tip: During my tour, I saw all the room styles. There is not one I didn't like, as they all have views, either mountain or lake. But, if you want a premier view, choose a corner suite as they have a 180-degree view!
The restaurant has a creative and inventive menu with lots of locally sourced items. Almost all of their tables have a view, and if you choose to sit in the bar-style seating in front of the kitchen, you can watch the chefs as they cook.
What do I recommend at Eritage Restaurant & Bar? Fresh Dungeness crab toast and prime beef and lamb meatballs — both were excellent!
Mid-Range: The Marcus Whitman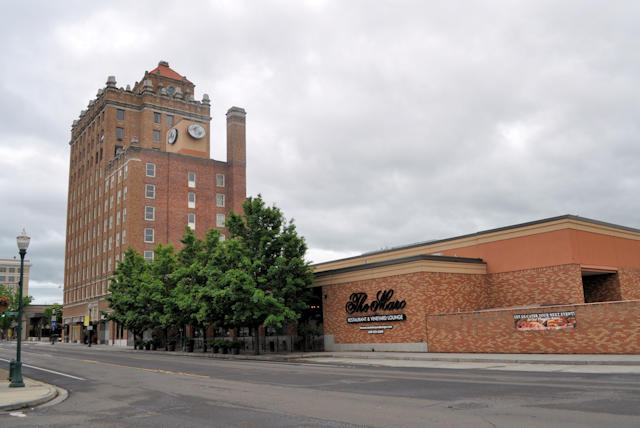 The Marcus Whitman Hotel & Conference Center presents a striking silhouette against the Walla Walla, WA skyline.
Situated steps away from shopping, dining and wine tasting rooms, the Marcus Whitman offers a high-end experience for those traveling to Walla Walla for its historic sites, outdoor activities, or my kind of travel experience — a winecation.
The 133-room hotel has guest rooms in two parts of the building. In the historic tower are luxury tower suites, king and queen tower suites, spa suites, and the executive tower king. In the West Wing are junior suites, king deluxe, and double queen standard rooms.
On-site there is The Marc (an award-winning restaurant), the Vineyard Lounge, an exercise room, as well as, a conference center and meeting rooms.
And, for those looking for a place to stay in Walla Walla for the wine, they have four tasting rooms with access from within the hotel!
The hotel is classic in style, and the grand lobby has ornate chandeliers, floor-to-ceiling wood columns, towering plants and lavish chairs.
While I found the lobby very appealing, I noticed that very few guests hung out in this space. (Maybe it is a little too grand? Or maybe they were off wine tasting?) 
There is also a smaller room with a fireplace and piano, and that room did get used.


During my stay in Walla Walla, I stayed in a double queen room (which is one of their most economical rooms).
Since I arrived the day before they were able to pre-register me earlier in the day and when 3 p.m. rolled around it was just a matter of giving them my name and handing over the key. From there, I headed to the West Wing, which is not connected to the historic tower.
The decor mimicked the lobby on a smaller scale with wooden furniture, floral carpet, and a painted red wall. I found the room to be perfect for my time there and very easy to get to and from the conference rooms. Also, I never heard anyone else in their rooms, which made for very restful sleep.
Budget: Motel 6 Walla Walla
When I arrived, the outside looked like any other Motel 6, which is what I expected. After I had checked in, the bigger question became, would my room match the picture on the internet?
I could tell the structure of the motel was older. It had wear and tear, just like all the other Motel 6's I've ever stayed at. But, inside my room, the modern touches, like bright walls and nicer comforters, which did match the pictures I saw, made it feel less like a Motel 6.
There was a comfy bed and pillow, free WiFi, a flatscreen TV with cable, a refrigerator, and a microwave. Best of all, the motel is four short blocks away from Main Street where there are lots of wine tasting rooms, restaurants, and shops.
Would I stay at Motel 6 Walla Walla again? Yes, especially for budget travel and if my plan was to be out of my room for most of the day visiting wineries and seeing the sights.