Want to stay somewhere a little different on your upcoming trip to Seattle?
Or are you just a mega-fan of the classic rom-com Sleepless in Seattle and you want to stay the night in a houseboat just like in the movie?
Either way, we've got you covered with these incredible houseboat rentals in Seattle, all rentable on Airbnb!
What's the Deal with Seattle Houseboats?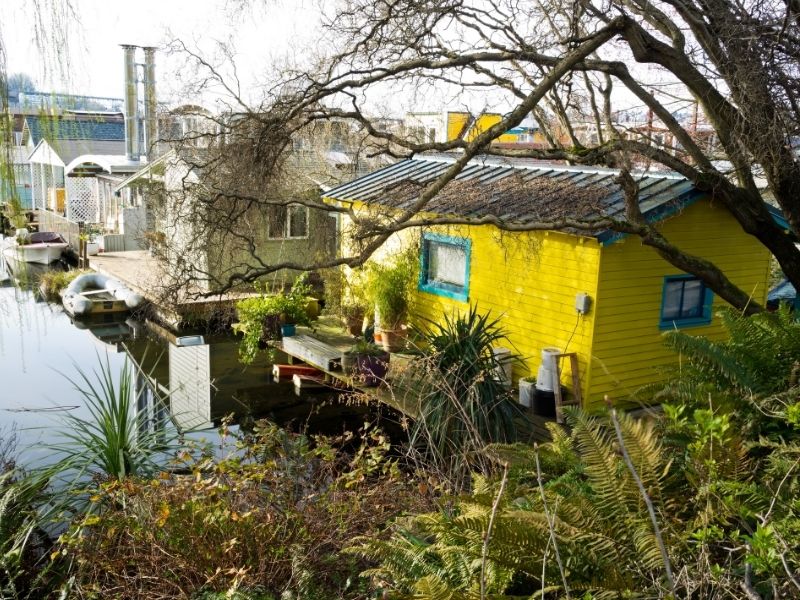 Some links in this post may be affiliate links. If you make a purchase through one of these links, we may earn a small commission at no extra cost to you. Please see our

disclosure policy

for more detail.
Technically most of these Seattle houseboats aren't actually "houseboats" in the traditional sense, but rather floating houses on the Seattle waterfront.
They've been popular since the 1890s and were once the homes of poor fishermen working in the surrounding areas.
There once numbered some 2,000, but now there are around 500 — still quite a lot, as houseboats really aren't that popular an option in the U.S., with the exception of a few places like Sausalito, California.
Now, the houseboats are mostly the domain of the rich and famous. The original Sleepless in Seattle boat reportedly sold for over $2 million dollars!
The good news is that several of these incredible houseboats are actually rental properties! We've curated a list of our favorite houseboat rentals in Seattle which you can easily rent via Airbnb.
Note: As Airbnb Associates, we may earn a commission when you book through our links at no extra cost to you.
Our Favorite Houseboat Rentals in Seattle & Airbnb Houseboats
Modern Houseboat on Lake Union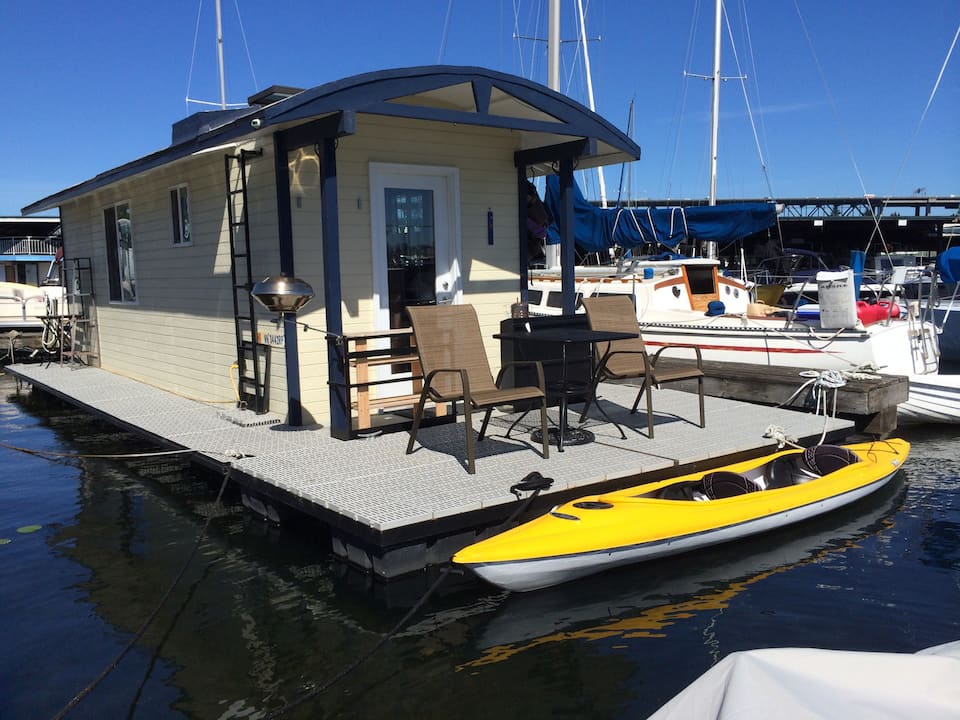 If you're in the market for a truly special waterside experience, this houseboat is the perfect fit.
You can spend your day relaxing in the incredibly accommodating sleeping area, which comes equipped with everything you could possibly need, or better yet, you can step outside – with its spectacular view of downtown Seattle and a spacious, sunny sitting area, this house is a water lover's dream come true.
Enjoy your morning coffee on the top deck with the sunshine in your face, or relish in an unobstructed view of the water from the back deck, which faces away from the marina.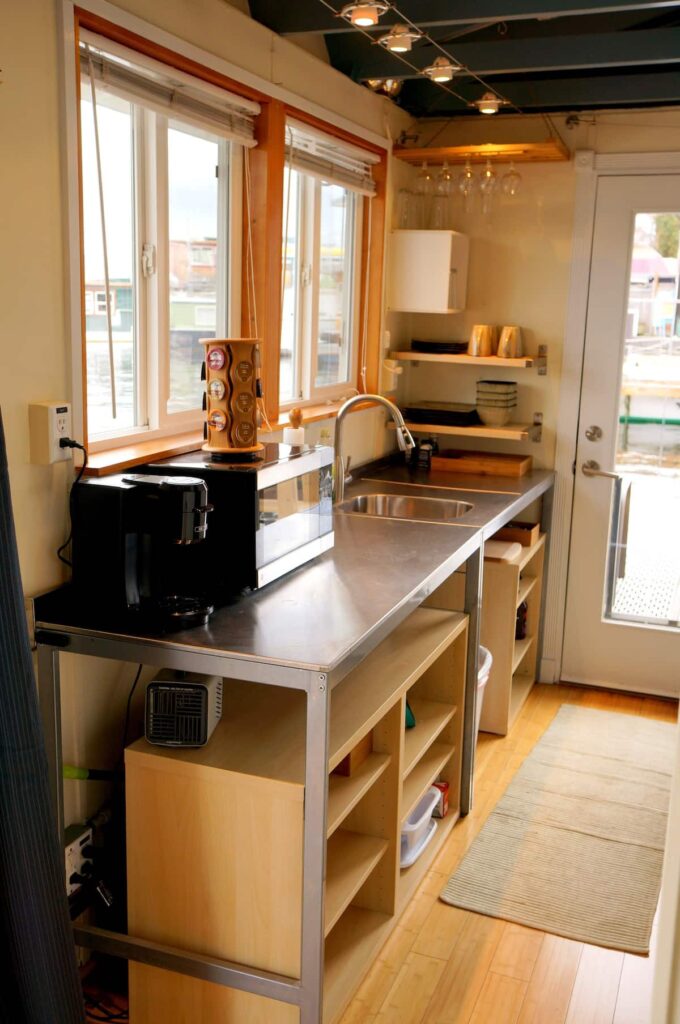 Although this is, in some ways, a bit of an off-beat way to spend your vacation, everything you could possibly hope to see in the Seattle area is within walking distance.
You can easily go downtown on foot, and on top of being able to see the Space Needle from the top deck, getting there would only take you around 5 minutes. Finally, thanks to the large marina, you're bound to meet some incredible people in the neighboring boats.
Ginger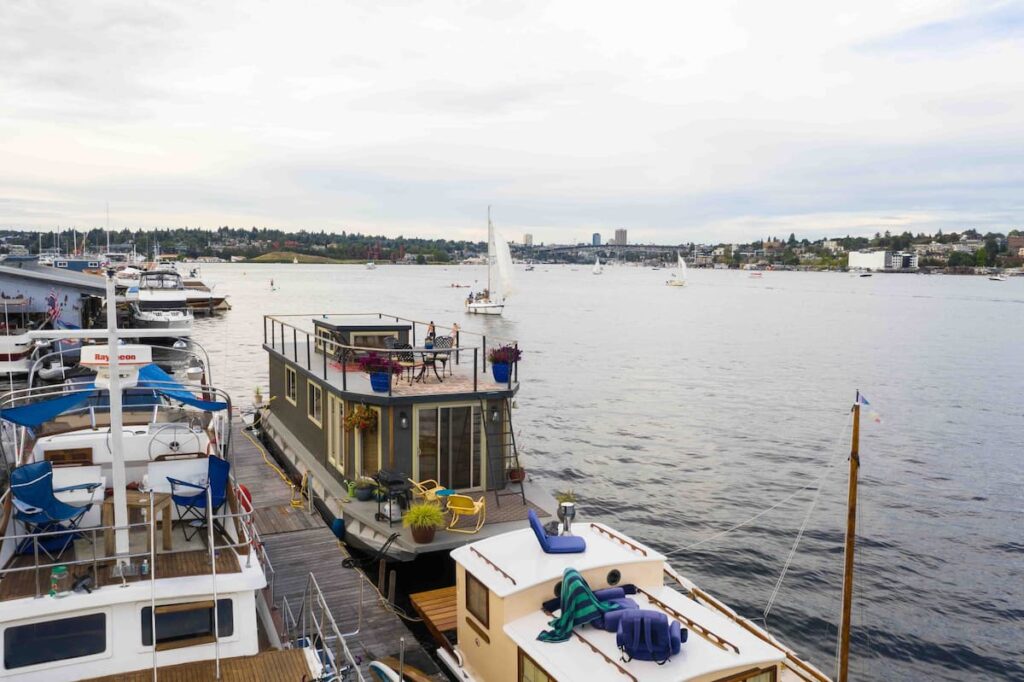 Most Seattle houseboats won't try to beat you over the head with overtly luxurious interiors, but Ginger definitely tries to make you feel at home.
This gorgeous houseboat rental in Seattle features a surprisingly spacious sitting/kitchen area, a (semi) separate bedroom and additional lofted bed, and plenty of windows and lighting.
Ginger can comfortably sleep 6 people, and you can almost forget you're on a boat! You will be quickly reminded, however, when you step out onto the rooftop deck, an amazing place to marvel at the beauty of the lake and the city as a whole.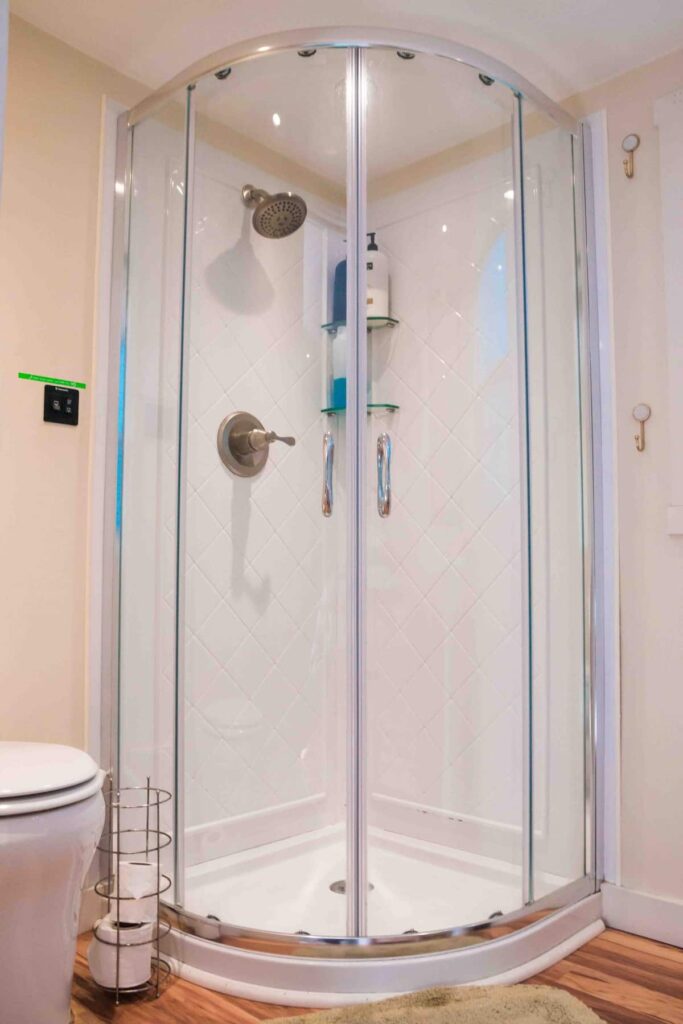 The deck is a great place to whip up some barbecue, and kids are more than welcome, making this the ideal spot for a family trip.
You don't need a car to get around the area either – this is the quintessential biking area in the city, so expect to get some exercise in whenever you're out and about exploring or shopping.
Turnip
A uniquely designed Seattle houseboat with a Japanese flair, Turnip is the ideal place to spend your summer vacation.
The colors of the interior create the perfect summer mood, and the house features a Japanese-style bathroom and enough room to fit 4 guests.
With that said, chances are you'll be spending most of your time outdoors, and Turnip has you covered on that front with a beautiful deck and outdoor eating area.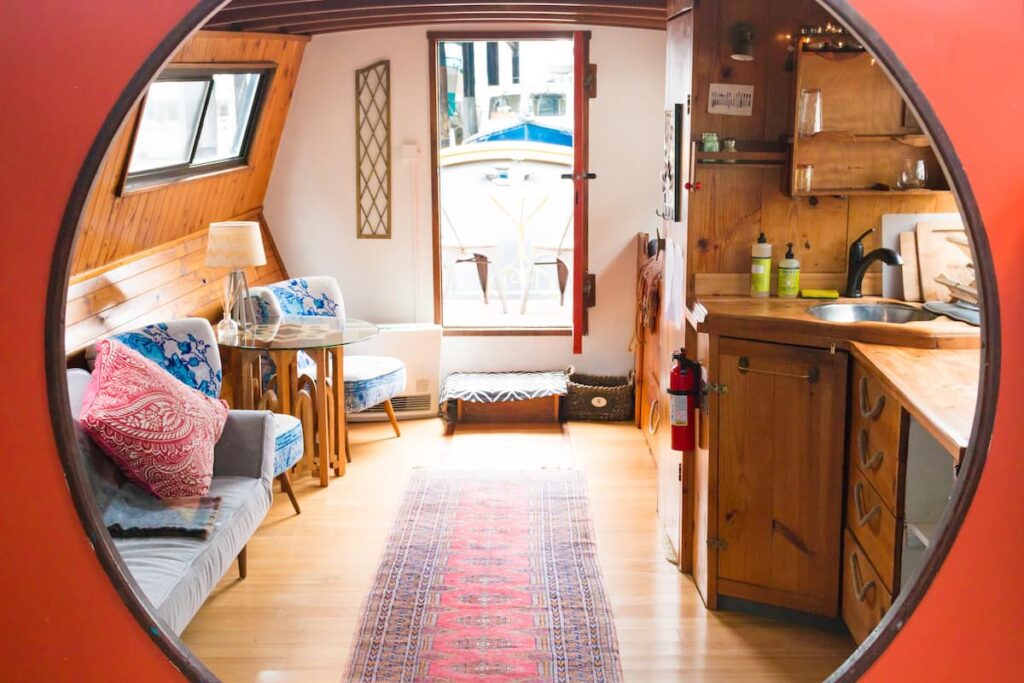 If you have some experience and would like to set sail, you are welcome to use the house's two kayaks and explore Lake Union at your own pace.
Located near Fremont and quite close to downtown Seattle, you couldn't ask for a resort with a better position, and the beautiful Westlake area is bound to get a reaction out of you too.
If this is your first foray into houseboat vacationing or are unfamiliar with the Seattle area, you can feel free to contact the host with any questions you might have.
The Manatee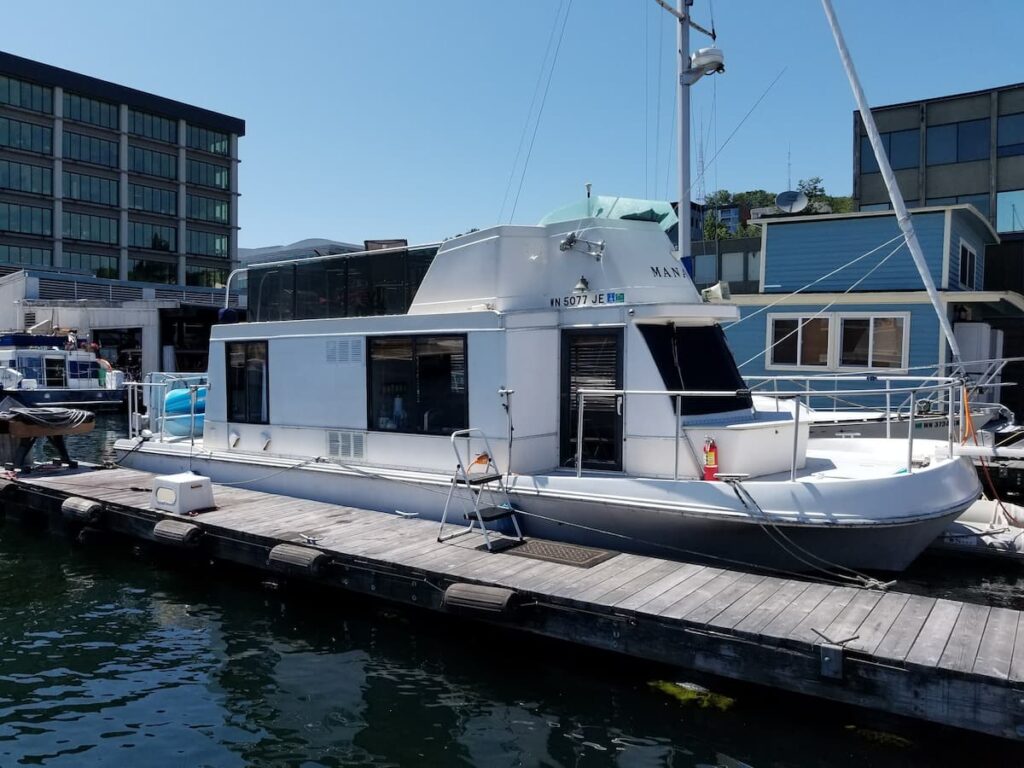 Your Airbnb Seattle houseboat doesn't have to be particularly fancy – having all the essentials covered is all you really need for a great vacation.
The Manatee has everything you need to start you off on your Seattle adventure with its nicely furnished, heated interior and a top deck with enough room and seating for four people to enjoy a meal.
Whether you'd prefer to look at the Seattle skyline or the serene waters is entirely up to you, the evening view being particularly beautiful. If you're feeling particularly adventurous, the house also comes with 2 kayaks you can use at any time.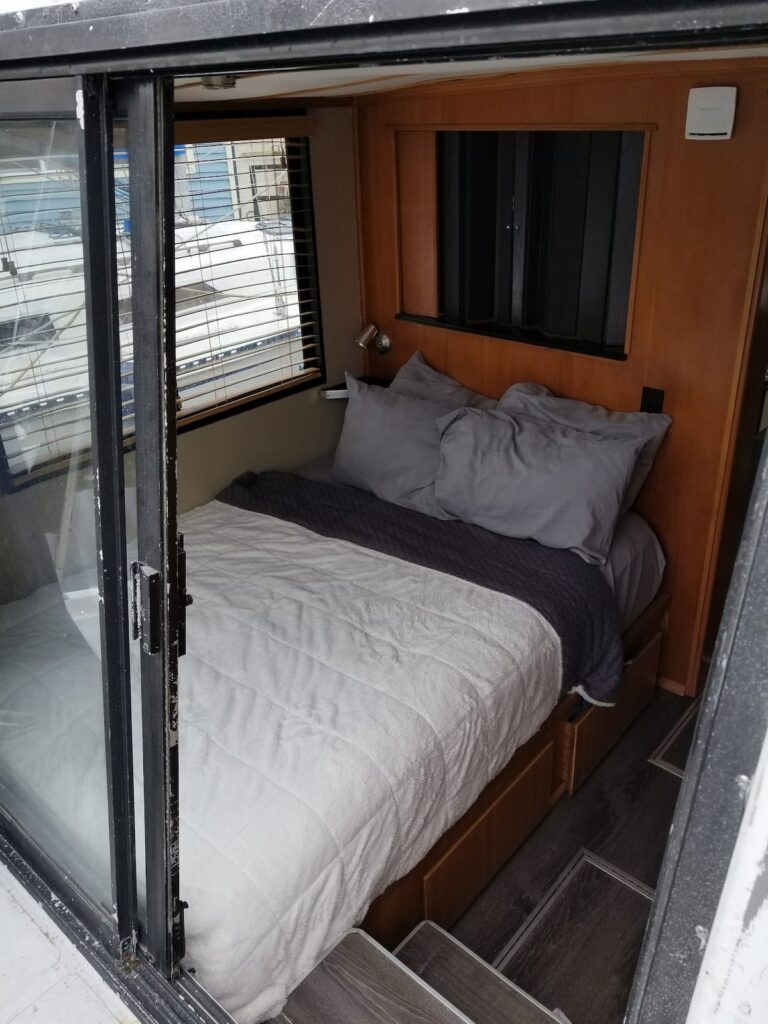 This lovely Seattle houseboat is on South Lake Union, which is both a conveniently located and beautiful part of the city.
What this means for you is that you can quickly and easily drive to downtown Seattle, or simply cycle or walk around the lake to get anywhere you need to go.
This is also a real houseboat, unlike most of these other houseboats which are more technically 'floating houses' , but you can't drive it!
Traditional Seattle Houseboat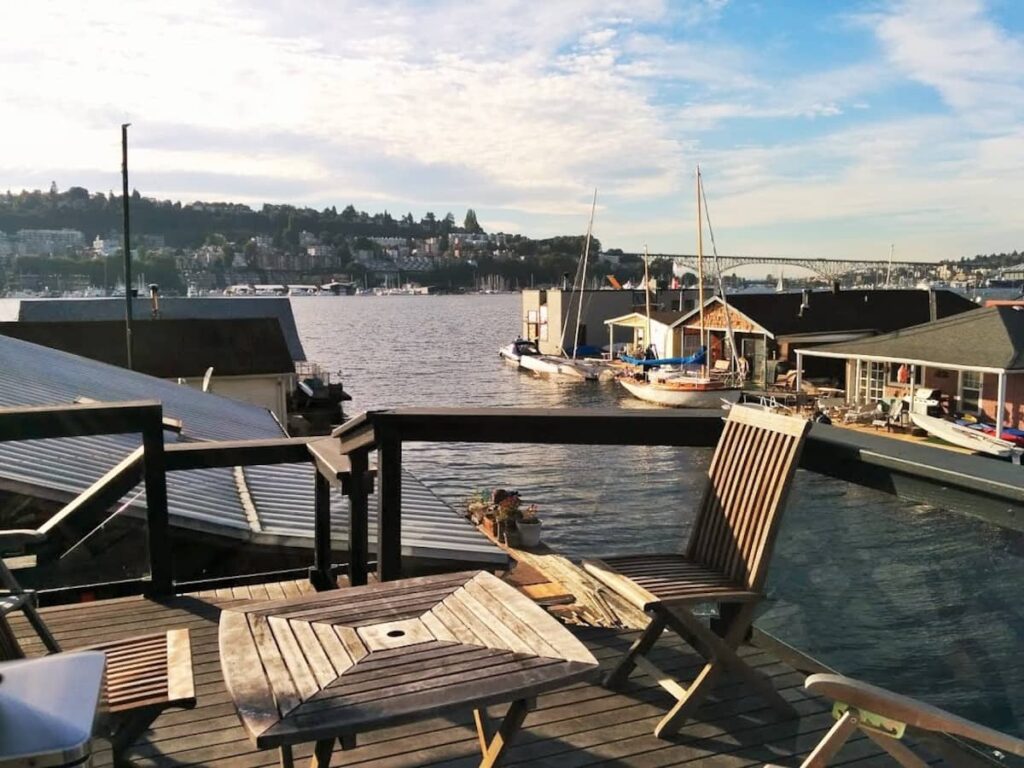 This incredible Seattle houseboat Airbnb makes incredible use of its space to create a genuinely inviting rental beaming with character.
The first thing you'll notice is the beautiful sitting and TV area, the perfect place to relax and soak in some sun rays through the windows and sliding glass door.
If you want to take the party outside, step onto the top deck and enjoy an amazing view as you fire up a barbecue in the evening, or take the 3 kayaks and get to know Lake Union in all its splendor.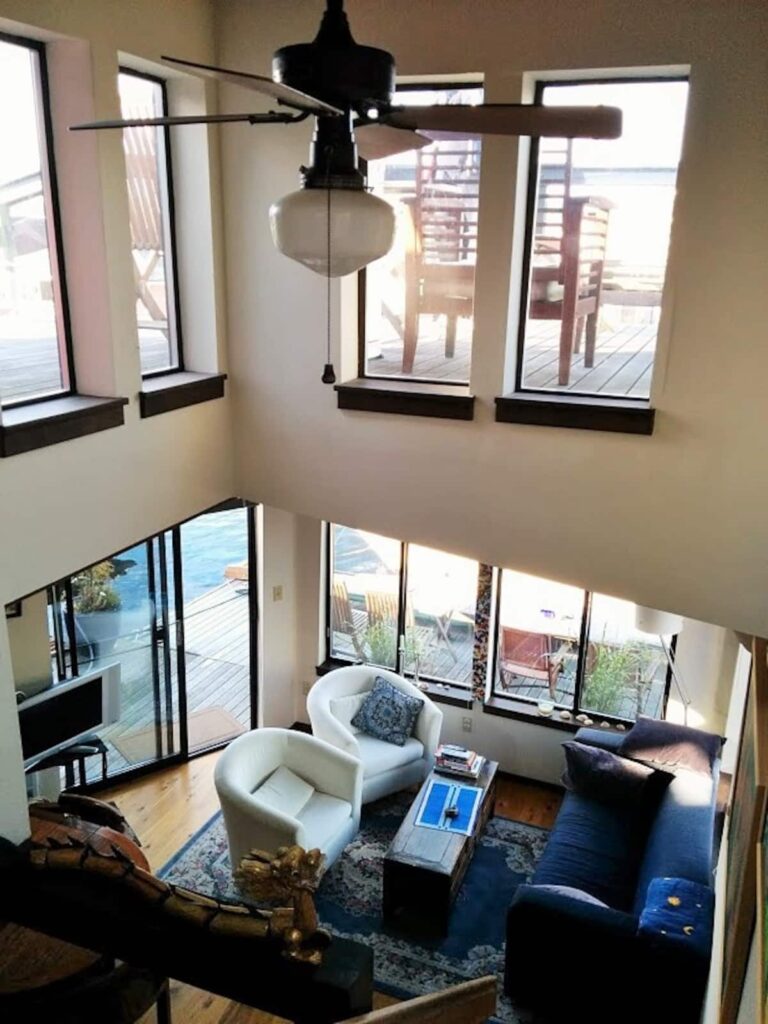 Most, if not all the locales you'll need to access during your stay are within walking distance (cycling is encouraged, though!), but should you want to take your adventure elsewhere, you'll be mere minutes from the freeway too.
If you're looking to have some fun in the city, Eastlake and its abundance of restaurants and coffee shops are your best and closest option.
Banjo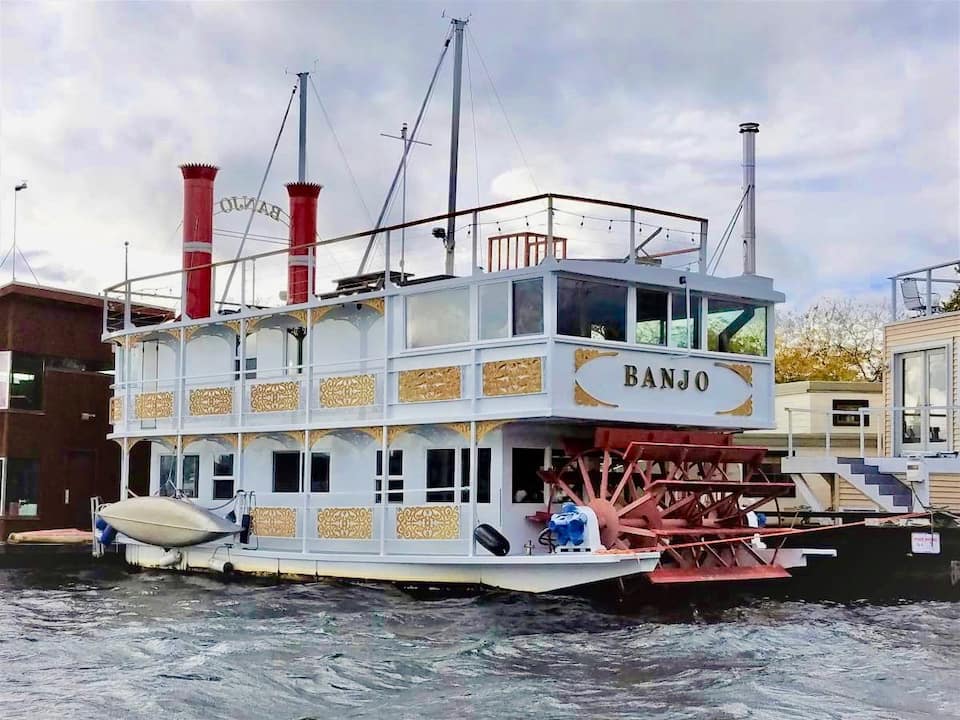 If ever there was a houseboat that practically screams the personality of its owner, Banjo is definitely it.
This incredible rental features every room and amenity you'd expect to find in a "regular" home, including some you probably wouldn't – you can sit down at the bar/salon, or relax in a sunroom by Lake Union with a spectacular view.
For a truly spectacular view of Seattle, you can relax on a sunbed on the roof deck – this is also a great place to prepare a delicious barbecue meal.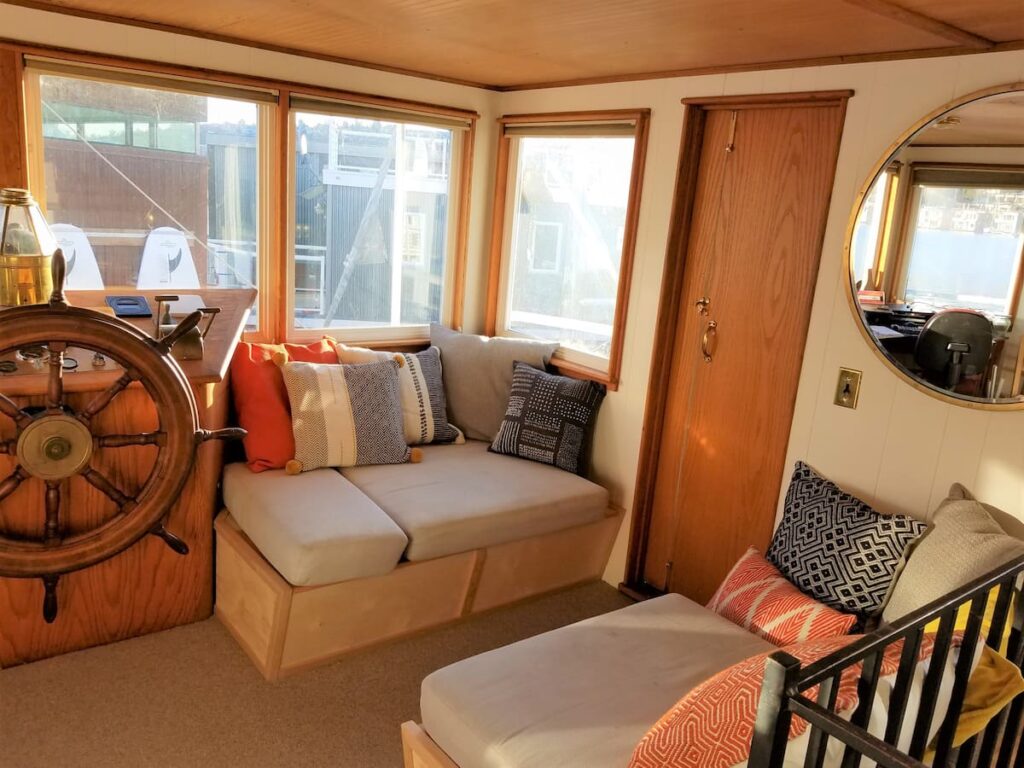 If you're the outdoorsy type and want to see as much of Seattle as possible, you'll definitely appreciate Banjo's spectacular location – you'll have an abundance of great cafés, restaurants, and scenic parks and trails.
This is a rental you can only book for a month or more, but that's to be expected considering this is less of a resort and more of a genuine home.
Why Knot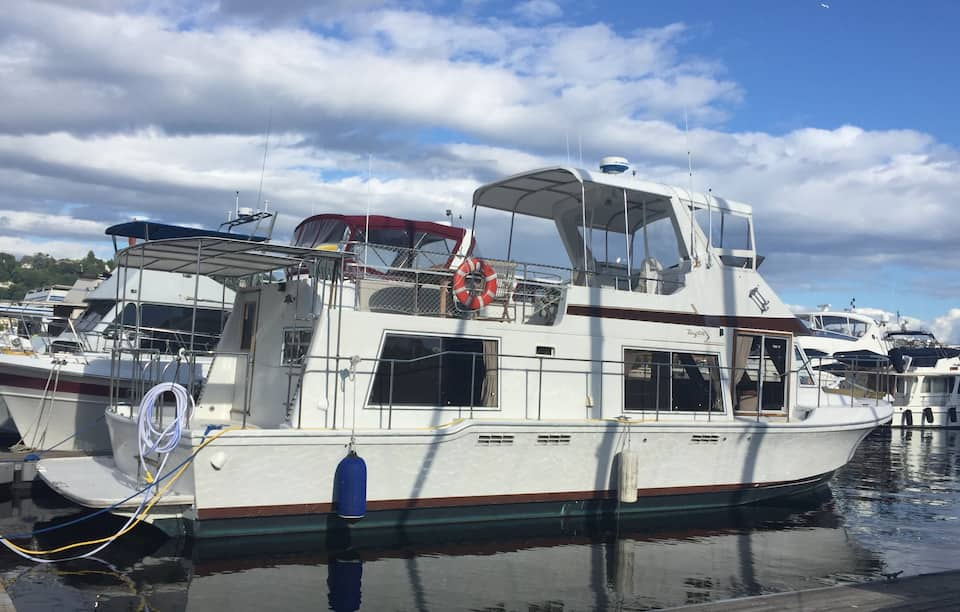 Why Knot strips things down to the basics in the best possible way!
The interior of this houseboat can best be described as homey. Featuring two bedrooms and a full-blown kitchen, this Seattle houseboat rental manages to fulfill all your basic needs without being confined by its relatively small size.
Boasting one of the best marina views you can hope to see, the roof deck is the perfect place to spend an evening friends and  some delicious, home-cooked food.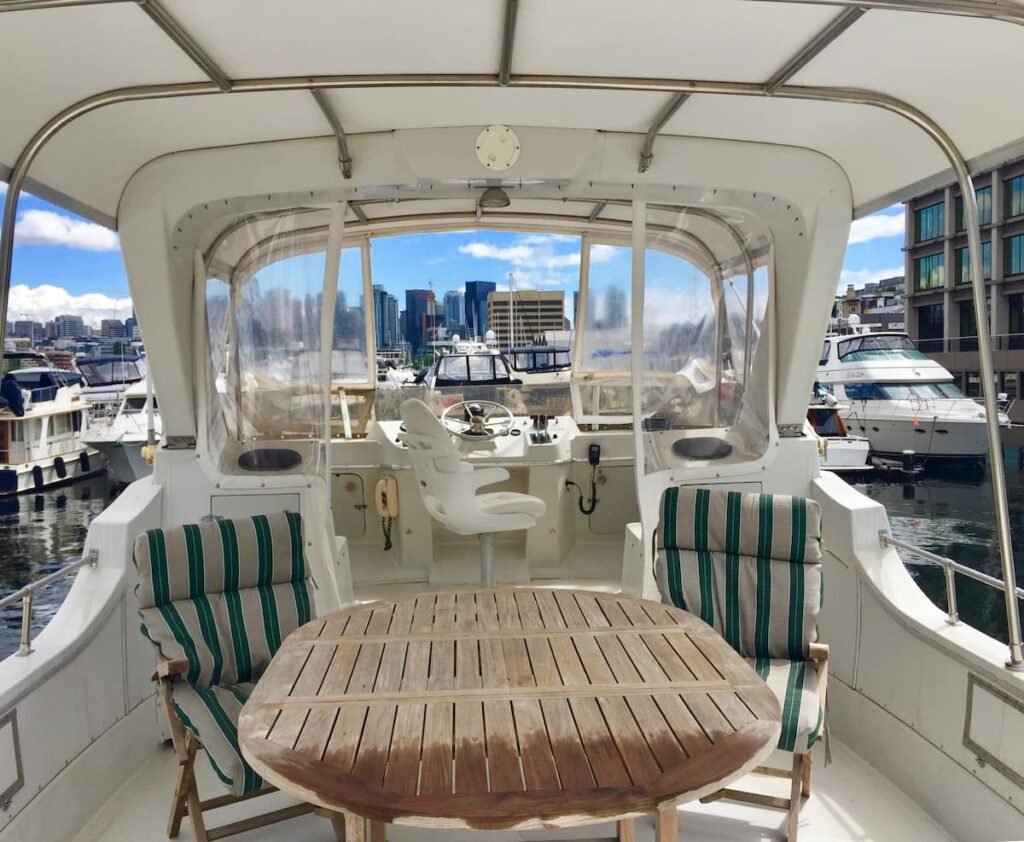 Best of all, to make things more exciting, you actually can take Why Knot for a ride on the lake if you meet the qualifications (100-ton license, insurance, etc.)
Your closest neighbors are like-minded mariners, so you can expect the ambient to be extremely relaxed and inviting.
You can also walk to downtown Seattle or Fremont in minutes flat, or catch a bus to the numerous attractions in the relative vicinity. If you're thinking about giving this place a chance, why knot?
Jicama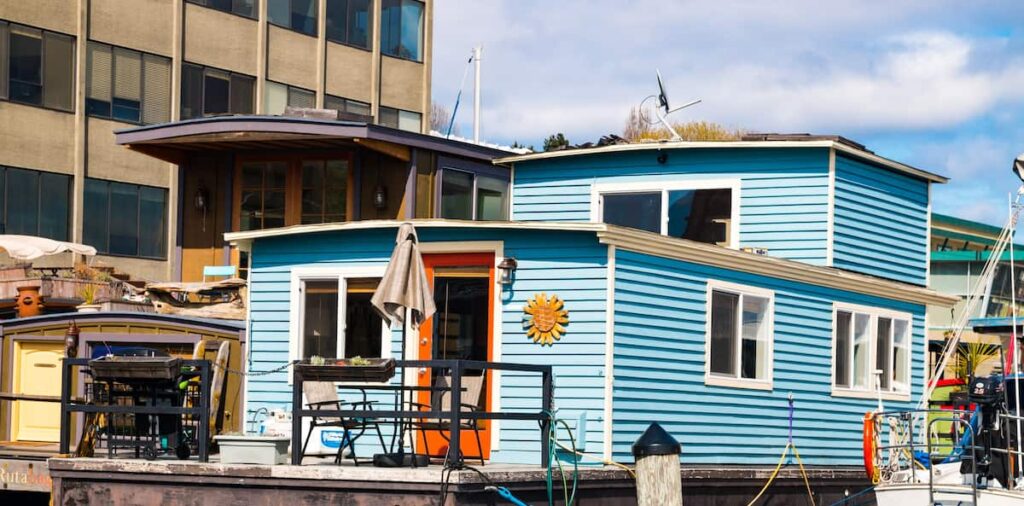 The best rentals evoke a feeling of home while offering you a slew of new experiences, and Jicama is definitely one of those.
With a meaningfully put-together interior that can fit half a dozen guests, you can bring your entire family or group of friends to this incredible vacation spot (this goes for children too!).
The view of the city and lake from the deck is absolutely stunning, and since nothing beats a good-old-fashioned American barbecue on a hot afternoon, Jicama provides you with a propane grill.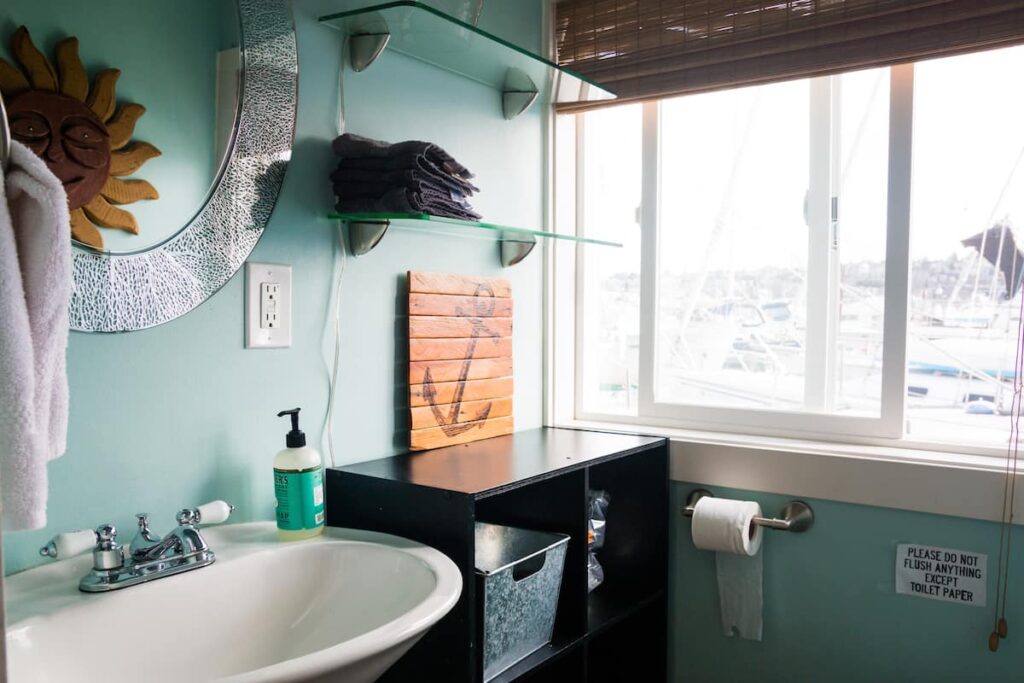 Enthusiasts can also take full advantage of the provided kayaks and experience Lake Union in a completely different way.
Anywhere you'd want to get in Seattle, you can easily get there without a car – much of the Lake Union area, particularly Westlake, is incredibly accommodating to cyclists.
For the simple pleasure of a beer or coffee and a quick perusing of your social media, the marina has a charming little café you can visit during weekdays.
Radish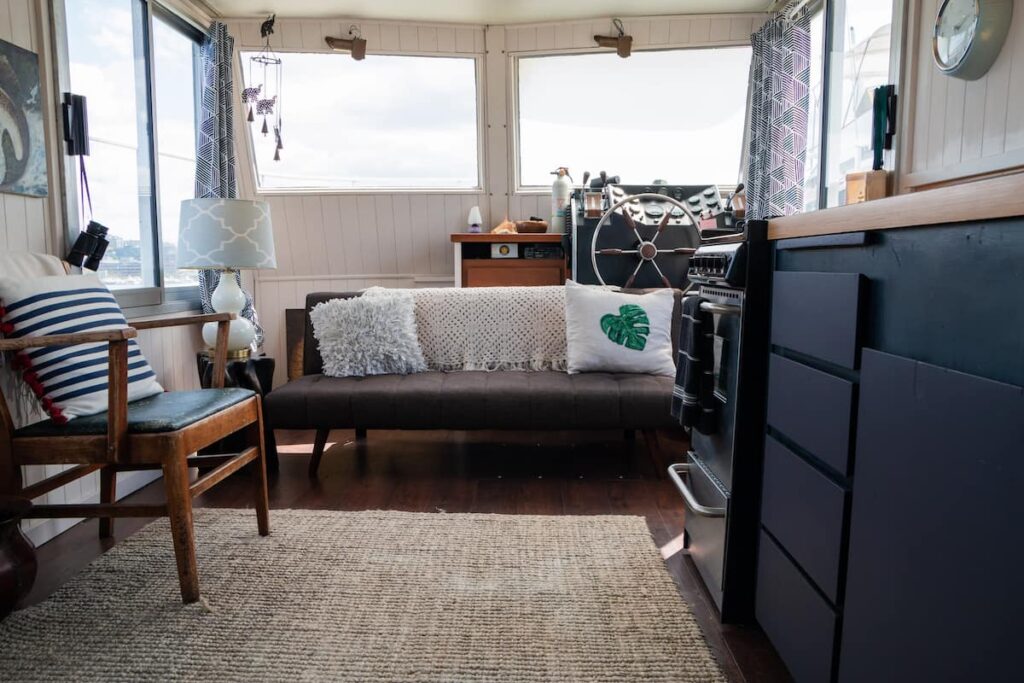 The beauty of renting a Seattle houseboat is that a lot of the owner's personality shines through, and Radish exemplifies that perfectly.
Featuring colorful furniture and tapestry and every single amenity you could possibly wish for, few places are as well-equipped to make you feel welcome in Seattle as this houseboat.
Speaking of which, the rooftop deck gives you an incredible view of the lake and marina, as well as a grill for a relaxing evening with family and friends.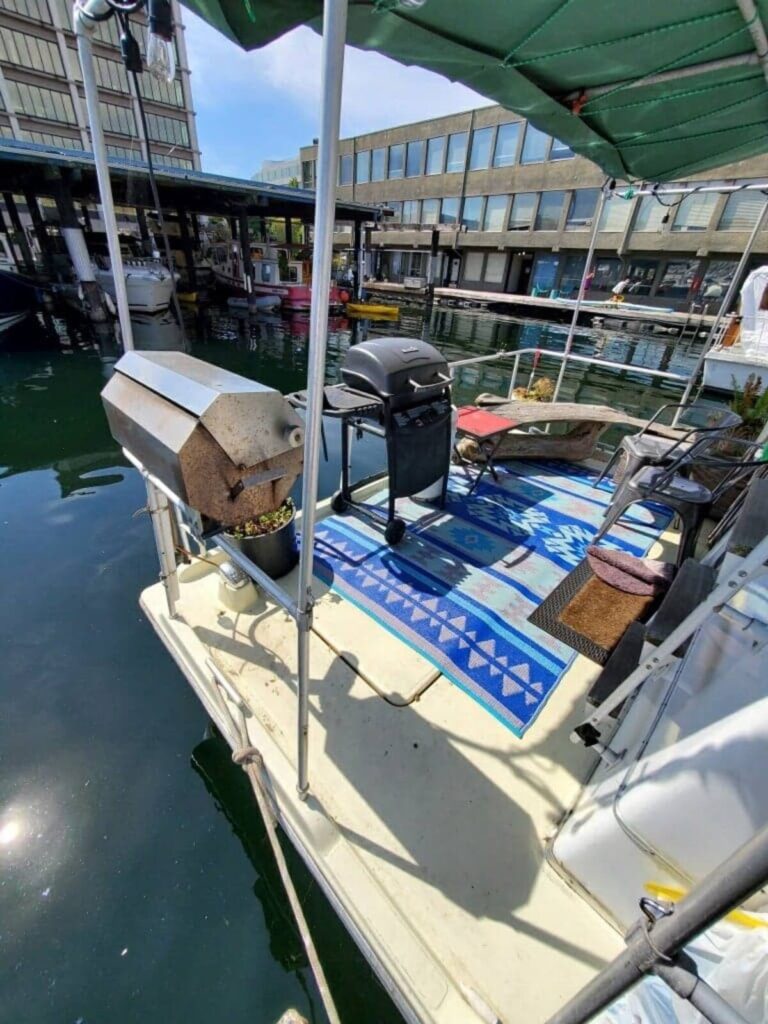 Topping things off are the kayaks if you want to check out the lake, and the boat comes equipped with hot water to relax after a difficult row.
Although you can't steer the boat, you really don't need much of anything to get around the area except maybe a bicycle.
Although much of the marina is lacking in the WiFi department, you can rectify this by visiting a small café right around the corner and enjoying a cold beer before hitting the city.
Spacious Lake Union Houseboat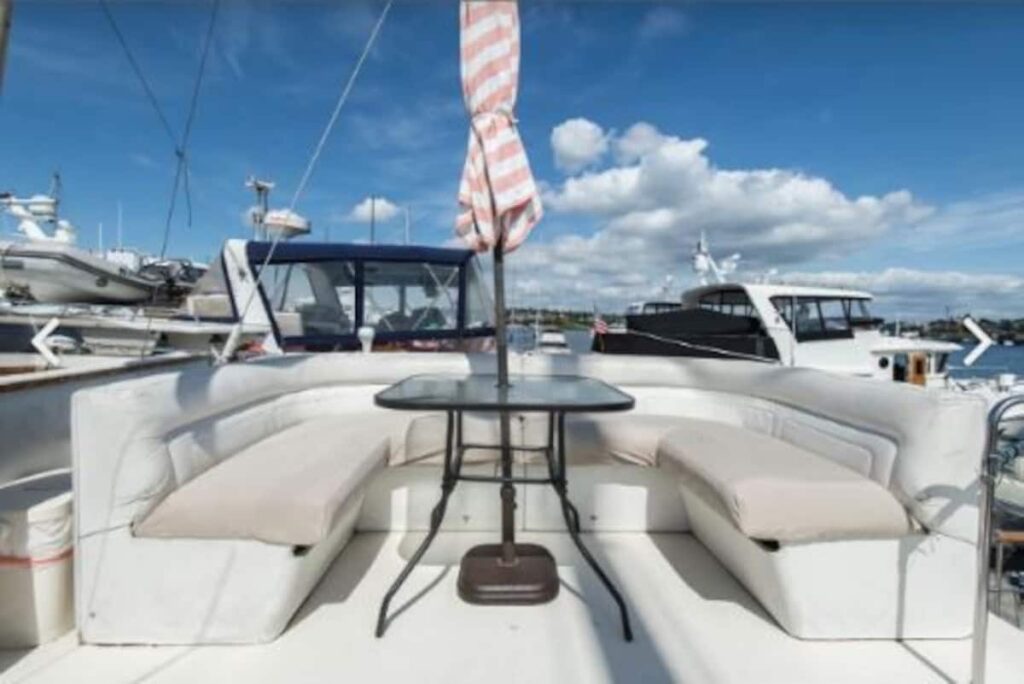 When staying on a houseboat in Seattle, the best-case scenario is that you can see both the body of water and the town or city from a good angle.
Fortunately, this house delivers in that department, courtesy of its two decks – you can see the downtown area and the Space Needle and fire up a delicious barbecue while enjoying the view.
The interior is very cozy, even featuring a fireplace, as well as a separate sleeping area on the second floor for a bit of privacy – in fact, thanks to its open-floor plan, the boat effortlessly fits a kitchen and a sitting/TV area.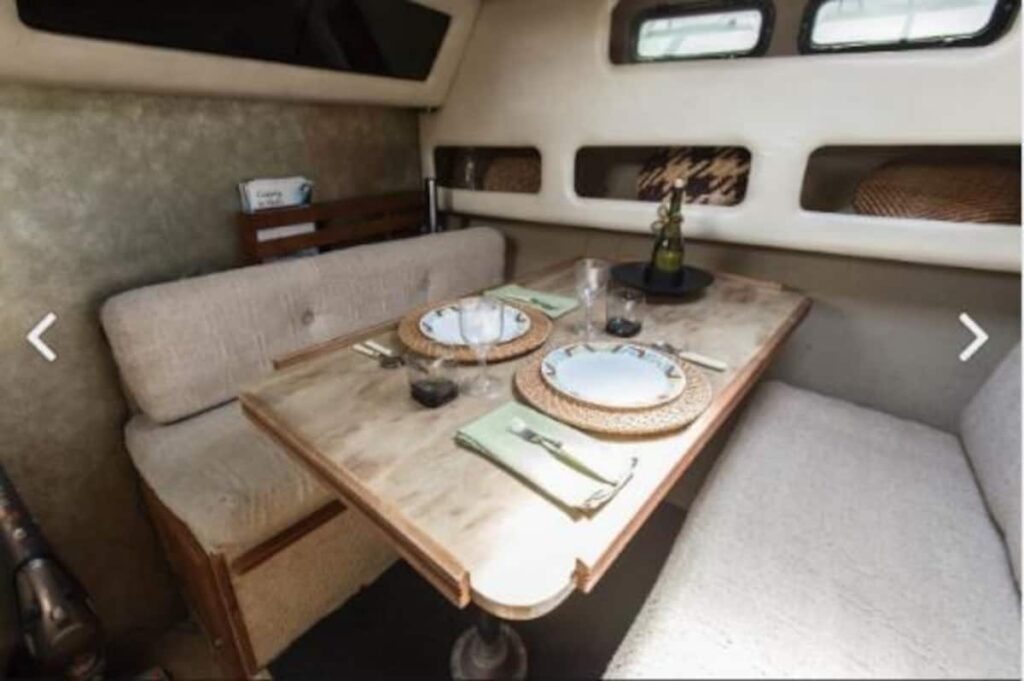 The marina is located conveniently close to a number of great spots in the Westlake and Queen Anne areas, making this rental perfect for those who want to see as much of Seattle as possible.
The general consensus is that the best way to experience this particular area is by walking and cycling whenever possible: that's the Seattle way, after all!
Pin This Guide to the Best Houseboat Rentals in Seattle for Later!