La Conner's annual October beer festival is Brew on the Slough. If you like charming and artistic small towns and want to steer away from the massive crowd beer festivals typically have, this is the beer festival for you! I suggest making a weekend getaway out of the event as the seaside town of La Conner has quaint shops, museums, and some of my favorite restaurants.
This year (2019), the festival takes place on October 19th in Maple Hall between 7 p.m. and 10 p.m. Tickets cost $25 and come with 11 tasting tickets. The evening includes live music, food for purchase, a silent auction, and a raffle. Click the link to purchase Brew on the Slough tickets.
To get you inspired for this Pacific Northwest event, I'm sharing my experience at this beer festival, plus some tips for visiting the small town of La Conner.
Disclosure: This post contains affiliate links.
Brew on the Slough – La Conner's Annual Beer Festival
A couple of years ago, Love LaConner invited me and a guest to attend the 3rd Annual Brew on the Slough. Here is a recap of our time.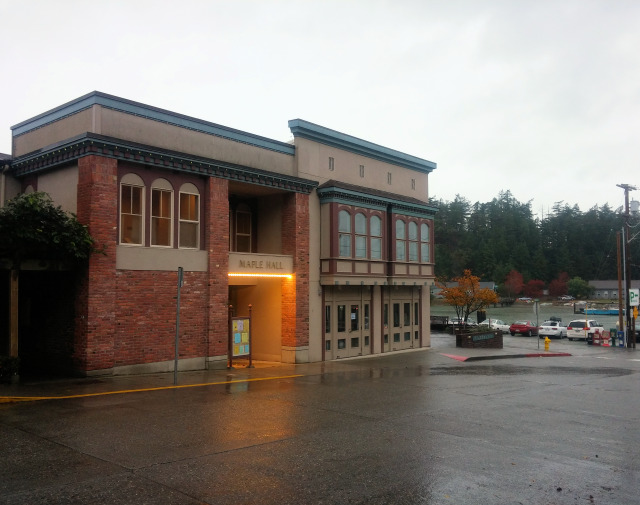 The day of Brew on the Slough the weather turned dismal – windy, rainy, cold. Thankfully, the festival is inside Maple Hall, and the weather didn't matter. After we checked into our room at the Hotel Planter, which happened to be right across the street from Maple Hall, we took a short walk around town and then made our way to Brew on the Slough.
We checked in with our names on a list and received our souvenir tasting glass and ten tasting tokens (guests receive 11 tastings now). Breweries were set up around the sides of a large room and the middle featured tables. In front, was a stage and an area for dancing.
Since this event is on the smaller side and completely manageable with a total of 10 breweries and cideries we didn't make a tasting plan of attack. Instead, we made our way from brewery to brewery at a pleasant and leisurely pace.
Participating breweries and cideries included Pike Brewing, Pfriem Brewery, Scuttlebutt Brewery, Hales Ales, Incline Cider, Chuckanut Brewing, La Conner Brewing, Farmstrong Brewing, Everybody's Brewing, and Portland Cider.
That night I tasted beers I was familiar with like Kölsch, IPA, porter as well as less familiar brews like Schwartz bier, golden IPA, and Weizenbock. I would also have tasted ciders too, but there were so many good beers I decided not to switch it up.
60+ Million Users Trust TripAdvisor With Their Travel Plans. Shouldn't You?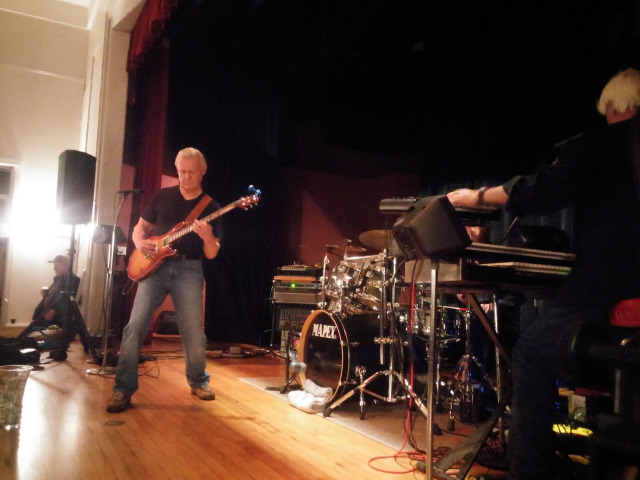 The band – The Sardines – played the entire night. We really liked their choice of cover songs, and I don't think they played one I didn't like. Lots of songs from the 80s, and of course the night ended with the late and great Tom Petty.
They had food at the event (Polish sausage, chili, nachos), but since we had planned to eat afterward, we didn't purchase any.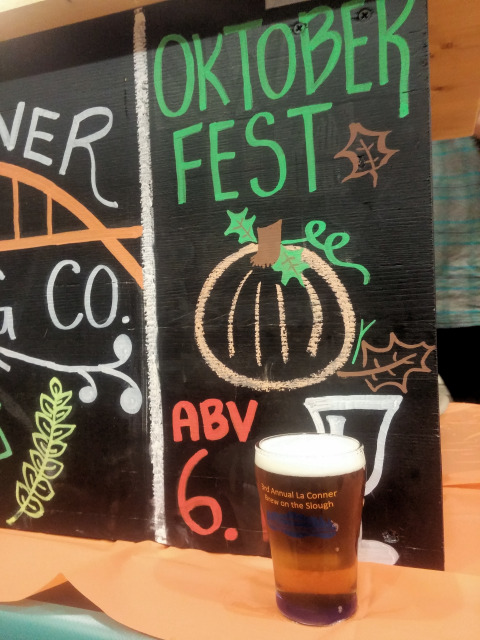 What was my favorite beer of the night? La Conner Brewing Co.'s Oktoberfest which is a Märzen style beer.
Things I loved about Brew on the Slough. I've been to larger beer festivals and felt overwhelmed by the crowds and the choices. I appreciated the smaller size as we rarely had to wait in line for our pours and those manning the beer booths had more time to chat. On top of that, the band played lots of great music, and by the end of the night, there was a serious groove on the dance floor.
Things I wasn't crazy about. We arrived a little after 5 pm, and most of the tables were already taken. While I wasn't really interested in sitting, I did want someplace to put my coat, and a coat room would have come in handy. I also think bistro tables would have been a nice addition too, especially if you were going to eat at the festival. (Take note they have made changes since I made this comment!)
Tips for Brew on the Slough
Buy your ticket early as they sell out and you'll want to get a souvenir tasting glass.
Plan to stay in town. There are accommodations within walking distance. Play it safe!
Arrive at the festival a little early to grab a seat at one of the tables. Or, at least put your jacket on a chair. (If you are staying at the Hotel Planter, leave your jacket in the room.)
Take time to chat with the breweries and cideries.
Check out the silent auction and raffle items.
Plan for a dinner or snack after the festival.
Don't leave your souvenir glass behind!
My Recommendations For Dining In La Conner
I live only 20 minutes away from La Conner and have visited this small town in Washington many times. It is one of my favorite places as it has so much to offer, especially food-wise. Here are four of my go-to's:
La Conner Brewing Co.
The Oyster & Thistle
Nell Thorn Resturant
Whitey's BBQ
Read La Conner restaurant reviews on TripAdivsor.
Mushroom pizza from La Conner Brewing ($12).

Fish tacos from La Conner Prime Rib & Seafood.

Duck Confit Flat Bread ($15) from Oyster & Thistle.

I went for something lite for my meal from Oyster & Thistle – the Amaretto Prawns – good choice! ($16).

The sampler platter at Whitey's BBQ. Big enough to share!

Wild gulf prawns and a glass of red wine ($16) at Nell Thorn's.

The hanger steak at Nell Thorn's is big enough to share ($28).

The Lemon Angel Island dessert ($7) from Nell Thorn's..
Where to Stay In La Conner
From waterside lodging to historic hotels and quaint bed and breakfast establishments, La Conner has plenty of choices for accommodations.
Hotel Planter
The Hotel Planter is the closest hotel to Maple Hall. Registered as a National Historic Inn, the hotel features 12 rooms in a variety of configurations, including a twin, full, queen, deluxe queen and a suite that overlooks the courtyard and its own private Jacuzzi tub. Each room is uniquely decorated with custom-built furniture and added skylights. Prices range from $125 to $175, and they offer offseason rates. The rooms are on the smaller side, compared to a chain hotel room.
Hotel amenities include free Wi-Fi, coffee, tea, cold bottled water, and a guest-only courtyard. The hotel does not have an elevator, and all the rooms are on the second floor, so if that is an issue, you'll want to find other accommodations. It rained during our visit, so we did not get to enjoy the courtyard, but I looked like a great place to chill.
Hotel Planter – My Room
We stayed in a Queen room that featured a queen bed, a table with two chairs, an armoire with a flatscreen TV, a bathroom with small skylight, a pedestal sink and a shower. The skylight really brightened up the bathroom and the built-in shelf next to the sink is super handy if you travel with lots of toiletries.
Some of my favorite features were the building's original doors with the windowpane above and the very, very comfortable bed. I've stayed at quite a few hotels this year, and the Hotel Planter has won my award for the most comfortable bed. From the moment I hit the sheets, I sunk into heaven.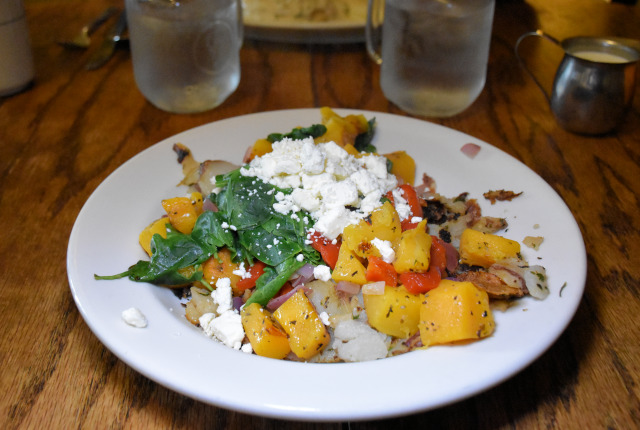 There is no breakfast at the inn, but there are plenty of restaurants in town. We opted for Calico Cupboard across the street. I ordered one of their signature dishes, butternut squash hash with potatoes, spinach, red peppers, and feta cheese. It was good, but the flavors were so earthy it felt more like a lunch or side dish to dinner.
La Conner Channel Lodge and La Conner Country Inn
For a room with a view of the Swinomish Channel I recommend the La Conner Channel Lodge. I've stayed at the hotel a few times and you can read my full review here. The hotel is on the northern end of downtown, but it is only a short walk to Maple Hall from here. Some highlights are private balconies or patios with views of the channel, rooms with fireplaces, complimentary tastings at Hellams Vineyards, and a free breakfast.
If you are traveling with a pet, I suggest their sister hotel, the La Conner Country Inn.
For a bed and breakfast, I recommend The Heron Inn & Day Spa.
To review other lodging and activity options, go to Love La Conner.

Book direct with the hotels or through one of my affiliate links such as TripAdvisor or Hotels.com. Booking through an affiliate link is at no extra cost to you, but it does provide me with a small comission.
Note: As is common in the travel industry, the writer was provided with accommodations and meals for the purpose of review. While it has not influenced this review, the writer believes in full disclosure of all potential conflicts of interest.
There are plenty of ways to get the local scoop.  Check out the best hotel reviews and hotel deals at TripAdvisor, Hotels.com, Travelocity, and Expedia.
Pin For Later!