When exploring the surfer town of Tofino, you must visit Ucluelet, British Columbia.
This small town is only a 35-minute drive south of Tofino and very easy to include on your West Vancouver Island adventure!
Here you'll find an aquarium, sunset dining, storm watching accommodations, and hiking trails to a lighthouse!
4 Awesome Things to Do in Ucluelet, British Columbia
See sea critters at the Ucluelet Aquarium.
Some links in this post may be affiliate links. If you make a purchase through one of these links, we may earn a small commission at no extra cost to you. Please see our

disclosure policy

for more detail.
I've always loved aquariums. There is something so serene about walking amongst the fish tanks with bright colored fish, watching the divers in the big tank, and, of course, being able to go behind the scenes!
If you love aquariums too, Ucluelet Aquarium is "Canada's first-catch-and-release aquarium."
What does that mean? Everything in the aquarium and I mean everything, is from local waters.
These creatures don't spend a lifetime behind glass; they get released! This means their sealife is continually changing and there is new sealife to see and learn about.
Touch tanks provide that behind the scenes feel and there are lots of other exciting sea life to see like eels, fish and very curious crabs
Tips: Open daily from 10am to 5pm. Ticket prices are $14 (adult); $10 senior; $7(age 4-17), 3 and under are free. Family passes are $50. The aquarium occasionally has education events, visit their Facebook page for an upcoming event.
Try a delicious local hot dog.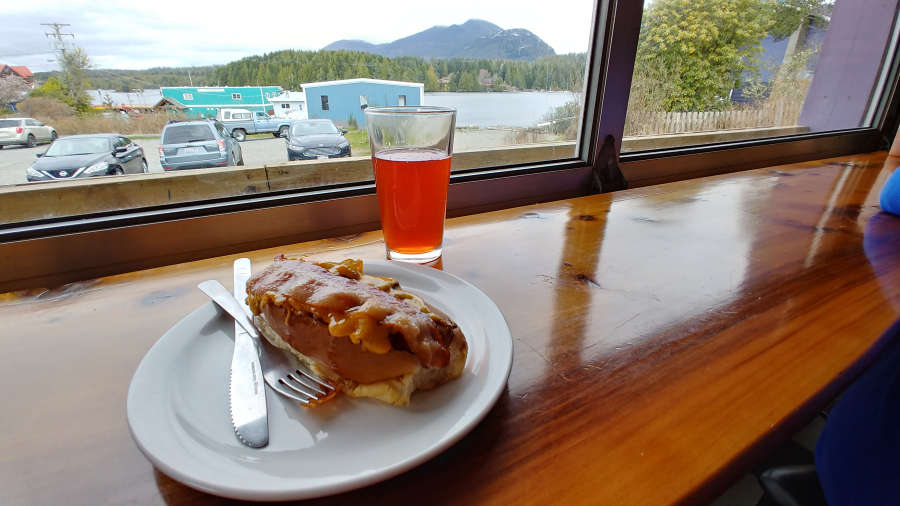 After your time at the aquarium, head over to Ukeedogs, a short 3-minute walk away, for a specialty hot dog and a drink.
My top tip? Try the local kombucha!
Have a romantic dinner by the sea.
Enjoying a drink or dining by the sea with a sunset view is on the top of my list of romantic things to do when on vacation!
You can do that at Black Rock Oceanfront Resort. The hotel is on the west side of Vancouver Island and has sea and sunset views.
Dine in at the bar or make a reservation at Fetch Restaurant (request a window table) and you'll be set to take in the view while dining.
They also have a large patio connected to the dining room, which is open in the warmer months.
Have an overnight in a room with a sunset view.
While visiting Ucluelet, I had the pleasure of being hosted by the Black Rock Oceanfront Resort!
The contemporary resort is in a stunning location situated on a rocky outcrop with direct views of the sea. It is an excellent accommodation for sunsets and winter storm watching.
Many rooms have private balconies for you to enjoy your favorite drink (they do have bottles of wine for purchase in the room ($25) if you don't want to venture into town).
When you want some me time, book an experience at the onsite spa or chill in the outdoor pool or hot tubs next to the sea.
Hit the trail and head to the Amphrite Lighthouse.
For some outdoor adventure, take the trail to the Amphrite Lighthouse. It faces Barkley Sound and is on the Wild Pacific Trail.
The Amphrite Lighthouse was originally built in 1906 and the one you see today was built in 1915.
The loop takes about 40 minutes to hike, and along the way, you'll see trees twisted by the wind, a love lock stop, hear the whistle of a buoy, and paths that take you to more vistas.
Tip: If you are visiting in March, keep an eye out for whales. You might be tempted to go out on the rocks, but it is strongly advised to stay on the trail.

Tip: Ucluelet is also close to Pacific Rim National Preserve trails. When you stop by the park or tourism office, have them show you the nearby trails.
How to Get to Ucluelet
When visiting West Vancouver Island, you'll want a car as there is so much to explore in the area, including Pacific Rim National Reserve, as well as neighboring Tofino.
It is quite a trek to get to the west coast of Vancouver Island, and the journey takes you through mountains and Provincial Parks. The closest international airport is in Victoria, British Columbia, which is a great place to rent a car.
Depending on the time of year you are visiting, be sure to check the tire and chain requirements.
From October to April, drivers are required to have snow tires to drive through a small section of the mountains. If you rent a car, verify with the rental company that the vehicle has snow tires and not just all-weather tires. Read more about it here.
If you are driving from Washington State, a good option is to catch the Black Ball Ferry Line from Port Angeles. It is a 90-minute ride, and once you get to Victoria, the drive to Tofino takes around 4.5-hours. Another option is to drive north on I-5, cross the border into Canada, and catch the ferry at Tsawwassen. The ferry ride is 2 hours, and when you get to Nanaimo, the drive to Tofino is 3 hours.
Tip: If you need to get gas, Port Alberni is the last major town with services before you head over the mountains.
What method of travel did I take? I took the Black Ball Ferry line from Port Angeles and stayed at a cheap motel close to the ferry. The Flagstone Motel was very affordable ($50 in March), and surprisingly the bed was very comfortable, which can be iffy in a cheap motel stay.