Provence, France may have beautiful lavender fields, but you can also get some magnificent Instagram photos a little closer to home at the stunning lavender fields in Oregon!
Checking out the Oregon lavender farms in summer is a magnificent experience with the potential to become an epic adventure, with views of towering snow-capped mountains and detours to enchanting waterfalls possible as you explore the beautiful Oregon lavender fields blooming across the state.
While most of Oregon's lavender is grown to the south of Portland, there are also a scattering of lavender farms in other parts of Oregon, such as Hood River, Madras, and Redmond.
A trip to one or more of these Oregon lavender farms will provide you with not only beautiful lavender flower arrangements to bring home, but also heavenly handmade essential oils, lavender-scented lotions, and organic soaps.
Can't get enough lavender? During the second week of July, the Oregon Lavender Association organizes a farm tour across the state.
Many Oregon lavender farms that are not usually open to the public are open for these weekends. Many of the farms on the route have festivals, workshops, and delicious food.
Below are some of Oregon's best lavender fields, along with all the pertinent information you will need to plan your Oregon summer frolics!
When does Oregon lavender bloom?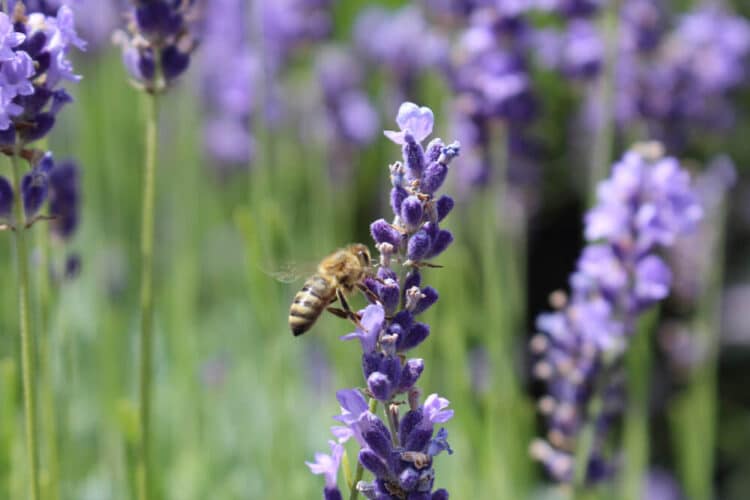 Some links in this post may be affiliate links. If you make a purchase through one of these links, we may earn a small commission at no extra cost to you. Please see our

disclosure policy

for more detail.
The fields are usually in bloom during June and July.
However, there are several varieties of lavender that begin blooming in the later parts of May.
What will I find at an Oregon lavender farm?
Besides beautiful lavender fields, many of the farms have shops where they sell various lavender products made with lavender from their farm.
These products include soaps, candles, lotions, lip balm, edible lavender products like teas and lemonades, and much, much more!
Some "U-Pick" farms even permit you to pick bouquets of lavender straight from the field, which is a fun experience… so long as you're not afraid of, or allergic to, bees — which also love lavender!
What should I wear and bring to the Oregon lavender fields?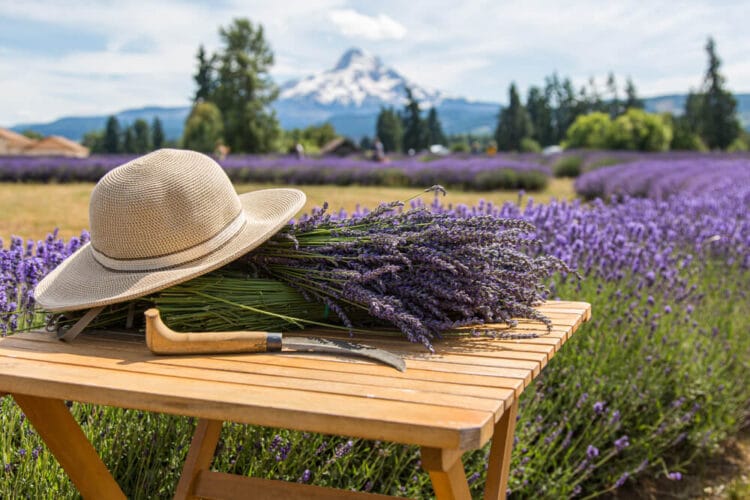 In terms of what to bring, don't forget a hat, sunscreen, water bottle, a picnic lunch, and any sort of medication like allergy medicine or an EpiPen if anyone in your party has a bee allergy. Bees love lavender plants and while they mostly keep to themselves, bee stings are definitely possible.
If you're visiting a "U-Cut" lavender farm that allows you to cut your own lavender, you may want to bring gardening gloves, gardening shears (though some farms provide this), as well as a basket or bucket for bringing your lavender haul home in!
For beautiful lavender photos, wear white or other bright colors that complement purple to stand out in your photos. The light tends to be better in the morning and late afternoon. Avoid taking photos around noon, when the light can be harsh.
Lavender Festivals in Oregon
Note: We've attempted to find up-to-date information for 2021, but keep in mind that given the current travel and public health context, everything is subject to change based on local and state restrictions.
Willamette Valley Lavender Festival and Plein Air Art Show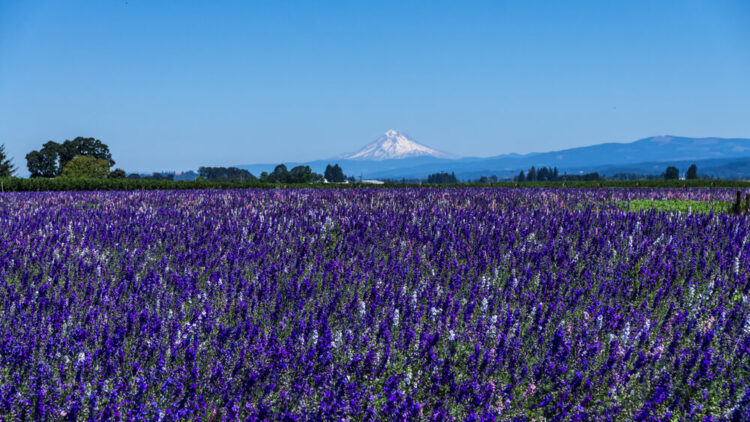 Location: Chehalem Cultural Center, 415 E Sheridan, Newberg, OR 97132
Dates: July 9 – 10, 2021
Hours: 10:00 AM – 6:00 PM on Saturday and 10:00 AM – 5:00 PM on Sunday
Cost: Free
Enjoy a weekend of all things lavender, combined with festive music, a beautiful lavender field art show, and delicious food! Peruse the local artisan vendors to see their lavender products, and wander around the lavender fields for beautiful sights and photos.
Enjoy lunch or dinner from various food trucks and booths throughout the festival. Here you will be able to taste in lavender-infused delicacies, sip lavender wine or lemonade, or get truly Oregon and have a lavender craft beer!
Take time to explore the essential oil showcase and vote for your favorites while being surrounded by the sweet, relaxing fragrance of lavender.
The art festival will showcase more than 100 artists featuring the lavender fields throughout Oregon during the first week of July!
Children can try their hand at creating a piece of art at the craft booths, or the whole family can participate in various lavender craft activities.
McKenzie River Lavender Farm Festival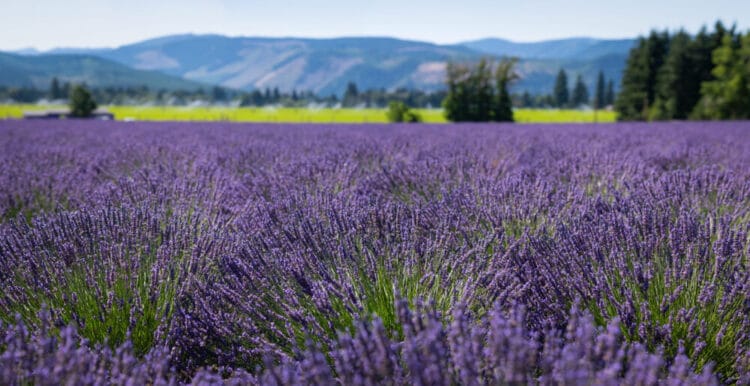 Location: 40882 McKenzie Hwy, Springfield, OR 97478
Dates: July 9 – 11, 2021 (Friday – Sunday)
Time: 10:00 AM – 5:00 PM
Carol and Charles Tannenbaum open their small Springfield, Oregon lavender farm along the McKenzie River just one weekend a year to visitors.
During this time, you can relax along the river and enjoy the sweet aromas and the bright lavender colors!
Spend some time browsing through around 50 unqiue vendors' wares, along with the lavender farm's specialties that include essential oil, sachets, handcrafted soaps, and dried lavender buds.
You can also pick a bouquet from the field, choose one already cut, or take home a lavender plant to start your own home lavender farm!
Lavender Farms and Fields in Oregon
Cascade Lavender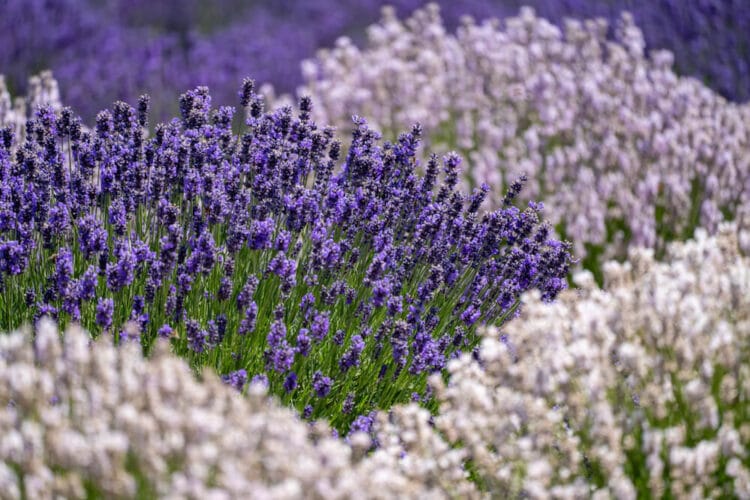 Location: 5000 SW Feather Dr, Madras, OR 97741
Dates: June 15 through August 17, closed on July 4
Hours: Thursday – Saturday: 10:00 AM – 5:00 PM, Sunday: 1:00 – 5:00 PM
Best Time to Visit: End of June through the beginning of August
Cost: Free
This Central Oregon lavender farm features acres of over 100 varieties in their 4,000 French and English lavender plant fields and 24 varieties in their U-pick garden.
The combination of colors from whites, pinks, blues, and all shades of lavender will produce spectacular views and incredible photographs with the Cascade Mountains in the background!
There are picnic tables throughout the farm to eat and relax at, stroll through the display gardens, or wander about the plant nursery to pick up a few plants for your lavender garden.
Cascade Lavender offers group guided tours of the farm, including a lavender lunch or an English high tea!
The kids will love spending time visiting the chickens, alpacas, and horses on the farm, while you enjoy your lavender fields.
Looking for a lavender souvenir to take home? The Cascade Lavender Shop features dried lavender and buds, as well as organic aromatherapy products produced on the farm.
Durant at Red Ridge Farms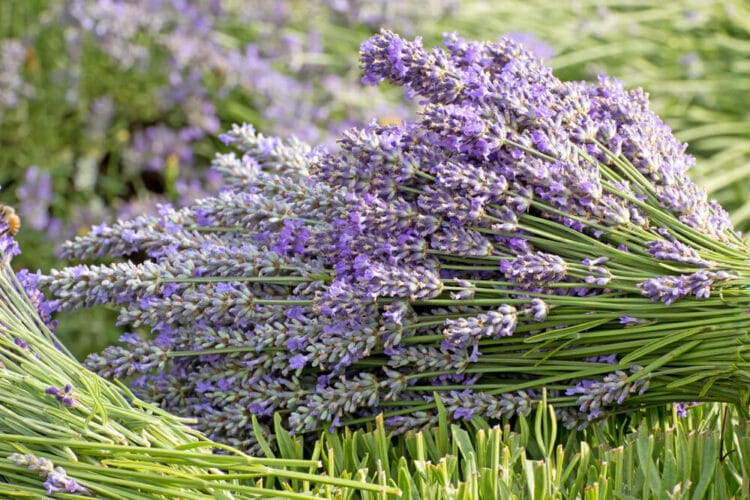 Location: 5510 NE Breyman Orchards Rd, Dayton, OR 97114
Shop Hours: 11:00 AM – 4:00 PM Daily
Durant Nature Trail: Open May – October
Best Time to Visit: June and July
Durant's farm offers so much more than 40 varieties of lavender. Here you can also walk the 1-mile Durant Nature Trail through the lavender fields, vineyards, and olive groves while learning a little more about the owners.
Once you have had your exercise, visit the Durant Tasting room for some of their estate-grown Pinot noir while enjoying views of the Willamette Valley and Mount Hood.
When the colorful French and English lavender are in full bloom during the second weekend of July, the farm hosts the Lavender Festival Weekend!
Not enough lavender? Extend your stay by staying in the cottage or garden suite on the property!
Check out their summer garden and craft workshops throughout the summer that feature the Durant lavender.
Eagle Creek Lavender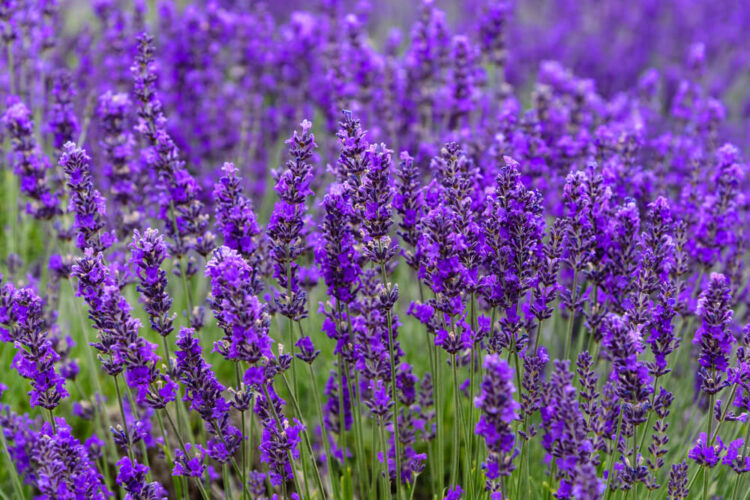 Location: 27525 SE Starr Rd, Eagle Creek, OR 97022
A visit to Bill and Mary Jab's 12-acre lavender farm along the Clackamas River features 15 varieties of organic lavender, antiques, and even classic cars!
They feature bath and body products, lavender honey, and lavender essential oils in their shop from the high-quality lavender grown.
Near the end of June, Eagle Creek Lavender hosts the annual Clackamas River Lavender Festival.
During the festival, there will be live music, food, and of course — all things lavender.
Growing Miracles Lavender Garden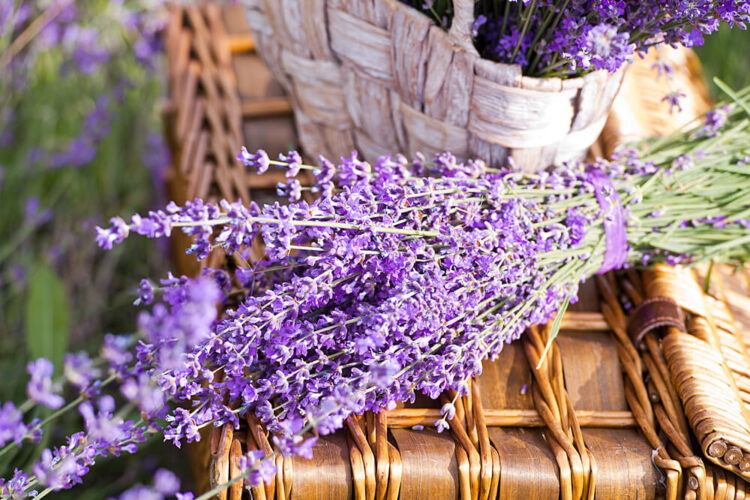 Location: 508 Lower Garden Valley Rd, Roseburg, OR 97471
Open: Annual Lavender Festival & Farm Tour in mid-July. All other days: Tours by appointments only
Along the Umpqua River, you will find more than 3,000 Grosso, Provence, Maillette, and Folgate lavender plants amongst the hazelnut tree farm.
During mid-July, Growing Miracles host the Annual Lavender Festival & Farm Tour, which features nearly 40 local vendors who come out to display their products and food.
Head to the fields to pick a fresh lavender bouquet, drink lavender lemonade, enjoy a yoga class amidst the lavender, or take part in a wreath making class.
Check their event page to attend one of their lavender field paint nights.
Hood River Lavender Farms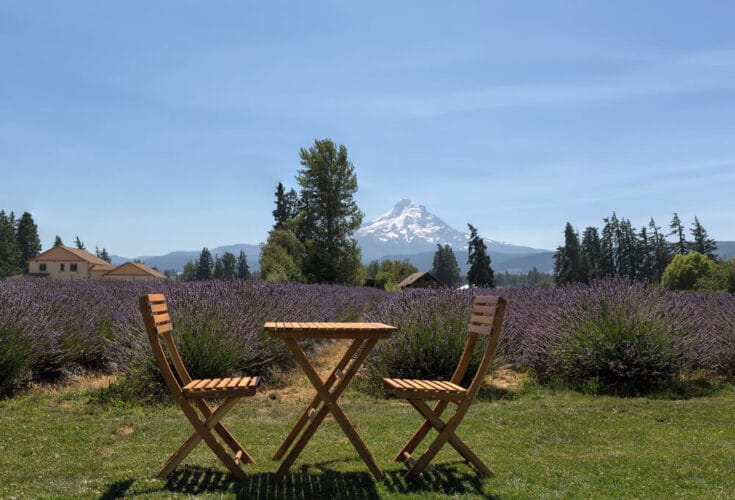 Location: 3823 Fletcher Drive, Hood River
Open: Thursday-Monday in May, and June through Labor Day weekend 7 days a week.
Hours: 10 AM – 5 PM Monday through Saturday, 11 AM to 5 PM on Sundays.
Just a few minutes out of Hood River, you will find this beautiful Oregon lavender farm next to the Stave and Stone Winery.
As you wander through the lavender rows, you will be able to view both Mount Hood and Mount Adams, along with the vineyards that surround the property.
Take an opportunity to absorb the beautiful scenery as you sit at the picnic tables and chairs scattered in the fields. During summer weekends, you can also step up to the bar set up overlooking the fields.
Their farm store has terrific lavender items like bubble bath, essential oils, and soaps.
To quench your thrust on those hot summer days, be sure to order a lavender lemonade or enjoy a lavender ice cream cone while taking in the scend to lavender and the beautiful mountains in the background.
From June through September, you will have the opportunity to cut fresh lavender bundles from the field.
Feel free to bring your pup – the farm is pet-friendly, and can even be visited on a long day trip from Portland.
Note for Instagrammers: for those wishing to have a private photoshoot in the lavender fields, there is a $75 fee!
Lavender Valley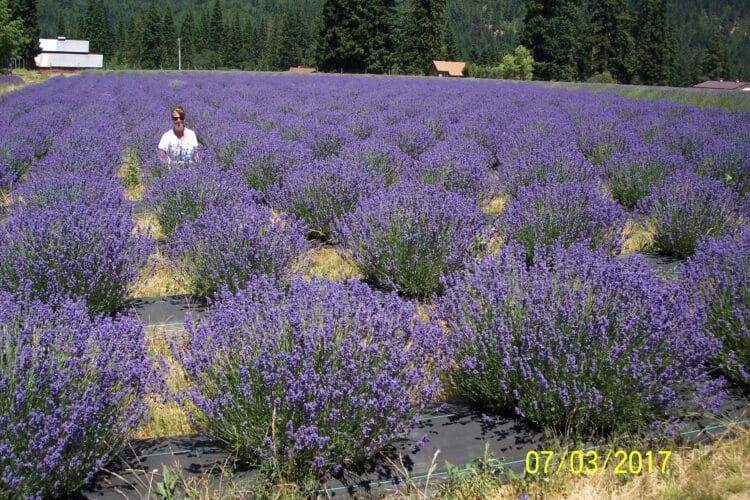 Location: 5965 Boneboro Rd, Mt Hood, Oregon
Open: Memorial Day to Labor Day.
Hours: 10:00 AM – 5:00 PM
Peak Bloom Season: Mid-June – July
At Mount Hood's base, you will find Lavender Valley's 25-acres of organic fields with 11 varieties of lavender.
This gorgeous lavender farm in Oregon provides stunning backdrops for pictures as you stroll through the fields or relax at picnic tables while inhaling the fresh lavender aromas!
Stop by and find out how they harvest their lavender, distill the essential oils, and make their lavender products.
During the summers, you can pick a beautiful lavender bundle straight from the field.
In their little shop, you will find organic lavender honey, jams, and lotions.
Bonus for families with pets: Lavender Valley's fields are pet-friendly!
Pin This Guide to Lavender Fields in Oregon!