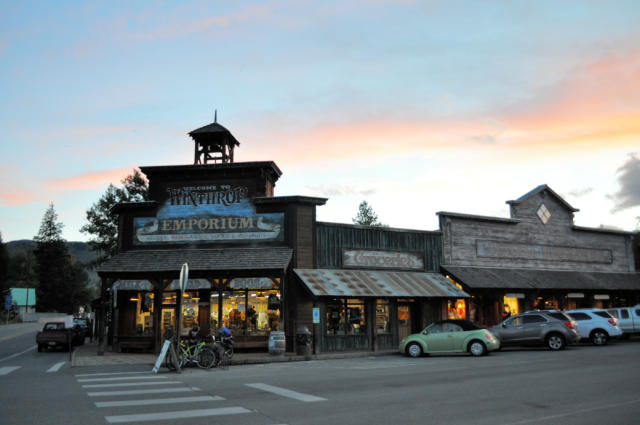 A getaway to the Old West in Winthrop, WA is a little western, a little pioneer, and very walkable. This themed town sits next to the Chewuch and Methow Rivers and is in one of my favorite areas in Washington State‒the Methow Valley.
To get the full experience, I suggest choosing lodging within walking distance of town. The bonus of doing this is that you'll see the town during its daily rush of visitors and in the morning and evening when there is barely anyone around. What does an old west town sound like? Walk down the boardwalks and listen to them creak.
On your itinerary, there are wines and ciders to taste, suspension bridges to cross, museums to visit and some down time. To top off this excursion, you'll dine at some great locations including a cocktail bar that you'd find in the city, a riverside brewery that serves up fantastic hamburgers and a generous breakfast in the state's oldest legal saloon.
Getaway to the Old West in Winthrop, WA
Day 1: Arrival
Lost River Winery
For those that arrive via Hwy 20 the first place you'll see as you head into town is the family owned Lost River Winery. Go ahead and pull in for your first taste of your getaway to the Old West in Winthrop. Their wines, which source their grapes from the Columbia Valley, have won multiple awards. Since I'm a red drinker, I'm partial to the Community Red, which you can buy in a bottle, refillable growler and handy pouch for camping trips.
In the tasting room, patrons receive a complimentary taste and they usually have six to eight wines available. After you find one to your liking, purchase a glass or bottle and enjoy it on the outside patio. Can you think of a better way to kick off a getaway?
Also, patrons can bring a lunch to enjoy with their wine.
Hours: Summer: Daily 11 a.m. to 5 p.m. Spring and Fall: Thursday to Monday 11 am to 5 pm. Winter: Friday, Saturday, and Monday  11 a.m. to 5 p.m.
Address: 26 WA-20 Winthrop. WA 98862
Shafer Museum
If it's time to check-in to your accommodation. Get settled, take a moment for yourself, and then walk to the Shafer Museum. If you still have some time before check-in, head to the museum. To get there, I suggest the path and stairs across the street from the Rio Vista Hotel. The path goes over a small canal and then up the hillside to the museum. The museum consists of several buildings, each with a historical focus, and lots and lots of equipment used in the area from logging, mining, and farming.
There is also the "castle," which is the cabin of Guy Warning, Winthrop's founding father, in its original location. The museum says the grounds are open from 7 a.m. to 7 p.m., but we found them to be open most of the night. If you stay where we did at Pine Near R.V. Park, it's easy to check out the grounds every time you walk to and from town. The buildings are opened daily from 10 a.m. to 5 p.m. and offer more insights into the area's history. Give yourself at least an hour or two to read the signs, look at the equipment and go through the buildings. Since it is so close to town, and it's partially open it's easy to make a return visit and see things you might have missed.
Hours: 10 a.m. to 5 p.m. Suggested donation for admission is $3.
Address: 285 Castle Ave. Winthrop, WA 98862
Old Schoolhouse Brewery
You're probably hungry by now, which means it's time for dinner at the Old Schoolhouse Brewery. In the summer season, they can be packed inside and on the riverside patio. If time allows, give the staff your name, get a drink and find a spot in The Hangover while you wait for a patio table. While you're dining, you won't regret it when the conversation mingles with the sounds of the river. Their food is locally sourced and the staff super friendly. They have year-round music, and in the summer it's on the outside patio on Friday nights and some Saturdays.
We started with the pub pretzel with stout mustard and smoked cheddar beer cheese (this cheese was to die for!). For dinner, I had the Schoolhouse Salad, which is mixed greens with dried cranberries, goat cheese, and a tossed IPA vinaigrette, and beer bread ($10). My husband had the Old School Burger made with a hand-formed patty from Thomson's Custom Meats and then added bacon and the smoked cheddar beer cheese ($13). After his first bite, he promptly declared it the best hamburger he's ever had. After that, I had to take a bite. And, while I really enjoyed my salad, the juicy burger made me wished I'd indulged in my taste buds instead of thinking about my waistline. Be sure to save room for dessert-that's our next stop!
Hours: Sunday through Thursday 12 p.m. to 9 p.m. Friday and Saturday 12 p.m. to 10 p.m. (On music nights, kids welcome until 9 p.m.)
Address: 155 Riverside Ave. Winthrop, WA 98862
Sheri's Sweet Shoppe
For breakfast goodies and all-around sweets like ice cream, fudge and truffles you'll want to stop at Sheri's Sweet Shoppe. During the height of the day, this locale is the hub of activity. At night and early morning, you'll have some breathing room. If you are up for sweets or ice cream, grab a scoop of their tasty homemade ice creams like coconut almond fudge, strawberry cheesecake or praline pecan and then wrap up the evening with a game of miniature golf.
Hours: 6 a.m. and "until the last customer comes a'wantin'
Address: 207 Riverside Ave. Winthrop, WA 98862
 ***
Thinking of visiting Winthrop? Find the best deal, compare prices, and read what other travelers have to say at TripAdvisor I Hotels.com I Travelocity.com.
 ***
Day 2: Explore
Three Fingered Jack's Saloon
This day is all about walking around, which means it's time for a hearty breakfast at Three Fingered Jack's Saloon, the oldest legal saloon in Washington State. It is named after Jack Lemma, a local butcher who accidentally cut off two of his fingers. Ouch, that's gotta hurt! The restaurant opens at 7 a.m. for breakfast. We got there around 8:30 a.m. and had no problem getting a table, but a few patrons that came in after us had to a wait a few minutes. They are also open for lunch and dinner.
I ordered the Ham Scramble with two scrambled eggs, diced ham and a grilled biscuit ($9.99). My husband ordered Jack's Country Breakfast with two eggs, sausage or back, a grilled biscuit ($10.99), and a side of gravy ($2.99). The breakfast was good, and the potatoes were some of the best we've every had.
Hours: Breakfast 7 a.m. to 11 a.m., Lunch 11 a.m. to  4 p.m., Dinner to 4 p.m. to close. Happy Hour 4 to 6 p.m. Monday through Thursday. The bar is open to 12 p.m.
Address: 176 Riverside Ave. Winthrop, WA 98862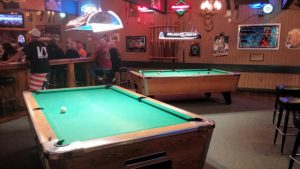 For a late night activity head to the bar for a game of pool.
Staeekhwa Bridge and Trail
After breakfast, head right toward the north edge of town to the Staeekhwa Bridge and riverside hiking trail. This suspension bridge is smaller than the Spring Creek Bridge and goes over the Chewah River. The trail meanders along the river with interpretive signs that note the area's history and point out points of interest, past a fish screen, and ends at rapids up the river. From there the trail wanders into a new housing development, so just take it back to the bridge.
Time: About an hour and easy grade.
Methow Valley Cider House
Head back into town and when you come to Hwy 20 turn right and go over the bridge, through the park and across the road to Methow Valley Cider House (right next to Lost River Winery). This is the town's newest edition, and it has a great set up with a large cabin for tasting and casual dining, a partially covered patio (dogs allowed here) and an area for kids which includes a rock climbing wall. Along with their refreshing ciders, they have a selection of beer and wine, as well as, handcrafted sausages by Thomson's Customs Meats, salads, appetizers and cider donuts. On some Friday and most Saturdays, they have live music from 4:30 to 7:30 p.m.
We started with the $5 sampler tray each. I particularly liked the Pinnacle Goat, a flavorful ginger-infused cider, and the Howling Wolf, a hopped cider. So I ordered a glass of the Pinnacle Goat, and my husband who is more of a beer drinker got a  beer.  I also ordered one of their signature sausages the pork Honey Bear Brat, which is infused with their Honey Bear Cider ($8). The sausage was sweet and flavorful, my only wish was that there was more creativity with the condiments like grilled onions, or roasted red peppers and feta cheese.
Hours: Wednesday through Sunday 12 p.m. to 8 p.m.
Address: 28 WA-20, Winthrop, WA 98862
Spring Creek Bridge
After you've enjoyed your ciders, head back into town and take a right to the south end of town and cross Spring Creek Bridge. It's a short walk across the bridge and goes right over the Methow River with views of where the two rivers converge. While we were there, we saw deer munching the greens along the river and bald eagles in the trees. It's also a good place to see seasonal salmon spawning.
Down Time
By this time you might need a nap. So nap away. If you're feeling peckish, head to the Winthrop Emporium and buy some snacks to enjoy in your room or in the park. If not, walk around town and take in the vibe. There are lots of interesting shops to peruse, like the seeing a glass blower in action at Glass Works of Winthrop, picking up a new favorite read at Trails End Bookstore, or adding to your wardrobe at The Courtyard Quail and French Quail Boutique. If you are up for an old-timey photo stop by Miss Kitty's Old Time Photoparlor, or if you have kids or are a kid at heart, on the other side of Spring Creek Bridge is Winthrop Ice and Sports Rink. In the winter, it's an outdoor ice rink. In the summer, it's an outdoor roller rink. How cool is that!
Copper Glance
For your last evening, dine at Copper Glance, a hip and locally sourced restaurant and cocktail bar. I'll pre-warn you; the service might be slow. The night we were there the place was packed inside and outside, and there was only one server, and one bartender for most of the evening.  Needless to say, service was slow, and having worked in the restaurant industry I felt sorry for our waitress. It is a new restaurant, so hopefully the kinks are being worked out, and they'll have the staff they need to accommodate its popularity (It was busy well into the late evening). After realizing the situation, we decided to switch gears mentally back into laid-back vacation mode. We sipped our drinks‒an Alcachofa with tequila for me ($9) and a Stella Artois ($4) for the hubs‒and just enjoyed having a table outdoors-something we rarely get to do in Western Washington.
Their menu is very eclectic and has Asian and European-inspired dishes, as well as, comfort foods. We started with the Charcuterie & Cheese Board ($18), which comes with aged cheeses, rotating cured meats, house pickles and vegetables, stone ground mustard, olives, and bread. That was quite a filling spread, so we opted to split the Beef Satay with a tamari sesame ginger sauce ($9).
Hours: Tuesday through Saturday from 4 p.m. to 11 p.m.
Address: 134 Riverside Ave. Winthrop, WA 98862
Day 3: Departure
Rocking Horse Bakery
Today, your getaway to the Old West is coming to an end, so you're going to have a lighter breakfast and indulge in your specialty coffee habits at Rocking Horse Bakery. We highly recommend the Cinnamon Pull Aparts and Breakfast Sandwiches. We do not recommend the Cinnamon Roll. If it's a clear day, sit at the picnic tables in the back next to the river. And, if you are a bread lover buy a loaf to take home with you.
Afterward, take one last walk around town or return to the museum to see anything you've missed.
In the summer there will be snow on the side of the road.

The Lake Diablo Lookout is a great spot to take in the view.

If you return home via HWY 20 be sure to stop at the Lake Diablo Lookout. The views from this local are mind-blowing.

 ***
Thinking of visiting Winthrop? Find the best deal, compare prices, and read what other travelers have to say at TripAdvisor I Hotels.com I Travelocity.com.
 ***
Suggested In-town Accommodations:

There are more accommodations on the edge of town such as Methow River Lodge & Cabins and Chewuch Inn & Cabins. These two locations are fairly close to the Winthrop Ice and Sports Rink.
Optional Out of Town Activities:
Drive times: Seattle 3-hours, SeaTac International Airport 4-hours, Portland and Portland Airport 6.20-hours, Vancouver 4-hours, Vancouver International Airport 3.50-hours
This post is part of