At the center of the Pacific Northwest's great outdoors, Portland Oregon is the prime spot for day adventures that can range from wineries in the desert to sandy beaches. Each one of these day trips from Portland can easily turn into a multiple-day adventure especially when combined together.
So, enjoy some good shopping, wonderful food, and fun activities with spectacular background scenery with these Portland day trip ideas.
Some of these trips have a short drive, meaning they could be done in half a day if a full day is not possible. Other drives are quite long and out of the way, which means a long day of driving and more chances for traffic or other factors that may delay travel. Weather can be unpredictable on the coast and change dramatically depending on the destination.
Stay safe and prepare for a degree of uncertainty but most importantly sit back and enjoy the ride to some truly beautiful destinations.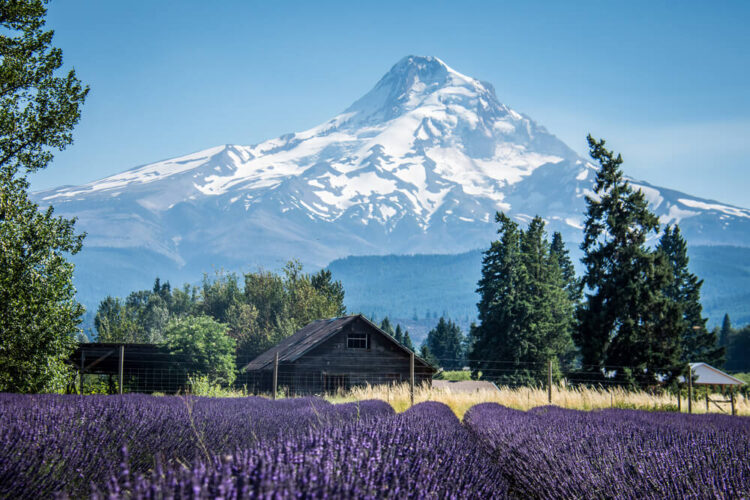 Some links in this post may be affiliate links. If you make a purchase through one of these links, we may earn a small commission at no extra cost to you. Please see our

disclosure policy

for more detail.
The Best Day Trips from Portland Under 1 Hour Away
Multnomah Falls
Travel Time: 35 minutes
Tumbling down a staggering 620 feet, the stunning Multnomah Falls is the tallest of all the waterfalls in the Columbia River Gorge region–and it also happens to be one of the easiest and most popular day trips from Portland, Oregon!
Located roughly half an hour outside the city, you can choose from a tour, shuttle, or private car to visit this stunning Oregon waterfall.
If you're driving yourself, strongly consider getting an early start to avoid the crowds!
For the ultimate day trip from Portland, this well-reviewed tour combines Multnomah Falls, Hood River, and a local winery!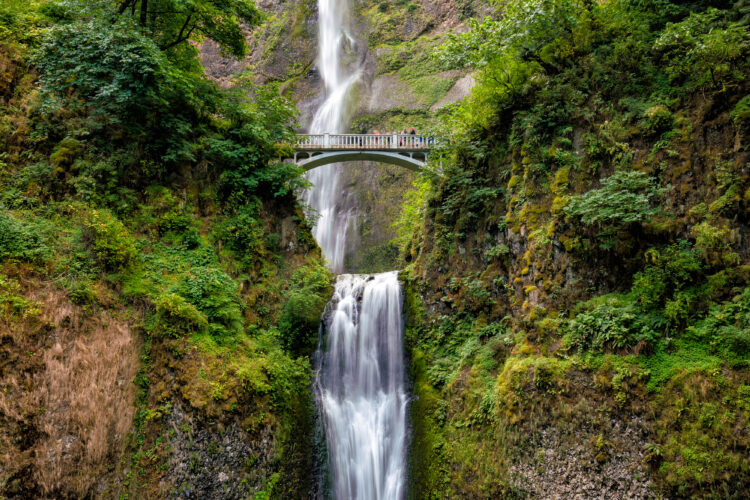 Vancouver, WA
Travel Time: 15 minutes
A little city right across the Columbia River from Portland, this wonderful little getaway has much to offer. Art, shopping, restaurants, and a wonderful yearly farmers market are some of the activities visitors can expect.
Be sure to check out the Fort Vancouver National Historic Site for some live history then relax on Lacamas Lake.
At only a short quarter of an hour drive from Portland, Vancouver offers big rewards. Be aware though, the weekday afternoon often sees traffic and can extend the drive time.
Buses also do run between Portland and Vancouver if an alternate form of travel is more desirable, as you then would not have to worry about parking.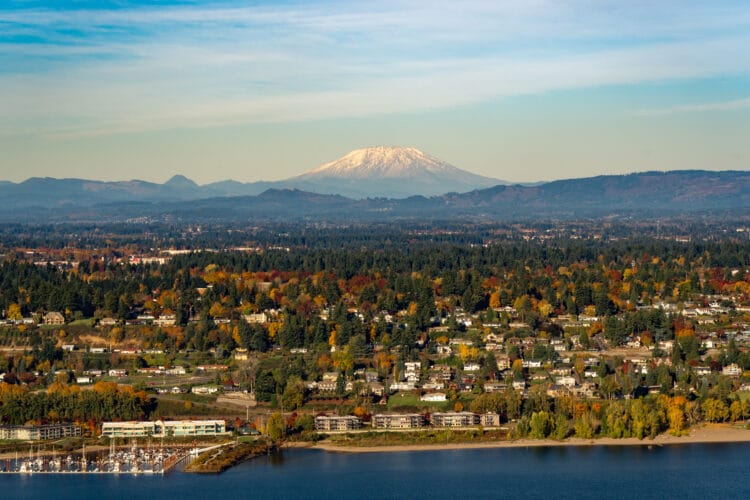 Salem, OR
Travel Time: 50 Minutes
The capital city of Oregon, and one of the largest cities in the state, is also home to beautiful parks and a center for local art.
The Schreiner's Iris Gardens and Bush Pasture park are particularly well maintained and beautiful especially during the spring when flowers are in bloom. The Riverfront is also a well spent few hours and houses a carousel.
For a whimsical adventure, head to Enchanted Forest Theme Park where a magical village sits in the beautiful Oregon forests.
The drive to this day trip from Portland is quite beautiful and allows the freedom to see the surrounding area if desired and to hit more remote and quiet locations.
However, a train runs between Portland and Salem and local public transportation is available. This may be a good option for someone who doesn't want to drive and just enjoy the views.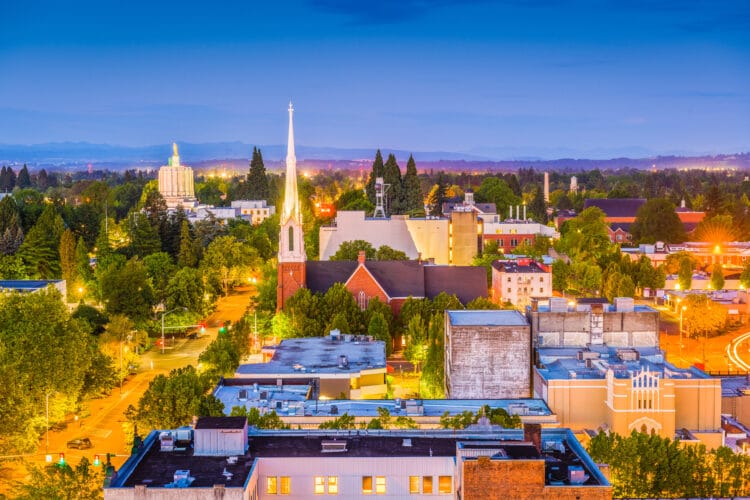 Day Trips Less Than Two Hours from Portland
Hood River
Travel Time: 1 hour and 5 minutes
Drive along the Columbia Gorge for beautiful views of forests, rivers, and waterfalls–there's a reason it's considered one of the best road trips in Oregon.
Almost any little town or park you will pass along the way is worth a stop, but you'll find the most rental options in Hood River, where many water sports can be enjoyed including windsurfing.
An almost constant wind through the gorge ensures perfect conditions most of the year. Stop by the little shops and restaurants for great shopping and local food.
The Oregon side of the river is a quicker drive and has larger towns to enjoy. The Washington side has a more scenic and slower route for those who enjoy twists and turns.
Great hikes on both sides including Dog Mountain offer a stroll through beautiful forests to great views. Tours can be taken from Portland to popular areas such as Multnomah Falls where parking can be difficult.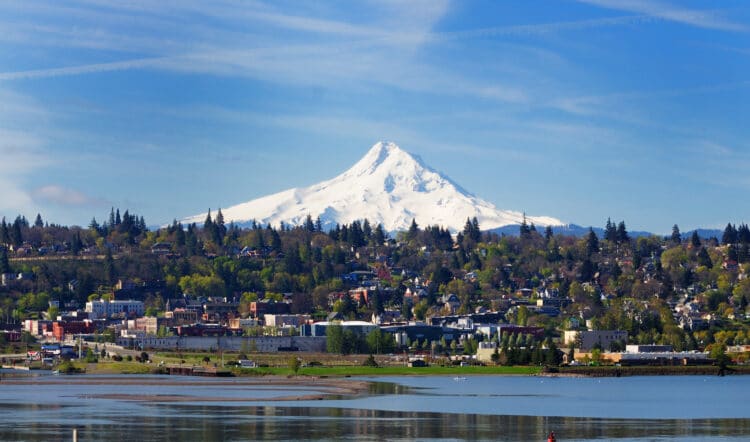 Silver Falls State Park
Travel Time: 1 hour 10 minutes
Hiking, biking, horseback riding, swimming, and picnicking are popular activities in this massive state park.
And anyone who visits knows why as it is a breathtaking forest that hides multiple large waterfalls, 10 of which can be seen on one hike appropriately named Trail of Ten Falls. This is a must-do for anyone visiting Oregon State.
The state park is just east of Salem and is easily reached if visiting the capital city. Know this is a popular park, especially for hosting gatherings such as family reunions and weddings.
But it is the largest park in Oregon, so it is easy to escape the crowds on a lesser-known hike without sacrificing beautiful views.
This Portland day trip will take you to both Silver Falls and a local winery, without having to worry about logistics!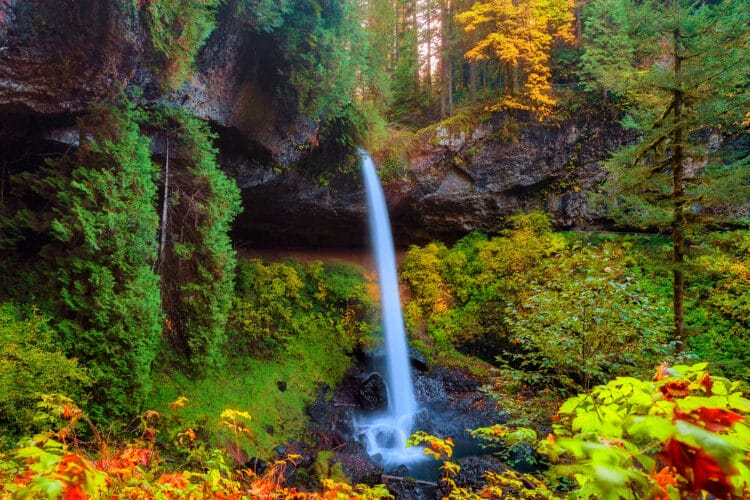 Mount Hood
Travel Time: 1 hour and 15 minutes
A well-known and popular outdoor spot due to its abundance of activities and beautiful views year-round including skiing on the glaciers even in summer.
Hike in the summertime to find hidden lakes and one-of-a-kind views. Snowshoe in the winter to experience the wonderland of snow-covered forests and the same beautiful lakes, but frozen in a layer of ice. There are many lodging options too if the day trip turns into a long weekend getaway.
The Mount Hood Scenic Byway is the perfect road for beautiful views and a fun, relaxing drive on the way up and down.
Tour options are available and may include a package for skiing/snowboarding, snowshoeing, or hiking. But the area is well maintained and well thought out to accommodate many visitors and is constantly expanding.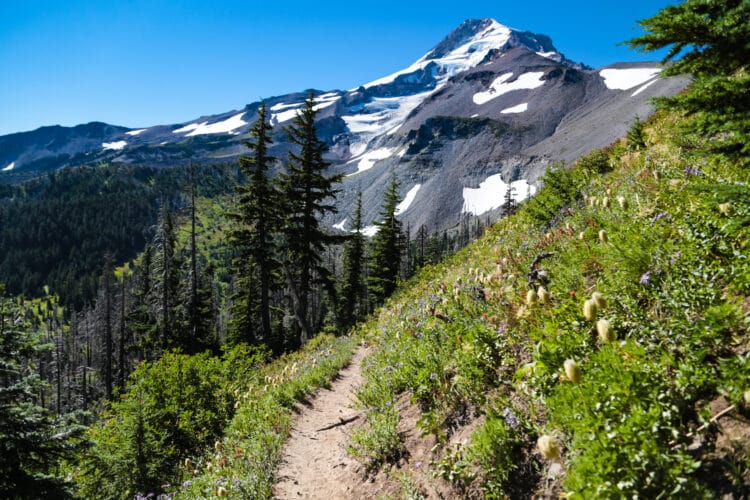 Cannon Beach
Travel Time: 1 hour and 25 minutes
Also known as Haystack Rock, this is one of the most iconic destinations when talking about Oregon State.
This large, sandy beach is a perfect day trip as a cute little town sits right by the beach offering good food, fun shopping, and cute little coffee shops to enjoy. The tide pools around the Haystack are quite interesting and bikes can be rented to enjoy more of the beach.
Other beaches in the area are also quite beautiful and may be less crowded for photo opportunities and a truly relaxing beach experience. Horseback riding, hiking, and kite flying is available in the area too.
Don't forget to stop by the famous Tillamook factory for cheesy foods and creamy ice-cream.
Don't want to worry about transportation? This popular tour of the Oregon Coast has you covered!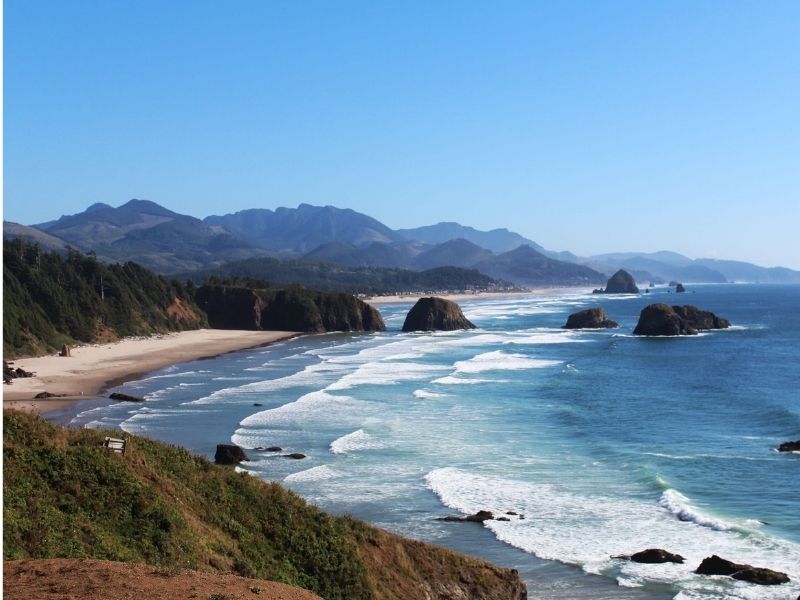 Mount Saint Helens
Travel Time: 1 hour 30 minutes
Traveling north into Washington State, this national park was made famous by the dramatic eruption that took away half the cone and permanently reshaped the landscape in the area.
This is a very interesting and unique Portland day trip as the volcanic landscape is entirely different than anything else around and evidence of the eruption is everywhere. Mount Saint Helens hikes are in abundance to beautiful and quiet spots but, be sure to also stop by the observatory near the volcano.
The entire drive up is quite beautiful with a lot to see on the way. Stop by the visitor's center as you enter the park to pay fees and observe the history of the park including the famous eruption.
Once in the park, the drive itself showcases the beauty of the area and the mountain will soon be in view. Stop at the viewpoints for great photos and to take in the sights.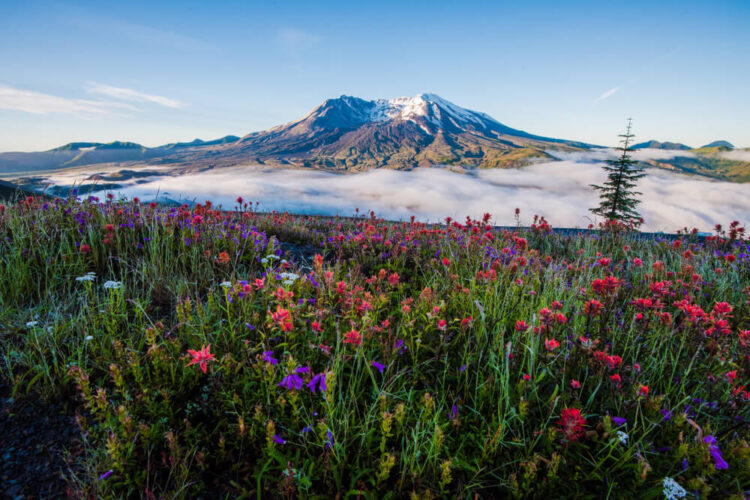 Adventures More Than Two Hours from Portland, Oregon
Long Beach
Travel Time: 2 hours and 10 minutes
One of the longest beaches in the world, Long Beach is known for its sandy beach, boardwalk, and amazing kite flying conditions. The yearly kite festival is large, fun, and festive for new or avid kite flyers.
Other activities include hiking, wildlife watching, fishing, crabbing, sandcastle building, and shopping in the nearby town.
Driving is really the only way to get here, but it is a beautiful drive through farmland and many little towns worth stopping at.
And at the beach itself, don't worry about a long hike to find a secluded spot because you can drive right on the beach. In fact, it's an official highway with a speed limit of 25 mph. Drive carefully though as it can be crowded.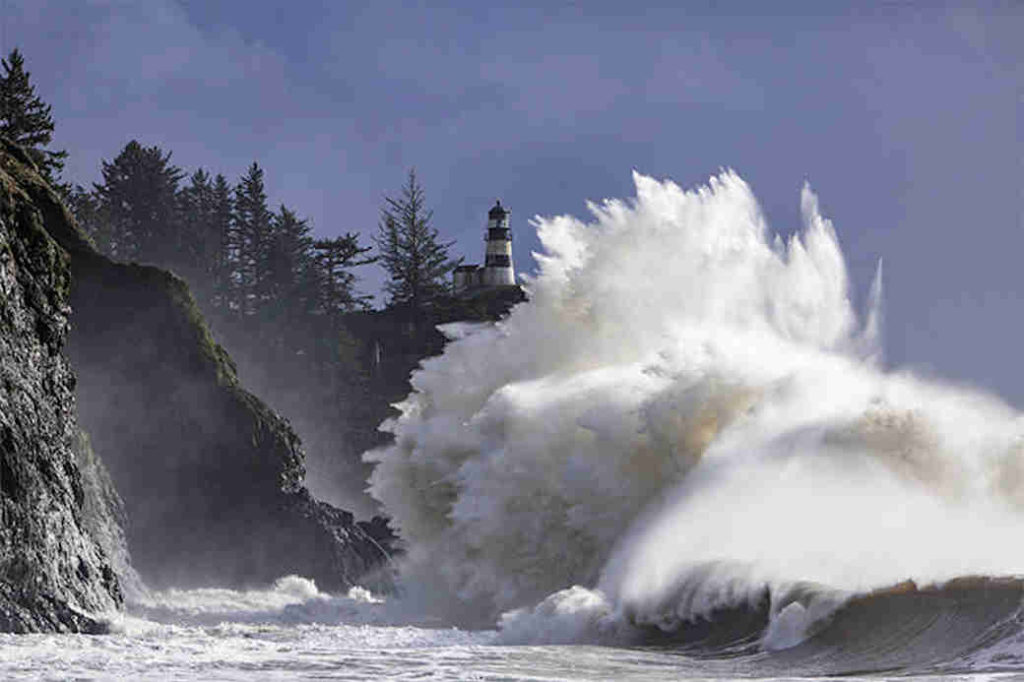 Tacoma
Travel Time: 2 hours and 10 minutes
Traveling north along I5 will get you to a fast growing and artsy city. Visit one of many wonderful museums including the museum of glass, the car museum, and the art museum. Wander the Proctor and Stadium districts for some shopping and good food.
Tacoma's waterfront is not something to miss with its beautiful gardens, beaches, parks, and wildlife.
A train runs from Portland to right outside the Tacoma Dome, buses are available for ease of transportation. Parking can be tricky within the city and this may be a good option but may increase travel time.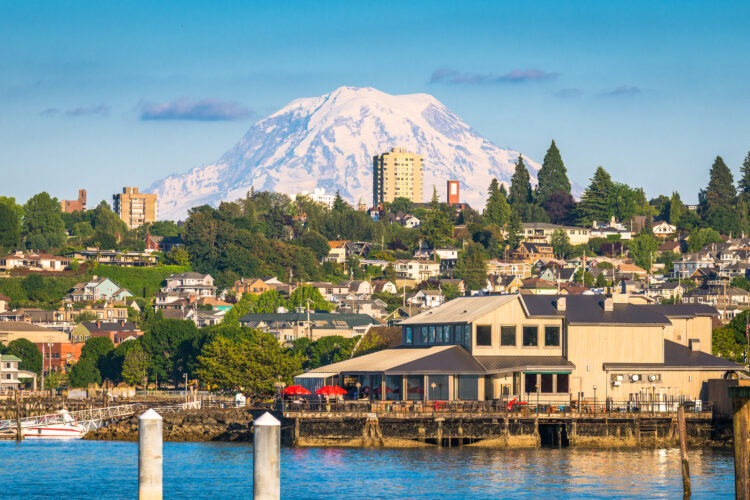 Mount Rainer
Travel Time: 2 hours and 20 minutes
This beautiful and iconic mountain near Seattle is one of the best day trips from Portland, Oregon. Multiple days could be spent exploring the national park, but the best sights can be done in a day.
Paradise and Sunrise are the most popular destinations and for good reason as the views of the mountain and surrounding forests are stunning.
Tours are available in abundance to experience the most popular stops and may be a good option as the park get s crowded especially on nice days. Driving allows more freedom in choosing less crowded destinations for some peace and quiet, such as more remote hiking trails in Mount Rainier NP.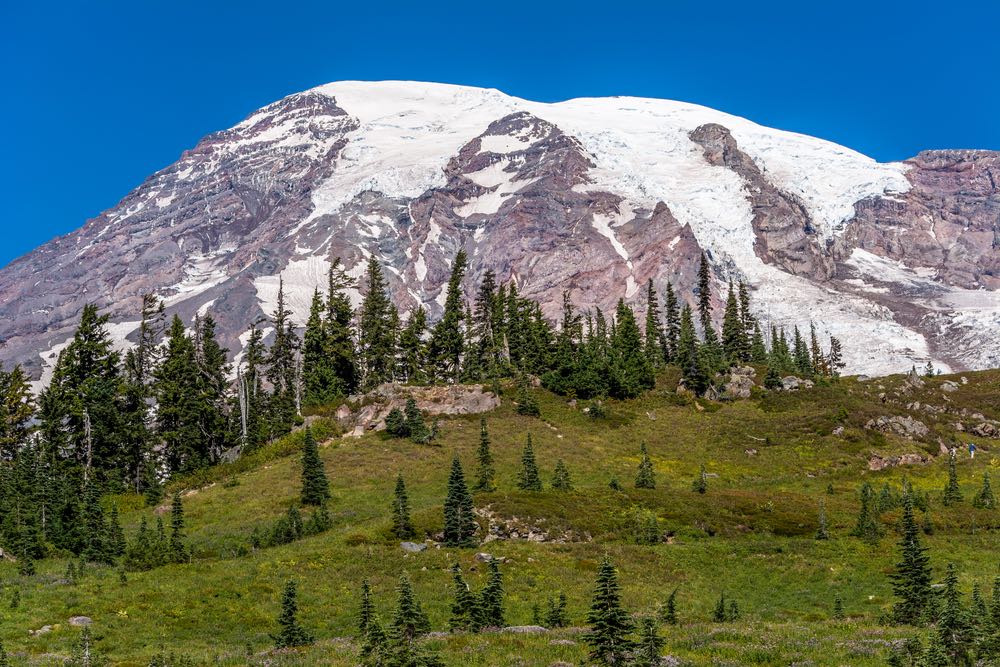 Mount Bachelor
Travel Time: 3 hours 30 minutes
The longest Portland day trip on the list leads to one of the most popular outdoor recreation spots in the country.
This mountain is the prime spot for skiing/snowboarding in the winter as the entire mountain is dedicated to it. In the summer, hiking, white water rafting, biking, fishing, kayaking, star gazing, horseback riding, and wildlife observation is just some of the activities offered.
The drive will take you through Mount Hood and the beautiful scenery surrounding Mount Bachelor.
Be sure to stop by the charming small towns along the way including Sisters. Day tours from Portland are available, especially in the winter, allowing you to relax and enjoy the views the entire way.