Leavenworth is a great place to visit any time of the year!
But during the winter in Leavenworth, snowfall on the Bavarian-style buildings turns the town into a winter wonderland.
Despite the cold weather, there many things to do on a winter trip to Leavenworth, regardless of whether you want to play outside in the snow or stay cozy inside.
Here are our favorite things to do in Leavenworth in winter!
Leavenworth in Winter: What to Do & See
Window shop along Front Street
Window shopping is a great way to spend a day in Leavenworth in winter.
Front Street is the main street in Leavenworth and is full of Bavarian-themed shops that match the city's iconic architectural style.
It's a great place to snap some photos of the scenic downtown, especially when it's all lit up for the holiday season!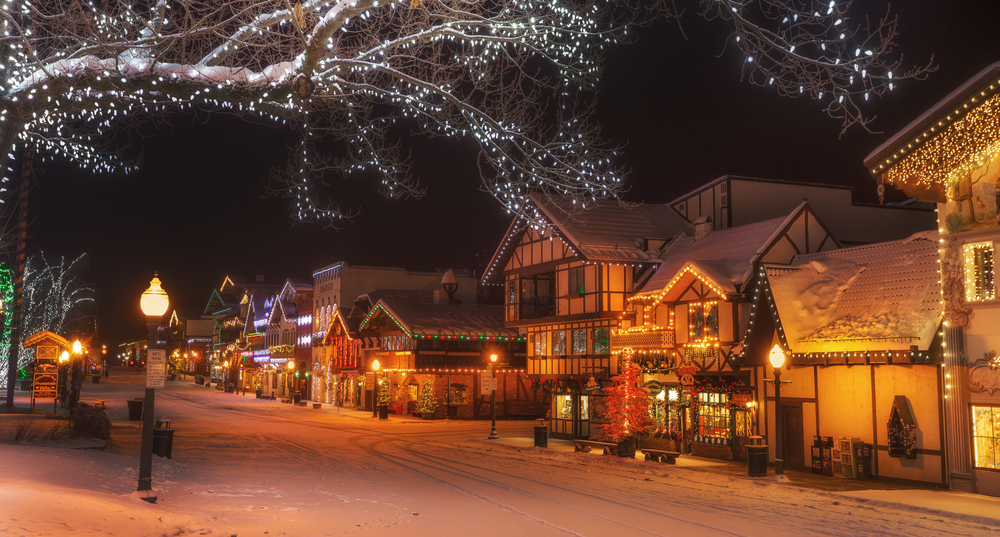 Some links in this post may be affiliate links. If you make a purchase through one of these links, we may earn a small commission at no extra cost to you. Please see our

disclosure policy

for more detail.
Do your Christmas shopping in town
There are plenty of fun stores to explore on Front Street, perfect for Christmas shopping and general winter shopping.
As you wander down the street, you will find The Hat Shop specializing in men's and women's hats, plus costume and novelty hats from around the world.
Another great shop to pop into is Village Alps which carries 80 flavors of taffy, 150 kinds of hot sauces, specialty foods, and old-time candies.
The Bubblery carries bath and body care products, perfumes, lotions, and scrubs made at the location and made with local ingredients — great if you're visiting Leavenworth for Christmas shopping!
Nussknacker Haus, German for the "Nutcracker House" is also a great stop when on a winter trip to Leavenworth, as it has one of the largest selections of Nutcrackers in the United States.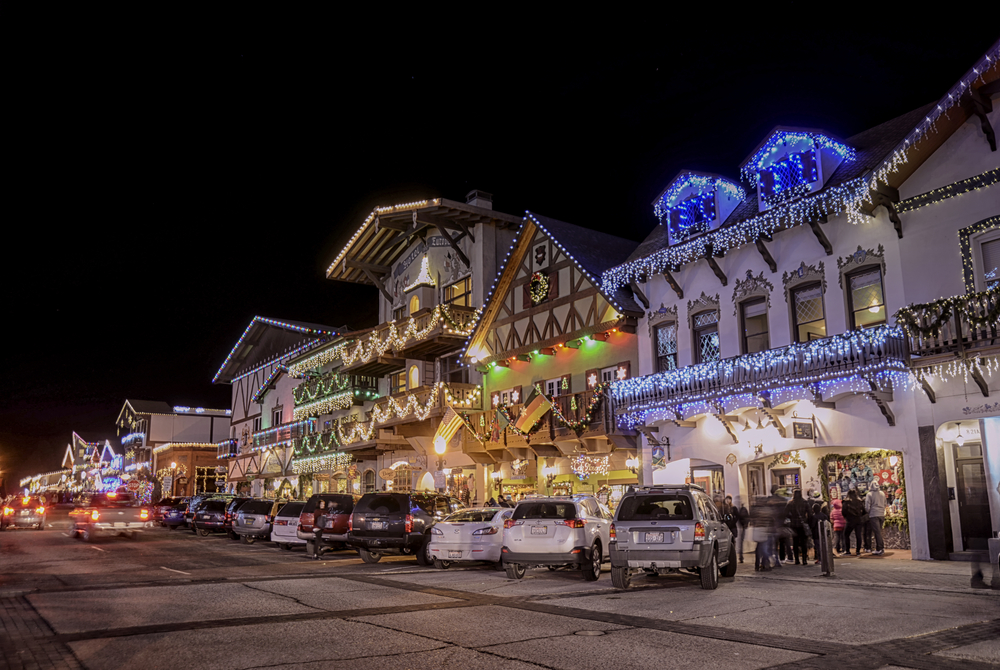 Ski in fresh powder right in town
Leavenworth is a great place to pull out your skis! Located on the eastern side of the mountains, the snow in Leavenworth is drier than on the western side of the Cascades.
While visiting Leavenworth in winter, you can ski at the local ski hill, the Leavenworth Ski Hill. The Leavenworth Ski Hill is just two minutes from downtown.
The Leavenworth Ski Hill has two groomed ski runs serviced by rope tows. These runs are great for beginners or for a chill ski day, and prices are much more affordable than bigger ski resorts.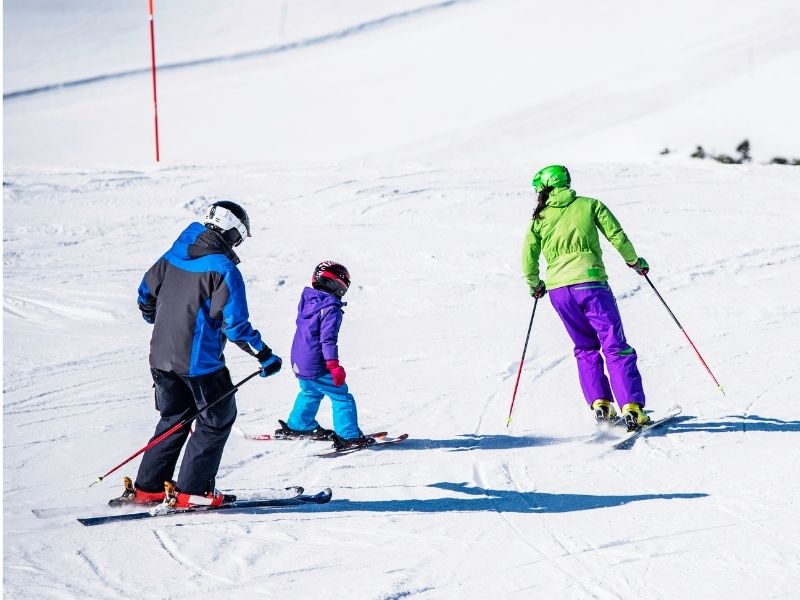 Or head to Stevens Pass for advanced skiing
If you are looking for a bigger ski resort, head up to Stevens Pass for a skiing adventure.
Stevens Pass is one of the major ski areas in Washington State, and it's not far at all from Leavenworth.
To reach Stevens Pass from Leavenworth, drive 45 minutes west on Highway 2.
Stevens Pass is a bigger resort than the local Leavenworth Ski Hill, with over 1100 acres of skiable terrain and 52 major runs — there's something for every kind of skier!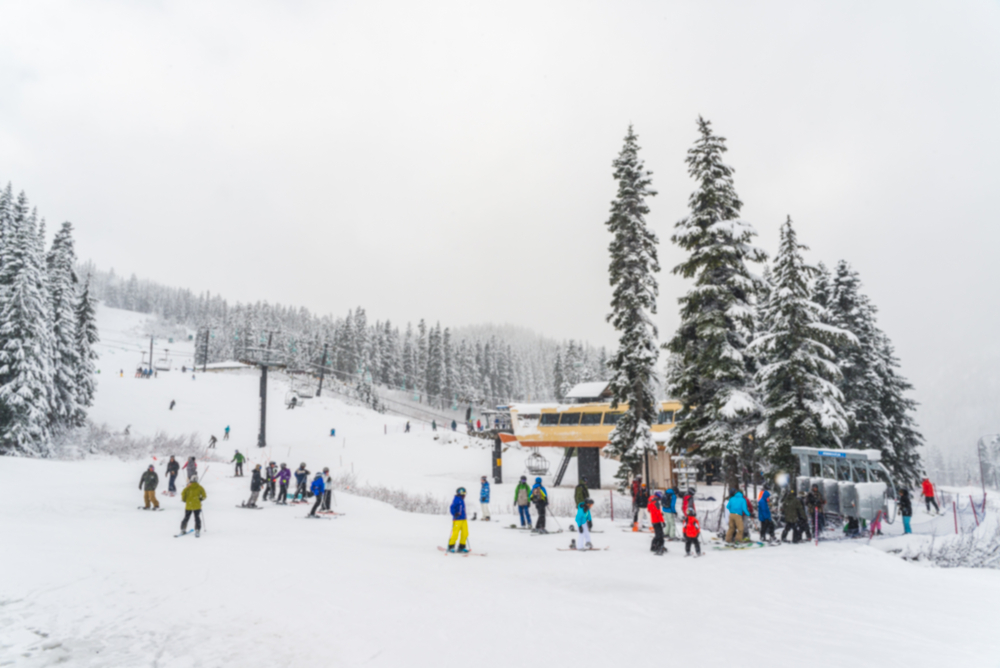 See all the ways to crack nuts at the Nutcracker Museum
Located above the Nussknacker Haus, The Nutcracker Museum has a selection of over 6,000 nutcrackers and other nut-cracking tools.
The museum has many different styles of nutcrackers from Germany, Asia, Europe, and the United States.
The museum has a wide variety of nutcrackers in varying styles. Some of the nutcrackers at the museum are decorative Victorian nutcrackers, and others are utility nutcrackers used to break open hard black walnuts. 
The Nutcracker Museum also has nutcrackers that use direct pressure, indirect pressure, screws, and nutting bowls.
The Nutcracker Museum is run by Arlene Wagner, who previously worked as a ballet instructor and is known locally as "the Nutcracker Lady!"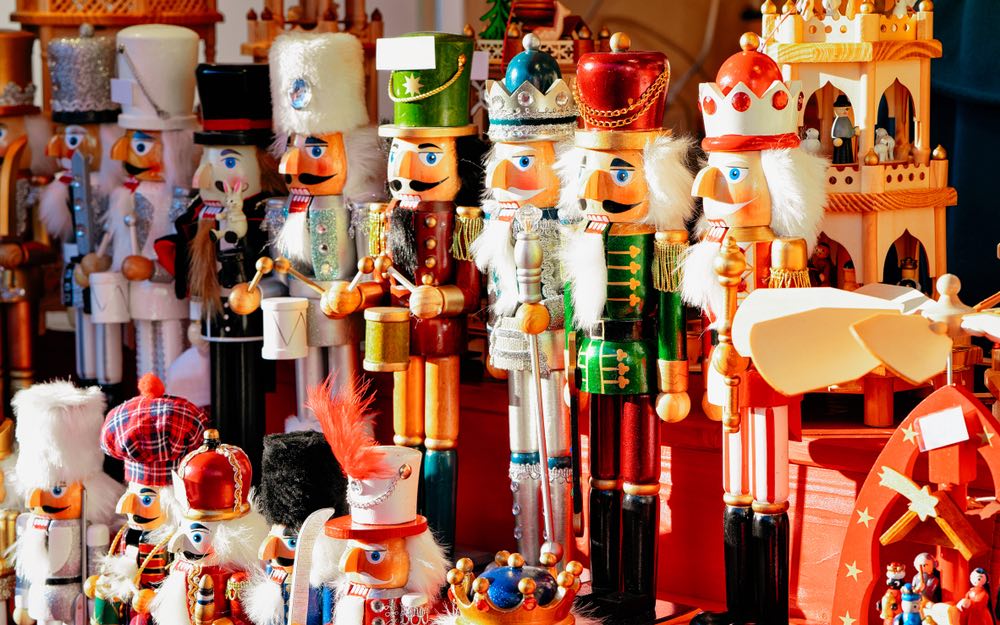 Snowshoe through a winter wonderland
While snowmobiling and skiing both are adrenaline-filled experiences, snowshoeing is a great slow-paced way to enjoy the winter wonderland.
Snowshoes are easily rented in Leavenworth from many different places (here are a few) or it's fairly cheap to buy your own pair if you think you'll be a regular snowshoer.
Once you rent the snowshoes, there are many places to take them. Leavenworth is full of beautiful trails that can be snowshoed. The Icicle Gorge Nature Loop is a great option. This hike is a 4-mile hike along Icicle Creek. The grade of the trail is nice and gentle and the trail is mostly flat.
The Icicle Gorge Nature Loop trail is an interpretive loop with several signs explaining the ecology of the area and describing different species you may see along the trail. Read the sign at the trailhead for a map of the trails in the area to keep on the nature loop trail.
To reach the trail, head south on Icicle Road on the western edge of Leavenworth. Continue 15.5 miles down the road and turn left at the sign for the Icicle Gorge 0.4 miles past the Chatter Creek Guard Station.
Take an enchanted sleigh ride
What is a better way to spend a few hours in Leavenworth than by taking an enchanted sleigh ride? Taking a delightful sleigh ride through a wintry Leavenworth is a great way to embrace the holiday spirit.
Leavenworth Sleigh Rides offers a wide range of sleigh ride tours for visitors. There is a breakfast sleigh ride, a dinner sleigh ride, and daylight sleigh ride options.
There are several types of sleighs to choose from for different amounts of people, from 6 people up to 16 people on the "Santa Sleigh Ride" tour.
Each sleigh ride includes a stop at the barn for a cup of hot apple cider around the fire. The sleigh ride will meander through scenic meadow areas and forests nearby Leavenworth.
The Leavenworth Sleigh Ride company is located a 25-mile drive outside Leavenworth.
To get there, head east on Highway 2 from Leavenworth, and before crossing the Wenatchee River, take a left onto Chumstick Highway. After driving 14 miles, continue onto Chiwawa Loop Road for 0.2 miles until you reach the location of Leavenworth Sleigh Rides.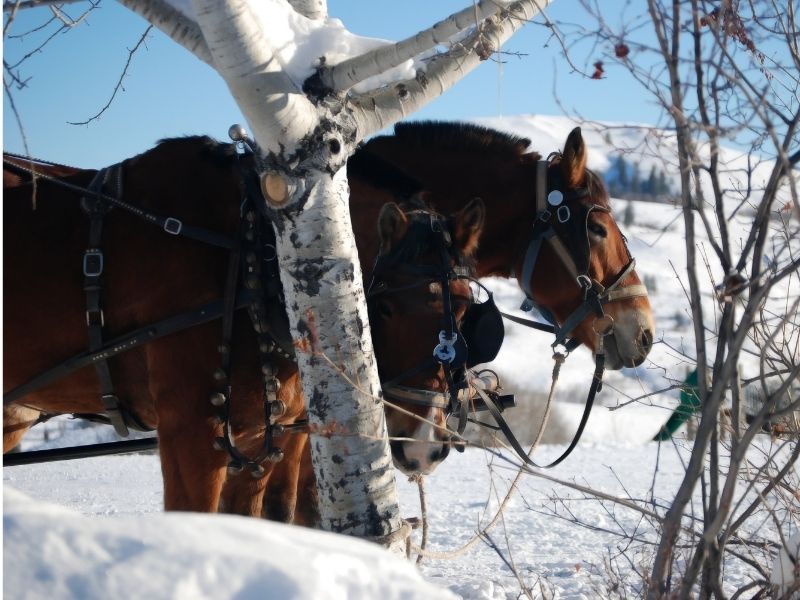 Explore forest roads in a snowmobile
One way to explore the snowy forests near Leavenworth is by snowmobile.
Snowmobiles are great for exploring snowy forest roads in the winter. Snowmobiles can take you on a great adventure, with far less work than going on a hike! It's great if you want to get outdoors during the winter, but you don't feel up to hiking in the snow.
In Leavenworth, you can join a snowmobile tour or rent a snowmobile of your own to experience the fun of riding a snowmobile through the woods.
Snowmobile tours are available through Leavenworth Snowmobile Tours.
There are many tour options available ranging from one hour to four hours through the mountains surrounding Leavenworth. There is a four-hour tour that goes to the top of Sourdough Mountain Lookout, a great viewpoint of surrounding mountains. 
There is also a Starlight Express tour, a nighttime tour underneath the stars, and the Moonlight Dinner Ride, which includes a lovely dinner in the lodge.
Each tour is led by experienced guides and all gear is provided for your use during the tour.
If you are experienced at snowmobiling, rentals are also available, allowing you to explore the mountains however you like.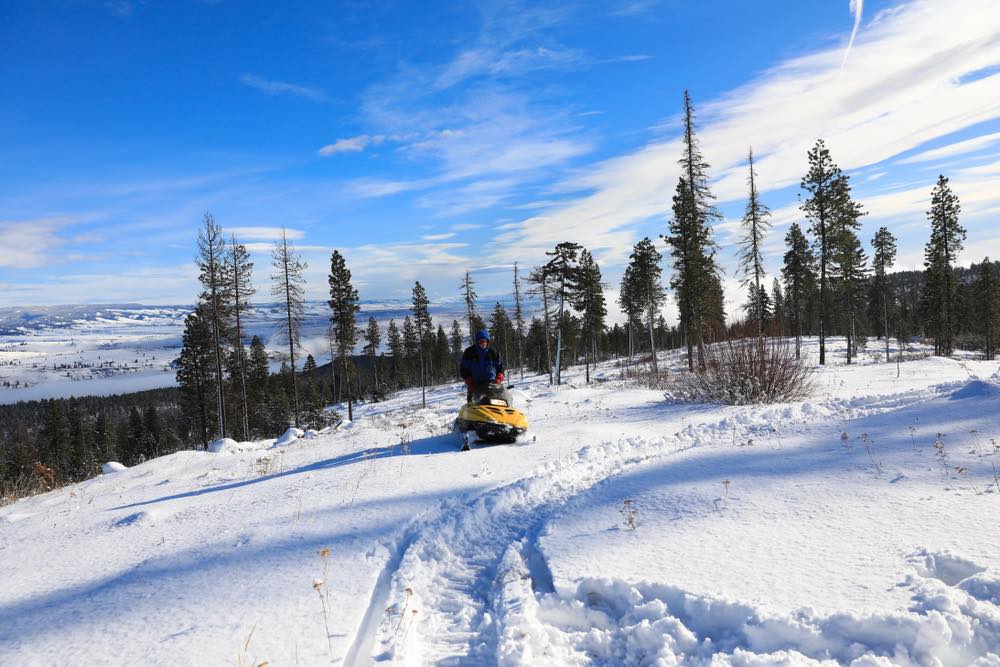 Enjoy piping hot fondue
A Bavarian paradise, Leavenworth has been known for brats for a while, but more recently it has become the center for fondue!
Fondue is a melted cheese dish served in a portable and heated pot. Most commonly, fondue is eaten by dipping bread and other bites into the pot with a long-stemmed forks. Fondue is generally made with melted cheese, wine, and various herbs and spices.
Fondue is the national Swiss dish popularized in the 1930s by the Swiss Cheese Union as a way of increasing cheese consumption. Fondue became popular in North America in the 1960s.
On a cold winter day, fondue is the perfect warm comfort food — luckily you have plenty of options for fondue in Leavenworth. 
One popular spot that serves fondue is Pavz Café Bistro. At this café, fondue is served in a very large pot to share. The fondue is made using a traditional Swiss recipe and is served with bread, pears, and apples, although the specific toppings may change with the season.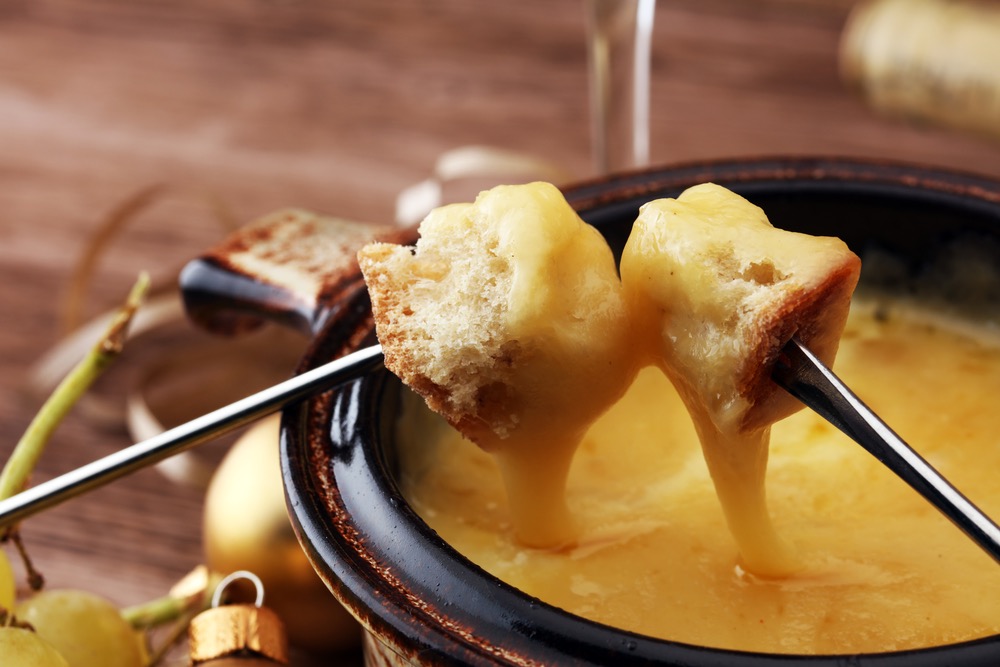 Slide down a snowy hill
Sledding is a timeless way to enjoy winter and makes a great family activity. Unlike skiing or snowshoeing, sledding requires comparatively less equipment and skill.
If you have your own sled, there are plenty of hills you can slide down, and wandering around town in search of the best sledding hill makes a fun adventure.
In addition to many local hills, there are some specific locations that offer designated sledding hills in Leavenworth.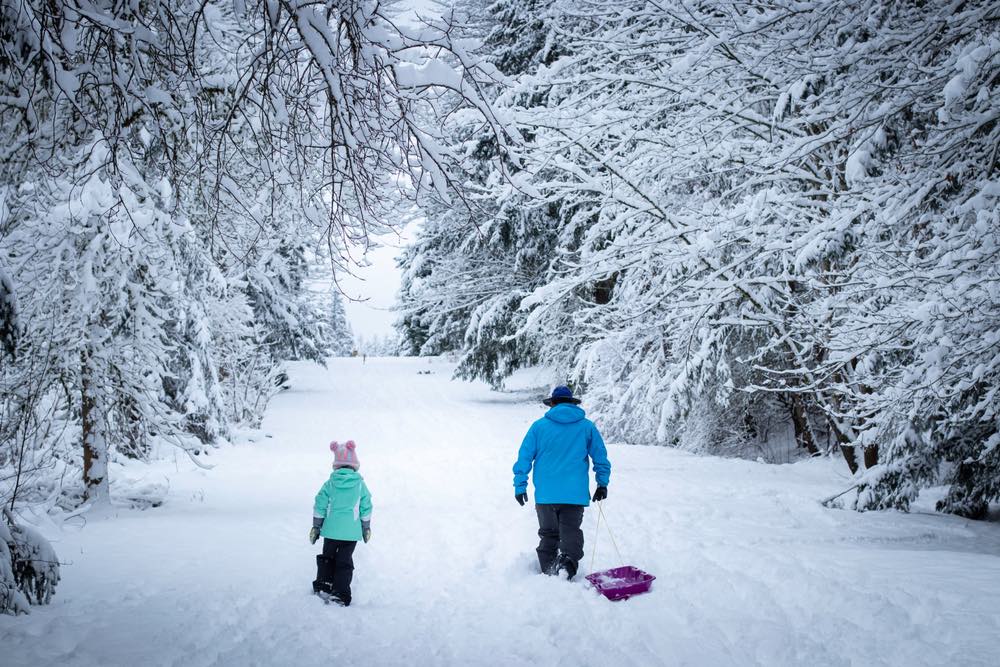 Play in the snow in Lake Wenatchee State Park
Lake Wenatchee State Park becomes a Sno-Park during the snow season (generally from November through March). During this time period, you will need to purchase a Sno-Park Pass for use of the park. These can be purchased online.
When it is a Sno-Park, the roads and parking lots are plowed, and there are groomed ski cross-country ski trails. Do be aware, though, that the roads and trails may not be maintained during periods of heavy snowfall. However, crews will clear the snow once conditions allow.
Lake Wenatchee Sno-Park offers two areas, and it is the South Park that has a tubing hill and a general snow-play area. Within the park, sledding should remain on the tubing hill for safety concerns and to avoid interference with other park users.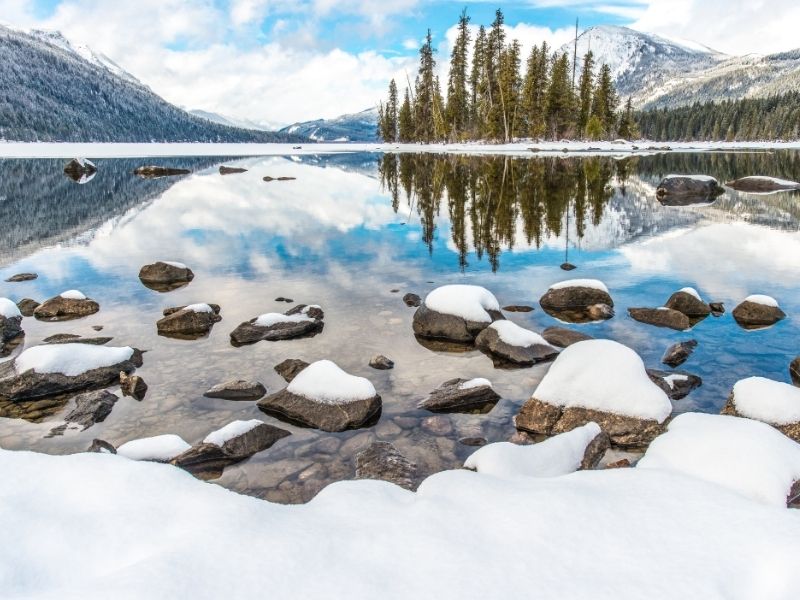 Hit the slopes of Leavenworth Ski Hill in your sled
The Leavenworth Ski Hill also has a sledding hill.
Their sledding hill is quite large – at 100 feet – and there is even a rope tow so you don't have to walk up the hill!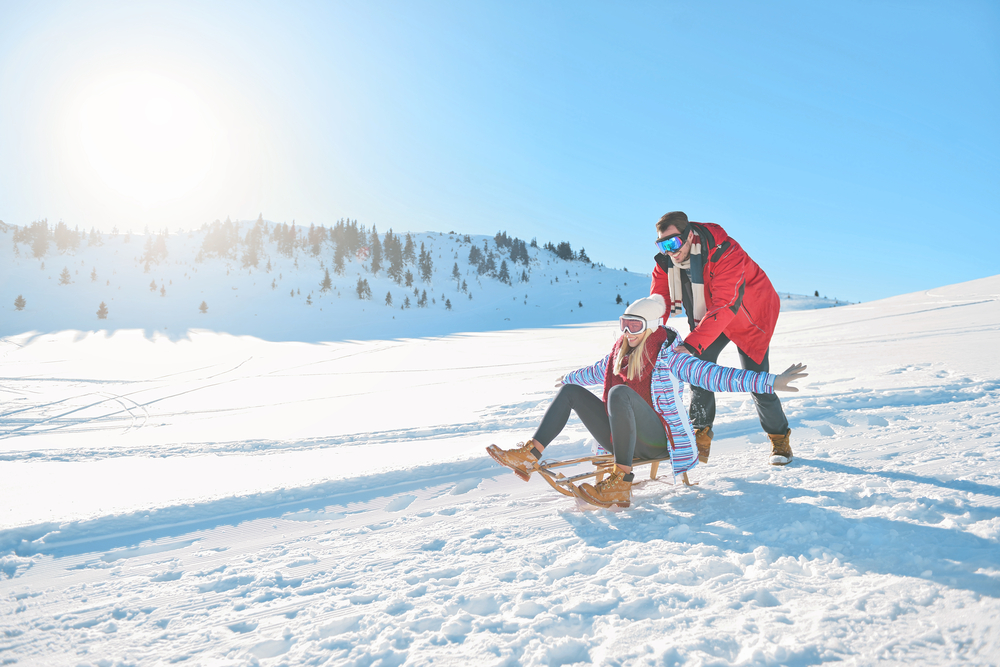 Grab some warm drinks at the Leavenworth Ski Hill Lodge
Once you finish sledding or playing in the snow at the Ski Hill, warm up inside the lodge with hot drinks next to the indoor fireplace!
Mulled wine (glühwein) is always a great choice if you really want to get into the Bavarian spirit, but hot mulled cider, hot chocolate, and hot coffee are also great choices.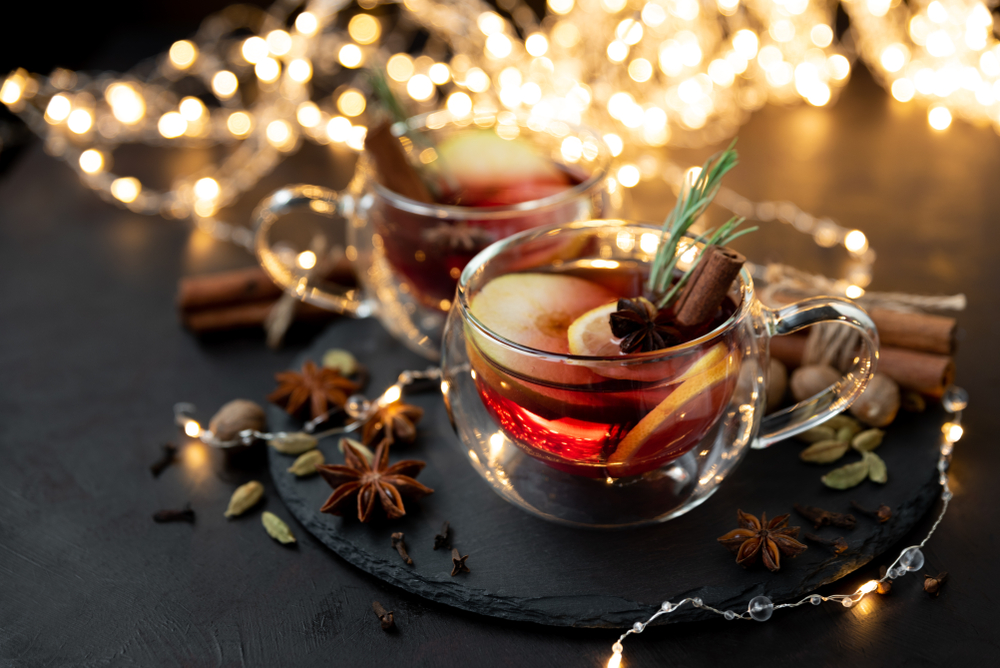 Pin this Leavenworth in Winter Guide!