On the surface, the small town of Maryhill, Washington might seem like it is only a few intersecting roads that cut through basalt, farmland, and cheatgrass.
That impression couldn't be further from the case.
From unexpected roadside attractions to excellent wine, here are the best things to do in Maryhill!
Drive the Maryhill Loops Road.
Maryhill Loops Road is 10 miles long with 25 curves—8 of them hairpin—and an elevation gain of 850 feet with a 5% grade. It took Sam Hill, who was very outspoken about the importance of modern roads in the Northwest, four years to build it at his own expense. When completed he invited the governor and politicians to view this marvel to show them modern roads could be constructed in the Northwest.
Admission is free. Pedestrians and bikers can use the road most days from 7 a.m. to 5 p.m. There are only a couple of days a year the road is open to vehicles, so be prepared to work up a sweat when enjoying this unique corner of Maryhill.
Each year, the loops are used for Maryhill's "Festival of Speed," North America's largest gravity sports festival.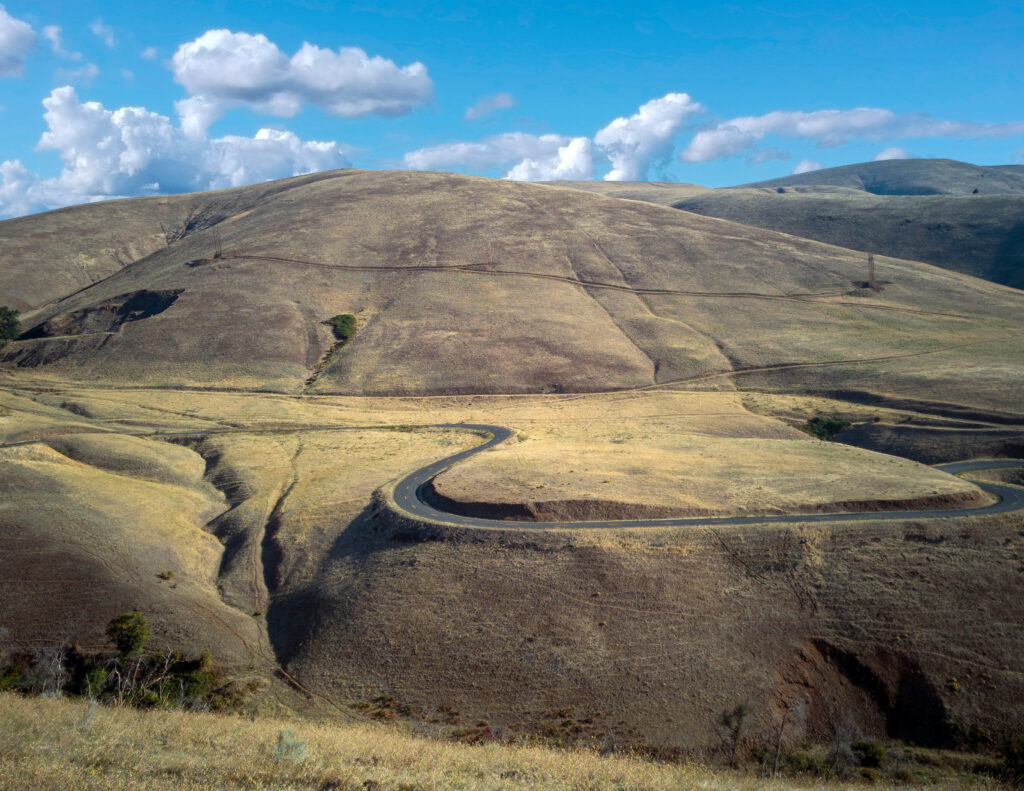 Some links in this post may be affiliate links. If you make a purchase through one of these links, we may earn a small commission at no extra cost to you. Please see our

disclosure policy

for more detail.
Explore the Maryhill Museum of Art.
Housed in Sam Hill's former mansion, the Maryhill Museum of Art is an unmissable attraction in Maryhill. Its collection of art consists of sculptures, Orthodox icons, royal artifacts and furniture, paintings, Native American objects, and much more.
The grounds are an artistic treasure, free to explore, and offers stunning views of the Columbia River Gorge.
The Museum is open March 15 through November 15, 10 a.m. to 5 p.m. Admission: adults $9, senior $8, children 7-18 $3, family admission $25.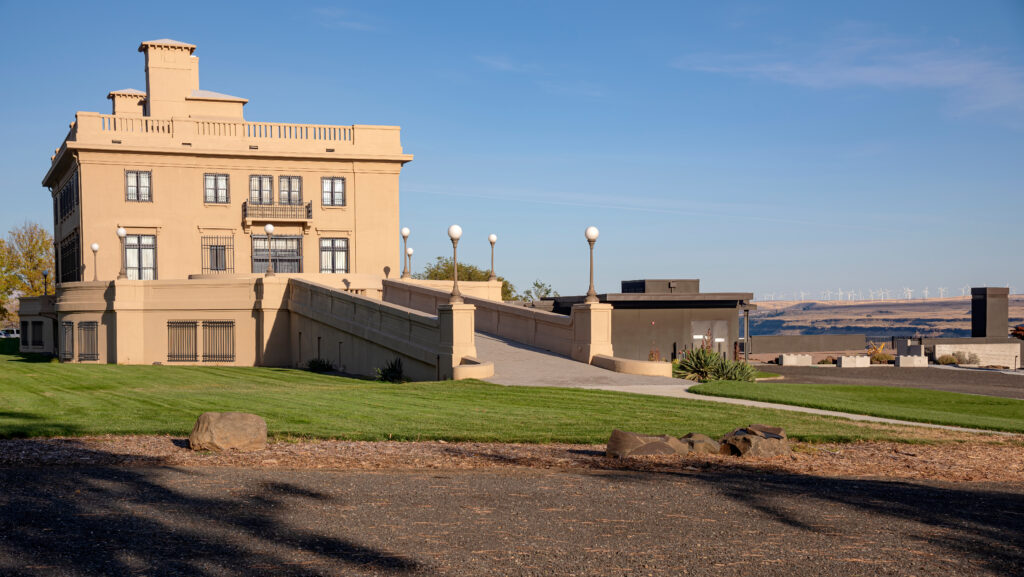 Enjoy the outdoors at Maryhill State Park.
Maryhill State Park sits along 4,700-feet of Columbia River waterfront. From the park's two swimming beaches you can see Sam Hill Memorial Bridge (also called the Biggs Rapid Bridge) which connects Washington State and Oregon, and the basaltic cliffs along Oregon.
The campground has 20 tent sites, 50 utility sites, two beaches, a shaded picnic area, a boat launch, and a small dock, and makes for a perfect base camp for exploring the area.
Keep in mind that that the park is next to a well-used highway and the sounds of night traffic filters into the campground. A day pass or Discover Pass is required to enter any Washington State Park.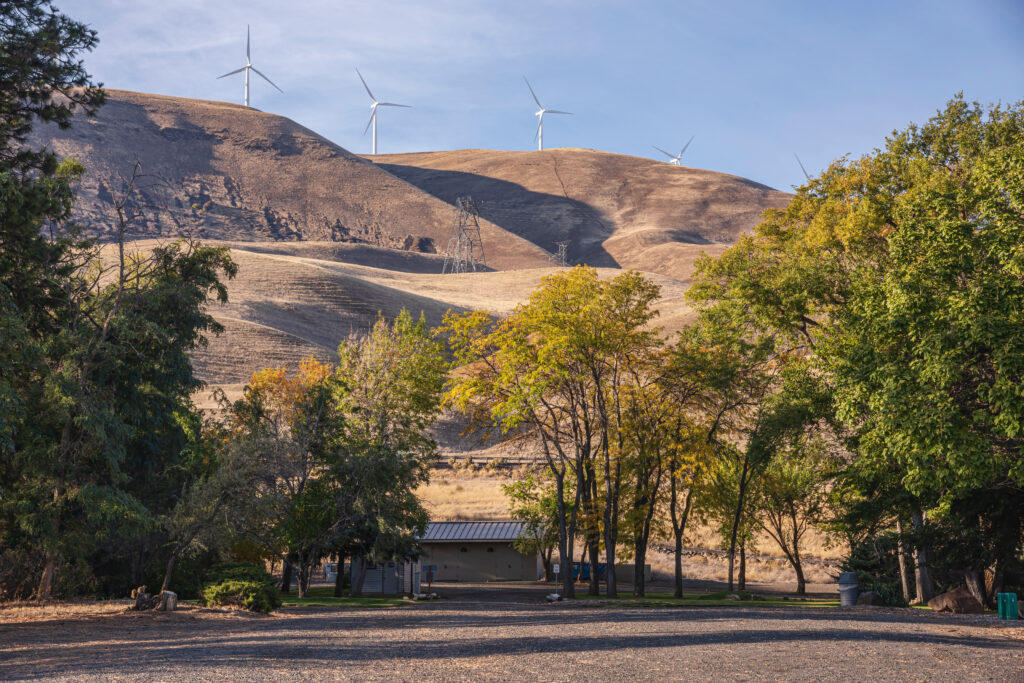 Visit Stonehenge (seriously).
Built to the exact dimensions of the original Stonehenge, Maryhill Stonehenge took 11 years to complete. Sam Hill, the builder of this memorial, dedicated it to the servicemen of Klickitat County who perished in WWI and to serve as a reminder of the sacrifices of war.
It's right up the road from the small town of Maryhill, free to visit, and has panoramic views in all directions (think golden hills, the Columbia River, and plenty of sky). Consider visiting in the early morning or late afternoon for dramatic sunrise/sunset photos.
Enjoy a flight at Maryhill Winery.
Wine Press Northwest named Maryhill Winery the 2015 Pacific Northwest Winery of the Year. The setting of this destination winery is gorgeous with views of the Columbia River and vineyards, a spacious tasting room with a 20-foot bar, a selection of artisan meats and cheeses available for purchase, bocce courts, a picnic area, and a 4,000 seat outdoor amphitheater for summer concerts.
… and Waving Tree Winery

.
Waving Tree Winery is a small family-owned winery that specializes in Italian and Rhone-style wines. Their tasting room is in the log cabin near Maryhill State Park.