Everyone's heard of Stonehenge in England, of course.
But did you know that Maryhill, Washington, has its own American Stonehenge?
The small but lively town of Maryhill, population 58, has a lot of cool things to do. It even boasts one of the most interesting monuments in Washington State, and best of all, it's free to visit!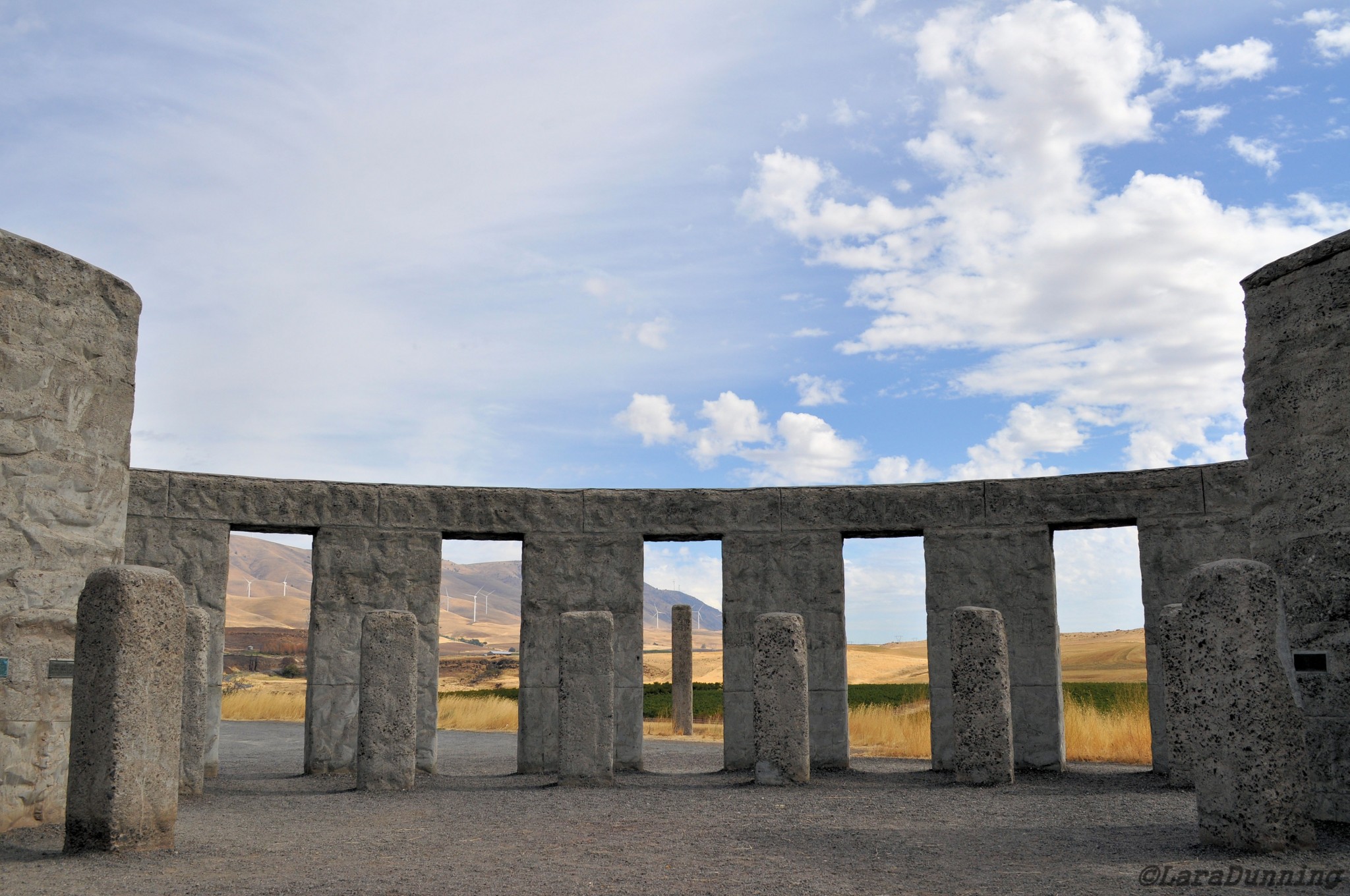 Some links in this post may be affiliate links. If you make a purchase through one of these links, we may earn a small commission at no extra cost to you. Please see our

disclosure policy

for more detail.
All About Maryhill Stonehenge
My Experience Visiting Maryhill Stonehenge
In 2015, the stars aligned and I got to see Washington's Stonehenge with my own eyes.
We arrived at Maryhill in the early evening, and after we had set up camp at Maryhill State Park, we drove up Stonehenge Drive just in time for the sunset (2-3 minutes from the campground).
The wind had picked up some, and the sun had mostly set, but we got to weave in and out of the gigantic stones with no one else around. No crowds is always a good thing.
The monument sits on a hillside with incredible views in all directions. South is the mighty Columbia River and Oregon. West is Maryhill and Maryhill State Park. Northward windmills line golden hills. And to the east, farmlands surround a vineyard.
The next day, we shared Stonehenge with around a dozen people. As you can see the sky, the golden hills, the windmills, and the monument made for some really fantastic pictures.
One could easily spend an hour or so walking through the gigantic stones and taking in the view. 

Who Created Maryhill Stonehenge?
While the history behind the original Stonehenge is not so clear, the story behind Maryhill Stonehenge is a bit more obvious.
This beautiful Washington monument was created by Sam Hill, a visionary, philanthropist, businessman, and builder. He built this monument in 1918 to the size and dimensions of the original Stonehenge, finally completing the project in 1929.
This Stonehenge wasn't made to be used as an astronomical calendar, even though the altar stone is fixed to the astronomical horizon, which gives it a few degrees difference from the original.
Rather, Maryhill Stonehenge is actually a war memorial dedicated to the servicemen of Klickitat County who perished in WWI. In fact, it was the first WWI memorial built in the United States.
At the time the Stonehenge in Maryhill was built, the theory behind the original Stonehenge was that it was a sacrificial spot. With that in mind, Hill built his Stonehenge as a reminder to all of the sacrifices of war. 
Veterans Memorial
North of the memorial, is the Klickitat County Veterans' Memorial, which honors those who have died since WWI.
You'll find the names of those who perished located on commemorative stones around the site of Maryhill Stonehenge, including the names of locals from the area who died in both World Wars, as well as the Korea, Afghanistan, and Vietnam wars.

Sam Hill Gravesite
While visiting Maryhill Stonehenge, be sure to walk down the bluff to Hill's grave. It's easy to miss from the top, because it appears like a utility service structure.
There is a small stone stairway to the east of the structure that turns into a path.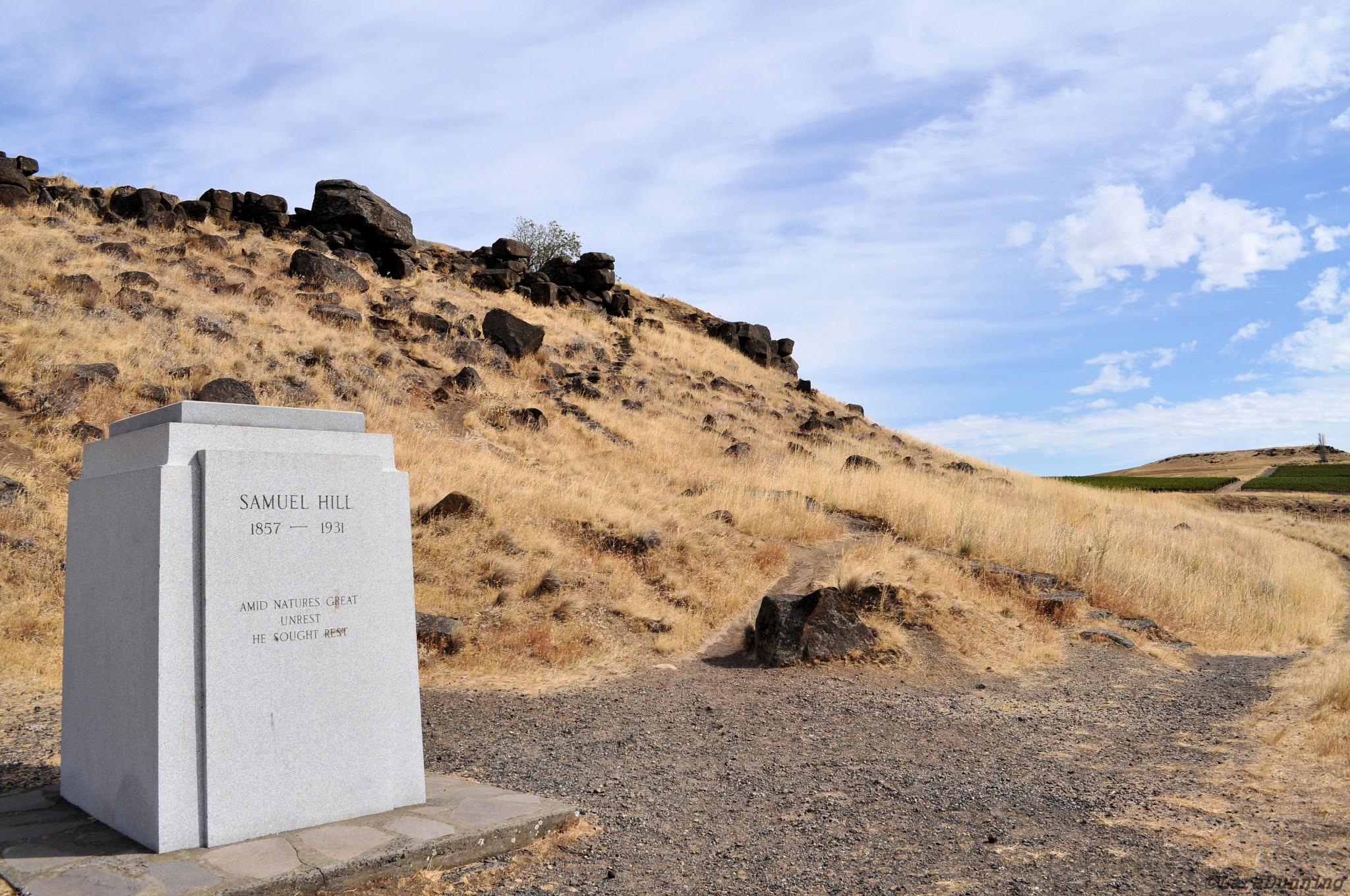 How to Get to Maryhill Stonehenge
This interesting historical treasure is located slightly north and east of Maryhill, Washington.
From US 97, turn east onto 14, and a sign will be on the south side of the road. You'll also be able to see the structure from the road, so it's hard to miss.
If you're coming from Seattle, it's 223 miles and about a 4-hour drive away, so it's better suited for a weekend getaway. Portland, Oregon, is closer, at 100 miles away and a 2.5-hour drive.
Is Maryhill Stonehenge Open?
At present, Maryhill Stonehenge is open to the public.
Other Things to Do in Maryhill
While the Stonehenge sculpture in Maryhill is one of the biggest draws to this small town in Washington, there are several other things worth doing in Maryhill that warrant more than just a cursory stopover in this town!
We've gathered a list of the best things to do in Maryhill, but we'll list a few of them here as well.