If you are unfamiliar with Orcas Island, it is one of the San Juan Islands in Washington State.
Since I live in Anacortes, the hub of the ferry to the islands, getting to and from Orcas Island is super easy.
You can make ferry reservations to go on with your car or walk on!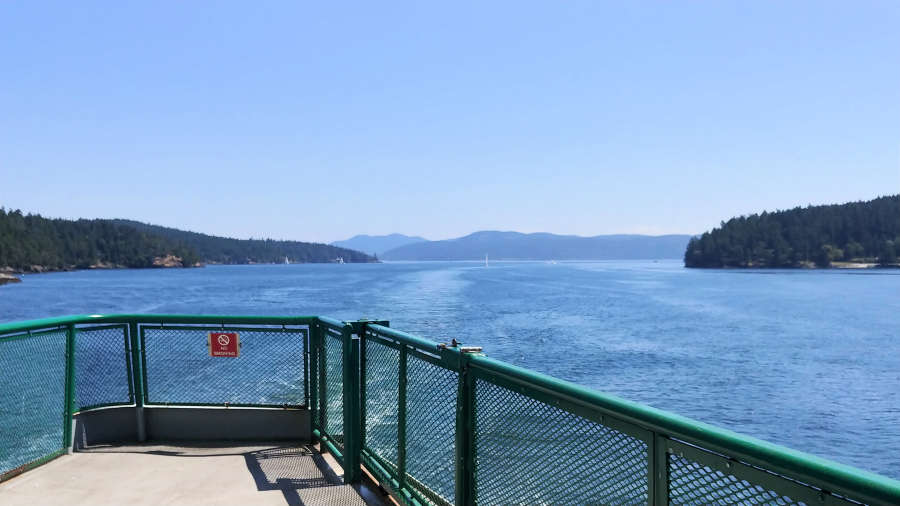 Some links in this post may be affiliate links. If you make a purchase through one of these links, we may earn a small commission at no extra cost to you. Please see our

disclosure policy

for more detail.
Where to Eat in Orcas Islands: Restaurants and Eateries You'll Love
Buck Bay Shellfish Farm
One of the best places to eat in Orcas Island is Buck Bay Shellfish Farm. Set along the end of Buck Bay, this stop is very scenic with views of the water.
There is a fish store and an outdoor picnic area where you'll sample your first foods. The staff lets you pick your own oysters and clams and then shows you how to shuck them.
They set you up with everything you need to open and eat the oysters and clams, from shucking knives, to ice, and limes and hot sauce. Halibut ceviche with chips is also on the menu as well as a tasty Albarino wine.
I liked the hands-on aspect on getting to pick your oysters and clams, learning how to shuck and then doing it yourself. I loved the halibut ceviche, and the Albarino turned out to be one of my favorite wines!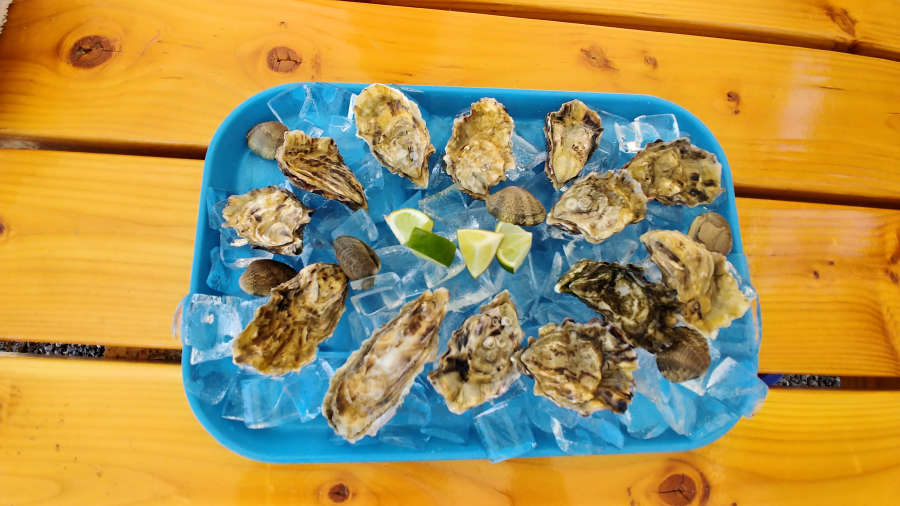 Rosario Resort & Spa
Another great place to eat in Orcas Island is Rosario Resort & Spa. The property is such a unique spot on the island and has deep Washingtonian roots.
The resort is the former home of Robert Moran, a Seattle Shipbuilder. In 1902, his company became the largest employer in Seattle when they were contracted to build the USS Nebraska.
That took its toll on Moran's health and he purchased 7,000 acres on Orcas Island and began building his island retreat. The resort has many historical features, including a Tiffany chandelier, Belgian stain-glass, and a grand library.
The library is open to the public and is a museum with artifacts and bedrooms to view. Tuesday to Saturday at 4 p.m. the resort gives a historical presentation and concert with music played on the 1913 Aeolian organ. If you are staying on the island, you'll want to make sure to return.
At the resort, guests are lead into the Moran Lounge, which is the original living room of the Moran household. It has a large fireplace, bistro tables, a bar, and water views.
I tried an assortment of olives, Marcona almonds and a Pinot Grigio from "The Orcas Project."
Girl Meets Dirt
Another great Orcas Island restaurant is Girl Meets Dirt. It has such an interesting story, and I have a feeling now that Oprah Winfrey has purchased a house on Orcas Island that more people will soon know about this company!
What's the scoop? After ten years on wall street the owner of the company, Audra Barkley, and her husband, decided to head West and recreate their lives.
They landed on Orcas Island, and Audra noticed the heirloom orchards and their fruit not being used. She started making jams, and preserves and Girl Meets Dirt was born.
This stop is all about tasting her creations and learning about the island's century-old fruit trees. If you are like me, you'll most likely return home with some jars!
Doe Bay Wine Company
If you're interested in trying some more wine, here is a great place to do so!
Here we had more tastings and some nibbles while we drank.
Taking a Food Tour on Orcas Island
Salish Sea Tour Co. is new, but the guide and owner, Cole Sisson was born and raised in Doe Bay on Orcas Island.
Like many young people, he left the place he grew up to go to college and explore the world. And, explore he did. His travels took him to Colorado, Las Vegas, Spain, Belgium, Mozambique, and so many other places. Along the way, he became a sommelier and met his wife, Stephanie.
They decided to return to Orcas Island and open Doe Bay Wine Company, a wine shop and tasting room in the small town of Eastsound. They choose their wines very carefully and often have a relationship or story about the winemakers or vineyards.
They also have special classes, events, and even a signature series of wines called "The Orcas Project."
Salish Sea Tour Co.
With a passion for food, wine, and the people that make Orcas Island a unique place to live they expanded their business and now also operate Salish Sea Tour Co.
Two tours are offered: Art, History & Local Legends, and Fresh, Fermented & Flying Fish. The history tour runs Sunday through Friday from 9 a.m. to 12 p.m. The foodie tour runs Sunday through Thursday from 1 p.m. to 4 p.m.
When you need to catch the ferry Cole will make sure you get there on time. If you are purchasing bottles, I suggest doing that before its time to go so you are all ready when the time comes. Guests on the tour receive 10% off wine purchases. If you are staying in town, you can end your tour more leisurely and dine downtown.
Other Stops on the Food Tour
All these restaurants on Orcas Island are a part of the food tour. Other stops include Ship Bay Orchard and Kathryn Taylor Chocolates. The stops might change based on the season and the food that is perfect at that time.
Click here to see available dates and book your Salish Sea Tour.