River Run Inn is a mile outside of the small town of Winthrop, Washington, and tucked along the Methow River. I've wanted to stay at River Run Inn for years, and when my sister and cousin visited, it provided the perfect opportunity. On the first leg of our journey, we went on the Diablo Lake Boat Tour and then drove over the North Cascade Mountains to spend the night in the Old West-themed town of Winthrop.
Our stay at River Run Inn did not disappoint. It has an ideal location next to the river, and you are close to downtown but far enough away that it feels like you are on a Methow Valley retreat. Its amenities, such as a large grassy yard with games, hammocks, fire pits, and an indoor pool and hot tub, encourage fun and relaxation. And, if you want to get out on the river, there is an onsite river company for tubing or kayaking. Another travel-friendly feature that makes it the perfect getaway is the choice of room styles that include rooms for couples, families, cabins, and a house that sleeps up to 13 people.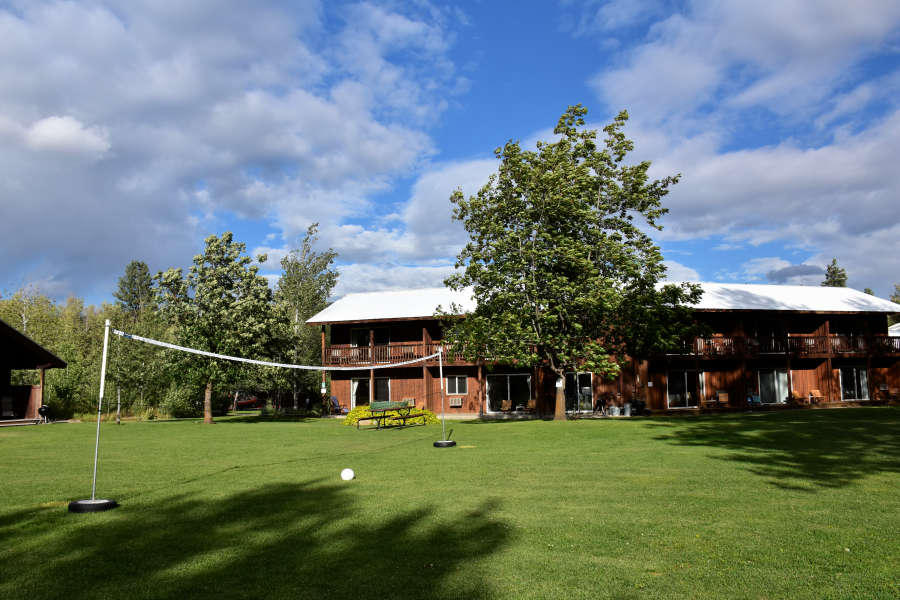 The River Run Inn offers its guests:
Guest rooms and cabins with views of the river
Guest rooms and cabins with patios or balconies
A six-bedroom house for a large group
Complimentary bicycles
Soda and water available for purchase on-site
DVD and board games
Free Wifi
Pet-friendly rooms ($35 per night)
On-site kayak and tubing rental company
One mile from shopping and dining in Winthrop
Walking distance to Lost River Winery and Methow Valley Cider House
Disclosure: You can help support my small town travels by using the affiliate links in this post. Using the link is at no additional cost to you, and provides a small commission to me to help support my blog. 
There are plenty of ways to get the local scoop. Check out hotel reviews and deals at TripAdvisor, Hotels.com, and Travelocity.

River Run Inn: Scenic Riverfront Lodging in Winthrop, Washington
Breathtaking Scenery at the River Run Inn
One of my favorite features of the inn is its location right along the Methow River. When you pull up to the inn, its proximity to the river is not apparent. But, as soon as you enter the lobby, and see the view through the sliding glass doors of the large grassy yard with the river on the other side, it becomes obvious.
After we arrived, I took a tour of the property, noting the sights and sounds, and amenities like a handful of large hammocks for lounging, fire pits for those starry nights, a volleyball court and swing sets for kids and teens.
Even though we only spent one day at River Run Inn, being surrounded by so much natural beauty really made for a relaxing experience. We saw deer, eagles, and my cousin heard an owl hooting at night.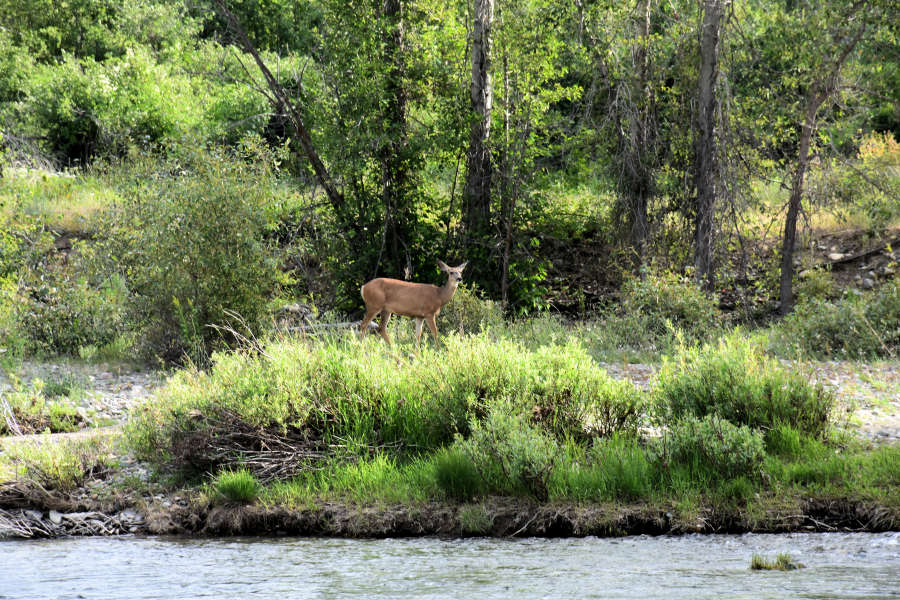 Spacious Cabins Along the Methow River
Since there were three of us, we chose to stay in a cabin which gave us a little more room to spread out. The cabins are staggered which provides more privacy between the cabins. If you are on the porch, there is additional greenery and trees between the cabins to give an extra layer.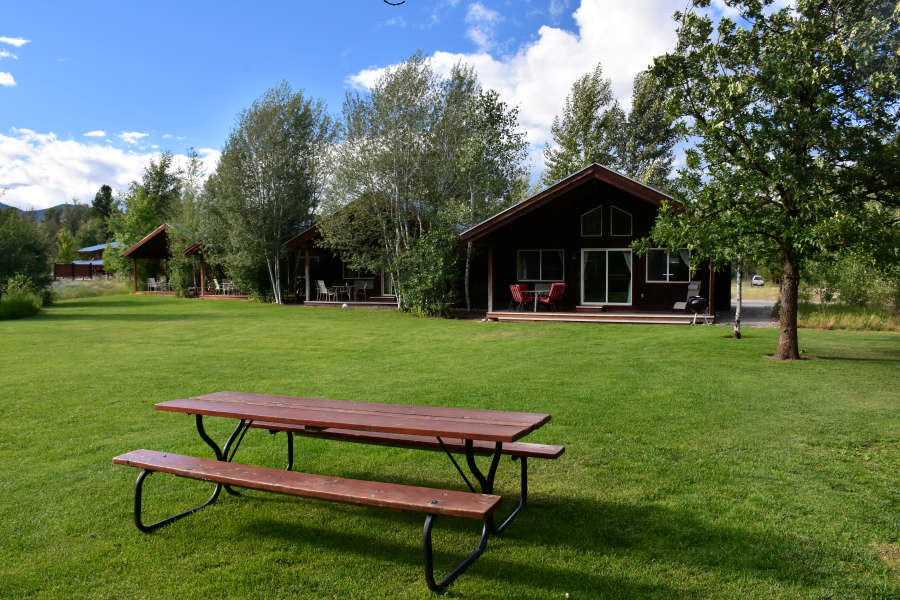 Want to know more about the area? Read Getaway to the Old West, in Winthrop, Washington.
There are a total of four cabins with three one bedroom cabins and a two bedroom cabin. Our cabin featured a bedroom with a queen-sized bed, a living room with a futon sofa, dining area with table and chairs, a porch with a grill and outdoor seating, a gas fireplace, and a full kitchen with pots, pans, and dishware.
The decor is lodge style with high wood ceilings, hand-hewn log furniture, and photos highlighting the area and artwork.
More Options – Guest Rooms and a Rental House
If a cabin is not what you had in mind, there are plenty of other options. In the lodge are standard rooms, suites, and kitchenette rooms. All have views of the river and a patio or balcony. Some of the rooms are pet-friendly (one dog only), and the fee is $35 per night. For large groups there, is a six bedroom house that sleeps up to 13 and has a full kitchen, direct access to the pool, a deck with a gas grill, and its own group picnic tables and fire pit.
Amenities You'll Love at the River Run Inn
Indoor Pool With a River View
Probably the most popular amenity at River Run Inn, especially if you are traveling with kids, is the year-round heated indoor pool and hot tub. The pool area features vaulted ceilings strung with lights, skylights for more natural light, and plenty of chairs for seating inside, and outside on the deck is more seating and river views. Unfortunately, we forgot to bring our bathing suits and didn't get to take a dip. Next time, I will remember!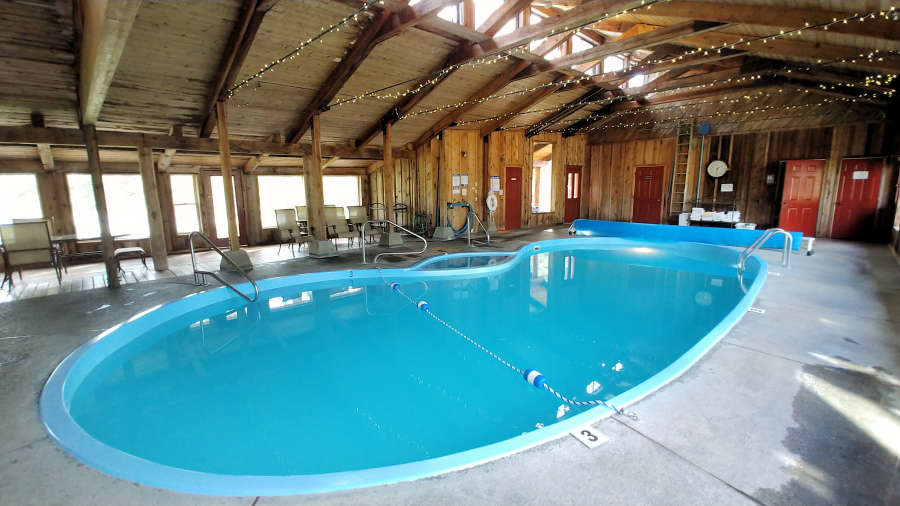 River Run Inn tip: The rental house has direct access to the pool area.
Complimentary Cruiser Bicycles for a Quick Ride to Town
River Run Inn is a fifteen-minute walk to downtown Winthrop, and a seven-minute walk to Lost River Winery, Methow Valley Cider House, and Methow Cycle & Sport which rents mountain bikes, SUPs, river tubes, fat bikes, skis, and snowshoes.
If walking isn't your thing, the drive to town is quick, or you can hop on one of their complimentary cruisers.
The Large Green Yard with Hammocks, Firepits, and Games
Other great features include a handful of oversized hammocks, communal fire pits, a horseshoe pit, a swingset, volleyball court, croquet, and a variety of toys and games for guest use. Inside the lobby are board games, puzzles, and a selection of drinks available for purchase (sodas only cost a $1 each!)
Onsite Raft and Kayak Company
If part of your getaway includes getting out on the Methow River you are in luck, for Methow River Raft + Kayak is right next to the River Run Inn!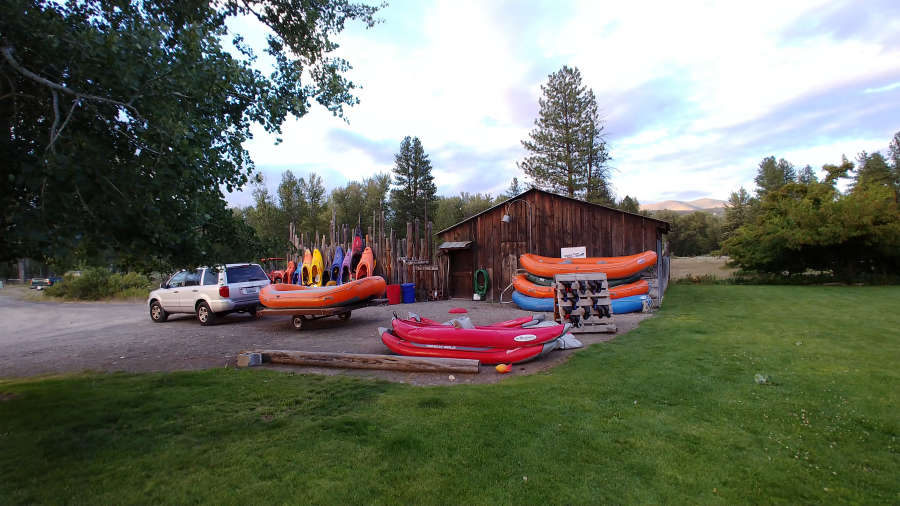 Final Thoughts
Would I stay at River Run Inn again? YES! As soon as we left, I was thinking of ways I could return with the hubs and our blue heeler Hazel. Both of them would love it. Along with comfortable rooms that all face the river, its natural setting is the highlight and made it feel more like camping than staying at a hotel.
The morning before we left we spent time on the porch enjoying a beverage, listening to the river and watching eagles soar in the skies. The only thing I would have to quibble about is the futon sofa was firm and not that comfortable. The owner did tell me she was considering alternatives. I did like the cabin-style decor of the guest rooms, particularly the patchwork quilts.
Book a Room at River Run Inn
To find out more or book a room visit the River Run Inn website.
To help support my blog, book through one of my affiliates such as TripAdvisor or Hotels.com. (Booking through one of my affiliates is at no extra charge to you, but provides me with a small commission so I can continue to #dreambigtravelsmall.)
Where else have I stayed in the Methow Valley? Read about Pine Near R.V. Park and Twisp River Suites.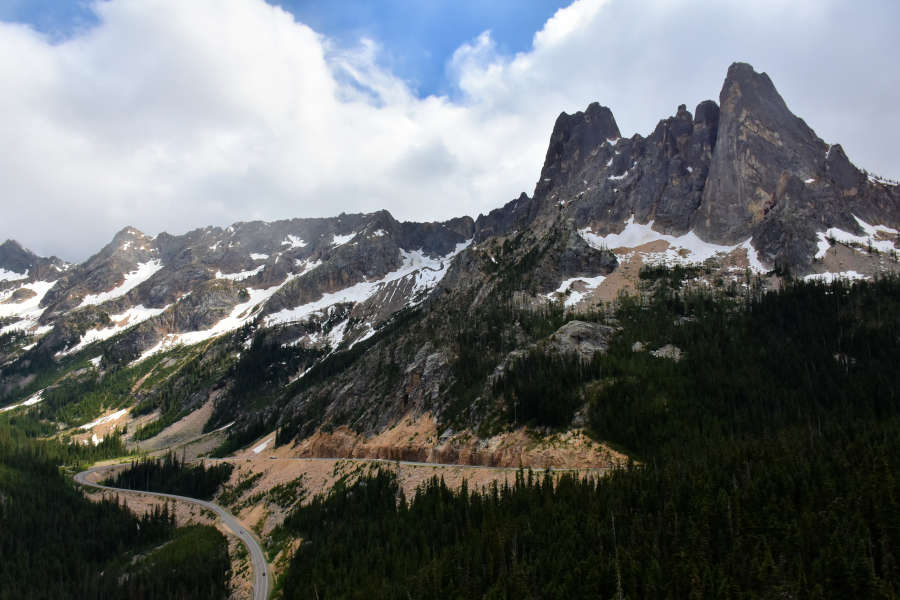 If you are driving on State Route 20 through the North Cascades, I highly recommend stopping at the Washington Pass Overlook.
Winthrop Travel Tips
Drive times: Its a 3-hour drive from Seattle, a 4-hour drive from Sea-Tac International Airport, a 6.2-hour drive from Portland International Airport, a 3.5-hour drive from Vancouver International Airport, and a 4-hour drive from Vancouver, B.C.
Scenic drives: State Route 20 in the North Cascades is a stunning scenic drive. You won't be disappointed if you choose this route. Be sure you have plenty of gas. If you need to fill up, Marblemount is the last stop for services before you enter from the west side and Mazama is the last stop on the east side. I suggest stopping at the Diablo Lake Overlook and Washington Pass Overlook (photo above).
Carless Options: While walking around Winthrop is easy to do without a car, to get there you will need a car.
Where to Dine, Where to Drink, and Things to Do
Dining: The Old Schoolhouse Brewery is one of our favorite places to eat. It has a riverside patio, and the Schoolhouse burger is really, really good. Other options I recommend are Copper Glance (creative lite fare and tapas style food) and Three Fingered Jack's Saloon (pub food). Read more about where to eat in Winthrop.
Libations: If you are a wine lover, you'll want to stop at Lost River Winery. Tastings are free, and you can buy a glass or a bottle to enjoy as well. One of my favorites is their Community Red, which you can only buy online or at this location. Next door is the Methow Valley Cider House which along with their ciders has pizza, salads, brats and grilled sandwiches. It is family friendly with games and a kids menu. In downtown, some of my favorites are the Old Schoolhouse Brewery for beer, Copper Glance for cocktails, and Three Fingered Jack's Saloon (the oldest saloon in the state). Plus there are two new locations, Sixknot Organic Hard Cider (loved their cheery cider) and Brix Wine Bar & Bottle Shop. Read more about where to drink in Winthrop.
Activities: The Shafer Museum has several buildings that house historical items from the area. You can walk up to the museum via the staircase along the main road. Within walking distance of town are two suspension bridges, the Spring Creek Bridge, and the Sateekhwa Bridge, and walking trails. Read about more things to do in Winthrop.
Want to extend your vacation? Read about seven reasons to visit Wenatchee right now.
There are plenty of ways to get the local scoop. Check out hotel reviews and deals at TripAdvisor, Hotels.com, and Travelocity.
---
As is common in the travel industry, the writer was provided with a media rate for the purpose of review. While it has not influenced this review, the writer believes in full disclosure of all potential conflicts of interest.
---