The Long Beach Peninsula in Washington State has long been the playground of Oregonians for decades, and after spending a few days exploring the peninsula, I know why.
Beautiful Long Beach hikes lead you to lighthouses perched atop windswept cliffs. Landmarks show you the footsteps of famous explorers. On the beach, you can enjoy bonfires, stroll next to the crashing waves, fly a kite, or ride a bike.
And, you can also indulge in local cuisine and seafood, and in the fall, you can even forage for mushrooms.
Whether you are planning a family, romantic or solo vacation, Long Beach has plenty of exploring options. Here are the best things to do in Long Beach, WA!

13 Things to Do in Long Beach, WA
Explore Cape Disappointment State Park.
Some links in this post may be affiliate links. If you make a purchase through one of these links, we may earn a small commission at no extra cost to you. Please see our

disclosure policy

for more detail.
Don't worry — this state park doesn't live up to it's name: it's not a disappointment at all. Visiting here is definitely the top thing to do in Long Beach, WA!
There are two scenic lighthouses in the park, North Head Lighthouse and Cape Disappointment lighthouse, both of which are beautiful.
Is it any surprise that they made our list of favorite lighthouses in Washington State?
Take a walk to North Head lighthouse (and keep an eye out for whales).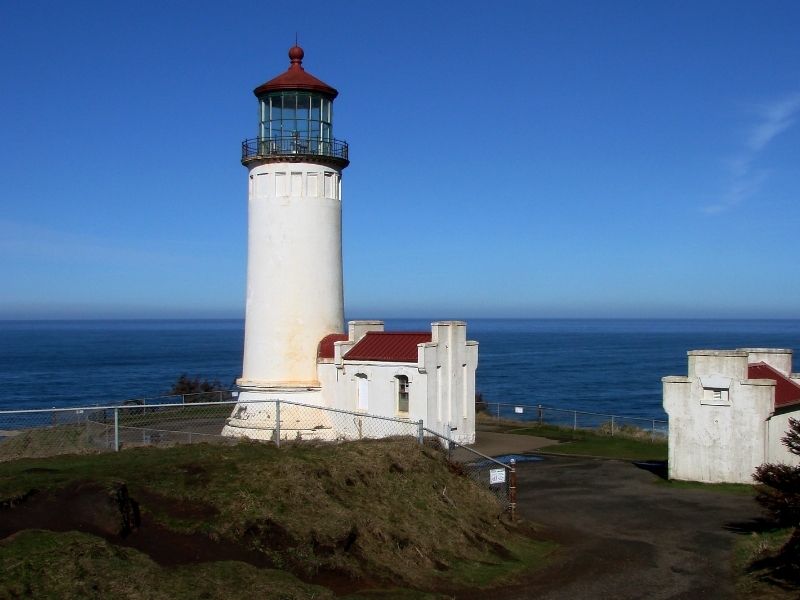 The 119-year-old lighthouse is a short walk from the parking lot, and during the summer months, the store and lighthouse are open to visitors.
But, even if you go during the winter months like we did, you'll still get to walk to and around the lighthouse.
The views of the coastline are fantastic. During the months of January and May, you might be able to spot gray whales as they migrate north!
It can be windy at the lighthouse so be sure to bring a jacket, and don't forget your camera!
Travel Tip: If you are traveling with small children I would recommend visiting North Head Lighthouse over Cape Disappointment Lighthouse for a couple of reasons. One is the path to and from the lighthouse is shorter and wider, and two, during the season they will be able to go inside the lighthouse.
Stay the night in a beautiful lighthouse.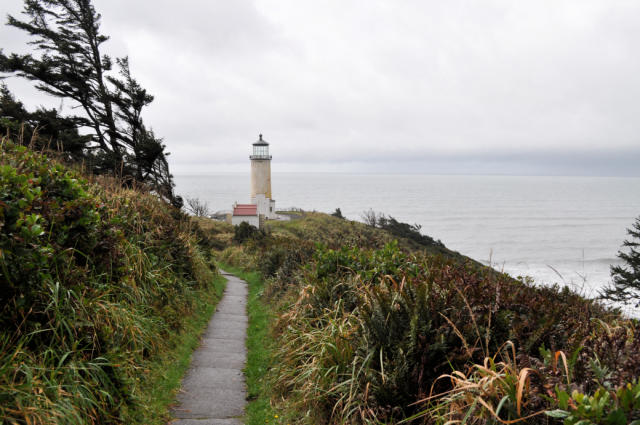 While you can camp at the campgrounds at Cape Disappointment State Park or stay at a local hotel in Long Beach, why not add an interesting flair to your visit to Long Beach, WA?
For a truly unique and one-of-a-kind Washington experience, I suggest you rent the North Head Lighthouse lighthouse keeper residences and experience what it's like firsthand to be a lighthouse keeper… minus the responsibilities!
If you're looking for bucket-list worthy things to do in Long Beach, WA, this is it!
Take a longer hike to the Cape Disappointment lighthouse.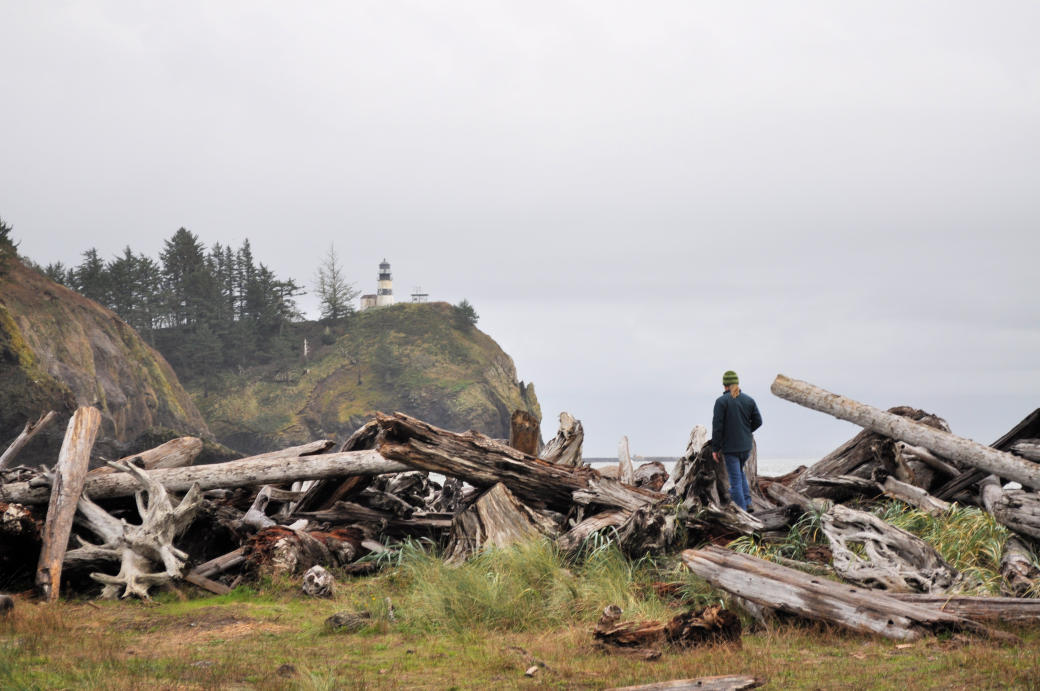 The trail to Cape Disappointment lighthouse is around 3.4-miles roundtrip with an elevation gain of 160 feet. It's not a particularly hard hike, but it's something to be mindful of if you are traveling as a family.
Once you arrive, you can walk around the lighthouse, but you cannot go inside as it is an active lighthouse, which means you might see the Coast Guard hard at work!
The trail to the lighthouse is rugged, so it's important to wear appropriate shoes.
During our stay, we were advised not to hike the trail as it might be slippery and muddy from the recent storms. Instead, we took in the view from Waikiki Beach. We were not disappointed with the alternative!
Travel Tip: During the summer, the park hosts summer concerts on Saturdays at 7 p.m. on Waikiki Beach!
Learn about the Graveyard of the Pacific.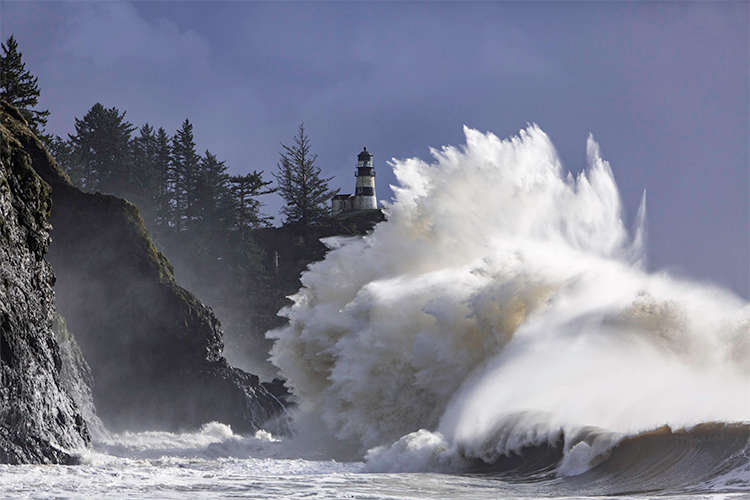 The stretch of coast between Oregon and Washington is known as the Graveyard of the Pacific, and over 2,000 ships and hundreds of lives have been lost there.
If you want to read more about this area, I suggest The Graveyard of the Pacific: Shipwreck Tales from the Depths of History.
It's a great read while you're visiting Long Beach — an afternoon cuddled up in your accommodation, whether its a lighthouse residence or a modern hotel, with this book would be a fantastic way to spend a day in Long Beach.
Admire the world's longest beach.
The beach is the big attraction at Long Beach… and the name is no joke!
It stretches for over 30 miles and is the longest beach in the U.S.
While this isn't a beach you go to for swimming because of the strong currents, there are plenty of ways to have fun on the beach! Cool things to do on Long Beach include:
Beach Fires (Some hotels, like Adrift Hotel and Spa, offer a bonfire package that includes s'mores and a bottle of red wine)
Beach Driving (I am not joking! As long as your vehicle has 4-wheel-drive you can drive it onto the beach! Maximum speed limit is 25 mph)
Bike Riding (There is an 8.5-mile paved trail along the beach, and you can also ride your bike on the beach.)
Sunbathing
Walking/Running
Dog-walking/running
Picnics and Play
Some hotels, like Adrift Hotel and Spa, offer complimentary bikes. Bikes, as well as mopeds and surreys, can be rented at Long Beach Mopeds, and Skookum Surf Co. rents bikes, skimboards, and surf equipment.
Check out the Lewis and Clark Interpretive Center.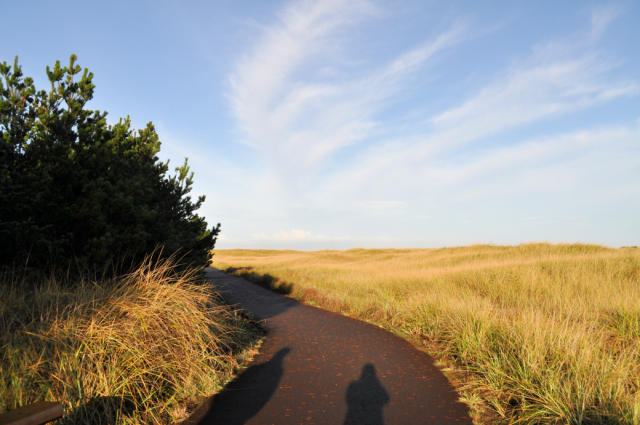 If you a history lover like I am, there is no lack of historic spots in Long Beach, WA and neighboring Oregon.
If you are specifically a Lewis & Clark Expedition fan, you'll be in seventh heaven and could build an entire Long Beach itinerary around these famous explorers!
The Lewis and Clark Interpretive Center in Cape Disappointment State Park is a must.
The center uses artifacts, journals, historic maps, images and more to give visitors an in-depth view into this historic expedition and their arrival in the Pacific Northwest.
Check out Lewis and Clark's view at McKenzie Head.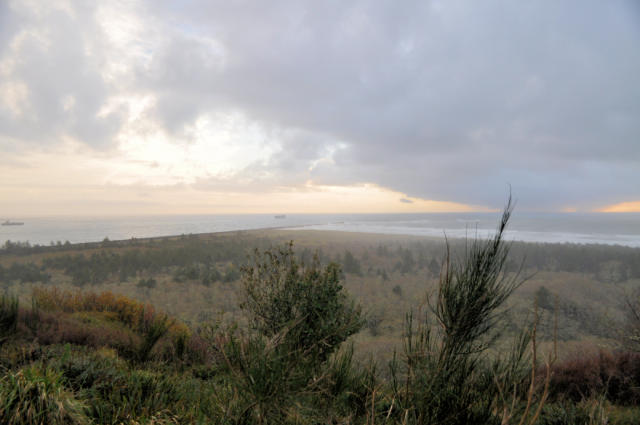 Clark and his crew set up a home base camp at McKenzie Head while they explored up the peninsula into the Long Beach area.
The trail to the summit is about 0.5 miles long, so it's not too tough!
At the base of the trail near the parking area, there is a trail marker and a monument.
Take a snap of Clark's Tree.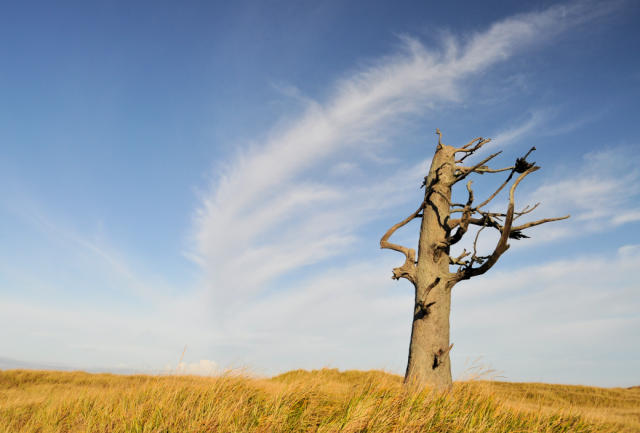 The tree is a bronze replica of the original pine tree Clark carved his name and date into.
Taking a photo with it is a history geek must while in Long Beach, WA!
Check out the Gray Whale Skeleton.
During one of their visits, Clark and his party came upon a gray whale skeleton.
To mark this spot is a gray whale sculpture and partial skeleton which still remains there to this day!
Head across the Oregon border to the Lewis and Clark National Historical Park.
The historical park has a replica of Fort Clatsop. During the summer season, they have throwback activities such as candle making, hide tanning, and flintlock gun shooting demonstrations that give visitors an idea of what their life was like.
You can take a cell phone guided audio tour, join a ranger lead program and explore the areas hiking and canoe trails.
Check out the quirky World Kite Museum.
Besides the Lewis and Clark Interpretive Center, there are a handful of other museums to visit if you're looking for some cultural things to do in Long Beach.
If you love kites or want to buy a kite to fly on the beach, I suggest visiting the World Kite Museum.
They have fascinating exhibits about kites that including military kites, an array of international kites and kite buggies!
Bring the kids to Marsh's Free Museum.
Another fun museum is Marsh's Free Museum.
It's a curiosity/gift shop with historical oddities. Be sure to weave around to the back to see Jake the Alligator Man!
There is also the Cranberry Museum and in neighboring Ilwaco the Columbia Pacific Heritage Museum.
Dine your way through the local food scene.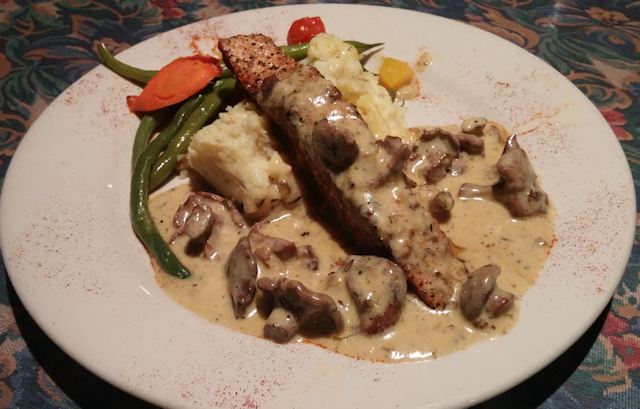 Long Beach has a great selection of restaurants that highlight local seafood and produce.
Some of the foodie highlights of our stay were fried razor clams, wild salmon with wild mushrooms, sauteed king boletes, and locally brewed craft beer.
There is family-friendly dining and fine dining and everything in between! You can read more about our dining experiences which took us to a historic inn and railroad depot here.
Try your hand at foraging for mushrooms.
If you are a mushroom lover, you'll want to plan your getaway to Long Beach during the Wild Mushroom Celebration, which takes place from October 1 to November 15.
During the six weeks, restaurants will have menu specials with locally foraged mushrooms, some hotels will have lodging specials, and you can attend expert lead mushroom foraging hikes in Long Beach and Oregon.
Read more about how to celebrate mushroom season here.
Where to Stay in Long Beach, WA
Adrift Hotel + Spa is the perfect dog-friendly hotel in Long Beach — and it's great for non-dog owners, as well!
Adrift Hotel + Spa is steps away from the longest beach in the U.S. As a pet owner, this means, there is no packing in and out of the car and driving to the beach. All you have to do is walk out of the hotel, through the parking lot, and head to the beach. The easy access to the beach makes beach time fun and stress-free.
One of the things I love about Long Beach, Washington is that while there is a leash law if your dog is "controlled and well-behaved" they can be on the beach leash-free!
All of the rooms at the Adrift Hotel + Spa are dog-friendly, and the industrial chic design is appealing to their human companions. Rooms have recycled decor, many views of the beach, a microwave, mini-fridge, memory foam mattress, and flooring that is paw and nail friendly.
In Fact, the hotel loves dogs so much that it has an official canine ambassador. Wilbur greets canine guests and their humans, takes walks around the property to make sure everything is in order and spends lots of time playing on the beach with his humans and other furry friends!
Some rooms have carpet sections, and if that worries you, request a carpet free room. If you want to dine in your room, there is room service. Or you can choose to dine in the bar or restaurant, but keep in mind, dogs are not allowed in that part of the hotel.
Overall, the hotel has a fun and hip vibe, the bar and restaurant have the best view in town, and there is a new on-site distillery that makes gin, white whiskey, vodka and cranberry liqueur.
Families with kids and other travelers will also find the dog-friendly hotel appealing for its complimentary bikes, game room, library and outdoor fire pit.
Pin This Guide to Things to Do in Long Beach, WA