Located right on Vancouver Island's beautiful west coast, there are so many wonderful things to do in Tofino!
After exploring Tofino for a couple of days, this small surf-loving town completely won me over with its laid-back vibe, natural beauty, fantastic food scene, unique experiences, its wide range of accommodations, and its proximity to Pacific Rim National Park.
If you are looking for a cool town to visit on Vancouver Island, here are some of my must-do Tofino activities for the perfect getaway.
Best Things to Do in Tofino, BC
Enjoy the local beers.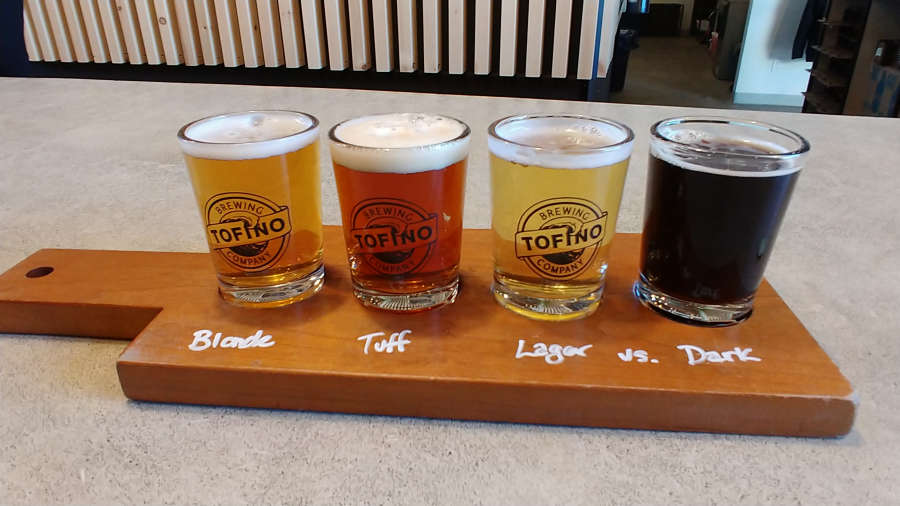 Some links in this post may be affiliate links. If you make a purchase through one of these links, we may earn a small commission at no extra cost to you. Please see our

disclosure policy

for more detail.
One of the best things to do in Tofino for beer lovers is check out the local brewery. Can't decide what kind of beer you want? Try a sampler of beers at the Tofino Brewing Company.
The scene is lively with a mix of ages waltzing through the door. Those that don't take a seat have their growler in hand and get it topped off with their favorite brew to enjoy later at a beach bonfire!
Watch the surfers.
I met many people on my trip to Tofino, including a Canadian fellow who regularly visits Tofino to surf. Yes, SURF!
All that matters is the waves, and being exposed to the open ocean, they get a lot.
I've already told you that one of the top reasons people come to Tofino is to surf. But what I didn't tell you is that Tofino's surf culture is mostly dominated by women!
The surfer school Surf Sisters is owned and run by women, and is the biggest surf school in the world with all female instructors. They even started a women's surf competition called Queen of the Peak.
The school teaches men and women to surf, so if surfing is on your bucket list, sign up for a lesson with the Surf Sisters.
Storm watch in the winter.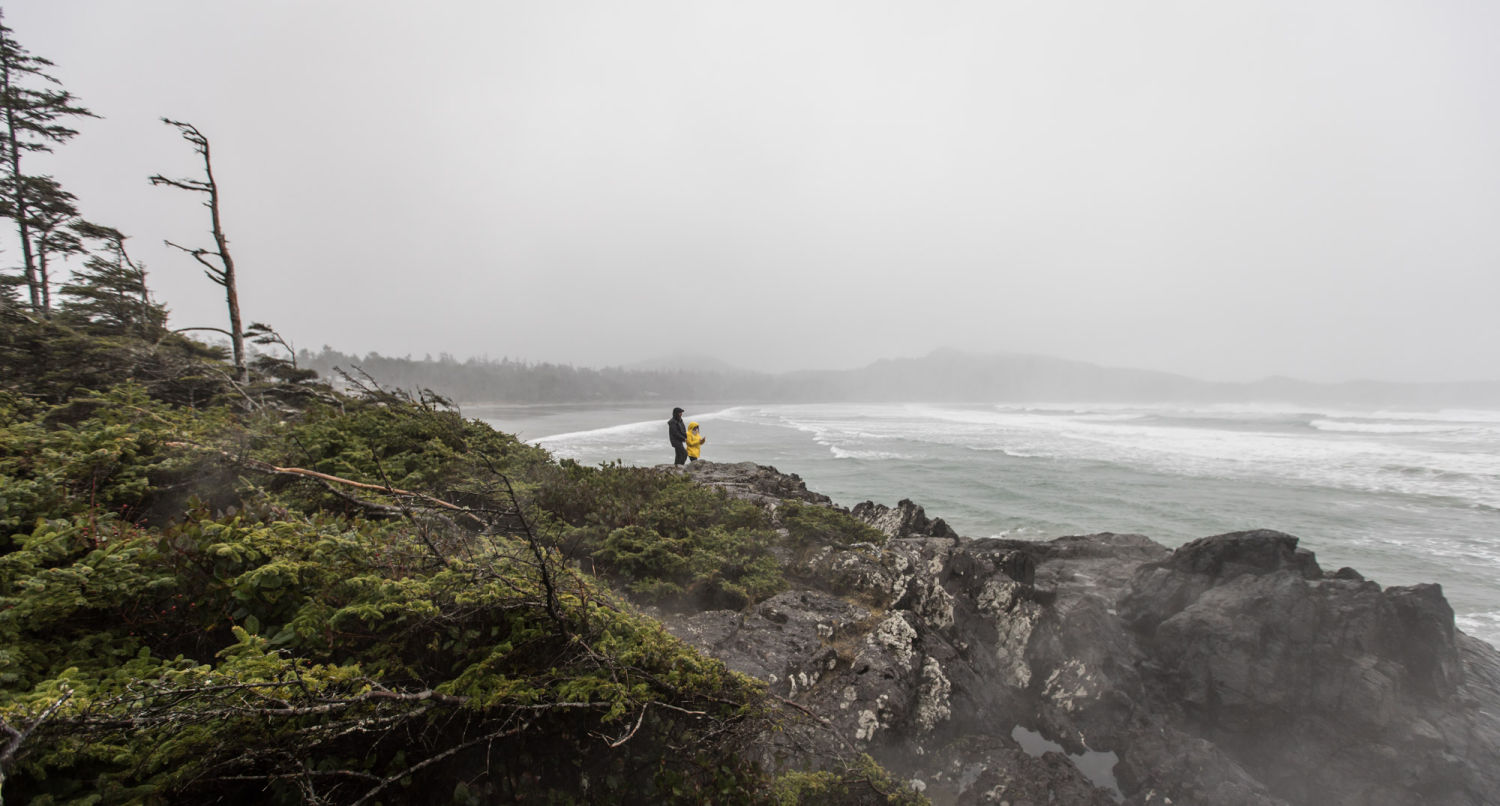 In fact, there is so much wave action that Tofino is also known for its winter storms!
People fly in from all over the world to see the intensity of Mother Nature and stay in a hotel specifically to storm watch in Tofino. Actually, that is why my travels took me here!
It's becoming more and more popular — in fact, I was told by several locals the winter "offseason" is becoming nonexistent because so many people come to storm watch!
If you go during this time of year, many of the accommodations above are on the beach with beach access. The Pacific Sands Beach Resort and the Wickaninnish Inn are excellent choices as their rooms take in the views of the storm, and they have storm-watching packages.
Try local favorite places to eat.
You do not want to be on a diet when visiting Tofino for it has an amazing culinary scene that highlights locally sourced ingredients and creative dishes by talented chefs.
During my visit, I got to sample a wide range of eateries, but not all of them. I need to go back!
Here are my recommendations:
After chatting with some locals at the brewery, I got the intel on some of the lesser-known best places to eat that I've added to my list for my next trip to Tofino.
For breakfast, try Jamie's Restaurant & Lounge for breakfast, and for lunch or a casual dinner, head to Sea Monster Noodle Bar for a heaping bowl of noodles.
Check out the Trans-Canada Highway sign at the edge of the continent.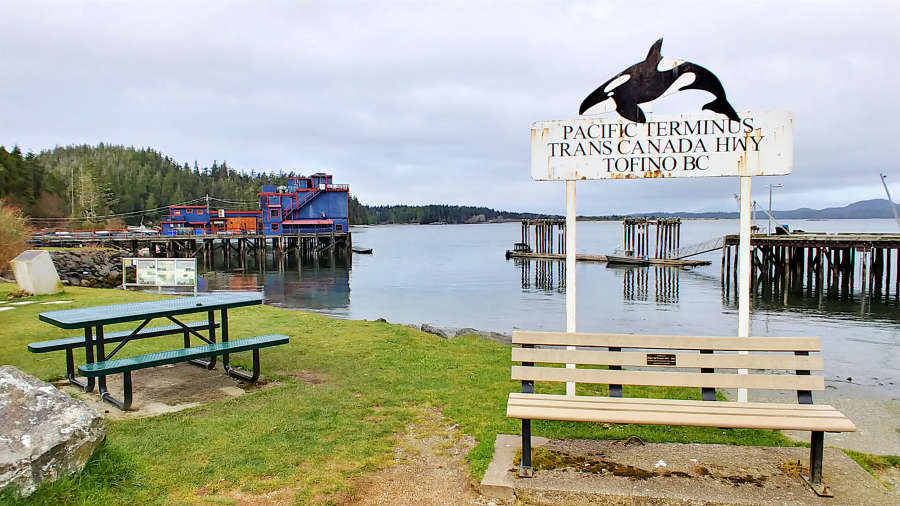 Near the pier, there is a sign that marks the end of the Trans Canada Highway.
It's a bit bizarre to see a highway ending at the end of the continent — making it a can't miss thing to do in Tofino for lovers of the obscure and absurd!
Take in a glorious sunset.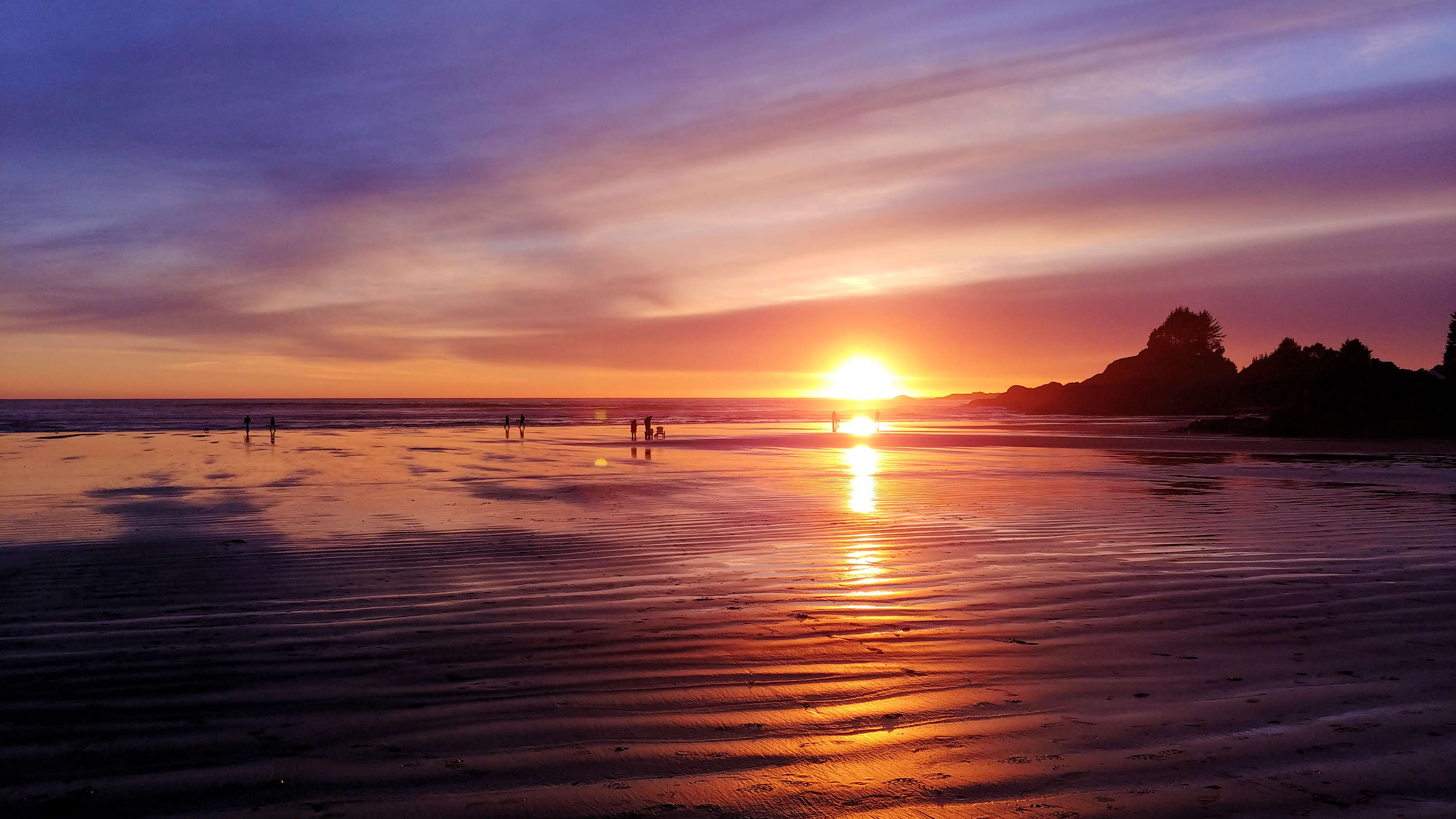 If you prefer sunsets over storms, Tofino has some glorious sunsets you can enjoy it while strolling along one of the many beaches.
A favorite local place to watch the sunset is Pettinger Point (which many locals still call Sunset Point).
The trail is right next to Pacific Sands Resort and is open to the public.
Hike in the Pacific Rim National Park Reserve.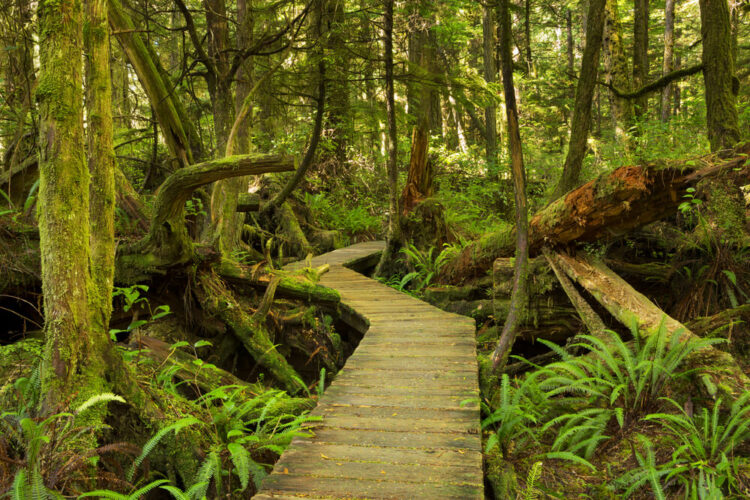 I'm a hiker, and wherever I go, I like to hit the trails. That is easy to do in Tofino for it is right next to Pacific Rim National Park Reserve, and there are a couple of trails in town!
Personally, I preferred the trails at the park, which is known for its wild West Coast Trail. A favorite beach is Long Beach and after going there myself I have to agree it is stunning!
There are short and long trails, and if you want to explore this area stop by the park office or the Tofino tourism office (which is right on your way into town).
Both sell park passes and have maps that show the trails. They can also help you pick out the best hikes based on skill, age, and time.
Tip: Keep in mind this area is wild and you might see or encounter bears and wolves.
Soak in natural hot springs.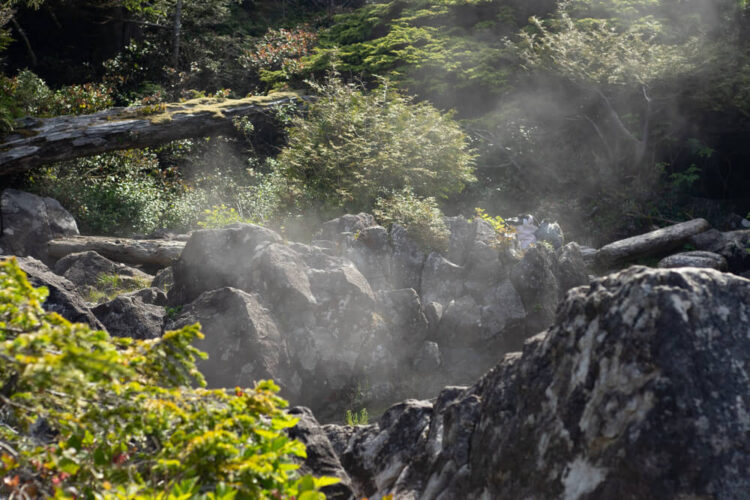 If surfing isn't high on your list of things to do in Tofino, what about soaking in natural hot springs?
I first learned about Hot Springs Cove several years ago, knowing that it is one of the must-stop places while cruising through Clayoquot Sound.
During my visit, Jamie's Whaling Station and Adventures Centres hosted my trip to Hot Springs Cove.
The trip is around 6 hours total and includes a ride to the springs, a 45-minute hike to the springs, a couple of hours to enjoy a soak, and then the hike back to the boat for the ride back to Tofino.
The springs are not in a circular pool pattern but lie within a rocky crevice so it can be a little precarious getting to the water. You'll want to bring a snack, water, and wear sturdy water shoes like Tevas.
 If you take your cell phone, you'll want to consider a waterproof phone pouch.
Tip: In the winter the springs were in the shade and no sunscreen was needed. Not sure if the sun pattern changes in the warmer months. I could see bug spray being handy for hike to and from the springs in the summer.
Where to Stay in Tofino
I had the pleasure of staying in one of the beach houses at the Pacific Sands Beach Resort right on Cox Bay Beach. I could walk right out my front door, walk around the house and be right on the sand!
The beach houses are gorgeous and spacious and come with a full kitchen, dining area, seating area, patio, a master bedroom with a bathroom and soaking tub and another bedroom that sleeps four with its own bathroom.
All windows and the patio take in the views of the Cox Beach Bay and the surfers that flock here.
One could easily spend the day just enjoying the view. Beach houses are a great choice for families or a small group as there is plenty of room with the downstairs area and upstairs living quarters.
They also have a wide range of suites with fully-equipped kitchens for couples or smaller groups. If you want to hear the surf, all you have to do is open a window or door!
Pacific Sands Beach Resort also has lots of onsite amenities like complimentary tea, coffee and hot chocolate, additional bakeware and appliances upon request, DVD library rental, childcare services, beach and water toy rentals, Surf Sisters Surf School, bike rentals, Surfside Grill, and outdoor gas and wood firepits.
You can book directly through Pacific Sands Beach Resorts or use one of my affiliate links such as TripAdvisor, Hotels.com, and Travelocity which is at no additional cost to you, and a small percentage goes to me to help support my blog.
More Beachfront Accommodations
I also spent a couple of hours touring around the island and looking at other accommodations. Here are some other options I liked:
How to Get to Tofino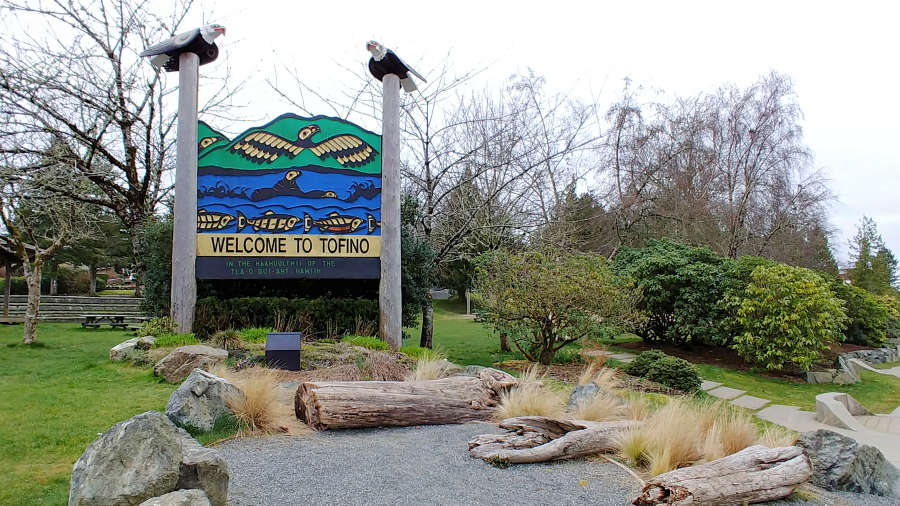 You'll definitely want a car during your Tofino adventure, and I would also recommend including a trip or stay in the neighboring town of Ucluelet.
It is quite a trek to get to the west coast of Vancouver Island, and the journey takes you through mountains and Provincial Parks. If you are flying into Victoria International Airport, rent a car there.
 You will also want to check the tire and change requirements for the season you are traveling. Usually, from October to April, you are required to have snow tires to drive through a small section of the mountains.
Verify with your car rental company that the vehicle has snow tires and not just all weather tires. You can read more about this requirement here.
If you are driving from Washington State, you can catch the Black Ball Ferry Line from Port Angeles. It is a 90-minute ride and once you get to Victoria, the drive to Tofino takes around 4.5-hours.
You can also drive north on I-5, cross the Canadian border, and catch the ferry at Tsawwassen. The ride is 2 hours, and when you get to Nanaimo the drive to Tofino is 3 hours.
Tip: If you need to get gas, Port Alberni is the last major town with services before you head over the mountains.
How did I get there? I chose to go via the Port Angeles/Black Ball Ferry route and stayed at a cheap motel close to the ferry as I had to get up early the next morning for the first ferry. The Flagstone Motel was very affordable ($50 in March), and surprisingly the bed was very comfortable, which can be iffy in a cheap motel stay.