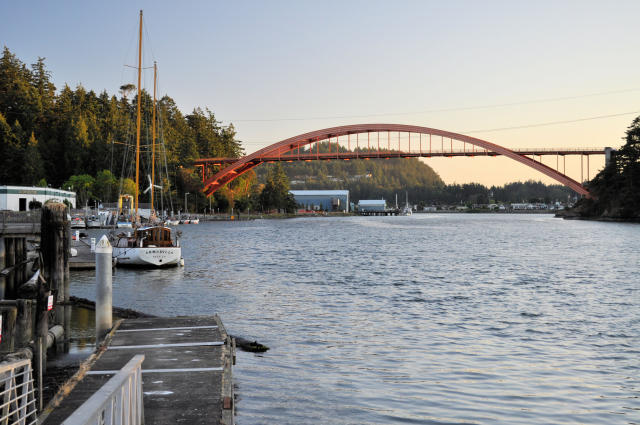 This winter I spent two days exploring La Conner, WA. For a small town of around 800 residents, I was surprised at how much the town has to offer visitors. With three museums, a plethora of culinary spots, wine tastings, boutique shops, art galleries, and strolling along the waterfront there is plenty to keep you busy. There are also inns and B&B's, including a channel-side lodge. Another thing I enjoyed about La Conner is that almost everything is within walking distance of downtown and each other, which makes exploring by foot a pleasure. If you are driving from Seattle, it is a 1.15-hour drive, and from Vancouver, BC a 1.30-hour drive.
Tip: If you are a spring flower fan, I recommend visiting La Conner in March for the daffodil fields or in April for the Skagit Valley Tulip Festival.
Disclosure: You can help support my small town travels by using the affiliate links in this post.
There are plenty of ways to get the local scoop. Check out hotel reviews and hotel deals at TripAdvisor.
Three Reasons to Love La Conner, WA
1. Inns, Lodges, and B&Bs
For such a small town there are surprisingly plenty of places to stay. During my visit, I stayed at the La Conner Channel Lodge, which is the only accommodation on the channel (I'll be posting a review of this soon). I also toured the La Conner Country Inn and The Heron Inn & Day Spa. I highly recommend the La Conner Channel Lodge, especially if you want to be next to the water. The rooms have balconies, which take in the channel view and come with complimentary wine tastings at Hellam's Vineyard. I think this lodging is ideal for couples or singles needing some "quality down time."
The La Conner Country Inn has bigger rooms and is pet-friendly, so if you are traveling with children or pets, this is a great option. It is also only a block away from the main street. The Heron Inn is an 8-minute walk from downtown, and it is also pet-friendly. While a few of the rooms accommodate four people, this location has more of a getaway feel, and thus I think it would be great for a couple or singles. The inn also has an onsite spa, and during my visit, I had a hosted massage. It was the best massage I've had in a long time, and I highly recommend booking an appointment during your stay.
2. Art, Galleries, Museums, and Shops
If you are an art or history lover, or a shopper, you will not be bored in La Conner. It truly has a little something for everyone. There are three museums:
Museum of Northwest Art (free)
Pacific Northwest Quilt & Fiber Arts Museum ($7 adults, $5 seniors & students, 12 and under free)
Skagit County Historical Museum ($5 adults, $4 seniors and children 6-12, families $10)
During my stay, I visited the first three museums, and each offers a different glimpse into Northwest art and the history of the area.
Museum of Northwest Art
The Museum of Northwest Art (MONA) is the most budget-friendly as it is free (they gladly accept donations). The art focuses on the "Northwest School Art" movement and its influence on NW artists. It has both rotating and permanent collections, and the curators strive to showcase pieces of art that people can connect too. Give yourself at least an hour.
Pacific Northwest Quilt & Fiber Arts Museum
Not being particularly into quilting or fiber arts, I was surprised at how much I enjoyed the Pacific Northwest Quilt & Fiber Arts Museum. A big part of that had to do with its location inside the Gaches Mansion, which is a Tudor-style Victorian house built in 1891. The house has many of its original touches like old growth Douglas fir floors and the original Italian-made ceramic tiles around each fireplace. And, on the third-floor turret is an amazing mural. The other part had to do with the exhibits, which were both beautiful and interesting. One was called The Nature of Place and the quilt work detailed the beauty of Denali, and the other was quilts with poetry. Needless to say, the medium is more than something you put on your bed. The museum is the most expensive in town, so if you have budget constraints review their current exhibits on their website. After seeing it myself, I think you might be surprised at how powerful the art form can be. Give yourself 45 minutes to an hour.
Skagit County Historical Museum
I'm a big-time history lover, so stopping at the Skagit County Historical Museum is a no brainer. This museum is packed to the gills with historical artifacts, life-size dioramas, lots of information about the area's history and culture, and has both permanent and rotating exhibits. As in most history museums, one could spend a good chunk of the day reading and looking at all the items. To not go into information overload I'd suggest spending at least 1.5 to 2-hours. Some of the things I enjoyed was the map of the lost cities of Skagit County and learning about the history of how the ditches were dug to create the farmlands we see today.
Sidewalk Art and Shops
If you'd rather spend time strolling through town, there is plenty of sidewalk art and boutique shops. There are also plenty of places to take in the views of the Swinomish Channel or garden courtyards with fountains and statues. And, if you want to walk on a huge piece of functional art, you can walk across the Rainbow Bridge, which on a clear day has views of Mt. Baker.
 Get up to 25% off with Budget on Expedia!
Search Here for Hotels.com Best Hotel Deals!
3. The Food Scene
La Conner is one of my favorite foodie towns. Why? They have a brewery, wine tasting rooms, and a great selection of restaurants that have a broad range of choices. If you want BBQ or wood-fired pizza, they have it. If you want Polish, Mexican, or Thai food, they have it. If you want seafood and locally grown and grazed dishes, they have it. Honestly, it's hard to make a wrong choice. There are also a handful of restaurants that have views of the channel, and during the summer the outdoor patios are prime spots to take full advantage of the sunshine and view. I've visited La Conner several times over the years, and amazingly I haven't eaten at every restaurant. Here are some of my favorites.
Nell Thorn Waterfront Bistro & Bar
This one of my favorite restaurants and it's rare to see it not busy. If you are visiting in the summer (day or weekend) or a winter weekend, be sure to make reservations. In the summer the patio is the place to be. If you are more of a wing it type of traveler, their bar area, which is very cozy, is first-come-first-serve, and you can often find a spot.
Oyster & Thistle Restaurant & Pub
This year I finally made it to this fabulous restaurant, and for me, it is up there with Nell Thorn. If you are in the mood for casual dining, you'll want to dine in their English-style pub on the main level. For more formal dining, dine upstairs.
Tip: If you stay at La Conner Channel Lodge or La Conner Country Inn room service is from they Oyster & Thistle.
La Conner Brewing Co.
Beer and pizza are always a favorite when traveling, and this brewpub is the perfect spot for both. It can be busy, so be prepared. If you are not a pizza person, but the rest of the group is, I suggest the fish tacos. In the summer they also have outdoor seating.
Whitey's BBQ
On my visit, La Conner's newest BBQ restaurant hosted my lunch, and I can now say I have been converted to the St. Louis Style ribs. If you are not sure what to try, order the sampler platter. It is huge, so you'll most likely end up with leftovers. There is also an outside patio area, and the owner said this summer it would be open for seating.
There are lots of other restaurants in La Conner like Calico Cupboard, La Conner Seafood & Primerib (which has a good fish taco), Seeds Bistro & Bar, Santo Coyote, La Conner Thai Garden, and Amelia's Kitchen & Stage. Most of these I've yet to try. For wine tasting, there is Hellam's Vineyard Wine Shop & Wine Bar, La Conner Sips Wine Bar & Bottle Shop and Silver Bell Winery.
For more information visit Love La Conner.
~
There are plenty of ways to see deals and get the local scoop.