When you go to a new destination do you Google "trail walking near me" on your phone? If you do this while visiting the small town of Anacortes, Washington the search will find over a dozen trail options. But, the majority of trails on Fidalgo Island are for hikers, not walkers.
So which trails should you take if you want a flat and paved trail or an easy walking trail for steps counting? In this post, I will cover the three main walking trails in Anacortes, the Tommy Thompson Trail, Guemes Island Trail, and Rotary Park. Plus, include information about three additional trail walking options.
Discover more the area in the Anacortes travel guide.
Disclosure: You can help support my small town travels by using the affiliate links in this post. Using the link is at no additional cost to you, and provides a small commission to me to help support my blog.







  


  Some links in this post may be affiliate links. If you make a purchase through one of these links, we may earn a small commission at no extra cost to you. Please see our 

 disclosure policy

 for more detail.
  






Best Walking Trails in Anacortes
Tommy Thompson Trail
The 3.3 miles (one way) paved Tommy Thompson Trail begins at the Port of Anacortes, and skirts along Fidalgo Bay following an old railroad route. In total, the trail is 6.6 miles round trip and has an elevation gain of 25 feet.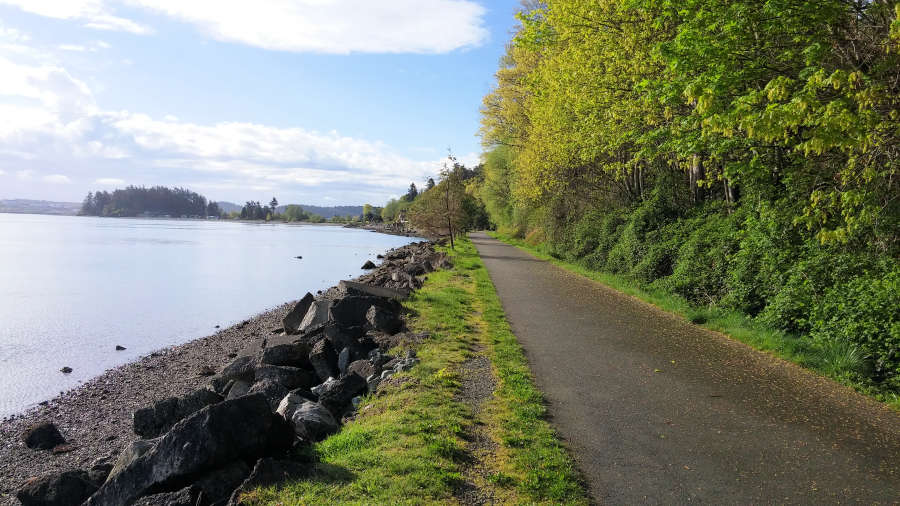 Travel tip: The trail is east facing and receives lots of morning and mid-afternoon sun. On sunny days, you'll want a hat and sunscreen.
For most of the trail, you'll see views of Fidalgo Bay and the Cascade Mountains, including Mount Baker on a clear day, and the refineries. Some of the highlights are crossing over a 2000-foot railroad trestle and the beaches tucked along the trail.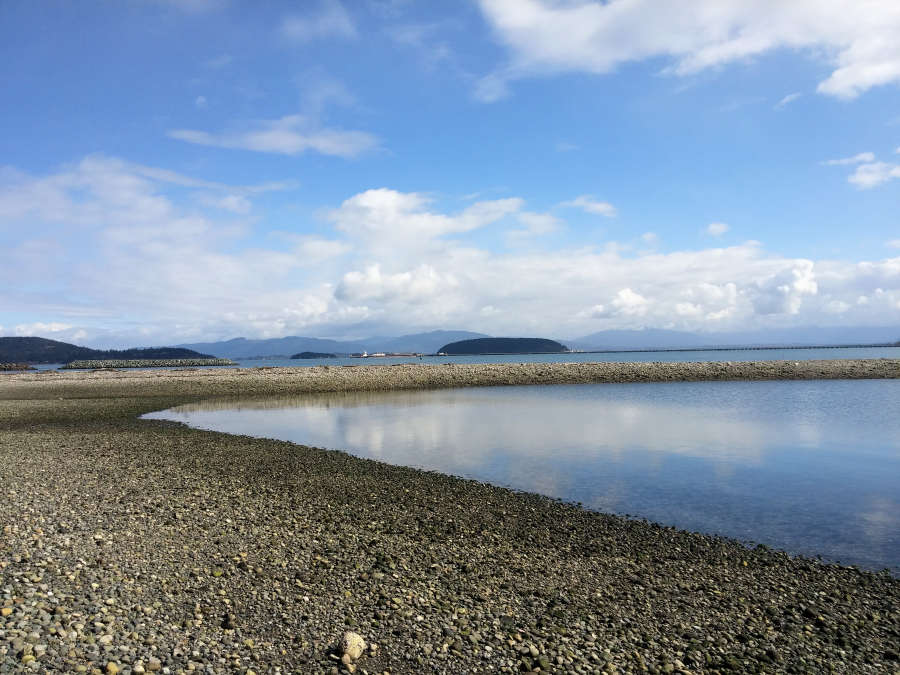 This trail is very popular, and you'll see runners, walkers, bike riders as well as families and dog walkers on the trail year-round.
Travel tip: Keep your eye out for great blue herons, harbor seals, migratory waterfowl, and river otters.
Along the route are interpretive displays, murals, sculptures, and a totem pole at the RV Park. If you need a break or want to relax and enjoy the scenery, there are benches along the route.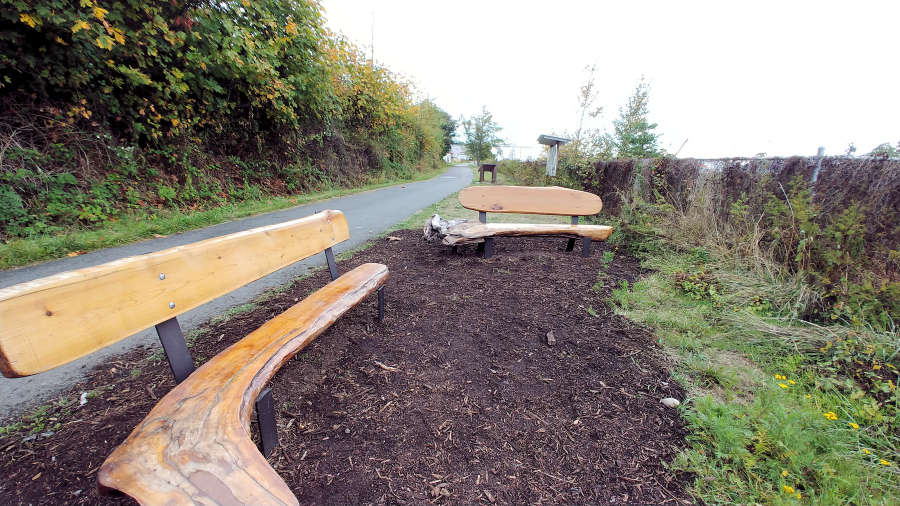 There are several access points for the Tommy Thompson trail.
11th St. and Q Ave. (Across from the Safeway)
22nd St. and Q Ave. (small parking lot with a restroom)
30th St. near T Ave. (small parking lot with a restroom)
34 St. near V Ave. (street parking, and one of the most popular places to start the trail)
Click to find out more about the Tommy Thompson Trail on Washington Trails Association.
Guemes Channel Trail
The Guemes Channel Trail also follows the old railroad route, and the plan is to connect to downtown Anacortes and the Tommy Thompson Trail, and the other direction to Washington Park. You can read more about that here.
The trail is around 2 miles round trip and has views of Guemes Channel, Guemes Island, Cypress Island, and the Washington State ferry. It is also north facing, with some beach at low tide and partial shaded.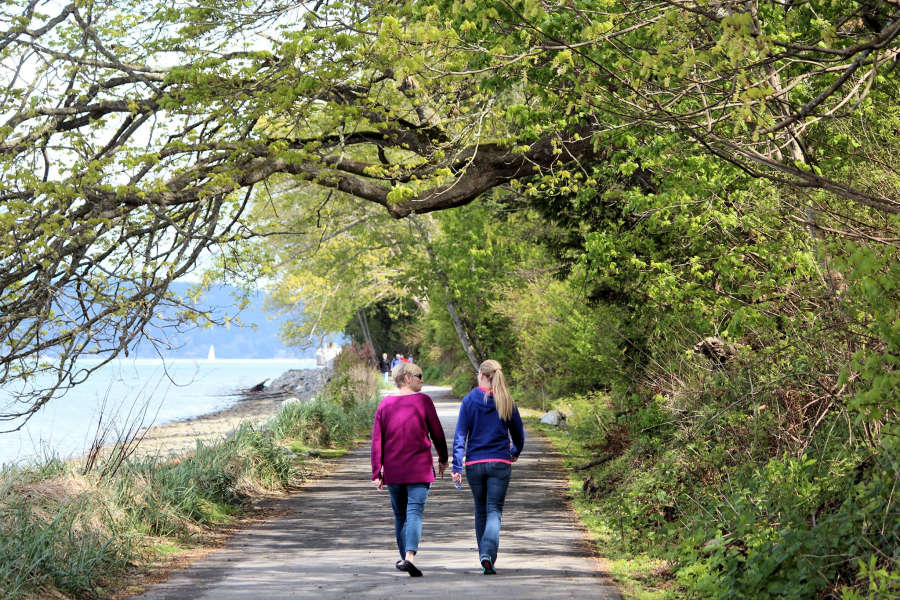 If you are unfamiliar with Anacortes, getting to the trail can be a little tricky at first.
To get there take HWY 20 (also called Oakes Ave.) along this section of road, and turn at Ship Harbor Blvd. Go straight until the road tees and take a left on Edward's Way. Follow this road to the cul de sac where you can park, and the trail is to the right. (If you find yourself passing the road that leads to the Washington State ferry terminal, you've gone too far.)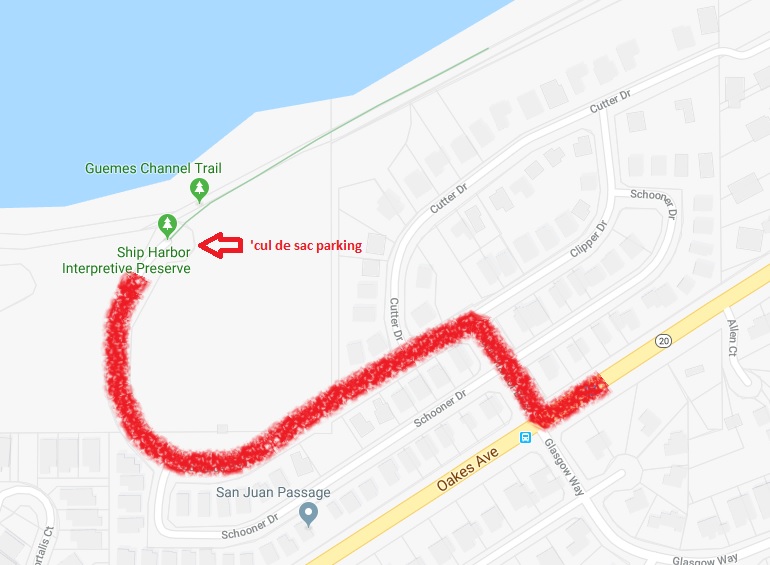 Rotary Park
On the north and east side of Cap Sante Marina, Rotary Park has a short paved walk that takes about 8 minutes one-way. It is partially shaded with views of the marina and ends at a viewpoint with a gazebo that overlooks Fidalgo Bay, the jetty, and the marina. There is also access to small beaches.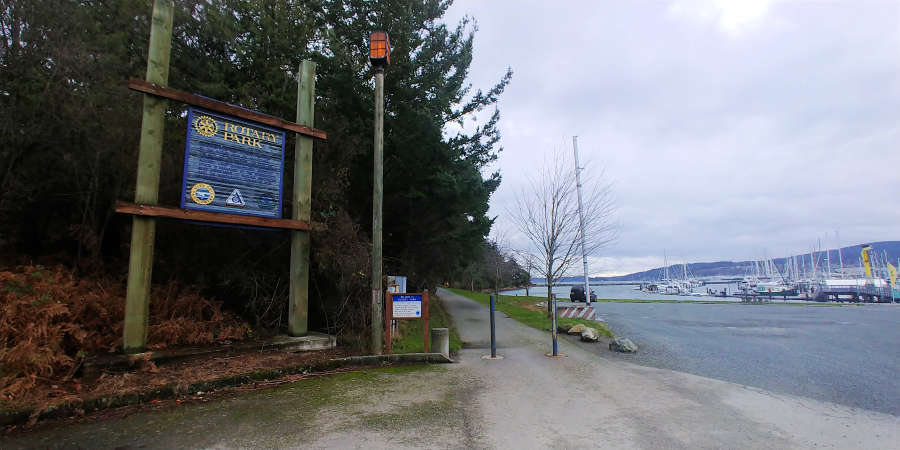 There are a couple of ways to get to Rotary Park. One is by walking around the north end of Cap Sante Marina. If the weather is nice, this is a good option, and it will extend your walk some too. The other is drive through or around the marina's north parking lot and then park in the gravel lot next to the trail.
Optional Walking Trails
Option #1: Ship Harbor Interpretive Preserve
Ship Harbor Interpretive Preserve, also called SHIP Trail, is one of my favorite short trails because it has 25 acres of wetlands and a long stretch of sandy beach, as well as, the views you also get on the Guemes Channel Trail of the islands and the Washington State Ferry.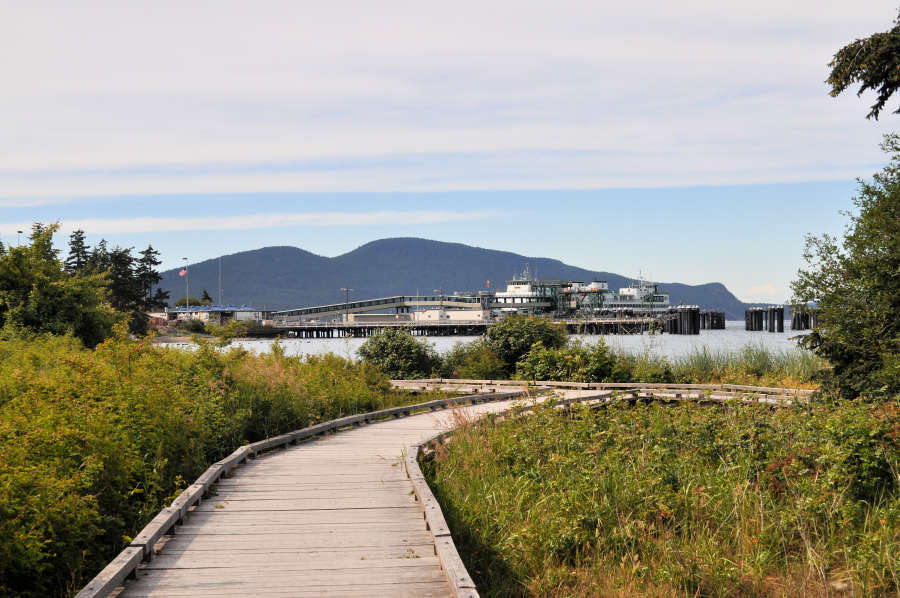 What might be a drawback for some walkers is that SHIP trail is not paved. It is mostly gravel with a section of boardwalk that leads you through the wetlands.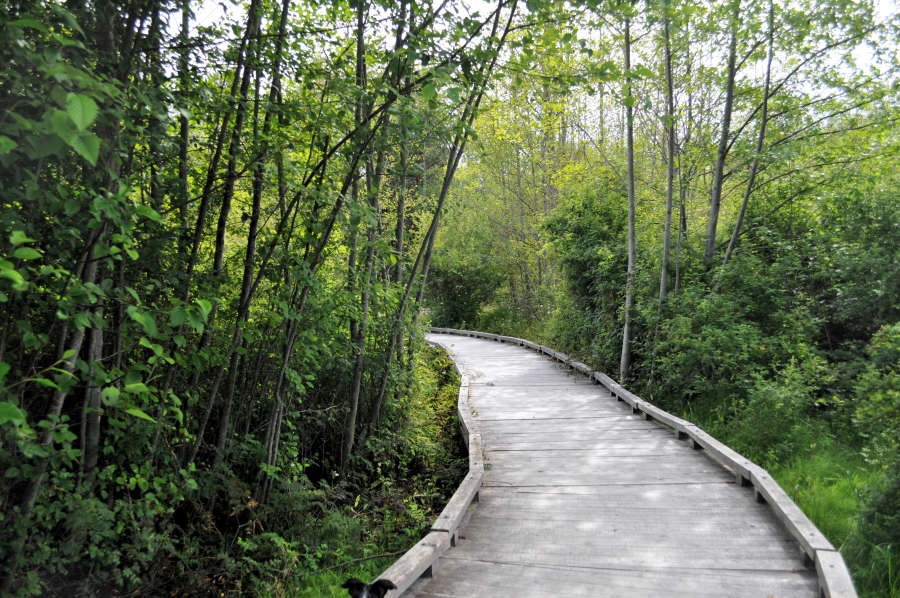 To get there, follow the same route to the Guemes Channel Trail and park in the cul de sac. Instead of going right, turn left, and there is the trailhead. Walking the trail takes around 15-20 minutes depending on how long you linger at the viewpoints.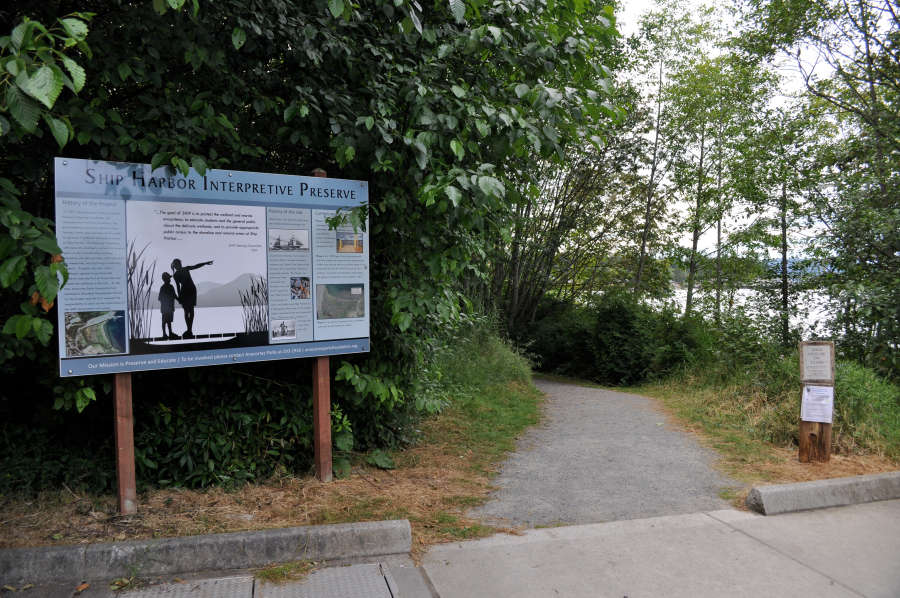 Click to read more about Ship Harbor Interpretive Preserve Trail.
Option #2: Washington Park Loop Trail
If you are looking for a paved trail, but want some inclines to pump those muscles and get the blood flowing, head to Washington Park. The paved 2.2-mile loop trail curves through the park and during certain hours cars are allowed on the road.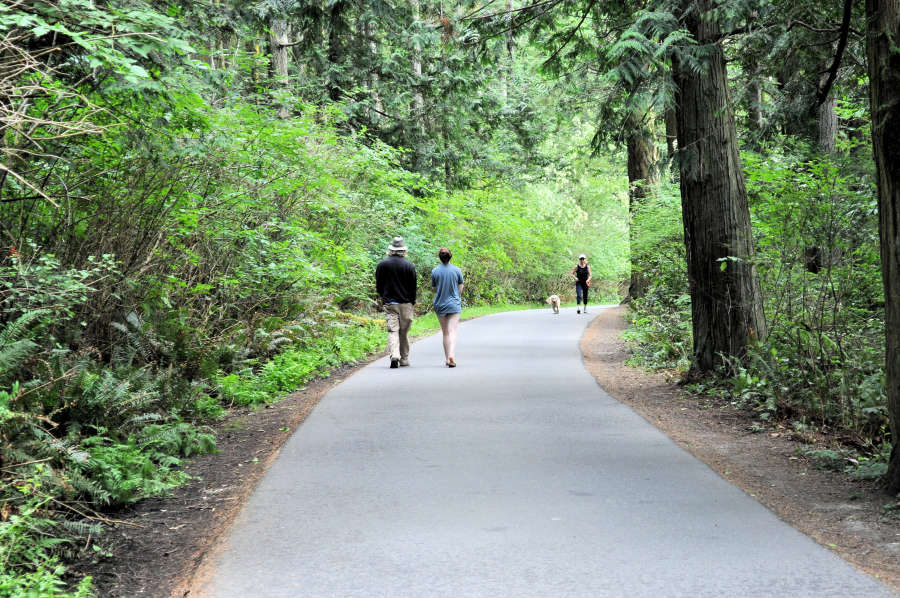 The north side is flat, and one could easily walk to Green Point and then turn around and walk back to the parking lot. It's about a 10 to 15-minute walk to Green Point.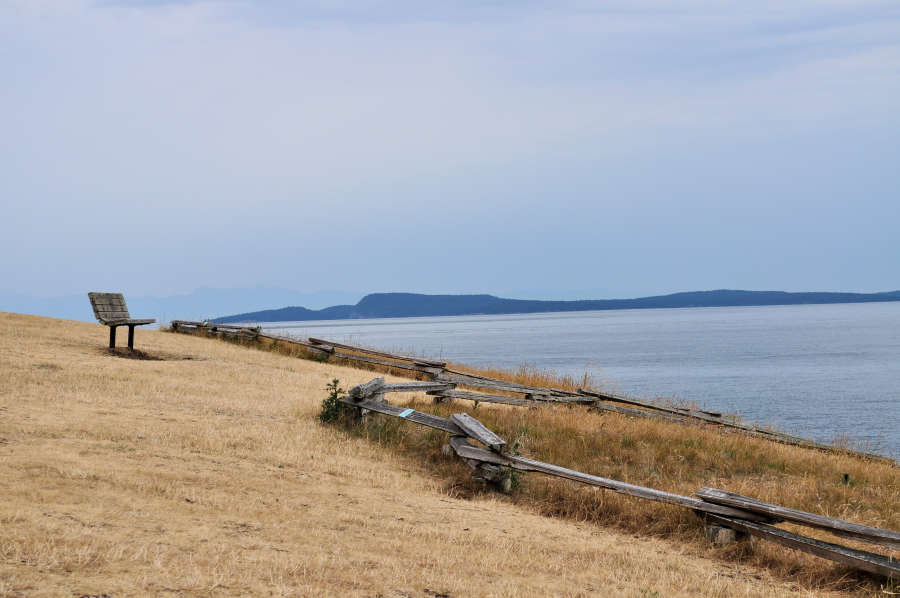 If you only want to walk the flat portion of the loop trail, turn around at Green Point, which you can see from the photo above turns brown in the summer. If you continue past Green Point, the elevation gain increases and there are ups and downs along the road.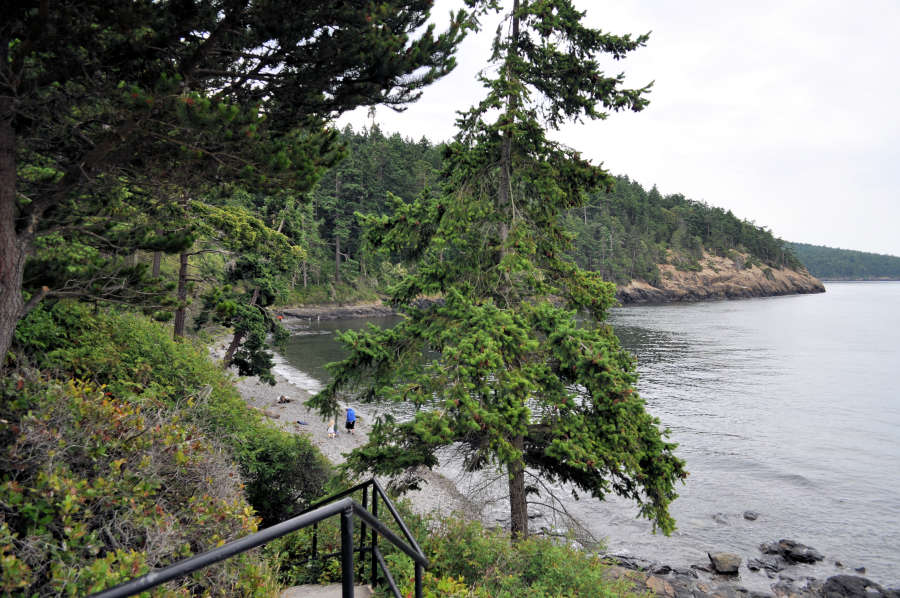 Travel tip: At the very end of Green Point, along the road, you'll find stairs going down to a beach. 
When I walk the loop, I prefer to go clockwise, as there is one long stretch of uphill road that I prefer to walk down. What is nice about Washington Park is that it has plenty of seascape vistas and views of the San Juan Islands.
Travel tip: A popular stop for photos along the Washington Loop trail is near a very striking twisted tree – you can't miss it.
Want to hike instead of walk? Read about hiking in Anacortes.
Read more about Anacortes in this handy travel guide.