Romantic getaways to luxury hotels in the heart of wine country are an excellent way to spice things up on a weekend getaway. During the day you can tour wineries, spend the day at the spa, dine, and in the evening return to a luxurious room to soak in a rose-scented tub, cuddle next to the fire and whisper sweet nothings into your lover's ear, or heat up the night with some pure romance.
If romancing your sweetie is a top priority, I've rounded up a collection of seven luxury hotels in Washington wine country to spark up the sexiness on your romantic escape. Some even have everything you need right at your fingertips, like an onsite spa, tasting room, restaurant, and bar.
Most of these hotels are in small towns, but some are in small cities. If you are looking for more ways to woo your amour, read 10 Romantic Getaways You Must Take Your Sweetie in Washington State.
Disclosure: You can help support my small town travels by using the affiliate links in this post. Using the link is at no additional cost to you, and provides a small commission to me to help support my blog.







  


  Some links in this post may be affiliate links. If you make a purchase through one of these links, we may earn a small commission at no extra cost to you. Please see our 

 disclosure policy

 for more detail.
  






7 Luxury Hotels in Washington Wine Country
1 – Inn at Desert Wind
Prosser, Washington
With its Southwest-inspired architecture, The Inn at Desert Wind Winery needs to be at the top of your romance list. The property features a tasting room that serves its award-winning wines and a boutique luxury inn with sweeping desert views.
Located in Prosser, Washington, in the heart of Washington wine country, its luxurious accommodations have been featured in the Seattle Times, The Oregonian, and Travel + Leisure.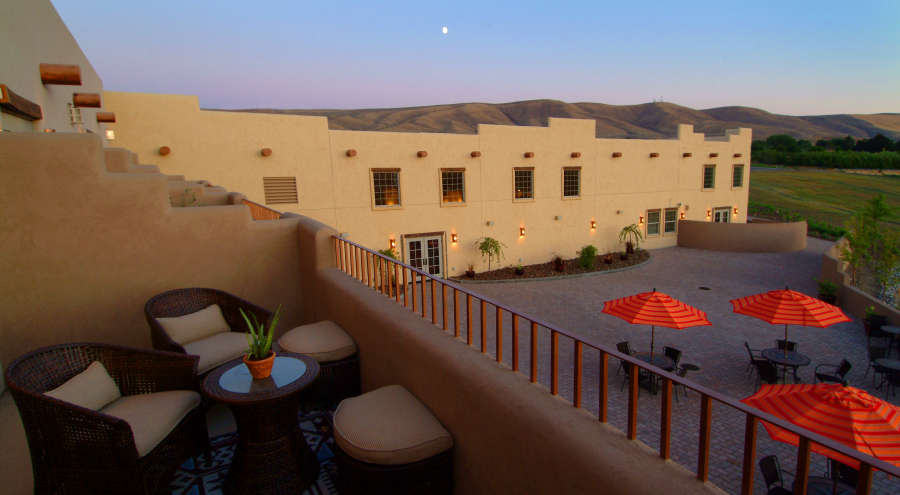 The Sante Fe style decor runs throughout the entire property. Each of their four guest rooms has hand-scraped hardwood floors, kiva fireplaces, custom tile work, tasteful Southwest decor, and balconies with views of the Yakima River and valley.
Rooms include modern amenities such as complimentary WiFi, a minibar, and a flatscreen TV with satellite. A sweet perk is that overnight guests receive a bottle of Desert Wind wine and breakfast is delivered to their room each morning.
After touring the inn, my first thought was this is the perfect place for a romantic weekend. I fell in love with the style of the rooms and the views, plus being steps away from the tasting room makes it easier to spend the whole weekend together.
Travel tip: The tasting room is open daily from 11 am to 5 pm. The tasting fee is $10 and waived when you purchase two bottles of wine. The tasting room also includes a large patio with Yakima Valley views.
Couples Will Love
Lovers will like add-ons like the romance package with two one-hour massages and a bottle of sparkling wine, and the bubbles and blooms package where a flower arrangement and a bottle of Terveri Cellars sparkling wine are waiting in your room upon your arrival.
Travel tip: Onsite spa services are available to guests only and must be arranged 3-7 days before your arrival.
Nearby
A short walk from the inn is the Walter Clore Wine and Culinary Center. Dedicated to Water Clore, the founder of Washington wine, the center is a must visit. There are daily tastings with knowledgeable staff, light bites for purchase, and views of the Yakima Valley.
Travel tip: The Walter Clore Wine and Culinary Center tasting room is open Wednesday through Sunday. $10 per tasting experience, $5 refunded with bottle purchase. Sometimes they offer a two for one wine tasting ticket, go here to find out.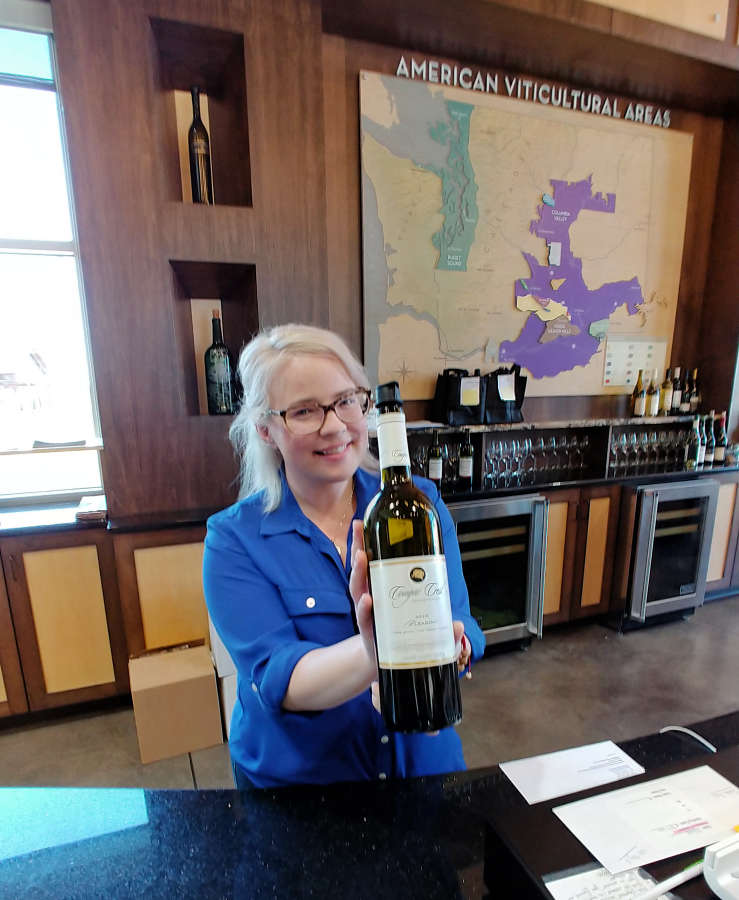 The Walter Clore Center offers additional wine-related experiences like blind tastings, wine courses, meet the winemaker, and culinary pairing classes. To learn more go to their website.
Travel tip: Want more wine tastings? There are over a dozen tasting rooms a short drive away, including 14 Hands Winery, Airfield Estates Winery, and Thruston Wolfe Winery.
Book direct with the hotel here.
Read more about Prosser including reviews on TripAdvisor.
2 – The Lodge at Columbia Point
Richland, Washington
Set along the banks of the Columbia River, The Lodge At Columbia Point is all about local wine culture and the fantastic riverfront view. Great combo when searching for romantic getaways.
Located in Richland, Washington the hotel features 82 luxury rooms, almost all of which have a view. Property features to love are the outdoor pool and hot tub, an outdoor patio with a gas fireplace and river views, a massage studio, lounging library, wine bar, and restaurant. Plus there is a riverfront walk if you feel like strolling hand in hand.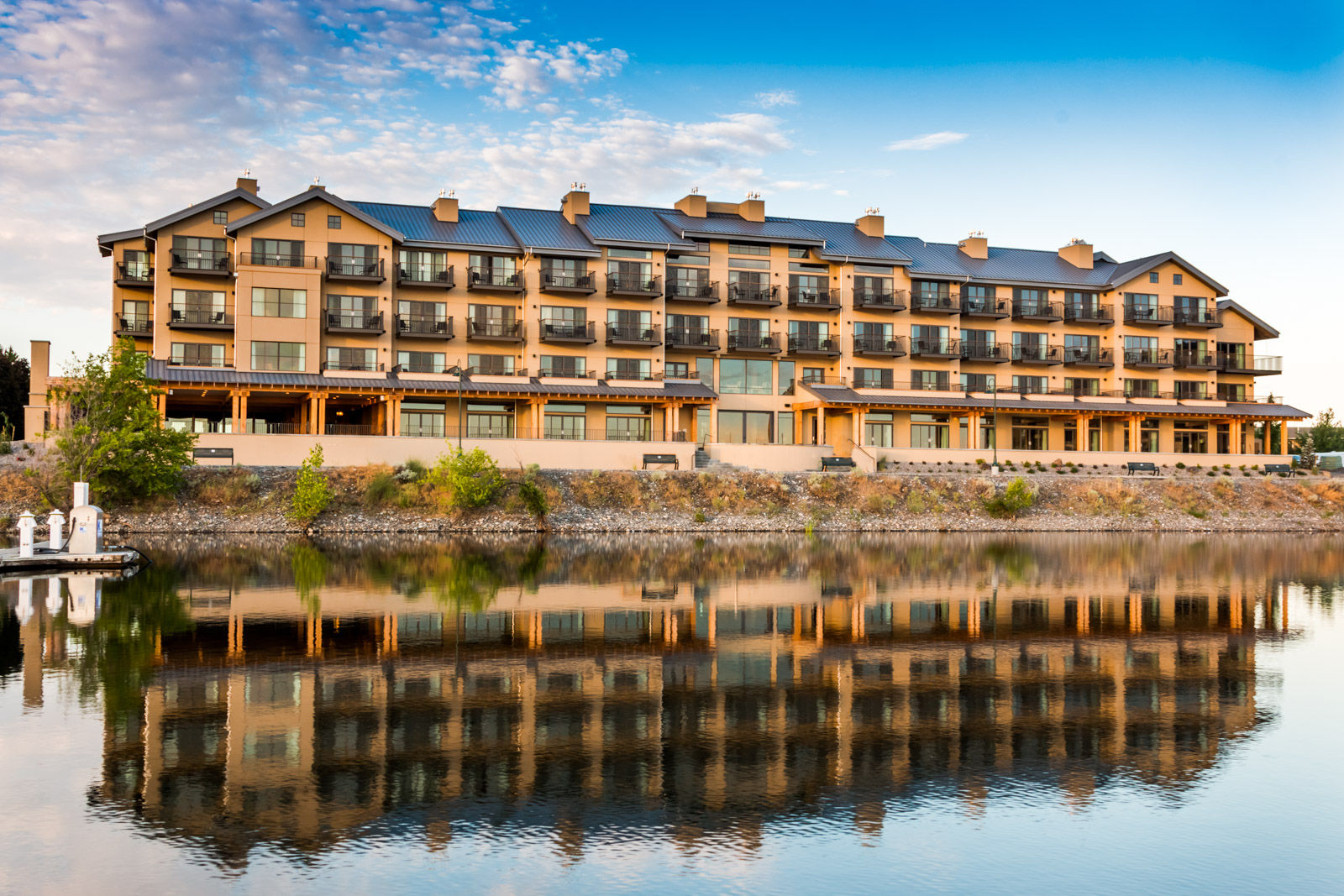 Rooms are set up with the amenities modern travelers need such as free WiFi, refrigerators, and microwaves. Other features to love is the gas fireplace, a wet bar with wine glasses, pillow selections, a complimentary breakfast, afternoon cookies, and a wine tasting in the Vine Wine & Craft Bar.
Even though I stayed at this hotel as a solo traveler, I had an enjoyable experience from the moment I walked in, to nibbling cookies in the afternoon, sipping wine in the evening, soaking in the hot tub after a day of wine tasting, and watching the sunrise in the morning. My two favorite features were the outdoor pool area and the large outdoor fireplace with a river view.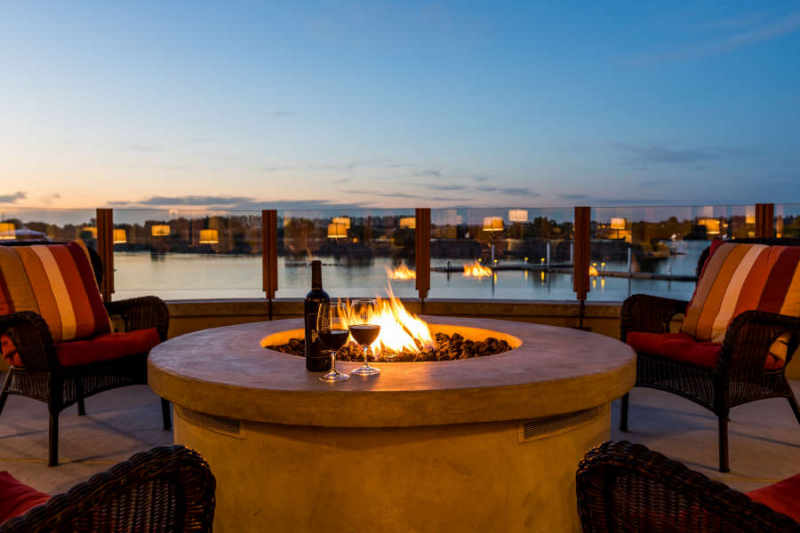 Couples Will Love
Couples will like the ultimate escape package with a 60-minute massage for two, a $100 dinner voucher for Drumheller's, two etched wine glasses, a bottle of Drumheller's wine, a box of Baum's chocolates and a seasonal floral arrangement, and the charcuterie and cheese for two package that includes a selection of Pacific Northwest cheeses and meats.
Travel tip: Rooms are named for a local winery. If you have a favorite, call to see if that room is available.
Nearby
Wine tasting rooms like Goose Ridge Estate Winery & Vineyards, Barnard Griffin, and J. Bookwalter are a short drive from the lodge. Learn more here.
Book direct with the hotel or use one of my affiliates such as TripAdvisor or Hotels.com which is at no additional cost to you and provides me with a small sum so I can keep dreaming big and traveling small.
Read more about the Tri-Cites including reviews on TripAdvisor.
3 – Eritage Resort
Walla Walla, Washington
Walla Walla, Washington is known for its wine country and set within 300 acres of rolling wheat fields and vineyards is Eritage Resort. This new luxury resort offers a private setting with luxury suites and villas (coming this spring), a manmade lake, an outdoor pool, and a restaurant.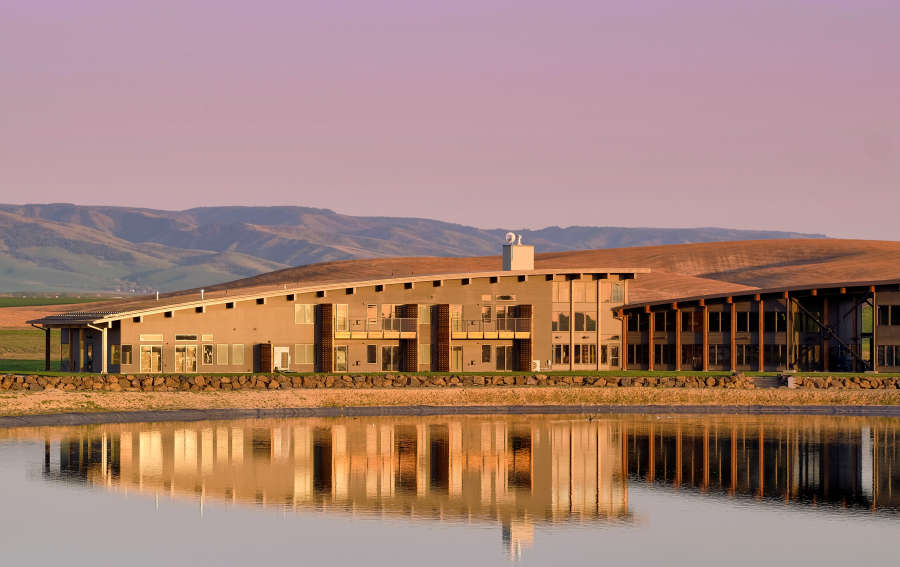 Room amenities you'll love include large soaking tubs, gas fireplaces, and a private deck or patio to take in the view. Plus, each morning, guests receive a continental breakfast with house-baked goods. In-room massage services may also be arranged.
During my tour, I saw all the rooms styles. There is not one I didn't like, as they all have views, either mountain or lake. But, if you want a premier view, choose a corner suite as they have a 180-degree view.
The restaurant has a creative and inventive menu with lots of locally sourced items. Almost all of their tables have a view, and if you choose to sit in the bar-style seating in front of the kitchen, you can watch the chefs as they cook.
Travel tip: Ertiage Resort is a 12-minute drive from downtown Walla Walla.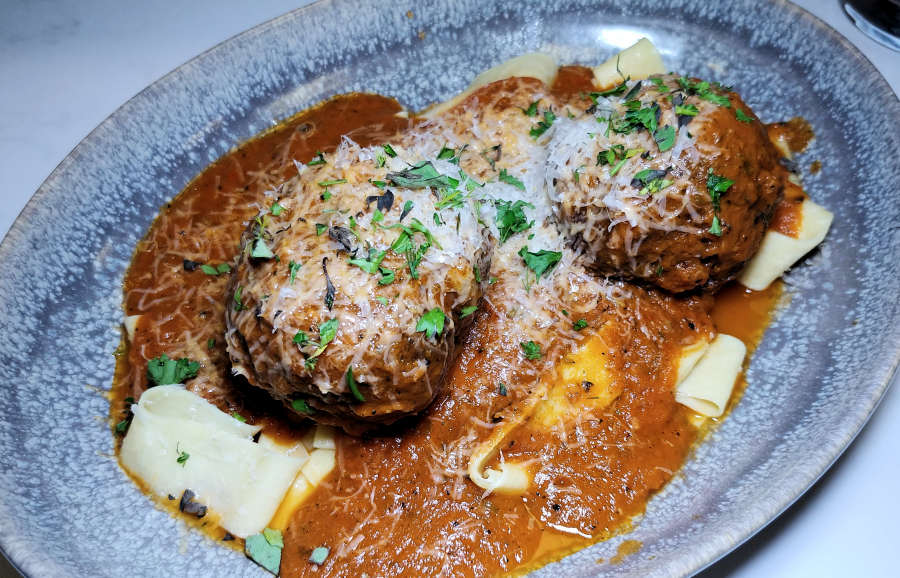 What do I recommend at Eritage Restaurant & Bar? Fresh Dungeness crab toast and prime beef and lamb meatballs.
Nearby
There are over 140 wineries in Walla Walla wine country. A great place to start is downtown, as you can easily walk from winery to winery and dine along the way. Other wineries are a short drive away. I recommend Pepper Bridge Winery, Va Piano, Watermill, and Castillo De Feliciana.
Travel tip: Touring wine country is way more fun when you don't have to drive. Main Street Drivers is an economical and safe way to winery hop. They drive your car, which saves you money, and drivers have a ton of local knowledge to make the most of your day.
Book direct with the hotel or use one of my affiliates such as TripAdvisor or Hotels.com which is at no additional cost to you and provides me with a small sum so I can keep dreaming big and traveling small.
Read more about Walla Walla including reviews on TripAdvisor.
4 – Hotel Maison
Yakima, Washington
The Hotel Maison is a former Masonic building turned luxury hotel in downtown Yakima, Washington. Built in 1911, the building retains its Empire style features and decorative elements such as terra cotta detailing and circular top floor windows.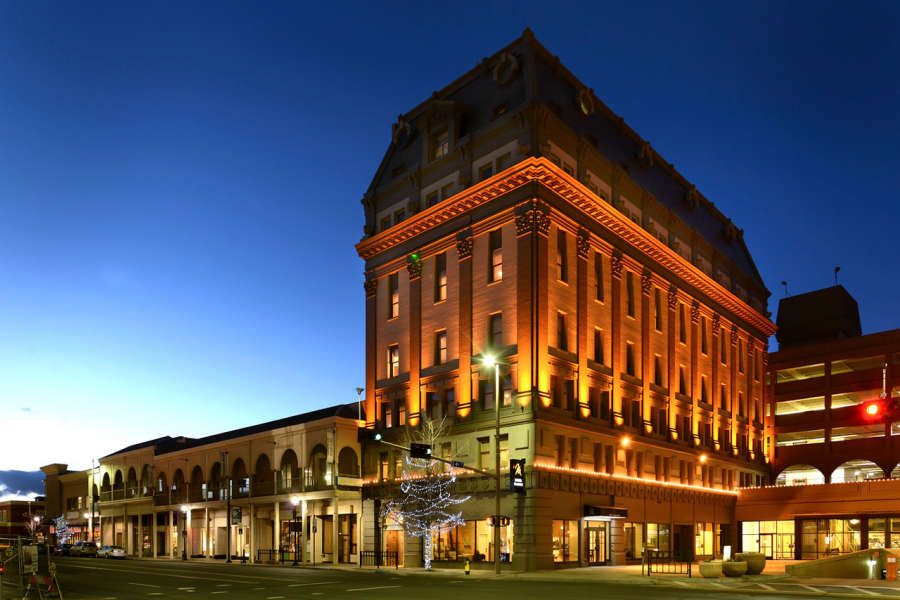 Room features you'll love are the custom photos, luxury robes, and showers with massage showerheads. Modern amenities include free WiFi, hospitality centers with granite countertops, microwaves and mini-fridges, iPod charger/alarm clock.
I stayed in a very comfortable and spacious double queen room, but couples will be interested in the king corner room and the two-room studio suite.
More perks include complimentary breakfast that has pastries, hot items, fruits, and juices and a wine voucher which you use at the front desk for a glass of wine.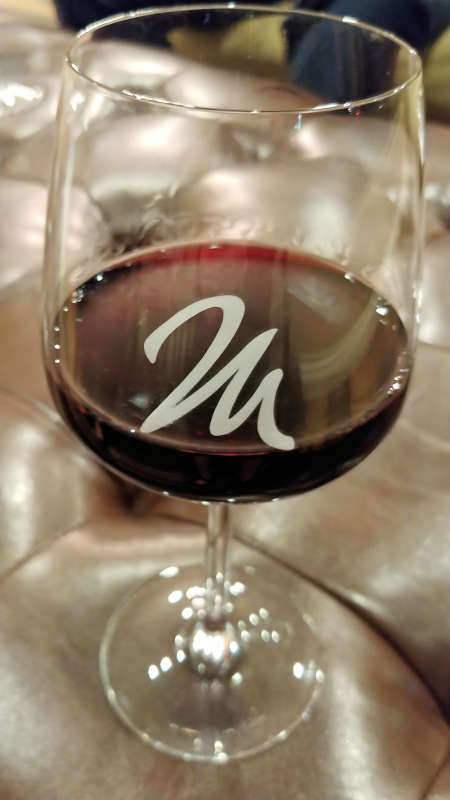 I liked the style of the contemporary yet inviting lobby. It is an excellent spot to enjoy your complimentary glass of wine.
Couples Will Love
The hotel works with Ummelina spa to provide spa packages. Each package includes a glass of wine. To see their packages go here.
Nearby
There are wine tasting rooms within walking distance of the hotel, including Antolin Cellars, Gilbert Cellars, and Kana Winery. A short drive away are more Yakima Valley wineries like Treveri Cellars and Owen Roe as well as wineries in Zillah.
Book direct with the hotel or use one of my affiliates such as TripAdvisor or Hotels.com which is at no additional cost to you and provides me with a small sum so I can keep dreaming big and traveling small.
Relax and Save up to 40% off
at Hotels.com.
Read more about Yakima including reviews on TripAdvisor.
5- The Historic Davenport Hotel
Spokane, Washington
The Historic Davenport Hotel is in the heart of downtown Spokane, Washington. A regional landmark on the National Register of Historic Places it is both opulent and luxurious with a long list of famous guests such as Tony Bennett, Salma Hayek, Antonio Banderas, and Jessica Biel.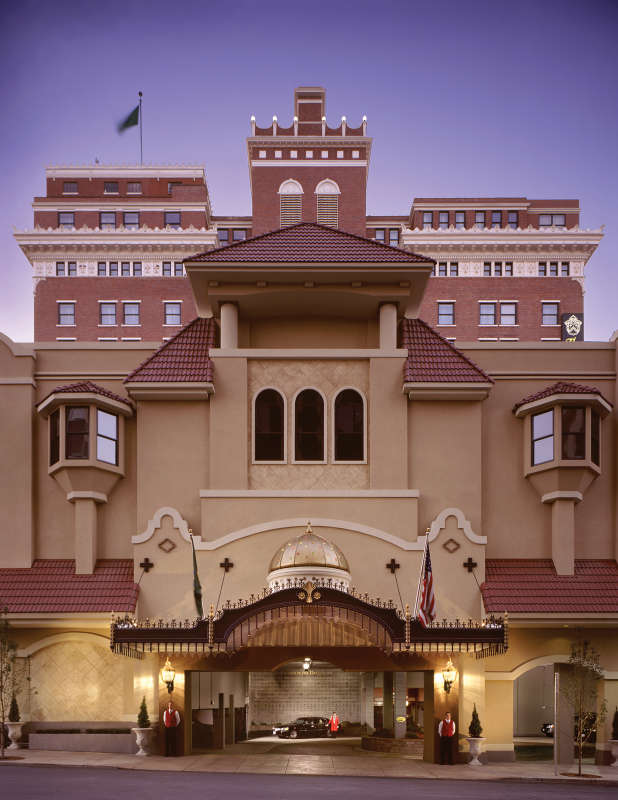 One of my favorite parts of the hotel is the Spanish Renaissance lobby. I could have sat in one of their oversized chairs looking at all the details for hours and hours. There are also boutique shops, a bar, restaurant, and an espresso bar. The lower level has the pool and an award-winning spa (highly recommend).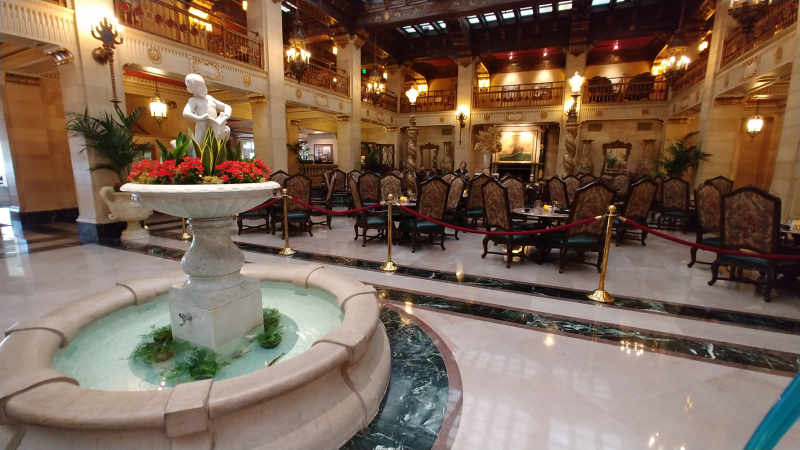 During your stay be sure to wander around the second floor. Here you can see the details and craftsmanship up close, and there is a collection of memorabilia from the hotel and local figures like Bing Crosby. Up the stairs from the second floor is The Hall of Doges. It will make you feel like you've entered into an Arabian palace! No joke! And, if any of the hotel's banquet room doors are open you can peek inside; some are quite elaborate.
Lavish guest rooms feature oil paintings, hand-carved mahogany furniture, their famous "Davenport Bed with custom-made down pillow top mattress wrapped in fine Frette Italian linens." (If you fall in love with it, they are available for purchase), and a large walk-in shower or a soaking tub. They also have all the modern amenities such as flatscreen TVs and WiFi.
The honeymoon suite with its red heart-shaped jetted tub is sure to cast a lovers spell.
Travel tip: While you could easily spend the entire time in the bedroom or hotel, there are interesting sights a short walk away, such as the Riverfront Park with Great Northern Clocktower, Expo Pavillion, Spokane Falls Skyride, a 1909 Looff Carrousel, and mighty Spokane Falls.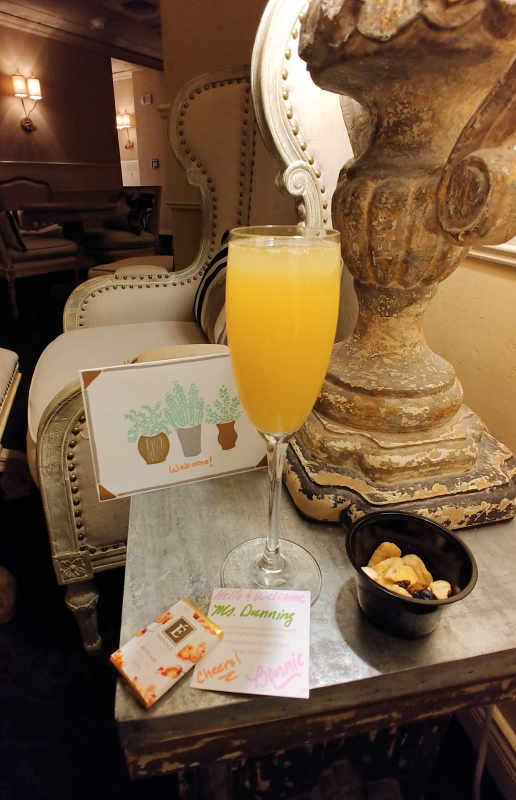 Couples Will Love
To add to your blissful weekend, arrange for a spa day at The Davenport Spa and Salon which earned four stars from Forbes.

The overnight spa couples massage package includes $220 spa credit, an overnight stay in a deluxe room, a bottle of sparkling wine, and complimentary overnight valet.
Travel tip: Arrive an hour before your spa treatment to fully enjoy your complimentary drink, goodies, and reading by the fire.
Nearby
Spokane's wine scene is growing, and there are several places to enjoy a glass of vino. Some near the hotel are Arbor Crest Wine Cellars, Helix Wines, Cougar Crest Estate Winery and Barrister Winery. About a 20-30 minute walk away is Maryhill Winery and Craftsman Cellars.
For a romantic winery experience, visit the Arbor Crest Wine Cellars estate grounds. Perched on a cliff 450 feet above the Spokane River it has all the makings for a romantic afternoon. Enjoy wine (or beer) and nibble on bites from their menu like grapes and cheese, baked brie with fruit preserves, and mini-pizzas. To take it one step further, reserve a spot on their tasting and estate tour package.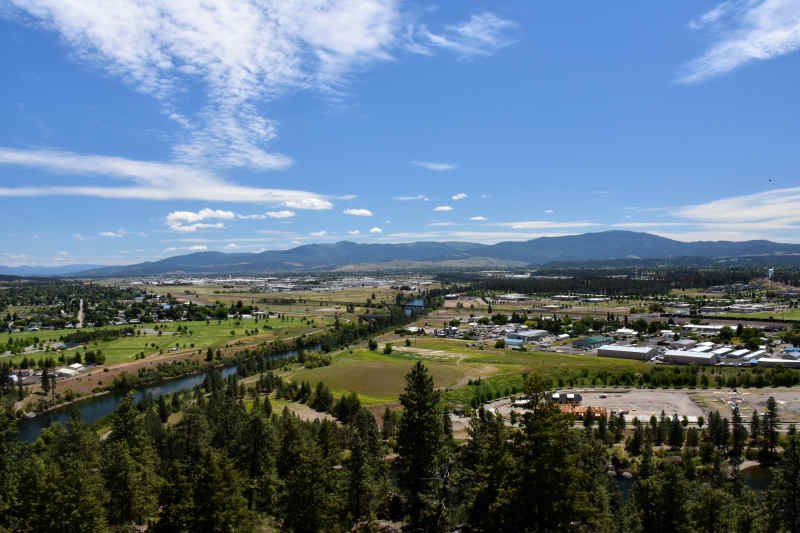 Book direct with the hotel or use one of my affiliates such as TripAdvisor or Hotels.com which is at no additional cost to you and provides me with a small sum so I can keep dreaming big and traveling small.
Read more about Spokane including reviews on TripAdvisor.
6 – Posthotel
Leavenworth, Washington
Leavenworth is probably one of the most popular destinations in Washington, after the Seattle Space Needle and Mount Rainier, because of its charming Bavarian-styled village.
Tucked along the Wenatchee River in downtown, the Posthotel is the town's newest luxury accommodation. It is adult-only and focuses on wellness and relaxation. The hotel features European hydrotherapy traditions with saunas, steam rooms, relaxation lounges, saltwater pools, and a full-service spa.
The Posthotel is the newest luxury hotel in Leavenworth. Photos courtesy of Posthotel.
I have not had the chance to stay at or tour the Posthotel, but I've heard such great things about it that I had to include it in this romantic getaways list. They have seven room styles with neutral-toned and elegant decor, beds with custom linens, fireplaces, and some have French doors that open to a patio or balcony.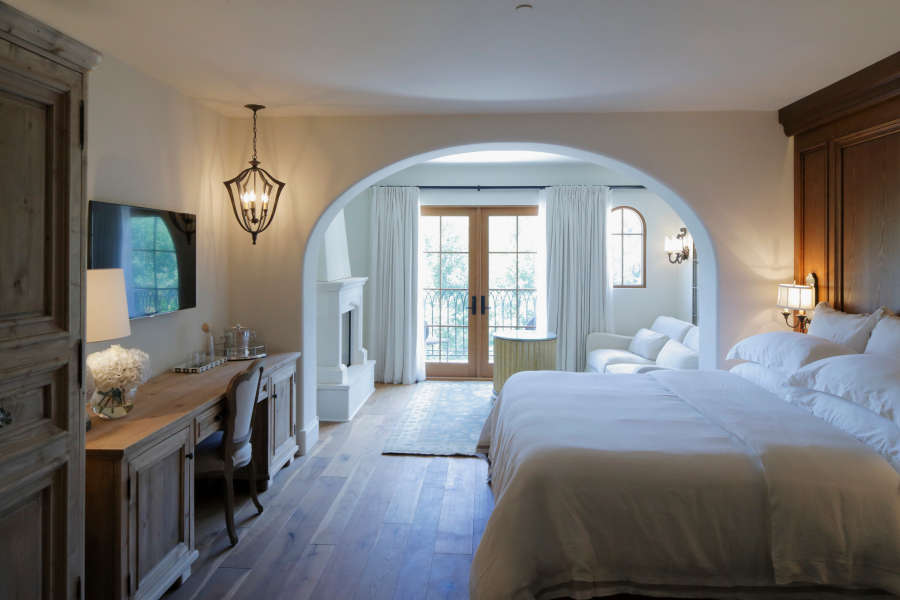 Features to love include complimentary WiFi, a European breakfast buffet with eggs, German sausage and potatoes, baked bread, cheeses, and fruits, as well as a light lunch of salads and soup. If you desire some exercise that is not under the sheets, they have snowshoe and bicycle rentals.
Couples Will Love
They offer a variety of seasonal and mid-week packages. Right now, couples will be interested in the couples unwind three-night package with a $100 spa credit, fresh flowers in the room, and in-room Kneipp bath crystals.
Nearby
The hotel is steps away from downtown Leavenworth, where you can shop and dine on delicious beer and brats. But, there is a special treat for wine lovers – over a dozen wine tasting rooms! Steps away from the hotel are Baroness Cellars, WineGirl Wines, and WooHoo Winery.
Book direct with the hotel.
Read more about Leavenworth including reviews on TripAdvisor.
7 – Willows Lodge
Woodinville, Washington
If you are searching for an easy romantic weekend getaway from Seattle, that includes wine tasting and a luxury retreat, look no further than the Willows Lodge. The hotel has been a long-time favorite of Conde Nast Traveler readers.
Located on five lush and landscaped acres, the Willows Lodge is in the heart of Woodinville wine country. The hotel features 84 rooms and suites and the property has an onsite spa, restaurant, and lounge.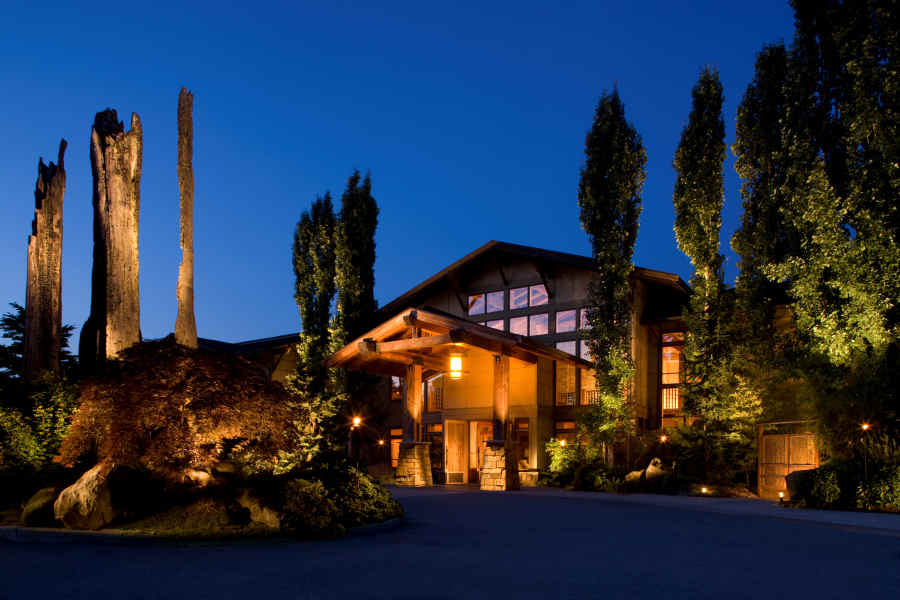 With each room having terrycloth robes, a stone fireplace, a private balcony or patio, and a soaking tub for two they are designed to encourage those romantic moments. Other modern amenities you'll love is the complimentary WiFi and a fully stocked mini bar.
Couples Will Love
Couples will fall head of heels for their do not disturb package with overnight accommodations with complimentary valet, a $100 dining credit, a rose petal bath with romantic lighting and music, selection of petit fours, and champagne.
Nearby
Wine lovers like me appreciate its location, which is a short walk from Chateau Ste. Michelle and The Herbfarm (a dining experience that is bucket-list worthy). Plus there are dozens of more wineries in the nearby Hollywood District, that is a short pedal away with the hotel's complimentary bicycles.
Another fun couples activity is the aerial adventure park Adventura. The hubs and I went this summer and had a blast!
Travel tip: For guests only, the hotel offers guided WineVenture tours on Saturdays and Sundays. Cost is $130.
Book direct with the hotel or use one of my affiliates such as TripAdvisor or Hotels.com which is at no additional cost to you and provides me with a small sum so I can keep dreaming big and traveling small.
Read more about Woodinville including reviews on TripAdvisor.