While visiting the small town of Cottage Grove to tour Oregon's covered bridges and wine country, I stayed at the Village Green Resort and Gardens. The hotel features comfortable rooms in a rustic setting with 14 acres of gardens, an outdoor seasonal pool, and an RV Park. Close the I-5 and on Row River Road which leads to one of the county's covered bridges, the Village Green Resort is in a great location to tour the sights of Lane County and is a short 4-minute drive to downtown Cottage Grove.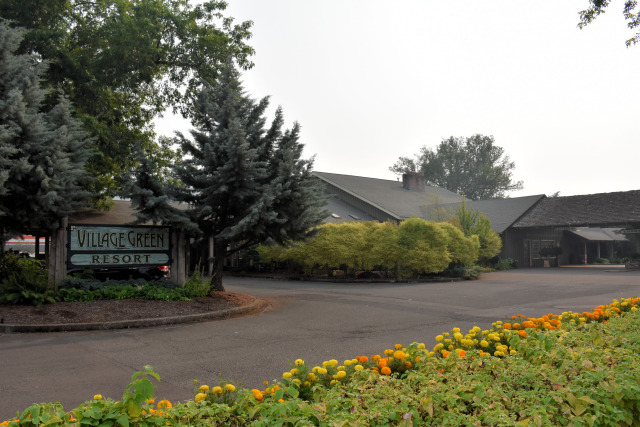 The Village Green Resort offers its guests:
Restaurant and bar onsite
Free Wi-Fi
Complimentary continental breakfast
Outdoor pool and hot tub
Pet-friendly ($15 fee, per pet, per night)
14 acres of gardens
RV park with full hook-ups
On Row River Road which goes to a covered bridge
Close to Row River Trail
A 4-minute drive to downtown Cottage Grove
Disclosure: You can help support my small town travels by using the affiliate links in this post, at no additional cost to you. 
There are plenty of ways to get the local scoop. Check out the best hotel reviews and hotel deals at TripAdvisor
, Hotels.com, Expedia, and Travelocity.



Village Green Resort History
First, A Little Bit of History
Before staying at the resort I had no clue about its fascinating history as I didn't see any mention of it on the website. Built in 1960, it was originally called The Village Green Motor Hotel and operated as a luxury motor lodge. It was very posh with golf carts that shuttled people around. Geared toward family and businesses travelers, one of their taglines was "Fun for everyone." Some of the amenities included two pools, beauty shops, golfing, shuffleboard, bowling lanes and onsite dining and bar options. The hotel developed quite a reputation and for six years in a row, it won the Mobil Five Star Award. At the time only four hotels in America had earned that rating.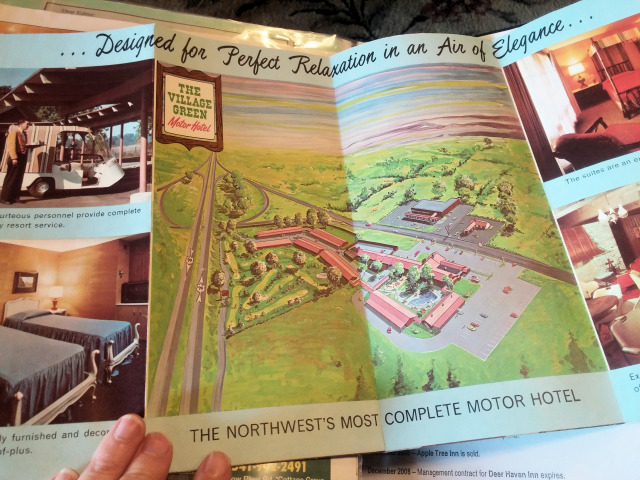 How did I find out about this? Being the curious person that I am, I asked the desk clerk about the hotel's history. After we chatted a bit and she realized how much of a history nerd I am she happily handed over a binder filled with newspaper clippings and old hotel brochures. I spent about 20 minutes going through the book (it can't leave the lobby).
I really hope this information finds its way to the website as I'm sure I'm not the only one who would find it interesting.
Village Green Resort – A Garden Getaway in Oregon's Covered Bridge Capital
Located right off I-5, the Village Green Resort is super easy to find. It's important to note, that the hotel consists of several buildings, all of which are on the ground floor (so don't be looking for a multi-story complex). Once you pull into the hotel's main drive you'll see a covered area and a sign for the lobby. Pull under, and check in!
I arrived mid-afternoon and within minutes I was on my way to my room. As I mentioned all guest rooms are on ground level, and I'm not even sure how to describe the style, it's almost a rustic barn look.
The resort has four different room types, standard, deluxe, executive and luxury suite. I stayed in deluxe room which featured a queen bed with their signature Moonstone mattress (super comfy), fireplace, and a private garden patio.
It also had a sitting area, desk, flatscreen TV, microwave, refrigerator. Outside of the bathroom, was an additional sink, which can come in handy when traveling with others. The decor, a mixture of country and antiques, had a comfortable homey ambiance.
I really liked the spaciousness of the room, the fireplace that also had stonework that provided seating, and the outdoor patio. In fact, one of the first things I did, was chill on the patio. Another perk of motor style lodging, you can usually park right in front of your room.

I stayed for one night and slept wonderfully. Since activities were so close, I felt like I had more time to simply relax either in the gardens or on my patio. The next day, when I biked Row River Trail, I discovered the hotel is very close to the trail. From the hotel, all you need to do is ride your bike to the neighboring Walmart and catch the trail on the far end or the parking lot. From there, the trail goes into town, or to the covered bridges and the lake.
Village Green Resort – Gardens
After my patio time, I decided to check out the gardens. Located behind the property, I easily found them and made my way along the path. We'd had a very hot summer with many wildfires and I didn't expect there to be many colors, so I was pleasantly surprised to find lots of green and flowers still in bloom.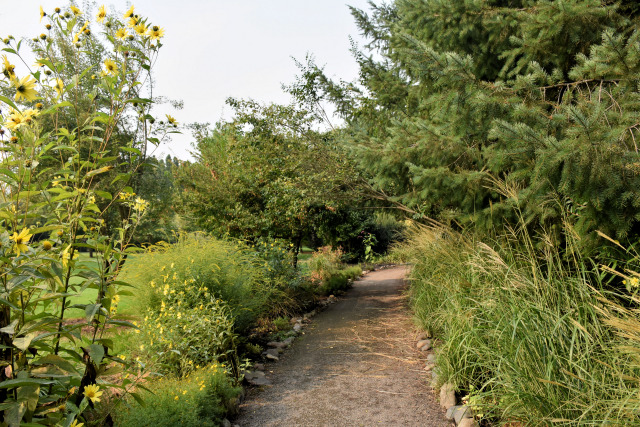 Along the path, are specialty gardens. These are noted by a mailbox. Inside the mailbox is information on the garden and describes what types of trees or plants are planted there, what you can expect to see during certain seasons and information on any art you'll find.
There is also a small cabin. If you have children with you, this is a great stop for inside is a picnic table, chalkboard, and some coloring books.

I strolled around the gardens for almost 45 minutes enjoying the garden art, pathways, and blooming flowers. The garden portion of the hotel is the closest to the highway, and while I did hear some highway traffic I didn't find it distracting.

 

Village Green Resort– Pool, Gazebo and RV Park
After I toured the gardens I checked out the rest of the property. Unfortunately, the outdoor pool was being serviced while I was there, so I couldn't go for a dip or a soak. But I did get to snap some photos. With the plants and trees behind it, it almost has a tropical vibe.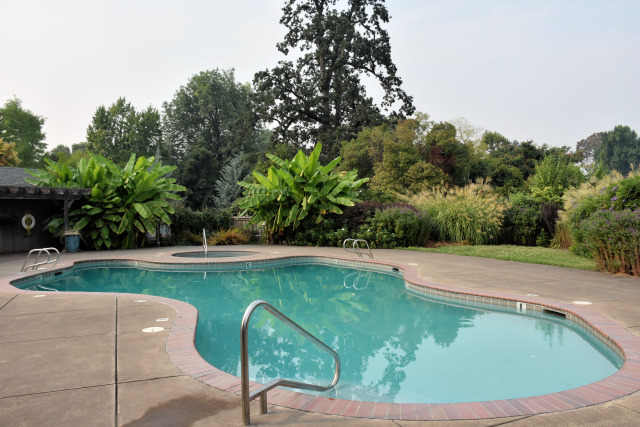 The landscaping is a big part of the hotel and as I wandered around I found fountains, art, and a large grassy area with a fountain and gazebo that is popular for weddings.

The resort also has a dedicated RV park. with full hook-ups ($30). Guests have access to the gardens, swimming pool, hot tub, laundry facilities, and restaurants.
Village Green Resort Dining
The two dining options are Seasons at the Green Restaurant and the Fireside Lounge. During my stay, I decided to check out both. First I went to the Fireside Lounge for happy hour. The lounge has a central fireplace with couches and chairs on either side, on one end are booths, on the other end is a bar and near the middle is a stage. I decided to grab a seat on the couch and enjoy a glass of Chateau Lorane pinot noir ($3.50 at happy hour), a chicken Ceasar salad ($8.50), and some onion rings ($4). Everything was good and I'd definitely order the onion rings again as I love onion rings.
Travel Tip: Minors are allowed in the Fireside Lounge until 8 pm.
Later that evening, I dined at Seasons on the Green Restaurant. Before heading inside I stopped to admire the Maiden of Good Fortune. Made in the 1800s, she has survived a building demolition and the Great Chicago Fire. She has been part of the property since its early days and legend says that if you touch her hand she'll shower you with good luck for one year.
For dinner, I ordered the tri-tip special ($25) and a glass of Chateau Lorane merlot ($5). The tri-tip was cooked perfectly, and I had quite a bit left over so I also had some for breakfast on my outdoor patio.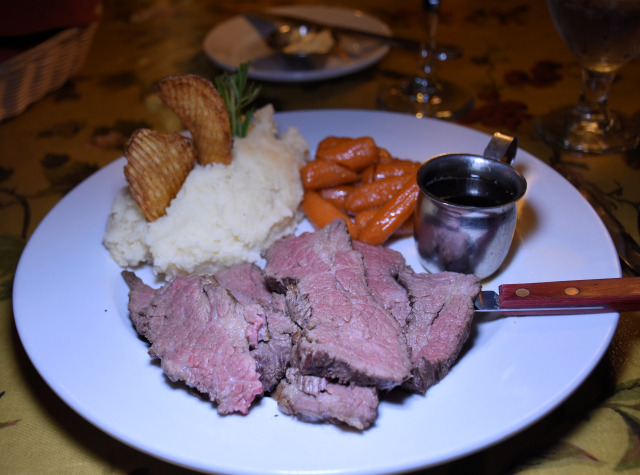 Village Green Resort– Guest Rooms and Amenities
Room Styles
Standard Room ($69 and up)
Deluxe Room ($89 and up)
Executive Room ($89 and up)
Luxury Suite ($89 and up)
RV full hook-ups $30
*Please note that rates adjust seasonally, and there might be special discount rates available.
Hotel Amenities
Free Wi-Fi
Free parking
Complimentary continental breakfast
Seasonal pool and hot tub
On-site restaurant
On-site bar with a daily happy and live music
Pet-friendly rooms
Laundry facilities
14 acres of gardens

Village Green Resort – Pros and Cons
Pros:
A selection of rooms that fits your needs and your budget.
A pool and hot tub.
Complimentary continental breakfast with a waffle maker.
Pet-friendly rooms are $15 per day, per pet.
Free Wi-Fi
Free onsite parking, much of which is right in front of your room.
Gardens on the property to explore.
Guests for the RV park have access to all amenities.
Cons:
Being near the interstate makes the hotel easily accessible, but it also means you are near interstate traffic.
The continental breakfast had just the basics. I would suggest planning on having breakfast in Cottage Grove.
The pool is seasonal.
Would I stay at the Village Green Resort again? Yes! If you are touring the area and want an alternative to the brand hotel experiences Village Green Resort offers a unique stay and is a piece of Cottage Grove history. It is also very close many attractions you'll want to see, like the covered bridges, Cottage Grove's murals, Row River Trail, and nearby wineries. (More on that soon). Also, if you are traveling with your pet, they have pet-friendly rooms and the garden with its lawn and grassy areas makes it easy to give your pet some exercise.
 
Cottage Grove Travel Tips
Hotel Address: 725 Row River Road, Cottage Grove, OR 97424
Closest Airport: Portland International Airport (2-hours)
Carless Options: You'll need a car while visiting.
Dining Travel Tip: There are over a dozen of restaurants in Cottage Grove. I dined or drank at a few. I can recommend Jack Sprats Restaurant, The Brew Station & Coast Fork Feed, The Axe and the Fiddle, and Backstage Bakery and Cafe.
Activity Tips: The covered bridges are probably the biggest attraction to Cottage Grove, so you'll want to be sure to put them on your itinerary. Other activities include the Mural Walking Tour, biking or walking the 16+-mile Row River Trail, visiting the Bohemia Gold Mining Museum and Row River Nature Park.
---
Note: As is common in the travel industry, the writer was provided with accommodations for the purpose of review. While it has not influenced this review, the writer believes in full disclosure of all potential conflicts of interest.
---
There are plenty of ways to get the local scoop. Check out the best hotel reviews and hotel deals at TripAdvisor
, Hotels.com, Expedia, and Travelocity.