On a trip to the Lewis Clark Valley to experience its wine country, I spent some time in the small town of Pomeroy.
Located about 45 minutes from Clarkston, Washington, and Lewiston, Idaho, the town has some interesting sights, including three museums, a cafe where you pay by donation, a connection to the Lewis & Clark Expedition, and a unique accommodation that is a garden oasis!
This small town in Washington also has a quaint main street along US 12 and a courthouse that is over 100 years old!
On my trip, I met up with Jack Peasley, a local from SE Washington Economic Development Association. A big thank you to Jack who took the time out of his day to show me around his hometown!
If you are traveling and planning to tour Hells Canyon or looking for a day trip from the college towns of Pullman or Moscow, Idaho, this small Eastern Washington town makes for an interesting day trip or overnight stay. And there are so many cool things to do in Pomeroy that you're sure to wish you were staying longer.
If you are wondering where to go next on your small town Washington travels, here are my recommendations for what to do in Pomeroy.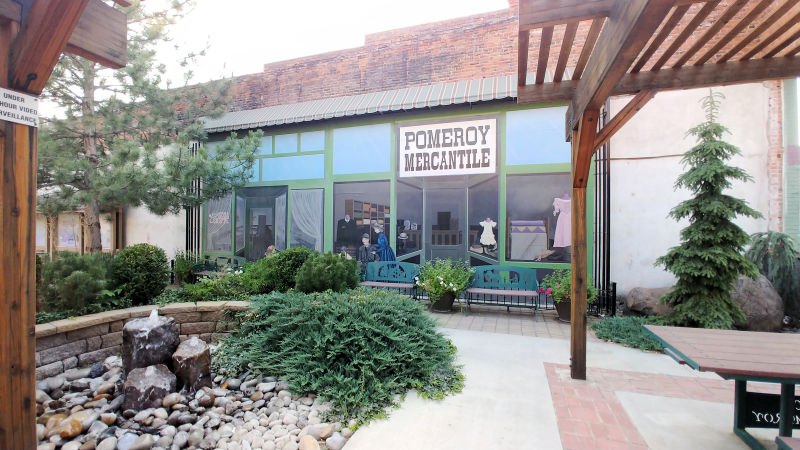 Some links in this post may be affiliate links. If you make a purchase through one of these links, we may earn a small commission at no extra cost to you. Please see our

disclosure policy

for more detail.
Best Things to Do in Pomeroy, Washington
Relax in the courtyard on Main Street.
One of the nice things about Pomeroy is that SR-12 goes right through the center of town.
For travelers who want a break from driving, this makes it easy to stop and stretch your legs.
As a bonus, there is a shaded street-side courtyard with picnic tables and soothing water features.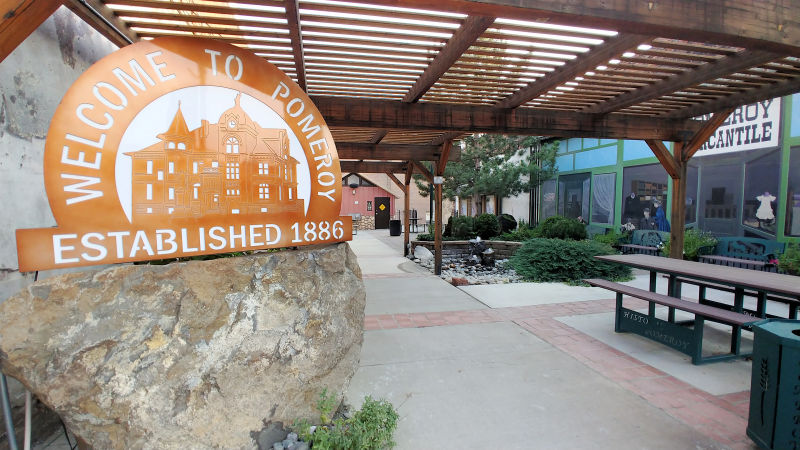 Browse the nearby shops.
Close to the courtyard is Pomeroy Pharmacy. This is a great place to purchase snacks, drinks, and Pirates wear!
There is also Meyers, a historic hardware /housewares store with an espresso and ice cream (a single scoop is under $2) counter.
Meyers has some cool historic photos to look at, including the one below of the town.
If you've been on the road for a while, you'll appreciate these stops as there are little to no services between towns in this area. Plus, Meyers has free WiFi!
And, in the back there is a cool antique water fountain!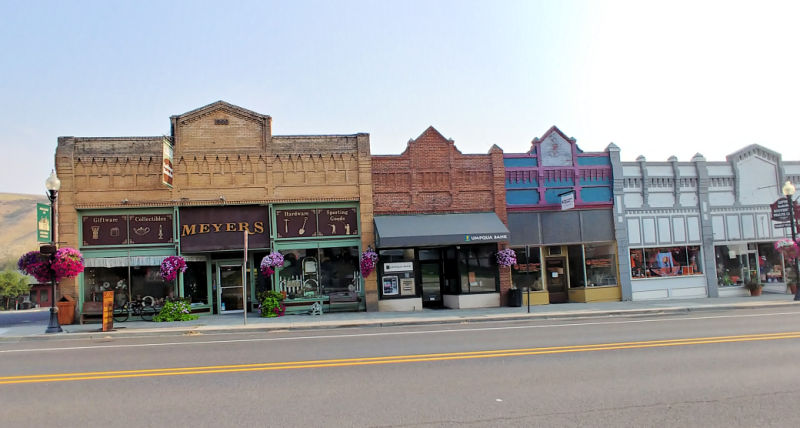 Check out the beautiful architecture of the Garfield County Courthouse.
Across from Meyers is the Garfield County Courthouse.
When it was rebuilt after a fire in 1901, it was considered one of a handful of elaborate courthouses in Washington State!
Over 100 years later, it still demands attention with its brick and stone construction, turret, and a clock tower.
If you look closely at the statue of Justice on top of the clock tower, you'll see she is not blindfolded.
If the court is not in session, you can go inside!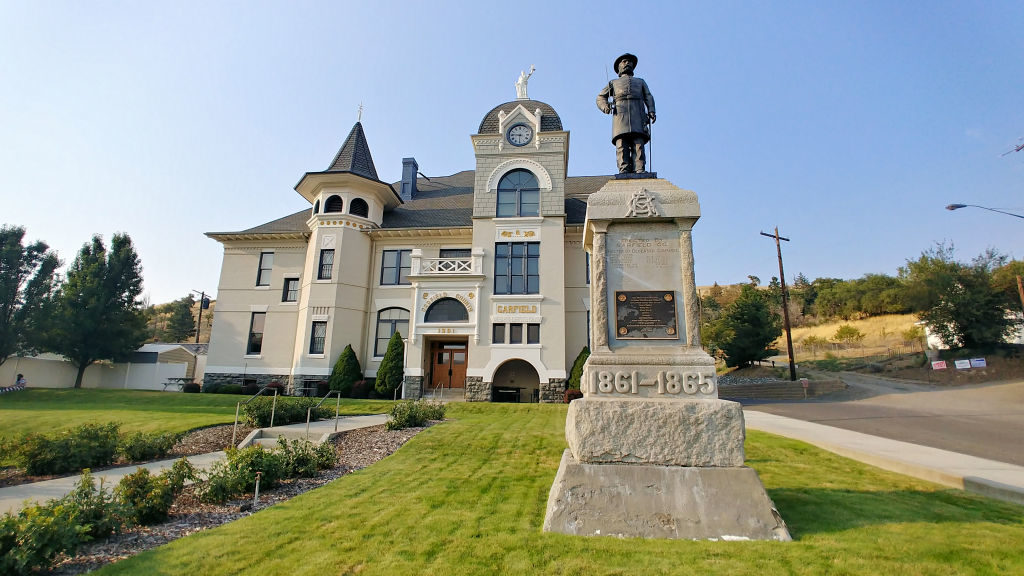 Learn the region's history at the Garfield County Museum.
To delve deeper into the area's history, stop by the Garfield County Museum. The museum holds a variety of donated items from folks in Garfield County.
There is so much to see and some items of note include a license plate collection, a sewing machine collection, and a quilt display. Some of the quilts even have a photo of the person who made them.
Objects I found particularly interesting were a mammoth molar tooth and jawbone found in Pomeroy and a piece of artwork made by Mrs. M.C. Smith in the 1890s. It is made of human hair!
Travel tip: During the summer the museum is open Monday through Friday from 1 pm to 5 pm. The rest of the year the museum is only open on Fridays. For more information or to make an appointment, visit their website.
Check out the Historic Trail public art.
Outside the Garfield County Museum, you'll find some informational placards as well as sculptures of silhouettes of travelers from the Lewis and Clark historical expedition.
Pomeroy is located along what people came to call the Nez Perce Trail. This trail is also called the Nee-Mee-Poo Trail, which was the original name in their indigenous language (meaning "The People") for the Native American tribe who is today called Nez Perce. For more history on the Nez Perce, check out this resource.
The Nez Perce Trail had been in existence for many centuries, forged by the Native Americans who called this wide-ranging region home. This mural celebrates the first arrival of the expedition of Lewis and Clark, likely the first white settlers to explore the region, in 1806.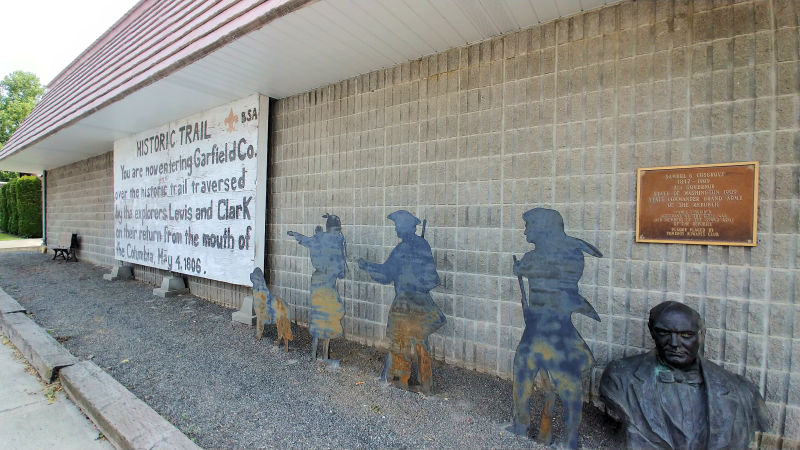 Learn more history at the Eastern Washington Agricultural Museum
The Eastern Washington Agricultural Museum was one of my favorite stops.
Much of that had to do with my tour guides who were a wealth of knowledge about the tractors and agriculture in the area. I highly suggest calling ahead to set up a tour, you won't regret it!
The museum houses farm equipment, machines, household items, barbed wire, and brand iron display, and much more.
I found the horse-drawn method of farming fascinating. At its max capacity, a farmer would use a team of 33 horses!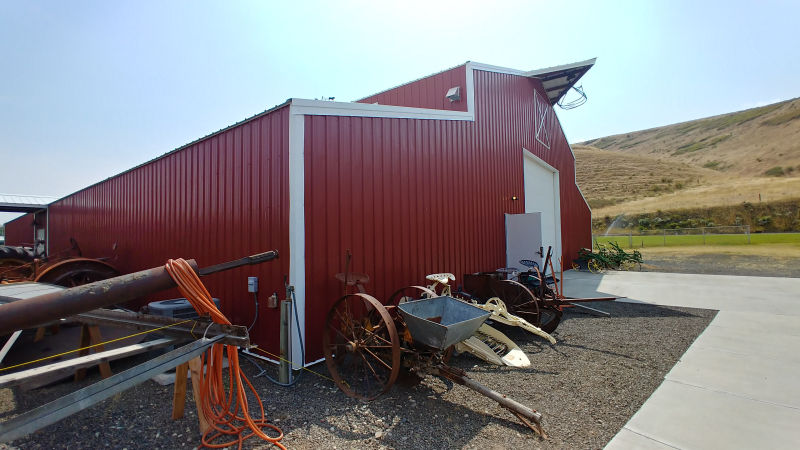 Visit the offbeat Pataha Flour Mills.
Pataha Flour Mills is probably one of the most unusual stops in the area, as it is a cafe, a museum, and a church with services on certain days of the week.
The cafe serves great food and big portions. I had a chef salad with a ton fresh veggies and an amazing Tollhouse pie (don't pass this up if it is on the menu!)
My jaw dropped to the floor when I asked my server for the bill and he said there was no check. You pay what you can afford! Bring cash!
After your meal, tour the mill. The tour is self-guided with explanations along the way. The cool thing is, you can go all the way up to the top and all the way down to the basement.
If you are into photography, you'll want to check out their extensive camera exhibit.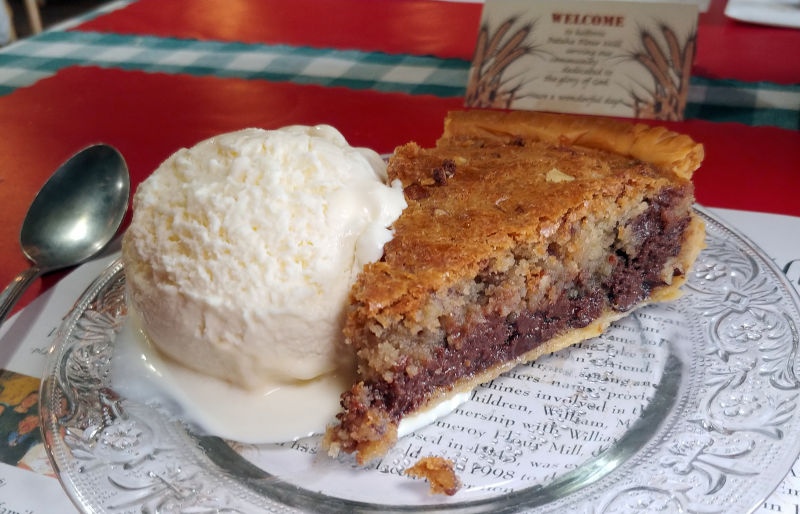 Check out the Lewis & Clark Expedition Roadside Stop.
Whenever I check out a Lewis & Clark stop I always think to myself, "I wonder if they walked right here?"
Just outside of Pomeroy, you can see the exact trail they walked on!
However, even though this spot is along the road, knowing where to look is the tricky part.
Thankfully, my guide Jack runs a historical tour called Travel The Forgotten Trail. The tour includes many of the stops I've mentioned in this article, but you have the luxury of having a local guide who knows the history and the special points of interest.
The price is $45 per person. I met up with Jack in Pomeroy, but the tour normally leaves from Clarkston.
Where did the Corps Of Discovery walk? Past Pataha, along SR-12 and there is a large pull-off with a plague on the first curve. From the pull-out, you'll see fields and the hills on the other side of Pataha Creek.
On the opposite side of the road (it is private property), you'll see a groove along the hillside which marks the Nez Perce Trail. I was told this groove was made from the dragging of tent poles from the move to seasonal camps. It is this trail that the crew took!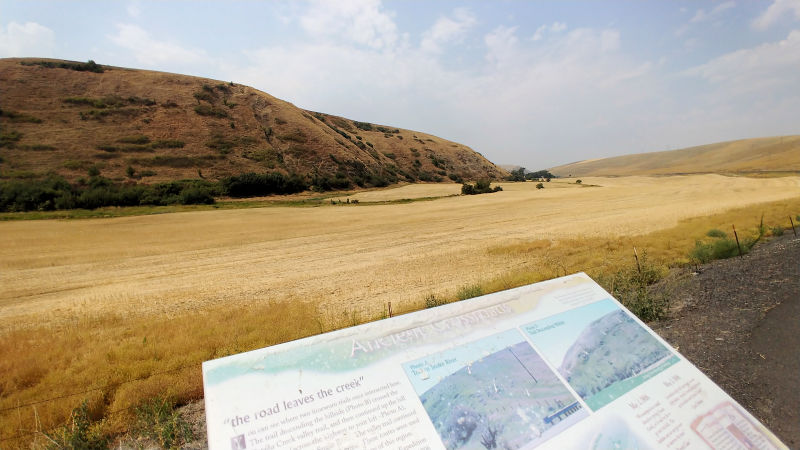 Check out the funky roadside art.
Along the road to this spot, you'll see some funky roadside art.
If you want an Instagram pic as part of your things to do in Pomeroy, this is the spot!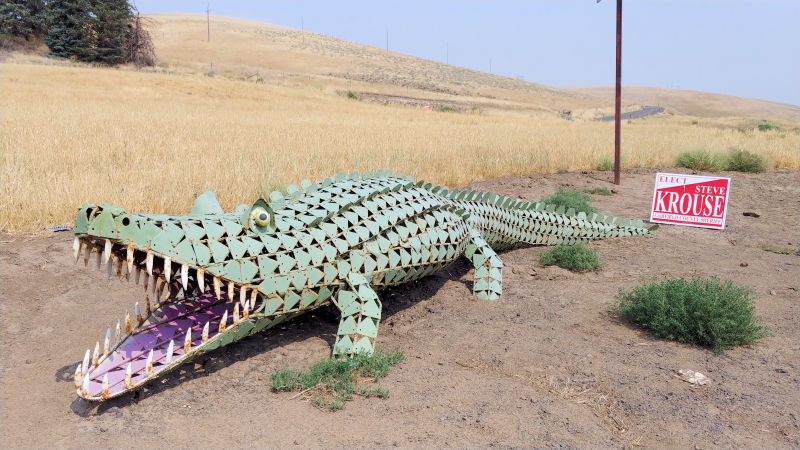 Grab a drink and a bite to eat at Alibi Tavern.
There are less than a handful of places to eat in Pomeroy and many close early, so don't wait until it's too late to get some grub!
I ate at Alibi Tavern, which serves pub food and cold beer and also has a family-friendly side.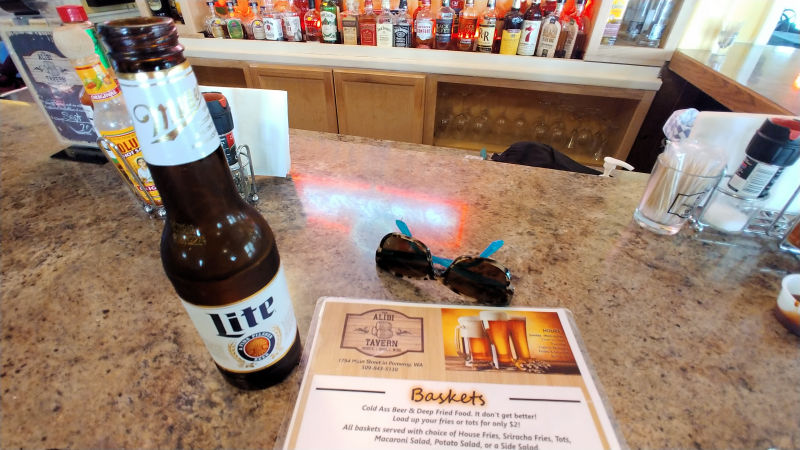 Take a day trip to Palouse Falls State Park.
About an hour's drive from Pomeroy is Palouse Falls State Park. If you have the time, definitely make the trip!
It is one of the "last active waterfalls on the Ice Age floods path" and the state's official waterfall (and one of our choices for the most beautiful waterfalls in Washington State!)
The parking lot is very close to the viewpoint overlooks, so there isn't much of a hike.
Travel tip: In the summer, the temperatures are high. Come prepared with water, sunscreen and hats. Purchase a Discover Pass ($30) beforehand or bring cash for a day pass ($10). While you might be tempted to climb down the canyon… don't! The path is very steep and there have been fatalities. When I was there, the path down was closed.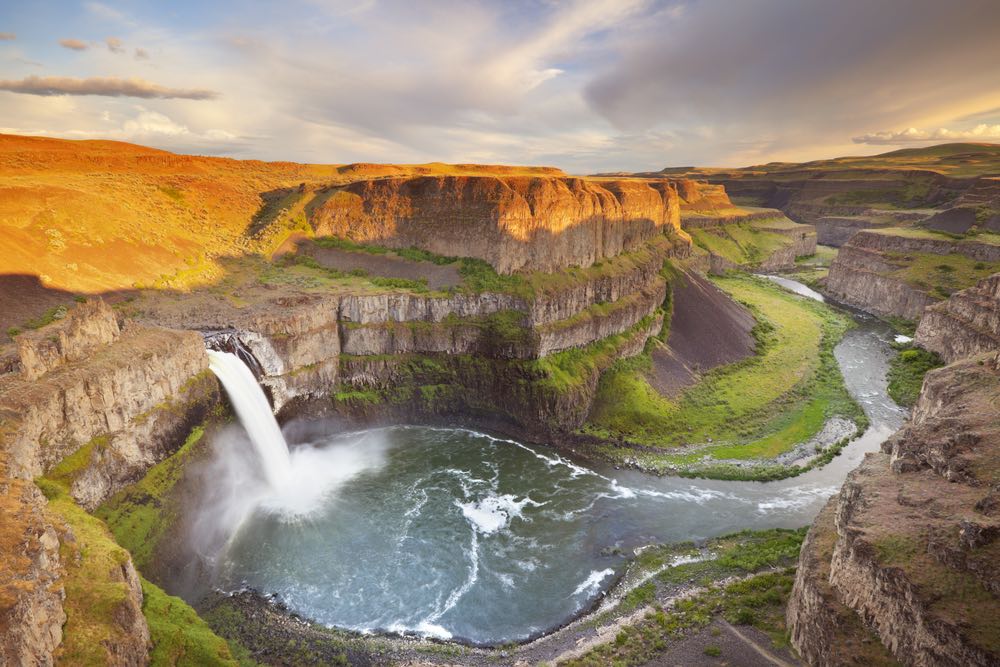 Where to Stay in Pomeroy, Washington
Maggie's Garden
When researching where to stay in Pomeroy, Washington, I came across Maggie's Garden Bed & Breakfast who offers two rooms. Struck by its unique architecture I knew I had to check it out and made arrangements for one night, which was all done by telephone!
I found Maggie's Garden Bed & Breakfast easily (just a few blocks off US 12) and within minutes Maggie lead me inside to show me my room for the evening. At first, I was surprised to discover that both rooms were in the lower level of the house and realized my mistake in assuming that since the house was the prominent picture on the website that I'd be staying in the main living area.
Having stayed in a variety of B&Bs throughout my life, I know each one is different, so you just have to go with the flow. Being the only one there for the night I had the choice of two tastefully decorated rooms that were connected with a small sitting area and a shared private bathroom (the shower is small). I choose the larger of the two.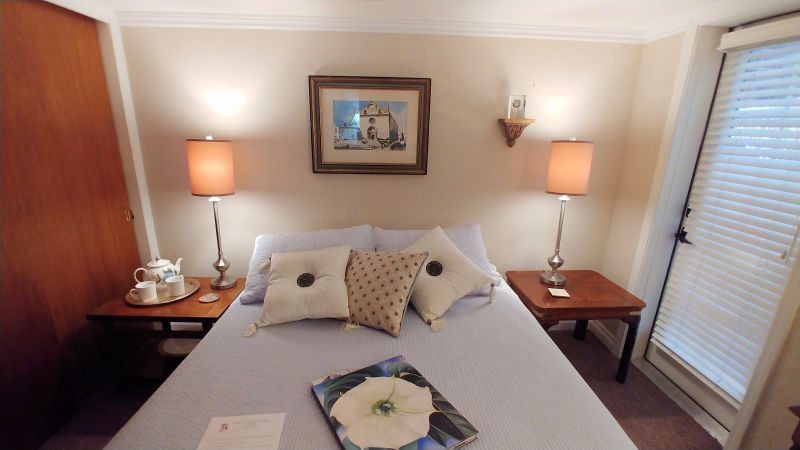 My gracious host made sure I had everything I needed before she retired upstairs.
The accommodations were super comfortable and I felt completely at home. Amenities I loved were the private entrance, free WiFi, the cozy bed, the gourmet breakfast (you can also arrange ahead of time to have dinner) and the great conversations I had at breakfast with my host.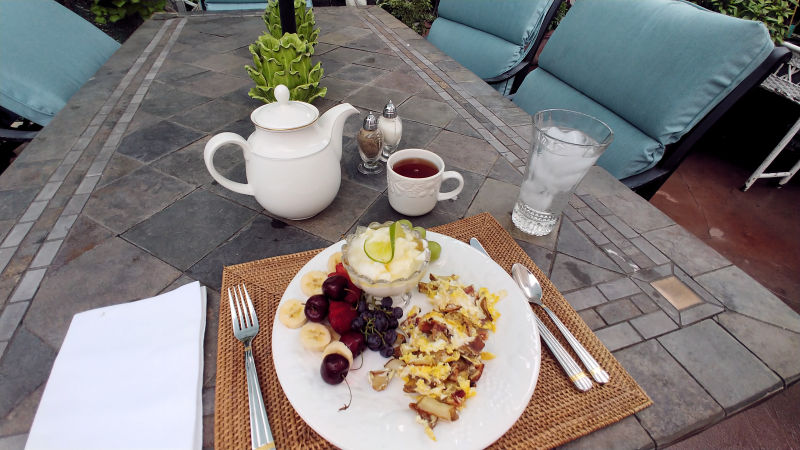 Travel tip: Rates are lower if you stay more than one night. Be sure to read their cancellation policy, which is 30 days prior to the stay.
Pin This Guide to Things to Do in Pomeroy, Washington!