I often get asked questions about what to do and see in the small towns I visit. These questions usually come to me via Twitter and Facebook, but sometimes in person, like the other day at a local bar. Out of all the questions, I get asked, there is ONE that I get asked the most. "Where should I eat?"
Luckily, I like to eat while I travel and I'm more than happy to share the places I find.
As a long-time resident of Anacortes, I've eaten at almost every restaurant and written about some our great foodie stops like Vagabond, 5th Street Bistro, The Shrimp Shack, and my favorite Happy Hour in town at Secret Cove.
And, there are plenty of more places to check out while you are in Anacortes. Here are some photos to tempt your foodie adventure on Fidalgo Island – my favorite island in Washington!
Best Restaurants in Anacortes
Vagabond
The food truck (or in this case trailer) scene is growing in the small town of Anacortes thanks to Vagabond.
Think comfort. Think Southern. Think biscuits and waffles and deep-fried chicken. Oh, and there's gravy and "wiscuits" (biscuits made in a waffle maker!). Has your mouth started watering yet?
My husband went to Vagabond long before I did. His menu item of choice is the Yard Bird ($9), which is a fried chicken breast, layered with Tillamook cheddar and gravy sandwiched by a trailer-made biscuit. He likes to add bacon, and there is also an option to add an egg.
On Wednesday, he ordered it again. I took a bite and could instantly see why he liked it so much. The fried chicken was moist and the breading very flavorful. With the bacon, it took on a smoky flavor, and gravy made it comfort foodie heaven.
I ordered the Cordon Wow ($9), which is Wednesday's special. It comes with fried chicken, ham, swiss, stone ground mustard, all pressed inside a wiscuit. What's a wiscuit? Biscuit dough in a waffle maker. The sandwich comes out sort of like a panini, as it's pressed inside the waffle maker. The flavors were all there, and the stone-ground mustard gave it a nice zest.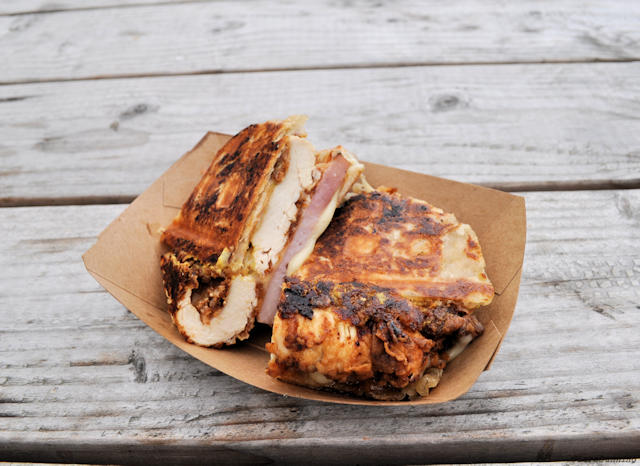 Both of these items I would order again. And, there are lots of other dishes I'd like to try like Pops with Andouille Sausage, onions, garlic, carrots and potatoes ($8), Fried Pork Ribs ($8.75), and the Chicken & Waffle ($8.25).
Vagabond's food trailer moves frequently and spends the first half of the week in the Island Adventures parking lot. On Thursday to Saturday, they head to North Sound Brewery in Mount Vernon.
Where: 1801 Commercial Ave. Anacortes, WA 98221 (Be sure to check their website for their most current locations.)
What: Lunch & Dinner
Hours: In Anacortes – Monday thru Wednesday 11 a.m. to 2 p.m., and Wednesday night from 4 p.m. to 7:30 p.m.
Want to Try: Pops ($8), Fried Pork Ribs (8.75) ($8), Chicken & Waffle ($8.25)
Service: Meals are ordered and picked up at the food truck.
5th Street Bistro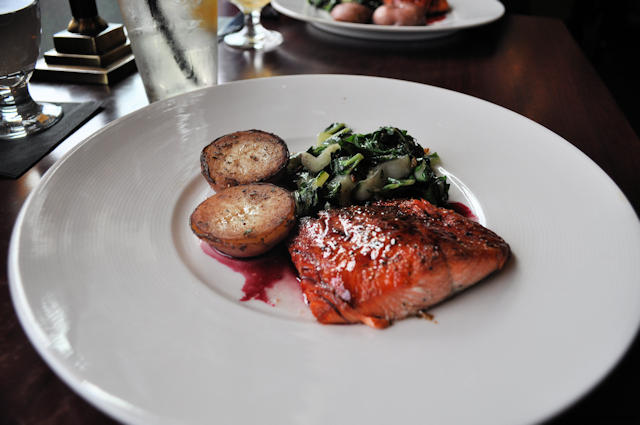 I'm a fan of early bird dinners as they are an excellent way to eat well and save money while traveling.
When a friend came through town, we decided to go out to dinner at 5th Street Bistro at the Majestic Inn & Spa for their Early Evening Trio. The menu, which is a three-course meal for $25, is available from 4 p.m. to 6 p.m.
For the first course, there is a choice between soup du jour or a house salad. The house salad comes with mixed greens, carrots, apricots, feta cheese, and a citrus dressing. The light and flavorful dressing were the highlights of this course as it gave the salad a real zing.
My second course was the sockeye salmon. The salmon came with a loganberry and seasonal vegetables. The presentation was very colorful with berry red and bright green against a stark white plate. The highlight of this dish was the garlic Swiss chard. It was cooked to perfection with a little crunch left in the center part and a slight garlic flavor which did not overpower other aspects of the dish.
The loganberry paired extremely well with the salmon, which has a very distinct flavor. My only complaint was that it was slightly overcooked.
The lemon tart was not available that evening, and the dessert choices were crème brulee and cannoli pie. Since I've had their crème brulee before and like it, I thought I'd try the cannoli pie.
The crust was spicy and a little chewy, which I reminded me a little of gingersnap cookies. The creamy vanilla filling was firm, like a pie, and, the top was sprinkled with mini chocolate chips and caramel bits. From the description, I thought the cherry flavor would be stronger than it was, but I've never had cannoli before so unfortunately, I have nothing to compare it too.
Overall, the Early Evening Trio dinner at 5th Street Bistro was well prepared, presented beautifully, and had generous portions. For $25 it's a good deal. Next time, I would order something other than the salmon, like the flat iron steak with a mushroom sauce or the herb-roasted chicken.
Where: 419 Commercial Ave. Anacortes, Wa 98221
What: Breakfast, Lunch, Dinner
Hours: Hours listed here.
Want to Try: The Early Evening Trio menu with flat iron steak or herb-roasted chicken.
Service: 3/4 stars
Bob's Chowder and BBQ Salmon
Bob's Chowder & BBQ Salmon has been a fixture in the small town of Anacortes, Washington for nine years and one of the Skagit Valley's iconic seafood restaurants. Whether you live in Anacortes, are in Anacortes for the weekend or visiting from Seattle for a day trip, Bob's Chowder (as the locals call it) it is one of the best places in town to get fresh and local seafood.
My go-to item at Bob's Chowder is their delicious salmon wrap with lemon love dressing. During this visit, I sampled several menu items, all of which I'd never had before.
I started off with Bob's award-winning New England style clam chowder. Wow! (I had planned to take some of this home to my chowder loving husband and ended eating it all. Oops.) Followed by the grilled wild salmon with huckleberries and a salad with their house-made cilantro lime dressing as well as fish n' chips with Pacific Cod, fried Willapa Bay oysters, and fried prawns.
In this day and age, people are more conscious of where their food is sourced from. The Atterberry's pride themselves on using locally caught and harvested seafood, like Pacific-caught cod, local salmon that follows the runs, Willapa Bay oysters, and certified and sustainably caught prawns. One seafood item you won't find at Bob's Chowder is crab. Why? Bob is allergic!
They also make all their own batter and sauces, and they bake their desserts in-house.
I was too full to try any of their housemade sweets, and when my sweet tooth kicks in, I need to stop by for their popular coconut cake pound cake and key lime pie made with their dressing.
Where: 3320 Commercial Avenue, Anacortes, WA — it's one of the first Anacortes restaurants you'll see as you drive into town
What: Lunch & Early Dinner
Hours: 11 AM to 7 PM (8 PM on Fridays & Saturdays)
Want to Try: Fish 'n' Chips, fried oysters, chowder.
The Shrimp Shack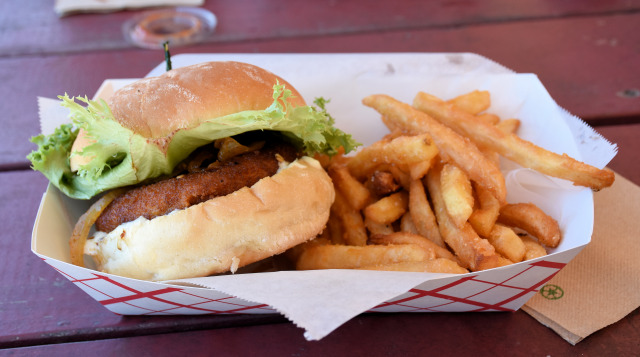 Are you visiting Deception Pass State Park and looking for a place to dine? The Shrimp Shack serves great seafood and is family-friendly.
The Shrimp Shack is open year-round and next to State Route 20, which is the only road that takes you from Fidalgo Island to Whidbey Island. In between these two islands is Deception Pass State Park, the most visited and photographed park in Washington State.
So needless to say this local Anacortes restaurant, which is an old-school walk-up diner style, is in a great location with lots of regular traffic. I drive by at least once a week, and there are always people waiting to order or sitting in the outdoor covered seating area and/or beer garden.
With shrimp in their name, you might think they only serve shrimp, but their menu consists of a variety of fresh and local seafood like oyster and shrimp burgers, blue crab sandwich, calamari, clams, fish-n-chips, as well as, burgers with a couple of interesting choices like elk and gator. There is only one salad to choose from, and they also serve ice cream, root beer floats, Italian soda and milkshakes.
At the window, we ordered halibut tacos with corn shells (daily special-$14.99), fried colossal prawns ($13.99), a cup of clam chowder ($4.99), a Bud Light ($3.50), and a Tieton apricot cider ($9). After we paid, they gave us a number to set at our table. Since we had alcoholic beverages, we sat at a picnic table in the beer garden.
Our drinks arrived within the first two minutes, and soon after the chowder. I am not a fan of clam chowder, not because of the taste, but because I can't stomach the idea of eating bivalves. After my husband raved about how great the chowder was, I had to give it a try. I admit, he was right, it was really, really good. The soup was loaded with lots of bacon, which gave it a hearty, smokey flavor. (Don't tell anyone, but I think their chowder could almost convert me over to the bivalve side.)
Several minutes later our main courses arrived. I was impressed with the size of our dishes. Three tacos were loaded with halibut and wrapped in two corn taco shells each with a side of pico de gallo. It was the same with the basket of colossal shrimp―packed full. For the money, which I think is a little pricey for a walk-up roadside diner, I was happy to see they weren't scrimping.
My tacos were moist, spicy, and the fresh pico de gallo added that salsa pop. It was really nice to have two corn tacos for each one as it provided more support. The colossal shrimp were huge and the fry batter was nice and crispy. Would we order both of these again? Yes. But I'd request that the spice on the tacos be toned down because after my first several bites my mouth felt like it was on fire. If you are not into spicy dishes, the halibut tacos are probably not right for you.
Over the years, I've always heard good comments about The Shrimp Shack from other Anacortes food enthusiasts. Now I can add mine to the mix!
Where: 6168 State Route 20, Anacortes, Wa 98221 (2.5 miles north of Deception Pass State Park)
What: Lunch and Dinner
Hours: Monday thru Sunday 11 a.m. to 7 p.m.
Want to Try: The Elk Burger ($10.99), The Gator Burger ($13.99), Blue Crab Burger ($13.99)
Secret Cove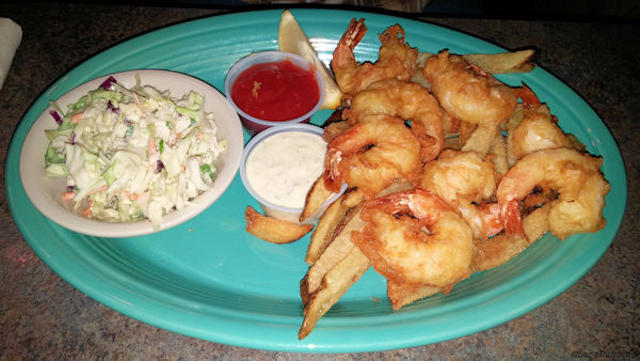 In my opinion, Secret Cove has the best Happy Hour in the small town of Anacortes, Washington. And it's on the water next to Guemes Channel.
Their Happy Hour is from 3-7 p.m. Monday-Saturday and 11:30 a.m.-7 p.m. on Sunday.
Happy Hour includes $3 well drink specials that rotate daily (Mon. Rum, Tues. Scotch, Wed. Whiskey, Thurs. Tequila, Fri. Gin, Sat. Vodka), a selection of appetizers that ranges from $4, $6 and $8, and daily specials.
Oh, did I mention they have a west-facing outdoor porch? On a sunny summer day, this is the place to go in Anacortes.
After entering the restaurant, head up the sea life painted stairwell to the bar. Guests seat themselves and most of the time it borders on full. In the winter, I like the corner window seat and outside on the porch in the summer. The staff is friendly and if they aren't swamped the service is excellent.

My go-to Happy Hour appetizers are the chicken Caesar salad ($8), BBQ brisket sliders with coleslaw ($8), and the hummus platter ($6). My husband loves the hot wings ($8) and the mac'n' cheese ($6). We also love the loaded nachos — at $8, it's large enough for two to share!
Where: 209 T Ave. Anacortes, WA 98221
What: Lunch and Dinner
Hours: Sunday-Thursday, 11:30 a.m.-9 p.m.; Friday-Saturday 11:30 a.m.-9:30 p.m.
My Favs: C hicken Caesar Salad ($8), Popcorn Shrimp ($6), Tequila ($3 on Thursday)
Service: 3/4 stars
Salt & Vine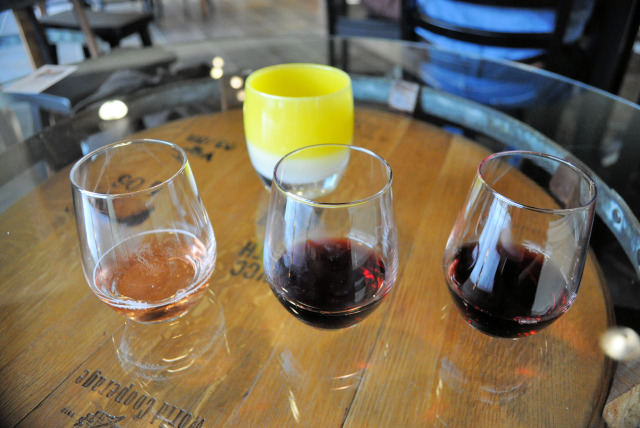 I wanted to sample a variety of wines so I ordered the wine flight ($9), there are around ten or so wines to choose from. I selected a Pinot Noir, a Malbec, and a blood orange cider. The wine flight didn't come with any information, so I'm not sure what the wineries were, but I did like all three.
Travel Tip: They have a daily Happy Hour from 3 p.m. to 5 p.m. and offer $5 wines and a $1 off beer.
I also ordered a cheese and charcuterie board ($20) which had Buenalba Cabra Pimenton, a goat cheese from Spain which had a paprika tang and spice to it (this was my favorite), and a Morbier Cendre Royal, a cow cheese with a layer of grape must. This cheese was very mild and creamy. The meats were a Soppressata, Proscuitto, and Finocchiona salami.
If you are craving something sweet, they also have cheesecake and truffles.
Salt & Vine also carries a selection of gourmet meats, cheeses, kitchen items, and other foods like olives, honey, flavored oils, and one I've never heard of before – black garlic!
Yes! If you visit Anacortes and like cheese, wine and charcuterie, you'll want to put this on your foodie stops.
Address: 913 6th St. Anacortes, WA 98221
Hours: Tuesday through Saturday 11 a.m. to 7 p.m. Closed Sunday and Monday.
For more information visit Salt & Vine's website.
Runner Up Favorite Restaurants in Anacortes
A'Town Bistro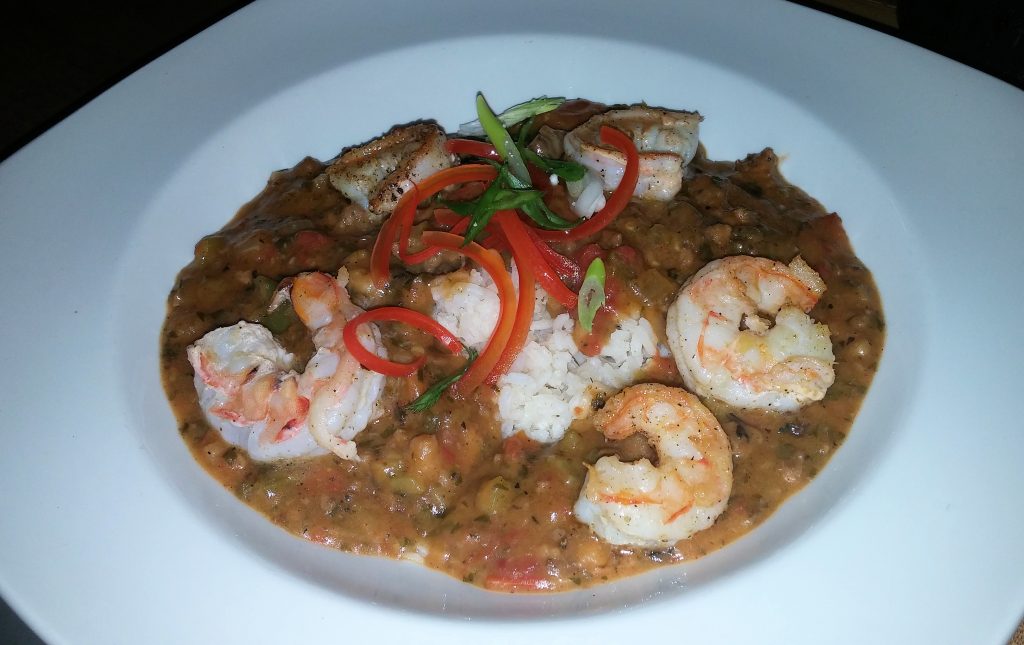 A'Town Bistro is all about local, rustic and seasonal fare. I like everything from their beet salad, to their boar burger, rib eye and specials. Their made-to-order clam chowder is very popular.
Dad's Diner
Dad's Diner is all about house-smoked meats, BBQ and scratch sauces, fixings, and rubs. I haven't made it there yet for breakfast, but I do like their burgers.
The Brown Lantern Alehouse
The Brown Lantern Alehouse is very popular with locals. They serve up traditional pub fare, and one of our favorite burgers is the Mediterranean Lamb Burger. I also think they have the best onion rings in town.
Adrift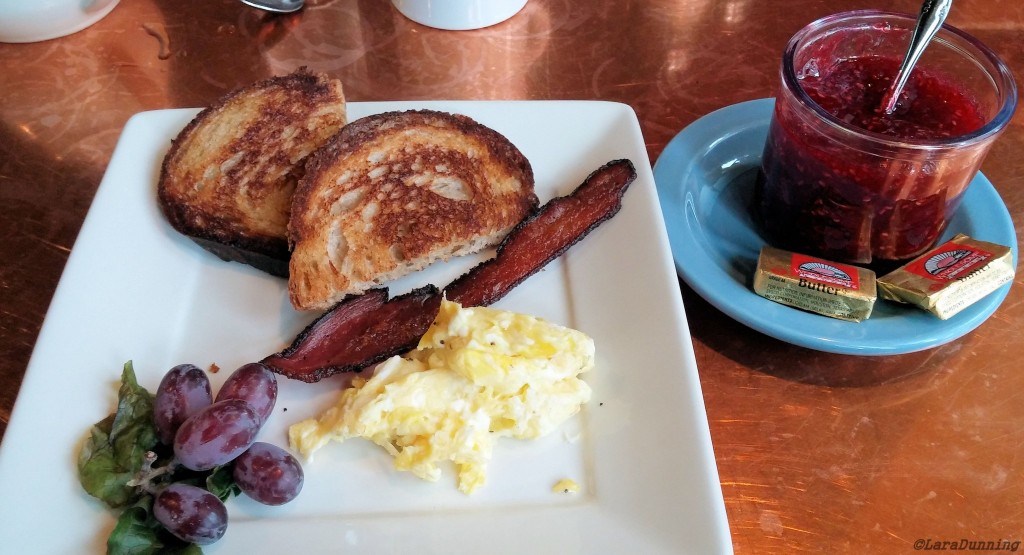 We tend to go to Adrift for breakfast as we love their 222 and biscuits and gravy spiced with thyme. Their fish tacos are also one of my favorites.
Bastion Brewing Co.
Bastion Brewing Co. is the newest brewery in Anacortes. They serve up traditional pub fare, including hand-crafted burgers.
H2O
13moons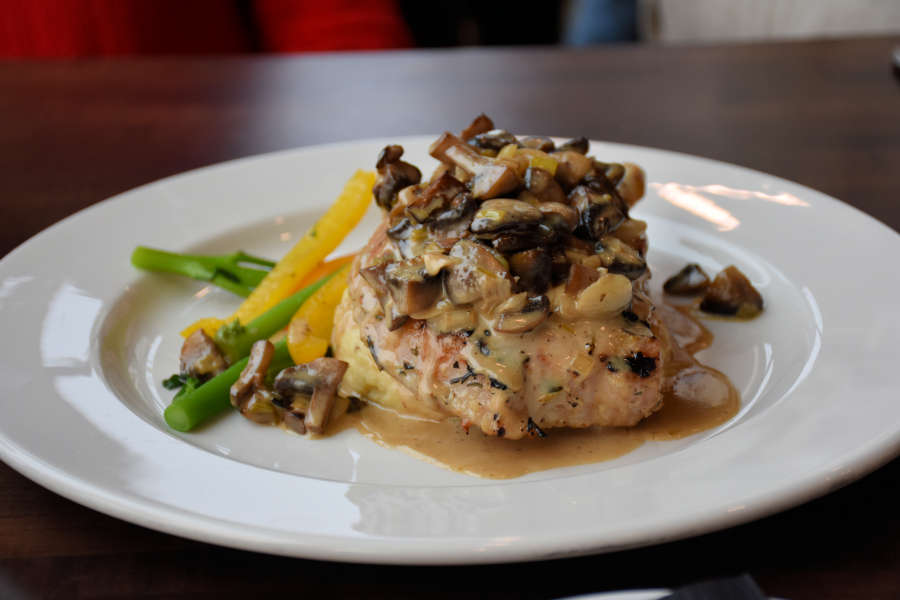 13moons at the Swinomish Casino & Lodge has the best east facing view in town, and a great upscale menu. I'm particularly fond of their crab cakes.
Honorable Mentions: The Rockfish Grill, The Cabana, Anthony's at Cap Sante, Village Pizza, Ciao Bella, Greek Islands, Gere-a-Deli, Mad Hatter's Ice Cream, and more!
Pin This Guide to Anacortes Restaurants & Anacortes Food!