The Pacific Northwest is home to lush evergreen forests, miles of beautiful coastline, and dramatic mountain peaks. Hundreds of hikes and trails offer an abundance of ways to enjoy the fresh air and diverse landscapes. With options ranging from the Mount Rainer National Park to those within the city itself, here are some of the best hikes near Seattle.
Tips for Hiking Near Seattle
Before the list, it is good to keep in mind some essentials for hiking near Seattle.
Weather on the coast and in the mountains can be unpredictable, wear layers, and bring extra clothing.
Always carry a map, compass, first aid kit, and a tide map if near the coast.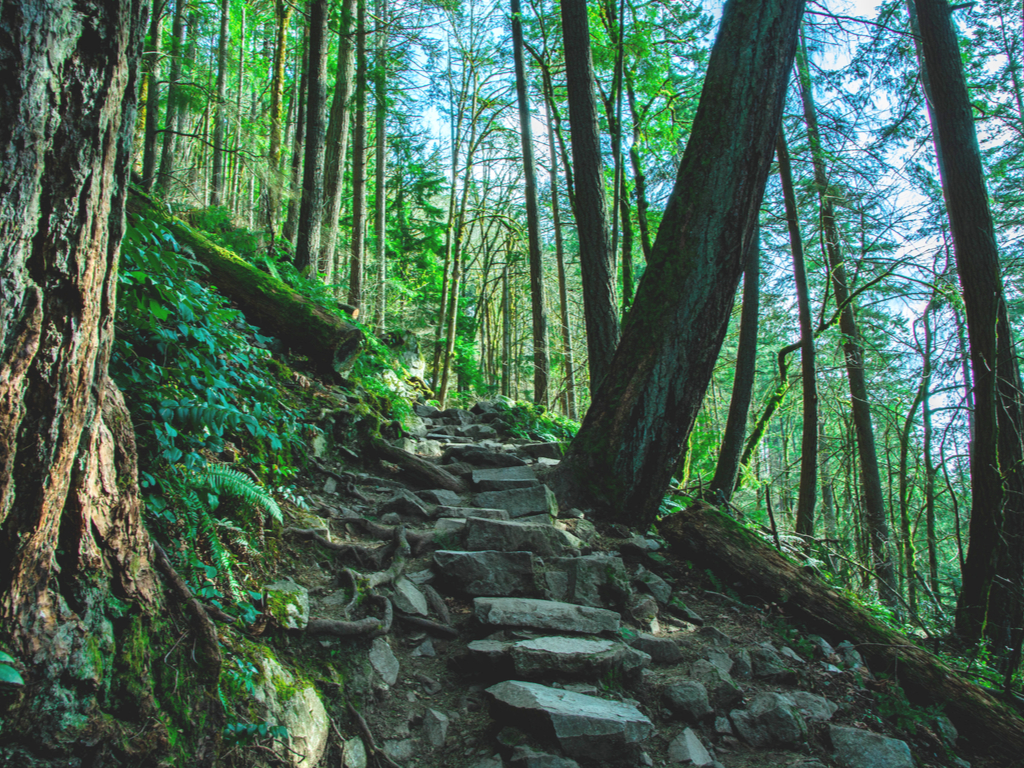 Some links in this post may be affiliate links. If you make a purchase through one of these links, we may earn a small commission at no extra cost to you. Please see our

disclosure policy

for more detail.
A good backpack with a strap around the waist, to carry weight on the hips and not the shoulders, and a good pair of hiking boots are invaluable investments especially for longer hikes.
Extra water and salty snacks help keep good hydration, many of the streams higher in the mountains can be filtered for drinking water.
Wild animals are sometimes spotted, including bears and cougars, and can be very dangerous. Make noise while hiking to alert them to your presence and scare them off; wearing bells, talking, or singing is a good way of doing this.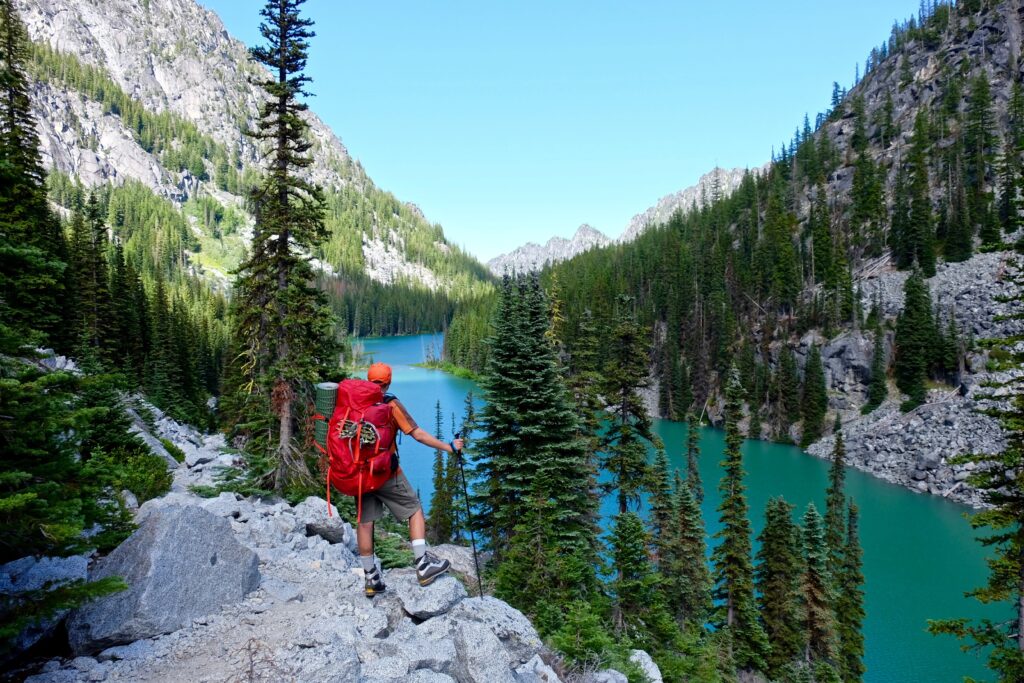 The Best Hikes Near Seattle
Take a break from the city in Discovery Park.
The trails in Discovery Park are a bit of nature right in the city, featuring a forest, meadows, beaches, and a lighthouse.
Locals use this Seattle hiking trail for running and dog walking, though the park is big enough that it doesn't feel crowded. Many of the trails are paved, but after rain, the few unpaved trails can be muddy.
This 534-acre park has free parking or a few bus route options and feels far away from the noise of the city. The visitors center offers information on the park if you are looking for something specific.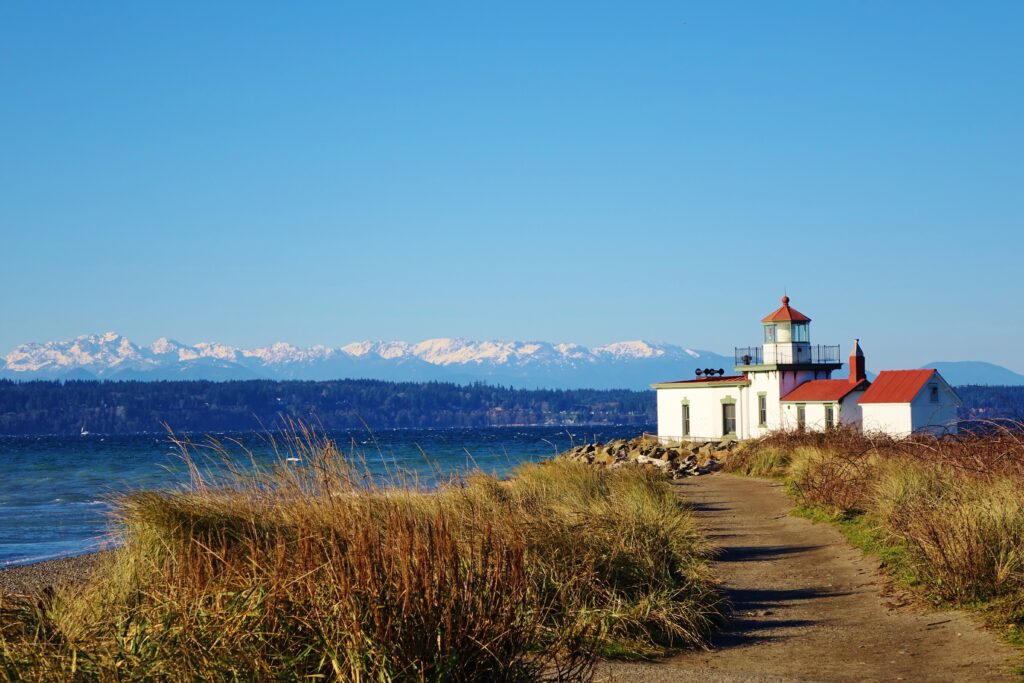 Watch paragliders take off at Poo Poo Point.
After they finish giggling at the name, this hike rewards visitors with breathtaking views of Lake Sammamish at the top. Paragliders use this peak as a launch point and the open area provides wide views for those not willing to throw themselves off a hillside.
This 7.2-mile roundtrip hike with an elevation gain of about 1800 feet is a bit of a challenge, but dogs are allowed and there are no parking fees. There is even a bus that will drop you off right at the trailhead if you'd rather avoid the 25-minute drive.
Though close to the city, bears and cougars have been sighted in this area, but it is very rare.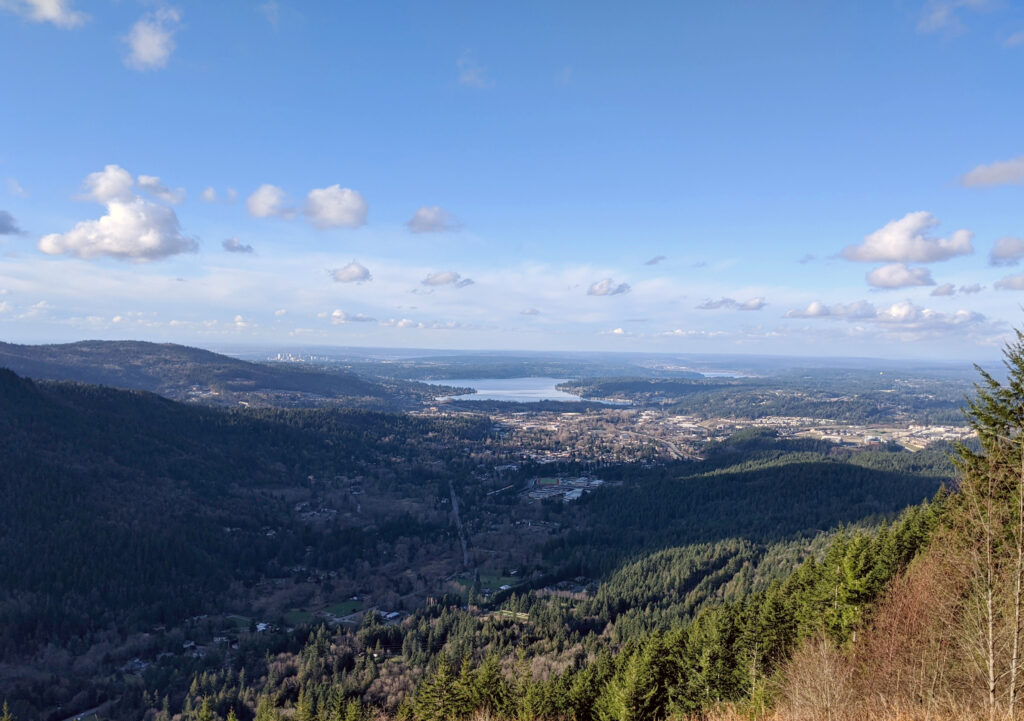 Admire the views off of Rattlesnake Ledge.
One of the best hikes near Seattle, Rattlesnake Ledge offers fantastic views at the price of a consistent elevation gain.
On a nice day, this hike is so popular that it has a line of people going up and a line going down. The first lookout is always crowded, a few more miles up offers a second lookout spot and far fewer people.
This 4-mile, 1000 ft elevation gain trail starts at a lake and then climbs up for the views. At about an hour and a half drive away from Seattle, there are no fees for parking. Dogs are allowed, and it is a great spot for kids to enjoy, just be careful of the ledge on the lookouts.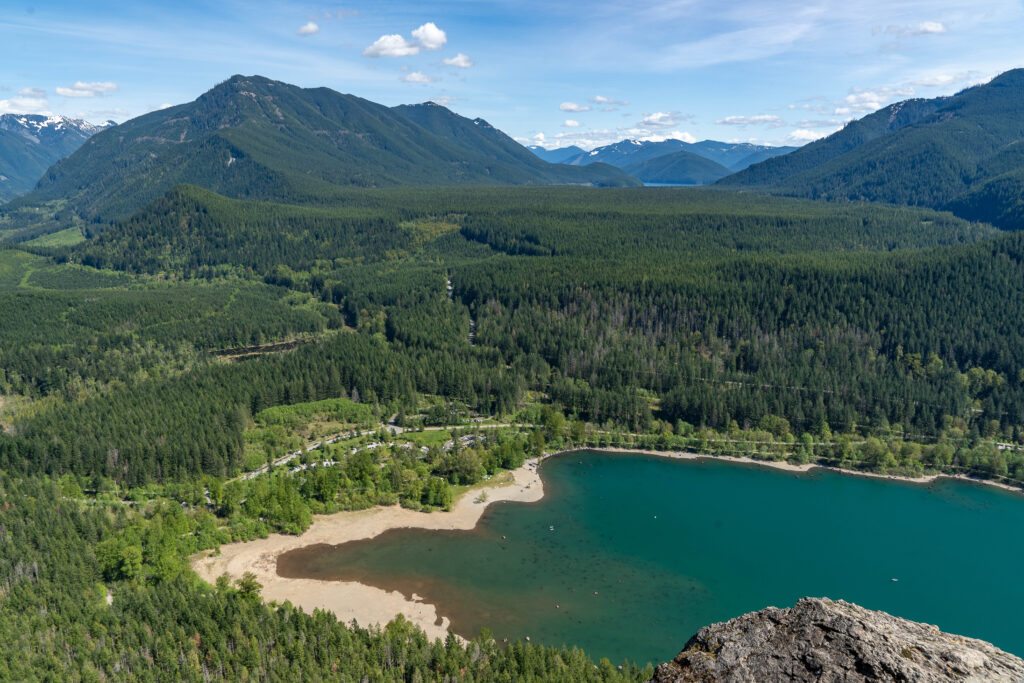 Compare the trails of Mount Si.
Arguably the most popular hikes near Seattle, this hike and its sister Little Si, sport fantastic views of the mountain town of North Bend and surrounding area. Little Si is popular with rock climbers as there are many interesting rock formations.
Mount Si is the 'old' trail, longer at 7.4 miles round-trip, and has an elevation gain of about 4000 ft. It's the less popular of the two and quite difficult. Little Si is far more popular at 5 miles round-trip and an elevation gain of 1200 ft with just about the same views as Mount Si. Both hikes are about a 40-minute drive from Seattle, and a discover pass is required for parking.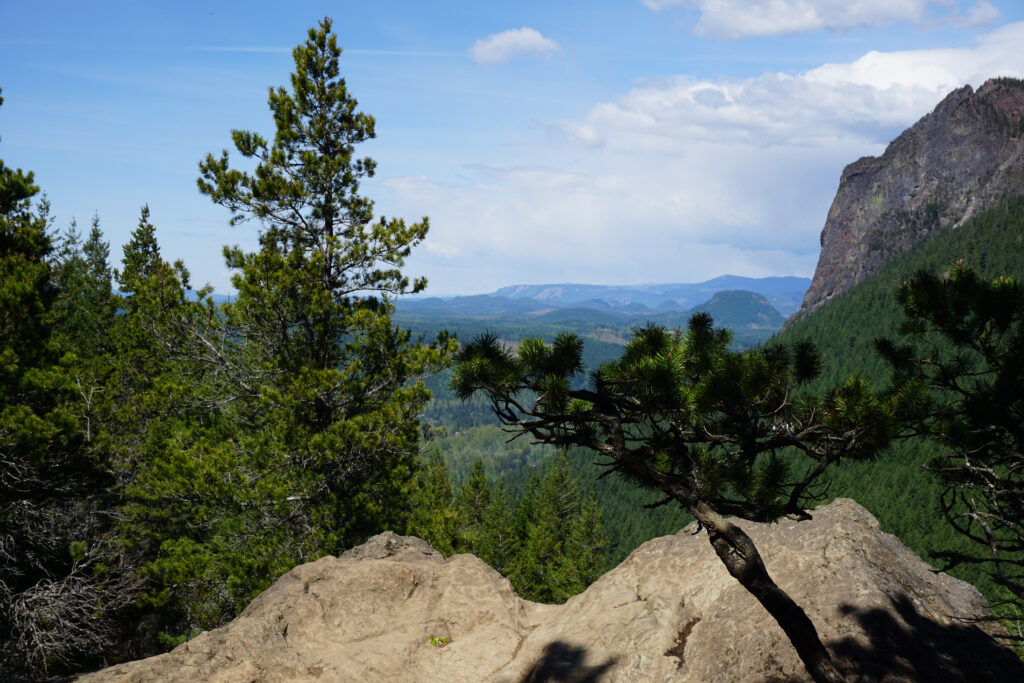 Record your name at Mailbox Peak.
One of the most difficult hikes near Seattle is Mailbox Peak. At the top, hikers are rewarded with great views and a quirky surprise where you can record your name on the register inside the mailbox.
There are two routes up this trail, the original had so many injuries and lost hikers that a new trail, longer but gentler climb, was constructed. On clear days, the views of Mount Rainer at the top are stunning and most hikers enjoy boasting the completed challenge of reaching the peak.
The old trail climbs 4000 feet in 3 miles, a true calf burner. The new trail covers the same climb in about 6 miles. This hike is about 40 minutes from Seattle and a discover pass is required for parking. This old-growth forest trail has wildflowers in the spring and allows dogs.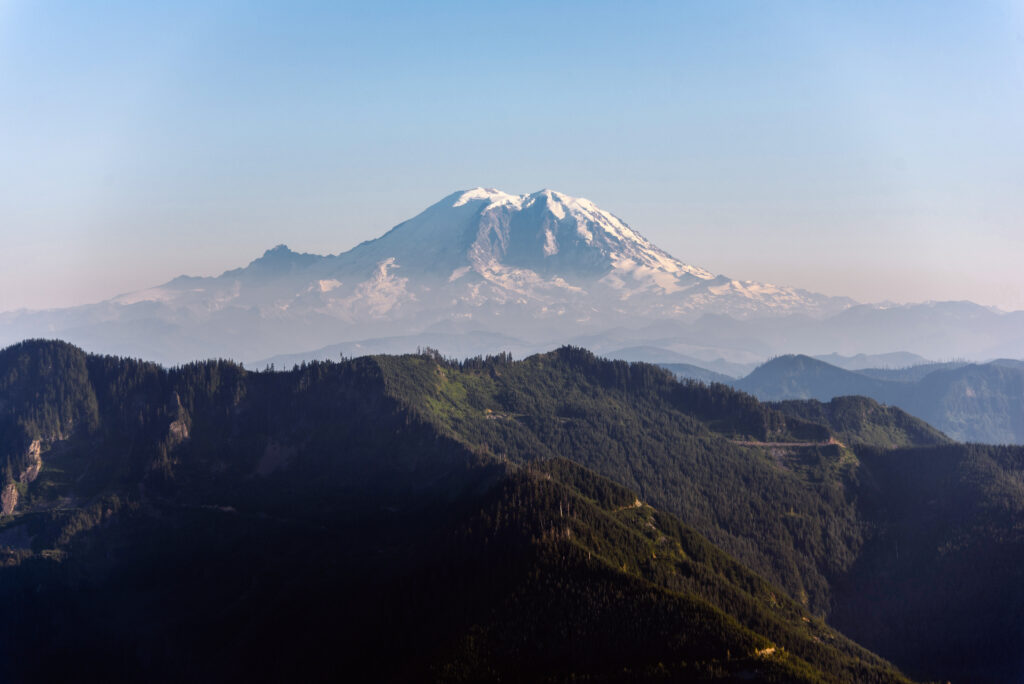 Stretch your legs at Blue Lake.
There are many 'Blue Lake' trails however, this one just off North Cascades off Highway 20 is one to remember. This trail features meadows with wildflowers in the early summer, a mixed foliage forest for fall colors later in the season, and tall peaks nestling a, well, blue lake. Though it starts off with well-maintained boardwalks, a word of caution goes for the makeshift log bridge or traversing over the stepping stone.
At 4.4 miles round trip and an elevation gain of just over 1000 ft, this short hike allows dogs and is good for kids. It is a three-hour drive from Seattle, but the views of Diablo Lake make it an enjoyable journey. Be sure to grab a Northwest Forest Pass before getting to the trailhead.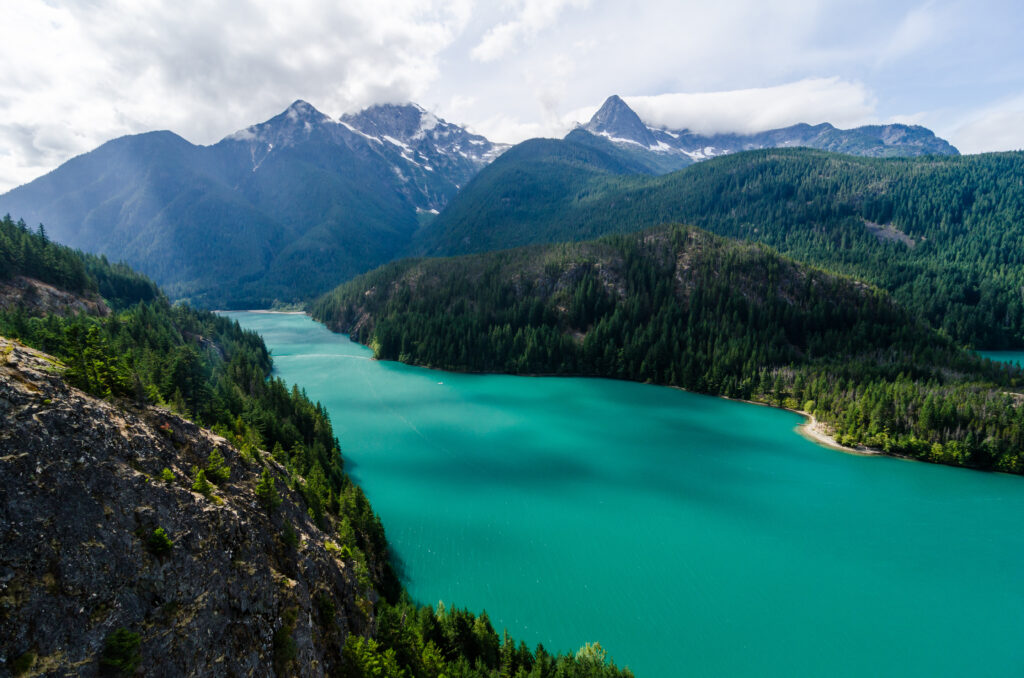 Stargaze at Kelly Butte Lookout.
In the Greenwater area, Kelly Butte is a less known trail that leads to an old, recently repaired fire lookout.
Most of the trail leading up offers 180-degree views of the surrounding valley, interesting rock formations, flowers in the spring, and wild huckleberries in late summer. This hike close to Seattle offers a good evening/night hike as the sunset from the top is breathtaking and the stars, on a clear night, shine across the sky.
This hike is short at 3.4 miles round trip and an elevation gain of 1100 feet and dogs are allowed. The last 15 miles of the two-hour drive from Seattle are on a crisscross of logging roads; printed or saved instructions are suggested.
Be sure to grab a Northwest Forest Pass before heading up. If attempting a night hike, a good flashlight with extra batteries are highly suggested along with extra layers of clothing.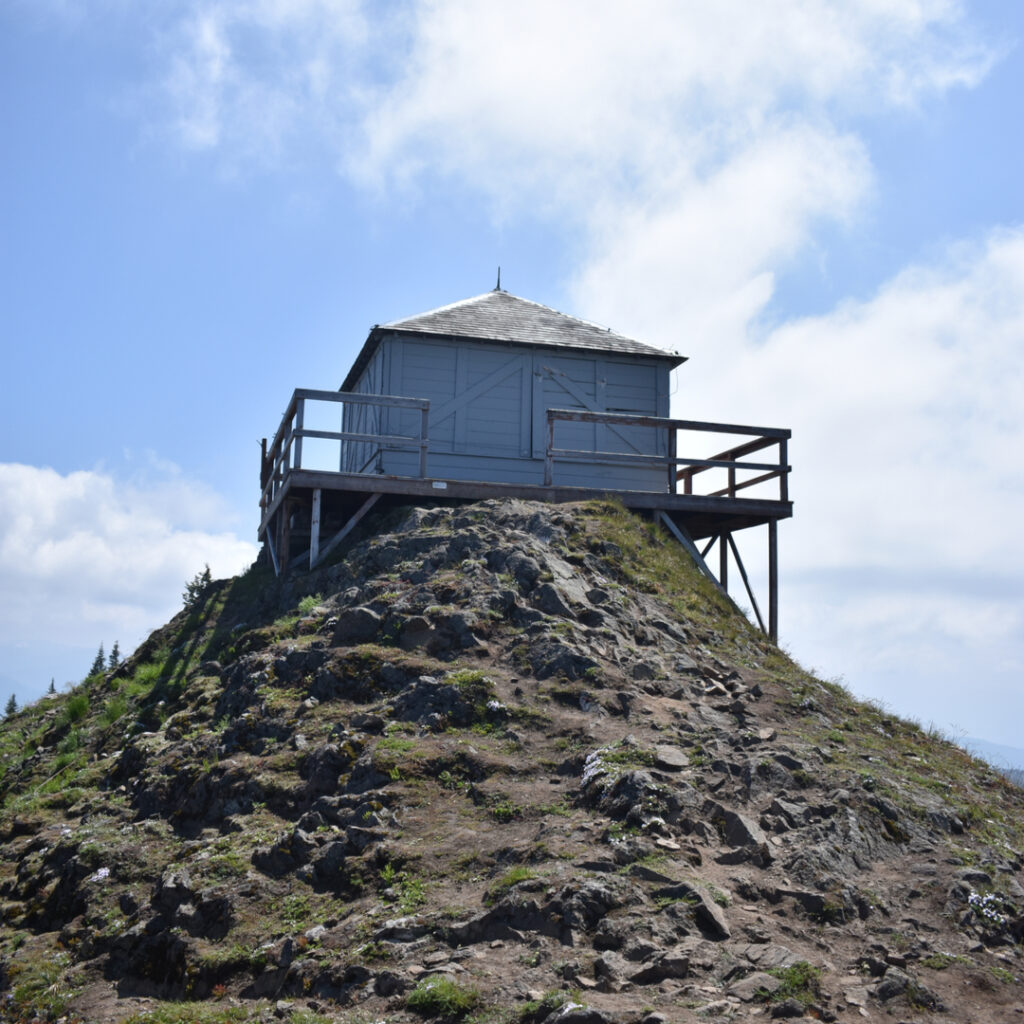 Observe Rainer Peak at Grand Park via Lake Eleanor.
This hike is a great chance to get up-close and personal with Mount Rainer while offering incredible views of large meadows and a lake. This hike is best done in early summer when wildflowers are in full bloom.
The original approach to this spot is long and steep, this lesser-known trail is much shorter and offers camping around Lake Eleanor about a mile in.
This trail length is 8 miles round trip and has 1100 feet of elevation gain. No fees are required for parking, though there is limited space. The hour and 55-minute drive from Seattle is well worth it to get away from the crowds.
As the trail crosses into the Mount Rainer area, dogs are not allowed. The trail also goes right through the meadows and at these points there is no shade, a sun hat and sunscreen are highly recommended.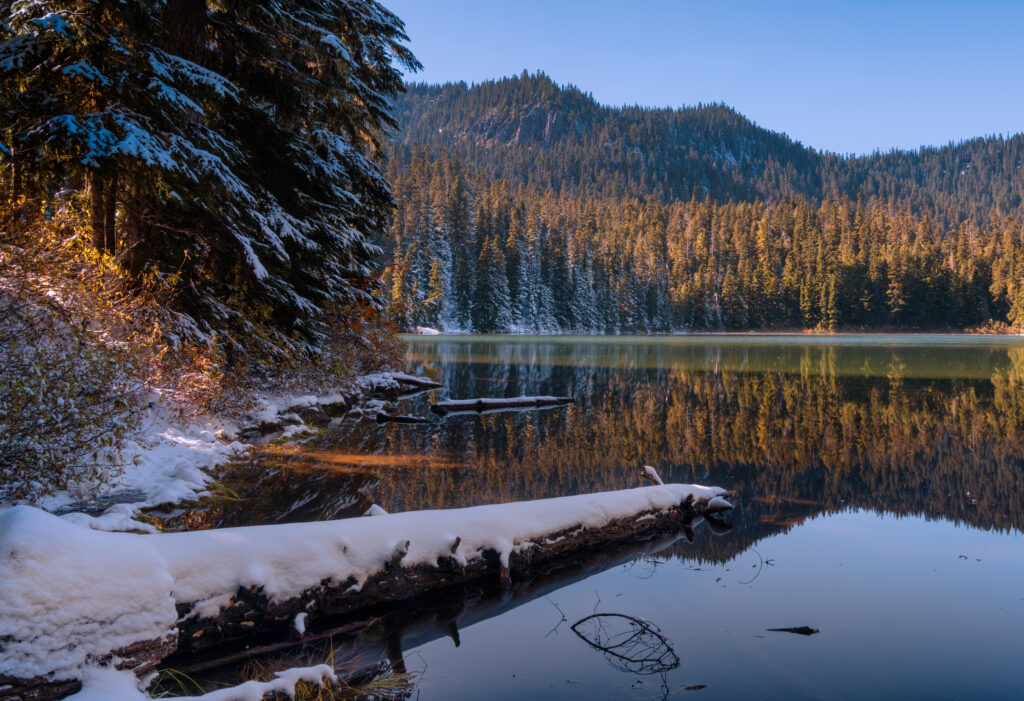 Get lost in the wonderment of The Enchantments.
This incredible hike, offering one-of-a-kind views, lakes, waterfall, wildflowers, and herds of wild goats is a challenging but rewarding experience.
There are a few access points, but the most popular is by the Stuart Lake or Snow Lake trailheads. Most people turn around at these lakes, but the most experienced hikers can attempt the 19-mile-long through-hike in one day.
The elevation gain on this trail is 4500 feet with Aasgard Pass climbing 1900 of those feet in only one mile.
The drive from Seattle is about two hours and 50 minutes, but you will pass by many charming mountain towns and wonderful views.
Camping is allowed on the trail, but by permit only and is handed out lottery style. Application and fee payment open online in February for the summer hiking season. Information about when, where, and how many people must be provided at the time of the application.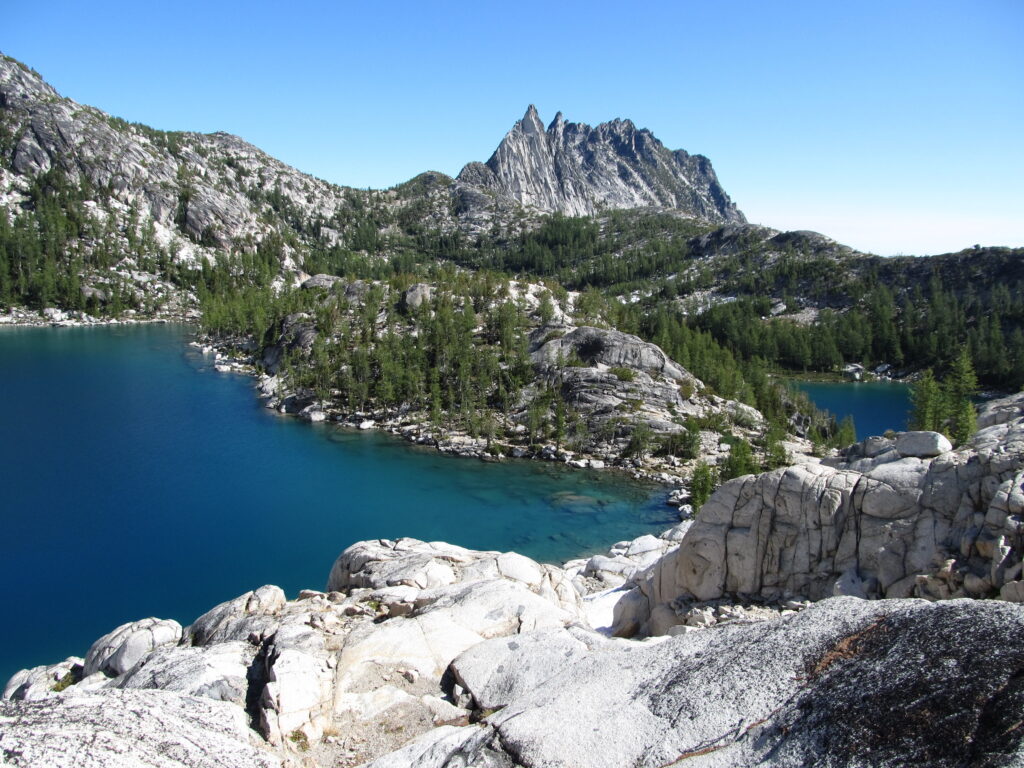 Catch an eagle-eye view off of Hurricane Ridge.
Over in the Olympia National Forest, Hurricane Ridge is named for the high winds that come off the Strait of Juan de Fuca. It is one of the best hikes near Seattle that offers amazing views of the surrounding mountains and Puget Sound from a mile above sea level.
As you hike, keep a lookout for the marmots who have made a home in the rocks! 
This easy hike includes 650 feet of elevation gain in 3.2 miles. Located about three hours from Seattle, including a ferry ride to Bainbridge Island, this would be an all-day trip, but well worth it. Note that dogs are not allowed on this trail, but it is great for kids.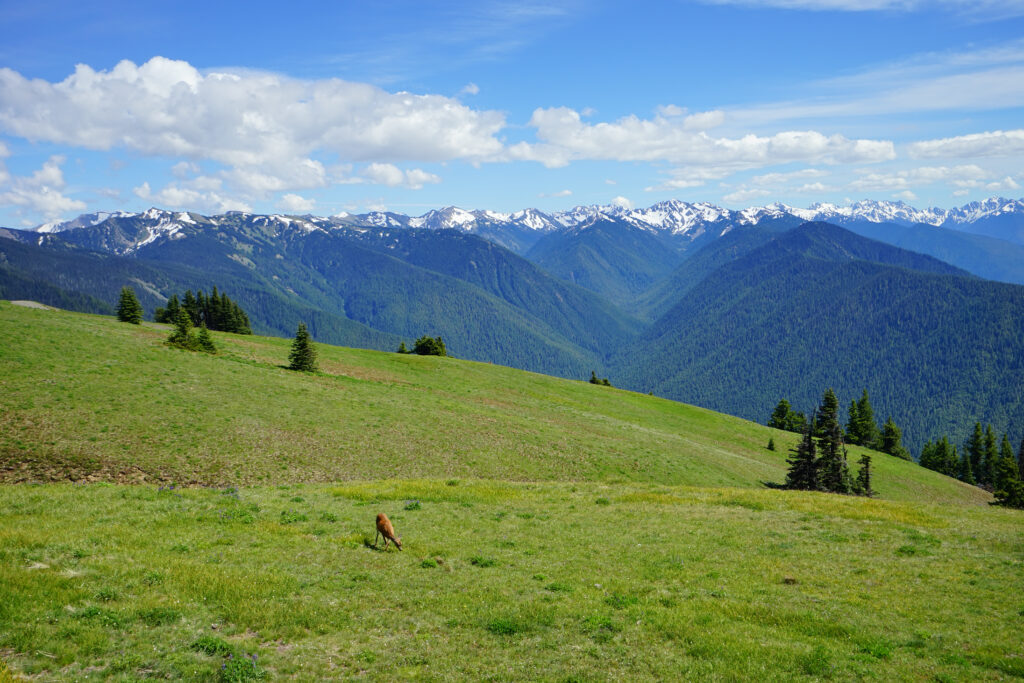 Soak sore muscles at Goldmyer Hot Springs.
As the name suggests, this unique hike near Seattle leads to a natural hot spring with pools built for soaking inside and outside the cave the steaming water pours from. There are a few access points to the springs, by the old logging road (closed to cars) or the longer trail through second generation forest.
The springs are privately owned by a non-profit and a reservation is required if planning on soaking. There is a 20-person limit at the springs and campsites, clothing is optional. A caretaker stays in the cabin year-round to check in visitors and to help if there are any problems.
By trail, the length is 24 miles round trip and by the logging road, it is closer to 9 miles round trip. The last few miles of the hour and 30-minute drive is on old rough logging roads. Note that dogs are allowed on the trail, but not on the Goldmyer Hot Springs property.