Take an island vacation, Pacific Northwest style, to one of the many gorgeous islands that dot the coastline of Washington!
Washington's islands host miles of beautiful beaches and forests, amazing views, tons of parks, campgrounds, and hidden jewels for you to explore.
Take time to remove yourself from your hectic daily schedule and enjoy some relaxing islands in Washington State, where it's easy to get away for a bit. You can get to these islands in Washington by traveling by car, bike, Washington State ferry, or your personal boat and enjoy the perfect island getaway in the Pacific Northwest!
Listed below is our list of the 15 best Washington Islands to visit: it was hard to pick, but these are the winners.
Here you will find all the pertinent information about visiting these beautiful Washington islands and what you should be sure to do during a perfect day or overnight trip to each of the islands.
The Best Islands in Washington
Anderson Island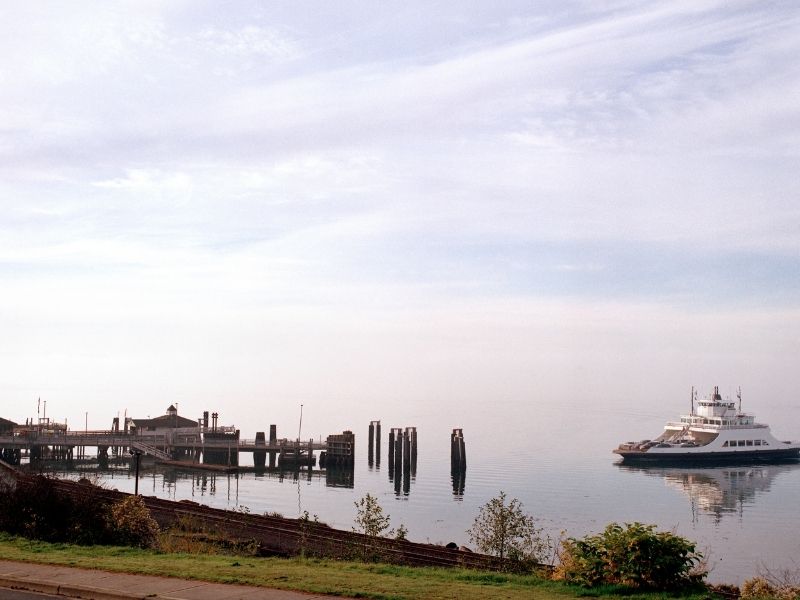 Some links in this post may be affiliate links. If you make a purchase through one of these links, we may earn a small commission at no extra cost to you. Please see our

disclosure policy

for more detail.
Location: South Sound
Arrive by: Ferry, just a 20-minute ride from Steilacoom, Washington
About Anderson Island
Anderson Island is the southernmost island in the Puget Sound, south of McNeil Island. It's a small island in Washington but has quite a bit to offer.
The island has two lakes — Lake Florence, a beautiful spring fed lake, as well as Lake Josephine, a calm lake where motorized boats are prohibited.
Other points of interest include a small historic farm, paths along the beach, potential whale sightings, a 9-hole golf course, and even a winery!
Highlights of Anderson Island
Visit Historic Johnson Farm
Hike Jacobs Point Park
Walk the 2-mile trail through Andy's Wildlife Park
Swim at Lowell Johnson Park's Ol' Swimming Hole
Rent a kayak and circumnavigate the island (13 miles)
Wine taste at Anderson Island Vineyards
Where to Stay on Anderson Island
Anderson Island Getaway: This charming standalone 4-bedroom wood cabin in Johnson's Landing on Anderson Island is perfect for families and outdoor enthusiasts, with plenty of deck space to enjoy sunny days, an outdoor grill area, and a fire pit to gather around at night.
Bainbridge Island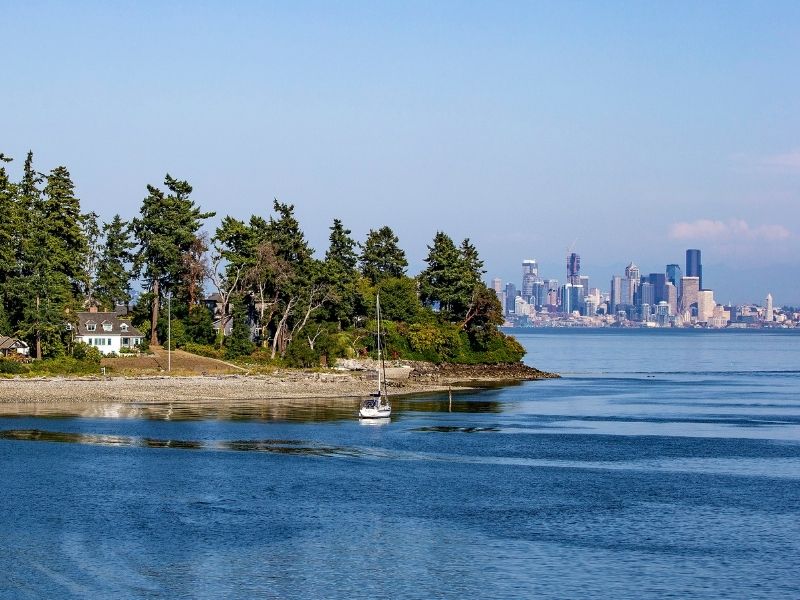 Location: Puget Sound
Arrive by: Ferry from the Colman Dock, Pier 52, Seattle, a 35-minute ride
About Bainbridge Island
One of the most populated islands in Washington, with 23,000+ residents calling it home, Bainbridge Island is one of the most popular day trips from Seattle.
It's got it all: a beautiful forested area with gardens and trails, several parks and campgrounds for an overnight stay, an art museum, and wineries.
There's a variety of overnight stay options as well as restaurants to choose from, so rest assured you'll find all you need on a trip to this Washington Island.
Highlights of Bainbridge Island
View the Cascade and Olympic Mountains, Puget Sound, and Mount Rainier from the boat
Visit some of the seven wineries
Bike or hike through the parks
Browse the shops in Winslow
Eat at the Streamliner Diner or Café Nola
Where to Stay in Bainbridge Island
Marshall Suites: This charming outpost of a Best Western Plus is the best place to stay in Bainbridge, with modern rooms inspired by the landscape of the surrounding nature. Amenities include a 24-hour reception desk, fitness center, and complimentary breakfast.
Blake Island
Location: Puget Sound
Arrive by: Tour boat leaving from Pier 55 in Seattle or private vessel
About Blake Island
This quiet island in Washington is located to the south of Bainbridge Island not far from Seattle, and so you can enjoy sweeping views of the Seattle skyscrapers from the protected nature reserve of Blake Island.
Another particular place of interest is Tillicum Village, which showcases the Northwest Coast indigenous culture. There's a longhouse decorated with art from the local Klallam tribes, and guests can enjoy observing (and eating!) food cooked in the traditional way, as well as dancing and storytelling.
Highlights of Blake Island
Peruse the local indigenous art

and culture at Tillicum Village
View the Seattle skyline from the island
Relax on some of the 5 miles of beach
Bike the 7 miles of bike trails
Explore the 8 miles of hiking trails
Where to Stay
Blake Island Marine State Park Camp Park: As a State Park, there are no fixed accommodation options, but you can camp overnight at the camp park.
Camano Island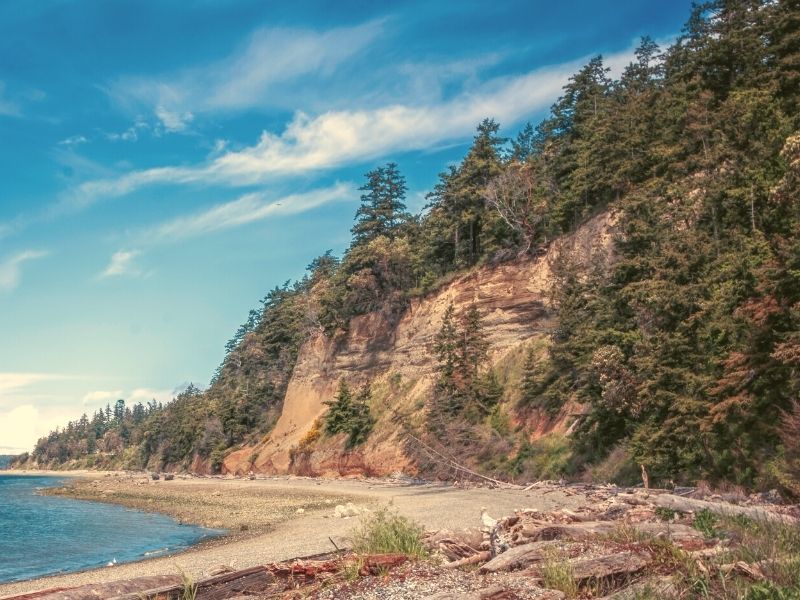 Location: Puget Sound between the mainland and Whidbey Island
Arrive by: Car – Drive on Route 532 through Stanwood and over the Camano Bridge.
About Camano Island
Camano Island is a beautiful and easily accessible Washington Island with its two of its own state parks, which you can easily access by car.
This makes it a great weekend getaway from Seattle, as it's just an hour's drive from the city. It's got delicious places to eat, wineries, beaches, art galleries, markets, and accommodation options galore.
Highlights of Camano Island
Where to Stay on Camano Island
Cama Beach Cabins: For beautiful but rustic beachfront cabins located in Cama Beach State Park, you'll have to reserve early, as these beautiful cabins book up fast! You can bring your favorite four-legged friend for an additional $15/night pet fee. It's recommended to book 6-9 months in advance.
Sea Mist Waterfront B&B: Planning something more impromptu? Look to the gorgeous Sea Mist B&B. The rooms are elegant, with stunning wood-carved four-poster beds and private terraces — and some rooms even have an in-room Jacuzzi! The property itself has a restaurant, on-site spa and wellness center, and gorgeous views over the Puget Sound.
Fidalgo Island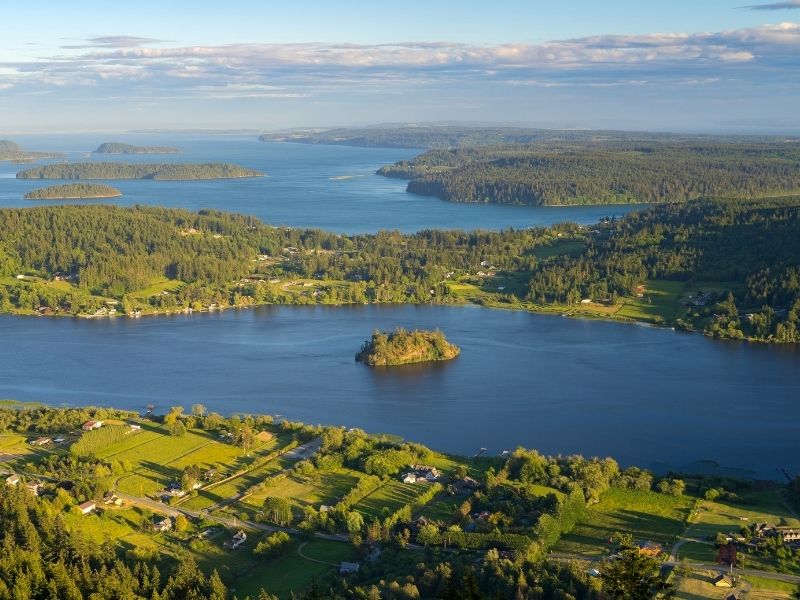 Location: Northern part of Puget Sound
Arrive by: Car by driving west on I-20 from Burlington or north on route 525 through Whidbey Island. Alternately, there are ferries to and from Anacortes, Fidalgo Island from Orcas, San Juan, Lopez, and Shaw Islands.
About Fidalgo Island
Fidalgo Island is home to Anacortes, one of our favorite small towns in Washington! There are many beautiful hikes in Anacortes as well as the stunning Deception Pass Bridge.
Fidalgo Island is one of the largest and most populated islands in Washington and as such, it has a bit more of a bustling feel to it while still maintaining its small-town charms.
Fidalgo Island Highlights
Drive over the iconic Rainbow Bridge
Hike the 38 miles of trails throughout Deception Pass State Park
Attend the Anacortes Waterfront Festival in June
Climb Mount Erie to take in the views of the Cascade Mountains and the island
Picnic and bike in Washington Park
Where to Stay on Fidalgo Island
Majestic Inn and Spa: For a chic, 4-star experience in the heart of Anacortes town, you'll adore your stay at Majestic Inn & Spa. The hotel boasts a full-service spa, in-house restaurant, a rooftop bar with gorgeous views (the only one in town!), and chic rooms that offer elegance and comfort. As a bonus – it's dog friendly!
Ship Harbor Inn: A little less cash to spend on your Washington island getaway? Look to the lovely Ship Harbor Inn, which has Wes Anderson vibes with its adorable nautical red and white styling. Some suites have a spa bath or terrace, great for a romantic getaway. The fireplace is a great place to cozy up at night, and there's also a fitness center for those who like to keep fit while they enjoy their getaway!
Guemes Island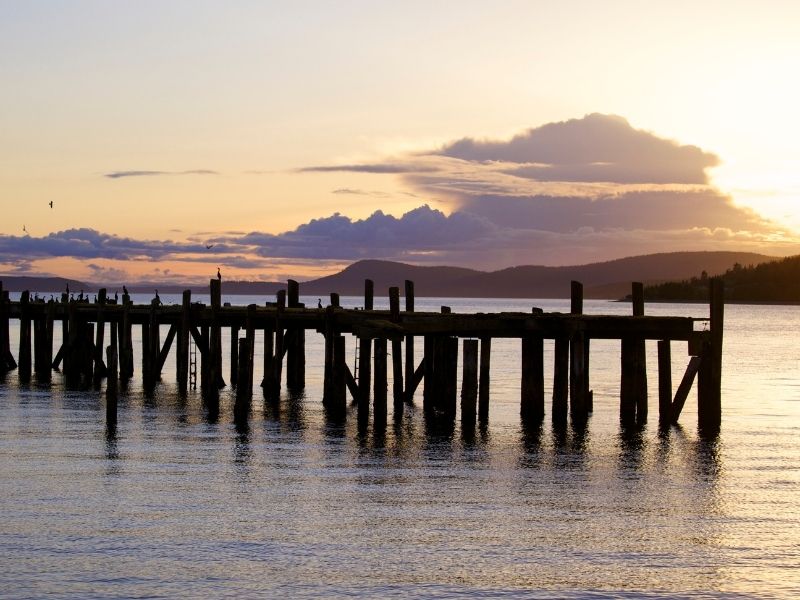 Location: North of Fidalgo Island
Arrive by: Guemes Island Ferry from Anacortes
About Guemes Island
Guemes Island is a very small island located not far from Anacortes, just a short 5-minute ferry ride across the water.
There's not much to Guemes Island but peace and isolation, making it a great Washington island getaway for those who just want to get away from it all. Hiking, beaches, and chilling in your beautiful island cabin: if that's your idea of a perfect getaway, Guemes Island is for you!
Highlights of Guemes Island
Climb the 2.2-mile trail up Guemes Mountain
Enjoy the rugged beaches
Shop for provisions at the Guemes Island General Store
Where to Stay on Guemes Island
Rustic Guemes Beach Cabin: This charming A-frame style one bedroom cabin has a feeling of airy expansiveness to it, with huge windows that allow for gorgeous views of the Puget Sound. An ample deck area gives you plenty of opportunities to slow down, get outside, and enjoy the daylight — or light up the firepit by night!
Harstine Island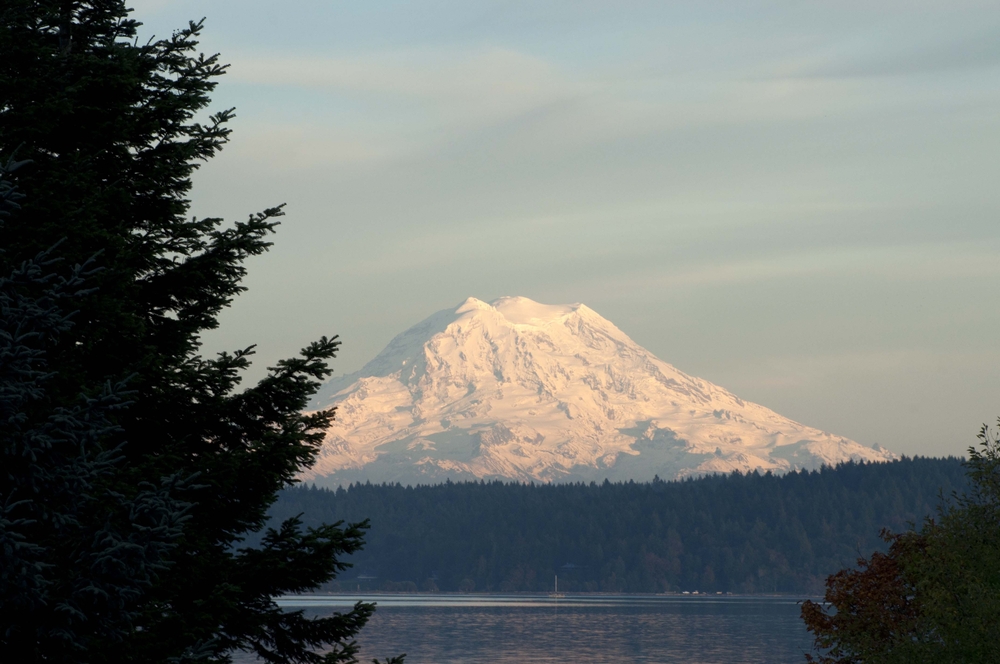 Location: Southern Puget Sound, less than 10 miles from Olympia
Arrive by: Car from the Kitsap Peninsula
About Harstine Island
This small island with a population of just 1,000 people is a great place to get away from it all, especially if you're visiting from nearby Olympia. This island has its own state park, Jarrell Cove, a 43-acre marine park with nearly a mile of shoreline and camping opportunities.
Harstine Island is also a quick hop away from McMicken Island State Park, a 11.5-acre marine with hiking trails, shellfish harvesting, and birdwatching opportunities.
Harstine Island Highlights
Bike along the country roads
Kayak the shoreline
Watch for whales – especially orcas!
Hike through the McMicken Island State Park forests
Visit the Wild Felid Advocacy Center, a cat sanctuary, with big and small cats
Where to Stay on Harstine Island
Rustic Cabin: This beautiful cabin offered on Glamping Hub offers a hot tub, private pool, and enough space for 8 guests to spread. outand enjoy their own space in this beautiful 3-bedroom cabin on Harstine Island.
Jarrell Cove State Park Campgrounds: If you're looking for a place to pitch your tent, this is it!
Lopez Island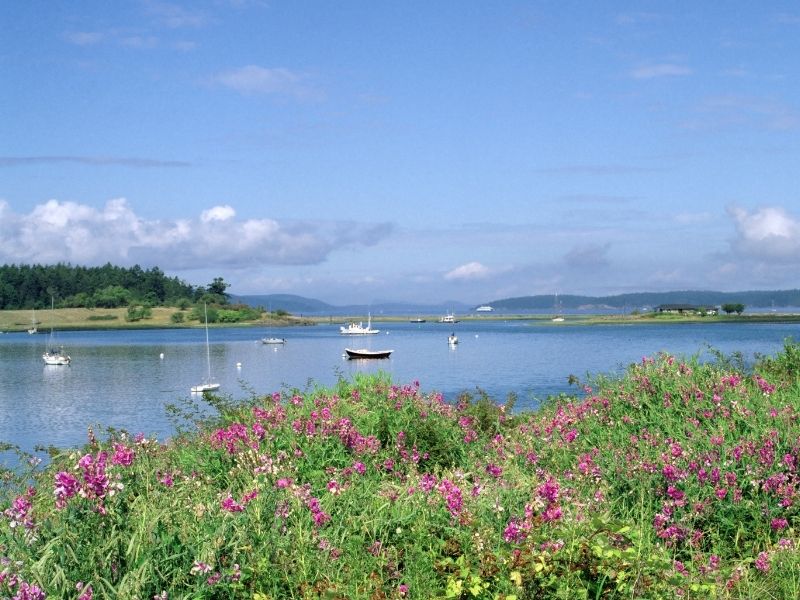 Location: East of San Juan Island and south of Orcas Island
Arrive by: Ferry from Anacortes
About Lopez Island
The third largest of the San Juan Islands, and often overshadowed by its more famous brothers, San Juan and Orcas, Lopez Island offers beautiful scenic charm without any of the crowds of the other destinations.
Lopez Island truly has that small-town feel with just about 2,000 inhabitants. In fact, its nickname is "The Friendly Isle" — the visitor's bureau literally warns you not. tobe startled if people wave to you from their cars while you're on the island!
Lopez Island Highlights
Buy local produce & crafts from the Lopez Island Farmers' Market
Spend the day on the beach, with 63 miles of shoreline to choose from
Birdwatch in the local forests
Take a scenic bike ride
Taste local wine at the Lopez Island Vineyard and Winery
Hike Lopez Hill
Where to Stay on Lopez Island
The Edenwild Boutique Inn: Welcome to your own personal Eden on Lopez Island! This boutique hotel set in a charming green inn offers a unique and personalized stay. Each room comes with a personal fireplace, en-suite with a bath, and colorful details.
Lummi Island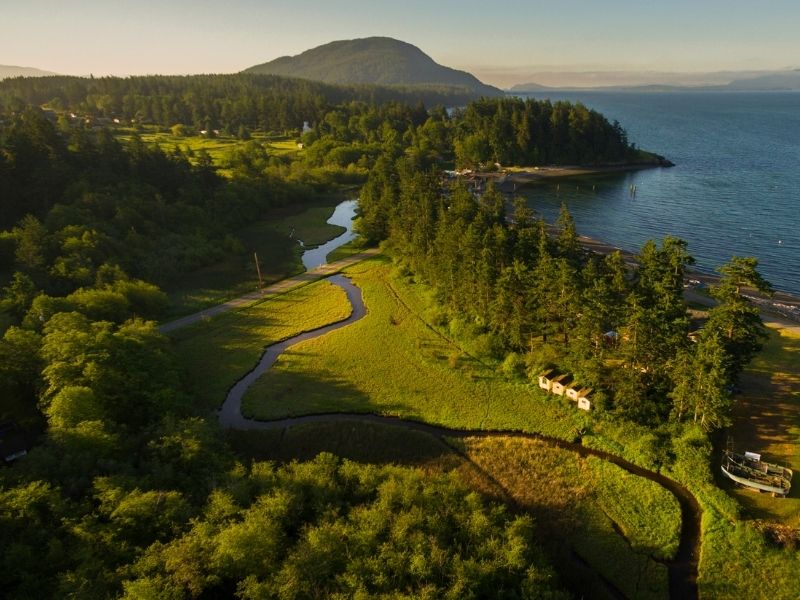 Location: Near Bellingham, Washington
Arrive by: Whatcom Chief Ferry from Gooseberry Point
About Lummi Island
This charming Washington island is located near to the San Juan islands but feels a world away with its quiet charm, artistic atmosphere, and delicious dining.
It's also beloved for mushroom hunting and you can even go on a guided truffle hunt!
Highlights of Lummi Island
Where to Stay on Lummi Island
Ocean Front Restful Retreat: This charming waterfront cottage on Lummi Island sleeps seven, making it great for large families and groups. Enjoy active days using the provided kayaks to explore the nearby San Juan Islands, and cozy nights around the fireplace, outdoor fire pit, or the 55″ TV.
Marrowstone Island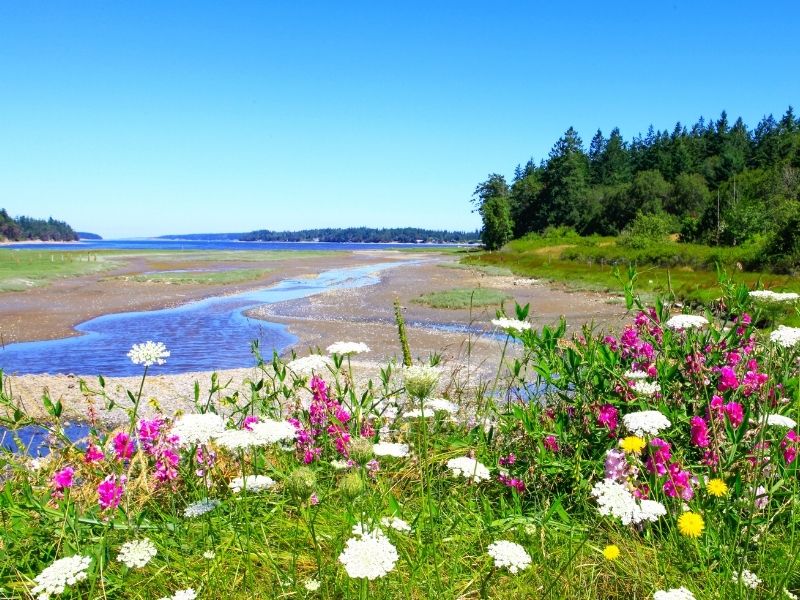 Location: East of Port Hadlock off the Quimper Peninsula
Arrive by: Car via Route 116 east from Route 19 in Port Hadlock-Irondale, Washington
About Marrowstone Island
This small island in Washington is home to less than 1000 residents and measures less than 6 square miles, but it has a lot going for it!
It's got wineries, shellfish harvesting, beach walks, hiking, kayaking, and so much more all waiting to be enjoyed by future visitors!
Highlights of Marrowstone Island
Pass a day at Fort Flagler State Park enjoying some hiking
Spend some time digging for clams, crabbing, or just exploring the beach.
Visit Marrowstone Vineyards and admire the 2nd-floor art gallery
Shop for crafts at the Marrowstone Pottery Gallery and Studio
Where to Stay on Marrowstone Island
The Artist's Beachhouse: Enjoy beautiful design at the chic Artist's Beachhouse, where pops of color liven up a spacious, airy beach house. You'll never want to leave the deck chairs facing right on the water's edge, watching sailboats pass by, but you've also got a little private patch of beach for you to enjoy. There's also a piano if anyone in your party knows how to play!
Orcas Island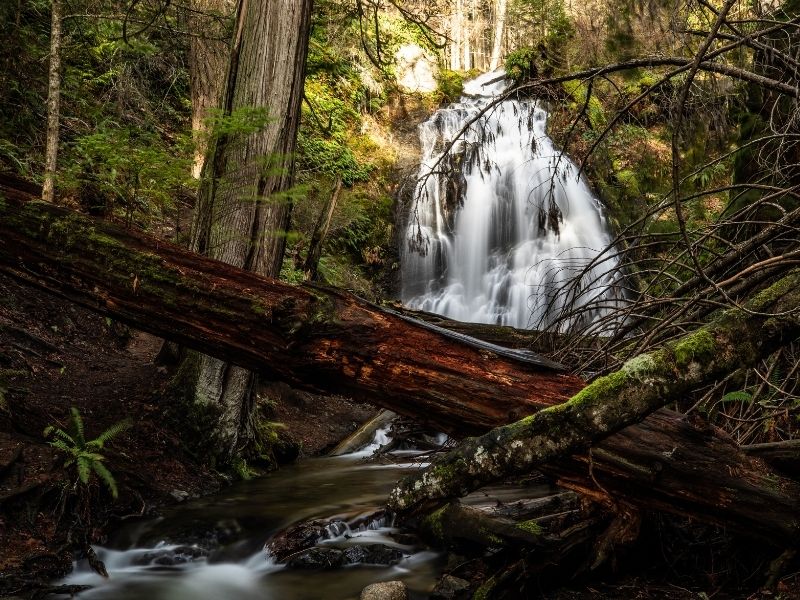 Location: San Juan Islands, north of San Juan and Lopez Islands
Arrive by: Washington State Ferry from Anacortes
About Orcas Island
Perhaps the most famous island in Washington, Orcas Island really has the best of the Pacific Northwest in miniature. There are waterfalls, lakes, epic hiking trails, whale watching, delicious PNW dining, and so much more to enjoy.
Orcas Island is the largest of the San Juan island cluster, though that still means it only has a population of some 4,500 people! So don't expect big city vibes here. Orcas Island is all about going slow and enjoying the scenery.
Highlights of Orcas Island
Take the 0.8-mile loop trail to the Cascade Waterfall
Explore the country road by foot or bike
Hike the 38-miles of trails through Moran State Park
Spend the day whale watching
Eat at the Loft at Madrona
Pick up dinner at Buck Bay Shellfish Farm
Shop in Eastsound
Where to Stay in Orcas Island
The Landmark Orcas Island: This gorgeous hotel located in Eastsound offers stunning views over the San Juan Islands, each room coming with a private deck to enjoy the view! Rooms also have a well-stocked kitchen and dining area for dining in, or you can walk to downtown Eastsound and enjoy the wonderful dining scene there.
San Juan Island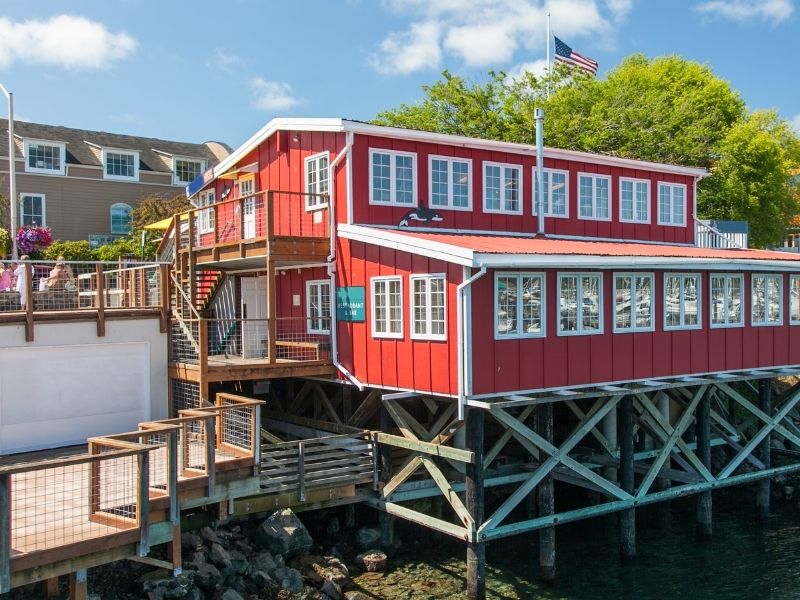 Location: San Juan Islands
Arrive by: Washington State Ferry in Friday Harbor from Anacortes or Sidney, BC
About San Juan Island
The second largest of the San Juan Islands, San Juan Island is best known for its charming Friday Harbor and the seaside town there, as well as the beautiful Lime Kiln State Park which is a great place to look out for orcas in the area.
It's also a great jumping-off point to other islands in the archipelago, such as Orcas, Sucia, and Lopez, three other beautiful Washington islands in the San Juan archipelago.
Highlights of San Juan Island
Spend the day at Lime Kiln Park watching whales
Explore the Whale Museum
Walk along the five trails through San Juan Islands Sculpture Park and Nature Reserve to see the 150 sculptures
Take a picture amongst the lavender at Pelindaba Lavender Farm
Explore the historic fishing village of Friday Harbor
Hike nearly 2-miles up Mt. Grant
Walk down the interpretive trail to view the Cattle Point Lighthouse
Where to Stay in San Juan Island
Earthbox Inn & Spa: This beautiful, charming inn has a rustic feel with excellent amenities just a few steps from downtown Friday Harbor. The rooms are spacious with soaring high white beamed ceilings and furnished with clean modern decor. There is an indoor pool and hot tub (currently closed), free bikes for use on the island, a sauna, and a spa offering massages, facials, manicures, and more.
Sucia Island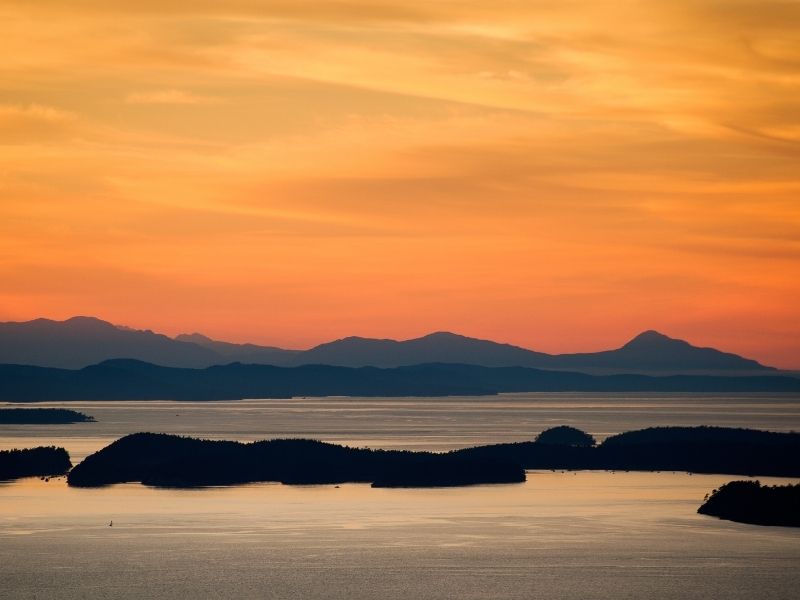 Location: San Juan Islands, north of Orcas Island
Arrive by: Sucia Island Ferry from Orcas Island to Sucia Island State Park
About Sucia Island
The Sucia Islands are actually an archipelago within an archipelago: 10 small islands (the largest being Sucia) within San Juan Archipelago.
Even the largest island of the Sucia Islands is tiny, with a permanent population of just 4 people. But the Sucia Island Marine State Park is the big draw here, great for hiking and biking trails, exploring caves, or relaxing on the beaches without the business of the other San Juan islands.
Sucia Island Highlights
Spend the day hiking or biking on Sucia Island State Park
Go caving in the caverns on Sucia Island
Enjoy relaxing on the beaches
Where to Stay on Sucia Island
Sucia Island State Park Campgrounds: While there are no roofed accommodations on Sucia Island, you can camp overnight at the Echo Bay Campground.
Vashon Island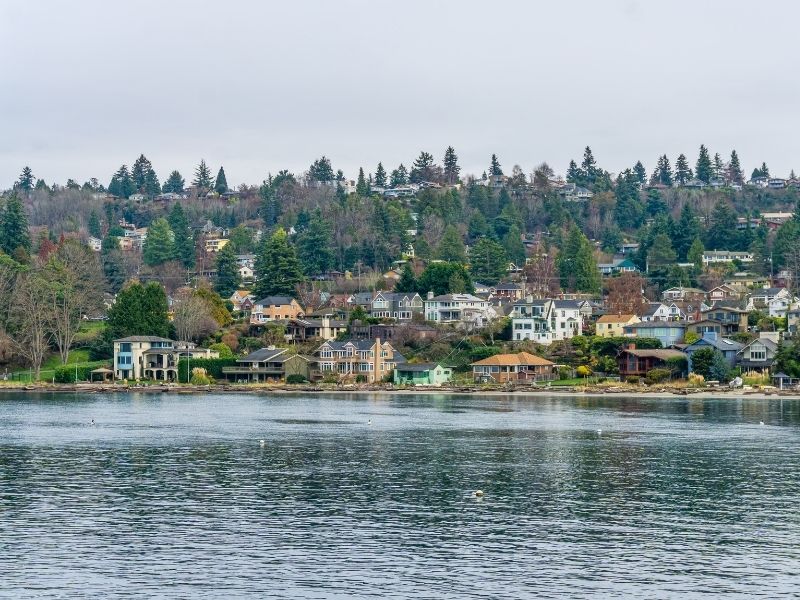 Location: Puget Sound, to the south of Seattle and north of Tacoma
Arrive by: Washington State Ferry from Fauntleroy (West Seattle), Southworth (Kitsap County), or Point Defiance (Tacoma).
About Vashon Island
Vashon Island is one of the largest islands in Washington's Puget Sound, and it has one of the larger populations of any island in Washington barring Bainbridge with some 10,000+ residents spread out across 40 square miles.
It's an easy ferry ride from either Seattle or Tacoma, so it's a popular day trip for Seattlites looking for scenic vistas, beautiful lighthouses, island wineries, and rugged beaches.
Vashon Island Highlights
Explore the shops along Main Street
Swim at Jensen Point
Walk over to Maury Island to the historic lighthouse at Point Robinson
Relax on a rugged beach
Head to an island winery
Find the bicycle in the tree – 99th Ave SW
Visit Lavender Hill Farm and cut your own lavender mid-June through July
Where to Stay on Vashon Island
Vashon Tranquility: This gorgeous private cabin in Vashon includes all the makings for a fantastic group trip: a hot tub, a fire pit, enough space for 8 guests spread out across 3 bedrooms and 3 bathrooms, and a full kitchen and dining area for making delicious group dinners.
Whidbey Island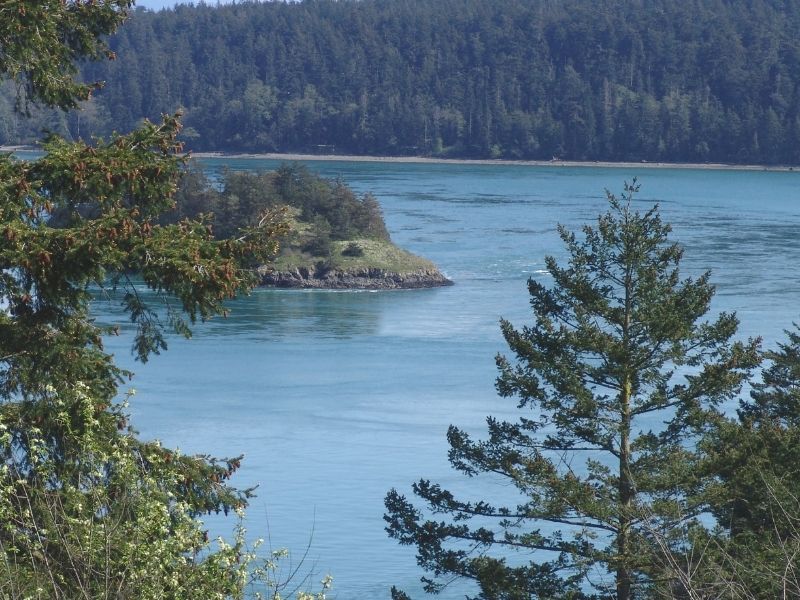 Location: Puget Sound north of Seattle
Arrive by: Washington State Ferry from Mukilteo or by car from Fidalgo Island
About Whidbey Island
The largest island in Washington State, Whidbey Island is long and narrow, 37 miles north to south. It's the fourth-longest and fourth-largest island in the contiguous USA (behind Long Island, Padre Island, and Isle Royal) — so we're talking big!
Naturally, with Whidbey Island being so large, there is a lot to see, from farms to beaches to hiking and kayaking and more. Plan a few days to explore Whidbey Island and all it has to offer.
Whidbey Island Highlights
Take a tour of the Eckholm Farm
Spend the day on a sandy beach
Hike the bluff trail at Ebey's Landing
Visit Double Bluff Beach
Visit Penn Cove Shellfish, the oldest mussel farm in the country
Explore Deception Pass State Park's giant cedars by foot or horseback
Where to Stay in Whidbey Island
Auld Holland Inn: Want to feel like you're in the heart of the Netherlands — windmill, half-timbered decor, and all — while in the Pacific Northwest? Auld Holland Inn will scratch that itch with charming design (including seasonal tulips!) and cozy rooms in the heart of Oak Harbor.
Pin This Guide to Beautiful Islands in Washington!