Want to opt outside, but aren't sure where to go? What about Anacortes?
This small Washington town sits in the banana belt on Fidalgo Island, one of the Washington islands that usually has warmer and drier weather than the surrounding areas.
What does this mean for you? Hiking in Anacortes any time of year is a whole lot easier!
Oh, and no Anacortes hiking trail is more than 15 minutes away from downtown, which means after fueling up on breakfast and lunch, you can be hiking through 2,800 acres of lush forest lands with meadows, wetlands, lakes, and spectacular seascape views.
Enjoy this list of the best Anacortes hikes and Fidalgo Island hikes — we hope it inspires you to get outside!
Best Anacortes Hikes with Epic Views
Do you love going on a hike when a jaw-dropping view is part of the reward? I know I do. Who doesn't like a short break to take in Mother Nature's beauty after some serious cardio exercise?
Thanks to my very energetic Australian cattle dog Hazel, we get to do this regularly in the small coastal town of Anacortes, Washington.
The Anacortes hiking trail systems are quite extensive, and there are over 50 miles of multi-use trails in the Anacortes Forest Lands and additional trails in Deception Pass State Park. Both trail systems offer a mix of forestlands, marshes, and coastal seascapes.
If you are visiting Fidalgo Island, use this reference as your insider's guide to hikes with a view in Anacortes. All you need to do is pack up your hikers day pack with snacks and a water bottle, and bring your camera.
Discover more about the area in the Anacortes travel guide.
Easy Hikes in Anacortes
Rosario Head (0.5 miles)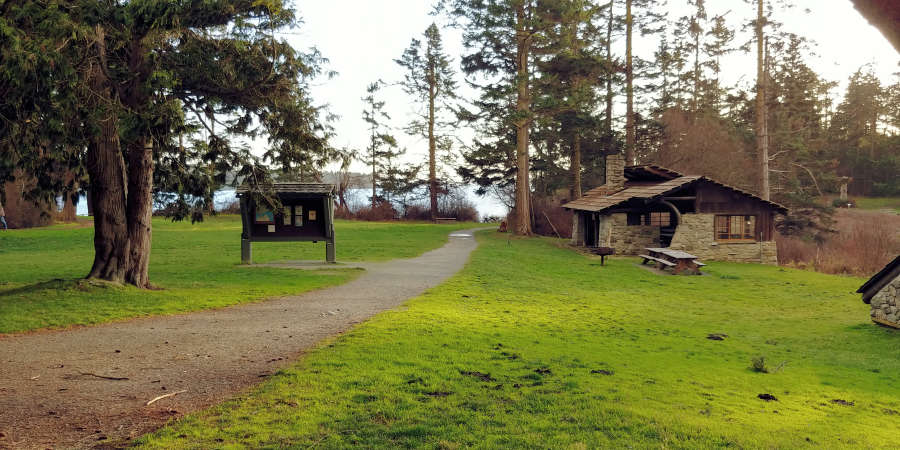 Some links in this post may be affiliate links. If you make a purchase through one of these links, we may earn a small commission at no extra cost to you. Please see our

disclosure policy

for more detail.
Located at Deception Pass State Park, Rosario Head has a short 0.5 mile loop trail around a rocky outcrop that forms Rosario Head. The trail only takes 10 to 15 minutes to hike, but you'll want to linger and enjoy the views, so give yourself at least 20 to 30 minutes.
From the parking lot, you'll see the main trail, which leads right between two beaches. After you see the story and carving of the Maiden of Deception Pass, follow the trail to the left.
The trail leads you around Rosario Head and features views of Bowman Bay, Admiralty Inlet, Rosario Strait, the San Juan Islands, and on a clear day you can see the Olympic Mountains and Vancouver Island.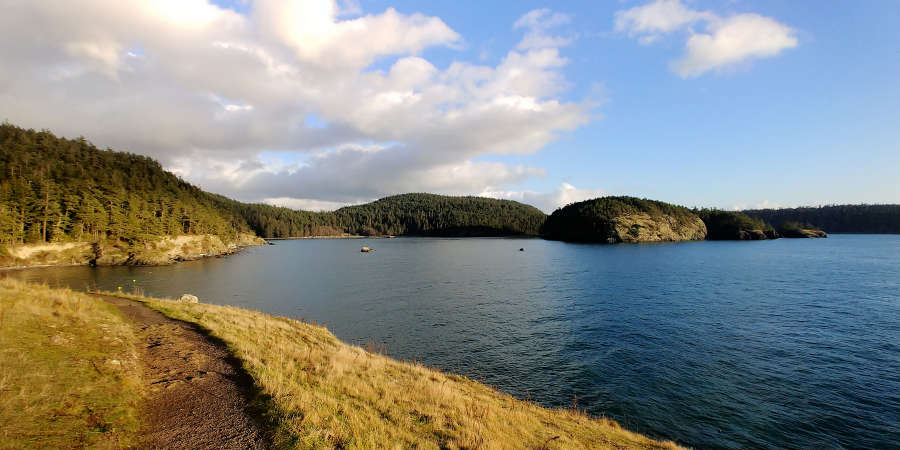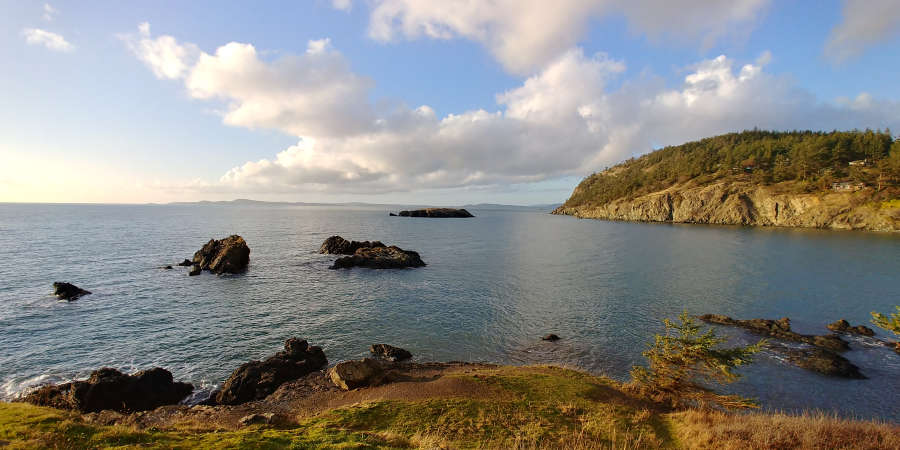 You'll find the easy trail back to the Maiden of Deception Pass near the middle of the head. To take a more challenging route, follow the path to the west side.
The trail weaves down the side to Urchin Rocks where you can do some exploring and tide pooling.
Safety tip: There are steep drop-offs at Rosario Head, so please keep an eye on small children and pets.
Travel tip: To visit the park, you'll need to pay for a $ 10-day pass or purchase the $30 annual Discover Pass. For those that don't want to pay, this park has space for two cars outside the gate.
Sharpe Park & Montgomery-Duban Headlands (0.75 miles)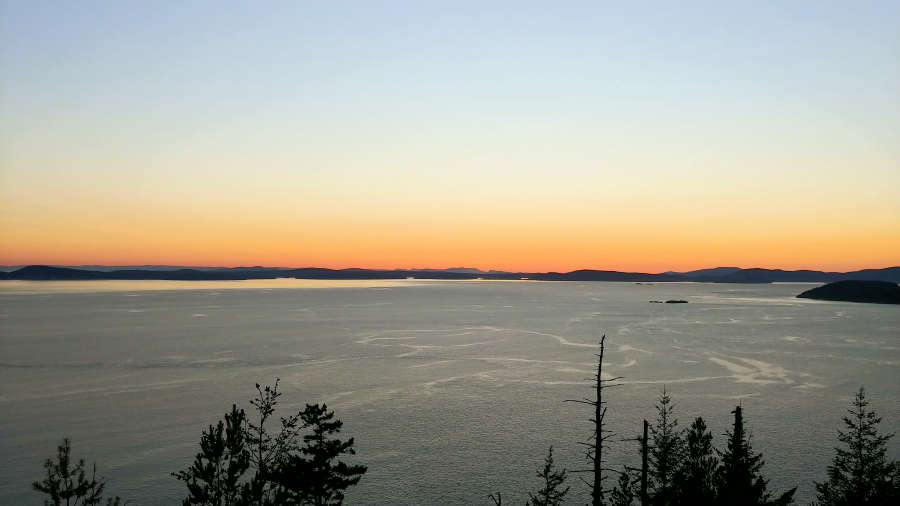 Sares Head is my favorite hike in Anacortes with a sea view because it only takes around 20 minutes to hike the 0.75 mile trail to Sares Head Overlook — and I almost always have it to myself.
Once you get to the overlook, there are large exposed rocks to sit on for a picnic and a bench to take in the view of Puget Sound. If you time this Anacortes hike near sunset, you won't be disappointed.
The main thing to remember about hiking this trail is to not veer off the Sares Head Trail. Otherwise, you'll end up along other trails that have only a few peek-a-boo views and a ton of up and downs. If you do want to extend the hike, take the Broom-Tomb Loop Trail (0.56 miles), which begins right before you get to the overlook and ends there.
Travel tip: Click here for a trail map of Sharpe Park.
Little Cranberry Lake (1.5 miles)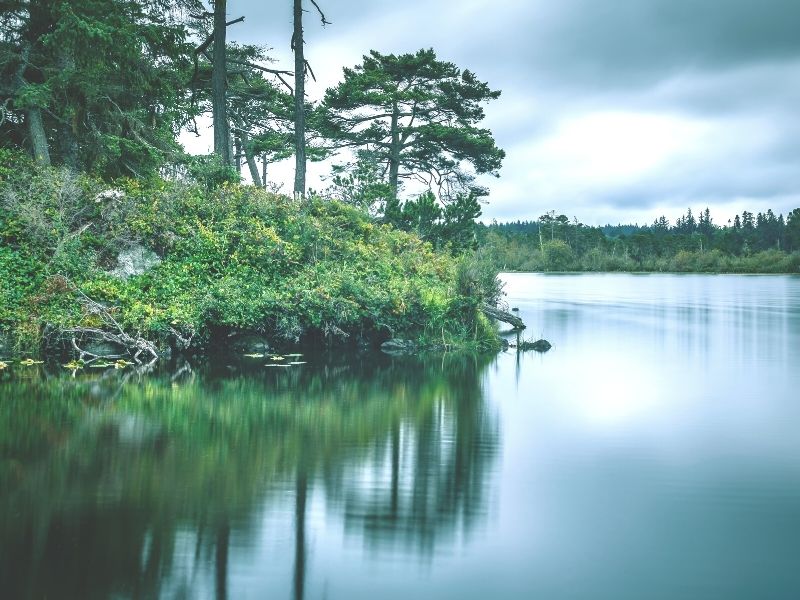 For years, Little Cranberry Lake trail was my top choice for hiking in Anacortes.
The main trail follows a 1.5-mile loop around Little Cranberry Lake with various offshoots that lead hikers on different routes to Little Beaver Pond, Big Beaver Pond, and Mitten Pond, and into neighborhoods like Rock Ridge, which offers outstanding sunset views of the San Juan Islands.
For the most part, the trail is easy going, but it can get muddy and rugged.
The most popular access points are at Cranberry Lake Road, which has a small parking lot and viewing area of the lake, and a large roadside parking lot on A Ave.
Ship Harbor Interpretive Preserve Trail (1 mile)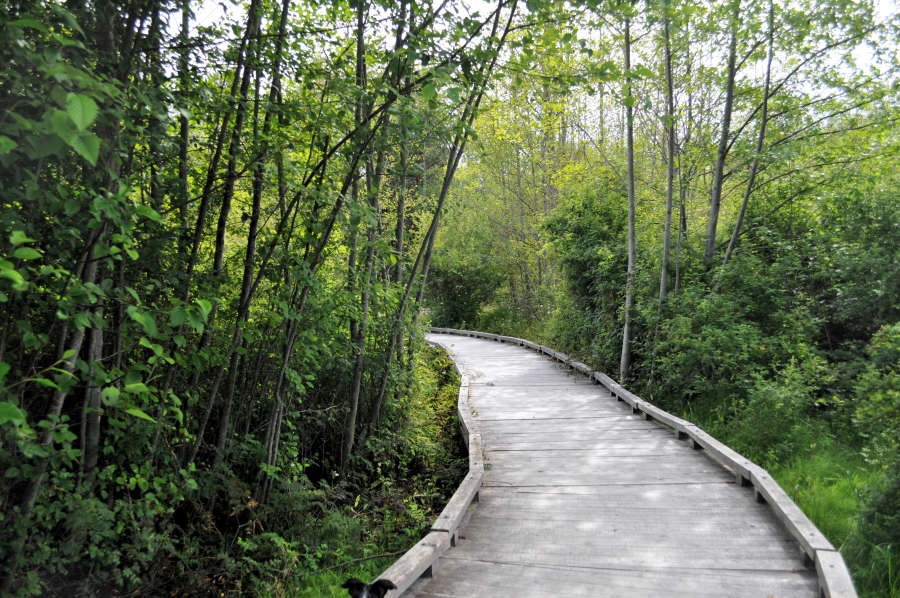 Ship Harbor Interpretive Preserve trail is my favorite place for bird-watching, shoreline views, and watching the ferries pass by — plus it's the easiest Anacortes hike to walk.
It hugs 2000 ft. of sandy beach shoreline, has interpretive platforms and benches, as well as, a boardwalk that leads visitors through the perimeter of 25 acres of freshwater wetlands. It's a half mile each way down the boardwalk, so it's 1 mile in total.
To get to this Anacortes hike (it's not really a proper hike!) ravel west on Hwy. 20 until the ferry dock comes into view. Turn right onto Ship Harbor Boulevard, take the next left and wind down to a cul-de-sac next to Guemes Channel.
Moderate Hikes in Anacortes
Bowman Bay & Lighthouse Point (2.6 miles)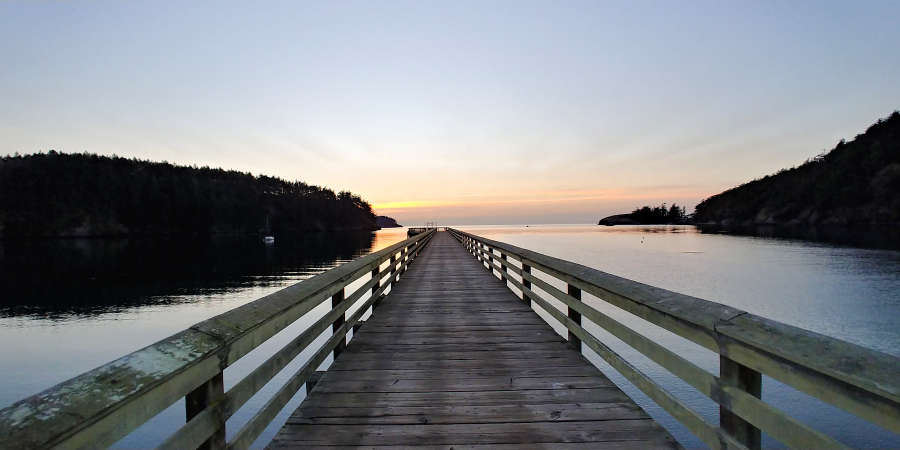 One of the best hikes in Anacortes is the Lighthouse Point trail at Bowman Bay in Deception Pass State Park.
The trail is 2.6 miles round trip and takes around 1.5 hours (with stops). Bowman Bay is a popular part of the park, and on the weekend, you'll often see families here for a picnic. There is ample space in the parking lot and a nearby grassy field with a playground, a long stretch of beach, and a fishing pier.
For the trail, the hardest part is the uphill climb near the beginning that leads you up and along a cliffside and then back down to a strip of land that has a sandy beach. The beach is an excellent place to take a breather. You can walk along the sand on the west side and dream of living near the sea or scout for eagles, waterfowl, and herons on the opposite beach.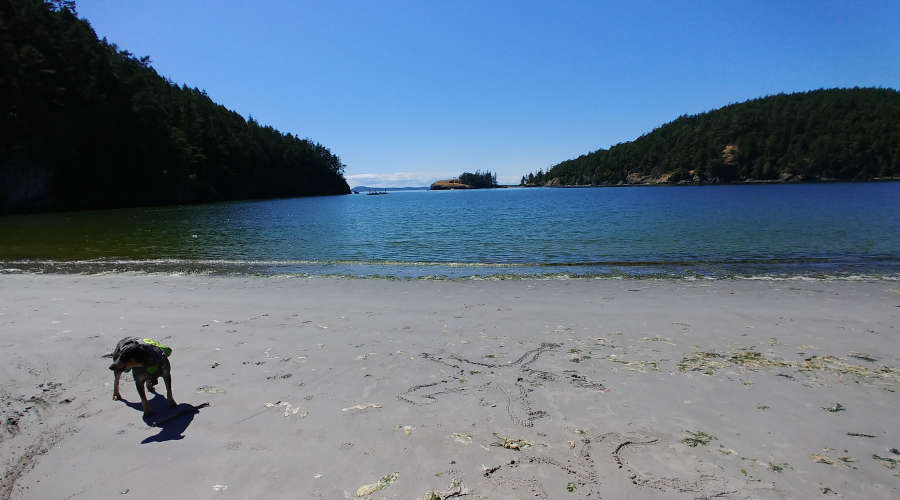 From there, the trail leads you up around Lighthouse Point. When you come to a choice of left or right, head left.
That will take you to an area with views of the bridge and a small beach with south facing views. Continue to follow the trail up to a rocky, treeless area with more vistas of Deception Pass Bridge.
If you brought a snack, enjoy it here with the view of Deception Pass Bridge from afar, and you'll understand why this is one of the most rewarding hikes in Anacortes!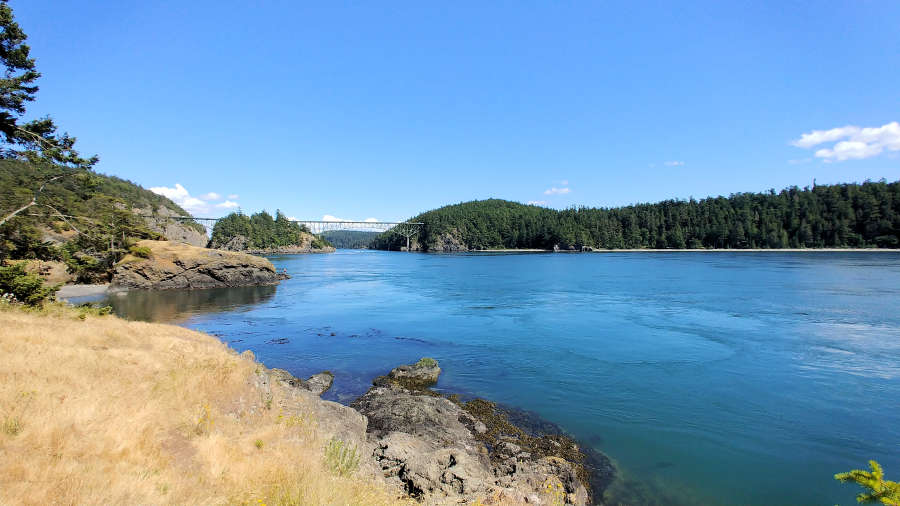 The main highlight is the fantastic views of the bridge and North Whidbey Island. Plus, you'll get to see boats cruise by as they make their way into Admiralty Inlet. On a clear day, you'll see the Olympic Mountains and Vancouver Island.
From there the trail loops around the point. There are offshoots along the trail with unmarked paths making it tricky to navigate the first time. Keep in mind, if given an option of left or right, go right.
One of my favorite parts about this hike is the stretch sandy beach. Sometimes I hike out here to play with the dog on the beach and enjoy a romantic sunset.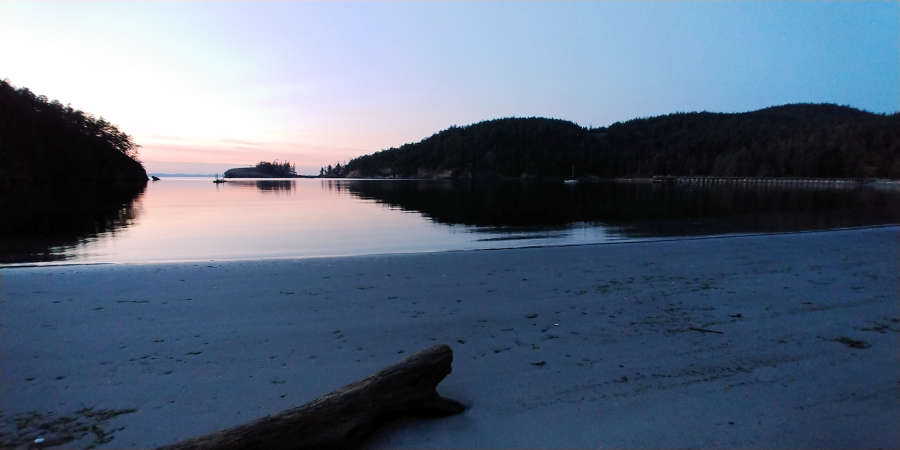 Click here for a map of Deception Pass trails. Click here to learn more about Deception Pass Park. Travel tip: To visit the park, you'll need to pay for a $ 10-day pass or purchase the $30 annual Discover Pass.
Whistle Lake (2.4 miles)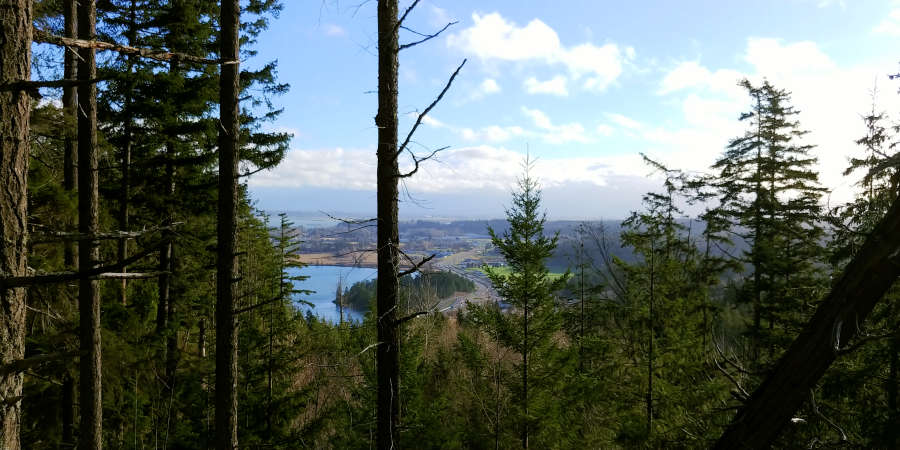 Whistle Lake has an extensive trail system. It has one of my favorite Anacortes hikes with a view as well!
From the viewpoint, you can see SR 20 coming into Anacortes and in the distance the Cascade Mountains.
The view might not be as exciting as some of the others, but in the morning and afternoon, it can be beautiful.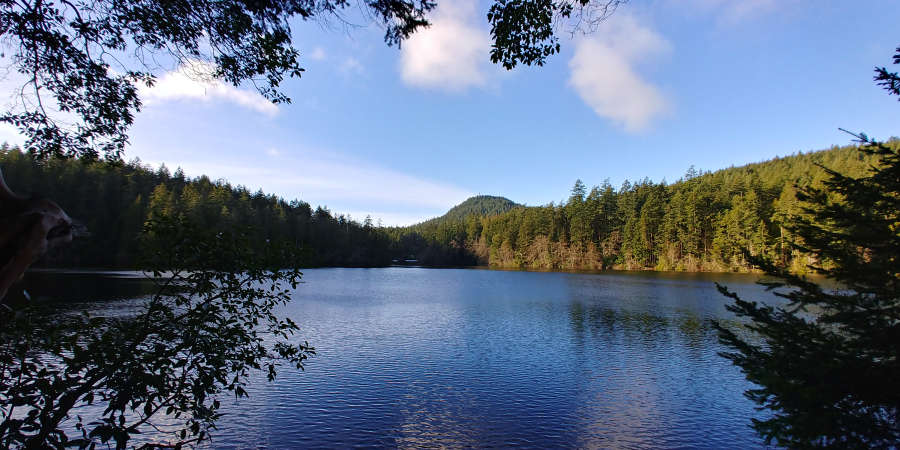 On the return, the trail follows along the edge of scenic Whistle Lake with Mt. Erie as the backdrop. Overall, the trail has a good mix of easy areas with a couple of uphill climbs.
I've noted the route in the map section below. The Whistle Lake map is downloadable, and I highly recommend putting it on your phone or bringing along a printed version.
Numbers mark the trails and it can be easy to get confused, especially if it is your first time on the trails.
Washington Park (2.2 miles)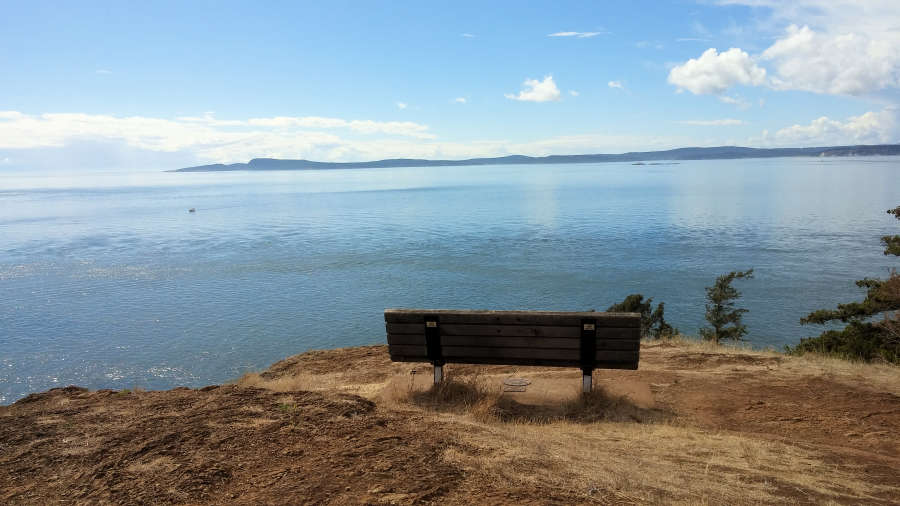 The Washington Park loop trail is probably the most popular hiking trail in Anacortes. The loop is a paved road that weaves through the park and in the early morning and after dusk is pedestrian-only.
Washington Park trail is my go-to trail in Anacortes! Several routes lead through 220 acres of forest to breathtaking views of the Olympic Mountains and the San Juan Islands.
At Juniper Point, on the southwestern tip, I've often seen harbor porpoises surfing in Burrows Bay Channel. Be aware the inland trails can be steep and rooty.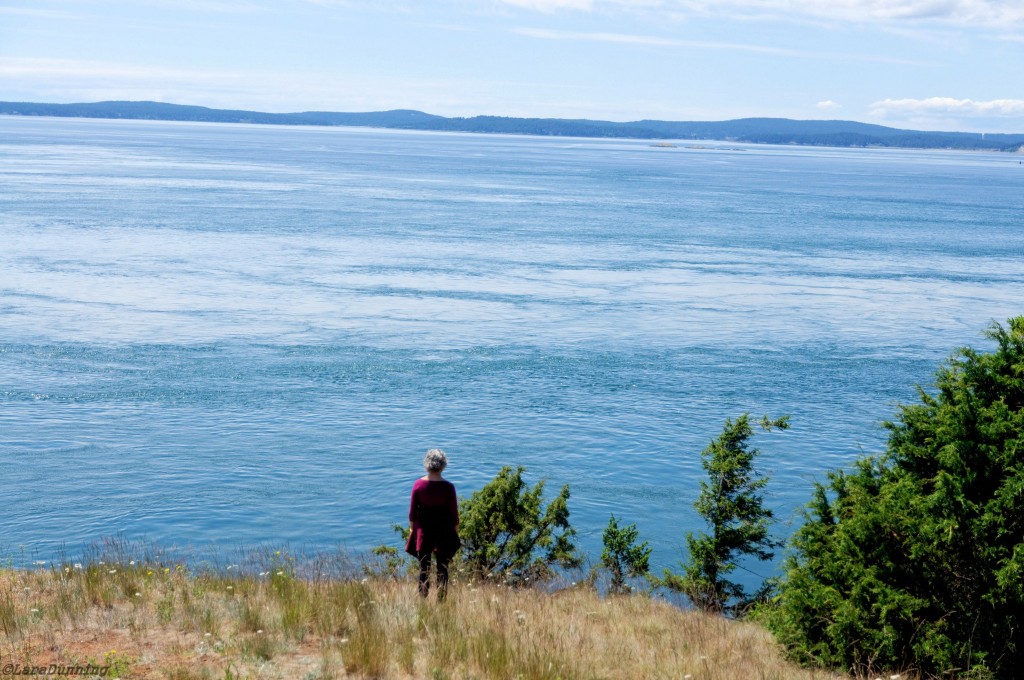 I rarely ever walk the paved loop, as I prefer to hike the trails. The trails are noted by number not route, which can get confusing if you don't have a map (download a map here). My go-to hike follows 521 to 520 to 508 to 510 to 513, and I take 516 back to the parking lot. It takes 45 minutes to an hour. To download a copy of my route on this popular Anacortes hike, click here.
For a paved, yet steep walk, take the 2.25-mile loop that curves through the park. Green Point, a grassy area on the northwestern tip, is easily accessed from the paved road and a good place to watch boat activity or climb on the shoreline rocks near West Beach.
Viewpoint areas in the park include Burrows Channel Viewpoint, Green Point and Juniper Point, which is on the trail I regularly take. The stop at Juniper Point has a bench to sit and watch the boats cruising in Rosario Strait. The islands in the distance the San Juan Islands.
To get here, follow Hwy. 20 past the ferry, continue down Sunset Ave. to the large parking lot at the end. There is also beach access, restrooms, and a playground.
To park, follow the road for a bit. Once you pass a house on the left, there will be a slight bend in the road with a long gravel area for parking. There is no parking or park fee.
Note: Anacortes Forest Land trails are numbered, and maps can be purchased at the City of Anacortes and the Visitor's Information Center, or printed off here.
Difficult Hikes in Anacortes
Sugarloaf Mountain (2.5 miles)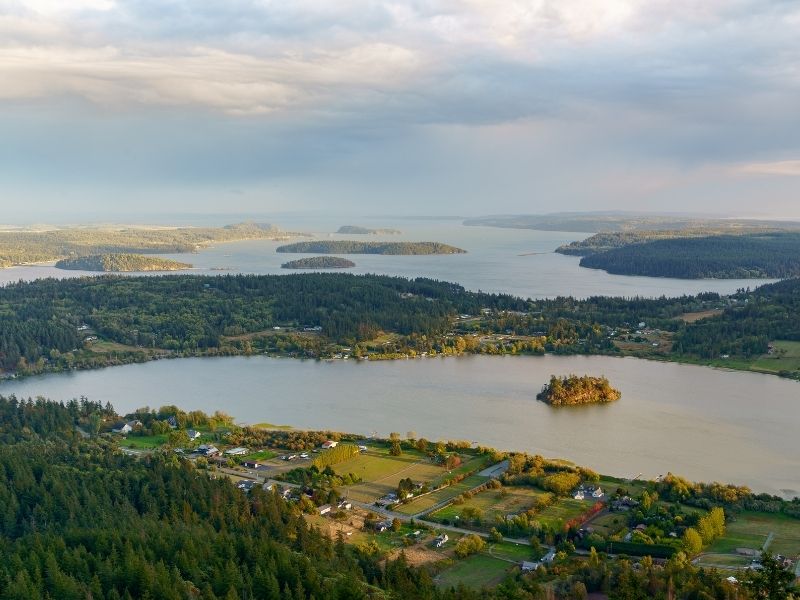 The parking lot for Sugarloaf Mountain and Mt. Erie almost always have cars parked in them.
That in itself attests to the popularity of these Anacortes hikes — but don't let yourself think they're not tough just because a lot of people are tackling them! Note that there is no parking or park fee.
Sugarloaf Mountain has an elevation gain of 890 feet, and almost all of the trail is an uphill climb. I assure you, once you get to the top, you'll forget all about your burning calves. Do not forget your water on this hike!
Mt. Erie (5 miles)
In the above video, the hill with the radio towers on the top is Mt. Erie. At 1,273 feet, it is the highest point on Fidalgo Island and therefore the toughest hike on Fidalgo Island. It also has a road that leads to the peak with a handful of viewing areas.
The hike is 5 miles round trip, which could be two to four hours, depending on how fast you hike and how many stops you make.
Having been to the top by car, I assure you the views are amazing and include the Cascade Mountains, Skagit Valley, Whidbey Island, San Juan Island, Olympic Mountains, and Vancouver Island.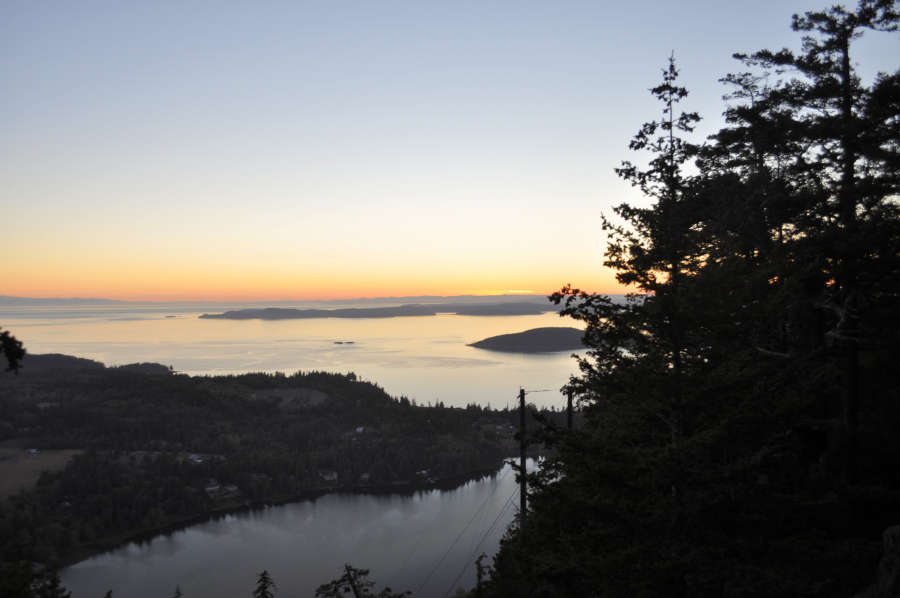 I have to admit, the uphill climb has deterred me from climbing Mt. Erie. But, my hiking goal this year is to make the ascent. I'll post more photos when I do.
Until then, check out this post by fellow hikers. And again — be sure to bring water.
Travel tip: Be sure to download the Whistle Lake map to your phone or a printed version as numbers mark the trails.
Pin This Guide to Anacortes Hikes!