Crater Lake National Park in winter is a winter wonderland with a snow-filled landscape waiting to be explored. With an average snowfall of 42 feet a year, there is plenty of snow for any winter activity!
The park is open throughout the winter and enjoyed by many winter enthusiasts.
With many of the summer activities closed, the crowds of people gone, and the snow-covered landscape, visiting Crater Lake in the winter is a unique and peaceful experience!
Things to Do in Crater Lake in Winter
Cross-country ski or snowshoe around the Rim Drive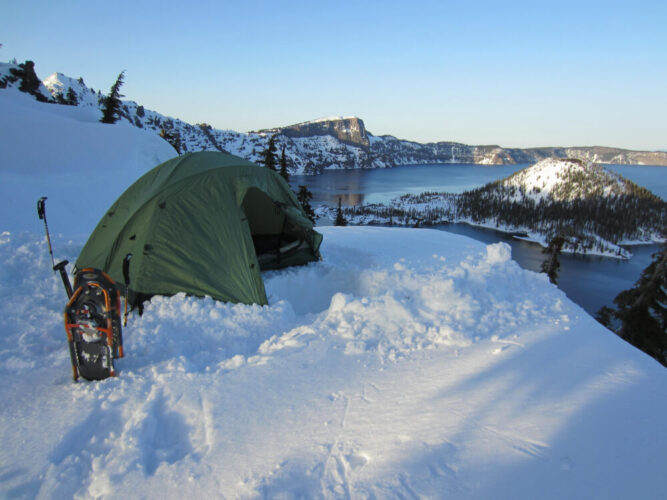 Some links in this post may be affiliate links. If you make a purchase through one of these links, we may earn a small commission at no extra cost to you. Please see our

disclosure policy

for more detail.
The most famous winter activity in Crater Lake National Park is skiing around the Rim Drive. In the summer, this is a road open for cars, and visitors can make a scenic drive around the lake.
In the winter, the road is closed and designated as a ski and snowshoe trail. The date that it closes changes each year depending on the weather, but a good rule of thumb is around the end of October (you can find closing dates in recent years here).
Completing the entire circumnavigation of Crater Lake (31 miles) is an adventure for experienced winter adventurers and skiers, requiring a backcountry permit and knowledge of winter camping and avalanche safety.
The trip usually takes 2-3 days, depending on weather and conditions, so you'd need to pack everything you'd need for winter-safe camping and apply for a backcountry permit.
However, there are also many more accessible trails and routes for those looking for shorter adventures.
Explore one of the winter ski trails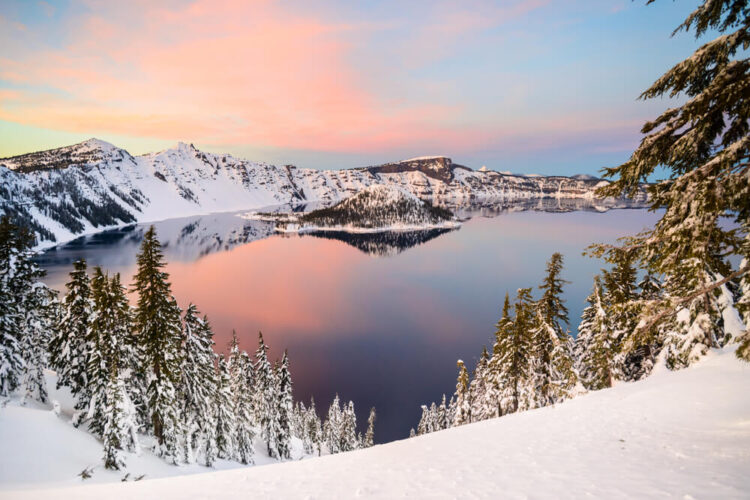 There are several less intensive ski trails to tackle in Crater Lake in winter if you don't have a couple of days to circumnavigate the Rim Drive.
Here are just a few great cross-country ski and snowshoe trails that are perfect for beginners and intermediate winter sports enthusiasts in Crater Lake in winter.
Hike the Mazama Loop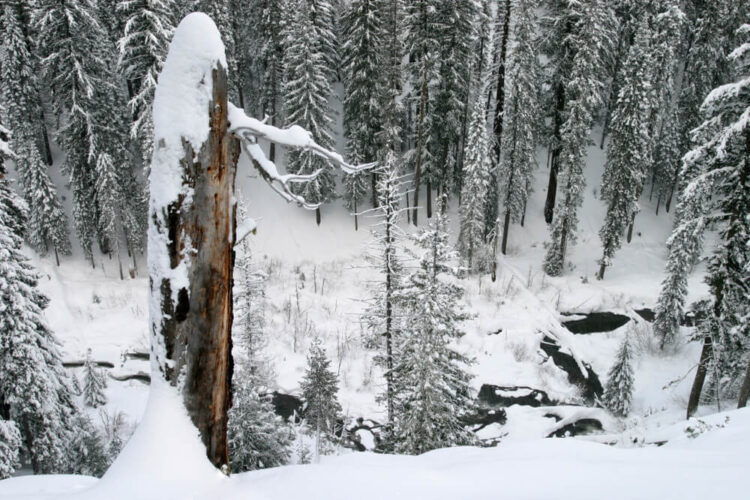 One of the easiest and shortest ski trails in the park is the Mazama Loop, a 1.7-mile loop trail.
The trail passes through the Mazama Campground and features views of the adjacent Annie Creek Canyon. The trail is just north of the summer fee booth and Highway 62.
Marvel at the views from the Wizard Island Overlook
Another longer, but also beginner-friendly hike in Crater Lake NP is the trail to the Wizard Island Overlook, overlooking the largest island in the middle of the lake.
This trail is 5 miles round trip and mostly flat, making it a great adventure for beginner cross-country skiers. The trail begins at Rim Village.
Take a longer trip to Union Peak Overlook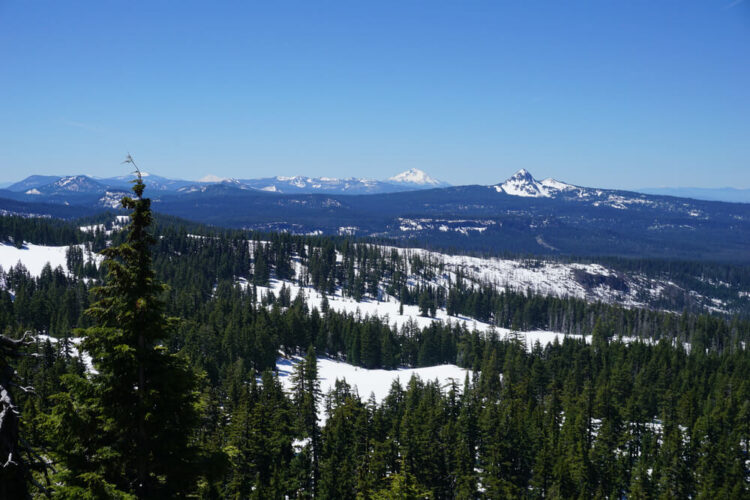 This trail is 6-mile roundtrip ski from Rim Village. The trail gains 240 feet on the way out but the views of Union Peak and the Cascade Mountains make the effort worthwhile.
This trail is best suited for advanced beginner skiers, as its longer distance, elevation gain, and curves make it harder than the previously mentioned trails.
Marvel at the Vidae Falls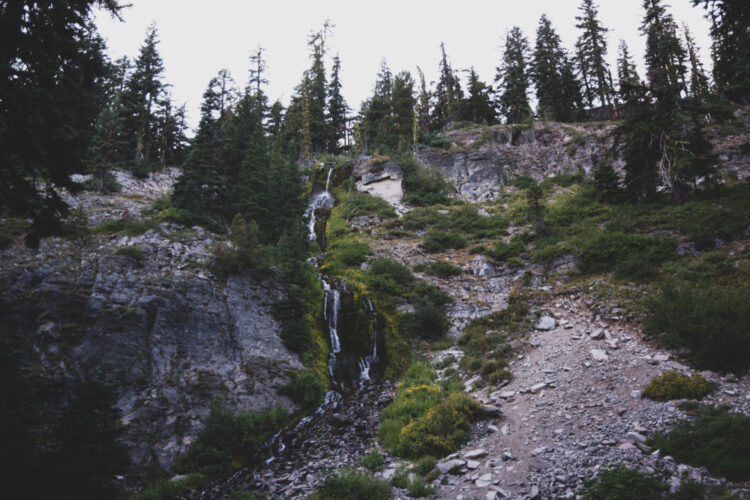 A popular hike and viewpoint in the summer, the falls does not flow much during the winter, but a trail following the summer road will take you to the falls and makes a good destination regardless of the flow of the waterfall.
This ski trail is 6-miles roundtrip and loses 200 feet of elevation on the way to Vidae Falls. The main trail traverses a potentially dangerous avalanche which can be avoided by taking the Avalanche Bypass Trail if conditions are bad. Check in at the visitor center for current conditions and a map of the bypass.
Marvel at the views from Garfield-Applegate Ridge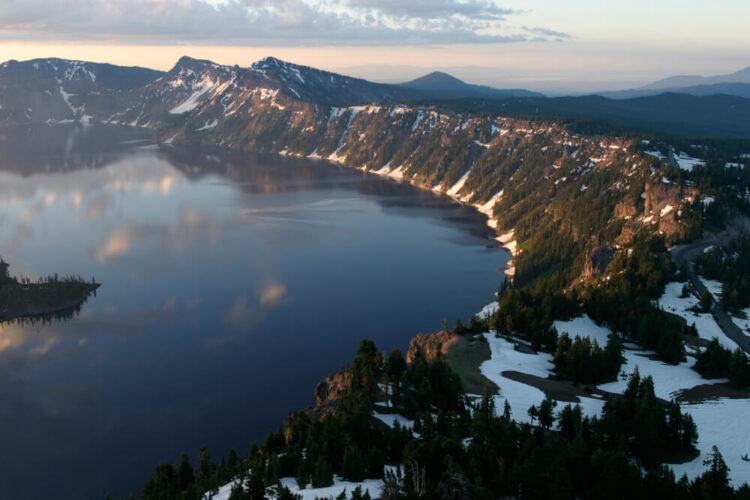 This is a 6.5-mile roundtrip trail to an excellent lake viewpoint. This isn't a trail but a route, as the path is unmarked, but the ascent direction is clear; it travels through the trees and meadows to the caldera rim between Garfield Peak and Applegate Peak.
This trail is steep and difficult to ski but only moderately difficult for snowshoers. The climb up to this ridge begins off of East Rim Drive near the summit of the first climb.
Challenge yourself on the Raven Trail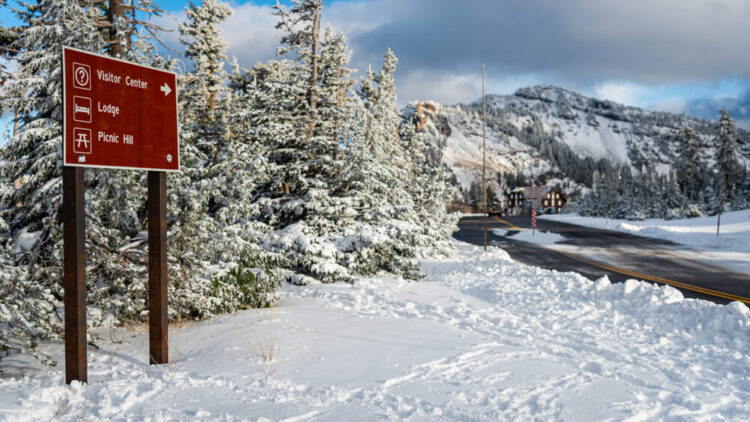 If you are an advanced skier and looking for a challenging trail within Crater Lake National Park, the Raven trail is an excellent option. Short but with a steep descent, the 1-mile trail from Rim Village to the Park Headquarters drops 600 feet in elevation.
Halfway down, the trail crosses an avalanche chute and users should be aware of the current avalanche conditions within the park before attempting this route.
The upper trailhead begins at the ramp near Crater Lake Lodge, and proceeds along the rim following the blue diamond markings.
Join a ranger-led snowshoe tour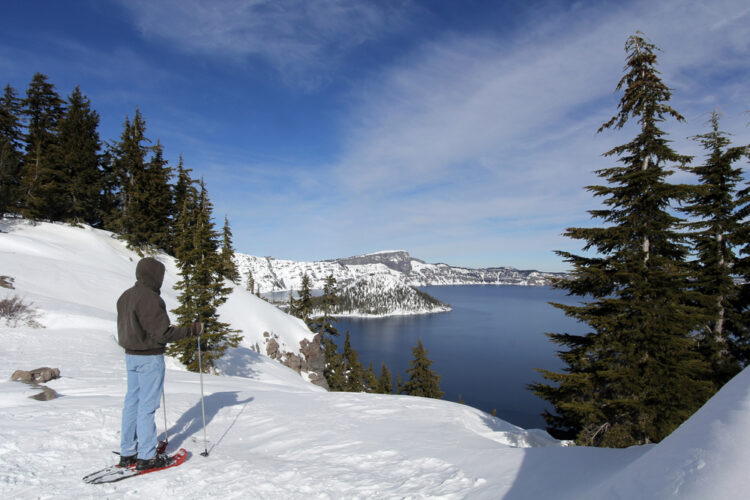 Joining a ranger-led hike is a great way to explore the snow without experience and safety knowledge. While there are plenty of directions to explore on snowshoe if you have experience, these ranger-led hikes are beginner-friendly.
The walks last 2 hours and approximately 1 mile. If this seems short, just remember that walking in snow with snowshoes is much more strenuous than a summer walk.
These guided hikes are limited to 30 people, and reservations are encouraged to make sure you have a spot. Call the park at 541-594-3100 to make a reservation.
Snowshoes are even provided during these walks for participants, and rangers will share knowledge of winter ecology and park history with the group.
Those with their own snowshoes can use any of the ski trails to make their own adventure. Snowshoers are asked to use the ski trails for navigation but to walk outside of the ski tracks –alongside, not inside, the trails.
Look for wildlife (and their footprints!)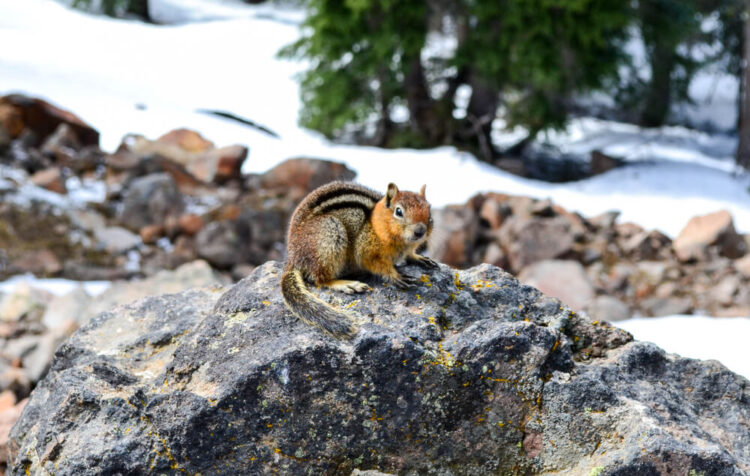 The snow provides a sneak peek into what animals are roaming around the park. Regardless of whether or not you can spot the animals themselves, you are sure to see many sets of footprints along the trails and underneath the trees.
Animal footprints you might see include deer, recognizable by their cloven hooves divided into two halves. You are likely to see deer wandering through the village.
Snowshoe hares also leave many tracks in the snow. You can recognize hare prints by their large hind paws alternating with their small front paws. They make both walking and hopping patterns in the snow. The footprints will be easier to spot than the hares themselves, as these camouflage in the snow with a white coat in winter.
Pine marten also live within the park. These are long, slender weasels with a bushy tail. Their footprints have five toes and a pad marking, and a few inches long. These are generally nocturnal and good at hiding among the trees, but you may be lucky and spot one!
What to Know About Crater Lake in Winter Before you Go
Check Crater Lake's Winter Weather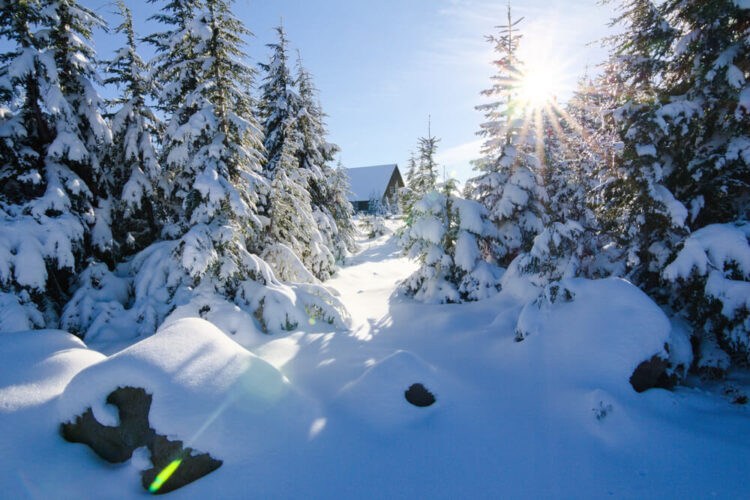 Winter weather at Crater Lake National Park can be variable. Since the park receives an average of 42 feet of snow, there are often heavy snowstorms. These storms are most likely between November and late March.
The coldest temperatures occur December through March, when average high temperatures fall in the 30s deg. F. Within this time period, average low temperatures are below 20 deg. F, and average monthly snowfall is above 80 inches a month.
Since winter weather in the park can be especially stormy, it is a good idea to check the weather before heading into the park or out on an adventure. The weather forecast for the Crater Lake area can be found here.
Another place to check before leaving for a trip to the park is the park webcam. This live webcam points towards the lake, giving you information about if the lake is visible. Crater Lake is often hidden by fog, especially during the winter, when it is only visible 50% of the time.
Winter Access to the Park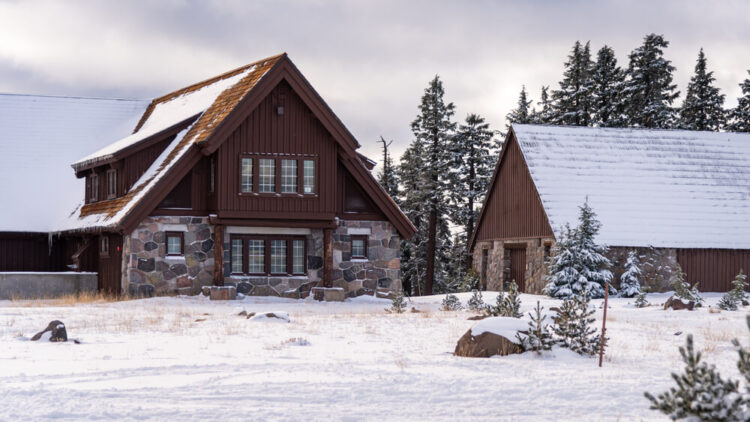 Crater Lake National Park is always open during the winter, but some park facilities and roads close for the season.
During the winter, visitors must use the southern entrance to park, as the northern entrance is closed. The Steel Visitor Center remains open through the winter and is the winter base for the park. The visitor center is open 10am-4pm daily throughout the winter.
To get to the park's southern entrance, you will take Highway 62 from Medford. The highway is plowed and open all year, except for during heavy storm cycles when crews may not have time to keep up with snowfall. Due to unpredictable weather and road conditions, it is recommended for all drivers to carry tire chains in case of snowy or icy conditions.
Current park conditions are updated often and are useful for planning any winter trip to Crater Lake National Park.
Crater Lake Winter Safety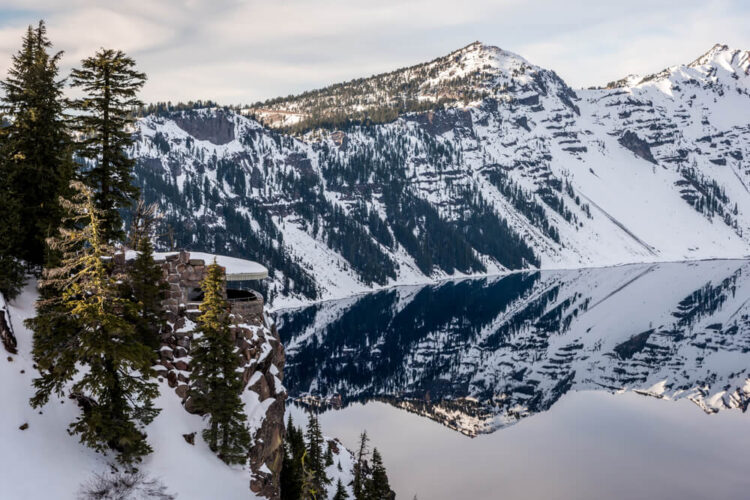 Winter hiking requires safety anywhere you go, and Crater Lake is no exception. In fact, Crater Lake's remote trails and massive amount of annual snowfall can magnify the potential dangers for winter adventurers.
Fortunately, Crater Lake National Park has put together resources for winter visitors to learn how to enjoy the park safely in the snow. Before visiting the park in the winter, the park encourages all visitors to watch this winter safety video.
The main winter safety concerns for visitors are snow-related hazards: snow cornices, avalanches, roofalanches, tree wells, and terrain traps. These are described in the video and on the park website.
Brief Overview of Winter Hazards in Crater Lake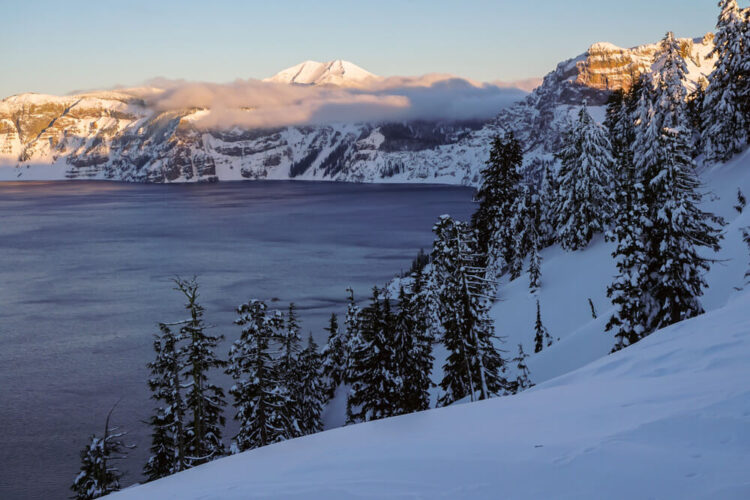 Here is a brief overview to kickstart your knowledge of winter hazards before venturing into the snow. This is not enough information to travel safely in snowy conditions, so use this as a starting point before gaining further education:
Snow cornices are overhanging snow unsupported by rock or soil underneath. These can collapse suddenly and injure those standing on top of or beneath them. It is recommended to stay away from ridges and edges, as it can be hard to determine the presence of a snow cornice on these features.
Avalanche safety is an extensive topic, but with no formal avalanche forecasting within the park, it's an important skill to brush up on before a winter visit. Rangers can explain current conditions and suggest routes for avoiding avalanche terrain.
Roofalanches occur when snow falls off of roofs, so beware when walking around, or into, buildings.
Tree wells are pockets of melted snow near trees, that can entrap people and prevent them from being able to get out. Best practice is to give trees a wide berth to avoid this hazard.
Terrain traps are locations where avalanches may compress if they were to occur – such as gulleys, bowls, below steep slopes. These are dangerous because they may falsely appear safe while traveling through them.
Pin This Guide to Crater Lake in Winter