Every summer around 42 million Americans vacation in state and national parks to enjoy the great outdoors and camp. 
But, what if you don't have the camping gear? Or enough vacation time to sort, pack and set-up camp. Maybe, you want a real bed. That's where glamping is the perfect solution to your camping dreams. 
Disclosure: You can help support my small town travels by using the affiliate links in this post.  
Leanto at Moran State Park on Orcas Island
I highly recommend Leanto at Moran State Park near the small town of Eastsound on Orcas Island. Prices range from $99 to $239 depending on the time of year and site size. Their online booking calendar makes it easy to understand prices and availability, and there is a two-night minimum. 
Leanto (formerly Wanderlust Camps) hosted my stay this summer, and with the winter blues upon us, I'm already dreaming of a trip back. Here are six reasons to glamp with Leanto at Moran State Park.
Six Reasons to Glamp with Leanto at Moran State Park
1. Camp the Easy Way 
Leanto has a handful of glamping sites, two for couples, one for three people and two accommodates a party of four. Each site is stocked and includes a canvas tent, a real bed, linens, towels, soap, table and chairs, a dresser, mirror, lanterns, flashlights, a cooler and water jug. The sites are tucked into the woods up on a hill with peek-a-boo views of Cascade Lake.
The bathroom/showers are at the base of the hill, and your stay covers the State Park fee, which is $10 a day or $30 for an annual Discover Pass. When you arrive, everything is set up and ready, which means there is more time to enjoy the park.  
If you are unsure of what to bring check out their Packing Guide. My favorite shoes for Pacific Northwest travel are Bogs° Urban Farmer Shoe and you can always Shop Sale & Clearance Items at REI.com
In 1921, Robert Moran, a former mayor of Seattle and shipbuilder, donated the land for Moran State Park. It is Washington's first State Park and its fourth largest. There are over 5,000 acres to explore and many of activities in the park, like 38 miles of hiking trails, 11 miles of biking trails, swimming, kayaking, canoeing, and five freshwater lakes for fishing. All of which can be accessed right from your glamping site. 
If you don't have a kayak or canoe, seasonal rentals are available on Cascade Lake.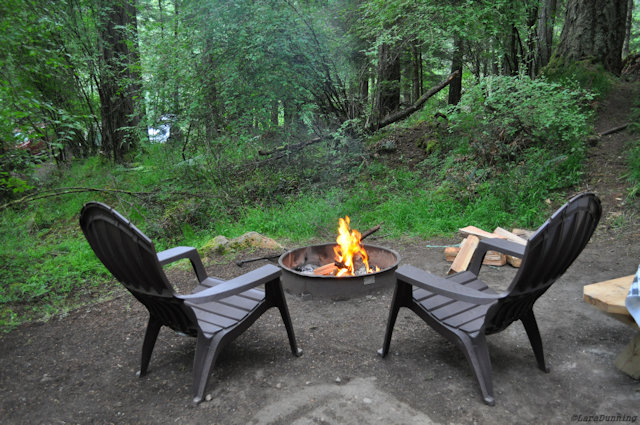 3. Cook-in
If you want to cook on-site, you'll need to bring cooking gear and dinnerware. Each site has a fire ring with a folding grill for cooking basic camping fare, but that's it. If you don't want to bother with bringing plates, cookware, etc., you might want to consider their add-ons.
"Dish it out" supplies guests with dinnerware services like plates, silverware, and glasses for $11.

"Campfire kit" includes a bundle of firewood, two fire starters, and four roasting sticks for $9.

"Cook out kit" includes a set of BBQ tools, foil, a cast iron frying pan and pot, and a cooking fork for $11.

"Morning coffee" consists of a two-liter carafe and two mugs delivered to your glamping site for $9.
If you decide to cook at your campsite, I suggest stopping in Eastsound to purchase groceries at Island Market before entering the park. The park is about a ten-minute drive from here, so if you happen to forget something, it's a quick trip back.  
Want to find out more about Orcas Island? Check out TripAdvisor and Visit San Juan Islands.                                          

Six Reasons to Glamp with Leanto at Moran State Park
4. Dine-out
Don't want to cook, no problem, there are plenty of dining options on Orcas Island. While we were there, we stopped by Rosario Resort, the former mansion of Robert Moran, for a pre-dinner drink at the Moran Lounge. The Mansion Restaurant, in the original veranda, serves breakfast and dinner and has water views. The seasonal Cascade Bay Grill & General Store offers lunch and dinner and has outdoor dining. And, several restaurants in the small town of Eastsound suit a range of tastes. I also ate at Island Skillet for a traditional breakfast and The Kitchen for an Asian-inspired lunch.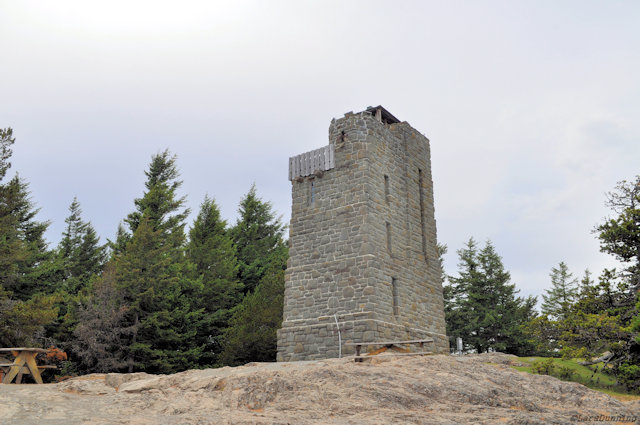 5. Mt. Constitution
A trip to Orcas Island isn't complete without driving up to Mt. Constitution, the highest point in the San Juan Islands. Atop the 2,409-foot peak, is a tower built by the Civilian Conservation Corps in 1936. On a clear day Mt. Baker, Sucia Island State Park, and other many other islands can be seen.
If it is rainy and cloudy at the campsite don't let that deter you from driving up to the top, it might be clear, which is what happened on our trip.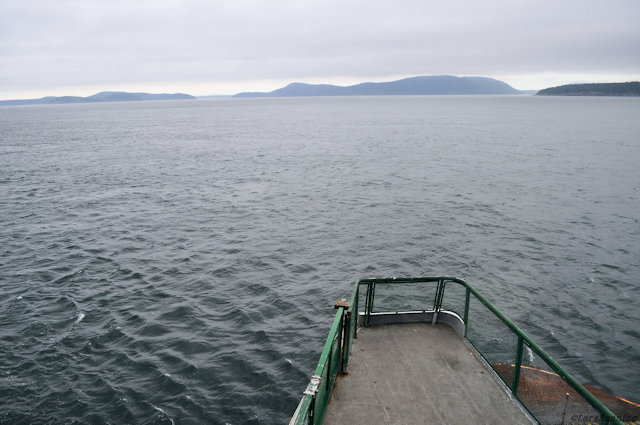 6. The Ferry Ride
Traveling in the San Juan Islands means a ferry ride, which is part of the fun when visiting small island towns. You'll need to make your ferry reservation to Orcas Island and back. It's important to note the ferry fills up in the summer so be sure to do this in advance. For the ride have your camera ready, as you might see seals, whales, waterfowl and, of course, lots of green-backed islands. 
Food can be purchased on the ferry, but it's usually pricey, so I'd suggest bringing your own, a pack of cards and your camera.
Want to find out more about Orcas Island? Check out TripAdvisor and Visit San Juan Islands.