Typical beaches are usually for relaxing in the sand, soaking up the sun, go for a swim, and maybe catch some waves–not what one thinks of when they picture Washington state's rain, rocky shores, and freezing Pacific waters. However, the Pacific Northwest holds many surprises, including the number of incredible Washington beaches to visit.
Washington alone has hundreds of miles of beautiful beachfront that simply can't be missed.
With a unique mix of sand, rocky shore, sheer cliffs, and haystacks the coast of Washington state is as dramatic as it is relaxing.
This list is mostly oceanfront stretches of beach, but if a break from the salty sea is required, there are a few lakefronts and river edges to enjoy. Freshwater and no danger of the tide or rouge waves can bring even more peace of mind.
Here's where to find the best beaches in Washington state.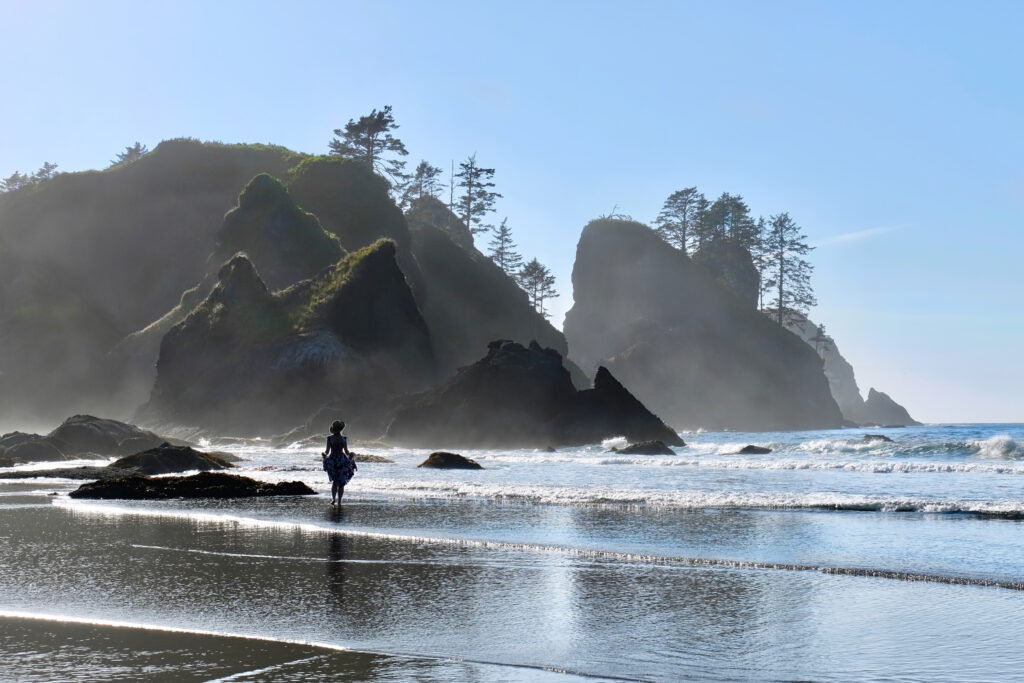 Some links in this post may be affiliate links. If you make a purchase through one of these links, we may earn a small commission at no extra cost to you. Please see our

disclosure policy

for more detail.
Jetty Island Park
A man-made island off the shore of Everett, this park is one large sandbar that stretches for two miles. The perfect place to enjoy an entire day at the beach with views of Puget Sound, surrounding islands, and the city.
The sand is perfect for castle building and the many small pools heat up in the summer sun for a slightly warmer option than the ocean waters.
This beach getaway is not far from Seattle, making it a perfect day trip. A free 10-minute boat ride from Jetty Landing will get you there, next to Port of Everett's boat launch and passes can be picked up at the Jetty island kiosk in Jetty Landing Park.
Reservations can be made for Everett residents and non-residents with 8 or more people. Note the ferry will stop services on poor weather days or if the island reaches max capacity.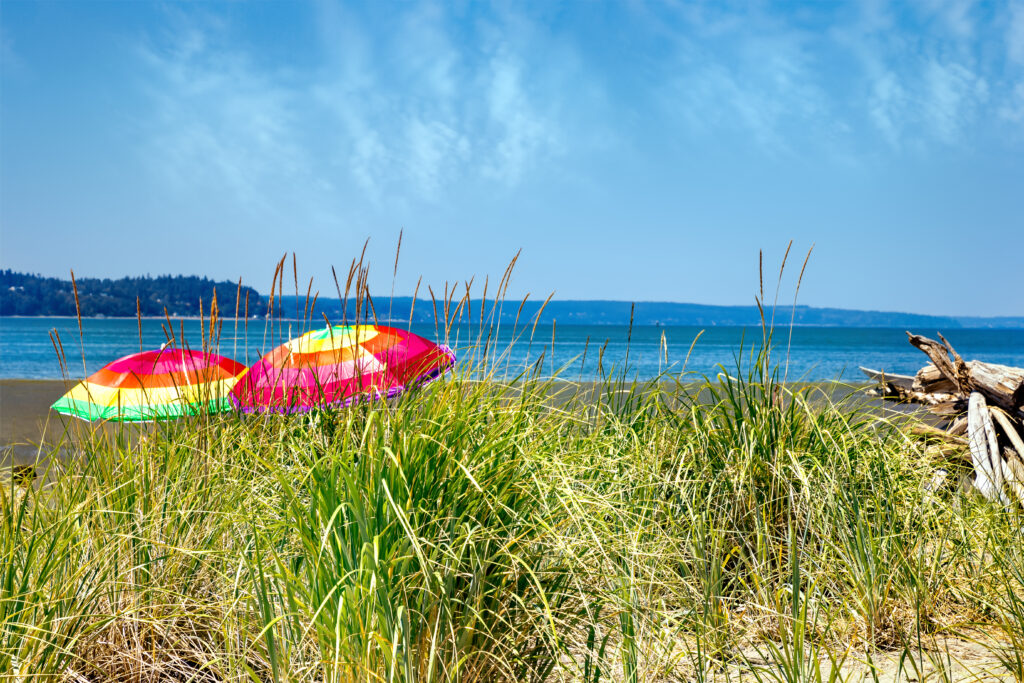 Seabrook Beach
Near the coastal town of Seabrook, sitting right on a bluff overlooking the Pacific Ocean, this way out of the way spot is relaxing and beautiful.
Surrounded by trees and not much else, the beach offers a long stretch of sand great for walking, kite flying, sandcastles, and picnicking.
After watching a romantic sunset, the small town nearby offers good food options and some shopping.
Located on the Olympic coast near the Olympic National Park, this beach destination is a perfect spot for relaxing and unwinding, especially when paired with activities including hiking and camping in the surrounding areas.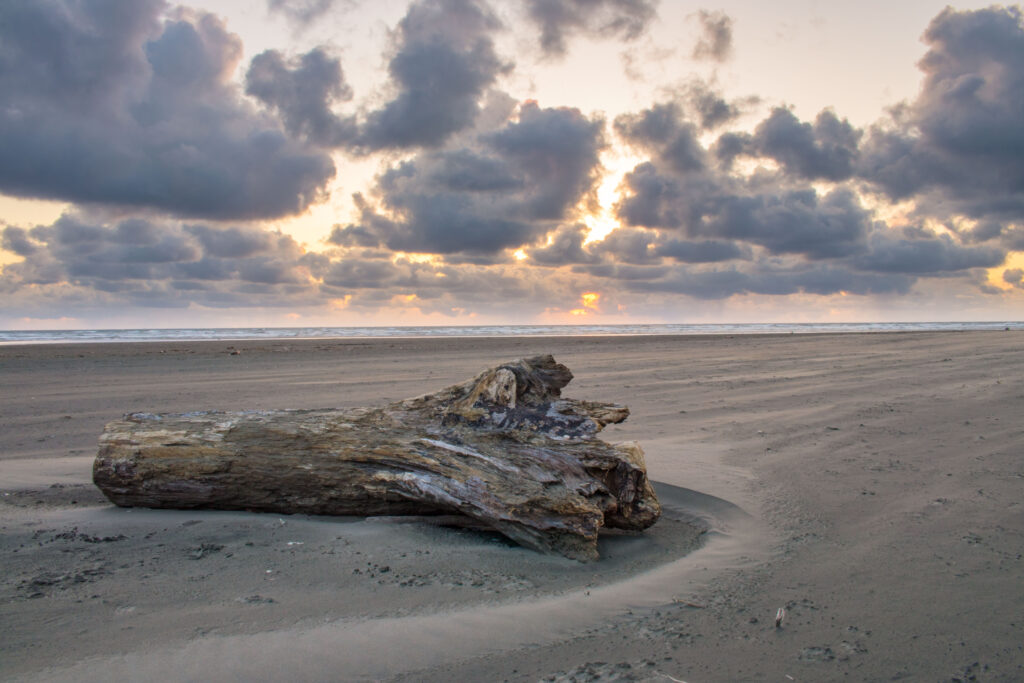 Ocean Shores
Ocean Shores is one of the most popular Washington beaches as activities in the area include horseback riding, boat rentals, tide pooling, and crabbing.
The area is not just one beach, but a collection of many including inland lagoons and waterways, the most popular is North Jetty. With so much to do and see, this is a great spot for a weekend trip.
The drive is about two hours and 45 minutes from Seattle, but well worth it as the scenery is beautiful. The town of Ocean Shores offers ocean front beaches and a wide variety of fresh seafood.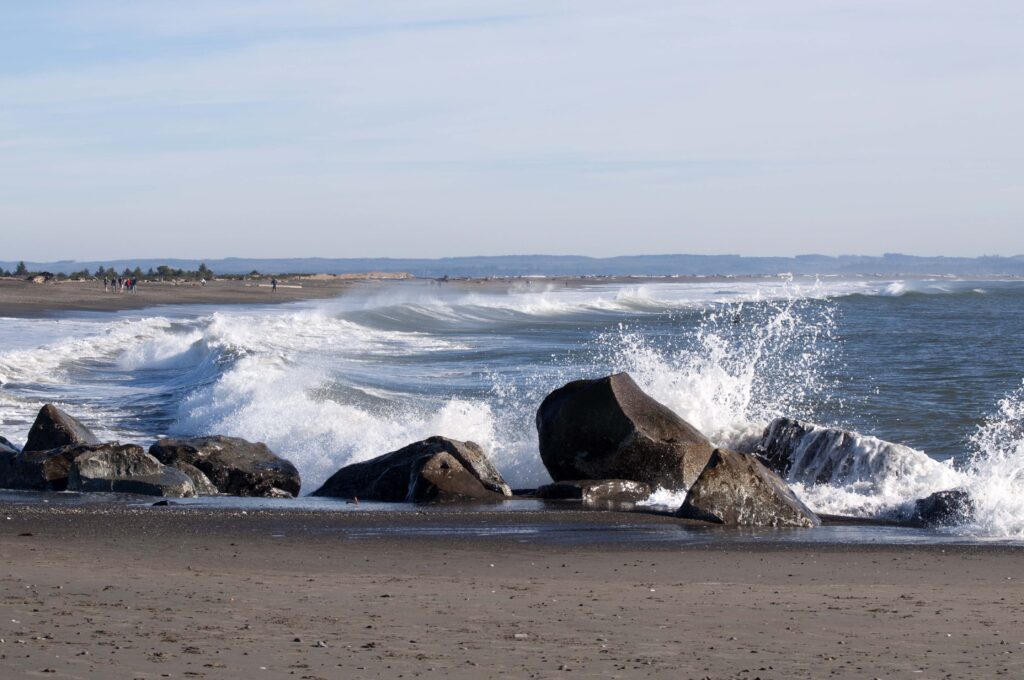 Rialto Beach
An abundance of large driftwood washes up on the sandy Washington beaches here, and combined with the many haystacks jutting out of the water reaching for the sky, this beach is a breathtaking sight.
It is quite remote in some parts offering peace and quiet. This is truly one of the more relaxing spots.
Located on the Olympic Peninsula, even the drive to this beach is peppered with beautiful views.
Along with normal beach activities, hiking and camping are available nearby. Be sure to stick around for low tide as Hole-in-the-Wall is exposed, a sea arch carved by the waves.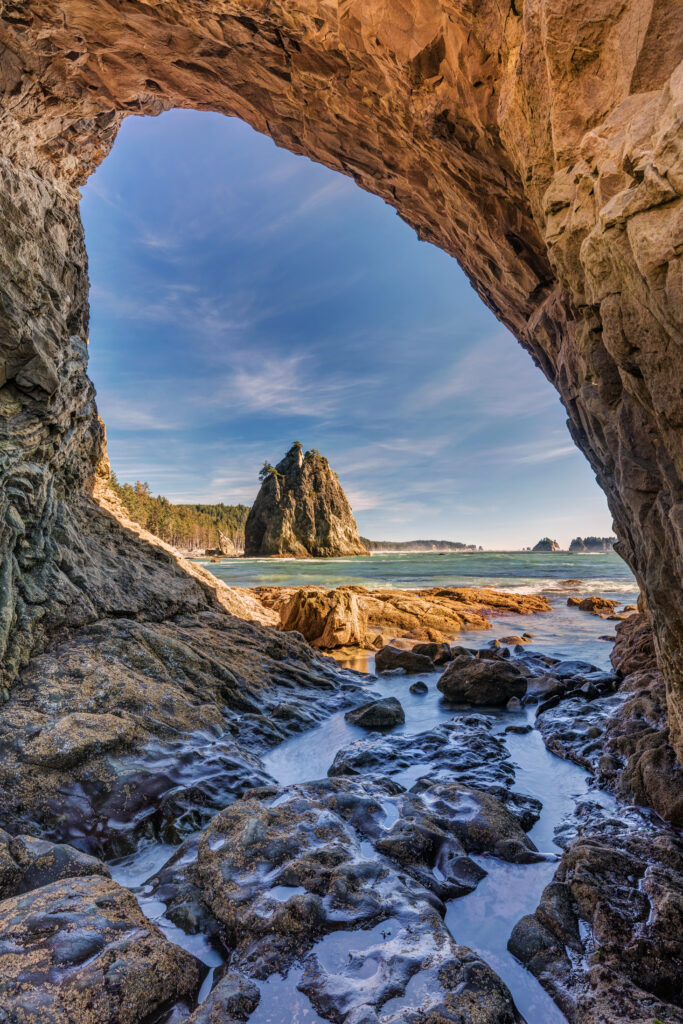 Cape Disappointment
Don't let the name fool you, this beautiful state park, including some of the best beaches in Washington state, are far from disappointing.
Almost consistent winds make for great kite flying in this area and the lighthouse (one of the prettiest lighthouses in Washington) is a great backdrop for photos. This area is also home to historic landmarks worth checking out.
These beaches are located right at the mouth of the Columbia river near Oregon state. Camping and cabin rentals are in abundance in the area making it a great outdoor vacation spot.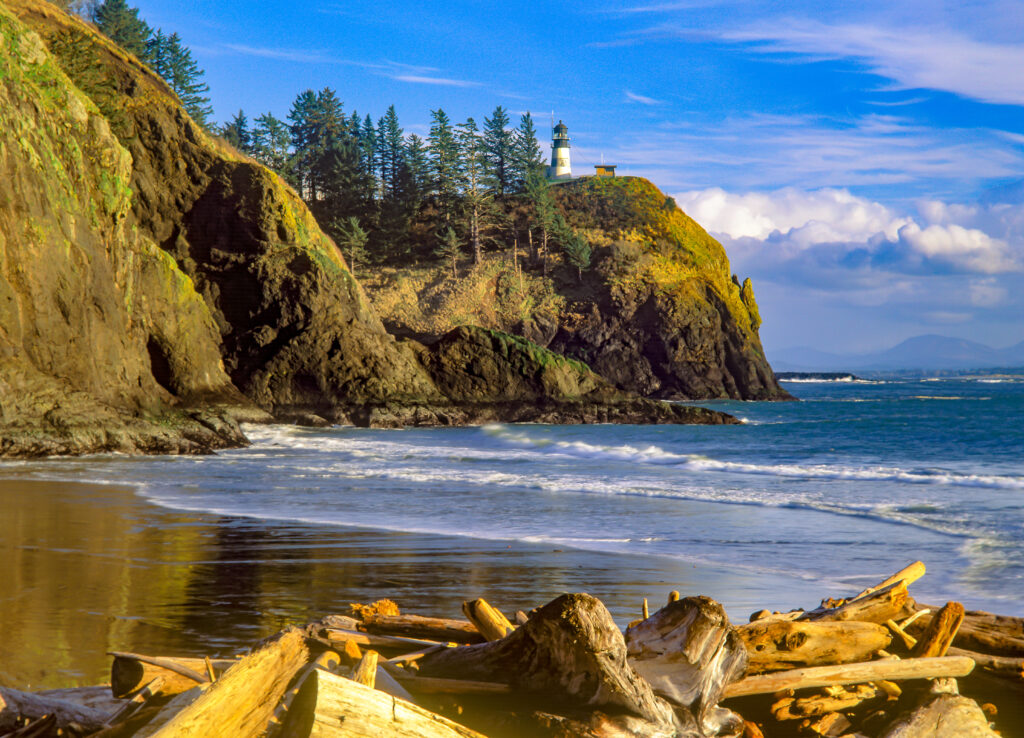 Fort Worden
The beach here is beautiful and relaxing, but what makes this spot truly unique is the old concert battlements that are accessible to explore. This historic fort protected Puget Sound during World War II and now offers excitement and adventure.
In order to protect Puget Sound, this fort is located on the north tip of the Olympic Peninsula.
Camping or lodging options in the old Victorian style officers' homes make this spot a perfect weekend getaway.
Be sure to bring a flashlight as some of the rooms and hallways in the fort are dark.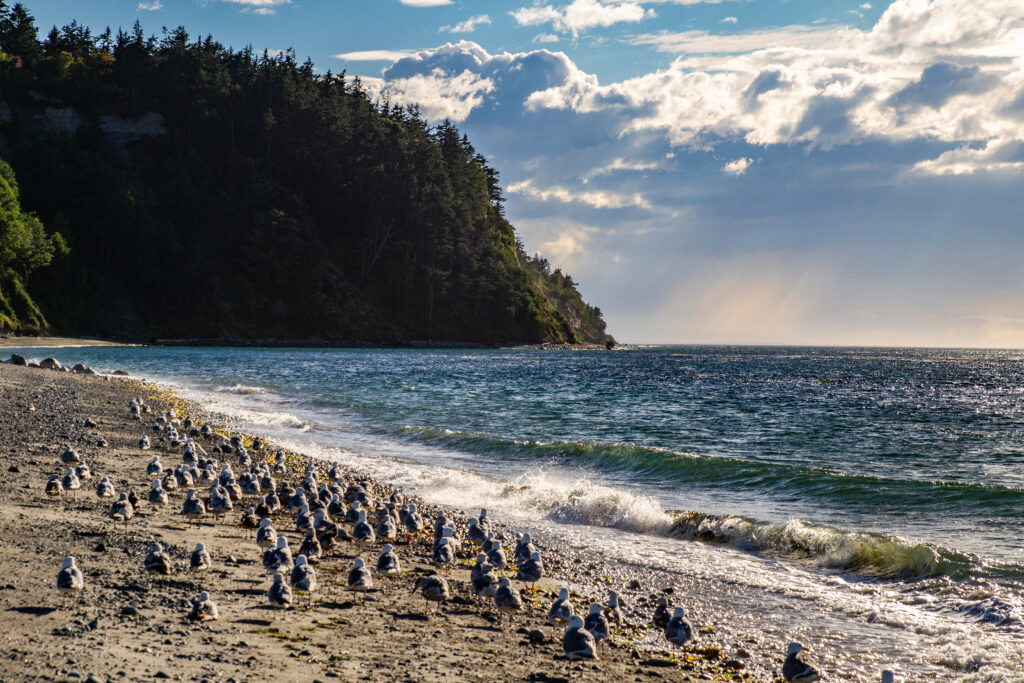 La Push Beaches
One of the most scenic beaches in the state, La Push Second Beach, is one of many that is a must see in La Push. Numerous tide pools are great to check out at low tide and tall haystacks are an important refuge for many different bird species.
This is also one of the most popular places to surf in Washington.
These beautiful and relaxing Washington beaches are located in Olympic National Park, which is also home to some of the best hikes in Washington. It is a short hike from the parking area through the woods to the sandy beaches, but well worth it.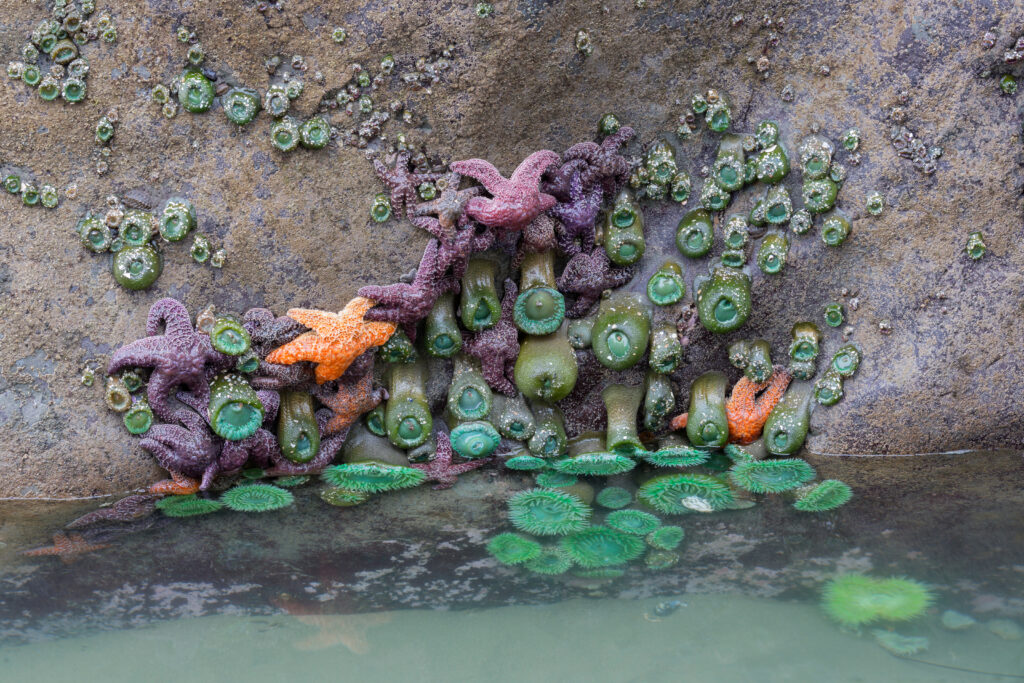 Anderson Point
This destination is close to the city but says fairly empty as there is almost a three-fourths mile walk from the parking area to this beach.
As it is located on the Colvos Passage, Vashon Island is up close and absolutely stunning. At only a little over an hour from Seattle, this beach is perfect for relaxing and watching ships go by.
Long Beach
A highly popular beach destination in Washington, activities here include sandcastle building, kite flying, and horseback riding.
The nearby, charming Washington small town offers food, shopping, a well-kept boardwalk, sand dunes, and a kite museum. There is a lot to do here, making this a perfect weekend getaway.
It is worth noting cars are allowed on the beach, in fact, it is an official highway with a speed limit of 25 mph. This makes it easy to find your own bit of sand on the 28-mile-long stretch of beach.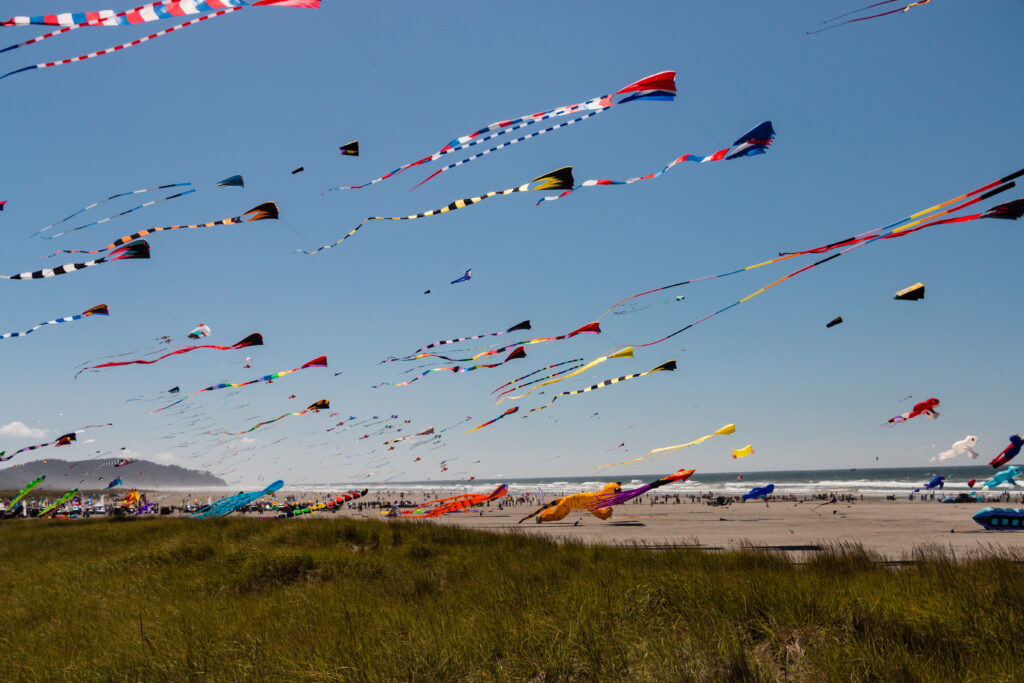 Frenchman's Bar
Popular with locals, this is the place to be on hot summer days. The beach is long, allowing some tranquility even in the busiest of times.
Located on the Columbia River, you can sit back on the beach, watch ships go by, and take a dip in the water.
Near the city of Vancouver, Washington, this is a perfect destination even for half a day if local.
Parking can quickly fill up on warm days and finding a private spot on the beach can require a bit of a walk through the trees or on the beach itself.
Owen Beach
A large and beautiful beach, Owen Beach offers views of Puget Sound and on clear days, Mount Rainier.
As a result, this is one of the most popular beaches in the Seattle area. A long, paved path allowed visitors a beautiful walk to enjoy the surrounding area.
The park is in Tacoma near Point Defiance. The beach has good, updated facilities including toilets, water, food, and covered picnic areas.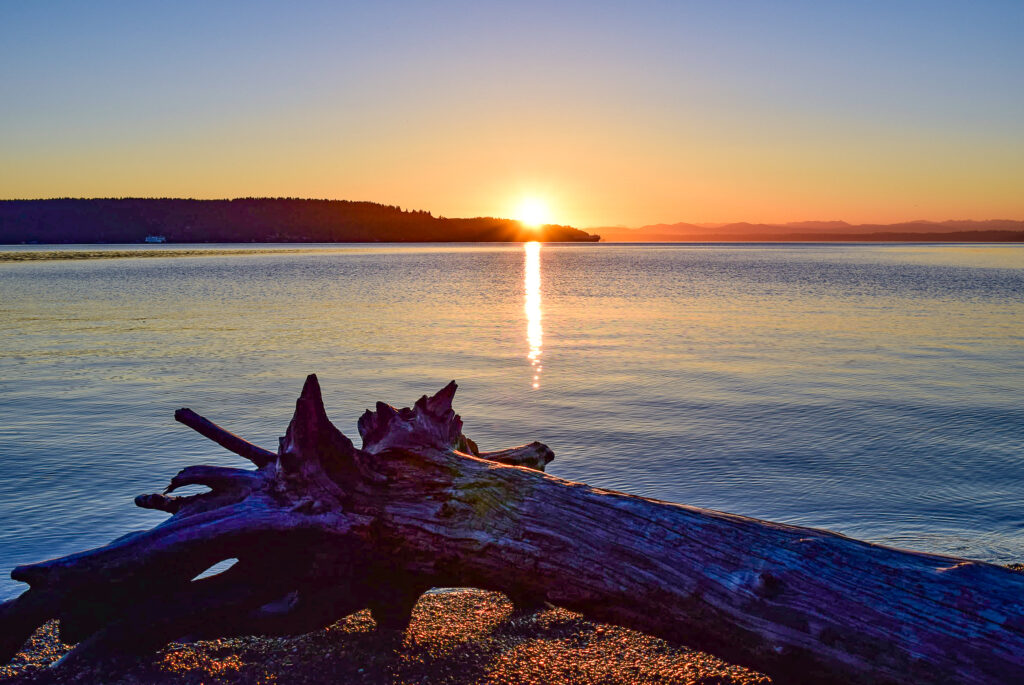 Denny Blaine Park
A little-known secret on Lake Washington, this park is a perfect, quiet getaway for picnicking, relaxing on the sandy shore, or swimming.
There are three parts to this park, the sandy bit of beach between rocky shores and two grassy patches.
At only a 15-minute drive from downtown Seattle, it is a bit of the outdoors without going too far from all the great things the city has to offer.
It is worth mentioning that this beach is clothing-optional.
Kalaloch Tree Root Cave
This Washington beach features an interesting bit of nature and a tree fighting for survival.
The crashing waves from the Pacific Ocean have washed away much of the sand and rock that this massive tree initially grew on. Now, its roots are exposed underneath creating a stunning sight. The surrounding beaches themselves are relaxing and beautiful.
This unique destination is located in Forks, Washington on the Olympic Peninsula.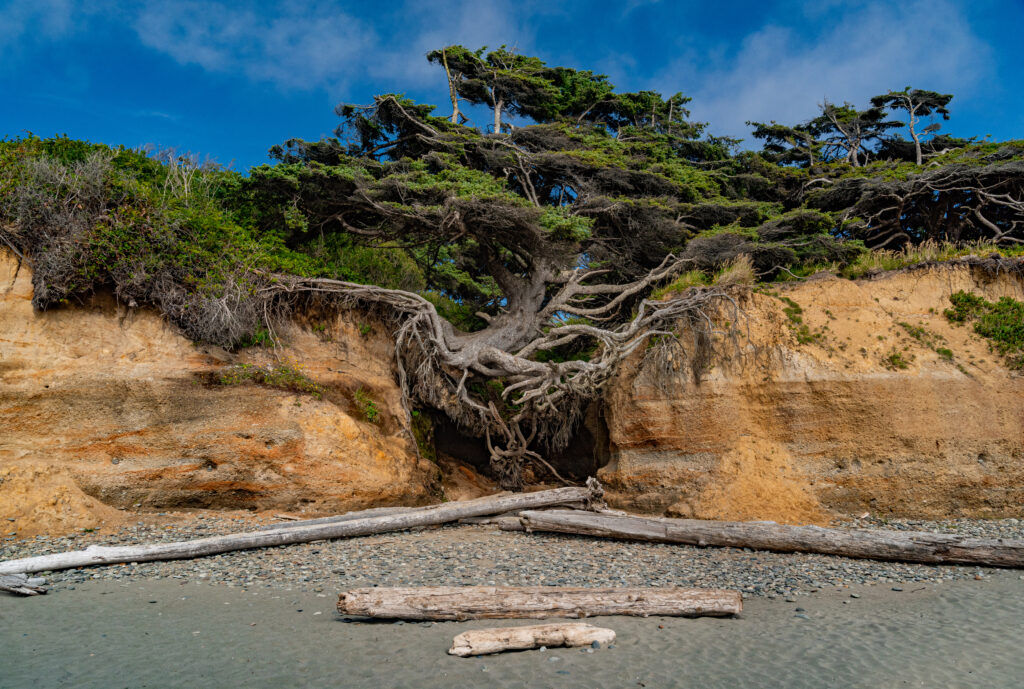 Spring Bay on Orcas Island
To get away from tourist crowds, head to Spring Bay! This beach is not well known but offers quite amazing views of the surrounding islands in Puget Sound.
A great launch point for kayaking, with many tide pools and wildlife in abundance, this is one of the most beautiful beaches in Washington
Located in the San Juan Islands, the surrounding islands also make hopping the ferry out here well worth the effort.
Hobuck Beach
One of the best Washington beaches to visit, Hobuck Beach is an active and beautiful bit of sand with people building sandcastles, flying kites, and sunbathing.
There are many yearly activities hosted here. It is also a popular spot for surfing, though conditions can vary.
Located on the Olympic Peninsula, this beach destination has everything needed including lodging and camping nearby. The area also has good birdwatching, fishing, and swimming.
***
Of course, these are just some of the best beaches in Washington State. Other honorable mentions include Double Bluff Beach on Whidbey Island and Sunset Beach in Anacortes!