Bend, Oregon is undoubtedly known as an outdoor mecca.
That is largely due to its placement of being tucked in the foothills just east of the Cascade Mountains. Surrounding those mountains are endless opportunities of trails, nature, and adventure.  
One of the most accessible outdoor activities in Bend is to take a hike – in a good way!
It is perfectly acceptable to be in Bend and do an easier day hike rather than an extreme multi-day hike. There are hundreds of miles of trails surrounding Bend that can be explored to suit either side of that spectrum.
Here is a list of 7 hikes that will give you some of the best views Central Oregon has to offer. All of these incredible hikes near Bend are located within just 40 miles of downtown Bend.
Just know that in winter months, it is very likely some of these will be closed or have snow on the trails. Plan accordingly!
Easy Bend Hikes
Drake Park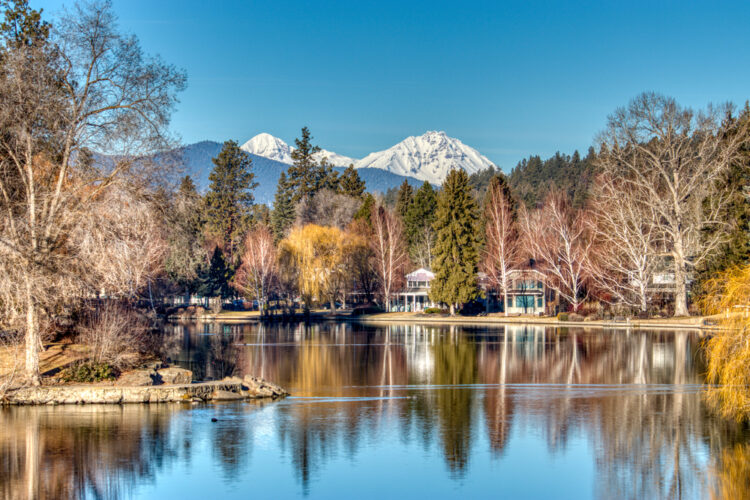 Some links in this post may be affiliate links. If you make a purchase through one of these links, we may earn a small commission at no extra cost to you. Please see our

disclosure policy

for more detail.
Driving Directions: Drake Park is located in downtown Bend. From downtown, go west on Franklin Avenue. There will be a paid parking lot on your right called 'Mirror Pond Parking Lot'. There is also (free) street parking along Franklin/Riverside Avenue that runs along the park.
Distance from Downtown: Walking distance
Distance: About 1 mile (if you stay in Drake Park)
Elevation Gain: Minimal
Difficulty: Easy
Drake Park is a very popular walking destination for locals and tourists alike. The park offers beauty that is unique to the Pacific Northwest.
There is a bricked footpath in this park that follows along a section of the Deschutes River called Mirror Pond. Beautiful homes line the opposite side of the bank to give this walking path a very cozy and home-like feel.
During the warmer months, there are plenty of places to bring a blanket or sit at a picnic table to soak in the scenery, or you may find yourself walking through one of the many festivals that Bend holds in Drake Park.
In winter months, it is very likely Mirror Pond and path are frozen over giving a postcard-esque winter scene. The path is heavily tracked and if you're up for the icy challenge, it's worth seeing!
The path is an "out-and-however-far-you'd-like-to-walk-and-back" from downtown – there are breweries, shops, and galleries in nearby neighborhoods that are worth checking out.
Drake Park is open year round and is recommended to anyone.
Benham Falls Trail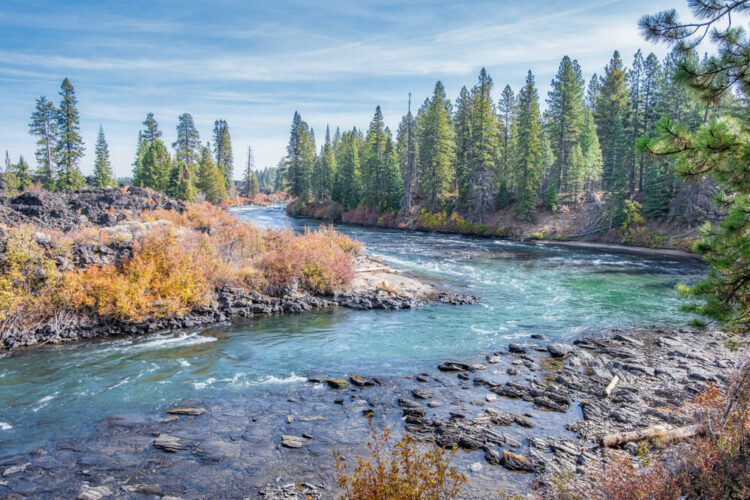 From Downtown: Head east on NW Hawthorne Ave. Take a right on Highway 97 heading south. Take Highway 97S for 11 miles until an exit for Crawford Road/NF-9702 (just past Lava Butte on your right). Stay on NF-9702 for 3.8 miles. Take a slight left and you'll see the parking lot for Benham Falls Trail. No day parking fee. Winter may be difficult for lower vehicles or vehicles without AWD as the NF-9702 is a forest road and the snow gets deep at times.
Distance from Downtown: 14 miles
Trail Distance: 1.5 miles
Elevation Gain: Minimal
Difficulty: Easy
This is another Bend hike for the entire family. The trail is groomed and flat about 97% of the time; the other 3% is candy for thrillseekers – more about that later!
After you pass over the wooden footbridge crossing the Deschutes River, you then walk alongside for about a mile until the falls.
As you continue down the trail, the river really starts to pick up momentum.
You will know when you're approaching trails end because the once calm Deschutes River is now a gushing and powerful force through large rock walls – the views are incredible!
Once you reach the falls, there are a few trails that shoot off the main trail. These other trails give a very unique vantage point of Benham Falls.
Be careful as some of these trails may end abruptly on a cliffedge! (Thrillseeker candy mentioned earlier.)
You can follow a more mild trail that zig-zags to the bottom of the falls – along the way there is an ideal photo spot of the falls.
Once you're ready, head back on the trail you came in on and you'll be back to the wooden footbridge in no time.
Pilot Butte Nature Trail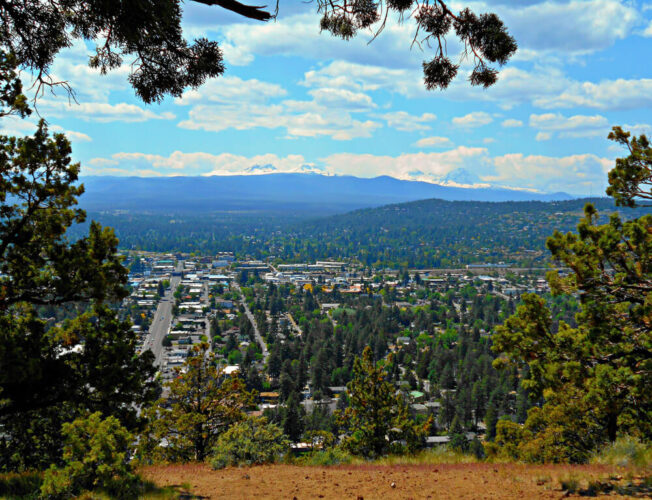 From Downtown: Go east on Greenwood Avenue for 2.3 miles. Take a left onto Azure Dr. then another left onto NE Savannah Dr. Take your next left onto NE Linnea Dr. Take Linnea Dr. until it ends in a parking lot. Note that the parking lot gate closes at 6pm
Distance from Downtown: 2.5 miles
Trail Distance: 1.8 miles
Elevation Gain: 450 feet
Difficulty: Easy/Intermediate
This one is a lot of fun because it is in the middle of the city and it's a Bend hike that can be done with the entire family. The trailhead is clearly marked and starts at the parking lot.
The trail swirls up the butte giving a birds-eye view of the city as you work your way around.
Once atop, you will see an uncanny 360-degree view stretching from Mount Hood, to The Three Sisters, and the desert sagebrush out east.
Don't forget to check out the informational monument that shows the direction and distance of each distinct peak before heading down.
Intermediate Bend Hikes
Tam McArthur Rim Trail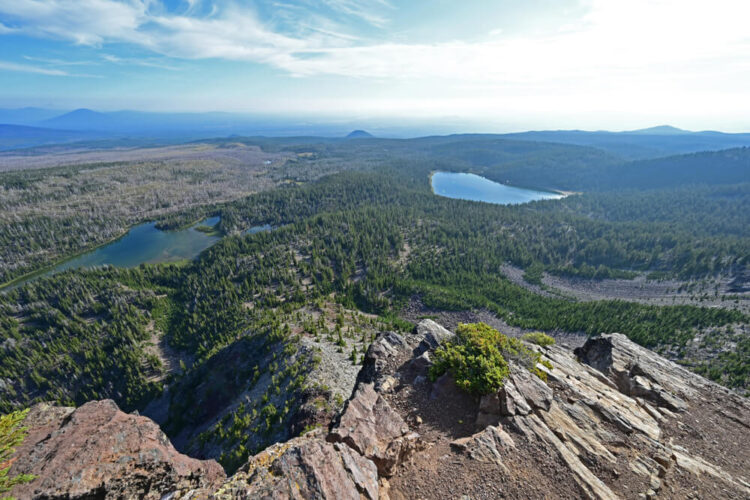 From Downtown: Go north on NW Wall Street to Highway 97. Stay on Highway 97 for 2.3 miles until exit 135A towards Sisters/Salem on US-20 W. Stay on US-20 W for 18.9 miles. Once you reach a town called Sisters, take a left on Lotus then take a right on E. Tyee Dr. In .4 miles, take a left on Three Creek Road. Continue on Three Creek Road for 14.4 miles. You will then arrive at the trailhead on your left. Park alongside the road or in the parking lot.
Distance from Downtown: 38 miles
Trail Distance: 5.3 miles
Elevation Gain: 1,250 feet
Difficulty: Intermediate
If you want to experience lakes, streams, epic 360-degree views of Cascade Mountain peaks, edges of cliffs, high desert meadows, and feeling like you're on top of the world – this is the best hike near Bend for you.
You may want to stretch before starting because the first leg of this trail is mostly stairs to get you out of the thick treeline.
Once out of the trees, you'll pass through meadows which lead to a less straining grade to the top. Depending on the season, you'll see wildflowers popping up at random and sprinkled in the sun-filled meadows.
The trail rides up along a ridge that ends right along a cliffside. The view is almost endless and on a clear day Mount Rainier can be seen in the distance – over 300 miles away.
For the adventurous, this hike is great for summit sunrises or sunsets.
Broken Top aka "Bend Glacier" and "No Name Lake"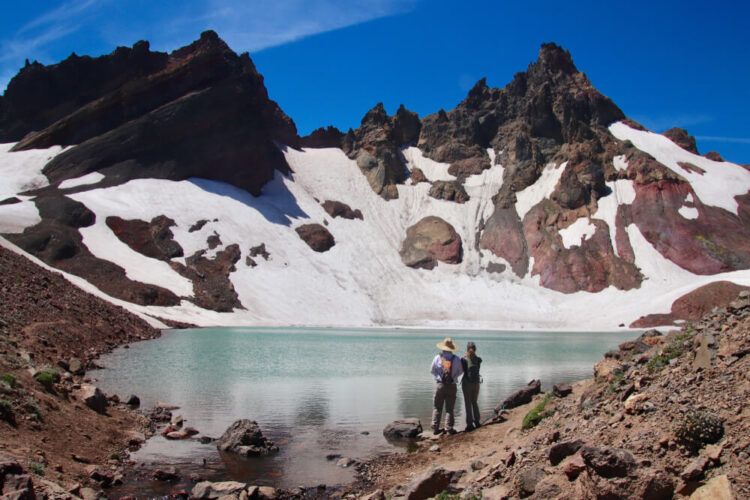 From Downtown: From downtown, head east on NW Hawthorne Ave. Take a right on Highway 97 heading south. Take Exit 138 for Mt. Bachelor. Turn right at Colorado Avenue and continue on Colorado Avenue for 1.8 miles. Continue through the 3rd roundabout onto Century Dr. Stay on Century Drive for 21 miles. Turn Right onto FR 4600-370 and follow for Todd Lake Day Use Area in about .6 miles. STOP here if you are not in a truck or SUV. If in a high-clearance vehicle, proceed straight for another 5 miles on FR-370.
Important Note: To make it to the actual Broken Top Trailhead, you will need a high clearance vehicle like a truck or SUV. Vehicles with lower or normal clearance can park at Todds Lake and hike from there to Broken Top. Access to this hike is closed December-March to vehicles.
Distance from Downtown: 30 miles
Trail Distance: 15.2 miles
Elevation Gain: 2,900 feet
Difficulty: Intermediate/Hard
While looking at the mountainscape from Bend, you'll notice one in particular that is very jagged-like and has a broken-looking top: that mountain is, fittingly, called Broken Top.
This hike to the peak of that mountain is long in distance but not very difficult in elevation. You'll be traversing through a gradual incline to the top rather than a quick incline – expect this hike to take close to 7 hours.
During this hike you'll cross over snow-melted streams, fields of wildflowers, and potentially a small section of a glacier depending on which month you go. Don't worry about getting lost as there is plenty of signage to keep you on track.
As you near the end, you'll come to an ice filled glacier called, 'No Name Glacier'. Dip your feet in if you're brave enough!
Continue on the trail to the right of the glacier and you will have some of the most breathtaking views overlooking the Deschutes National Forest. This would be a great place to stop, hydrate, have a snack, and soak up the vast scenery.
Once you're ready to head back down, get ready to enjoy an entirely different view than on the way up!
Note: If you parked and hiked from Todd Lake, take the Todd Ridge Trail #25.2 to Soda Creek Trail. This will link up with the Broken Top Trail. There is detailed signage as well as maps at the trailheads.
Hard Bend Hikes
South Sister Trail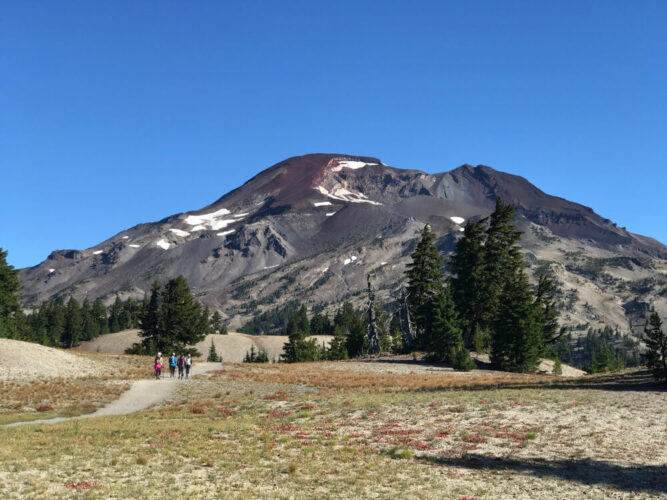 From Downtown: From downtown, head east on NW Hawthorne Ave. Take a right on Highway 97 heading south. Take Exit 138 for Mt. Bachelor. Stay on Century Drive until the Cascades Lakes Highway split, just past Dutchman Flat Sno-Park. In 6.7 miles turn left for Devils Lake Trailhead. South Sister Trailhead uses the same starting point.
Distance from Downtown: 28.2 miles
Trail Distance: 12.2
Elevation Gain: 4,900 feet
Difficulty: Hard/Challenging
First off, this hike near Bend is not at all suggested for beginners. South Sister is the 3rd tallest mountain in Oregon – and 9th tallest in the Pacific Northwest at 10,358 feet.
The trail begins with a quick ascend for about two miles into the forest before flattening out above the treeline.
As you begin your next climb, you trek up a ridge that seems to have an endless false summit – this part can be especially tiring due to the grade upwards of 55%.
Once you crest the false summit, there is an additional relatively quick climb to the summit. Once at the summit the views of Mt. Bachelor, Faith (North Sister), Hope (Middle Sister), Three Fingered Jack, Mt. Hood, Mt. Jefferson, and more – a true feeling of being on top of the world.
Make sure you have proper gear, plenty of water and snacks, and hiking boots with good traction. The weather has been known to change quickly, so make sure you check conditions prior.
Smith Rock: Misery Ridge Trail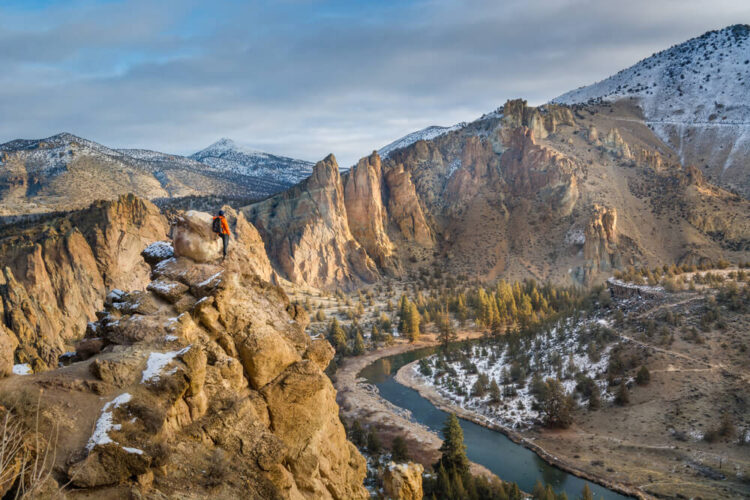 From Downtown: From downtown head north on NW Wall St to Highway 97 North. Stay on Highway 97 North for 21.6 miles and take a right on Smith Rock Way in Terrebonne, Oregon. In .5 miles take a left onto Lambert Road. In 2.0 miles take a left onto NE Crooked River Dr.
Distance from Downtown: 25.8 miles
Trail Distance: 2.2 miles
Elevation Gain: 1,115 feet
Difficulty: Intermediate/Hard
Smith Rocks State Park is a rock-oasis along the Crooked River surrounded by farmland and Oregon high desert scenery – the view of the Cascades from the top is unmatched!
It is known worldwide for its rock climbing and its hiking is overlooked by comparison.
Once you arrive, there are paved paths that take you to the entrance of the park. There is a quick descent before crossing the Crooked River and beginning the almost 2 miles of stair-climbing as you continue counterclockwise to the top.
Once at the top, there are plenty of trails, peaks, and viewpoints to explore.
Be sure to check out the view of Monkey Face on the western side while on top of Misery Ridge.
Also, bring a lunch, beverage, and hang out – there are plenty of spots to have a picnic in this park.
Contributing Writer: Charlie Rinne
Pin This Guide to Hikes Near Bend, Oregon