For your next romantic getaway, are you are searching through rental cabins in Seattle, Washington? In the small town of Medina, Washington, I've discovered a lakeside cabin near Seattle you are going to love.
Built along the shores of Meydenbauer Bay in the small town of Medina, Washington, whose residents include tech big wigs like Bill Gates, this circa 1925 log cabin is a slice of Seattle history with all the modern amenities travelers' desire.
After being hosted for a night at this modern lakeside cabin near Seattle, I can say it is the perfect getaway for couples who want to feel like they've escaped the bustle of the city, but still want the city and its amenities like shopping and dining within reach (the cabin is 5 minutes to downtown Bellevue, Washington). And, for travelers who want some real downtime and do not want to go anywhere, they can prepare meals in the kitchen or grill steaks on the outdoor grill and chill.
Disclosure: You can help support my small town travels by using the affiliate links in this post. Using the link is at no additional cost to you, and provides a small commission to me to help support my blog.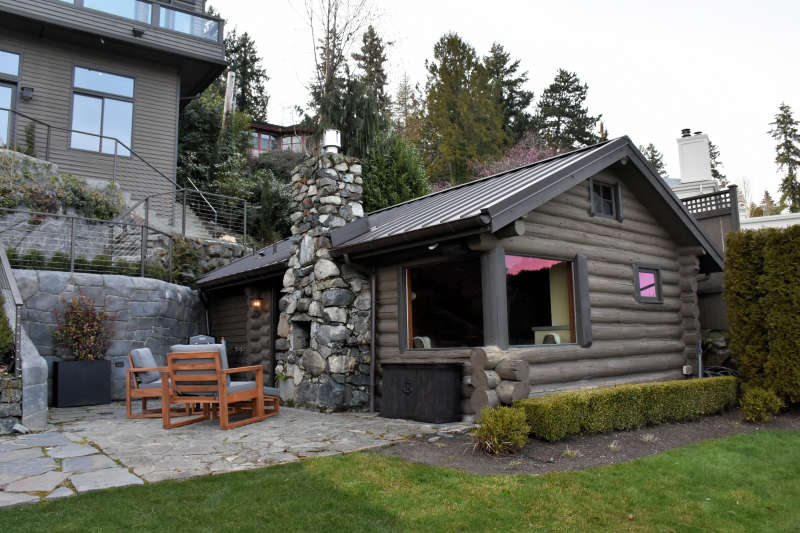 Some links in this post may be affiliate links. If you make a purchase through one of these links, we may earn a small commission at no extra cost to you. Please see our

disclosure policy

for more detail.
A Lakeside Cabin Near Seattle
The lakeside cabin offers its guests:
A cozy cabin with waterfront access and views
A kitchen with a gas stove, appliances, and cookware
High-speed WiFi, cable TV, and streaming video
Heated floors and seasonal A/C
Gas fireplace
Outdoor gas grill and gas fire pit
Access to the dock (you can see Mt. Rainier from here!)
A parking space for two vehicles
Coffee, tea and light snacks
Our Escape to the Small Town of Medina, Washington
We arrived at the cabin on one of our stellar warm weather in Seattle days with sunny skies. As we walked down 57 steps to the waterfront and the log cabin revealed itself we knew we were going to be in for a treat. Nestled amongst modern houses the log cabin speaks of days gone by when life moved at a slower pace, and the comings and goings of the overwintering whaling fleet regularly made it in the local newspaper.
The cabin is outfitted with everything a modern traveler could want. A kitchen with a gas stovetop, appliances, dishware, and even some spices. A dining nook with water views, a cozy living room with a fireplace and television, a bedroom with a queen size bed and luxury linens, and a bathroom with a shower. An outside patio with a gas fireplace and furniture. Plus, WiFi, cable and streaming video.
The space is a one-room plan with a vaulted ceiling with wooden beams that go across. For the bedroom, there is a large sliding door if you desire some separation from the living and dining area, but, since you can see the water while lying in bed, you most likely never use this door. If you don't want to get up early tho, you'll want to slide the door to block the sun.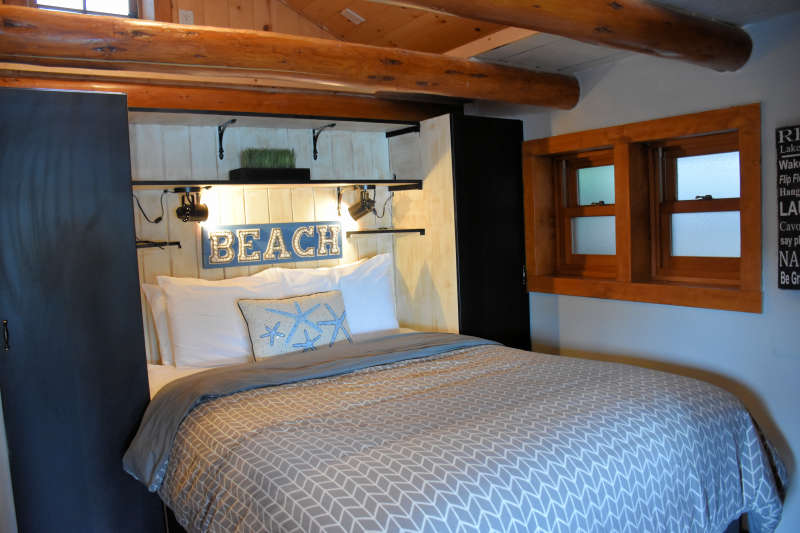 Before our arrival, our hosts gave us everything we needed such as the address to the cabin, the key code, information on the cabin and the area, and a contact person and phone number in case of an emergency during our stay. Our check-in and check-out were easy, and even though the owner's house is directly behind the cabin, we felt like the cabin was a private waterfront escape.
As a lover of the outdoors, my favorite feature ended up being the outdoor patio. After our dinner in Bellevue, we enjoyed some time in front of the fireplace and listened to the frogs and birds as they settled down for the night.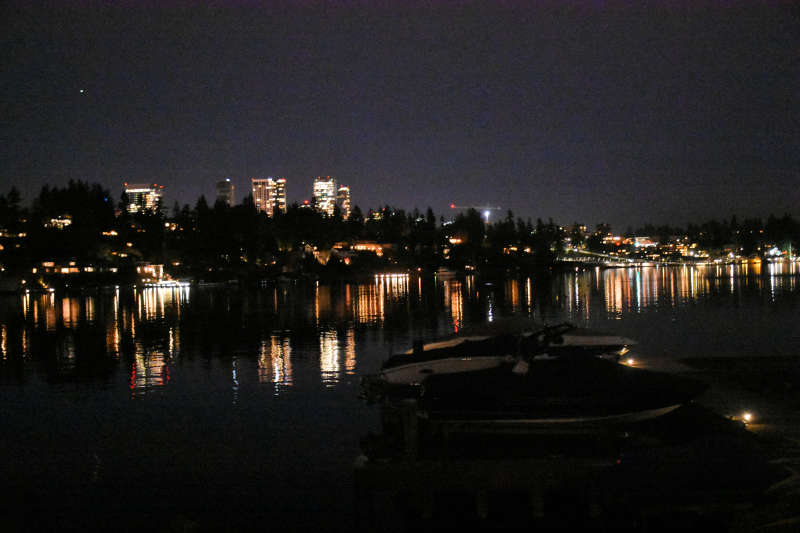 Plus, the glimmerings lights of downtown Bellevue on the water, gave the evening a romantic ambiance.
The next morning we awoke fully rested, and I wished I had thought ahead to bring some eggs, avocados and toast. Instead, we sipped our tea, relishing the sunshine and planning what nearby parks to visit.
Cool Facts About the Little Log Cabin:
The log cabin was built after Ship Canal opened and the water dropped exposing the land.
From the cabin, you could watch whalers preparing the ships they took to Alaska.
During its heyday "competitive poker parties" were held at the cabin.
Lou Piniella, manager of the Seattle Mariners, once owned the cabin and the house behind it.
If it is a clear day, walk to the docks to see Mt. Rainier!
Travel tip: If you have your own watercraft, bring it and launch right from the docks. Or, rent canoes, kayaks, and SUPs at nearby Meydenbauer Beach Park.
Where to Eat in Bellevue
The city of Bellevue is only 5 minutes away, and there are hundreds of Bellevue restaurants to choose from. After some online searching, we decided on Lot No. 3, an American gastropub included in Thrillist's "Best 10 Restaurants on Seattle's Eastside." We had comfortable seating on the second-floor balcony with views of the restaurant below.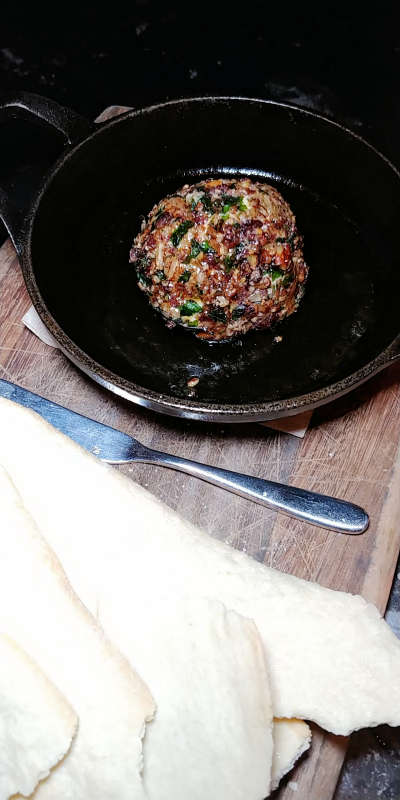 We started with warm goat cheese with cranberry, pecans, and honey. We loved this dish. The flavors reminded us of the holidays. If you like cheese for dessert, this is the way to go.
Travel tip: Lot No. 3 offers free 4-hour parking validation when you park in Bellevue Towers.
For dinner, we both ordered the Lot No. 3 Burger with smoked cheddar, candied bacon, and red pepper aioli. I opted for a salad with my burger, but I really should have chosen the shoestring fries as they were the best I've ever had. (If you don't like heat with your burger, order it without the sauce.)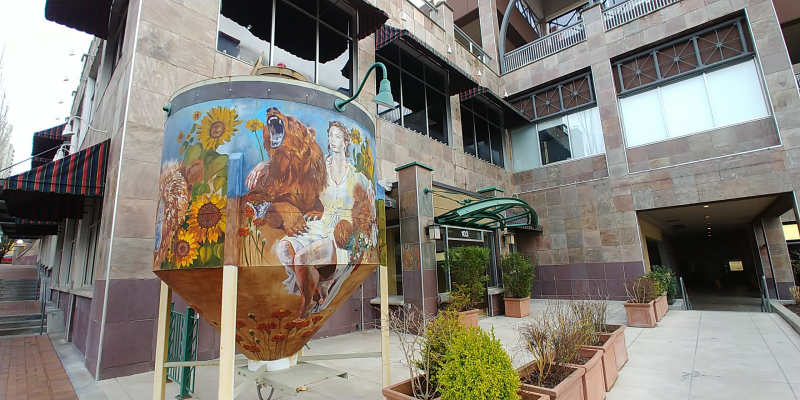 Bellevue is a walkable town, and you'll find more dining options, shopping at Bellevue Square, public art, museums, and galleries.
To see more Bellevue restaurants and what to do and see check out TripAdvisor.
Don't Miss This FREE Attraction in Bellevue
One attraction you do not want to miss is the Bellevue Botanical Gardens. The 53-acre garden is open every day of the year and admission is FREE! There are cultivated gardens, woodlands, and wetlands. We hadn't done much research before our visit and were pleasantly surprised at the extensive trail system and the suspension bridge! Throughout the year they have paid classes and workshops.


What to Do and See in Medina
Medina is mostly a residential community of around 3,000 people. For visitors, the biggest attraction are its parks. During our visit, we checked out Medina Park, which has trails that go around a pond and an off-leash dog area, and Medina Beach Park, which has a beach with views of the Seattle skyline.
Near Medina Beach Park is the Medina Grocery & Deli. If you need of a cup of coffee or a light snack, you'll find it here. Close to the deli is the Medina Post Office. On the side is a mural with a quote that laments the change from strawberry fields to modern buildings and the closure of the Medina ferry.
Want Your Own Romantic Getaway at a Lakeside Cabin Near Seattle?
We loved our stay at the lakeside cabin, and I would recommend it for travelers seeking a unique escape that won't take them too far from the city or individuals pressed for time, yet still want to getaway.
To book the cabin go to Vacasa.com. Prices fluctuate by season and day of the week. On the website, you can view more pictures and take a virtual tour of the cabin and outdoor patio.
Logistics: The cabin is a 15-minute drive to Redmond and Seattle, and a 5-minute drive to downtown Bellevue, Washington. From SeaTac International Airport, the cabin is around a 45 minute drive.
---
Note: As is common in the travel industry, the writer was provided with accommodations for the purpose of review. While it has not influenced this review, the writer believes in full disclosure of all potential conflicts of interest.
---