Lincoln City, Oregon is known for its long stretch of sandy beach, or as they like to say "Seven Miles of Smiles," open spaces for hiking, and as a prime spot for storm watching. However, if you are looking for unique things to do in Lincoln City, Oregon you don't have to wander too far from the beach. Whether you need a rainy day activity or you'd like to experience "off the sand fun" this Oregon Coast beach town has 8 activities that will have you blowing a glass float, meeting early pioneers in the historic cemetery, tasting the town's culinary treasures, and much more!
Here are 8 unique and fun things to do on your Lincoln City, Oregon trip.
Disclosure: You can help support my small town travels by using the affiliate links in this post. Using the link is at no additional cost to you, and provides a small commission to me to help support my blog.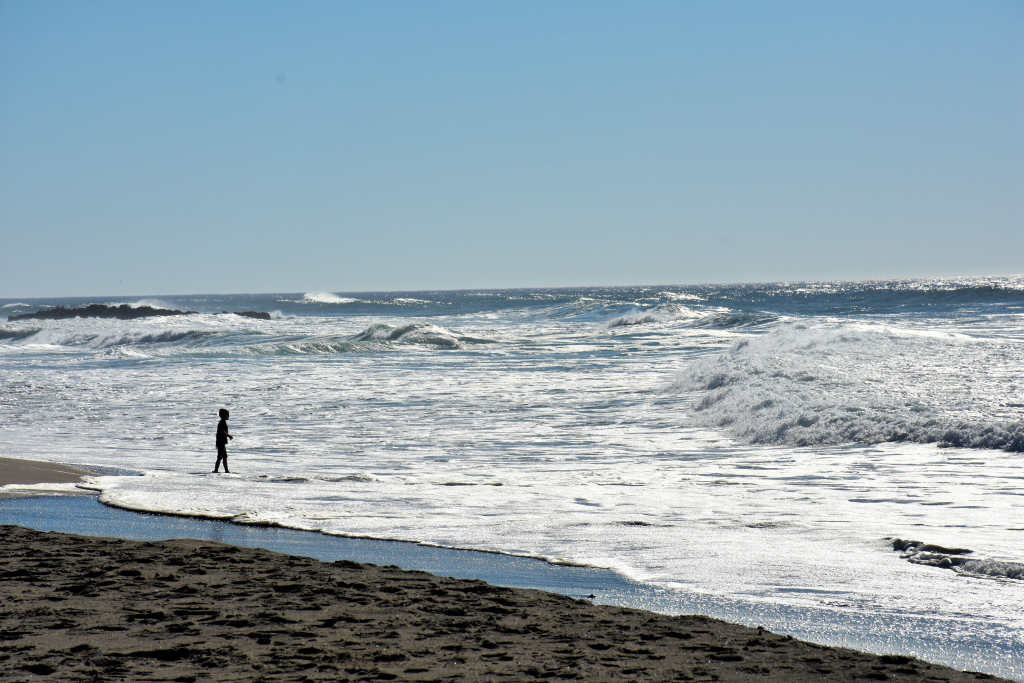 Some links in this post may be affiliate links. If you make a purchase through one of these links, we may earn a small commission at no extra cost to you. Please see our

disclosure policy

for more detail.
8 Unique Things to Do In Lincoln City
Save up to 30% on your hotel on your next upcoming trip!!
1. The Bay House
A culinary tasting experience you do not want to miss is at The Bay House. The restaurant is on the North Coast Food Trail and having eaten at several restaurants in town The Bay House is one of my favorites. While the restaurant's primary focus is on the food and service, the location along the water with incredible sunset views makes the experience all the more special.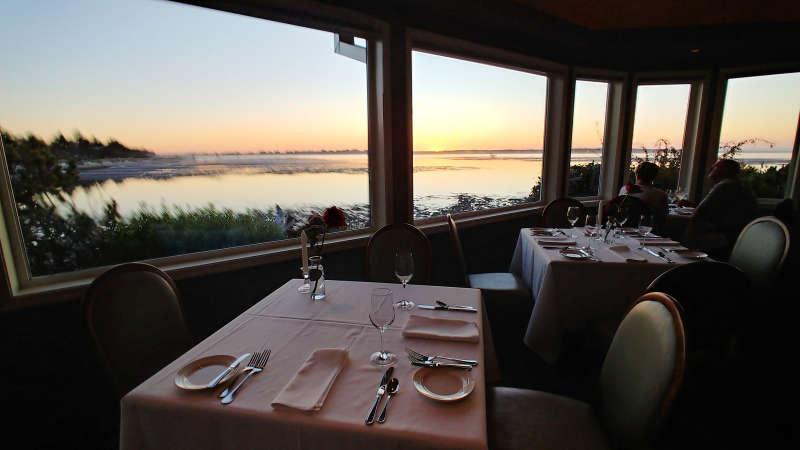 I recommend splurging on the 6-course Tasting Menu ($79 per person) as it shows off their creative chefs and how the staff goes the extra mile to make it a dining experience. This isn't a meal you'll want to rush through, so make sure you have plenty of time.
I enjoyed every single dish, but my favorite ended up being the Muscovy duck with parsnip puree, ragout of grains, Brussels sprout, and a Bing cherry demi-glace (not a surprise as I love duck).
At first glance, the price might seem a little steep. However, there will be leftovers, so cross off lunch out for one of the days of your vacation. If you love food, you won't regret it!
2. Connie Hansen Garden Conservancy
A serene place to stroll and take in nature's beauty is the Connie Hansen Garden Conservancy. The garden is at the former home of Constance P. Hansen who loved to garden and had a degree in botany. She spent many years developing her property, planting irises, Japanese maples, rhododendrons, magnolias and much more. Plus, visiting the garden is FREE!
During our fall visit, Hazel and I enjoyed walking the trails around the property. Many plants were green and flowering.
The garden is open March through mid-December from dawn to dusk and FREE! They offer guided tours but need at least two weeks advance notice with a donation of $10. Pets welcome on a leash.
3. Culinary Center in Lincoln City
Do you love food and cooking? Or, maybe you like to watch other people cook and then taste their creations? That's precisely what you get to do at the Culinary Center in Lincoln City. On my last visit to Lincoln City, I had the opportunity to check out one of their cooking demonstration classes.
As a solo traveler, I found the cooking class to be a super fun way to spend the evening, meet other foodies, learn cooking tips, and have an excellent meal.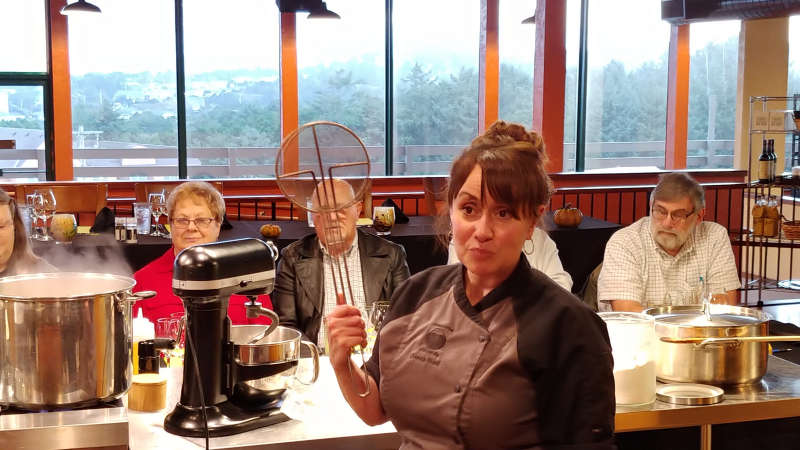 The Culinary Center at Lincoln City has a wide range of programs that include food demos where you watch the food being prepared and learn a ton of helpful tips and hands-on classes where you sharpen your cooking skills. The focus of my class was Fall Comfort Food. We learned how to make mushroom pierogi with caramelized onions, Weiner schnitzel with braised cabbage and apple strudel. No one went home hungry.
The Culinary Center in Lincoln City offers classes and events year-round. Click here to view classes and register. If I had time for only one activity in Lincoln City, this would be at the top of my list!


4. Tour to Die For
If you've been following my blog you know I'm a little, well, a lot, crazy about history. When I found out Lincoln City had a history tour in the cemetery during October, I had to check it out. The tour begins at the Lincoln City Cultural Center where a guide gives an introduction to the town's history and some of its legends. Then, everyone is shuttled to Taft Pioneer Cemetery.
Save up to 70% on travel deals at LivingSocial.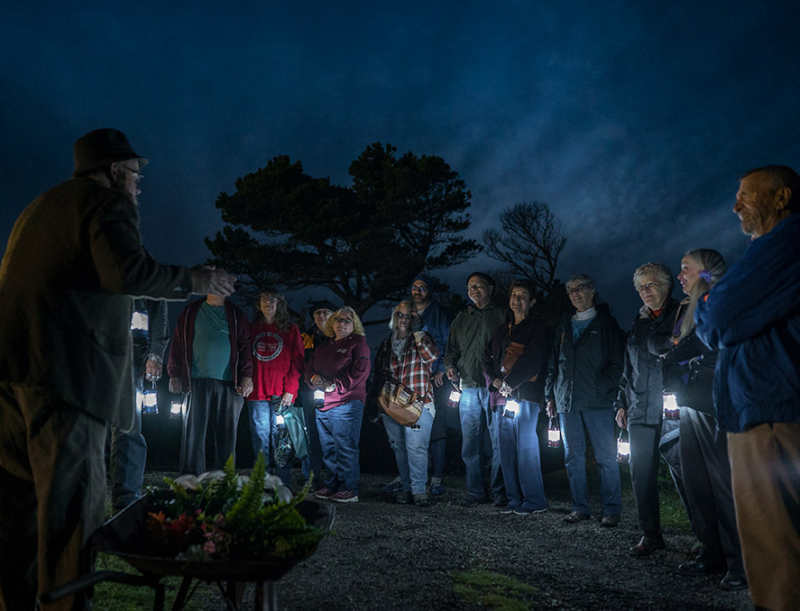 At the cemetery, each person is given a lantern, and guided through the cemetery to meet former Lincoln City residents. They share stories of their lives, their hardships, and good times. All of it creates a picture of pioneer life.
As a history nerd, I loved this tour. I even went back the next day to walk through the cemetery and take in the view (which is one of the best in town). If you are looking for a scary ghost tour, this probably isn't for you. The tour is outdoors so you'll need to dress for the weather and wear comfortable shoes. Click here to find out more and buy tickets.
5. North Lincoln County Historical Museum
Sometimes it seems like other countries are a world away, or at least in modern times, a very long flight. At the North Lincoln County Historical Museum, the ocean has brought a bit of Japan to Lincoln City with their display of Japanese glass fishing floats collected from the shores of the Oregon Coast. The impressive collection has glass floats in all shapes, sizes, and colors and includes American-made glass floats like S.H. Daivs Gillnet Float and American West Coast floats.
One of the coolest artifacts at the museum (at least I think so) is the Japanese Moored Contact Mine which washed up on Gleneden Beach in 1949. Another reason to visit the museum is that admission is FREE!
Be sure to wander upstairs to see the mine and the Pixieland Kitchen exhibit. Click here to see their hours of operation.
6. Rock Your World
One of the most unique activities in Lincoln City is going on a FREE Backcombing Clinic Walk with Rock Your World. The owner and tour guide Laura Joki has been studying geology since she was a young girl and knows a TON about rocks, minerals, geology, and field research. Her passion is catching, and she'll have you looking at the beach, rocks and the activity in Yellowstone National Park (be sure to ask her about it) in an entirely different way.
On the beach walk, she helps you identify agates, fossils, petrified wood, jasper, amber, rocks, and minerals. The clinic lasts two hours and if you have a question ask! Afterward, visit the rock shop.
One of the best times to go on a rock tour is right after a storm, which is what happened on my trip. Click here to see tour dates. Dress for the weather and wear sturdy shoes that cover your feet, bring gloves and a bag for the rocks you want to keep. Laura also gives private tours, which are $20 per person with a minimum of 5 people in a group.
7. Lincoln City Cultural Center
If you are a lover of the arts and live entertainment you'll want to check out the events at the Lincoln City Cultural Center. The center is inside the historic DeLake School and along with events throughout the year there are classes (Irish Dance, Spinning and Weaving, Clay and Ceramics, and more), an artist gift shop, and from May to October they host the Lincoln City Farmers and Crafters Market on the lawn every Sunday from 9 am to 3 pm.
The Lincoln City Cultural Center invited me to hear the Brazilian Strings Trio. The auditorium is intimate and and during breaks guests can chat with the musicians. Seating is arranged in front of the stage with tables and chairs and beverages are available for purchase.
The Lincoln City Culture Center hosts events throughout the year. Check out their website to see what is happening during your visit. Celtic music and dance lovers will want to check out their Celtic Season which starts in October.
8. Lincoln City Glass Center
If blowing a glass float is on your bucket list, the Lincoln City Glass Center is the perfect place to do it. Every year the glass blowers supply 3,000 glass floats for Finders Keepers. The Finders Keepers tradition of hiding glass floats on the beach has been going strong for 20+ years, and now they hide them year-round. If you find a glass float, you keep it!
For your session, the Lincoln City Glass Center pairs you with a glass blower. They have you pick your colors and then lead you through the process. While they do most of the kiln work, there are plenty of hands-on opportunities. I had such a fun time and I highly recommend. Being a part of the process gives you a sense of how much artistic talent and skill it takes to be a glass blower.
The Lincoln City Glass Center is open 7 days a week through summer and then switches to winter hours. Prices range on the item you want to make. A small float (5.5 inches) is $65 and a large float (9 inches) is $145. You can also make a paperweight, bowl, and a votive. Click here to see the list of prices and make a reservation. The glass does need one day to completely cool, so keep that in mind when making your reservation. They also ship.
Make Plans To Visit Lincoln City, Oregon
To find out more about Lincoln City, Oregon visit Explore Lincoln City. To review where to stay and what to do read reviews about Lincoln City, Oregon on TripAdvisor.
Read more about things to do in Lincoln City at:
Note: As is common in the travel industry, the writer was provided with activities for the purpose of review. While it has not influenced this review, the writer believes in full disclosure of all potential conflicts of interest.