As a Western Washington resident, mushrooms are part of the forest landscape. In Long Beach, WA they are in the forest, next to the beach, well really, just about everywhere you look. You'll see inedibles like Fly Amanita (above), and edibles like boletes, milky caps, and chanterelles.
In the fall, Long Beach is an explosion of mushrooms, and I highly recommend mushroom lovers to take advantage of their edible adventures and guided hikes.
Disclosure: You can help support my small town travels by using the affiliate links in this post.
There are plenty of ways to get the local travel scoop. Find the best deal, compare prices, and read what other travelers have to say about Long Beach, WA at TripAdvisor, Travelocity, Hotels.com, and Expedia.
Some links in this post may be affiliate links. If you make a purchase through one of these links, we may earn a small commission at no extra cost to you. Please see our

disclosure policy

for more detail.

Long Beach is for Mushroom Lovers
The best time to visit Long Beach is during the Wild Mushroom Celebration, which takes place from October 1 to November 15. During the six weeks, there will be expert-led mushroom foraging hikes, mushroom inspired menus and dining events, and, of course, you can forage for mushrooms on your own. Plus, there are many mushroom lover lodging specials.
Wild Mushroom Celebration Planning Tips
The best place to start is the Wild Mushroom Celebration page, which announces events at restaurants and deals for accommodations, guided foraging in nearby Fort Stevens State Park and foraging with a local expert, mushroom-inspired recipes, photos of locally found mushrooms and a map.
Long Beach Edible Adventures
Before you select a date, review the events, as there might be a mushroom event you'd like to experience.
As an example, in 2016 The Depot Restaurant had their 13th Annual Wild Mushroom Dinner on October 7, 42nd Street Cafe & Bistro had a four-course Wild Mushroom Dinner on October 28 – 29, the Boreas Inn offered an all-inclusive room and dining, which included a five-course Wild Mushroom Brunch with a local expert on November 11-13, and the Shelburne Inn offered foraging tours and cooking classes with their resident chef and mushroom specialist.
Other locations have mushroom specials throughout the six weeks like [pickeled+fish] and The Lost Roo.
We stayed at the Adrift Hotel and Spa and our mushroom foodie stops included indulging in a wild mushroom scramble at the Shelburne Inn, King Boletes with sauteed onions and a red wine reduction at 42nd Street Café & Bistro, and salmon with a wild mushroom sauce at The Depot. Needless to say, we were in mushroom heaven.
Guided Mushroom Foraging Hikes
If you are a beginner, I highly recommend a guided hike with an expert who knows mushroom regulations and identification. Their knowledge is priceless. As I mentioned above, the Shelburne Inn offers paid foraging tours. There are also FREE tours at Fort Stevens State Park in Oregon, which is a 45-minute drive from Long Beach.
Mushroom Foraging on Your Own
If you want to forage on your own, or even if all you want to do is see patches of mushrooms, there are plenty of places in the Long Beach area. On our first day, we rode bikes down the Discovery Trail and saw hundreds of mushrooms tucked into the wooded areas near the dunes. We didn't pick any that day, but it was fun to see so many.
There are also nearby State Parks:
Fort Columbia State Park – 20-minute drive
Leadbetter Point State Park – 30-minute drive
Pacific Pines State Park – 18-minute drive
Loomis Lake State Park – 9-minute drive
Tip: Mushroom foraging #1 rule "When in doubt, throw it out." Don't take any risks, its not worth it.
Tip: Don't ask a forager where his mushroom patch is.
Tip: It is illegal to forage for mushrooms in Cape Disappointment State Park.
Tip: Mushrooms can be collected in Washington State Parks for personal use only (2-gallon max per person per day).
Tip: It is illegal to forage for psychedelic mushrooms.

This bolete was around eight inches long.
Mushroom Identification Guides We Like
Whenever we go mushroom hunting, we always have on hand a range of identification guides. There are particular types of mushrooms we can identify easily and others we have to research. And, if there is any question we always live by the first rule of mushrooming "When in doubt, throw it out."
These are the books we carry.
All That the Rain Promises and More: A Hip Pocket Guide to Western Mushrooms
Mushrooms of the Pacific Northwest (A Timber Press Field Guide)
A Field Guide to Edible Mushrooms of the Pacific Northwest
Some of our favorite mushrooms are:
Oysters
Shaggy Parasol
The Prince
Blewit
Fairy Ring
Shaggy Mane
Chanterelles
Morels
Mushrooms I want to find:
Candy Caps
American Matsutake
Cauliflower
Morels

Shaggy Manes need to be eaten soon after they are harvested.
Mushroom Foraging Gear
Besides your mushroom identification guides, you'll want to dress appropriately, and mushroom foraging can be a very unglamorous affair. Wear sturdy shoes or boots, ones that are comfortable and can easily be cleaned as the ground is often wet, muddy or boggy. I prefer the Bogsº line of boots, rain shoes, and hiking shoes. And, if you have a Costco card, they sell rain boots in the winter months for $20-$30. The closest Costco is in Warrenton, Oregon, which is a 36-minute drive from Long Beach.
Even if it is a sunny day you'll want to wear rain gear as the woods will most likely be wet, and if you are ducking under and in between trees the water on their branches will rub off on you. The fabric in water resistant gear will shed that more easily. I also suggest not wearing sweaters or jackets that have material that could catch on branches like threads or rougher fabrics. Think sleek, smooth and comfortable materials that will easily move with you.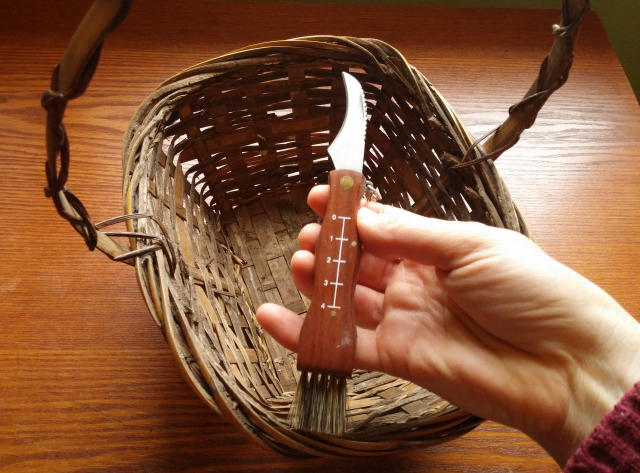 You'll also want to bring a basket and a mushroom foraging knife. I suggest going to a resale shop or garage sale to find a basket. If you don't have a basket, a plastic bag or mesh bag will also work. For mushroom foraging knives, you can find a selection on Amazon. We have the Folding Mushroom Pocket Knife with a Wood Handle and Bristle Brush.
Mushroom Cleaning and Storage
Once you've gathered your mushrooms, you'll want to sort them and brush them off (some might have more forest debris than others). Also, check for small worms. I find they are more prevalent the wetter the ground is. If there is a lot of debris you might want to rinse them under cold water and then lay them out on a paper towel or a dry cloth. Sometimes rinsing with water is best to do once you arrive home as wet mushrooms don't always travel well.
In your hotel room, store them a paper bag in the refrigerator or a cardboard box with lots of paper towels to put in between the layers of mushrooms. That should keep them fresh until you arrive home and decide how you will store or cook them up. We often eat them the day they are picked, or shortly thereafter, sauteed in butter.
Now you are ready!
HAVE FUN!
To find out more about Long Beach, WA visit:
To find out more about Pacific Northwest mushrooming visit:
Note: As is common in the travel industry, the writer was provided with accommodations and meals for the purpose of review. While it has not influenced this review, the writer believes in full disclosure of all potential conflicts of interest.
There are plenty of ways to get the local scoop. Find the best deal, compare prices, and read what other travelers have to say about Long Beach, WA at TripAdvisor, Travelocity, Hotels.com, and Expedia.